A trip to Vietnam is not without a visit to Hoi An. This beautiful ancient town was also on my Vietnam itinerary for a two night stay. A visit to Hoi An old town, a motorbike country side tour and a half day trip to My Son temple complex were on my agenda. My two kids and wife joined me on this trip. I wanted to stay at a luxury resort as thats my way of travel. The award-winning Palm Garden Hoi An Beach Resort & Spa seemed a perfect spot just outside of Hoi An at the beach. In this hotel review I show you this property which I enjoyed a lot, but first lets start with a video impression.
The hotel
The Palm Garden Beach Resort is a property located just 5 minutes by car from Hoi An ancient town. It's build on a large stretch of land and consists of many different villas. Each villa has several rooms; I stayed at a two room apartment. Between the villas is a lot of green space designed as a tropical garden which I enjoyed. In the middle is the pool with on one side the beach and the other the reception. The villas are located towards the left and right but the longest walk you have to make is just a minute.

When I arrived at the Palm Garden Hoi An I was checked in very quickly while enjoying some fresh juice and a cold towel. The staff was very friendly and helpful throughout my stay. They escorted me and my family to the room and made us settle in. It's a luxury place to unwind and with good access to various places of interest in central Vietnam.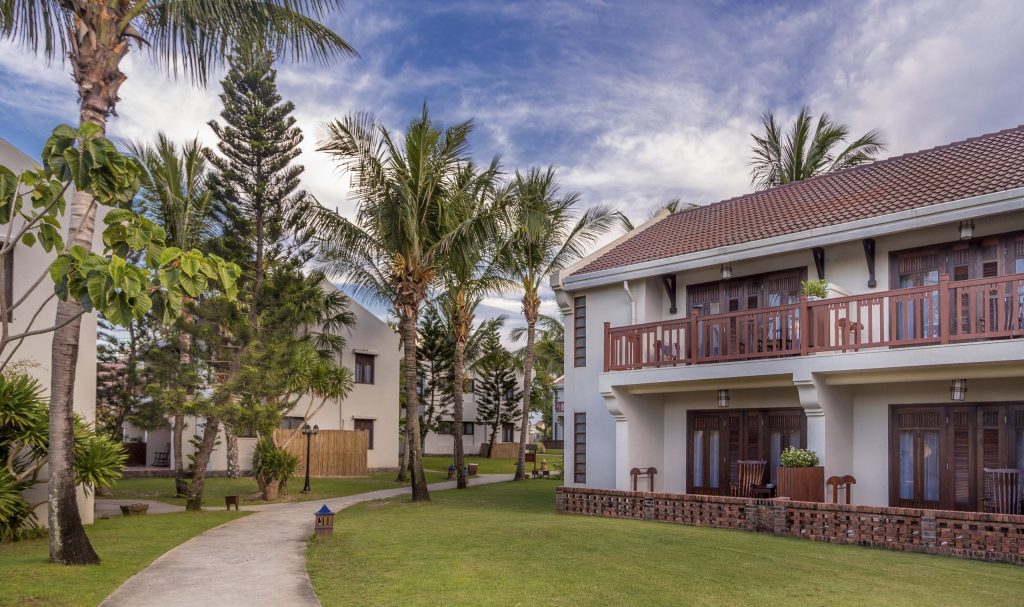 The rooms at Palm Garden Hoi An
The rooms at the Palm Garden Hoi An Beach Resort are located in the various villas. I booked a large suite with huge living room and bedroom of similar size. The room had also two bathrooms which is perfect for a family of four. The hotel added two single beds for the kids which was no problem in the large apartment. Like this we could all stay together rather than having two rooms. Our villa had a beach view and was located in a quiet corner of the resort. As said the rooms were really spacious with two bathrooms. When we arrived the bathtub was filled with rose leaves floating in it. Romantic! The dark wooden furniture and earthen colored tiled floor gave the room a warm feeling. The air condition worked very good making it cold which is a great relief from the heat outside. The mini bar is well stocked with both liquor for me and my wife and soft drinks for the kids. Wi-Fi in the room was fast and reliable; I do have to work a bit during leisure trips too. We all enjoyed our room and had some good nights of rest.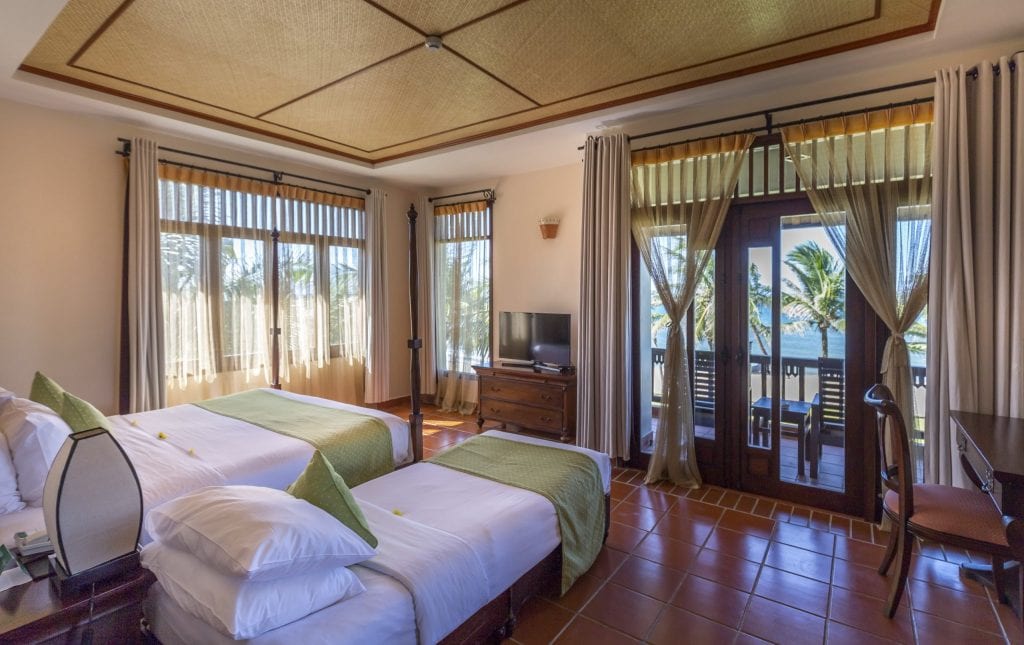 Facilities at Palm Garden Hoi An
At the Palm Garden Hoi An Beach Resort there are many facilities. First I want to make a short notice that there are also various business and conference facilities. Wouldn't it be nice to have a conference at a resort like this? As this was a pure leisure trip for me I didn't need those. The staff can arrange for you any tour you want to do. They are professional and give good advice. I recommend to do a tour to the country side, My Son Temple Complex and of course Hoi An ancient town. A free shuttle to the ancient town is available several times a day.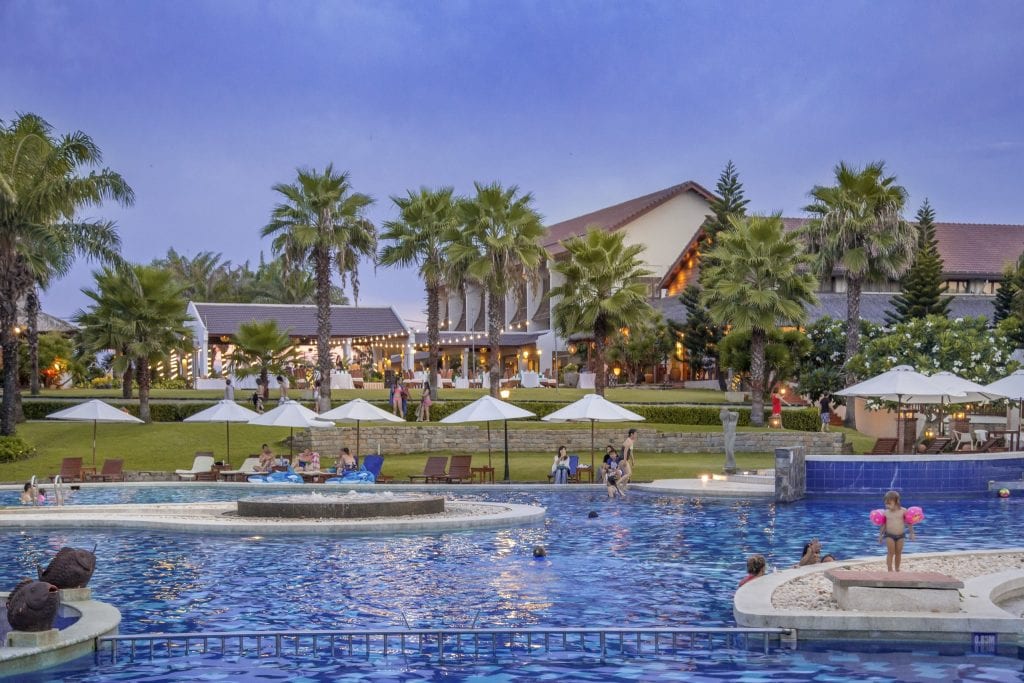 In the middle of the complex is a huge freeform pool. I was told the resort was fully booked during my stay but it wasn't too crowded and enough places were free at the pool. The resort has also a private beach with sunbeds. My kids loved to play some ball games there and swim in the ocean. After a long day of sightseeing I always like to take some SPA time. The staff at the SPA is professional and they know their treatments and techniques. At the beach there is also a pavilion for an open air treatments like a foot massage. Make sure you go see the sunset at the beach. The sky turns into orange-red and pink-purple tones (see photo in gallery). Just lovely!

Dining & Drinking at Palm Garden Hoi An
The Palm Garden Hoi An Beach Resort has several restaurants and bars. One indoor bar is located opposite the lobby. It's possible to play some pool there. A small coffee bar is just next to the pool which served great coffee. It's a nice place where I just sat down and updated my social media while enjoying an espresso 🙂 The main restaurant serves breakfast, lunch and dinner. I just had breakfast there which has a large choice. A coffee station, egg station and a noodle station. Those you find in many restaurants but here there was also a Banh Mi station which served the famous baguettes you find throughout Hoi An. Make sure you try it and also the Pho noodle soup, the national dish of Vietnam!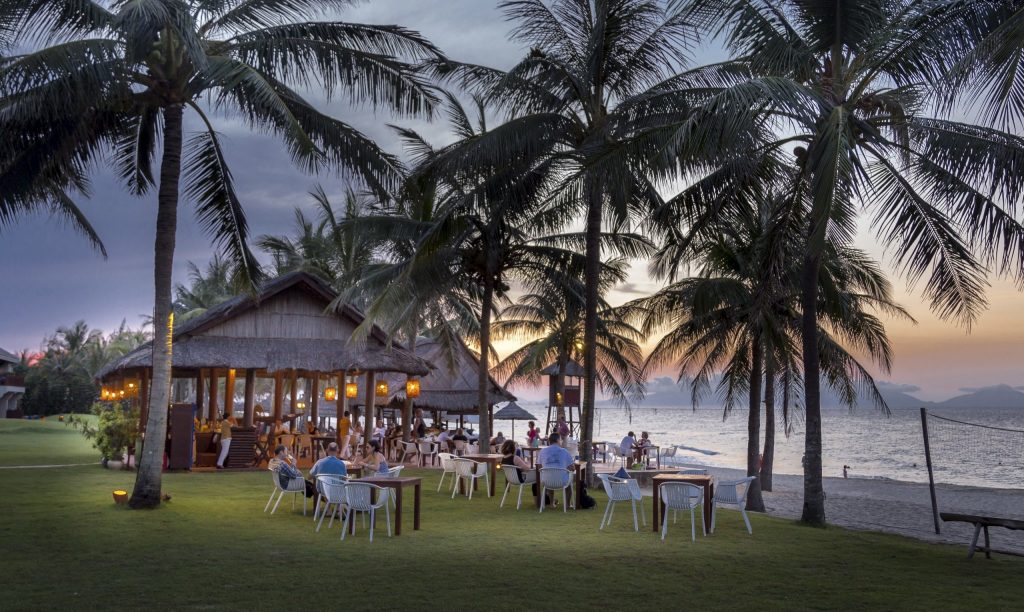 One night I did a food tour in Hoi An and the other night I had dinner at the beach restaurant. A nice open place which served delicious Western and Asian dishes. My family enjoyed the food too and the various allergies were understood by the staff and taken seriously. Both the beach and pool have a bar so a cold refreshment is never far away. I enjoyed the food and especially the fresh juices at the beach.
Conclusion
If you are looking for a luxury beach resort near Hoi An I highly recommend staying at Palm Garden Hoi An Beach Resort & Spa. The villas and rooms are very comfortable and offer a lot of privacy. The restaurants and bars serve delicious food and beverages. You won't starve nor get thirsty! The SPA is so relaxing you will really unwind. With a large pool and direct beach access it's easy to cool down in the hot weather of Vietnam. I enjoyed my stay and so did my kids and wife. I'm sure you will too!
If you would like to know what you can do in and around Hoi An then see one of these options: day trips in and around Hoi An and check my full two week Vietnam sample itinerary. I will add more destination information over time.
Stay tuned for more stories and subscribe to the newsletter or follow CTB on social media (Facebook, Twitter, Instagram including Instagram stories; on all social media you can find CTB @christravelblog) to get updated information.
For more hotel information and booking options please visit the website of the Palm Garden Hoi An Beach Resort & Spa.
Website: http://www.palmgardenresort.com.vn
Facebook: https://www.facebook.com/palmgardenresort
Gallery of Palm Garden Hoi An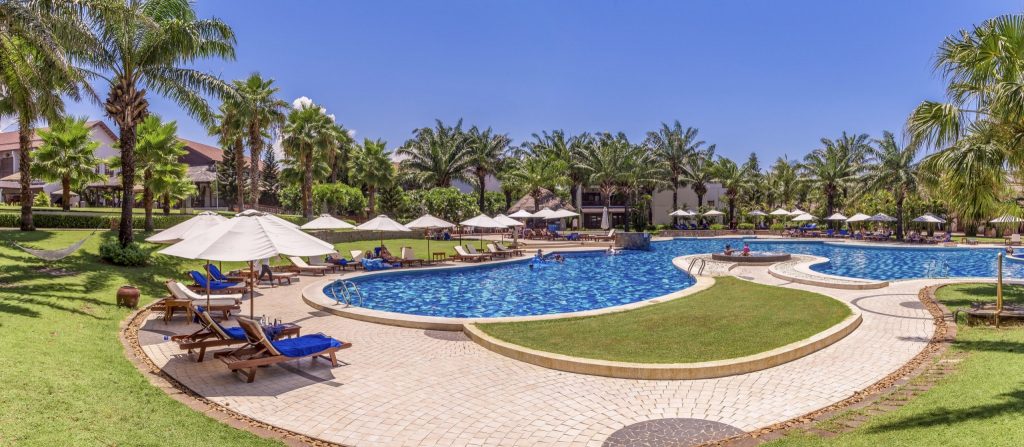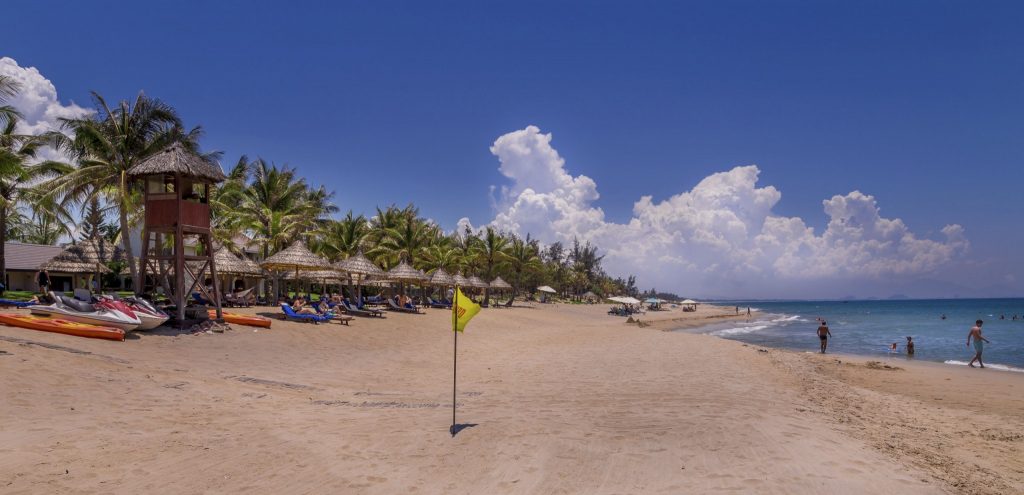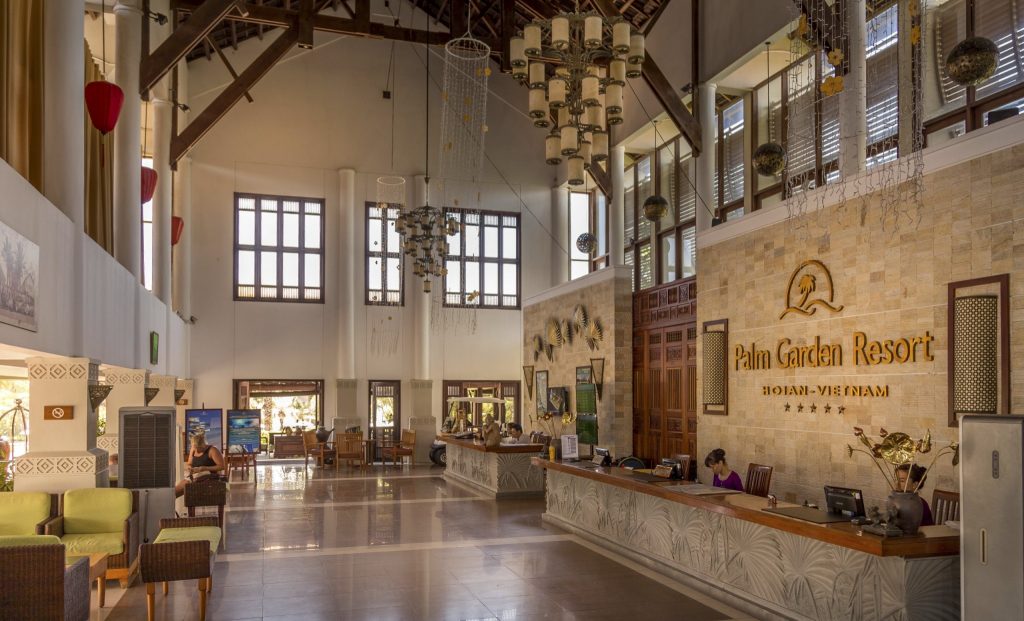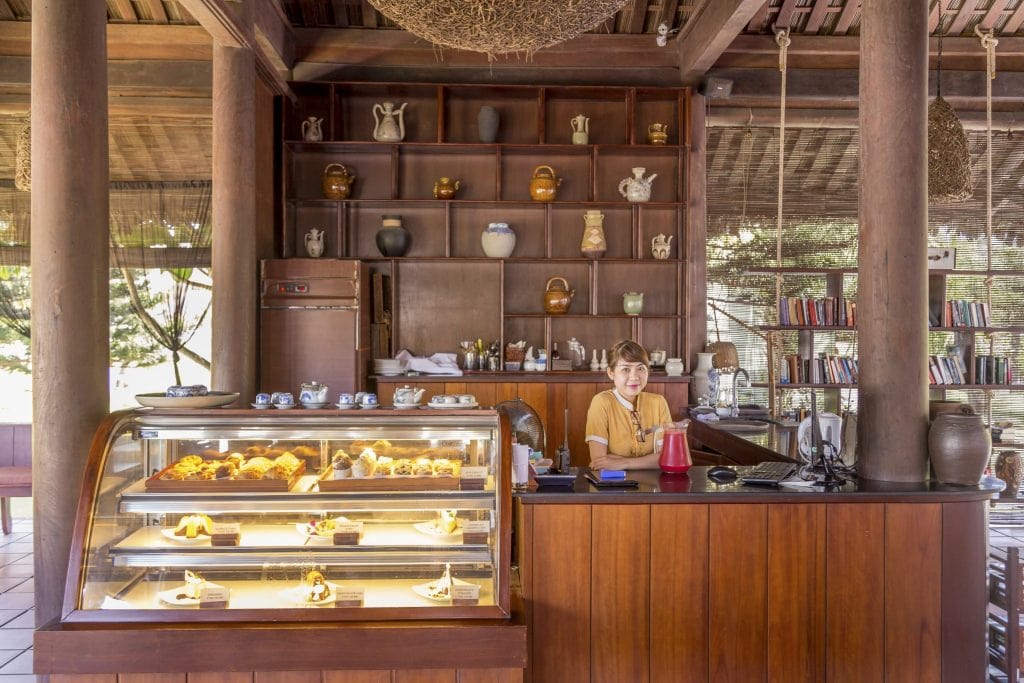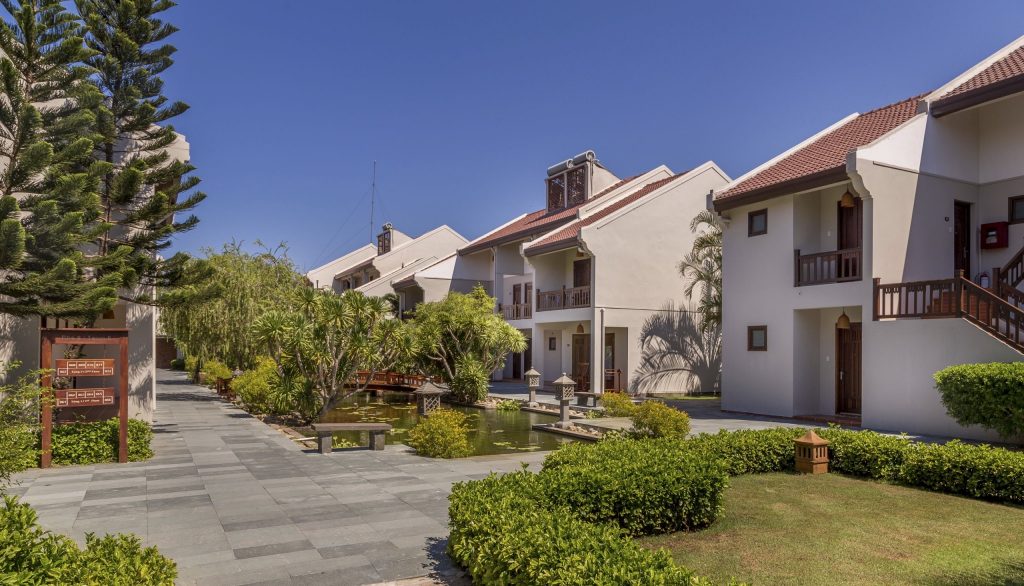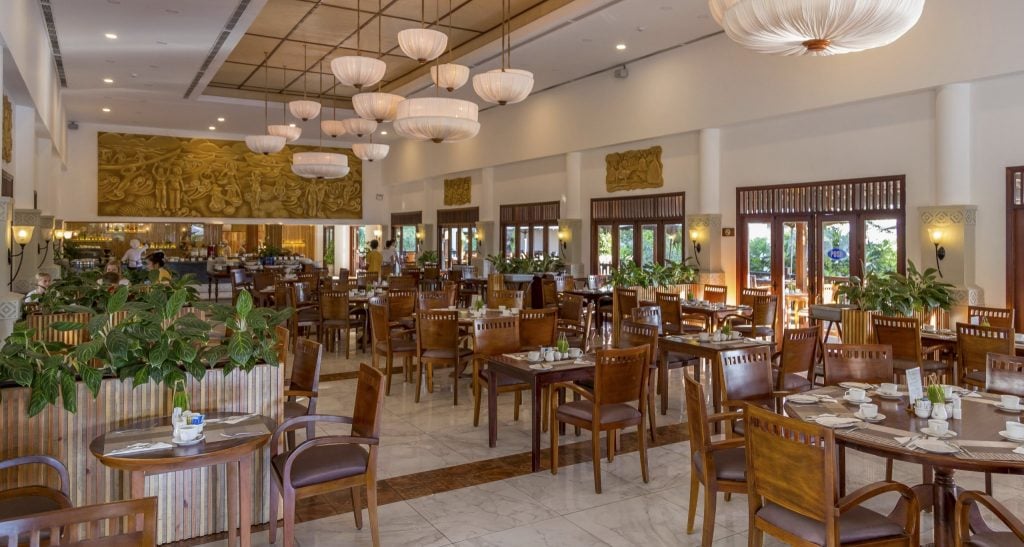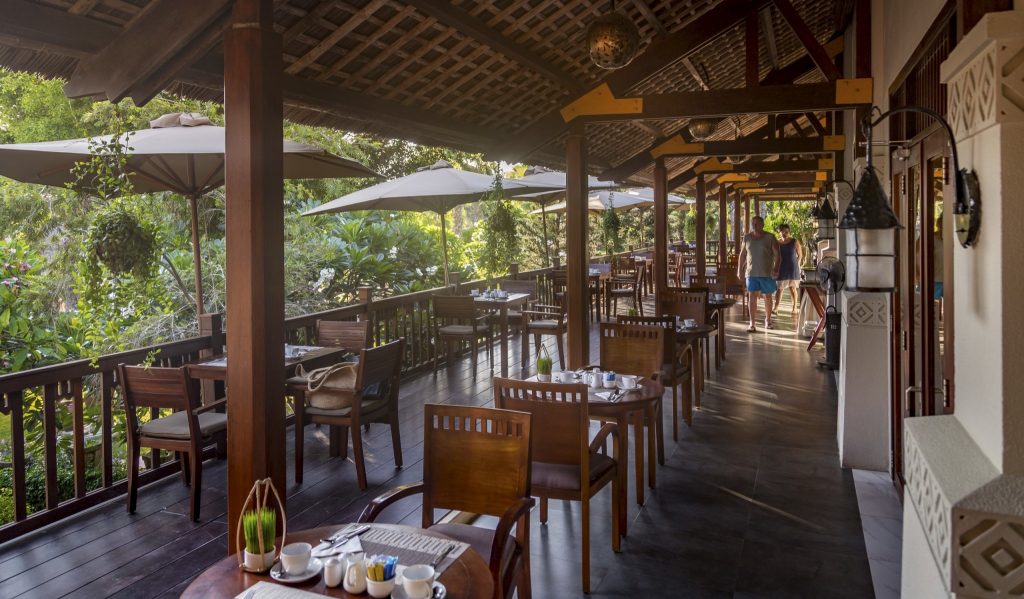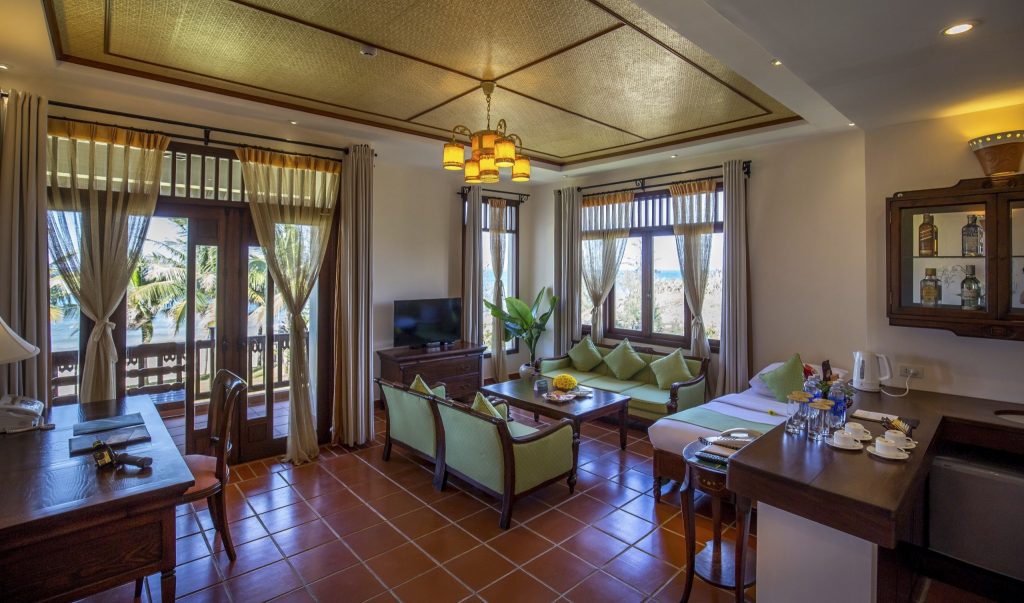 ** All opinions are based on a genuine stay, flight or experience. I'm not affiliated with the hotel, airline or tour operator but I might be (partially) sponsored – or paid. **