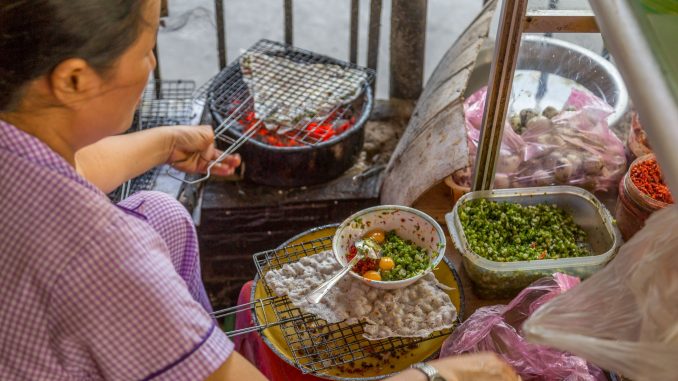 Asian street food is one of my favorites. I love to wander around and eat at various small stalls and restaurants, but I'm lazy to find the best places. It's difficult to find the best places in town and it takes up too much time to research so I always opt to book a food tour. So, I booked a Hoi An food tour for myself and the family who were travelling with me. We were on a two-week journey through Vietnam. I booked the tour with Hoi An Food Tour which is a local agency specialized in, as the name says, Hoi An food tours. The price is affordable and the service the best. Join me on a Hoi An food tour an I'm sure your mouth will water!
Hoi An food tour: the first stops
As I travelled with kids I arranged with Hoi An Food Tour to start at about 6 PM so that we would finish around 10 PM. In total, we would visit 9 hotspots in Hoi An for street food and taste over 12 different dishes. Soft drinks, beer and other beverages are included too. At 6 PM the guide from Hoi An food tour met us at the agreed place after which we were on our way to the first stop. My family loved the tour too but I'll stick to my taste experience in this article. At the first stop of this Hoi An food tour two varieties of grilled cake were on the menu; they are called Banh Trang Nuong.

These grilled cakes are made by filling rice paper with some veggies and other ingredients after which they are grilled above charcoal. It's then topped with pork liver pate or in the other variant with quail eggs. The liver pate is delicious and smooth and as I love sunny side up eggs the quail eggs slide in easily too. If you prefer the dish a bit spicy you can dip it in chilly. It was just the first stop and I was very hungry but I kept myself to order more.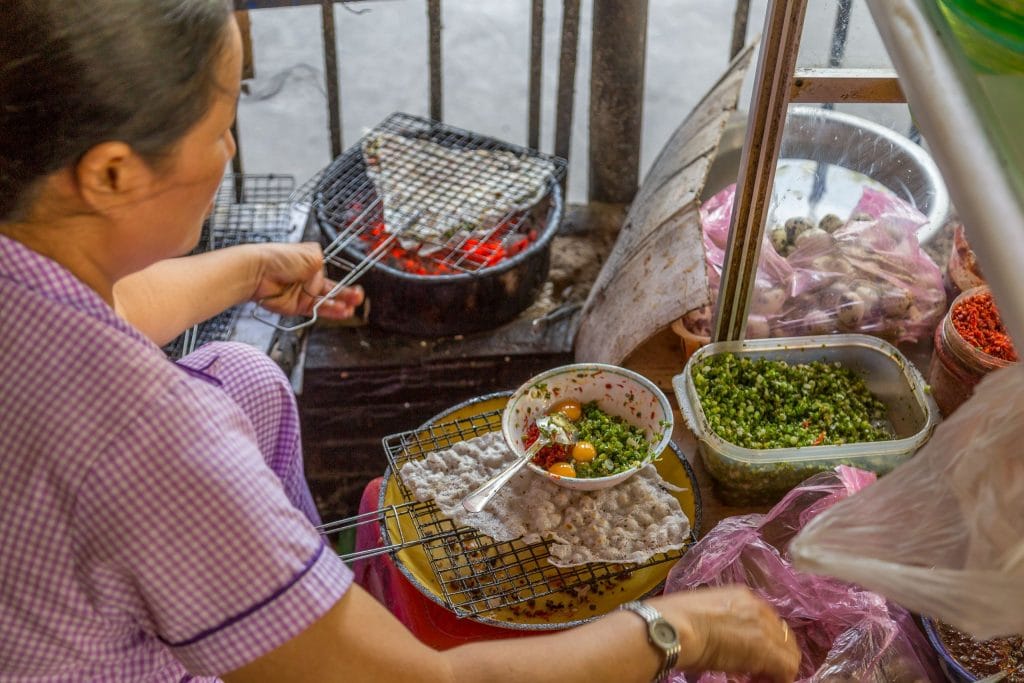 The next stop is one of the three most interesting stops of the evening. Hoi An is famous for the White Rose (Banh Bao Vac) which is available all over town but the Hoi An food tour takes you to the place where it all started. These white roses look a bit like a dumpling and are handmade in the restaurant. It's interesting to see how quick they are rolled out and filled.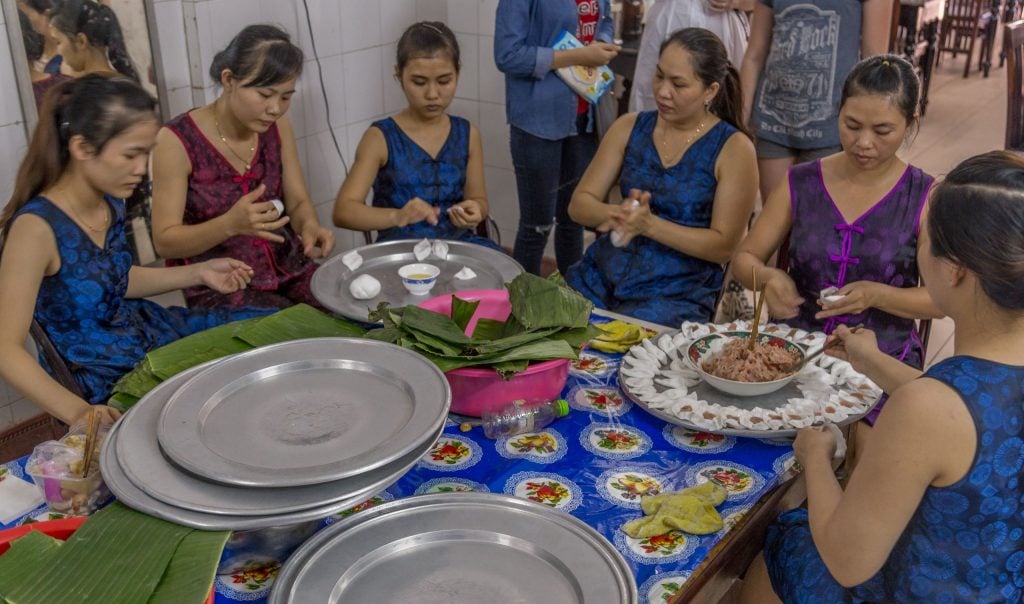 The white rose dumpling is made of rice flour filled with shrimp paste, mushroom, minced pork, or bean sprouts. Boiled to perfection and then topped with grilled slices of garlic. Sauces are served on the side to dip them in. They are so tender and full of flavor!

Many (small) restaurants are hidden away in the back alleys which are actual residential areas. Home restaurants are the place to eat there and they are all specialized in something different. I visited three home restaurants during this Hoi An food tour. At the first I had water fern cake (Banh Beo) which is served in a small cup. It's rice flour hardened like a kind of jelly with a sauce of minced shrimp and pork on top. It's topped with deep-fried cao lau and you can add chilly as much as you wish (I did). I had two or three of the cups; they are delicious and different from any dish I had before.
The Hoi An food tour continues now to the old center but first a small cup of Xi Ma is on the menu. Xi Ma is a black sesame sweet thick soup. It's a mixture of grinded black sesame seeds, sugar, pennywort and Chinese medicine. It's said to be very healthy and while I was having a cup a lot of Vietnamese stopped by on their motorbikes to take it home. Let's continue now to the "second" part!

Hoi An food tour: the most famous baquette
One thing you will notice in Vietnam are the baquettes which are an inheritance of the French ruling in Vietnam. In Vietnam, they are called Ba Phuong Bread which is a banquette filled with whatever you like. Even in our hotel the Palm Garden Hoi An Beach Resort you can have them for breakfast but the best place in Hoi An is at Bánh My Phuong. Ingredients to choose from include Vietnamese sausage, grilled pork, grilled pork patties, spreadable pork liver pate, pork floss, grilled chicken floss, canned sardines in tomato sauce, soft park meatballs, fried eggs, tofu and of course salad. The dish is quite big so I ordered two varieties for the family of four. It was more than enough!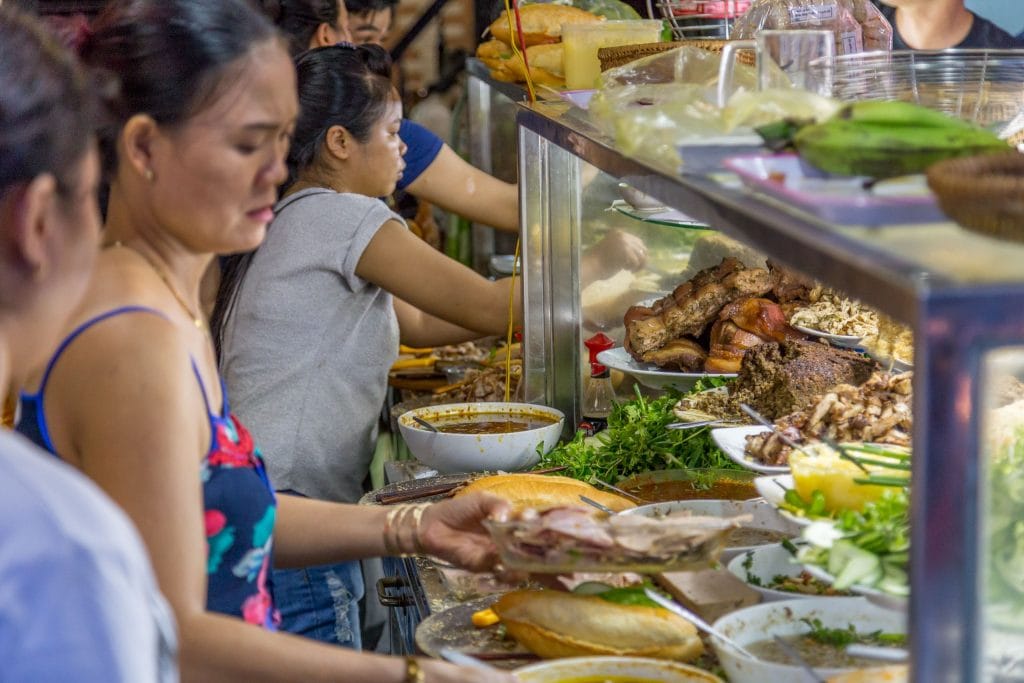 The next two stops are at the local Hoi An market where locals sell their produce. A Balut egg is something you must try in Vietnam or South East Asia. I had my first Balut egg in Hanoi together with my son a few years back. What is a Balut egg? It's a fertilized duck egg with a 2-3-week-old embryo in it. It's then cooked and eaten with some herbs or salt. It might look strange for people from the West but I can assure you it's delicious and healthy! If you don't want to try it, just skip it.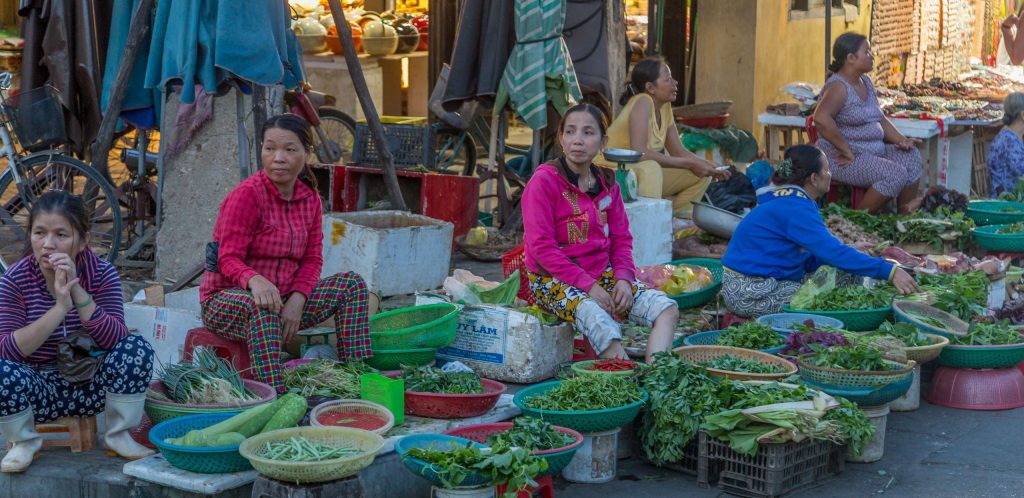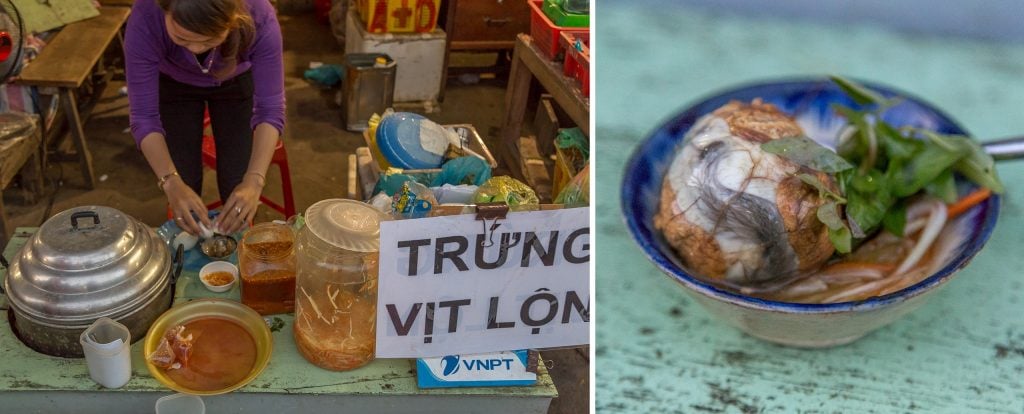 The next dish is a noodle "soup" but not just any noodle soup; it doesn't contain any liquid. It's a mix of ingredients which recipe dates back centuries and it can only be found in Hoi An, Central Vietnam. It contains noodles which differ a bit from the Chinese or Japanese noodles but have something in common too. These noodles are mixed with meats and greens giving the dish a specific taste. You can choose to make it spicy or not, I like spicy so I added quite some chilly. Thank you Ms. Hà for this delicious Cao Lau.

Full yet? Let's have some Vietnamese coffee first before continuing the Hoi An food tour. It's coffee on ice which is good for digestion. I had a coffee, but could not resist taking also a beer in the heat of Hoi An. If you look at the various photo's you might think the food stalls don't have any hygiene but you can be sure that Hoi An Food Tour only works with the best stalls. They are all safe! Let's continue to the last spot of today; a home restaurant where I would taste four different dishes.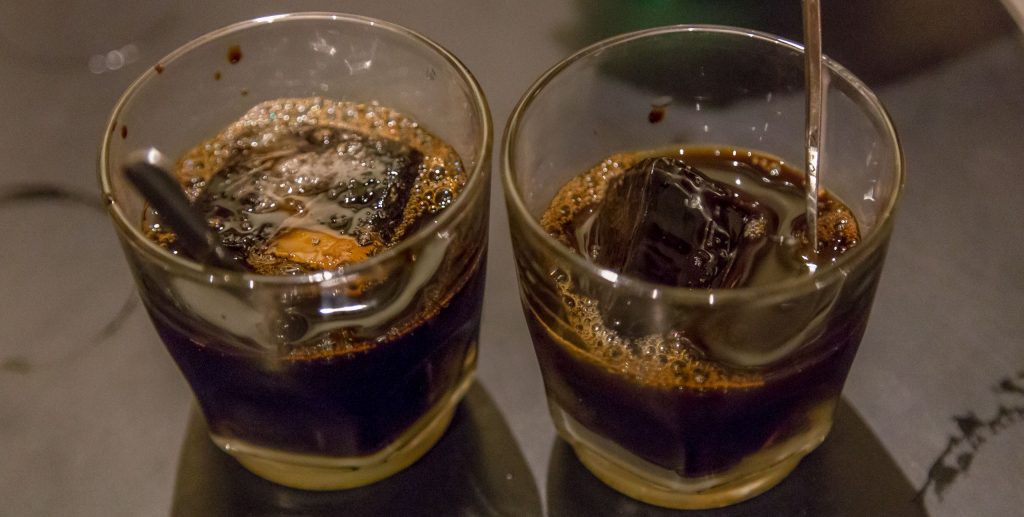 Hoi An food tour: more food
The last stop was again a home restaurant. The grandmother of the house welcomed me into the living room. Her grandson, who spoke quite some words of English, had school holiday and was playing there. Having dinner at a local home gives you also a peak into the daily life of the locals. You can see the layout of a traditional house and the altars for past generations. I had a lot of fun there for sure, but let's look at the food. There were four dishes served. Banh Khot which are mini savory coconut pancakes with a quail egg friend on top. You eat them together with some greens like the sliced pork which you wrap in rice paper. The fried spring rolls are amongst the best I have had and contain veggies and pork. I usually eat those as lunch at the pool with a cold beer and are not normally my first choice for dinner. After I had enough food and beer it was time for dessert. Not sweet but very tasty; I like that!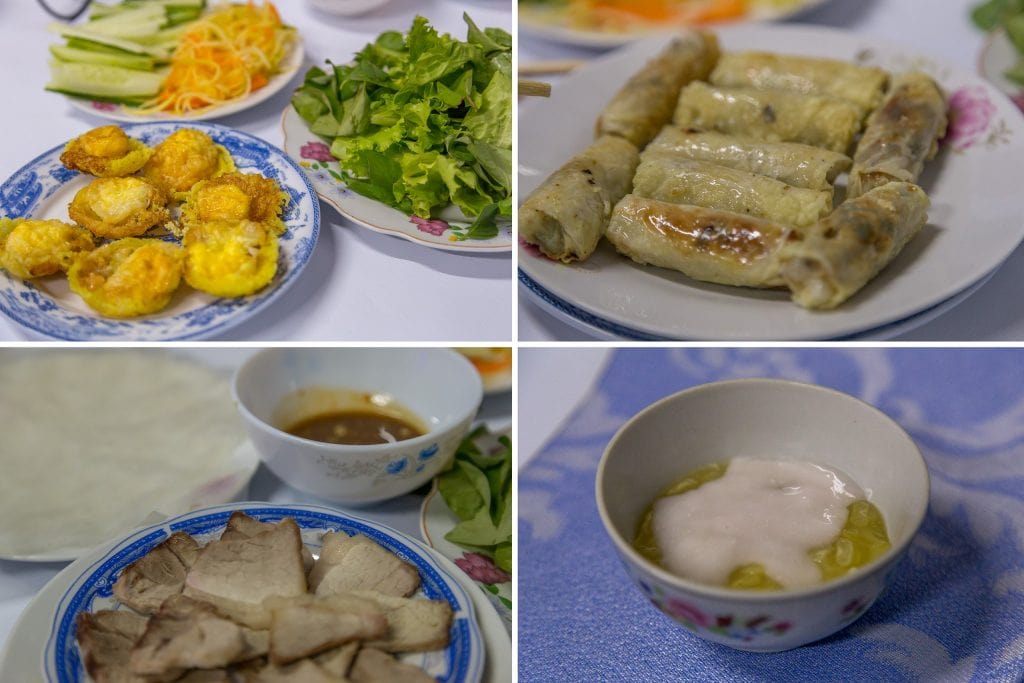 It was past 10 PM when I finished my last plate; I was so full that I could not see any more food for the day. Each dish, one by one, was delicious and tasty. My favorites? The first pancakes with quail egg, the spring rolls and the white roses. I hope you got hungry by reading about this food tour. In any city, I recommend to do a food tour and in Hoi An this is best done through Hoi An Food Tour. They know how to eat like a local!
After I said goodbye to the guide I went with my family for a small walk through Hoi An. It's a beautiful town to stroll by night but I had to return to the Palm Garden Beach Resort as the next day I would continue two-week journey through Vietnam. The next day I continued to Hue, the Imperial City, and after that a few more days in Ho Chi Min City. It's a lovely country with friendly people, lots of culture like the My Son Sanctuary near Hoi An and good food. I hope to return to see more of Vietnam.
Stay tuned for more stories and subscribe to the newsletter or follow CTB on social media (Facebook, Twitter, Instagram including Instagram stories; on all social media you can find CTB @christravelblog) to get updated information.
Did you visit Hoi An for a food tour too or do you have questions? Please leave a comment at the bottom of the page. Love to hear from you!