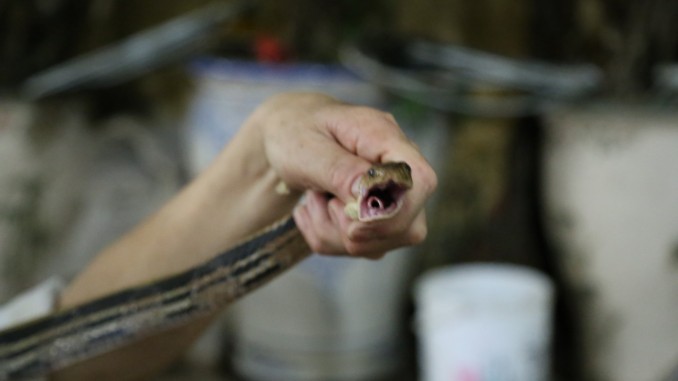 Dinner time in Hanoi! What's better then a fresh and live cobra snake together with your son? Live snake in Hanoi was part of our customized food on foot tour in Hanoi as a last stop.
When we arrived to Snake Village in Hanoi we needed a few minutes to find the restaurant which our guide arranged for us. Finally arrived the owner went to the cages to take nice cobra which was still alive. When we agreed that that was the one we would eat he would kill it on the spot and take the beating heart out. The beating heart is put into rise wine while still beating and then in one shot consumed. The blood and gall is also served together with rise wine and consumed by the shot. Check out the video of the preparation of the snake at the bottom of the post. Be warned!
Live snake in Hanoi is a must eat!
The snake was prepared in several dishes which are: Beating heart in rise wine, blood in rise wine, gallbladder in rise wine, fried snake meat, two kinds of spring rolls with snake meat, fried bones, fried skin, rise with snake oil, long cooked rise with snake fluids, snake soup, boiled remains, salad of intestines. My son loved eating live snake in Hanoi. A great dinner we had!
Stay tuned for more stories and subscribe to the newsletter or follow CTB on social media (Facebook, Twitter, Instagram including Instagram stories; on all social media you can find CTB @christravelblog) to get updated information.
Did you visit Hanoi and had live snake too or do you have questions? Please leave a comment at the bottom of the page. Love to hear from you!
Gallery live snake in Hanoi
Click an image for a full screen gallery of more photos taken during this trip. If you like to use any photo for commercial, private or editorial use please contact first for permission and/or pricing.
Video live snake in Hanoi