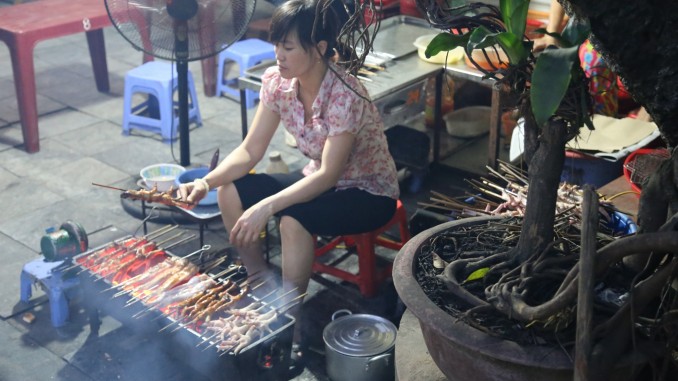 Vietnam, Hanoi is a heaven for addicts of special food. I visited with my son and we did a food tour in Hanoi. We like to try a lot of things too and because we had only little time we hired some experts to show us around! After a short search on the internet I came to only one who could assist us on short notice (one day before we booked): http://www.VietnamAwesomeTravel.com. They where just great, our guide Ms. Lily walked us around the old quarter to taste the various things Hanoi has to offer and explained in detail what it is.
After the actual food tour in Hanoi ended I wanted more. I went with my son to Snake Village (on our request, not standard). Read about that experience here: VIETNAM – Live snake in Vietnam, a beating heart! (do not open if you have a weak stomach).
Why do this one a (private) tour? It's time efficient. Of course you can try it all yourselves but you probably end up spending to much time to check where to get it (you can see it below also) and you probably pay more anyway than with the tour. Book a private tour! It's the best way.
The food my son and I tried on this food tour in Hanoi
Bun Cha = Grilled Pork with Noodle

Bun Bo = Noodle with Beef
Nem Chua = Fermented Pork

Fried & Dried Eel

Banh Cuon = Steaming rice paper- rolling Pancake
We added Ca Cuong, it's an extract from the Belostomatid, a giant water bug. A few drops are added for a great aroma.

Cha Ca = Grilled Fish Hanoi
Ech Rang Muoi = Fried frog with salt

Canh Ga Nuong = BBQ Chicken

Banh Xeo = Crispy Pancake
Nom Hoa Chuoi = Flower Banana salad

Thit Cho = Dog Meat

Trung Vit Lon = Duck Egg Embryo

Stay tuned for more stories and subscribe to the newsletter or follow CTB on social media (Facebook, Twitter, Instagram including Instagram stories; on all social media you can find CTB @christravelblog) to get updated information.
Did you visit Hanoi and did a food tour too or do you have questions? Please leave a comment at the bottom of the page. Love to hear from you!