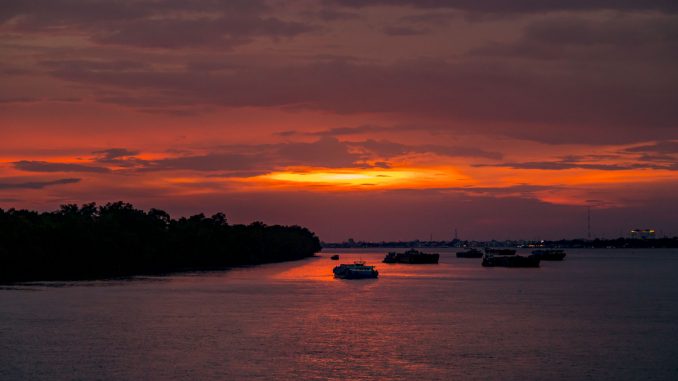 Vietnam and Cambodia are one of my favorite countries in South East Asia and I have always wanted to go back one day. Doing a Mekong Cruise has been high on my wishlist too. During the last summer holidays I finally went back with my family. I came up with this Ho Chi Minh City to Siem Reap itinerary via the Mekong Delta and Phnom Penh. My family and I had a great time! We already did a two-week Vietnam trip in central & north Vietnam two years back, but Cambodia was new for my family. I visited Siem Reap already for a long week several years ago. There is some overlap in in this Vietnam to Cambodia itinerary but not much. It can be used to connect both other itineraries to make a 5-6 week itinerary covering all places in both countries.
We started in Ho Chi Minh City in Vietnam from where we first visited Phu Quoc island to relax. Then one of my dreams came true and we did a Mekong Cruise to Phnom Penh. After Phnom Penh we did a homestay (a first!) and ended the trip for a week in Siem Reap. This itinerary is for 3 weeks but you can leave out Phu Quoc and shorten the stay in Siem Reap to make it 2 weeks. Join me on this day by day itinerary which will help plan your trip from Ho Chi Minh City to Siem Reap.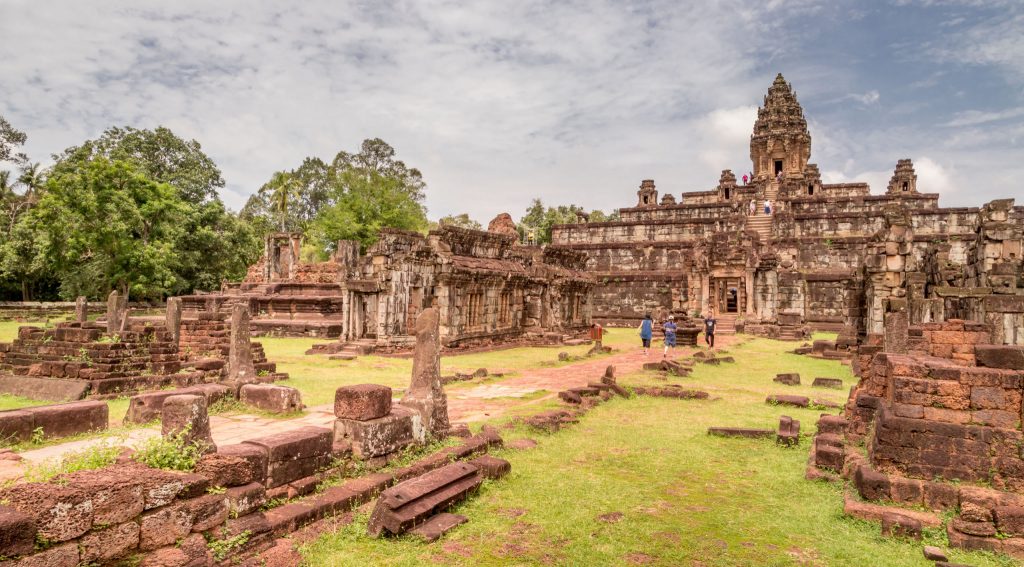 Planning a Ho Chi Minh City to Siem Reap itinerary
Planning this Ho Chi Minh City to Siem Reap itinerary is very straightforward. Major airlines fly to both cities and I recommend booking an open jaw flight, so you don't have to fly back at the end of the trip to either one. This saves you also visa costs. You can either start in Ho Chi Minh City or in Siem Reap as the Mekong Cruise goes both ways.
I flew first to Tunisia and started my trip from there. China Southern offered a cheap business class fare at just 750 euro from Tunisia to Ho Chi Min City (via Paris and Guangzhou) and back from Siem Reap. Check my tips on how to book cheap business class fares and book your next trip also cheap in business class. It earned a big pile of reward miles too which I can use for a future ticket.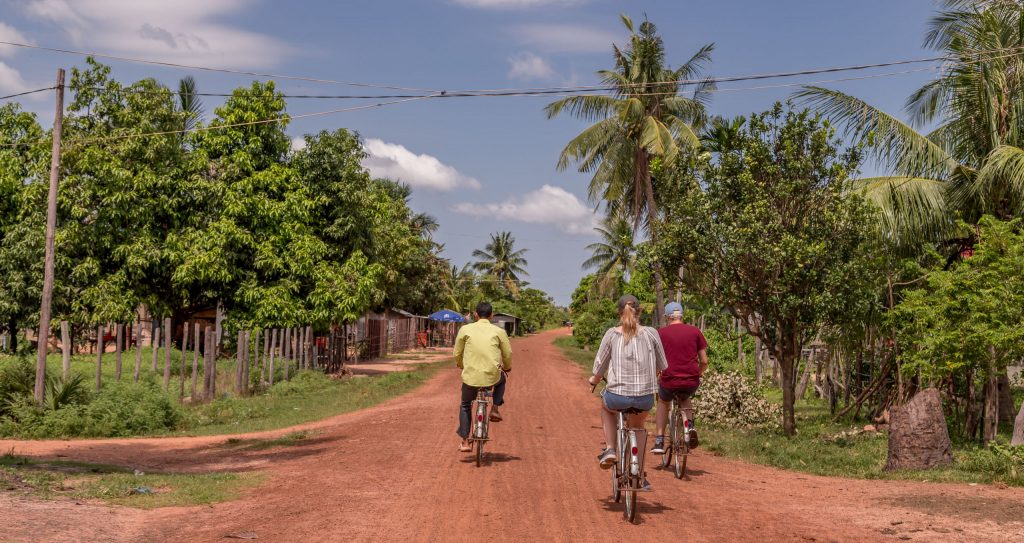 Vietnam visa and Cambodia visa
Vietnam offers visa on arrival for Europeans, but it requires an approval letter. I recommend getting the approval letter for a Vietnam visa through e-Visums upfront. They have the letter ready in no time and fast track too which is especially great during rush hour. You just sit back and relax or maybe already get a local sim card while waiting for your visa to be ready. The Cambodian visa is arranged by the Mekong Cruise when you go from Vietnam to Cambodia, so you don't have to do anything for that. Do note that if you do the trip in opposite direction you need a Cambodia visa which e-Visums can also arrange.
I recommend booking all accommodation in advance as sometimes prices go high in high season. I booked the Intercontinental Phu Quoc, the homestay in Sambor Prei Kuk, Park Hyatt Siem Reap and Phum Baitang by Zannier Hotels all well in advance. The Mekong Cruise is probably the most important to book well in advance as the boats have limited space especially in the luxury segment. I was, however, last minute with booking reward stays in Ho Chi Minh City though as I didn't know how long I would be there.
A summary of this Ho Chi Minh City to Siem Reap itinerary for you to copy paste!
Day 1: Arrival in Ho Chi Minh City, Day 2: Ho Chi Minh City, Day 3: Chu Chi Tunnels & Cao Dai Temple, Day 4: Ho Chi Minh City to Phu Quoc, Day 5: Relax Phu Quoc, Day 6: Phu Quoc Island Tour, Day 7: Relax Phu Quoc, Day 8: Phu Quoc to Ho Chi Minh City, Day 9: start Mekong Cruise, Day 10-12: Mekong Cruise, Day 13: Mekong Cruise end in Phnom Penh, Day 14: Phnom Penh, Day 15: Phnom Penh to Homestay Sambor Prei Kuk, Day 16: Homestay, Day 16: Homestay to Siem Reap, Day 17-21: Siem Reap and day trips, Day 22: Departure from Siem Reap
EXTEND YOUR TRIP: Make sure to read my two-week Vietnam itinerary or my 9-day Siem Reap itinerary to get more inspiration on how to extend this trip or mix it up.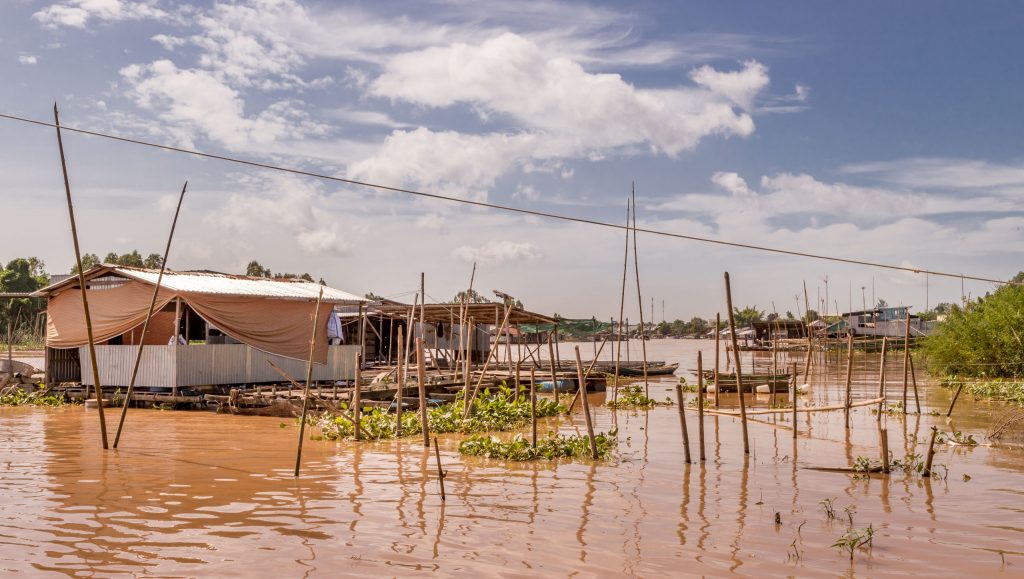 Cambodia to Vietnam itinerary day 1 through 4: Arrival & Ho Chi Minh City
It depends from where you come and how many time you're in the plane but 3 nights in Ho Chi Minh City will do. You can do a city trip and a day trip to the Chu Chi Tunnels & Cao Dai Temple which covers most places of interest.
Ho Chi Min City or also called Saigon is the capital of Vietnam. It has several places of interest but I personally found Hanoi more interesting. There are however certain places not to be missed and they can all be visited in a day if you do it efficient. They are: The Reunification Palace, War Remnants Museum, City Hall, the Notre Dame Cathedral, the Mosque, and three pagodas'. There are several other museums which can be visited depending your interest. A food tour on motorbike is also something I highly recommend.
The 2nd day I recommend doing the traditional day trip to the Chu Chi Tunnels & Cao Dai Temple from Ho Chi Min City. The Cao Dai Temple is a religious site which religion can't be compared to any other religion in the world. It's a quite modern religion and best described as a combined religion of Christianity, Buddhism and Hinduism with a flavor of Confucianism and where Sun Yat-Sen, Victor Hugo and Nguyen Binh Khiem are the three saints. Make sure to arrive in the morning so that you can attend mass. Most tour groups will leave after half an hour or so but I suggest you to stay till the end. It's very interesting to see and I recommend to go by private car to have more flexibility. After the mass continue to the Chu Chi Tunnels to learn about the history of the Vietnamese war. You can experience here yourself the small tunnels and how the Vietcong lived there and how they operated.
Read more in my Ho Chi Minh City day trip articles:
VIETNAM – Ho Chi Min City food tour on a motorbike; delicious street food
VIETNAM – Must do day trip: Cu Chi tunnels and Cao Dai Temple from Ho Chi Min City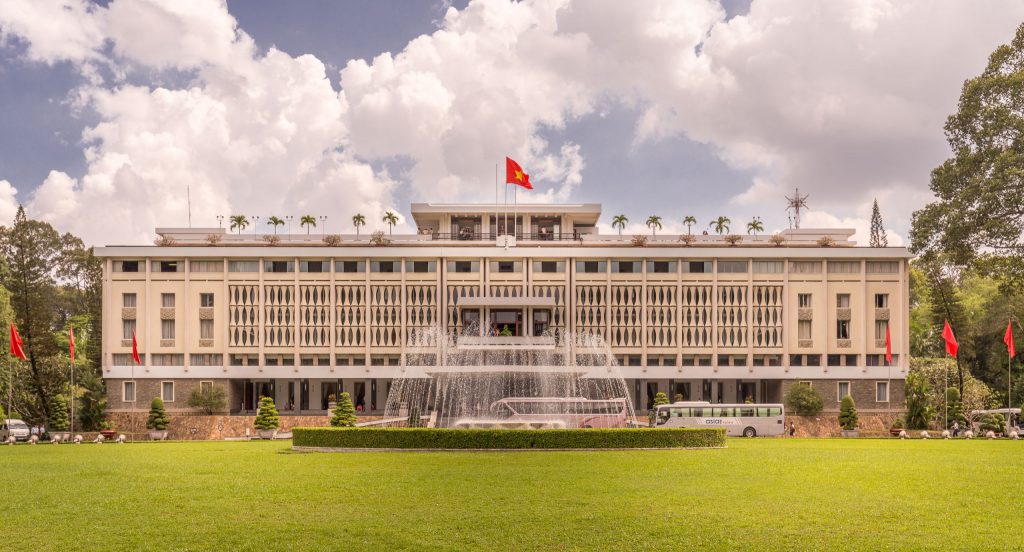 Saigon to Siem Reap but first Phu Quoc island (day 4 through 8)
Phu Quoc is Vietnam's quickly developing island for tourism. In particularly Long Beach which is a long stretch of beach where dozens of resorts are currently being built. When I saw that the Intercontinental Phu Quoc already opened its doors I booked a 4-night stay. Just to get away from everything as I tend to go see new things every single day but Phu Quoc you have simply seen in a day. Keep in mind the weather during the wet season. It's hit or miss but I had 4 full days of sunshine at the end of July.
SHORTEN YOUR TRIP: If you want to shorten this Saigon to Siem Reap itinerary drastically you can remove a visit to Phu Quoc saving 4 nights.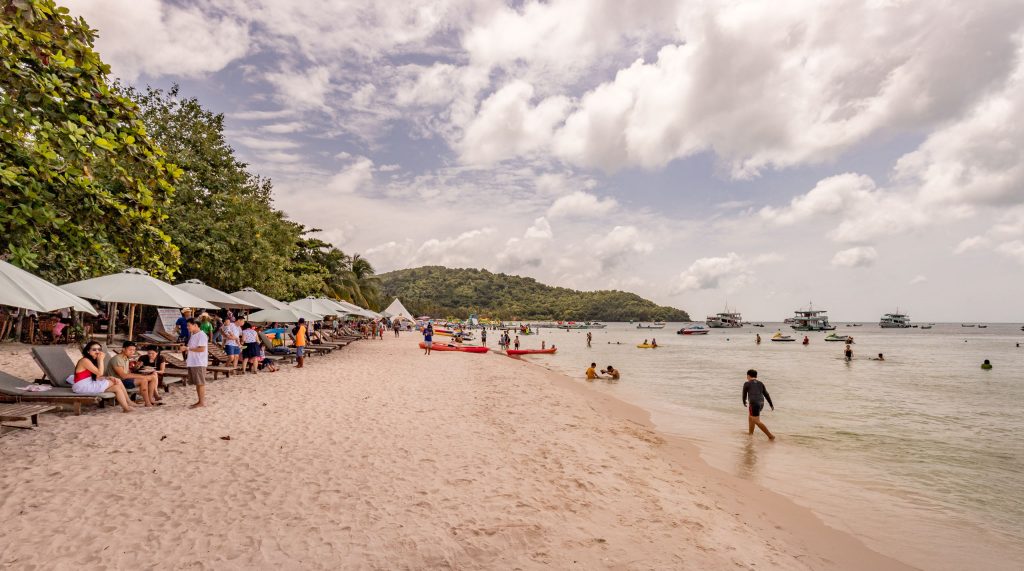 One day I did an island tour by taxi which was just around 40 USD. I recommend starting at the old Phu Quoc prison as it really opens your eyes. The unhuman things the US soldiers did there are horrible. Then continue to the Ho Quoc Pagoda and on the way back to the main road stop at a bee farm. To be honest there is a much better bee farm up north on the island but that would take to much time to get to on a day trip. Your next stop should be the Suoi Tranh Waterfall and then the Dinh Cau temple. Ask the driver to stop at a distillery and pepper farm on the way. These farms are a bit small and just show you the general idea. To go to a bigger pepper farm you'll need more time.
I just relaxed at the Intercontinental Phu Quoc the remainder of the days. What a great resort!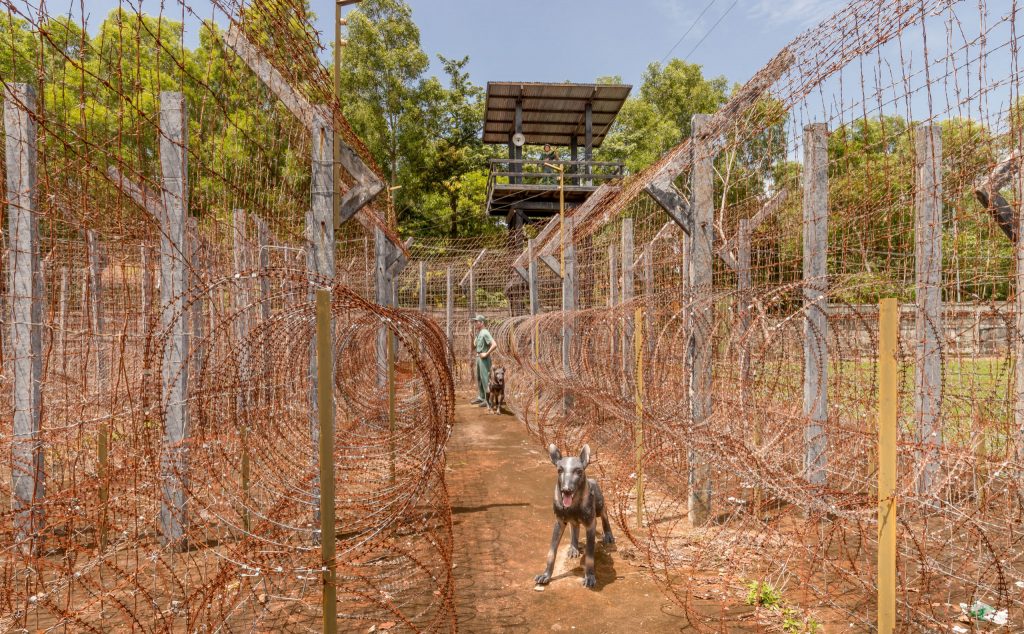 Vietnam to Cambodia itinerary day 9-13: Mekong Cruise
The Mekong Cruise started early morning, so I still had to book a 1-night stay (day 8 to 9) in Ho Chi Minh City between the Phu Quoc detour and the start of the Mekong Cruise. Cruises are offered on various parts of the Mekong River but the Ho Chi Minh City to Phnom Penh (or further upstream) cruise through the Mekong Delta is amongst the most famous. Cruises range from 3, 4 or 7 nights. I added a 4-night cruise in this Vietnam to Cambodia itinerary.
The Mekong River and its surrounding landscape is a huge area in South East Asia. Its source is on the Tibetan plateau and from there flows through the Yunnan province (China) to Myanmar, Laos (where I visited the Pak Ou caves at the river) into Cambodia and finally Vietnam.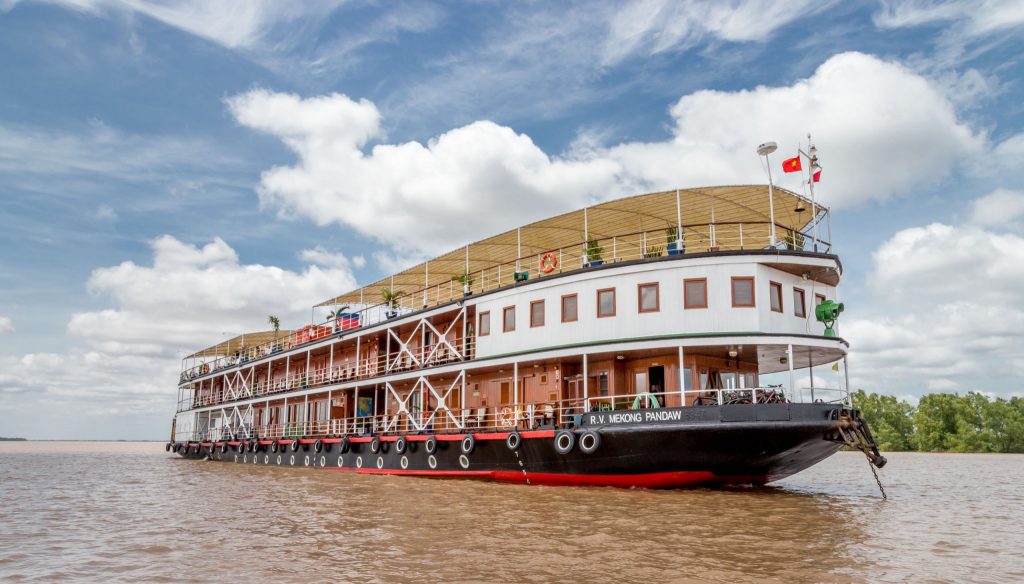 Daytrips on a Mekong Cruise
Each day of the cruise there is a morning and afternoon trip on land. I had most fun visiting a local family and see how they live with several generations together. Kids came out to see who these white tourists were, and we had a lot of fun. Make sure to choose a cruise where you really visit local communities away from other tourists. There you see the real local life.
Other activities to choose from are visiting fish farms, coconut farms, crafts and much more. Everything that is practiced in the Mekong Delta is included in the day tours. I recommend participating in all of them as there is enough time left to relax on the ship too. After 4 nights the ship arrived in Phnom Penh where I disembarked and went to a hotel. The ship went further upstream.
EXTEND YOUR TRIP: If you opt to do the full Mekong Cruise including upstream to the river dolphins in Cambodia you'll have to add just 2 nights. This is due to the fact the ship stays overnight in Phnom Penh and 3-half-day excursions will take you to all places of interest there too.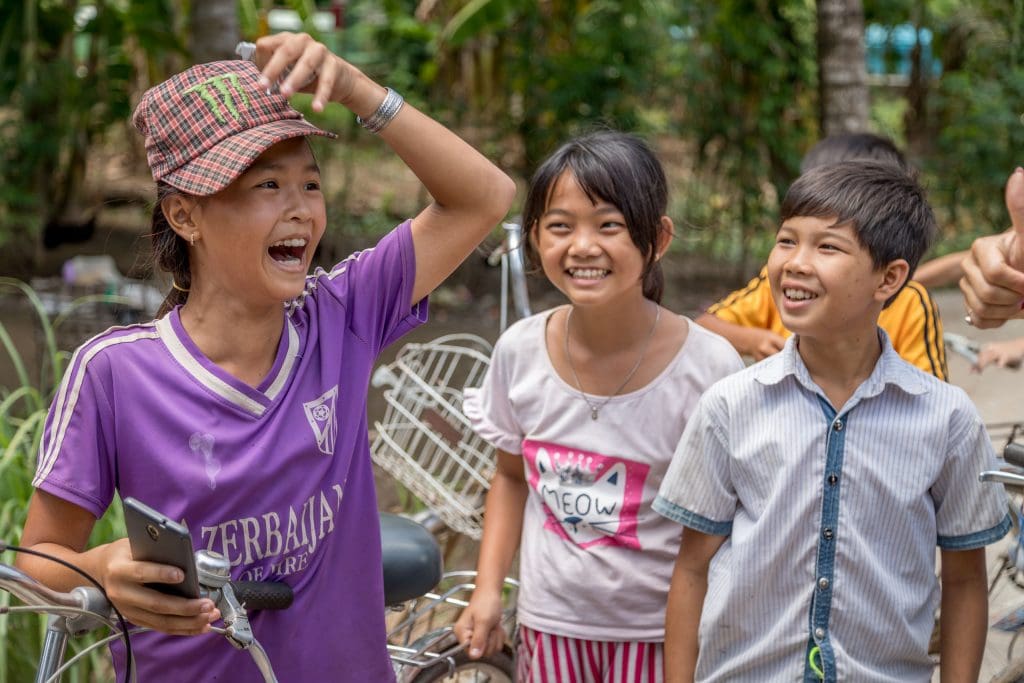 Ho Chi Minh City to Siem Reap itinerary day 13-15: Phnom Penh
Phnom Penh is the capital of Cambodia and the largest city in the country. It's a busy and hectic typical South East Asian city. A 2-night stay will suffice to see all the places of interest. Of course, more days are easily filled too by wandering around town. The Mekong Cruise arrived early morning in Phnom Penh and I was at the hotel around 11AM.
I recommend visiting the Killing Fields of Choeung Ek and Tuol Sleng Genocide Museum (S-21 Prison) after lunch. Both places show the history of the violent Khmer Rouge times under rule of Pol Pot who's tomb in north Cambodia I visited earlier. The prison is where people where put first after which they were brought to the killing fields. Thousands were killed there! Keep in mind what you see is shocking!

The second day I used to see all the other places of interested in Phnom Penh. I recommend visiting the Royal Palace first in the morning when it opens at 08:00. Then continue to the National Museum of Cambodia and Wat Phnom. The museum has beautiful sculptures from the Khmer Empire temples on display. I finished when it was lunch time. After lunch visit Wat Botum, the various Independence and Liberation memorials. Continue the afternoon with a look at the Grand Post Office Building and the Central Market. Both are great examples of French colonial architecture. Finish the day with a stroll along the riverside!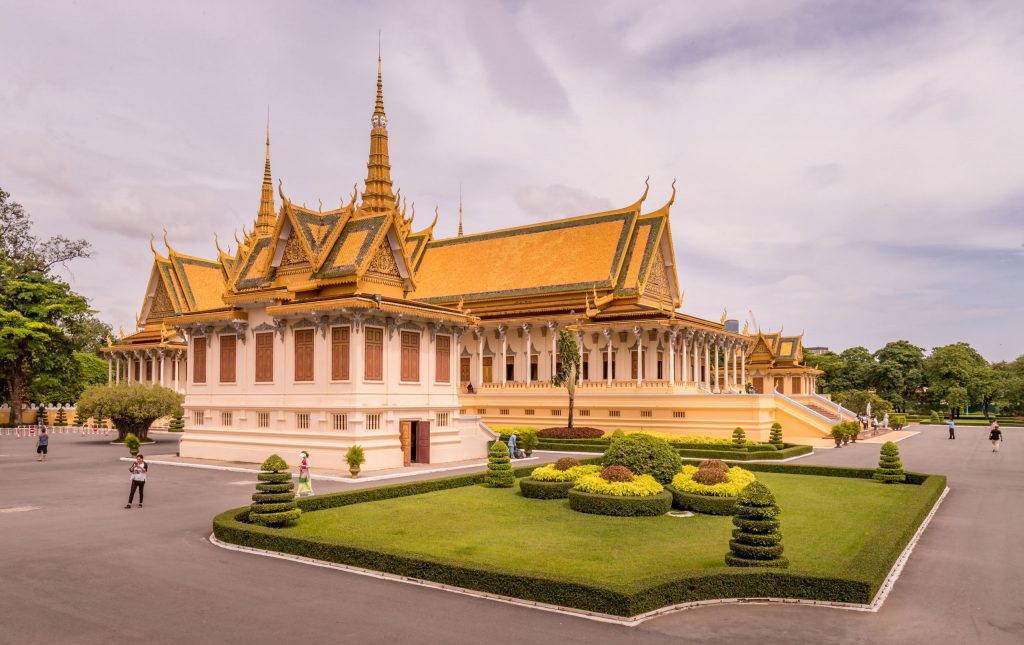 Vietnam to Cambodia itinerary continued day 15-17: Homestay in Sambor Prei Kuk
A homestay is something I never did before. I did book one before but the 2-day trekking to a remove village in Luang Prabang I had to cancel as I got sick. The ONLY time I got sick for a day during all my travels. Now, in Cambodia, I did a homestay with my family. The kids loved it! I booked the homestay through Khiri Travel who also arranged the transport from Phnom Penh and to Siem Reap. Why a homestay in Sambor Prei Kuk? That's because these families live inside the Sambor Prei Kuk UNESCO World Heritage Site. This site was a must visit this trip and thus great combination.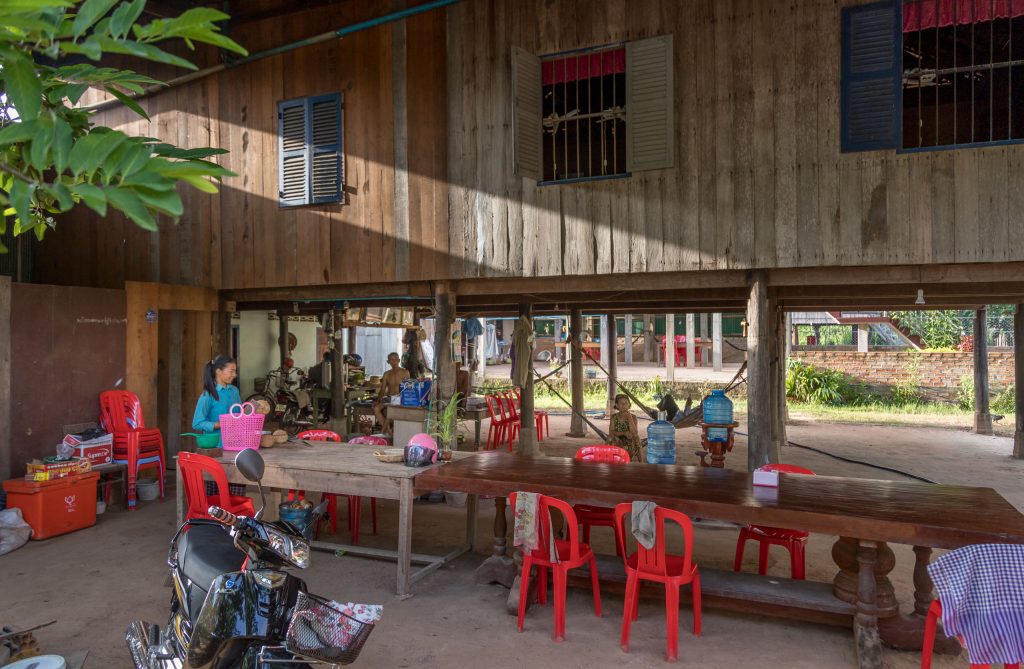 I booked a two-night homestay. This way I had a full morning to explore the villages and see what the people do during the day in Cambodia and the afternoon for Sambor Prei Kuk archeological site. It's a great way to combine a homestay experience with a visit to a UNESCO World Heritage Site. If you prefer a hotel, it is possible to make a day trip to Sambor Prei Kuk from Siem Reap or Phnom Penh, but you won't have time to look around the country side. The family and I had a great time and my kids still talk about teaching the local kids English.
EXTEND YOUR STAY: Add a night in the homestay to have more time to explore the rural areas of Cambodia. It's interesting to see what the locals do during the day!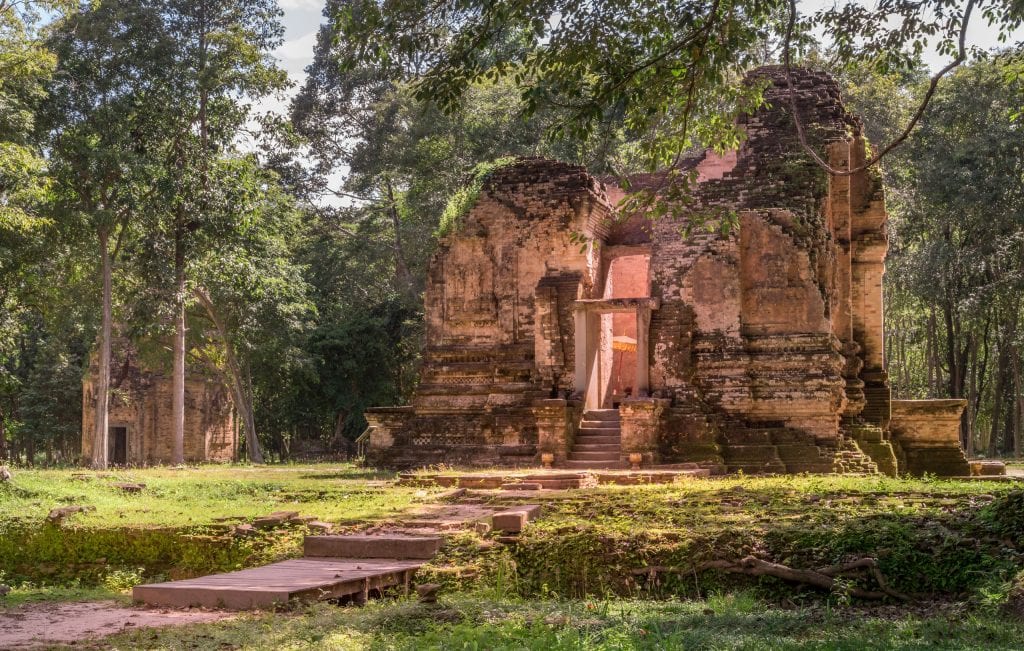 Ho Chi Minh City to Siem Reap day 17-21: Siem Reap, the final destination
I planned 8 nights in Siem Reap this trip but due to a flight cancellation I had no option as to leave 2 days earlier. So, finally, it was still packed with sightseeing for me and missed the 2 extra days at the pool. My kids and wife however didn't join on every single day trip from Siem Reap as they wanted to relax a bit too. I booked 3 nights at the Park Hyatt Siem Reap where I also stayed 5 years ago. It's a sanctuary in downtown Siem Reap. The second 3 nights I booked at Phum Baitang Resort which is just out of town. Each villa is built like a traditional house (but with modern facilities) and surrounded by rice fields.
I recommend checking out my 9 days Siem Reap itinerary of 5 years ago for 6 other day trips you can do! You can easily exchange some of the day trips mentioned here for those in that itinerary.
EXTEND/SHORTEN YOUR TRIP: As there are 6 more day trips from Siem Reap you can do you can easily extend this Vietnam to Cambodia itinerary by adding more days in Siem Reap. You can also skip a day trip or two if you need to shorten your itinerary.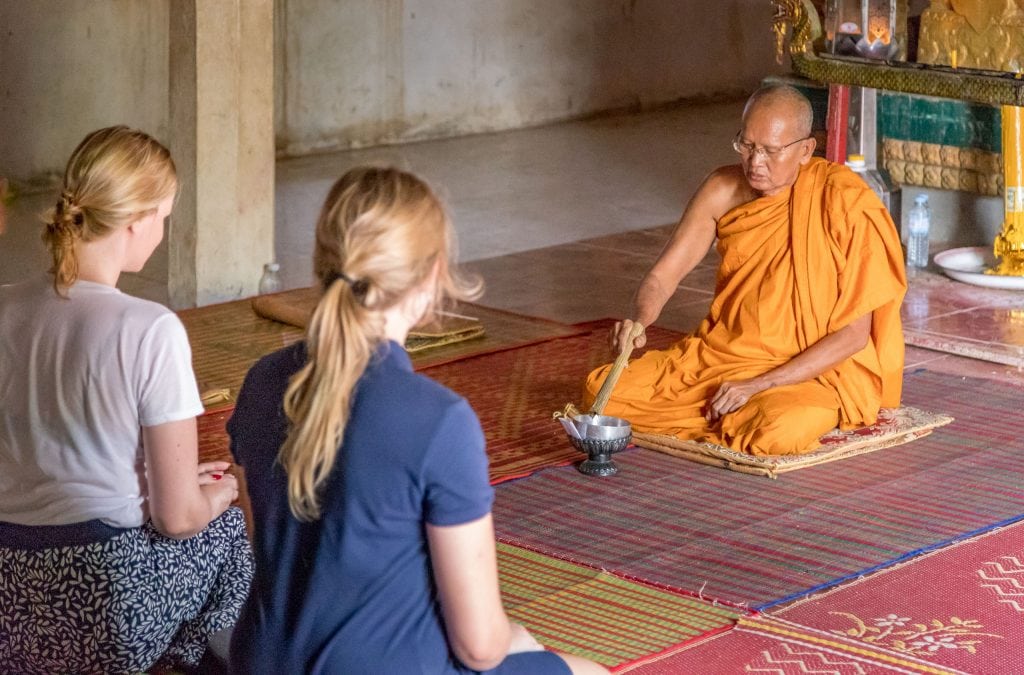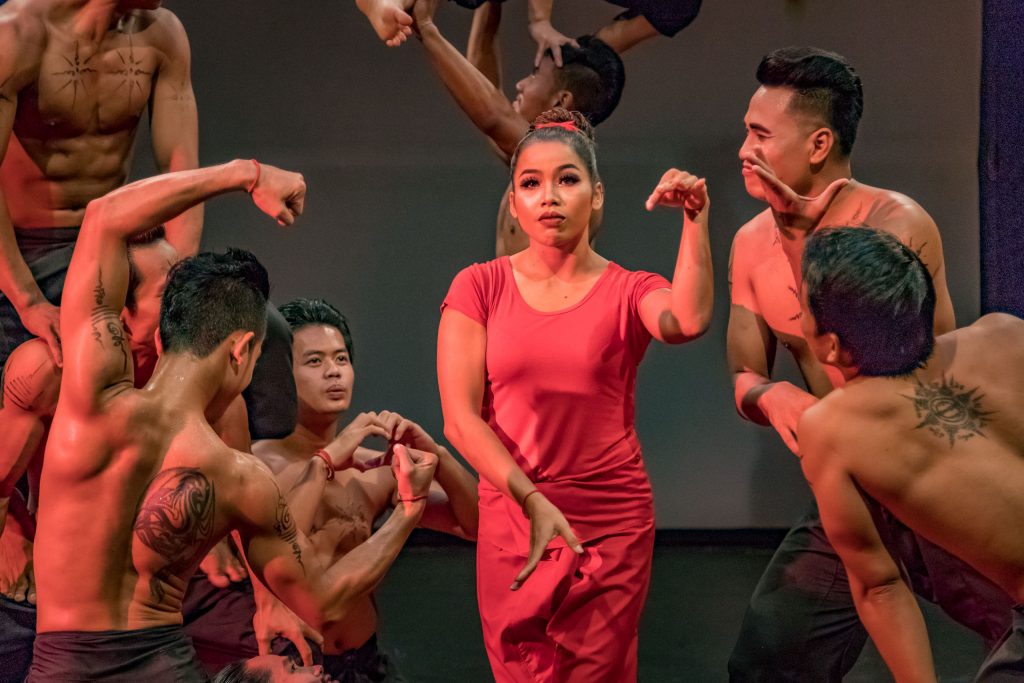 Of course, I visited Angkor Wat again because it's so iconic and my wife and kids didn't see it yet. Visit in the morning then continue to the Angkor National Museum where beautiful sculptures and other pieces of art are on display. You miss those at the temples. I didn't take my family on the big circle tour I did five years ago.
I also re-visited the Rolous Group but in a totally different way. I booked a tuk tuk tour (bicycle is also possible) with Lolei Travel to the temples of the Rolous Group. Interesting of Lolei Travel is that they then continue of the beaten track to a small town where lunch is served in an active Buddhist temple. After lunch the guide takes you around the country side and possible other temples. I opted for a short version to be back at the hotel around 3PM so that I had a bit of pool time. In the evening I visited the Phare Cambodian Circus which is something I highly recommend to do.
Remote temple tours from Siem Reap
The other two days I did two remote temple tours I didn't have time for when I first visited. My daughter and wife joined the tour to Prasat Preah Khan of Kampong Svay and my son and wife to Banteay Chhmar. If you haven't been to Siem Reap before I highly recommend going to Kulen Mountain, Banteay Srei & East Mebon and not to Banteay Chhmar.
Prasat Preah Khan of Kampong Svay is best reached by 4×4 which I booked through Lolei Travel too. I didn't book a guide though. This temple complex is the most remote one in all of Cambodia tucked away deep in the Boeng Peae Wildlife Sanctuary. It takes over 3 hours to get there but is well worth it. Banteay Chhmar is also of the beaten track but easily reached by car in just under 2 hours. Both are beautiful examples of jungle temples as you can see in the photos below. Keep in mind that these complexes are huge and exploring them takes between 3 and 5 hours.
Read all about Preah Khan de Kompong Svay in this day trip report:
CAMBODIA – Preah Khan de Kompong Svay day trip from Siem Reap, a REAL jungle temple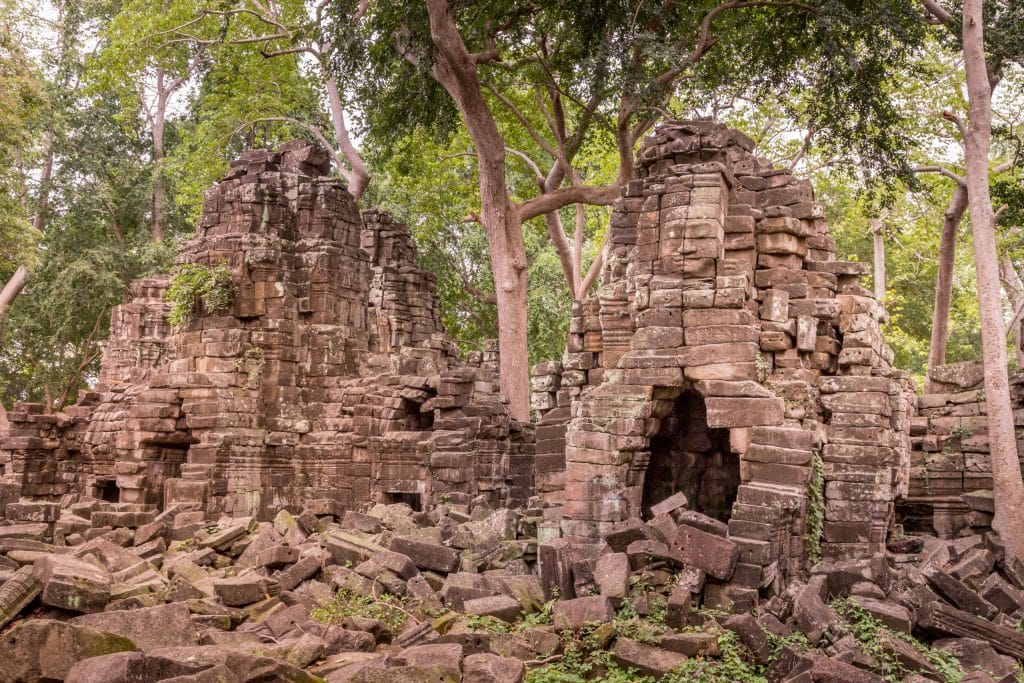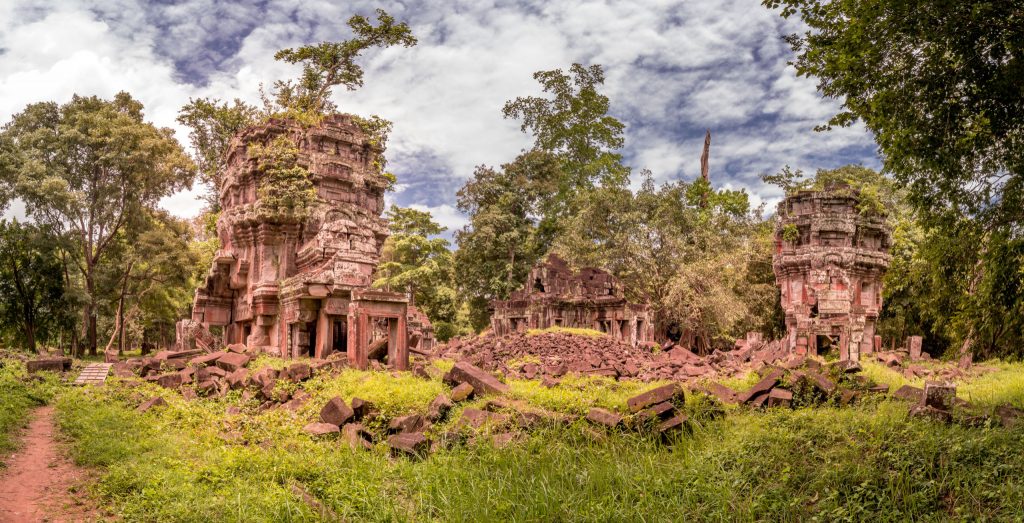 Vietnam to Cambodia day 22: Departure
As mentioned my trip ended two days earlier as planned. These kind of things happen, and I had to choose to leave 2 days earlier OR 2 days later. Two days later wasn't possible as I would be flying to the USA and onward for a Caribbean island-hopping trip to Antigua, St. Lucia, and Barbados. I had to settle for 2 days earlier but I didn't go back all the way to Tunis. In Paris I abandoned my ticket and went back to the Netherlands where I live. I didn't want to stay 2 days in Tunis as I just made a 2-week Tunisia trip earlier this year.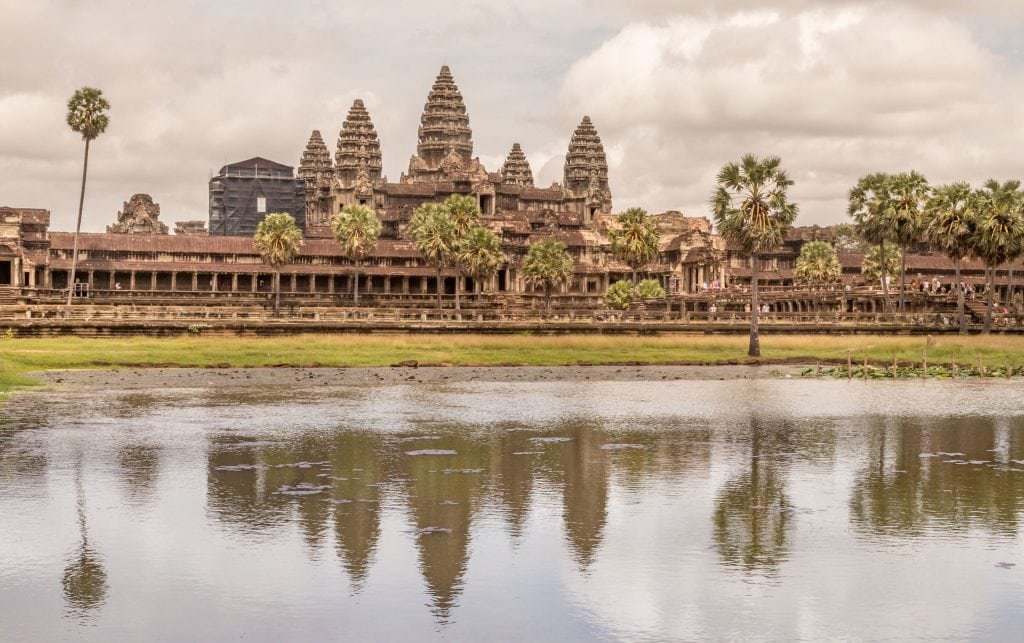 The end! I hope this Ho Chi Minh City to Siem Reap itinerary helps you plan your trip. It's a trip that I also highly recommend for a first time visit to South East Asia because you cover two countries going from Vietnam to Cambodia. This itinerary has city life, beaches, old Khmer Empire culture, local life and so much more all packed efficiently so that you don't loose time.
If you want to extend the trip there are several options. I already mentioned the 9 days in Siem Reap itinerary and the 2-week Vietnam itinerary. In case you like to add another country have a look at my 2-week Indonesia itinerary, 2- or 3-weeks Thailand itinerary or maybe go more north and add a 2-week Taiwan itinerary. Each one is suitable to add to this Saigon to Siem Reap itinerary. Enjoy combining!
Stay tuned for more stories and subscribe to the newsletter or follow CTB on social media (Facebook, Twitter, Instagram including Instagram stories; on all social media you can find CTB @christravelblog) to get updated information.
Did you visit Vietnam and Cambodia too or do you have questions? Please leave a comment at the bottom of the page. Love to hear from you!