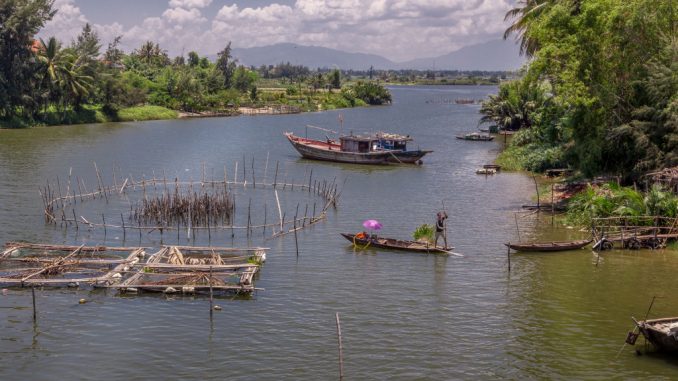 Hoi An is a city in Central Vietnam and was the second city on my two-week Vietnam itinerary. One day Hoi An Express took me on a motorbike country side tour; my family stayed at the Palm Garden Hoi An Beach Resort. Exploring the country side on motorbike is the easiest way as many paths aren't accessible by car and walking would be too far. Hop on and I'll show you what to expect during a Hoi An country side tour.
Stay away from baby buffalos!
Being on a private motorbike tour with Hoi An Express gives you the freedom to stop anywhere you want. When I saw two young water buffalos I asked the driver to stop as I wanted to make pictures. The young water buffalos approached me very close and I could shoot some good pictures until I had to run. Yes run!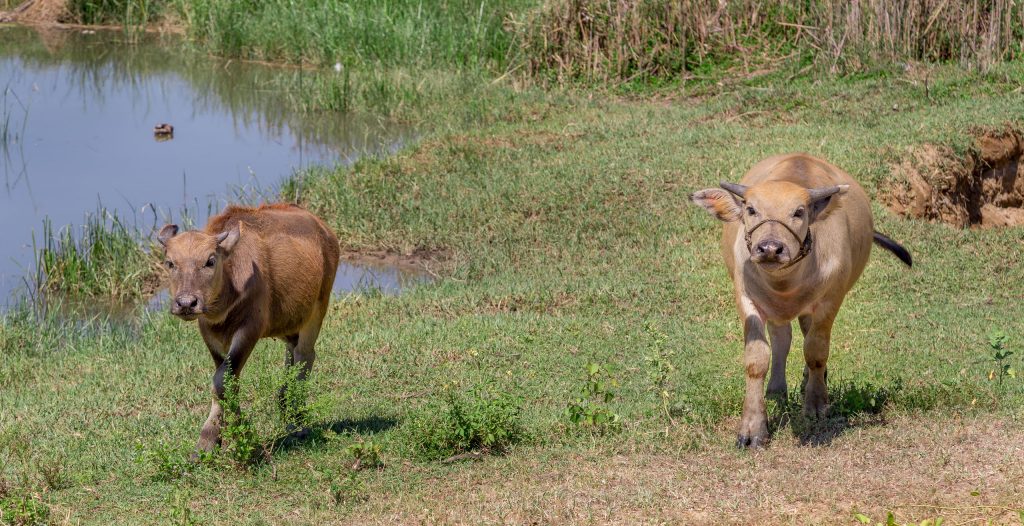 While I was busy shooting pictures I suddenly heard something big running towards me; the mother didn't agree that I was so close by. Luckily, she was on a line and I could get away. Lesson learned: never approach young water buffalo unless you want to have an angry mother running after you. I hopped on the motorbike and we drove further, farther away from Hoi An into the country side.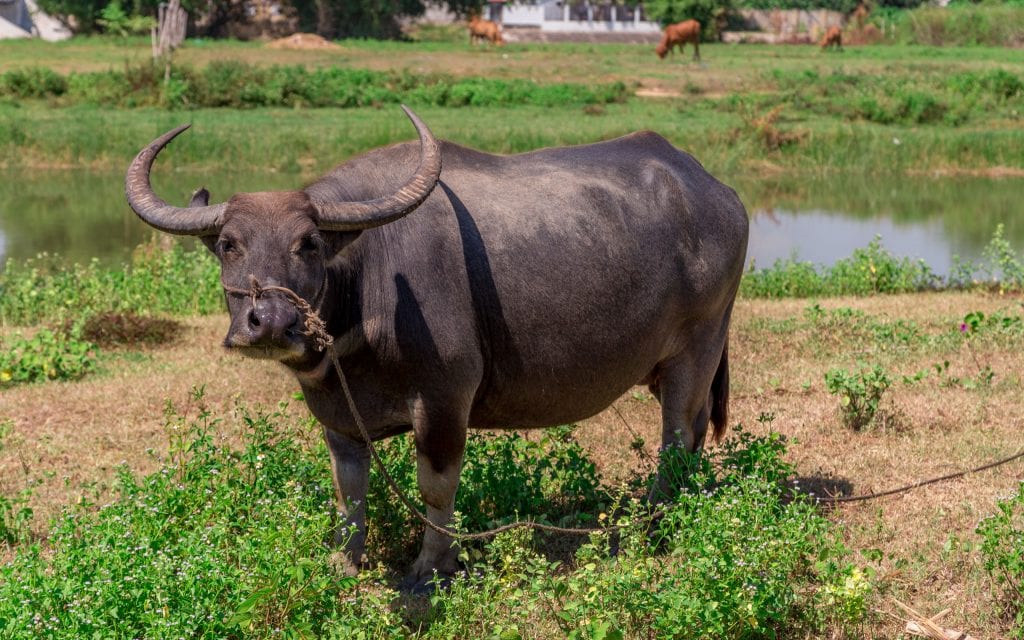 Hoi An country side tour
After the buffalo incident, I stopped at various places along the river during the first hour of the Hoi An country side tour. The first stop included various families who specialized in weaving. It's a business practiced by the whole family (mainly the women) from the young kids to the elderly. First the reed is cut in two by slicing a bunch at once with a sharp knife. I guess this needs practice as I couldn't even slice one when I tried. After that the reed is dried and colored before it woven into carpets. Everything is done by hand which takes time and hard labor. If you want to buy anything made of reed then buy it at the locals; then you'll know the money goes directly to them.
I continued my Hoi An country side tour along the river towards the drydock of several boats. Here the men do the work by shaving the wood used for the boats. Assembling the boats the same way as this was done hundreds of years ago and filling the small openings between the planks with dried grass. It's hard work and time consuming but once filled it will be covered with a kind of resin so that water doesn't go through. If you want to try; just ask the locals and they'll be happy to explain you and let you try!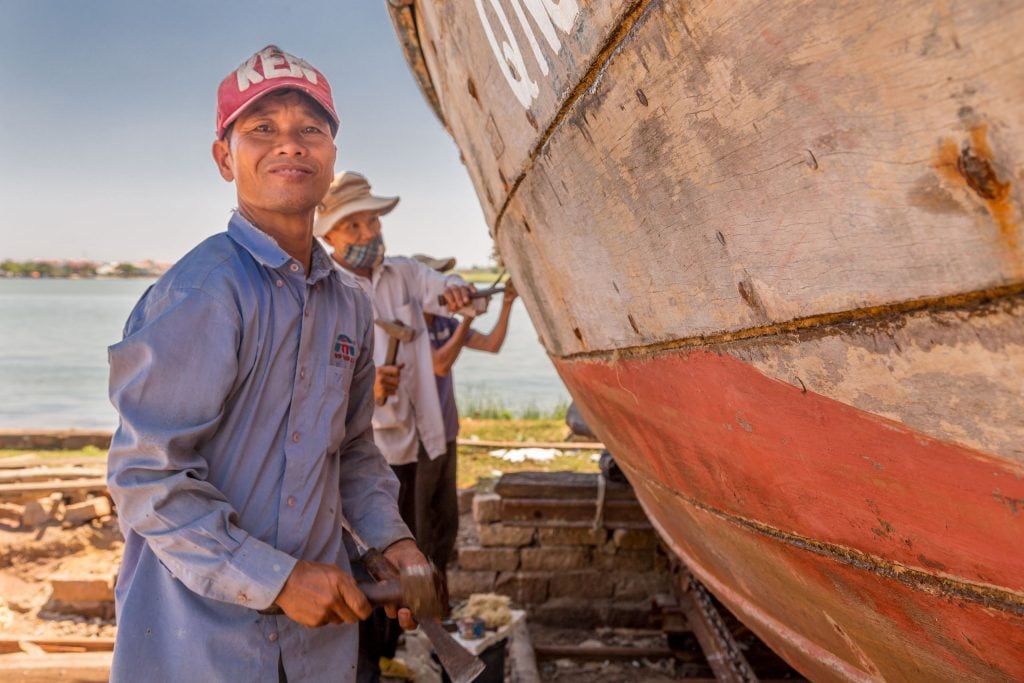 Handicrafts made by local Hoi An people
The Hoi An country side tour also stops at the local handicraft village which does have a tourist gift shop with locally made items. If you need souvenirs buy them here! Various handicraft include wood with inlays of mother of pearl, wood carvings, pottery and more. Around the handicraft store you can see how the items are made by hand but keep in mind much more families are involved as you can see at the handicraft village. It's just concentrated there for you to see it all in one place.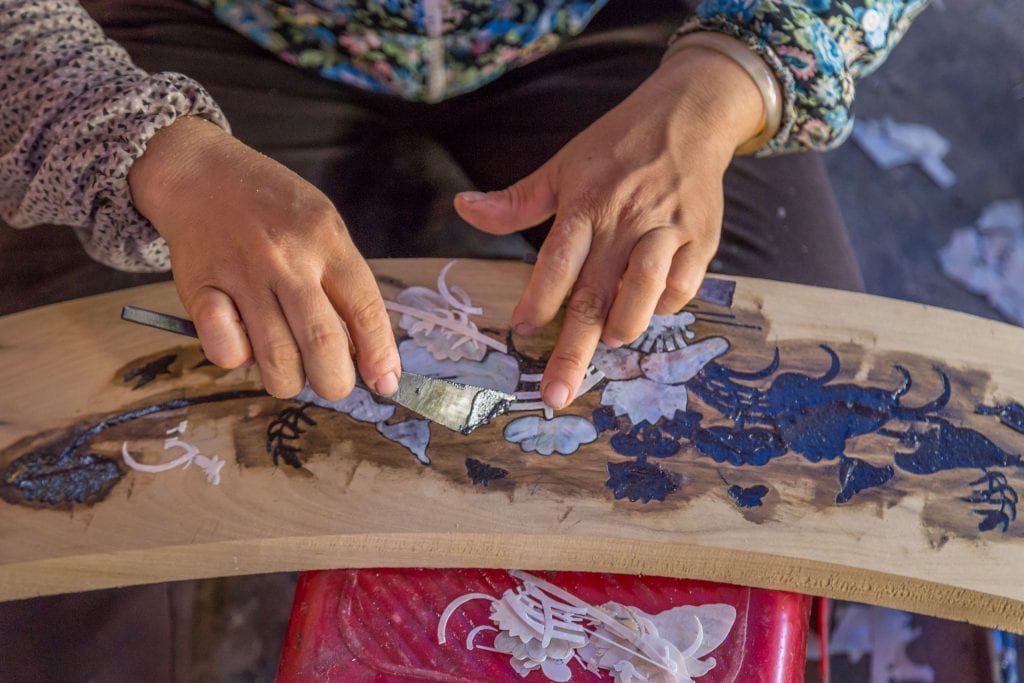 One man I will remember and that's the 80-90-year-old man who makes floating fishing baskets. He has done that his whole life and still practices it today. As I was on a private Hoi An country side tour I arrived at an unusual time and he was resting but his grandson went to wake him. I will never forget that he gave me a personal instruction on how these floating baskets are made. They normally carry two people when fishing on the river or lakes. After the instruction, it was time to just drive around the country side near Hoi An to see what people do during the day.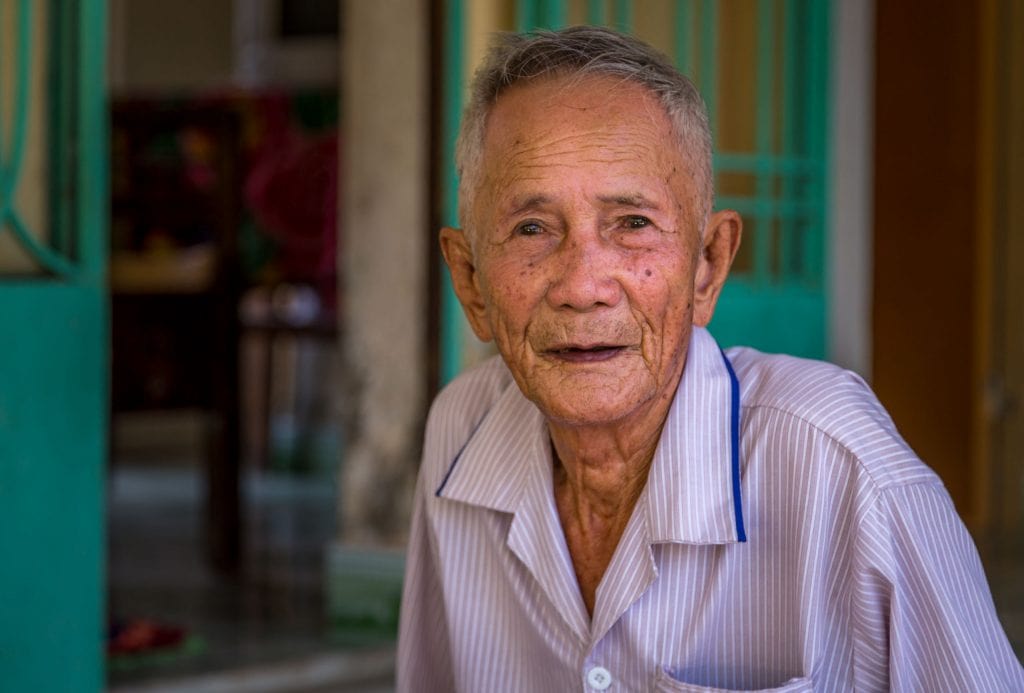 Beautiful country side views
I drove around the country side for about two or three hours to see the local life of Hoi An. I passed ponds with lotus flowers (see gallery), more buffalos, farms and rice fields. Don't you love the view of rice fields as you can see in the photo below? Almost ready for harvest! Did you know that rice is planted with intervals so that various terraces or patches are ready for harvest at different times? Rice is harvested two or three times a year from the same field.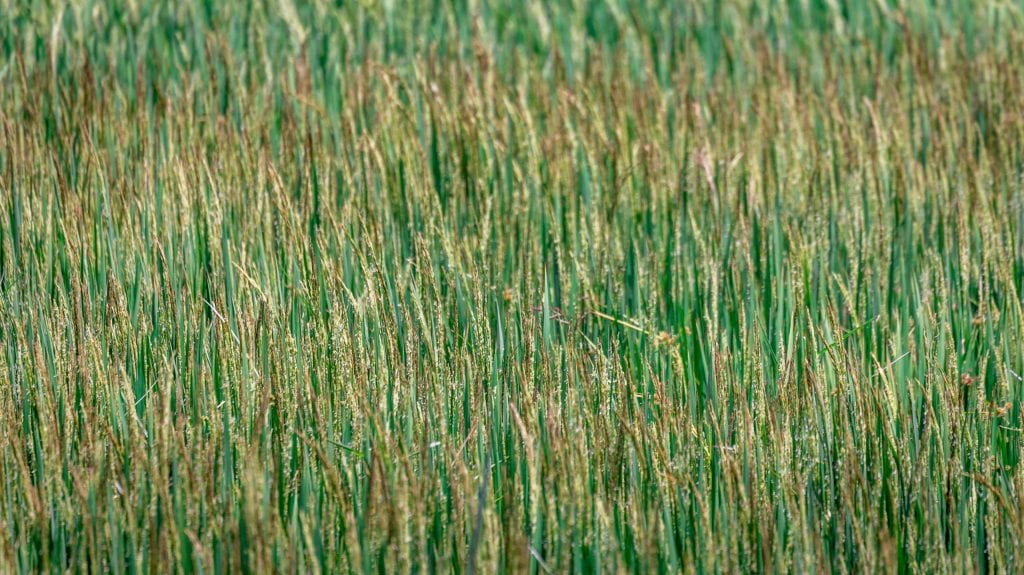 I had lots of fun during this Hoi An country side tour with Hoi An Express. If you visit Hoi An then make sure to do a city tour but also go out and see the local life. I recommend staying at least 3 nights at the Palm Garden Beach Resort so that you can do all the sightseeing in the area. Don't forget to visit the My Son Temple Complex and relax at the beach too! For more destinations in Vietnam read all about it in my two-week Vietnam itinerary.
Stay tuned for more stories and subscribe to the newsletter or follow CTB on social media (Facebook, Twitter, Instagram including Instagram stories; on all social media you can find CTB @christravelblog) to get updated information.
Did you visit Hoi An in central Vietnam too or do you have questions? Please leave a comment at the bottom of the page. Love to hear from you!
Gallery Hoi An Country Side Tour
Click an image for a full screen gallery of more photos taken during this trip. If you like to use any photo for commercial, private or editorial use please contact first for permission and/or pricing.