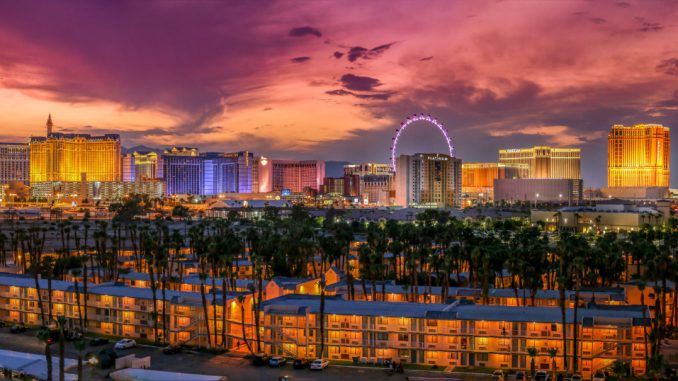 Las Vegas is a city you either love or hate but you can have mixed feelings too. At least I had those. I visited Las Vegas with my daughter while doing a USA west coast road trip together. This meant that I couldn't enter most of the casinos and not go on a photo with a million US dollars for example. We still had fun though and she loved it! The day was packed and the top 5 things to do in Las Vegas, with a minor, are the following. Enjoy!
#1 must do in Las Vegas – Walk the strip
The Las Vegas strip is close to 7 kilometers long and is a road packed with casino's, hotel resorts, restaurants, and nightlife. It's the number one place in Las Vegas to go to and this is best done at night. I visited during the day too as my daughter wanted to go to the M&M store and have some of each color. It's great to see her smile! Make sure to also visit the Ferry Wheel, it gives awesome views over Las Vegas. After I watched sunset (see below) I walked again over the strip at night to watch the fountains, the Eiffel tower and more with all the neon lights on. As I said I had mixed feelings: it was great to see the strip, but personally it's not my thing to do over and over again. I do understand for others it's something to go back every year. Decide for yourself!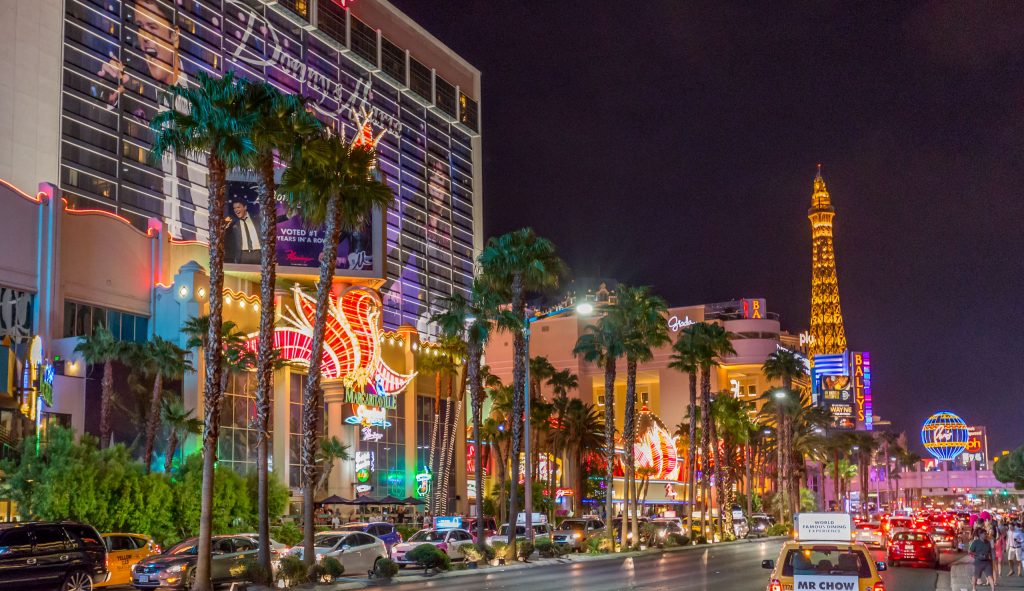 #2 must do in Las Vegas – Visit Fremont Street
Fremont Street is after the Las Vegas Strip the most famous street in Las Vegas. It's home to iconic casino's where in one of them you can take a picture with a million US dollars. Unfortunately, my daughter wasn't allowed inside the casino's so we skipped that. A must do in Las Vegas is the zip-line called SlotZilla which is part of the Fremont Street Experience. You'll zip-line over all the people walking through Fremont Street. If you're into calories make sure to have a 10000 calories burger at the Heart Attack Grill. Not my thing but just a quick look inside I couldn't resist. After visiting the Neon Museum, I walked to the famous shop of Pawn Stars Las Vegas. It's not far away and from there I grabbed a cab back to the strip.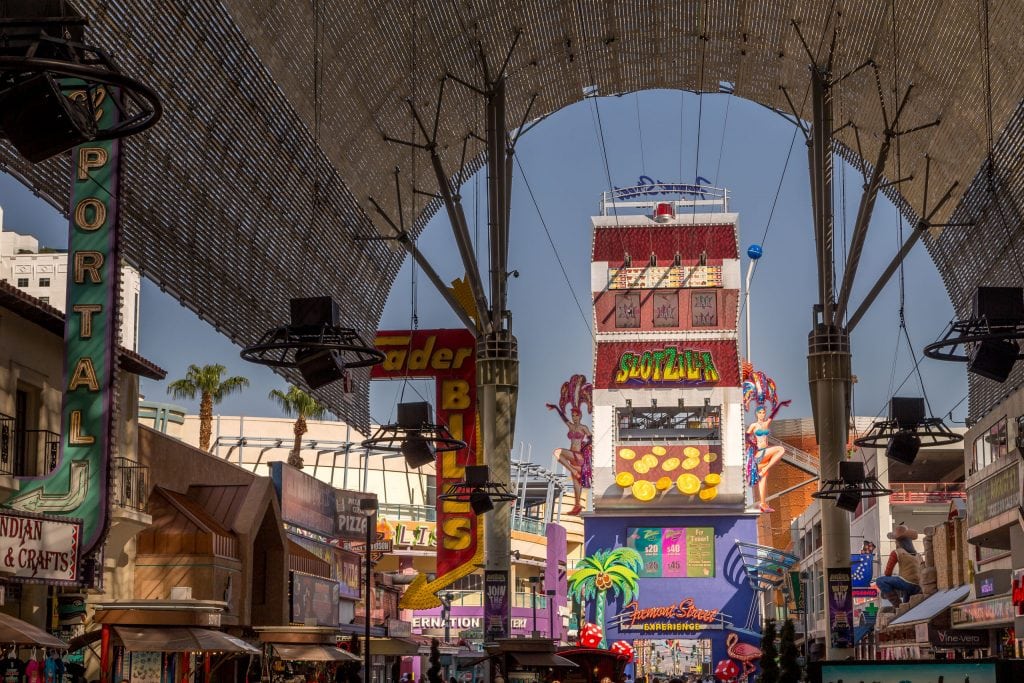 #3 must do in Las Vegas – Make a selfie with the Welcome to Fabulous Las Vegas sign
Who doesn't know the Welcome to Fabulous Las Vegas sign? You probably have seen this sign in some of the Hollywood blockbuster movies. It was erected in 1959 on behalf of Ted Rogich and designed by Betty Willis. It's located at the southernmost point of the Las Vegas strip and in my opinion, should be seen at dusk or dawn when the neon lights are lid up but the sky is still a bit blue. There is a parking lot in front of the sign, and you'll probably don't need more then 10 minutes to shoot that selfie!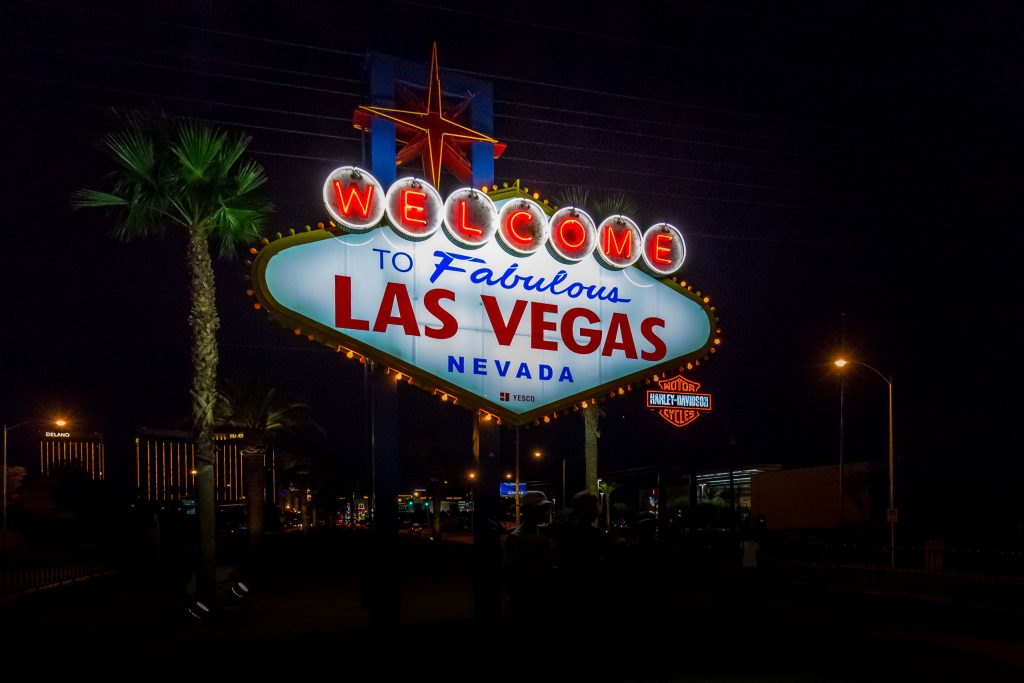 #4 must do in Las Vegas – Visit a casino
A visit to Las Vegas isn't complete without a visit to a casino. I stayed at the Venetian in a very nice luxury suite; that's the advantage of being a loyalty member of IHG. They also have a huge casino downstairs and I walked quickly through it with my daughter. There it was allowed, but when I wanted to change Euro's to US Dollar's she had to stand about 20 meters away. Weird! Anyhow, I don't gamble either but a short visit to one of the casino's is a must do in Las Vegas for sure.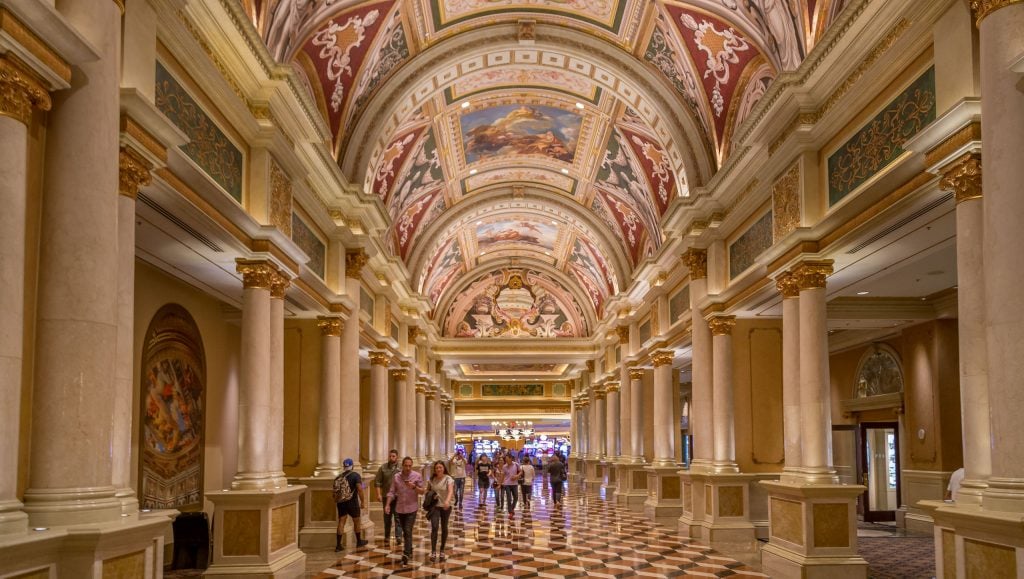 #5 must do in Las Vegas – Watch the skyline at sunset
Watching the sunset in Las Vegas? Yes, sure! Head over to the Hard Rock Hotel Parking Garage (located at 438 E Harmon Ave) and go to the upper floor. You can park the car in the garage or just take a cab to the hotel and then walk there. I didn't see any security and if you behave at the top floor you should be all right. The view is amazing as you can see in the photo below!

Las Vegas was my last stop of my two weeks USA west coast road trip. If you don't do a road trip and you're longer in Las Vegas I highly recommend making a 1 night detour to the Grand Canyon. This UNESCO World Heritage Site is a must-see and a hike down the Grand Canyon a must-do. A day tour to Death Valley National Park or Zion National Park are two other options. These can be done as a day trip too. I had mixed feelings in Las Vegas, but you must decide for yourself if you like it or not. I do recommend at least a day there though!
Stay tuned for more stories and subscribe to the newsletter or follow CTB on social media (Facebook, Twitter, Instagram including Instagram stories; on all social media you can find CTB @christravelblog) to get updated information.
Did you visit Las Vegas too or do you have questions? Please leave a comment at the bottom of the page. Love to hear from you!
Gallery must do in Las Vegas
Click an image for a full screen gallery of more photos taken during this trip. If you like to use any photo for commercial, private or editorial use please contact first for permission and/or pricing.