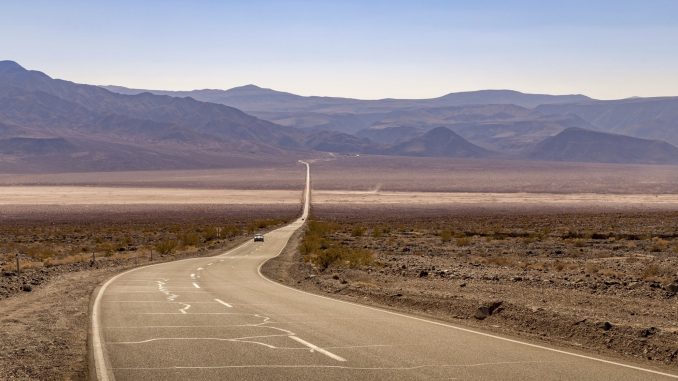 The United States of America are on my travel schedule once a year. As with most long-haul travel I add a week of leisure to a business trip. This "bleisure" travel is my way of life. My trip this year was not different and my daughter joined me on a 14-day west coast road trip starting in Los Angeles. In this article I show you my itinerary on the west coast. I visited Yosemite National Park, Death Valley National Park, Zion National Park, Grand Canyon National Park and Las Vegas. I stayed a few days in Los Angeles too, but that was mainly for the business part of the trip. Enjoy this road trip with me.
Preparing a west coast road trip
Let's start with a few practical tips for a west coast road trip in the USA. All about luggage replacement, all-inclusive cars and travel distances in the USA.
USA Visa / ESTA
If you do not hold a United States passport you probably need a visa or apply for an ESTA under the Visa Waiver Program. Today 38 countries participate including the Netherlands where I'm based. Getting an ESTA can be done easily online so apply for your ESTA now directly online. E-Visums processes every application very quick and controls the data. They are fast, easy to use and reliable and I often use E-Visums to apply for e-visa around the world. If you are not part of the 38 countries under the Visa Waiver Program, then please consult your local US embassy for a regular visa.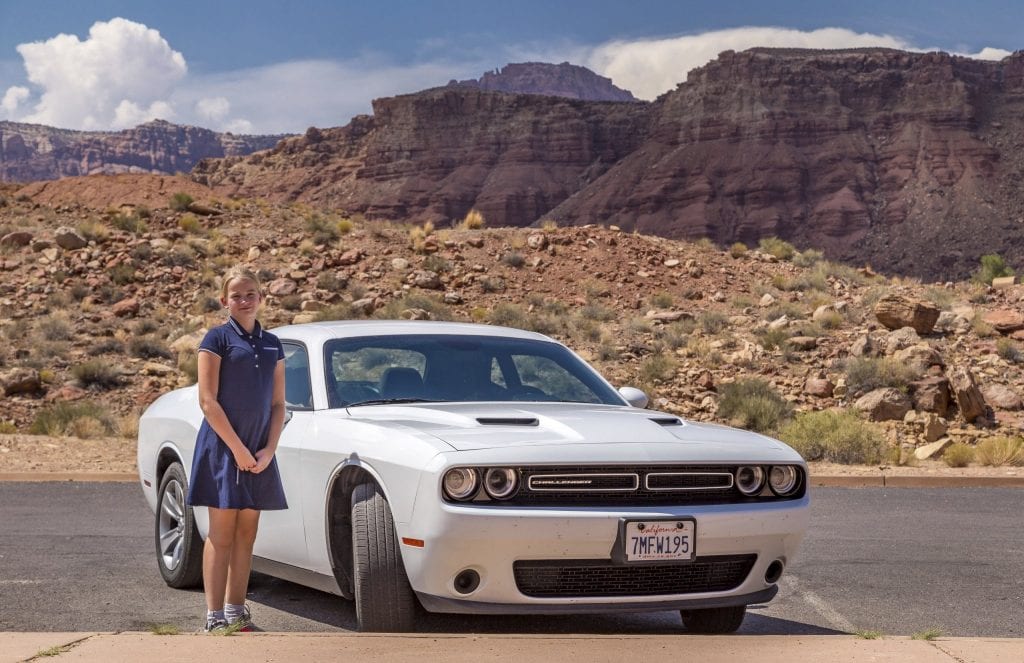 Car rental in the USA
I'm very demanding if it comes to cars. A west coast road trip in the USA wouldn't be a road trip without a huge SUV. I prefer to book an all-inclusive car meaning that I'm sure I don't have any surprise costs. Sunny Cars offers this. They take over any additional insurances, own risk fee, tire & glass damage and their helpdesk is there 24 hours a day to assist. All-inclusive is one thing but I also want a best price. Keep in mind while comparing prices that their prices are all-inclusive; so no 10-20 dollar fee a day additional for possible additional insurances. Their service is the best and I need to share this with you.
During the trip I had 2(!!) flat tires one of which in Death Valley. I didn't use the roadside assistance as I can replace the flat tire in just 20 minutes 🙂 This saves time. No replacement SUV was available nearby so the first time a replacement vehicle was driven overnight to my hotel so I could continue with the new car next day. Two days later it was the same problem: no SUV available to make a quick change on short notice. I was offered a nice muscle car, which was actually a higher category. I accepted this car as this would be nice for my Las Vegas visit plus the fact that my daughter like the car too as you can see in the picture below. Altogether I'm very positive with the service of Sunny Cars and looking forward to use them again.
Keep in mind when planning!
One thing I know from experience is that distances are far in the USA. If the navigator says 5 hours, it will be five hours or even more if you make some stops. I always take enough drinks, a light lunch and snacks so that I don't loose time during the trip. I always buy this at the start of a road trip and just leave it in the car. During busy summer months the parks I visited can get crowded and some might ban cars so you have to park and take shuttles. Plan in a bit of extra time. If you visit several national parks make sure to buy the national park pass to save money. It's valid for a year for all parks and will save you money. Now, lets start with a day by day itinerary.
West Coast Day 1 & 2 – Arrival to Los Angeles; to Merced
Actually day one was not day one for me. I already spend three days in Los Angeles for business. This time I didn't visit Los Angeles itself as I have been there before. If you plan a few days in Los Angeles before this 14 days' west coast road trip, then read my tips on things to do in Los Angeles for a first timer. I drove to Merced the first day after my business. The Holiday Inn Express Merced was my home for three nights and my gateway to Yosemite National Park.
In case you stay longer in Los Angeles see a (very short) story I wrote 7 years back with some options on what to do:
USA – Los Angeles and the rich and famous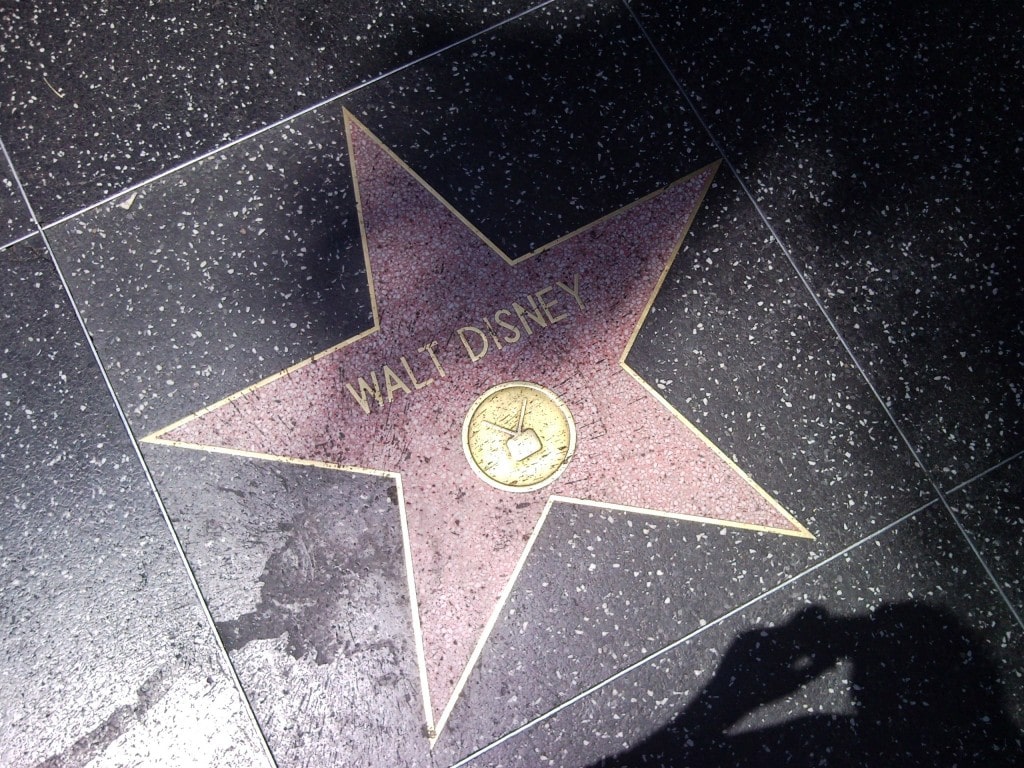 West Coast Day 3 & 4 – Yosemite National Park
Yosemite National Park is a UNESCO World Heritage Site and offers a unique landscape. Its landscape was formed by glaciers many million years ago. You can see granite peaks, rock formations, waterfalls, pine forests and wildlife. Unless you want to make full day hikes I recommend visiting it for two days. The first day go to Glacier Point and the various places in Yosemite Valley. The second day I recommend to drive the Tioga Road towards Mono Lake (not part of Yosemite National Park) which has some unique crystal formations. I drove both days from the Holiday Inn Express Merced to the Yosemite National Park. The area has truly unique nature and a great place with amazing views.
Read all about these dasy in the detailed day articles:
USA – Yosemite to Mono Lake: The best stops on Tioga Pass Road
USA – The best Yosemite itinerary for first time visitors (1 or 2 days)
West Coast Day 5 – To Pahrump and a bit of Death Valley
Today the first part of the trip was a long journey in the car from Merced to the entrance of Death Valley at Panamint Springs. This part of the west coast road trip is very pleasant with nice views if you take the road from Bakersfield to Lake Isabella. I passed Sequoia National Park which is a place I want to visit another time. If you have a day extra this is a great place to add an additional stop. The idea was to visit a few places in Death Valley but I ended up seeing only two.
A flat tire made me drive slowly on the spare to Pahrump. I did manage to drive a few kilometers on Saline Valley Alt Road. You can see there many Joshua Trees. Drive until the road splits and take the smaller road left for a few hundreds of meters for the best views. Further down the road you need a 4×4 off-road vehicle. Further down highway 190 which runs through Death Valley you see a parking lot for some nice views. It's the place that I had the flat tire and I drove direct to Pahrump after. The idea was to drive down the Old Toll Road, visit the Charcoal Kills, see Mosaic Canyon and the Mesquite Flat Sand Dunes this day too. Except the Old Toll Road, I managed to visit them on day 7 instead. They were however on the way this day which would have been much more efficient. I arrived late evening at the Holiday Inn Express Pahrump which is a great starting point to visit Death Valley.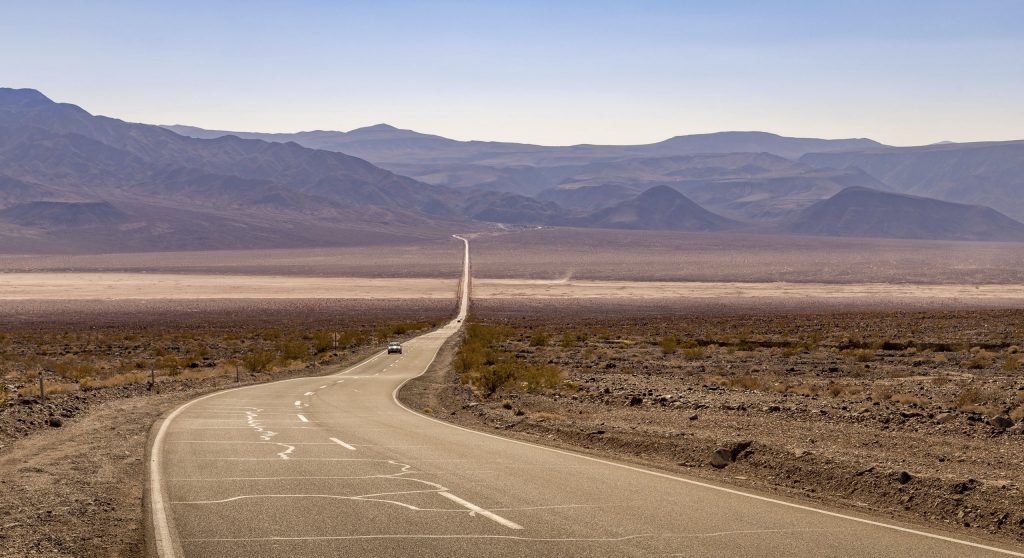 West Coast Day 6 – Death Valley off-road
All places in this USA west coast itinerary can be visited by a regular SUV or even a normal sedan except for the two places on this day I recommend a 4×4. I first drove to the ghost town called Rhyolite. It's an old mining town. From there I drove through the Titus Canyon which has magnificient views. The road goes steep up and down and I didn't see anyone else there at all (in this canyon a 4×4 is a must).
I continued north towards Race Track Playa with a small stop at an extinct volcano on the way. Race Track Playa is the floor of an ancient lake and it has moving rocks. Rocks move over the sand when it's wet leaving a track, hence the name. You could drive to Race Track Playa with an SUV and good tires, but most rental companies only have regular tires and they do get flat quickly. This day I drove a 4×4 with heavy duty tires which made the drive much more pleasant and fun.
Read all about this day in the detailed day article:
USA – Driving off road in the Death Valley: Titus Canyon & Racetrack Playa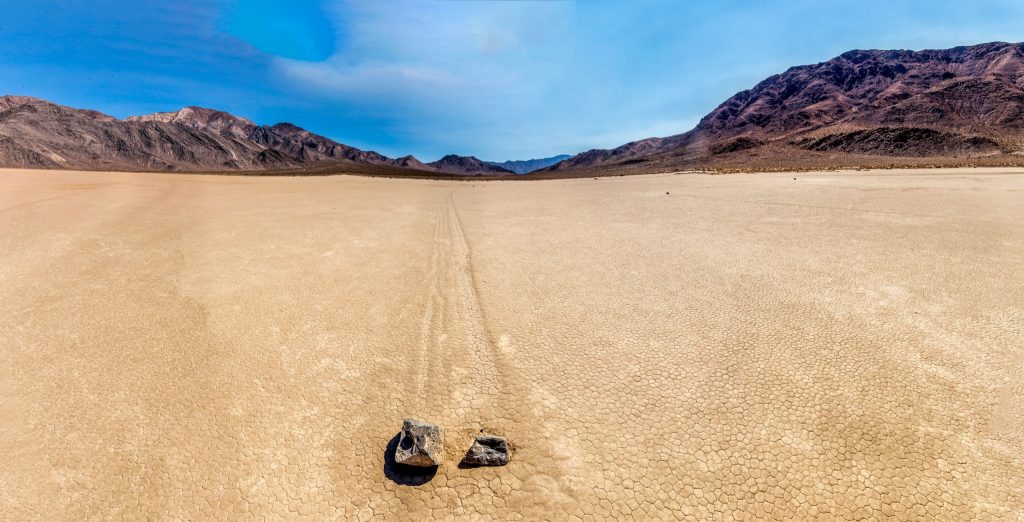 West Coast Day 7 – Death Valley again; to Springdale
The idea was to only make a small circle through Death Valley and arrive in Springdale, Zion National Park, for dinner. However, I needed to visit the places I missed on day 5 first (see above) and a second flat tire plus an hour time difference made me arrive at 1 AM. Early morning, I departed from the Holiday Inn Express Pahrump towards Furnace Creek to drive the short but beautiful 20 Mule Team Road and to make a stop at Zabriskie Point. I continued to the missed items of the previous day. This was a 3-hour detour; I did speed.
Back in Furnace Creek I stopped at the Borax Works and drove the small Mustard Canyon Drive before I finally started on Badwater Road. Here I drove the Artist Drive Loop which is well worth a visit and stopped at the Devils Golf Course. An amazing surrealistic view. I continued on Badwater Road and exited Death Valley over that road back to Pahrump. It was already 6PM and I still had to drive to Springdale. Just 10 kilometers before my hotel in Springdale I got the second flat tire. The good thing was the next day I didn't need the car so it could be exchanged during the day.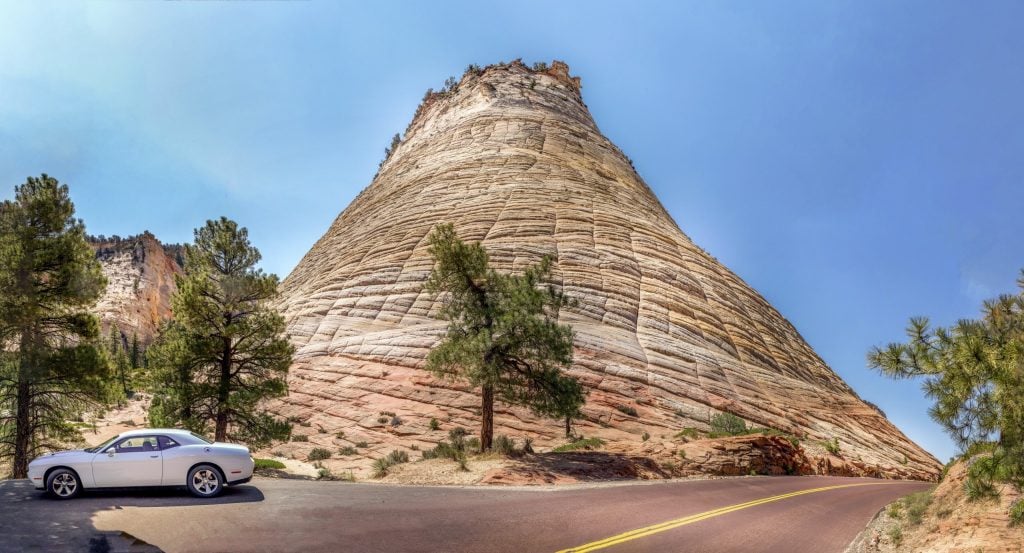 West Coast Day 8 – Full day Zion National Park
I visited only the Zion Canyon, the most famous part of the Zion National Park, during this trip. The actual Zion National Park is bigger but this is the most beautiful place. In a day it's possible to see most things but the few day hikes you cannot do of course. I went up to the Emerald Pools including the top one. When you return make sure at some point you take a left turn to take another way back down. The views are amazing. From there go to The Narrows at the end of the road at the Temple of Sinawava. Here the canyon gets smaller and smaller until there is only river left and you have to walk through the river. Make sure to do this at the end of the day as you don't want to walk all day on wet shoes.
Read all about this day in the detailed day article:
USA – Zion National Park day trip: The must see places and must do hikes
West Coast Day 9 – Springdale to Grand Canyon
The drive from Springdale to the South Rim of the Grand Canyon was one of the longer ones on this USA west coast road trip itinerary. I stopped first for a short hike in Zion National Park. This hike called Canyon Overlook Hike is just behind the tunnels you will drive through. It gives a beautiful view towards the entrance of the Zion Canyon. A few kilometers down the road you will find the Mesa Checkboard (2 photos above). It's a large hill with lines and carvings making it look like a chess board.
From this point onwards it's a long drive through a beautiful changing landscape. I suggest to drive through Jacob Lake and cross the twin bridges but just before head to Lees Ferry landing to see the Colorado River up close. I could have driven directly towards the Grand Canyon now but I decided to make a 20-kilometer detour to see the Horseshoe Bend. It's a magnificent view as you can see in the picture below. This detour did make me arrive late night to my hotel, the Holiday Inn Express Grand Canyon. It was however well worth it.
Read all about this day in the detailed day article:
USA – The best route from Zion National Park to the Grand Canyon South Rim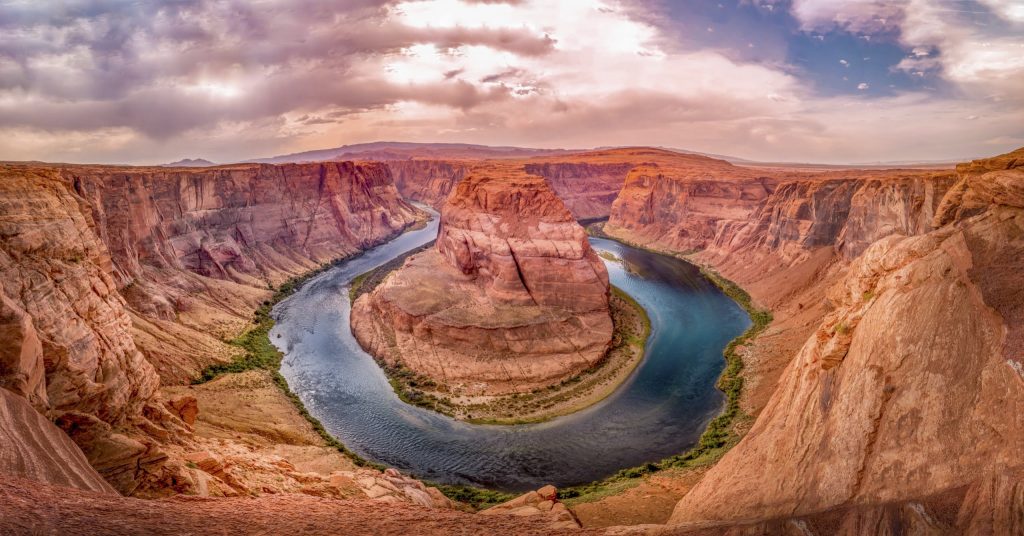 West Coast Day 10 – Hike into the Grand Canyon
A visit to the Grand Canyon should include a day hike into the canyon. It's not advised to make a hike all the way to the bottom and up on a day but it is possible to hike halfway and back. The best trail to hike is the South Kaibab Trail up to Skeleton Point. This trail gives a huge variety of views plus at Skeleton Point you can see the first glimpse of the Colorado River. The hike will take between 4 and 6 hours depending how quick you walk. As my daughter of 11 joined me on the hike I didn't rush it. It was an unforgettable hike which included lots of quality time with my daughter. I did a similar hike at the Tiger Leaping Gorge in China with my son two years back.
Read all about this day in the detailed day article:
USA – Grand Canyon day hike: South Kaibab Trail to Skeleton Point

West Coast Day 11 – Best views of Grand Canyon south rim; to Las Vegas
To get a good impression of the Grand Canyon one needs to visit several viewpoints. There are several towards Hermits Point and towards Desert View point. Towards Hermits Point I walked the first 5 or 6 viewpoints over the rim trail. From there I took the shuttle bus to each of the next points until the end because the distance between the points was quite far and I didn't have time to walk all the way. After lunch I continued to stop at a few points towards Desert View Point and the watch tower. The watch tower is worth a stop for sure. It was already later afternoon when I started my journey to Las Vegas where I arrived late evening. The last stop of this west coast road trip.

West Coast Day 12 – Full day Las Vegas
Las Vegas: you like it or you hate it. I liked it for a day but was also happy to leave. As I travelled with my daughter I wasn't able to enter everywhere or even sit on the terrace of a microbrewery. I visited Fairmont Street to do the zip line. Walked the strip to see the fountains and all the incredible architecture. I finished the day on the rooftop of a parking lot, no not a hangover 🙂 but to watch the sunset. This was well worth it as you can see in the following photo.
Read all about this Las Vegas day in the detail day trip report:
USA – Top 5 things you must do in Las Vegas if you have a day

West Coast Day 13 & 14 – A bit more Las Vegas and back to Los Angeles
Early morning, I had a delicious in room breakfast with my daughter at the Intercontinental Venetian Las Vegas. I then walked with her to the M&M Store which she thought was heaven. After she finished chosing all the colors she wanted I paid for the kilo of M&M's. Today I drove back to Los Angeles from where the return flight to Amsterdam departed early morning next day.
The two weeks west coast road trip came to an end. I hope this itinerary helps you plan your west coast road trip in the USA. If you're more into city trips check out my USA city trip itinerary for 2 weeks. It was a wonderful journey with my daughter. I hope to make another one with her soon. Where? I don't know yet but the future will tell.
Stay tuned for more stories and subscribe to the newsletter or follow CTB on social media (Facebook, Twitter, Instagram including Instagram stories; on all social media you can find CTB @christravelblog) to get updated information.
Did you visit West Coast of the USA too or do you have questions? Please leave a comment at the bottom of the page. Love to hear from you!