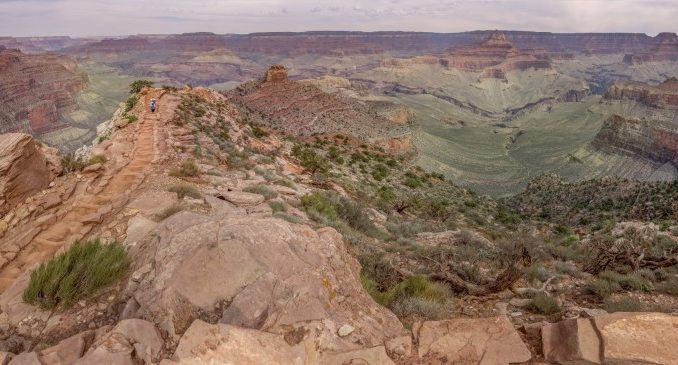 I like to make a hike now and then but it has to be something unique. It's not my thing to make hikes of multiple days having nearly the same view day after day. During my west coast USA road trip through California and a bit of Nevada and Arizona I stayed two days at the Grand Canyon. The Holiday Inn Express Grand Canyon was my home for those days while I explored this UNESCO World Heritage Site. One day I hiked the South Kaibab Trail to Skeleton Point and back. My daughter of 11 travelled with me and I'm very proud of her she completed the 6-mile (10 kilometers) hike down and back up again without any problem. I'll share you the beautiful panorama's I saw and will give you some things to keep in mind while hiking. It's the best day hike into the Grand Canyon which you can do on the south side.
Good to know when hiking at the Grand Canyon
The South Kaibab Trail is a hike that's rated as difficult by the Grand Canyon National Park. It's not advised to make the whole trail to the Colorado River and back in one day as this WILL take you 10-12 hours. It comes with the risk of dehydration (in summer especially), exhaustion and the implications of that. Skeleton Point is halfway the South Kaibab Trail and gives a first view on the Colorado River and this is "easy" to hike within a day. I did this hike with my daughter of 11 in just over 5 hours with a lunch stop and lots of photo stops.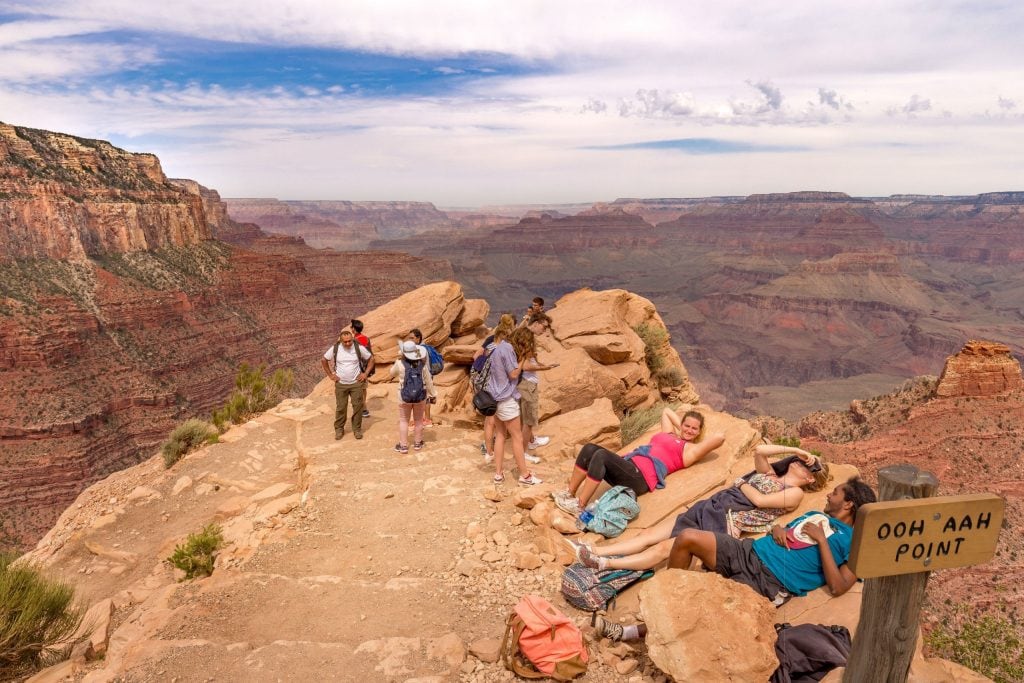 I'll summarize some things to keep in mind if you plan to hike the South Kaibab Trail down into the Grand Canyon.
It was high summer with 30+ degrees Celsius when I hiked the trail. I had 5 liters of water for myself and another 5 liters of water for my daughter. We had just half a liter left when we arrived back at the top. Until Skeleton Point you will see more hikers so we didn't take additional water in case we would get stranded. There is nothing available on the trail. I do suggest hiking during morning or afternoon but I must say I started at about 10:30 AM and hiked during the heat of the day.
I don't like those hiking boots and normally hike on sport shoes. The South Kaibab Trail is a well maintained trail and normal shoes are fine. Depending on the weather take some layers. On the way up a small thunder-storm made it pretty windy and the rain got us cold.
If there is a thunder-storm do not stand on the edge of the canyon at the top. That's the place the lightning will hit first. Seek shelter and when weather is cleared continue hiking.
Keep in mind that all that you walk down you have to walk up again too. The part going up is (of course) much harder and takes about 50% up to 100% more time as going down.
Personally I think the hike should be labelled moderate-difficult at least the day hike to Skeleton Point. This part of the South Kaibab Trail wasn't the most difficult hike I have done with others being rated moderate. I loved the hike; it was a good exercise. My daughter also enjoyed it and I made her determine the speed we walked so that she would not get to tired.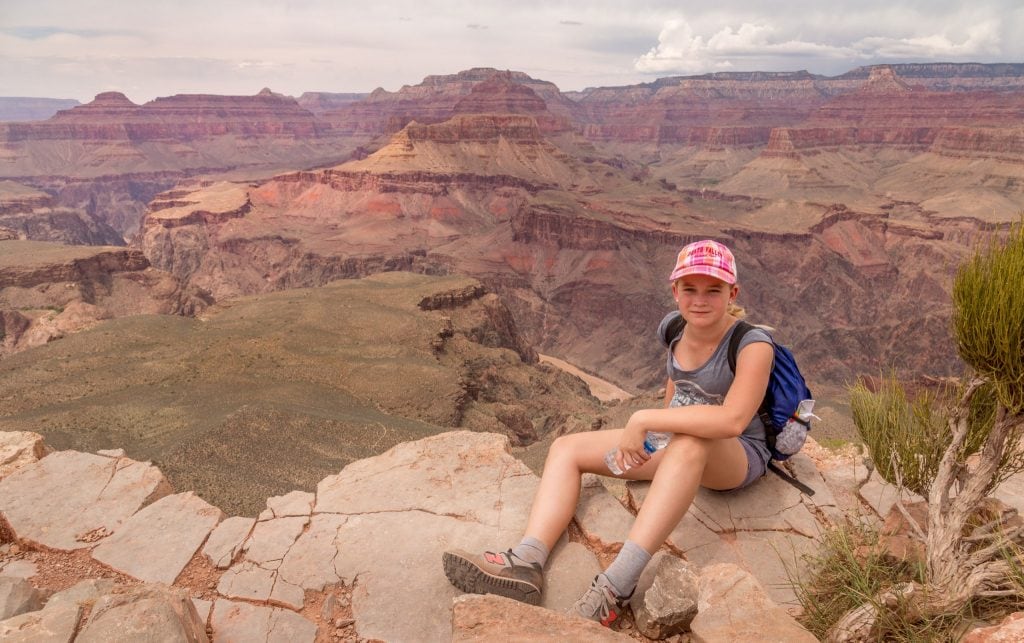 Grand Canyon History
The Grand Canyon is, as the name says, a huge canyon located in Arizona. It's formed in the last 40 million years by the Colorado River. It's well over 400 kilometers long, almost 30 kilometers at the widest point and the deepest point is just over 1800 meters deep. It's not the deepest canyon in the world but it's size makes it unique. The Colorado River formed the canyon and you can see layers of rock going back two billion years of earth's history. The Colorado River cuts its way through the rock because the surrounding rock was uplifted giving the river more speed.
Although it rains quite often, as I experienced myself, the Grand Canyon is very dry. The water all flows to the Colorado River or down the plateau. There is however a wide variety of wildlife of which I have seen the California Condor, elks, squirrels and some other common wildlife. For centuries native Americans have inhabited the Grand Canyon and left their traces. Today, the Grand Canyon is a protected National Park in the USA and sees millions of visitors a year. Since 1979 it's declared a UNESCO World Heritage Site; so I needed to visit to complete my quest to see all of them.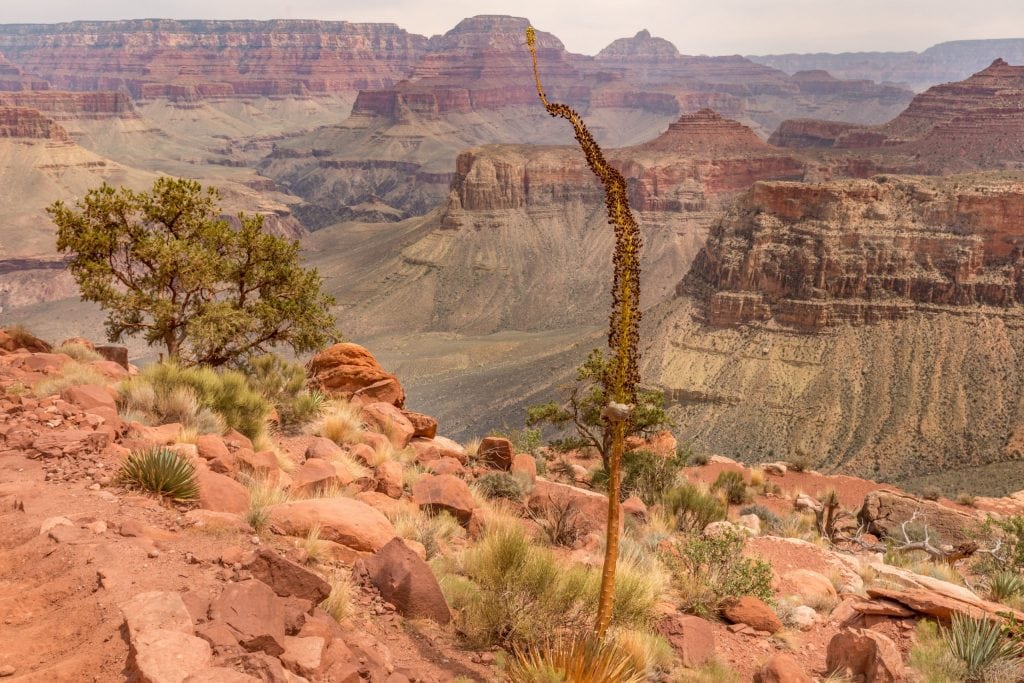 The South Kaibab Trail
Yaki Point Road gives access to the South Kaibab Trailhead. Keep in mind that this road is closed for cars. You have to either park on the main road and walk for about 10 minutes or take the shuttle bus. The first descend is pretty steep but don't worry as this is just one of three steep parts. You will descend through the first layers of rock and follow the path along the eastern side of Pipe Creek Canyon. After three thirds of a mile you will be amazed by the view and think by yourself "ooh ahh". That's exactly the name of this point: Ooh Ahh Point. Make sure to make panorama pictures like the ones in this article here (for those interested I made those out of more than 80 single photographs achieving resolutions of up to 150 mega pixels).

From Ooh Ahh Point the South Kaibab Trail continues deeper into the canyon. A few switchbacks and lots of worn steps by mules take you to Cedar Point. A toilet is available there but keep in mind that no water is available along the trail. Cedar Point is a flat open space and a perfect place to have some salty snacks. Don't feed the squirrels; they can get aggressive. You are now halfway the descend to Skeleton Point and this should have taken just over an hour. As a rule of thumb the way back takes you up to double in time. The path to Skeleton Point is similar in difficulty; maybe slightly more difficult due to poorer condition. Think twice now if you are up to the second part and if you have doubts or not enough water then do return.

Skeleton Point
Before I continued to Skeleton Point I made sure that my daughter was also up to it. She was and she wanted to continue so off we went north descending on the east side of O'Neill Butte. The first part is a pretty steep descend after which the second part to Skeleton Point is almost flat. On the way I saw Californian Condors, squirrels and amazing views of the Grand Canyon. One advice of mine is that if weather is good do your photography on the way down as weather can turn quickly into rain making it difficult to photograph on the way back.
About halfway to Skeleton Point we came across a French hiker who was on the way back. He told us he tried to get to the Tip Off Point (past Skeleton Point) but realized half way he didn't have enough water. He returned early which was the wisest choice he could make. Each year many people need rescue and some even have fatal accidents. I noticed that around Skeleton Point there was much more vegetation. Just below you, you will see a pretty green flat area where another trail goes from west to east.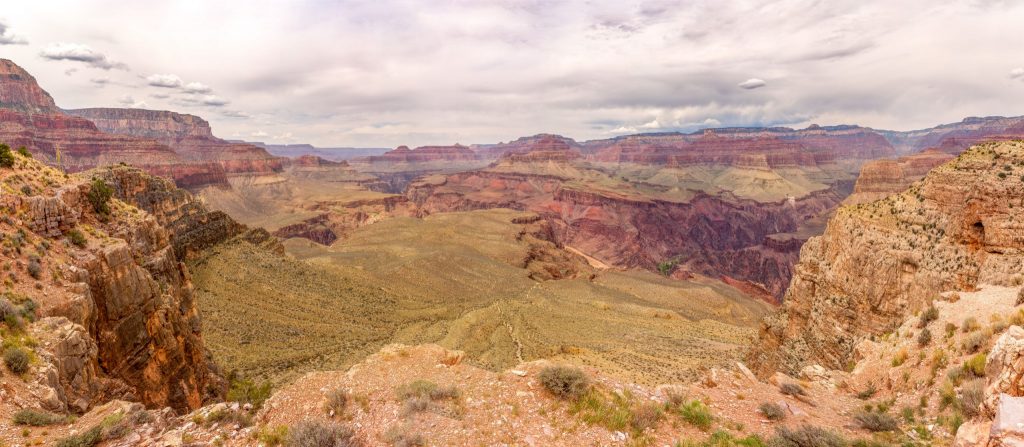 At Skeleton Point I had my first view of the Colorado River. This view makes this a great day hike as you won't get to the river on a day but a view is rewarding. I made a small pick nick with my daughter which mainly consisted of (salty) power snacks. Both of us finished almost 2 liters of water when we left; which was after three hours. My daughter was carrying most of the water and she was happy that it got lighter; I on the other hand had a 12 kilo backpack with the camera gear I use. I made some pictures of my daughter on the cliff (see above); she loved the view. It was now three hours after the start of the hike including the lunch time. Time to go back, which was another 5 kilometers up.
If you are up to it, you can hike all the way down but it's highly recommended to camp overnight at the bottom of the Grand Canyon. Keep in mind that a permit is required. Skeleton Point is the point to return from on a day hike. It was another 5 kilometers up which took me three hours. The last part was though as rain, thunder and hard wind made the ascend go slow. A thunderstorm also gives a great opportunity for photographs as you can see in the one below.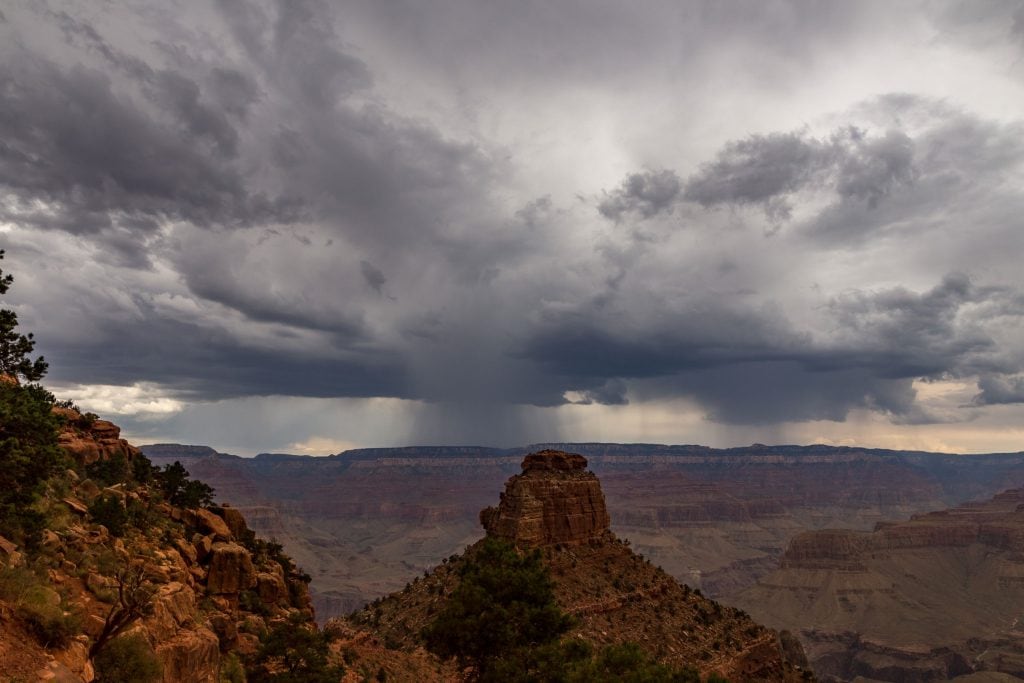 Back at the top it was a small walk back to the car. I drove back to the Holiday Inn Express Grand Canyon to fresh up before heading for dinner. It was a long day but both my daughter and I weren't that tired. We had a great day together. The next day it was time to drive to Las Vegas, the last stop of this West coast road trip through California, Nevada and Arizona. I had a great time seeing the Grand Canyon but the fact that my daughter was with me made it even more memorable.
Stay tuned for more stories and subscribe to the newsletter or follow CTB on social media (Facebook, Twitter, Instagram including Instagram stories; on all social media you can find CTB @christravelblog) to get updated information.
Did you visit the Grand Canyon too or do you have questions? Please leave a comment at the bottom of the page. Love to hear from you!
Gallery South Kaibab Trail (Grand Canyon)
Click an image for a full screen gallery of more photos taken during this trip. If you like to use any photo for commercial, private or editorial use please contact first for permission and/or pricing.