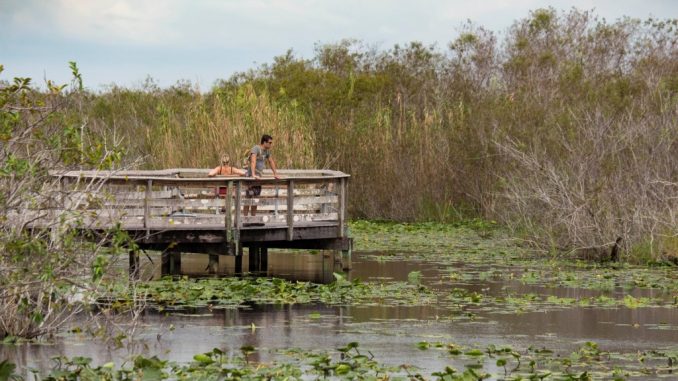 During a road trip in South Florida with my wife and kids last year's autumn we explored the Everglades National Park twice. I already wrote about the geology of the Everglades, Shark Valley and racing on an air boat before: Exploring the Everglades Shark Valley wildlife by bike & air boat. Now I will share with you which seven trails along the main Everglades road you should walk or hike. These trails take you to the different eco-system the Everglades is rich off. It's a UNESCO World Heritage Site and after visiting I understand why. Each trail takes 30 – 60 minutes and they are all different. Enjoy nature with me!
Everglades Anhinga & Gumbo Limbo Trail
I drove from Miami through Homestead towards the Everglades entrance at the Ernest Coe Visitors Center. The two most famous trails at the Everglades are the Anhinga & Gumbo Limbo Trail. They are located just a few kilometers from the entrance at the Royal Palm Visitors Center. The Anhinga trail name comes from the fact you can see lots of Anhinga birds along the trail. They like to stand in the shallow water with their wings open catching the warmth of the sun. The trail leads to a deep pool between shallow waters. Anhingas require these deep pools as they dive to catch fish. It's also a great place to spot alligators which are also attracted to the pool. This 1200 meter trail will take you probably around an hour to walk. If you have seen already more of the Everglades or there is not so much wildlife to spot it might go a bit quicker. It was our first trail so everything was new to us. It's a must-do trail to explore the nesting areas of the Anhinga's and spot alligators close by.
The Gumbo Limbo trail starts at the same point as the Anhinga Trail. It's a total different world in the shades of palms and trees surrounded by bromeliads and orchids. This eco-system is called a tropical hardwood hammock. In the shades there are a lot of mosquitos. I personally do not have so many problems with them as long as there are other people around me that get stung. My wife and kids almost ran over the trail which is just 700 meters long. It's a beautiful eco-system with ferns, small ponds formed by solution holes and large old trees. This eco-system can be found throughout the Everglades as a kind of islands in a sea of wide-open slough and sawgrass.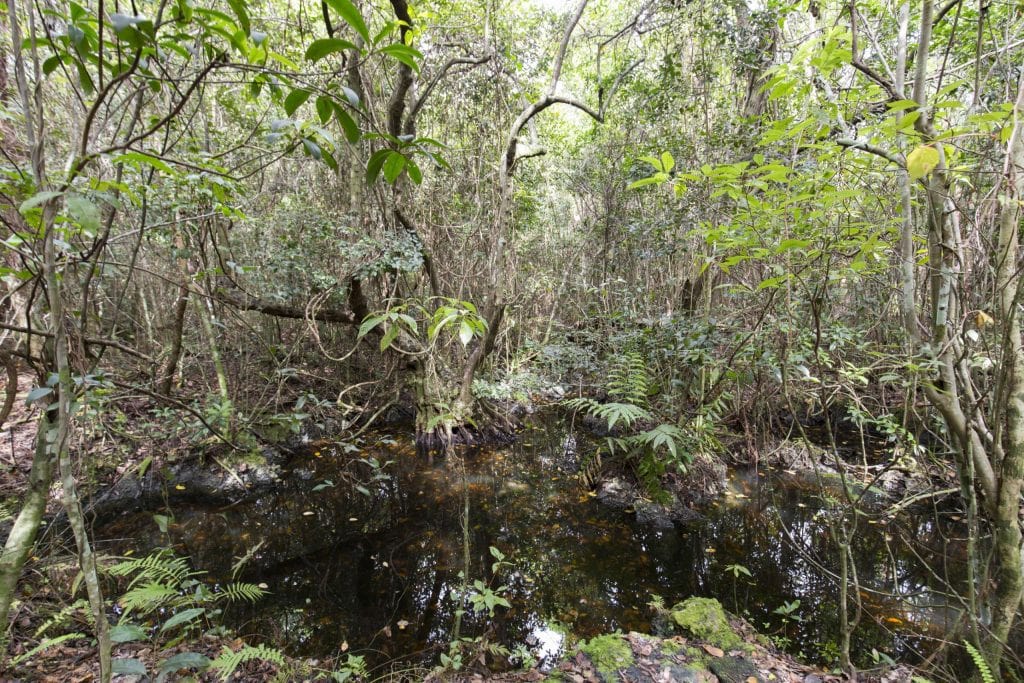 Three-in-one Hiking Trail
The Three-in-One Hiking Trail is a trail of about 1500 meters and takes you through three different types of eco-systems. It starts and ends at the Long Pine Key Lake. There is also a camp ground next to the lake on the other side. It starts through dense pine forest towards an open grass field. The trail then bends back through a dense tropical hardwood hammock. Count on an armada of mosquitos! It was tough especially for my wife and kids. The trail is nice but a bit rougher but good accessible compared to the others. It's a nice additional trail to hike but I would suggest skipping this one first in case you do not manage to see the others.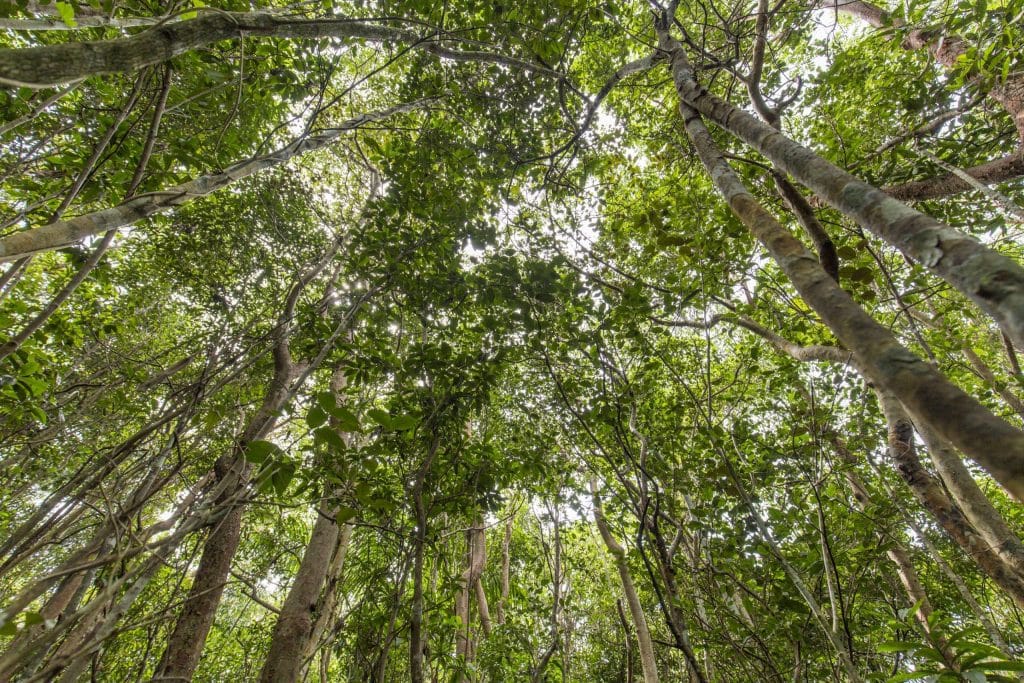 Everglades Pinelands Trail
The Pinelands Trail is a trail I liked the most due to its diversity. Did you know that this kind of eco-system actually moves around? Not quickly, but hurricanes make it change shape and "move" around. You will see beautiful tall pine trees amongst cactus and palms. The trail is not walked by everyone so watch out for some hanging spider webs over the trail. I'm tall so I walked into a few, including some huge spiders. On the side you can see snails hanging on branches, birds flying around and if you can spot them you might see a snake. If you look through the trees you will find several round holes in the ground. These are called solution holes and are formed when water dissolves parts of the softer stones. The trail is less than a kilometer long and will take you about 30-45 minutes only.
Pa-hay-okee Trail
Pa-hay-okee means "grassy waters" and that's exactly what you can see from the viewpoint halfway the trail. Stretches of sawgrass as far as the eye can see. If it is the wet season the sunlight will shimmer in the shallow waters through the grass. A lost Cypress tree here and there makes up the view which is otherwise a bit featureless. It's a short trail but well worth to see the freshwater marl prairie eco-system.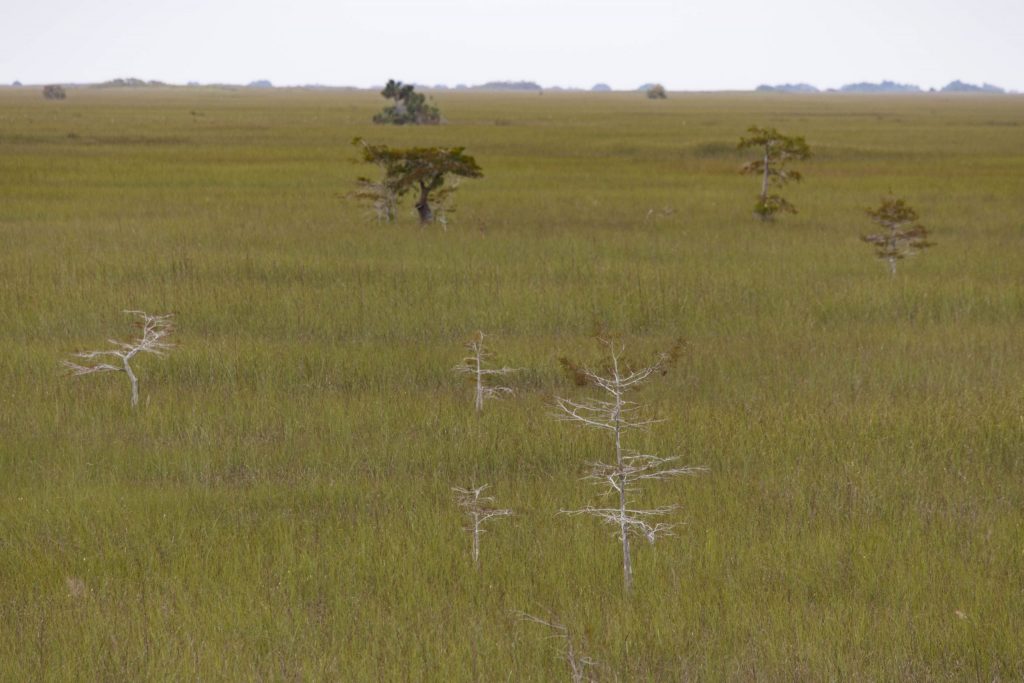 Everglades Mahogany Hammock Trail
The next trail is also a must see trail. It takes you on a boardwalk over the sawgrass you saw in the previous trail onto a tree island. It's located near the Shark River Slough. If you are lucky you can spot owls on the island. A hammock is an island full of, normally hardwood, trees. As the name says you can see huge mahogany trees at the island. The boardwalk takes you around the island and also up to the tree canopy. You can see beautiful so-called air plants. We tried to spot the owls but unfortunately we didn't see any. You must be lucky to see one but you should have more luck with the owls than the Everglades panthers which are rarely spotted.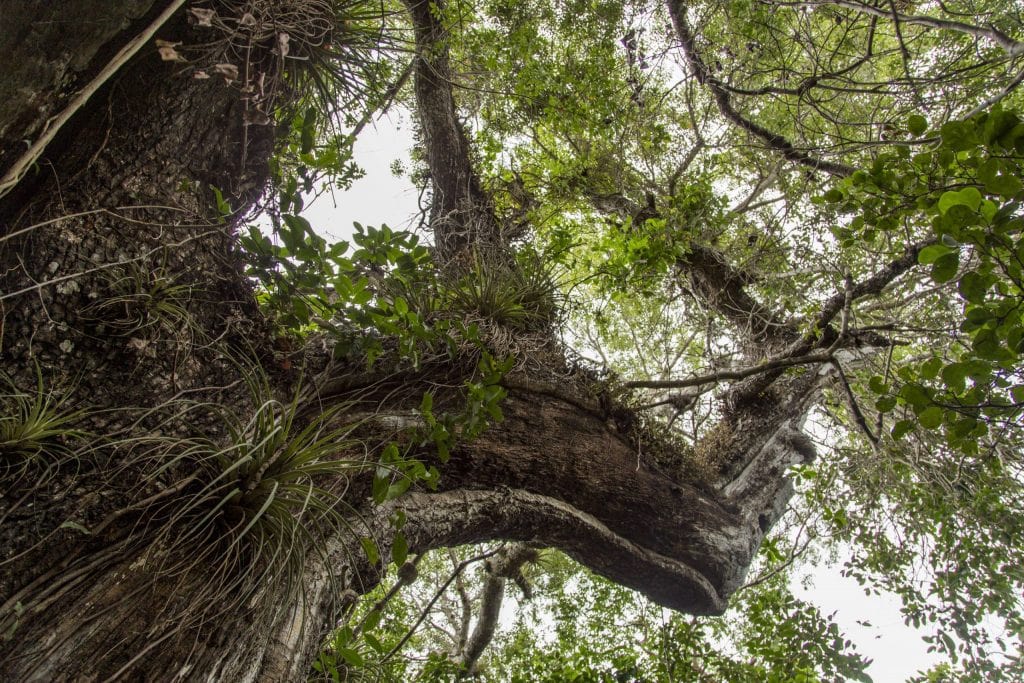 West Lake Trail
West Lake Trail passes yet another eco-system: mangroves and a large lake. I love mangroves as it's a unqiue mix of land and sea. Large mangrove trees with prop roots make up the shores of West Lake. The boardwalk is a must to pass through the mangoves and takes you to the open water. Wildlife to spot in and on the lake are birds, fish, shrimps and crabs. The crabs climb up the mangrove trees; tiny ones but they interesting creatures. Spiders weave webs just above the ground to catch insects. Alltogether and the darkness under the trees makes it a bit spooky. A lot is going on in this unique eco-system between land and sea.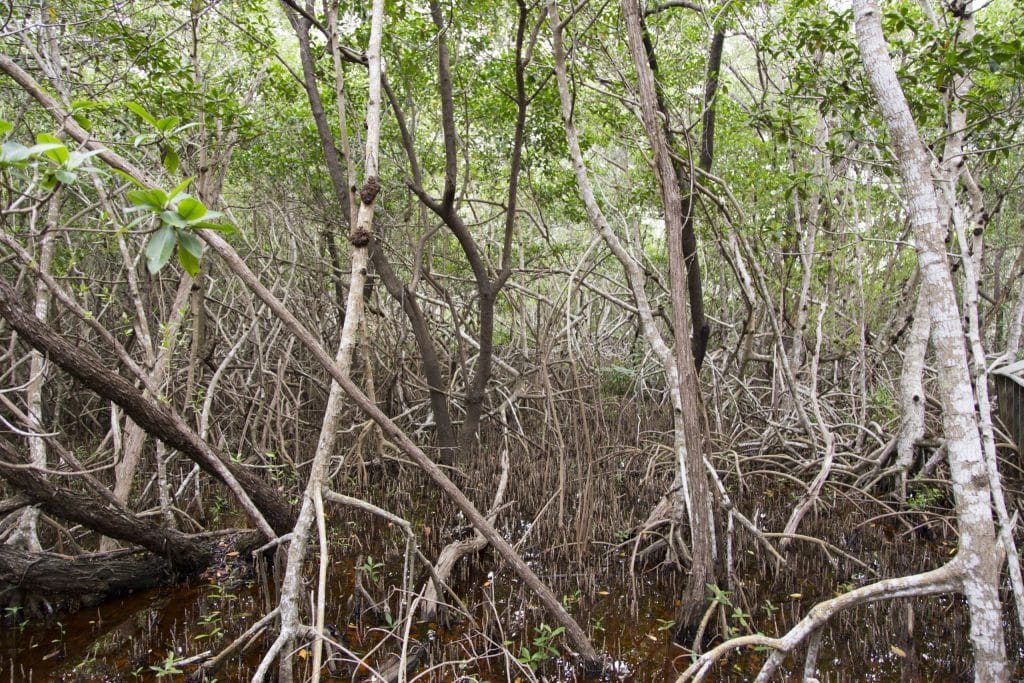 It already was around 3 or 4PM when we continued further to the Flamingo Information Center. This center is closed in wintertime but there is a shop to buy drinks and food. We didn't have lunch so we bought a good bag full of drinks and unhealthy snacks. It's possible to take various boat tours but the next one was only 90 minutes after our arrival. We decided to continue back to Homestead where we would spend the night before continuing to The Keys. The Keys we would explore in two days: the west and east part. The Everglades make up a great destination for two days: the main road (this article) and the Shark Valley and Fan Boat tour. The Evergaldes in Florida just an hour out of Miami are unique place I recommend everyone to visit.
Stay tuned for more stories and subscribe to the newsletter or follow CTB on social media (Facebook, Twitter, Instagram and a more personal story at Snapchat; on all social media you can find CTB @christravelblog) to get updated information.
Did you visit the Everglades in Florida or do you have questions? Please leave a comment at the bottom of the page. Love to hear from you!
Gallery Everglades visit
Click an image for a full screen gallery of more photos taken during this trip. If you like to use any photo for commercial, private or editorial use please contact first for permission and/or pricing.