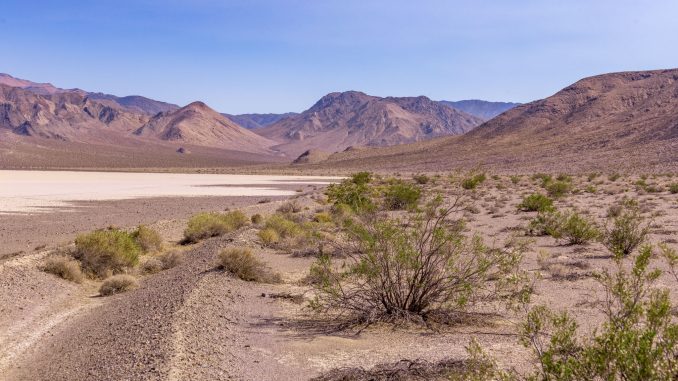 Death Valley is a national park in California, USA, and one of those places on earth that look alien as for example Wadi Rum in Jordan does too. Add temperatures of over 50 degrees Celsius and you'll have a lot of fun – or not. I suggest to plan two days for Death Valley as I outlined in my West Coast road trip itinerary. One of those days is off road driving. A 4×4 is not direct needed but you do need a car with heavy duty tires as a flat tire happens often. I'll take you to Titus Canyon including its ghost towns and towards Racetrack Playa with its sailing stones. Dante's View is the place to end the day for a beautiful sunset in Death Valley. Enjoy!
Introduction Death Valley
Death Valley can compete with other deserts in the world like the Sahara or Atacama Desert. It's one of the hottest places in the world especially in summertime which was exactly the time I visited: if you want to experience Death Valley then go in summer! Death Valley is a desert valley surrounded by mountains and has several dry prehistoric lake beds. It's an arid place and you must take care when driving especially the Titus Canyon and towards Racetrack Playa. Signs will warn you if a high clearance or 4×4 is needed. But be aware if you walk through the bush. Rattlesnakes, scorpions, or black widows are three animals you don't want to be bitten by in Death Valley.

Death Valley is not actual death as in spring it receives quite some rainfall with sometimes flash flooding. Various places turn much greener and animals are abundant. Birds, rabbits and some larger animals make up the fauna. The only animal I saw were several hares as you can see in the photo below.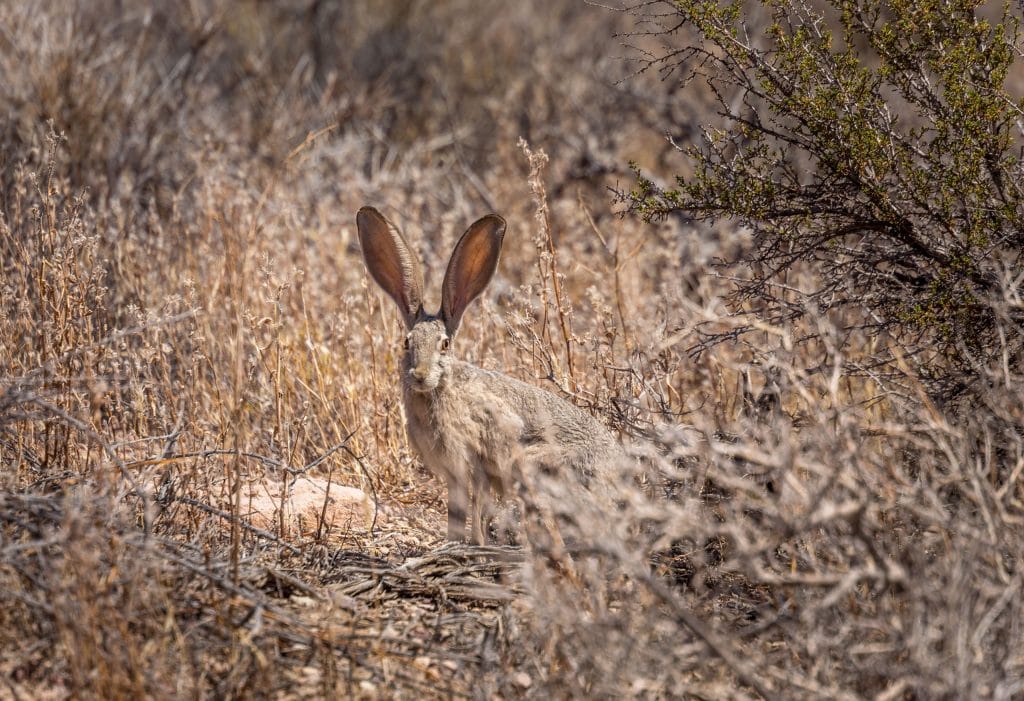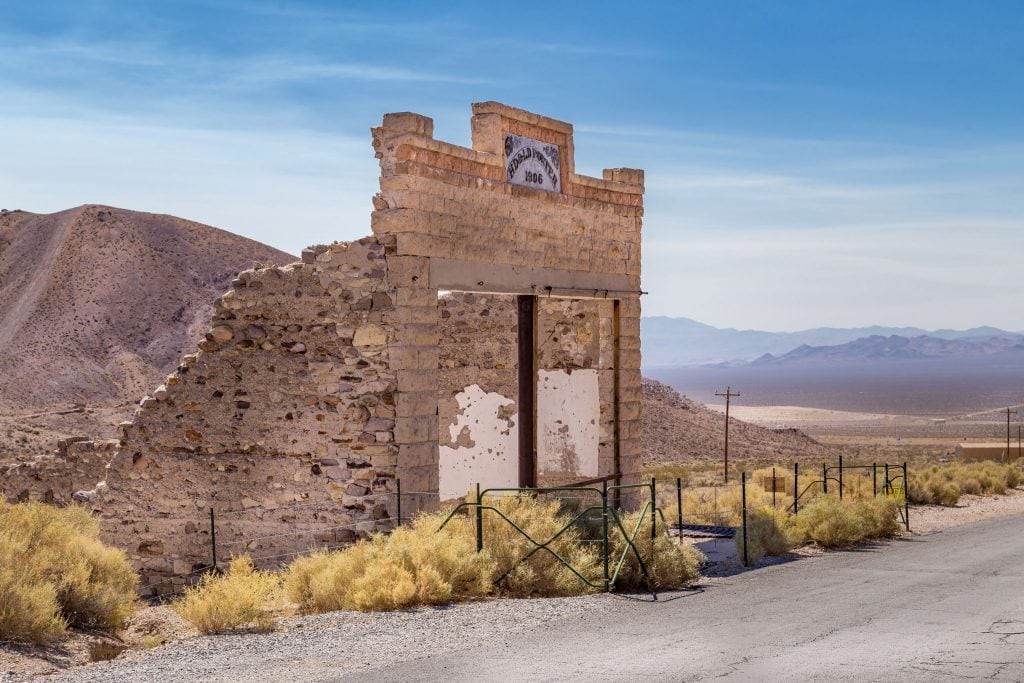 Rhyolite town
This day trip can be done in a day but if you don't stay in Death Valley overnight it's recommend to start early morning. I drove around 7AM from the Holiday Inn Express Pahrump towards Furnace Creek and took a right turn at Beatty Junction. I continued over Daylight Pass Rd. passing the junction towards the Titus Canyon first. Just after the junction take a left to Rhyolite town (photo above) which is a ghost mining town. That's the start of today's off road adventure in Death Valley; keep in mind the road is one way only.
Death Valley Off Road – Titus Canyon
Driving through Titus Canyon takes about 3 hours, or a bit more if you do a lot of stopping & photography. The road starts outside the Death Valley National Park just down the road from Rhyolite town. Before you enter the gravel road make sure your tires have pressure and the car is in good condition. Although it's the most driven off road route in Death Valley I didn't see any other car at all during my adventure in Titus Canyon. The first part starts flat through an area with lots of bushes after which the road starts to climb. There you enter again the Death Valley National Park.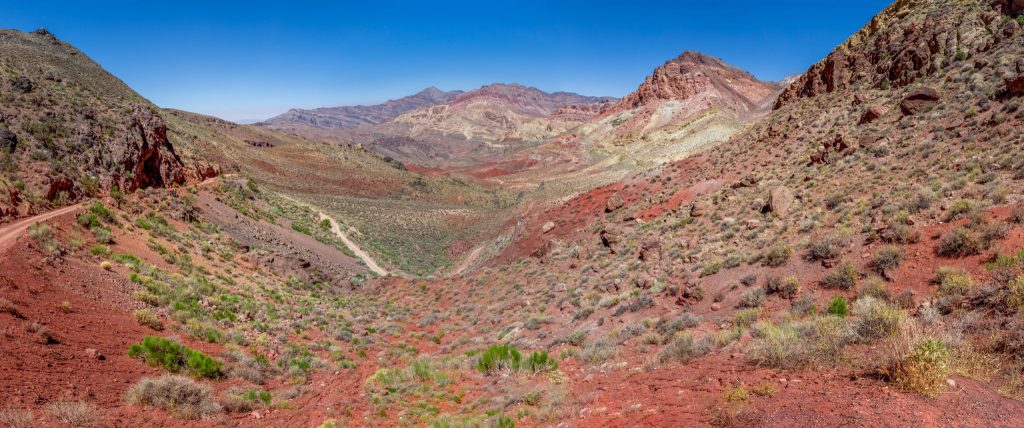 The road winds through the canyon to the highest pass of the trip: Red Pass. Here you have a beautiful view both ways as you can see in the photo above. During the trip, I saw various hares but no other wildlife; probably they were hiding in the shades. From the Red Pass the road continues and passes Leadfield, a mining ghost town. In 1926 this town was an active mining town for a year; until the lead deposits were depleted. The road now continues but the canyon narrows quickly. After about 20 minutes you pass some petroglyphs on the right side of the road. After a few kilometers while the canyon narrows, the canyon opens at the Titus Canyon Mouth and you'll be awarded with a beautiful view into the heart of Death Valley.
Continue driving over the paved road and at the T-junction take a right towards Scotty's Castle. Scotty's Castle is closed (during my visit due to flooding) but it's the way towards Racetrack Playa too.
Death Valley Off Road – Racetrack Playa
Keep following the road passed the Ubehebe Crater where the road turns again into a dirt road. I saw one couple driving the road in a sedan but this is not recommended as you'll have a flat tire in no time. The problem with regular rental cars, even with high clearance, is that the tires are not suited for heavy duty plus you don't have any insurance. Make sure to have correct tires for off road or hire a Jeep at Farabee rentals located within Death Valley.
Teakettle Junction
Continue the road and after about 40 minutes you'll arrive at Teakettle Junction. You'll know when you are there as you can see in the following photo.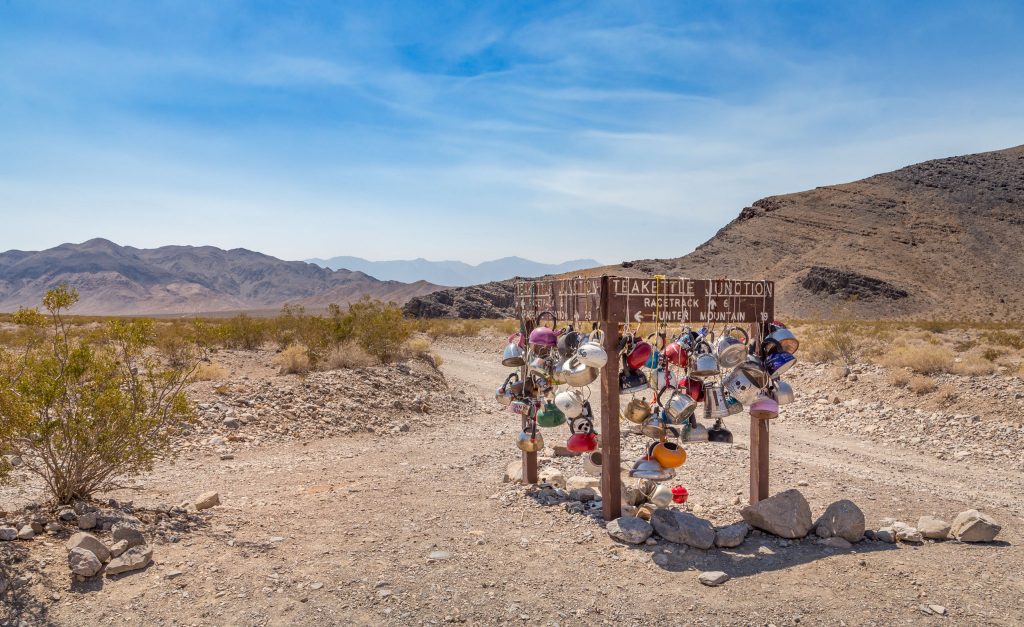 Racetrack Playa Grandstand
Continue driving towards Racetrack Playa which is a very flat dried lake bed. It's most famous for its sailing rocks which move over the playa leaving a track; hence the name Racetrack Playa. When you arrive at Racetrack Playa you will first notice a black island in the middle of the white playa. It's called the Grandstand and was once inhabited by fish at the bottom of this prehistoric lake.

Racetrack Playa Sailing Rocks
The sailing rocks are found at the other end of the playa. These rocks move over the playa but nobody has ever seen them move. There are various theories about the movement but the idea of a thin layer of water and hard wind making them move is widely accepted as a plausible theory. It's for sure a unique place and remember you're walking on a million-year-old playa so don't destroy it by walking on it if it's wet. You'll make tracks (see gallery for an image of someone who did) which will stay for a long period of time.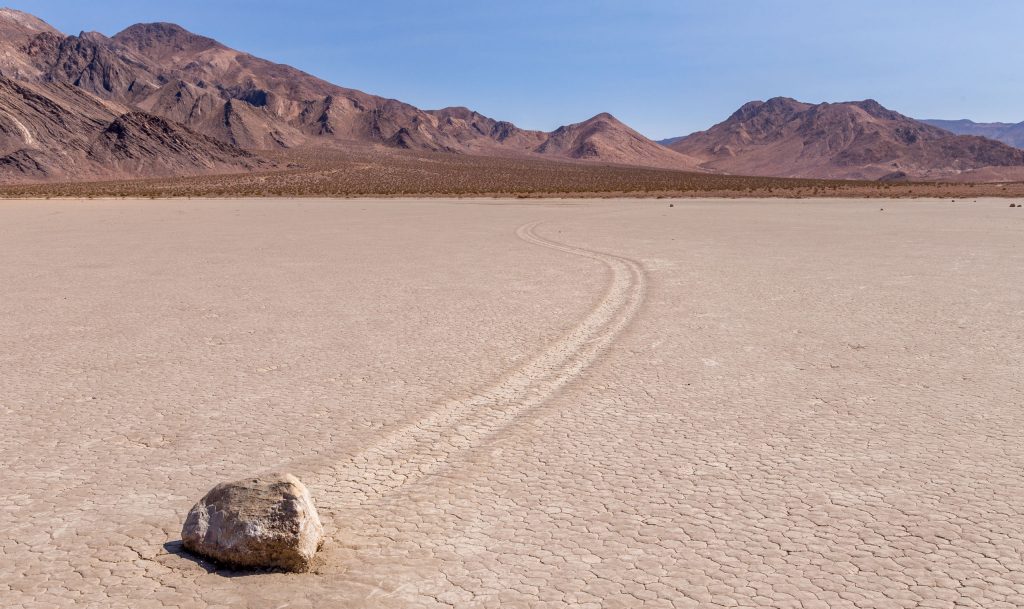 Ubehebe Crater
Further down the road there is nothing left except another exit road towarsd the other side of Death Valley but it's in terrible condition. Turn back towards Teakettle Junction and onwards to Ubehebe Crater for a small stop. Make sure you have at least an hour left before sunset if you depart to Dante's View for sunset. It's still quite a drive up there.
Dante's View Sunset
At Dante's View, you can admire Death Valley in all its glory. Just below the viewing point you see Badwater which is the lowest point of Death Valley. Dante's View is also famous for the most beautiful sunset of Death Valley as you can see in the photo below. My daughter was with me and we sat there for over an hour just watching the beauty of Death Valley.

This day of my West Coast itinerary was all about driving off road in the Death Valley. Death Valley however has much more to offer than Racetrack Playa and Titus Canyon. I'll take you later to other places like the Devils Golf Course, Badwater Basin, Mosaic Canyon, Artist Drive and much more. In my opinion Death Valley deserves at least two days of which one involves off road driving. It was one of the highlights of this road trip as was the hike into the Grand Canyon or the beautiful views at Yosemite Park. California for sure has a lot to offer in the United States.
Stay tuned for more stories and subscribe to the newsletter or follow CTB on social media (Facebook, Twitter, Instagram including Instagram stories; on all social media you can find CTB @christravelblog) to get updated information.
Did you visit Death Valley too or do you have questions? Please leave a comment at the bottom of the page. Love to hear from you!
Gallery Death Valley Off Road
Click an image for a full screen gallery of more photos taken during this trip. If you like to use any photo for commercial, private or editorial use please contact first for permission and/or pricing.