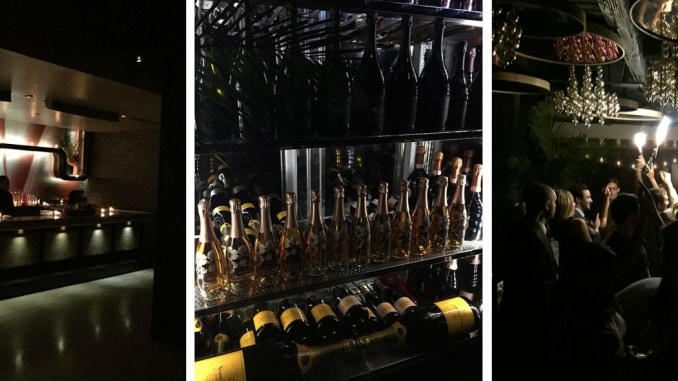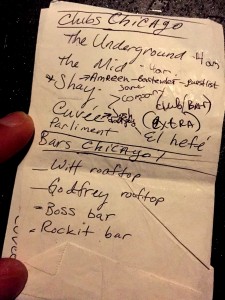 Business trips are not always only business 🙂 This visit to Chicago was not different and I worked hard to get a new article out of it too. I went to check out the Chicago nightclubs with some business partners for you. We started dinner around 8 PM and finished our party the next morning at 6 AM having me in bed close to 7 AM, yes 7 AM! But guess what? I had to be suited up at the conference again at 9 AM. So that was an one hour sleep, that's how business trips work. Oh, the photos might not be the quality I normally publish, but hey this is nightlife 🙂 A bit of preparation did one of my business partners and with this hand written note we started our clubbing night. I did come up with a list of not to miss clubs, enjoy!
The Terrace at Trump
We started our evening at The Terrace at Trump which is a great outdoor seating terrace at the 16th floor in downtown Chicago overlooking the Chicago River towards Lake Michigan. You have a great view on the Wrigley Clock Tower and other great Chicago architecture. The best premium tables with the best view in Chicago do cost a whopping 100 USD per reservation but you do have a view then! It's worth the reservation, but do note, this doesn't include any drinks or food yet. They serve also great cocktails for which you do not direct need a reservation and to just enjoy the view. For me personally this is the number one roof terrace in Chicago, but it does close quite early so we went onwards to Andy's Jazz Club.
The Terrace at Trump is located at: Trump International Hotel & Tower Chicago, 401 N Wabash Ave, Chicago

Andy's Jazz Club
Andy's Jazz Club is one of the more famous Jazz Club's in Chicago. We went there to have a beer and listen to some live music. Now I must say that this is not my favorite kind of music but the place is just great! Beautiful establishment with various live acts and two bands a day. If you like jazz or just want to go to a place then go to Andy's Jazz Club, that's the place to be in Chicago. From here we continued to the various Chicago nightclubs and they are amongst my favorites; we kind of hopped them staying at each just under an hour and finish the day at Cuvée.
Andy's Jazz Club is located at: 11 E. Hubbard St. , Chicago

Chicago Nightclubs – Spy Bar
Our first stop of our Chicago Nightclubs tour was at Spy Bar. It is located at the epicenter of the Chicago Nightclubs and near the other clubs we visited that night. It is on walking distance from downtown, just about 8 blocks total. The music is a bit high-octane techno. As we arrived quite early just before midnight people were just dropping in. The atmosphere is pretty cool but very minimal. After an hour we thought we would move further to Sound Bar across the street.
Spy Bar is located at: 646 N Franklin St, Chicago

Chicago Nightclubs – Sound Bar
Sound Bar, unfortunately it was Salsa night. Totally not my thing so after a gin-tonic we went further to the next and last two Chicago nightclubs we visited. But do trust me, Sound Bar is a nice place to go but today it was more salsa couples. If you are into Latin music you can also try Naçional 27 which is located nearby. I went there the other day for dinner and a bit of nightlife but didn't do all night again.
Sound Bar is located at: 226 W Ontario St, Chicago

Ok, it's getting a bit blurry now, so I hope the following I put the correct photo's with the correct nightclub in Chicago :-0 But the following two we went: Shay & Cuvée, they are more my kind of club. They are a bit more exclusive and the atmosphere and music is great. That's my thing!
Chicago Nightclubs – Shay
Shay is definitely my kind of club. This upscale club has great bottle service and exclusive cocktails. Everything does come at a price, including the entrance which was, if I remember, about 30 USD. The club is not huge but makes it therefore a comfy place. I really enjoy this Chicago nightclub every year again!
Shay is located at: 222 W. Ontario St, Chicago

Chicago Nightclubs – Cuvée
Cuvée is a great place to end the night after being at Shay bar. It is owned by the same people and is the after party of Shay. It is the most exclusive champagne bar of the Chicago Nightclubs. They have a huge list of exclusive champagnes. The decor is also high-class and together with the elite of Chicago a great place to end your day.
Cuvée is located at: 308 W. Erie St., Chicago

After we left Cuvée it was a bit of a headache coming back to our hotels as Uber didn't directly show up and we finally got a regular taxi. It was around 6:30 AM in the morning, early sunshine already lighting up the city. An hour sleep was what I could take to be ready at 9 AM, suited up, at the conference. Always be a man in the morning, work first! I hope you will enjoy these Chicago nightclubs like I did.
Stay tuned for more stories and subscribe to the newsletter or follow CTB on social media (Facebook, Twitter, Instagram including Instagram stories; on all social media you can find CTB @christravelblog) to get updated information.
Did you visit Chicago too or do you have questions? Please leave a comment at the bottom of the page. Love to hear from you!