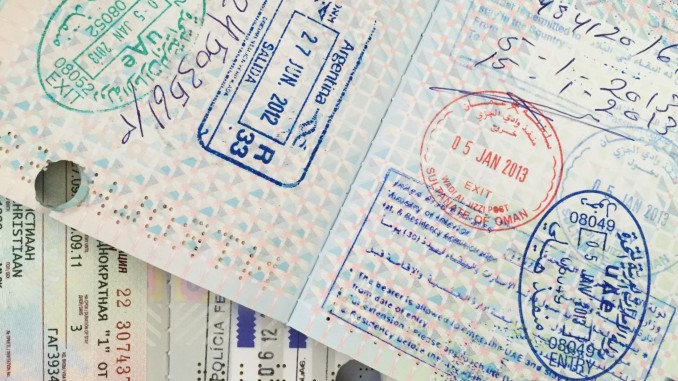 #TBT [ThrowBackThursday] week 30 of 2015. This week, something I remember from my visit to the United Arab Emirates, 1 of the 52 countries I visited prior to 2015.
If you travel a lot you know the amount of passport stamps you get entering and exiting a country. It's wise to keep an eye on those passport stamps that you have always matching pairs of entry & exit stamps. It happened to me twice now that something was wrong and a few other times it was good I controlled it. These things especially happen on land border crossings, make sure you get on both sides the correct stamp! I had one case that I had to cross the Argentina & Brazil border on a daily basis for a week; that got me daily 2 sets of stamps and took 7 pages in my passport!
Entry & exit passport stamps issues
I crossed the border from the UAE to Oman at Al Ain to Al Buraimi in Oman back in December 2013. I got an exit stamp from the UAE but then I did not get any entry stamp in Oman. After inquiring at the border officers they said I had to drive a bit (30 minutes) go get to the border office and get the stamps. That office served a few other border crossings as well. After 40 minutes of driving I didn't find it so I thought to just explore a bit in Al Buraimi and eat something and just go back to the United Arab Emirates after. That was not possible as I needed, no exceptions, an entry AND exit stamp of Oman so I asked them where to get them and I finally got a good map how to drive there which was actually only 10 minutes more as I drove before. Of course I didn't have cash but they did accept my credit card for the entry and exit fee and 15 minutes later I got both the entry AND exit stamp at the same time. Back at the border of the UAE I got the new entry stamps for there. So far so good; but somewhere it didn't go good…..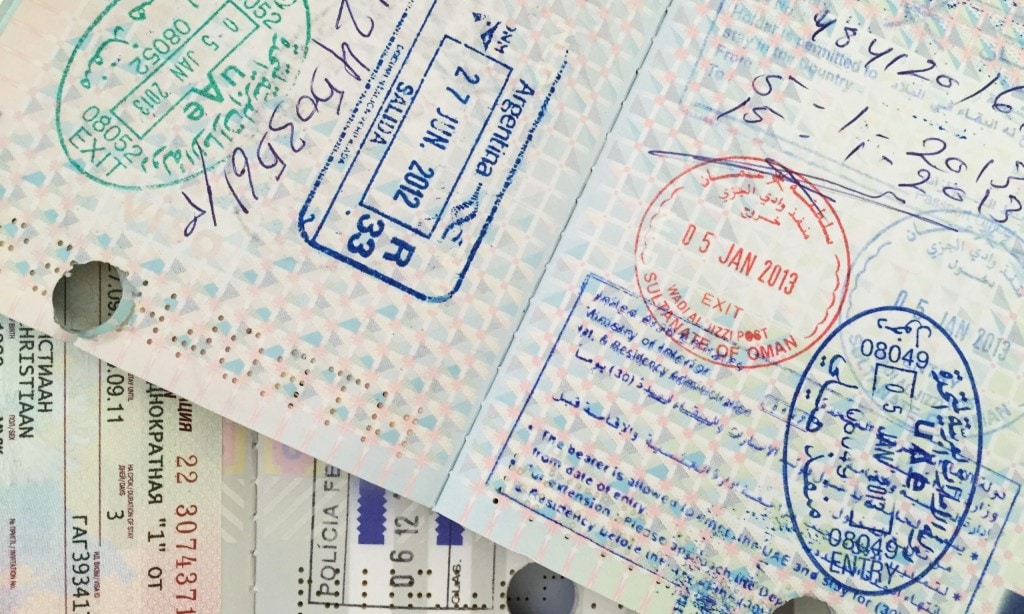 Some days later at the airport the immigration took me apart as they didn't understand all the stamps as they were not put next to each other for a nice overview. After half an hour sorting all out I got my exit stamp to leave the UAE. Yes! It was a year later that I entered again the UAE and got my new entry stamp. Good! A week later on my way back the immigration officer stopped me: "sir, you over stayed in the UAE and this is a serious problem and will be fined". What? I just stayed a week and was allowed 30 days. I travelled the world in the meantime so I could easily show the various other stamps of many countries and he also agreed that they had an error in their computer. What if you do not have any other stamps in your passport? YOU must then proof they are wrong. I told them I was going to miss my plane and they said "sir, it's our mistake; if you miss your plane we get you on an Emirates flight on our cost". We agreed that it would be a first class flight then, but unfortunately they sorted it out in time and I got my booked KLM flight back to Amsterdam. For the first time I was unhappy that something was solved quick! 🙂
These problems learned me to always simply double check that all entry & exit passport stamps are correct!
Curious what I did more in the United Arab Emirates? Read it here.
Stay tuned for more stories and subscribe to the newsletter or follow CTB on social media (Facebook, Twitter, Instagram including Instagram stories; on all social media you can find CTB @christravelblog) to get updated information.
Did you visit Dubai too or do you have questions? Please leave a comment at the bottom of the page. Love to hear from you!