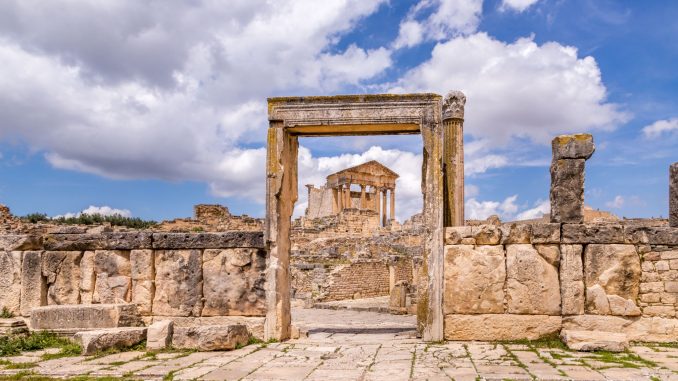 I love culture, I love nature and when I travel I like to mix this with sunshine and activities. Tunisia has everything and that's exactly what I included in this Tunisia itinerary. We all know Tunisia had a few issues that drove tourists away but after driving around the country for 10 days I can only say: go! Another reason to go now is the weak Tunisian Dinar which makes Tunisia affordable. I went in May which is a perfect time to go as the weather is hot but not too hot and the skies are blue.
I visited most – if not all – places of interest in northern Tunisia and the tip of the central coastal region of Tunisia. I have included all those beautiful ancient Punic, Roman and Carthaginian remains, magnificient natural scenery and some beach time in this Tunisia itinerary. I based myself in Tunis and Sousse from where all other places on this Tunisia itinerary can easily be reached. Join me on a road trip through Tunisia: I'll show you where to go, what to do and how to plan your trip.
Planning a Tunisia trip
Planning a Tunisian road trip is very straightforward. The main international airport is in northern Tunisia between Carthage and Tunis. There are other international airports, for example in Djerba, but for this Tunisia itinerary it's best to fly into Tunis. As with most itineraries I'll write, each day does contain a day trip of some sort. If you want more time to relax at the pool or beach, then add a day or remove some excursion from this itinerary. I'll give you some tips along the way.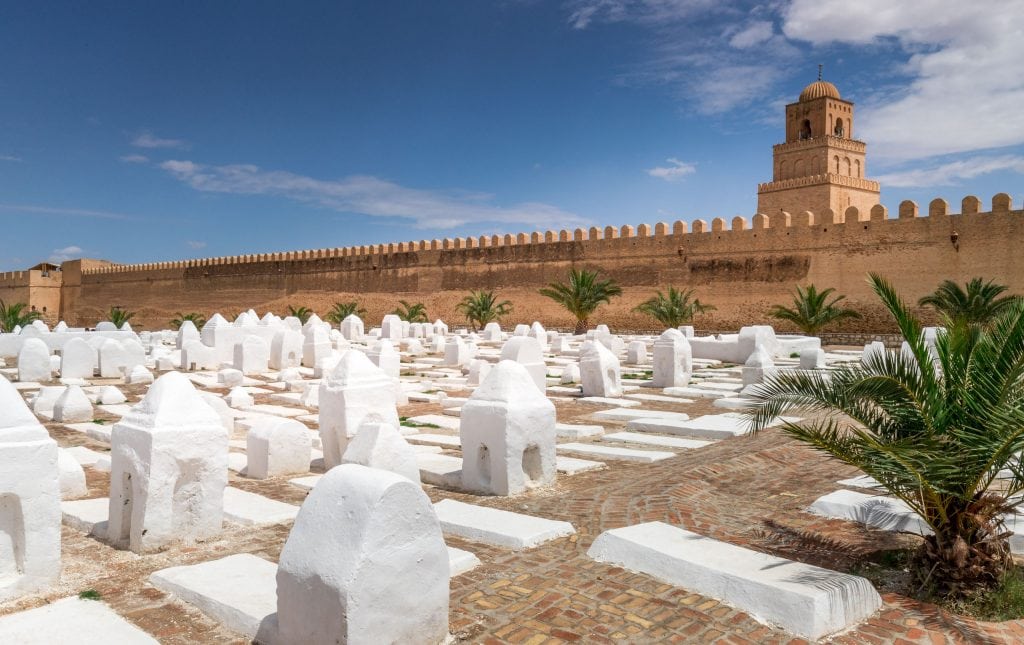 Immigration is straightforward and easy; no questions asked. Europeans can enter the country with just a passport stamp but do check with the Tunisian embassy in your country if you require a visa or not. At the airport a taxi to downtown Tunis costs just 12 Tunisian Dinars (3 euro) if you go for a cheap one. Car rental is of course available too but the first 3 days you won't require a car so to save money I don't recommend hiring one upon arriving at the airport. Make sure to buy a local simcard at the airport so that you have a data connection for navigating with Google maps. It knows everything.
There are many hotels and for this Tunisia itinerary you need one in Tunis/Carthage and one in Sousse. I stayed at the Sheraton Tunis and the Movenpick Sousse. Both upscale luxury hotels and I had a great time there. The day trips mix nature, culture, and leisure but you can of course mix up any of the day trips from Tunis or Sousse in a different order. Now let's look at the Tunisia itinerary and the places that are a must see.
Tunisia itinerary day #1: Arrival
There are dozens of flights from various European cities and several intercontinental flights too. Just check which is best. If you want a cheap flight check my guide on how to book cheap business class flights. I always prefer to arrive around 2-3PM which means I depart from my home in the Netherlands around 10AM for short haul flights. I arrived on a flight from Amsterdam via Paris. The rest of the day I just relaxed at the hotel pool.
EXTEND YOUR TRIP: If you come from far and are jetlagged add an additional day to adjust to the time zone. New Tunis is also a nice place to wander around, do some shopping or visit one of the many museums.
Tunisia itinerary day #2: Carthage
Carthage is 15 kilometers north of Tunis and famous for its Phoenician and Punic ruins. These ruins once were the most important trading base in that region with a population of over half a million. Do you know Hannibal? He came from Carthage and tried to battle the Romans but was defeated two centuries BC. Half a century later the Romans took Carthage and destroyed most if not all of the city. They rebuild their own Carthage and made it the capital of the Roman province Africa. This eventually got destroyed too and what's left, is now a UNESCO World Heritage Site.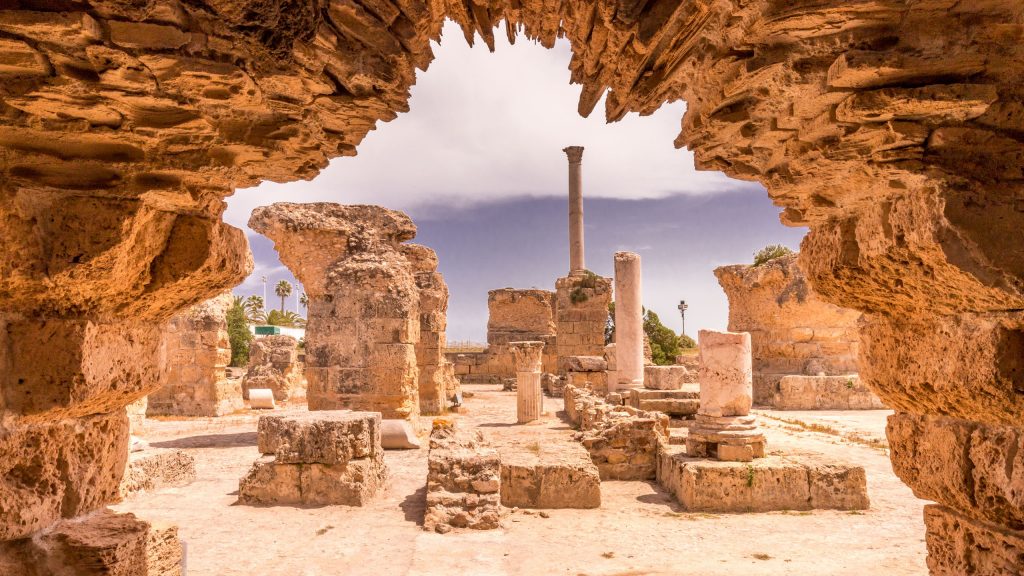 Carthage can easily be explored on foot if you want to. I recommend, however, hiring a taxi in case you want to see all the ruins, Sidi Bou Said (a lovely town on the coast) and as a bonus avoid the heat. This should cost you around 70 TND (around 20-25 euro) which includes pickup and drop off at any hotel in greater Tunis area. Make sure to buy a ticket which gives access to all the sites and if you want to make photos you have to pay 1 TND (30-euro cents) more. The route I followed is the most efficient and starts at the Punic Tophet, a burial site. Continues to the amphitheater and the water cisterns across the street. Then to Byrsa hill where you can see a cathedral, museum, and various ruins. From Byrsa hill everything is not far apart so if you want to walk some part walk from here.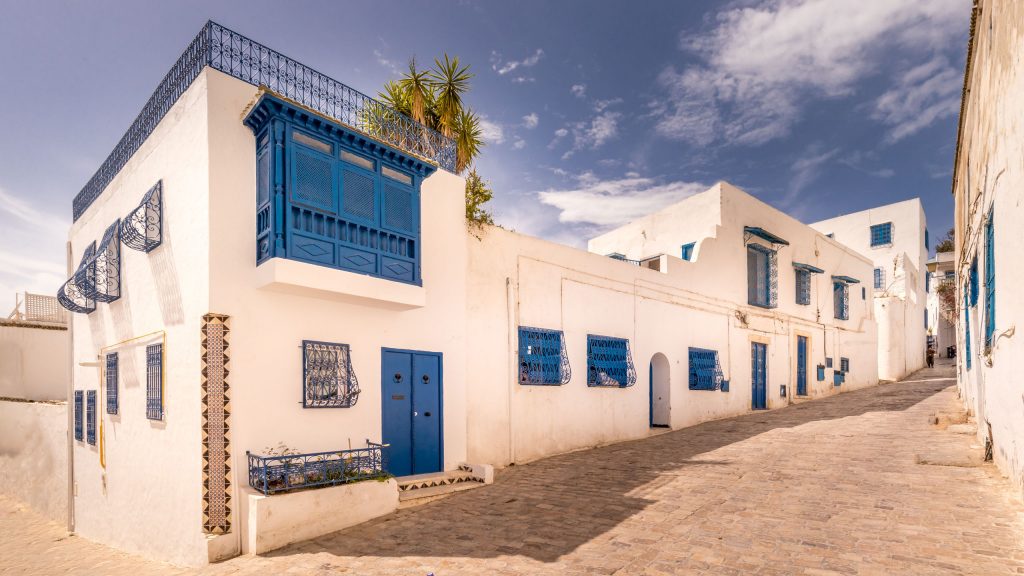 Next up are the theater, the Roman houses and last the Antonius baths and other ruins. Don't forget to visit the Punic houses just a block away from the Antonius baths which are also included in the ticket. Once you have soaked up all the history I recommend having the taxi drop you at the town of Sidi Bou Said. Sidi Bou Said is a lovely small town with white blue houses and narrow streets. The sunset from one of the rooftop restaurants is a great way to finish the first day of this Tunisia itinerary.
Tunisia itinerary day #3: Tunis Medina & Bardo Museum
Tunis is the capital of Tunisia and located on the Mediterranean coast but … it doesn't have beach resorts. It's however the perfect base to go culture hunting. Don't worry, as beaches are included at the end of this Tunisia itinerary. Carthage is a must see (see day 2 above) and the other must-see is the medina and the Bardo museum. These can be perfectly combined in a day. I recommend starting in the medina early morning at 09:00 and wander around till lunch time. Then, visit the Bardo museum after lunch.
Start at the Bab el Bahr (Porte de France / Sea Gate) which is an old access gate to the medina. The Tunis medina doesn't have any walls left but you'll see those later in Sousse and Sfax to get an impression on how this must have looked in Tunis. In the medina the streets are dotted with beautiful Fatimid and Ottoman style buildings. I recommend following my route to not walk up and own all the time. Don't worry, you'll get lost at least once in the maze of the small streets. If you do, just ask someone and they'll be happy to show you the direction. Have a dinar ready or so to thank them.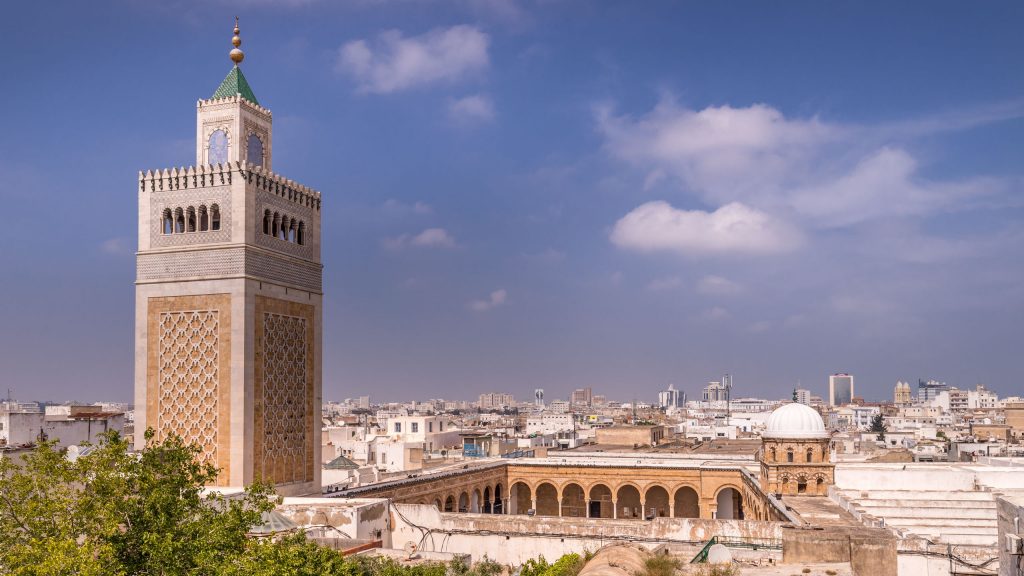 First, walk towards Dar Othman, Dar Ben Abdallah and Tourbet el Bey of which the latter contains graves from the Fatimid and Ottoman dynasties. Then try to find your way through the souks towards Dar Hussein to have a quick look inside. It's a public building but you're allowed to wander the inner courtyard. Continue back into the souks and visit the Grande Mosque and the Medersa Slimaniya. The last beautiful houses are more north, where streets are a bit wider and the rich lived. Have a look at Dar Lasram there. Now, wander back to the souk and find a rooftop restaurant to have lunch. If you can't find one, just ask, there is always someone who has family who has one and they'll take you there. Don't worry, you don't get scammed and if you feel that they try just walk away.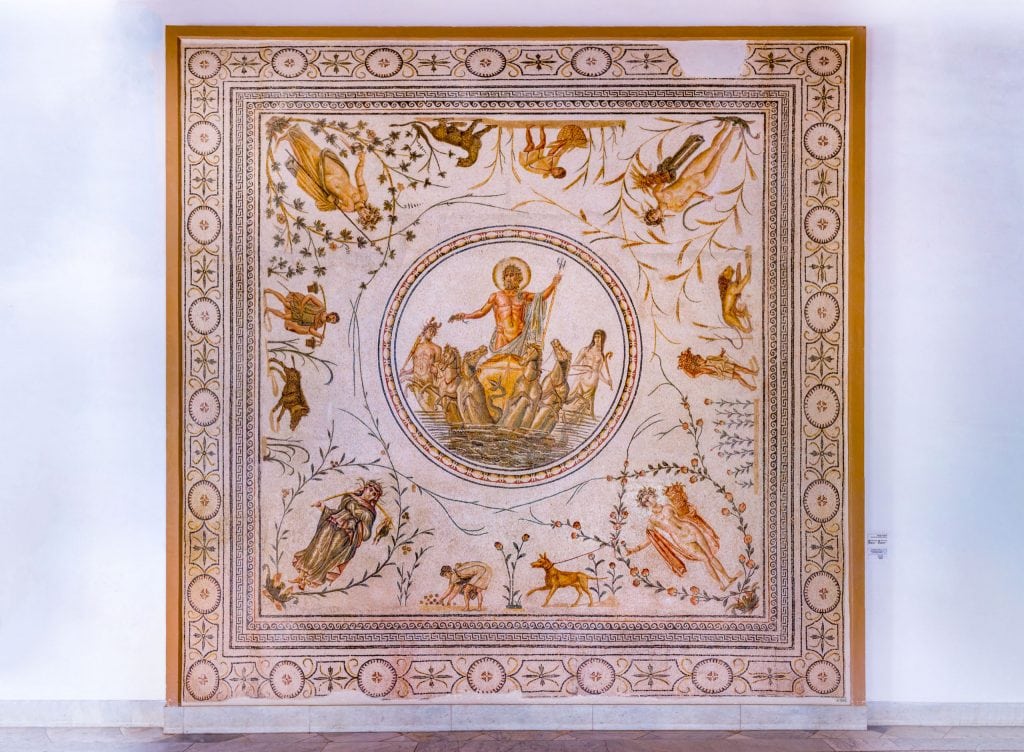 After lunch take a taxi to the Bardo museum where you'll be able to view the most magnificent mosaic collection in the world. They were better as those I saw in Madaba (Jordan) and the museum for sure can compete with Cairo's Egyptian Museum. The ground floor has items of Punic, Christian, and Islamic eras on display, but the other floors are mosaic after mosaic. Make sure to visit the Sousse Room, Dougga / Bulla Regia Room, and the Odysseus Room. All these places are included in this Tunisia itinerary too! Plan around 3 hours to get a good impression of the Bardo museum but if you want to go in depth plan a full day!
Tunisia itinerary day #4: Bizerte & Ichkeul National Park
It's time to hire a car as the remainder of this Tunisia itinerary cannot be done without. Tunisia is easy to drive; it's just Tunis that's a bit hectic. Car rental is cheap (25-30 euro a day) and gas too! If you're not confident driving yourself then hire a car with driver. Make sure to negotiate the price down.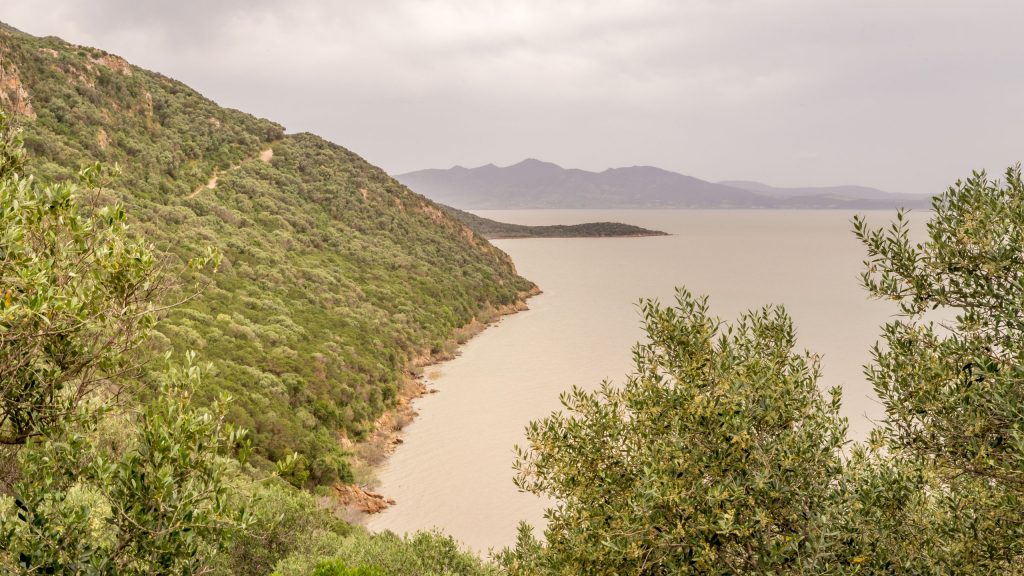 It takes about 2 hours from Tunis to Ichkeul National Park so start early. You might want to bring a picknick as the park is a beautiful place to have a picknick for lunch. Ichkeul National Park is a lake, forested hill, and marshland. It's an important bird migration stop and a UNESCO World Heritage Site. Hike up the hill (just 30 minutes) where there is a museum and continue the path over the hill. The views are amazing at the park! Walk as long as you want but I don't recommend spending more than 2-3 hours at the park if you want to go to Bizerte too.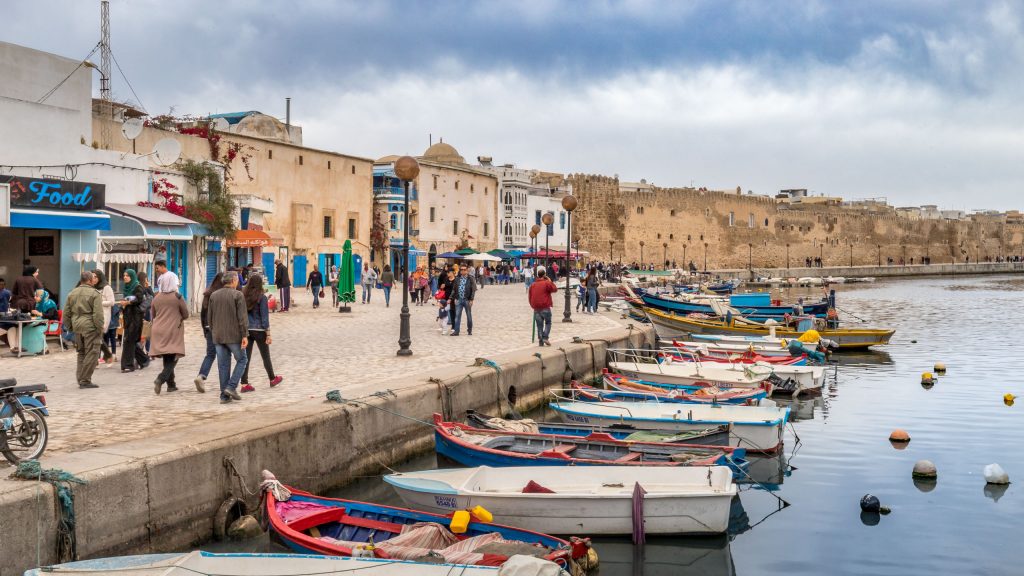 Bizerte is a beautiful town just 30-40 minutes from Ichkeul National Park and not frequently visited by tourists. Bizerte is one of the places on this Tunisia itinerary that is off the beaten track. Well worth it though. Park your car near the Kasbah and just wander around the fort, get lost in the Kasbah and explore the harbor area. I really enjoyed walking there as it's the real Tunisia! I didn't spend that much time in Bizerte as I still wanted to drive 30 minutes up north to the most northern tip of Africa. It's just a marker, but hey, I was in the area. Tunis is a 90-minute drive back making this day the longest of this Tunisia itinerary.
SHORTEN YOUR TRIP: If you need to skip a day you might want to consider skipping this day. Although the places are a must-see in northern Tunisia it might be the one without the most wow moments.
Tunisia itinerary day #5: Kerkouane on the way to Sousse
Today it's time to move from Tunis to Sousse. If more ruins, in this case Phoenicians, are to much for you then I recommend driving direct to Sousse. This takes about 90 minutes and you can spend the day on the beach or go out on the water. I however choose to go to Kerkouane and visit the magnificent remains of this Phoenician city which are now a UNESCO World Heritage Site. It takes just over 90 minutes to get there from Tunis, but it highly depends on the traffic too.
Kerkouane was one of the most important Phoenician cities in what's now called Tunisia. The ruins date back to the 4th century BC and are very well preserved with lots of walls still standing. This is due to the fact the Kerkouane got abandoned in the First Punic War and wasn't destroyed. The Roman never rebuilt the city as they did with Carthage for example. Wandering the ruins, admiring the mosaics, walls, temple layouts takes up to 2 hours. It's a very pleasant site to wander around like one of those lesser visited sites in Yucatan, Mexico I visited a year earlier.
Read more about this Kerkouane day trip here:
TUNISIA – Kerkouane Punic town day trip from Tunis or Sousse (and Kelibia Fort)
Make sure to visit the Kerkouane Archaeological Museum at the end. The reason I recommend visiting a museum at the end, in general, is that you have already seen the places where the artifacts come from. The Kerkouane Archaeological Museum has some beautiful art works on display including several magnificent pieces of jewelry and ceramics. After visiting the museum continue to the Kelibia fort which is just 20 minutes down the road.
Kelibia fort was built in the 16th century and served as citadel for a long time. It's on a hill top overlooking the Mediterranean Sea and doesn't take that much time exploring. In Kelibia there are lots of options for lunch before continuing to Sousse which is a 3-hour drive away. The next 4 nights I recommend staying in or near Sousse.
Read more about this Kelibia Fort day trip here:
TUNISIA – Kerkouane Punic town day trip from Tunis or Sousse (and Kelibia Fort)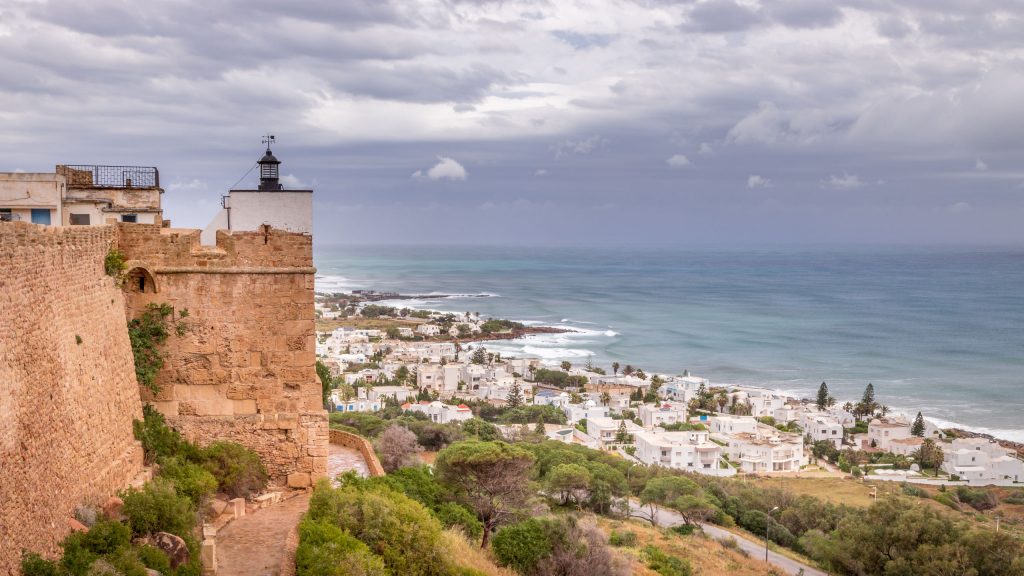 Tunisia itinerary day #6: Sousse Medina
The Medina of Sousse is a beautiful example of a walled ancient city core (a medina) which characteristics are the narrow streets. There are beautiful, mainly blue with some yellow, colored houses which reminded me a bit of the Spanish colonial houses I saw in Diamantina, Minas Gerais, Brazil. Completely different of course but somehow it reminded me. I recommend starting at the Kasbah which now houses the Archaeological Museum of Sousse. Their most important item is the mosaic depicting the head of Medusa. You'll probably spend just over an hour at the Archaeological Museum of Sousse as it's not huge.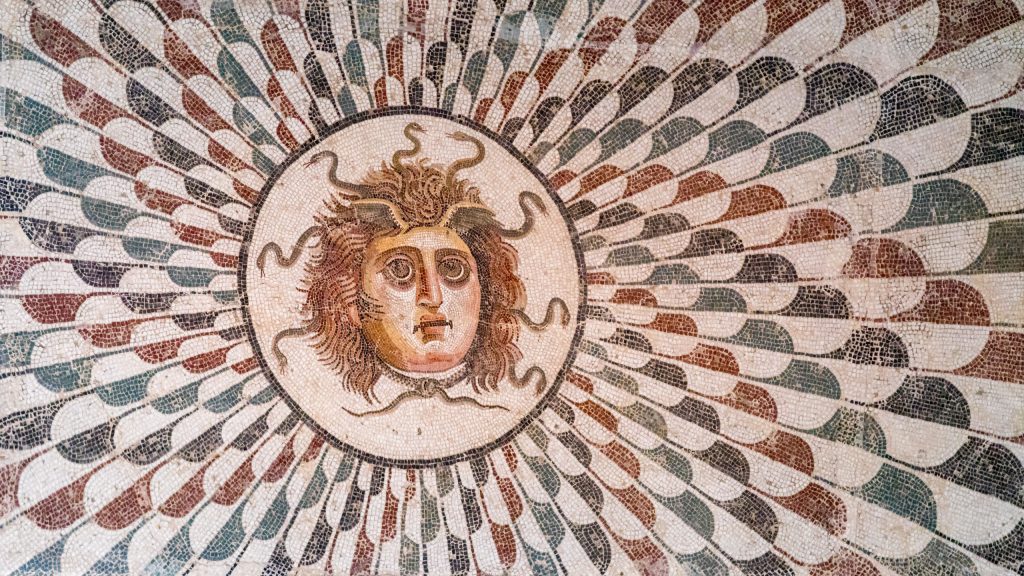 Now, follow the city wall towards the entry gate. When I entered through the gate I walked straight down towards the souks. To my surprise most shops where closed; it was a Friday! Good or bad? To photograph the streets, it was perfect as it wasn't crowded with just a few cats roaming the alleys. In the souks when the El Kobba museum is on your left turn right. Find one of the signs on the wall that shows you the must-walk route through the Medina of Sousse. Follow it and you'll end back at the top where you entered. Now walk along the inside of the walls to the Dar Essid Museum and continue to the Ribat and the Grand Mosque. This route covers most important places but wander around the medina as long as you want. After each turn there is another beautiful view.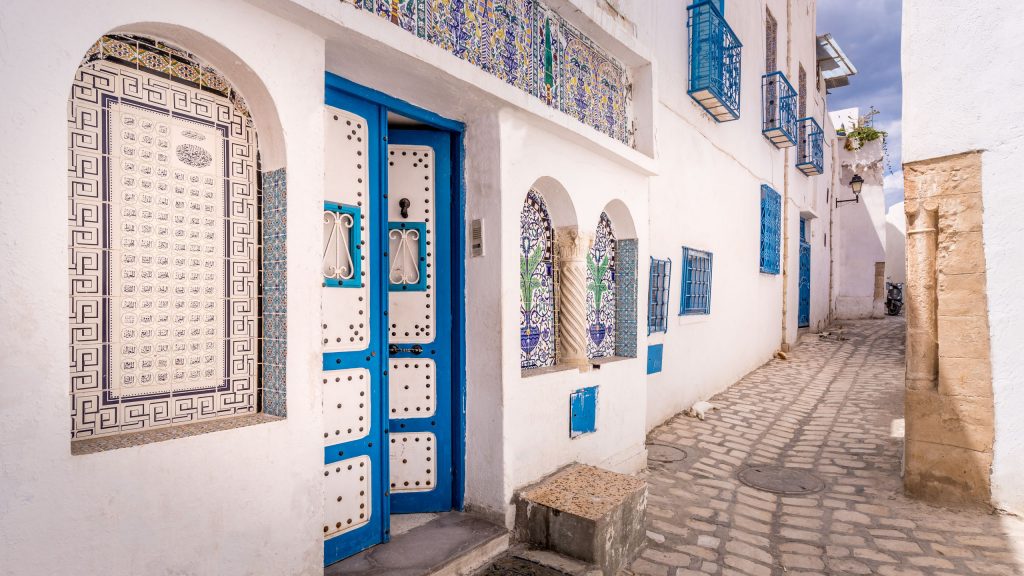 Half a day is enough for the Medina of Sousse, so I spend the rest of the day at the beach of my hotel. It's nice to relax a bit too during a trip and many days of this Tunisia itinerary are quite full.
EXTEND YOUR STAY: Want more beach time? Add a day in Sousse at the beach. The best beaches of Tunis are in this area.
Tunisia itinerary day #7: El Jem Amphitheatre & Sfax Medina
El Djem is a city an hour south of Sousse and famous for its Roman Amphitheatre. It Amphitheatre of El Djem is unique in north Africa and one of the most beautiful Roman ruins in the world. It's best visited as a half day trip from Sousse, but you can add Sfax to this day trip to make it a full day. The theatre is for two-thirds still intact and it's huge! When you wander around make sure to close your eyes and imagine how it must have looked like centuries ago. I have seen several similar structures when I did a South France road trip at the other side of the Mediterranean Sea, but these were much smaller. The Amphitheatre of El Djem is a must-include on any Tunisia itinerary.
Read all about this El Jem Amphitheatre & Sfax Medina in this day trip report:
TUNISIA – El Jem day trip from Sousse (or Tunis) & Sfax medina tour
WANT MORE BEACH TIME? If you like to have more beach time, then skip Sfax. Sfax is mainly known for its authentic medina which isn't frequently visited by tourists. If you do like off the beaten track places, then make sure going to Sfax. You'll taste the real Tunisia there!
Many will say Sfax has nothing to offer but I disagree. I must admit that the archeological museum seemed have closed, probably forever. The medina however is worth strolling through as it's not developed for tourists. You'll see the real Tunisia here with locals shopping and lots of shops selling all kinds of stuff. Make sure to visit the Dar Jallouli Museum and the Kasbah Museum which are worth exploring. For the rest, just wander around, grab a snack, and watch the friendly locals doing their thing. I think I had the best time in this medina in all of Tunisia as it was so authentic!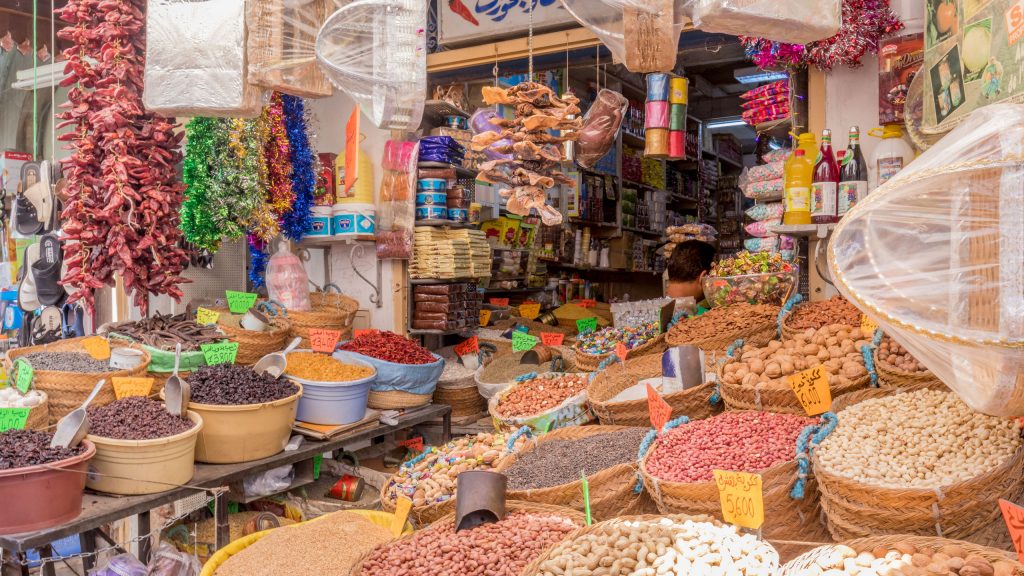 When I finished exploring the medina I wanted to visit the Tyna Roman archeological site but when I arrived it was completely deserted. The whole park around it, including a water park, seemed to have been abandoned decades ago. So, don't bother driving these 10 kilometers but drive back to Sousse which is about 2 hours.
EXTEND YOUR TRIP WITH SEVERAL DAYS: If you want to add a week or even 10 days to explore southern Tunisia and the Sahara then do it from Sfax. Stay overnight in Sfax. You do need to change this Tunisia itinerary a bit though. Visit Kerkouane as a day trip from Tunis and make sure you visit Dougga first too. Visit the places of interested between Tunis and Sousse (see below) when you drive to Sousse. When you go south from Sfax it's best to end in Djerba and fly back from there to Tunis and onward home. I'll be back one day to explore this part of Tunisia!
Tunisia itinerary day #8: Kairouan
Kairouan is the fourth holiest Muslim city after Mecca, Medina and Jerusalem. I visited Jerusalem earlier when I did an Israel road trip with my daughter. Mecca and Medina, I cannot visit as a non-Muslim now but when Saudi Arabia opens their borders for tourists I hope to be one of the first to visit! A small interesting fact: 7 pilgrimages to Kairouan are said to be the same as one to Mecca. The medina of Kairouan together with 3 places located just outside of the medina are a UNESCO World Heritage Site.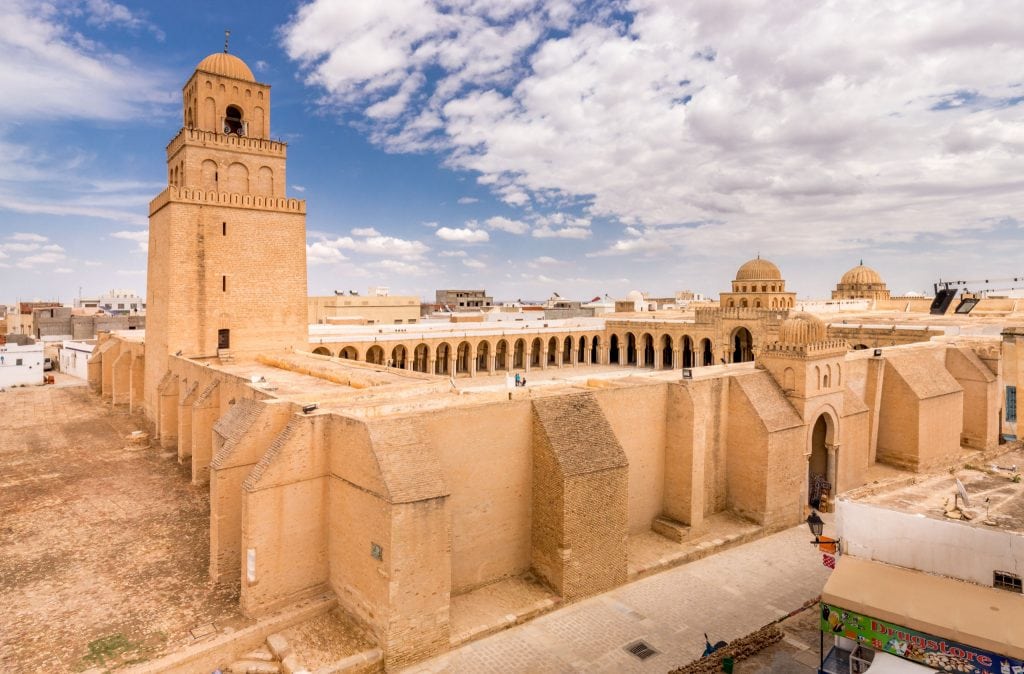 I drove in an hour from Sousse to Kairouan and parked my car at the Great Mosque. At the mosque you can buy a ticket valid for all the sights in Kairouan. Remember the Great Mosque of Kairouan is the fourth most holy mosque of the Islam. It's the only one you can enter in Kairouan, but you can't enter the prayer hall unless you're a Muslim. Now, continue walking towards the Mosque of Three Doors, Place Bouras, Zaouia Sidi Abid al Ghariani Tomb, Bir Barrouta, Bab Tunisia and back to the Great Mosque. Make sure to wander the narrow alleys from place to place; it's beautiful.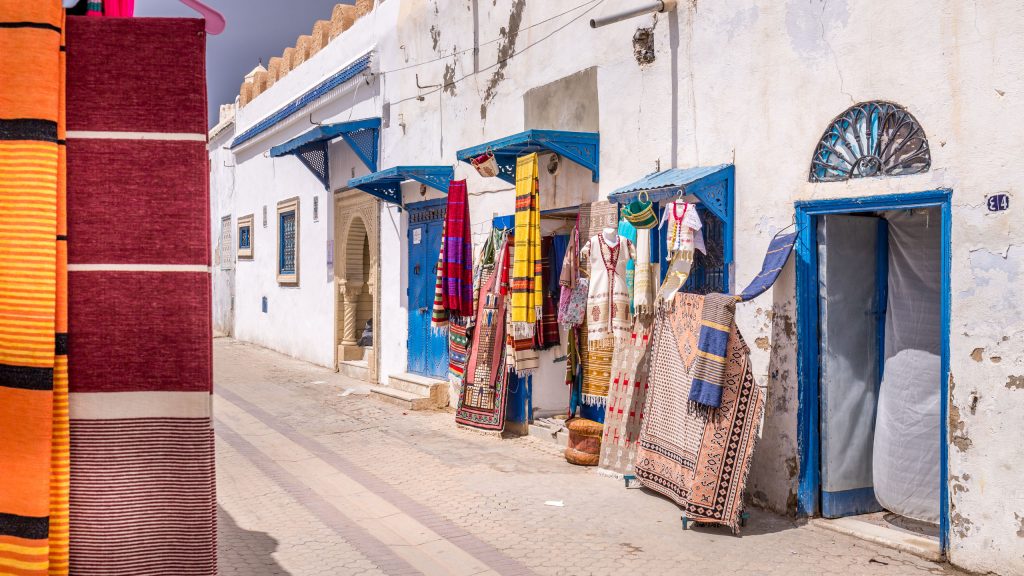 There are three places just outside of the medina which are worth visiting and inscribed together with the medina as a UNESCO World Heritage Site. You could walk to all of them, but it would eat up quite some time. I decided to drive. First, I drove to the Basin of the Aghlabids which are two large basis which contained water for the medina. The Barbier Mosque or Sidi Sahab Mausoleum is further down the road and accessible for non-Muslims except the tomb itself. Last drive to Djama Amor-Abbada for a short visit; it was mostly under renovation when I visited. The Islamic Art Museum in Rakkada was closed when I visited so if you plan to go make sure to check if it reopened. It's a waste of time to drive almost an hour for nothing.
As I started at 8 AM this day from Sousse I was back around 3PM so that I could relax a bit at the pool. You can make the day as long as you want by wandering in the medina of course.
Tunisia itinerary day #9: Back to Tunis with various stops
It's time to go back to Tunis! There are a few places of interest on the way I recommend stopping if you can't get enough of those Roman ruins like me. It's just an hour more of driving plus the time you spend at the sites. It's also a nice scenic drive through the country side of northern Tunisia. First, drive from Sousse to Zaghouan and visit the Roman water temple. This is the source of the water that was carried over the aqua duct to the Antonius Baths in Carthage. Isn't that amazing? You'll see a big part of the aqueduct too this day.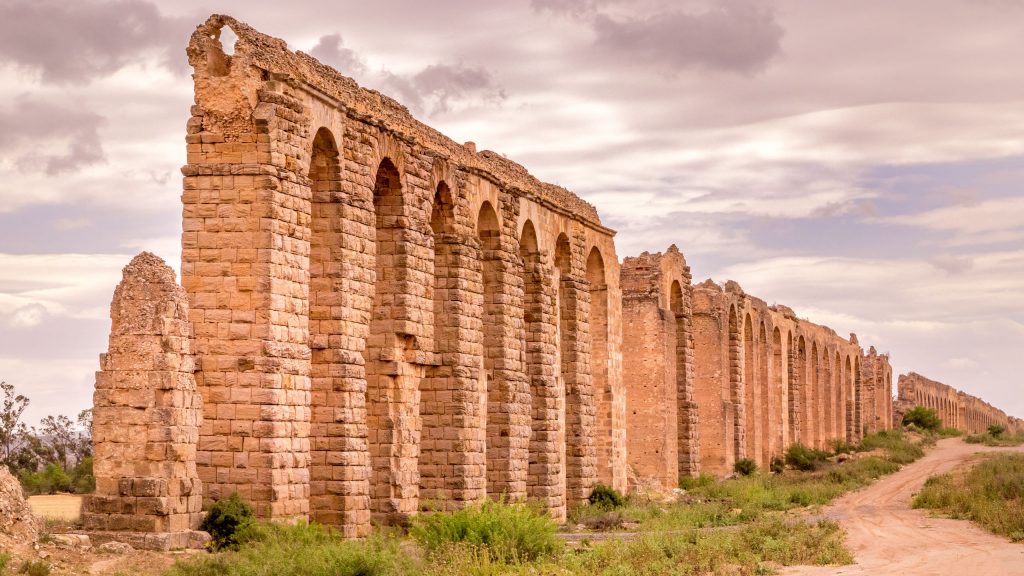 The water temple isn't big, and you probably get bored after 30 minutes. Now drive to the Roman archeological site of Uthina. Here you'll see a beautiful capitol, bath houses and a theater. It's a huge site, but you can drive by car from place to place. There are various places to see the Roman aqua duct, but I recommend putting (36.638476, 10.129413) in Google maps as that place gives the best view. See the photo above. From the aqua duct it's around an hour back to Tunis for two more nights.
Tunisia itinerary day #10: Dougga Roman city & Bulla Regia
Dougga is a place like no other. A complete Roman city well preserved with a few Phoenician structures scattered on the grounds too. It's easily reached in 90 minutes from Tunis by car. I highly recommend calculating 3-4 hours to explore this site as it's huge. You'll see the capital towering above the city from far away. When you explore the baths, forum, market place, arches, and other major buildings you walk over the original Roman roads. Isn't that amazing? You'll see also a tower called Mausoleum of Ateban. It's not Roman but Numidian and beautiful preserved. I couldn't get enough of Dougga but at 2PM I really had to depart to Bulla Regia, another unique Roman archeological site.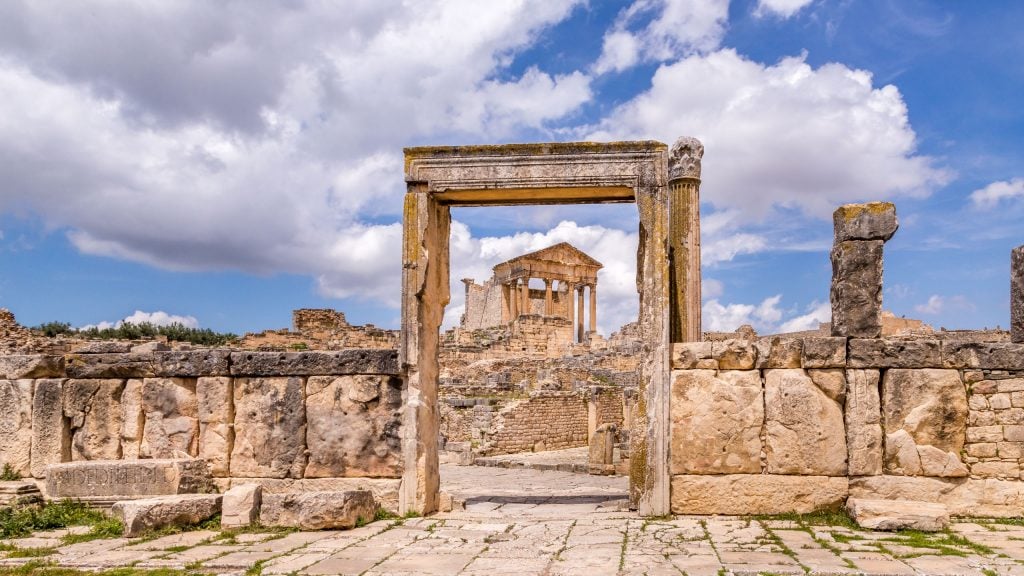 Bulla Regia is a unique Roman archeological site as many of its houses were built with one underground floor for the hot summers. I never saw such semi-subterranean houses before. They are unique and a must-see in Tunisia. Another reason to go is that several magnificent mosaics are left in place on the floors of the houses. Many of the mosaics in the Bardo museum come from the houses too. A must see is the mosaic in the House of Amphitrite (photo below). You do need to take a guided tour (just 7-8 euro) as this house is normally closed and must be opened by the guards. I do recommend a guided tour here anyway as it's a large area and with high grass and plants it's difficult to see where to go next. Do tell the guide if you're on a schedule as otherwise the tour takes a long time. I just had an hour after which I drove back to Tunis which took just 90 minutes over the new highway. The next day I had to get up early to catch my flight.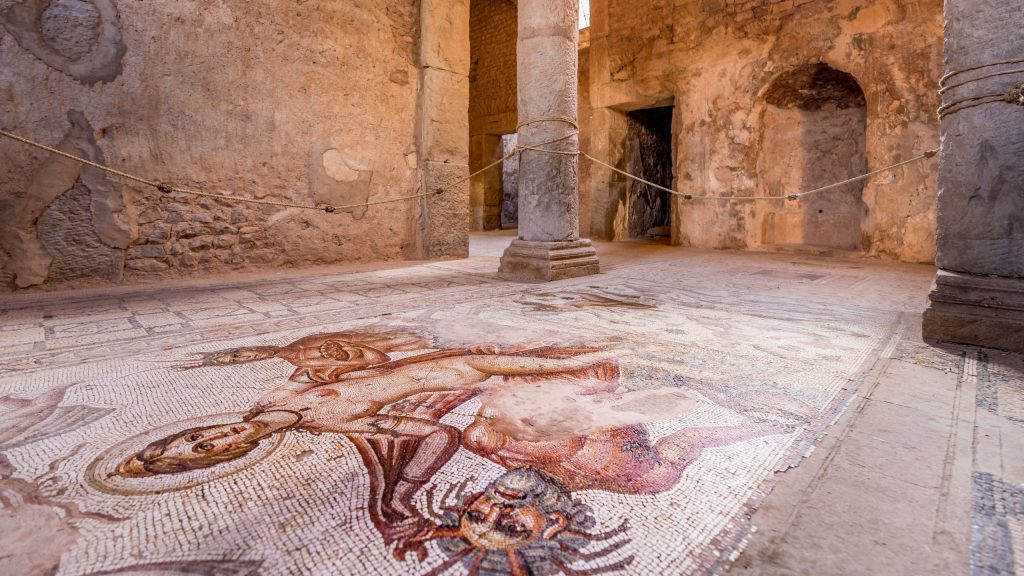 Tunisia itinerary day #11-14: Extend your trip & departure
My original Tunisia itinerary was 11 days but it's easy to extend it to two weeks or even more. I have given several options above on how to extend (or shorten) your trip. The easiest is to take a day more in both Tunis and Sousse so that you'll have two days without day trip too. If you want to extend further than extend the trip from Sfax more south. A part I'll for sure visit on day in the future. This time I didn't have more time, so I limited my Tunisian itinerary to the places as listed above. I departed from Tunis in the morning back to Europe.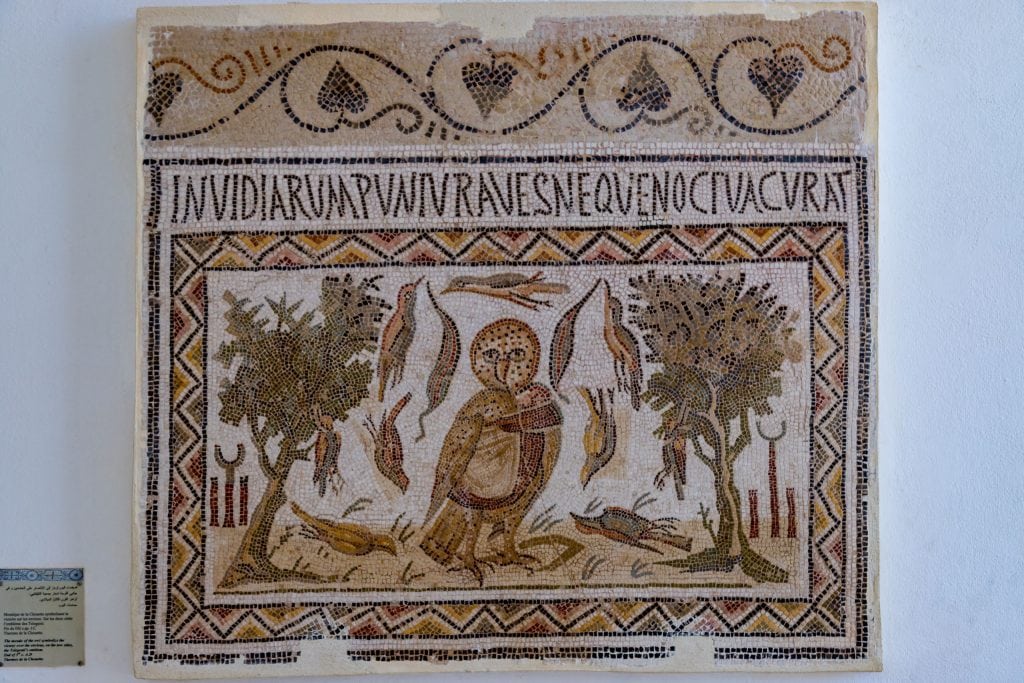 I hope this Tunisia itinerary helps you plan your trip to Tunisia. It's a beautiful country full of ancient (Roman) history, nature and beaches. I'm sure you'll have a great time. If culture combined with nature and an occasional beach day is your thing then also check my two weeks in Oman, two weeks in Jordan and my travel tips for Cairo too. I do need to return to Tunisia for the southern part including the Sahara, but I think this road trip in Tunisia gave me a very good impression of the country. I had a great time discovering Tunisia.
Stay tuned for more stories and subscribe to the newsletter or follow CTB on social media (Facebook, Twitter, Instagram including Instagram stories; on all social media you can find CTB @christravelblog) to get updated information.
Did you visit Tunisia too or do you have questions? Please leave a comment at the bottom of the page. Love to hear from you!