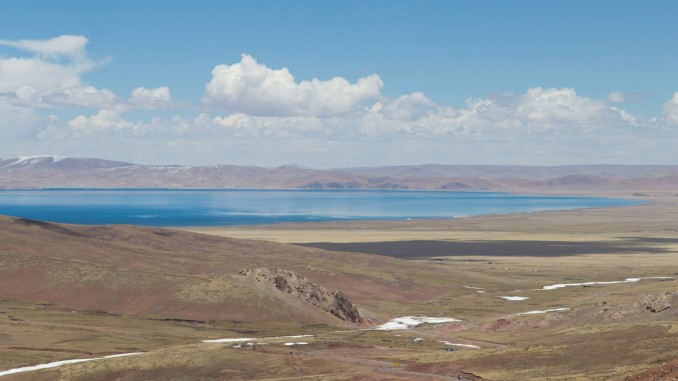 Tibet has been on my bucket list a long time but finally I made it to the rooftop of the world. I was based in Lhasa for a week at the Intercontinental Lhasa Paradise Resort. My son accompanied me during his three week annual may school holiday. We spend 7 days in Lhasa and explored Tibet from there. In Tibet you cannot travel alone due to restrictions therefore we asked Tibet Ctrip Travel Service to help us out with driving and permits. One of the (rainy) days we went to Namtso lake. I will share with you all about Namtso lake in this first article about Tibet.
Some facts about the Namtso Lake
The Namtso lake is situated just over 100 KM north of Lhasa in the Tibet Autonomous Region of China. It was formed between 20 and 65 million years ago in the Paleogene era. It is the largest salt lake in Tibet with a surface area close to 2000 square meters. Climate can change suddenly which we experienced too. This did give pretty cool pictures! The lake is a holy place for pilgrims and it has a monastery on the shores. In earlier times pilgrims would go to one of the islands in the lake over ice just after winter. The ice would then melt, and only at the time it would freeze again before winter would they go back. Living in seclusion the whole summer on the island.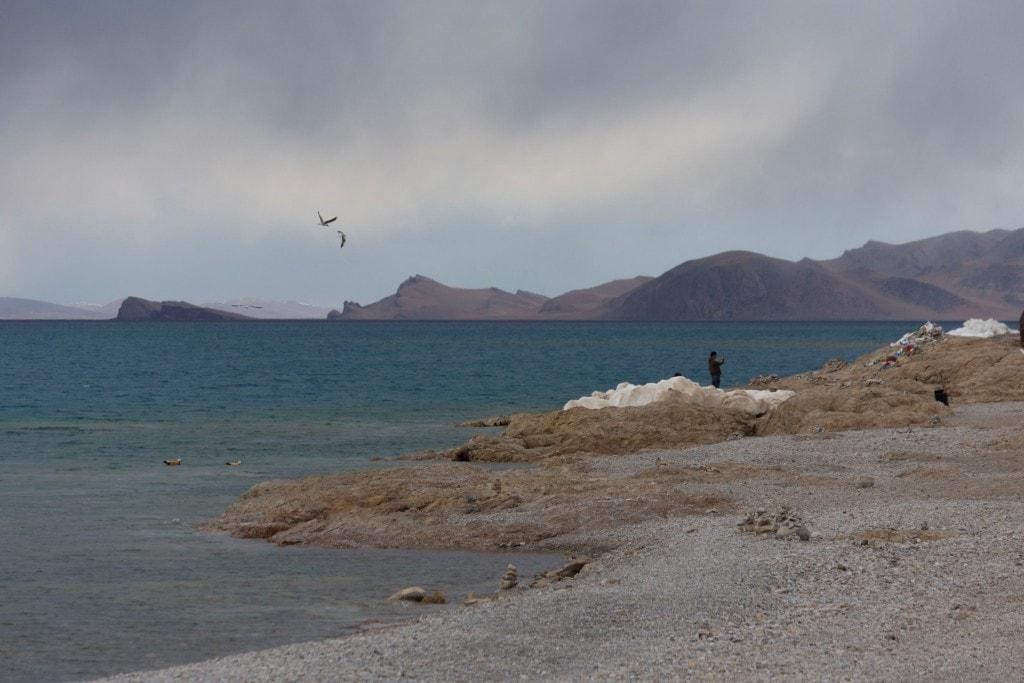 Getting to the lake
The drive from Lhasa to Namtso Lake is a 5 hour drive. Both ways! The distance is only 250 kilometers but due to security checks for speeding it takes a long time. The driver needs to check in at checkpoints and must take a certain time to reach the next. This is to prevent speeding but the time to get to the next is too long so the driving is very slow. During the drive you pass through beautiful landscapes so you will not get bored at all. On the way back we encountered some bad weather and ash grey clouds. They gave beautiful views.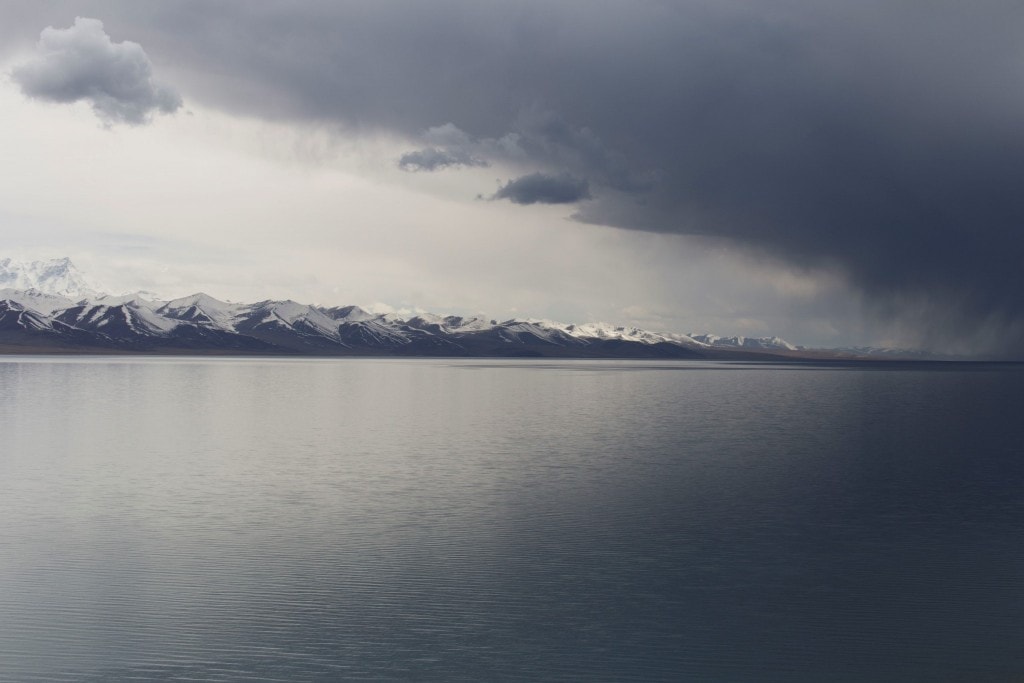 Touring the Namtso Lake
Just before the lake you will go over a 5190 meter high pass (higher than the highest mountain in Europe!) after which you decent to the lake which is at 4770 meters. You have a beautiful view over the lake from the pass. Once arrived at the lake it was time to take lunch first before exploring the area. There are various places to do this. We went for lunch at a guesthouse and had some great Tibetan dishes. You could stay overnight there but we preferred to go back as beside the lake there is not much more to do unless you would drive further into Tibet. If you however have plenty of time it's not a bad idea to stay there, maybe.
After lunch we climbed the hill next to the lake for a bird's eye view of it. At this altitude that took a bit of time due to the thin air and lack of oxygen. From there we descended to the shore and walked a few hundreds of meters up and down the shore. We visited in May so there was still some snow on the shores with beautiful snow white mountains in the back and in our case dark grey clouds above the lake.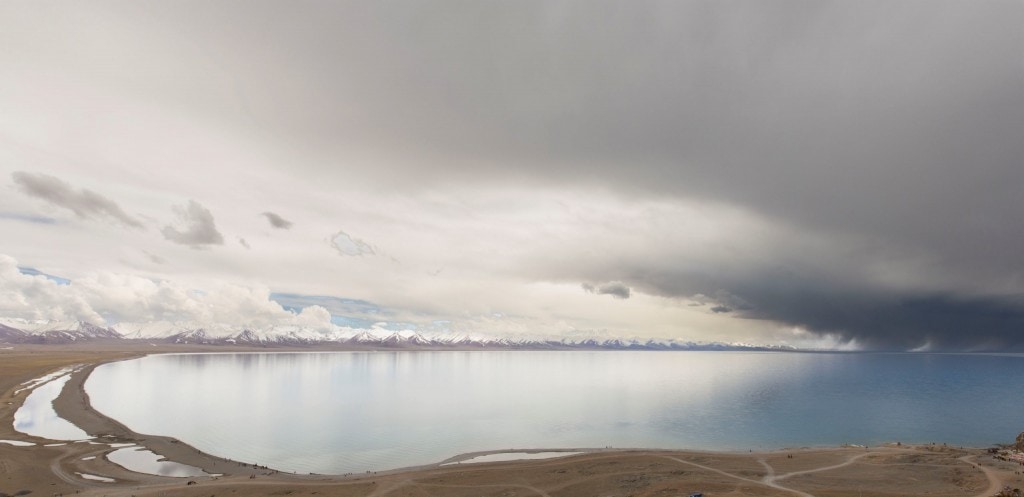 We underestimated the cold wind at the lake shore and got pretty cold. All Chinese tourists had double jackets but we were only dressed in a polo with a vest. Not the best choice but we survived. To explore the area and take in all the views you will need an hour or two. To walk around the lake is not possible as it's too big. If you want you can go on the photo with a yak or a horse but be prepared to pay. Even if you make a photo only of the yak or horse they might ask you to pay. A telelens comes in handy then 😉 If you think about swimming in the cold I have to disappoint you as it's not allowed because the lake is holy. We headed back to Lhasa around 4 PM arriving back to our hotel around 9 PM. It was the longest drive of the 7 days in Tibet with my son but well worth it.
Stay tuned for more stories and subscribe to the newsletter or follow CTB on social media (Facebook, Twitter, Instagram including Instagram stories; on all social media you can find CTB @christravelblog) to get updated information.
Did you visit Tibet too or do you have questions? Please leave a comment at the bottom of the page. Love to hear from you!
Gallery Namtso Lake
Click an image for a full screen gallery of more photos taken during this trip. If you like to use any photo for commercial, private or editorial use please contact first for permission and/or pricing.