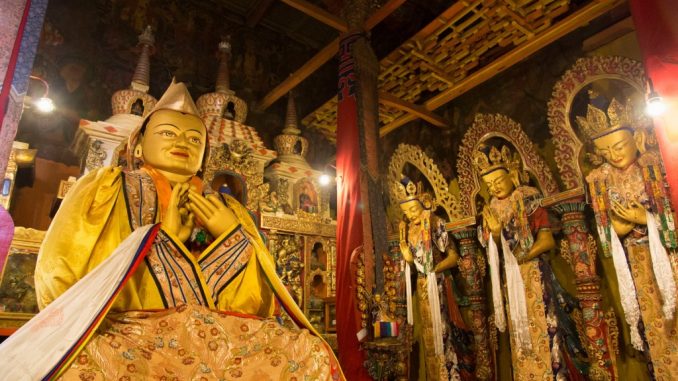 During the past years I made many trips to China and each time I wanted to visit Tibet. It was during my China trip together with my son in 2015 that finally I visited Tibet. I started with him in the Yunnan province where we spend 14 days after which we continued for 7 full days to Tibet. With a half day before and after for arrival and departure making it 7 in total for our Tibet itinerary. To visit Tibet there are a few things to keep in mind and in this article I will give you some practical tips. I will also share with you my itinerary which doesn't include the arrival and departure day. Enjoy the roof top of the world with me.
Tibet itinerary day 1: The Jokhang Temple
The Jokhang Temple is the most sacred place of the Tibetans and the center of Buddhism in Tibet. Inside you will see a maze of corridors and small prayer rooms while butter candles are burning everywhere giving the air a very particular smell. It has to be visited with a guide as he can explain all you want to know. After the visit to the temple the guide left us so we could go explore more around the Jokhang Temple by ourselves. It's a beautiful area to watch the Tibetan pilgrims. A good start of a Tibet itinerary and to get even better used to the altitude.
Read my full story here:
TIBET – My first experience in Lhasa: a half day at the Jokhang Temple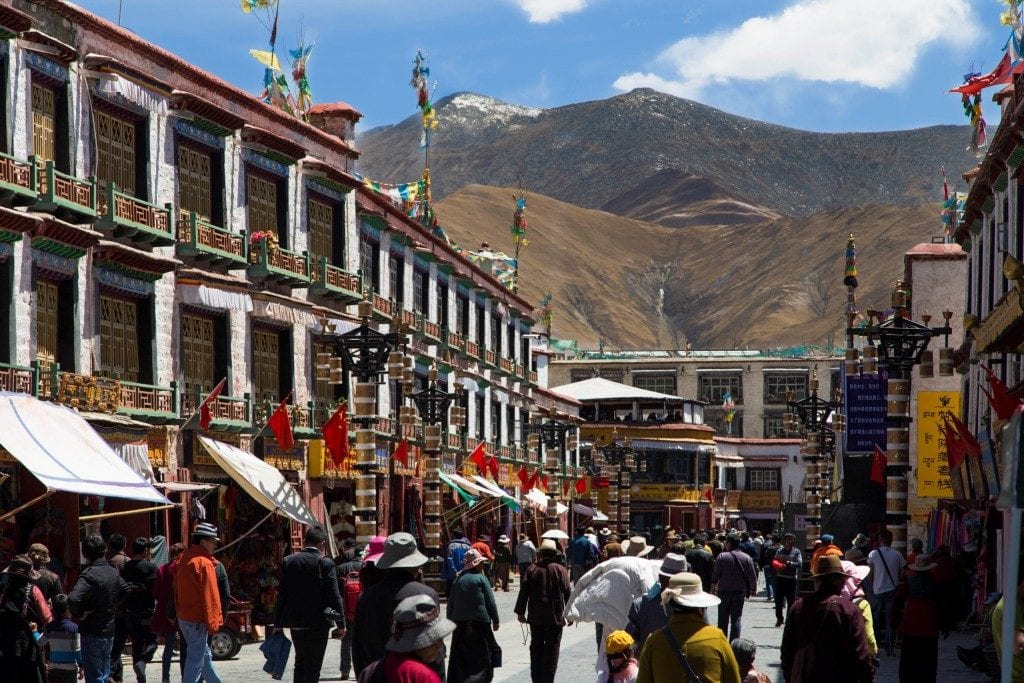 Tibet itinerary day 2: Drepung and Sera monastery
Both the Drepung and the Sera monastery are located at the outskirts of Lhasa. They form a perfect day trip at the start of a Tibet itinerary as the altitude doesn't increase to much. In the morning it's best to start at the Drepung Monastery as at the Sera Monastery in the afternoon the monks will debate. You should not miss that part! Both monasteries are one of the three main Gelukpa monasteries in Tibet. A visit to each lasts about 3 hours and the highlight of the day is to see the monks debating at the Sera Monastery.
Read my full story here:
TIBET – Drepung and Sera monastery in Lhasa with monks debating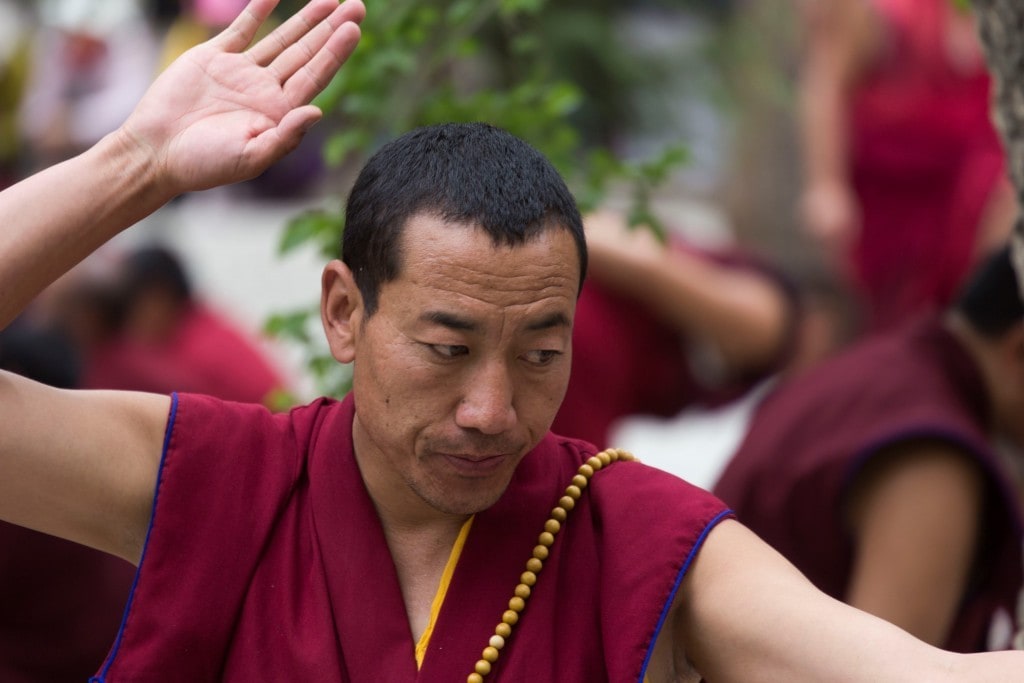 Tibet itinerary day 3: Yamdrok Lake, Karola Glacier and Samding Monastery
The third day marked the first trip outside of Lhasa which is impossible to do without a guide and driver. The drive to Yamdrok lake is a very scenic drive through a long road of hairpins. It's one of the three largest holy lakes in Tibet. The scenery is unlike any other I had seen before. Snow-capped mountain tops at a distance and clear blue waters of the lake in the front. Just passed the lake is the Karola Glacier at an altitude of over 4330 meters. I felt the air getting more thin there but it was bearable. After the glacier I visited the Samding Monastery which is not visited by many tourist and gives a peak into the more local life of the monasteries. One tip: ask the guide to take you to a local restaurant and not one of the tourist places. It was a long day but well worth it.
Read my full story here:
TIBET – Yamdrok Lake tour from Lhasa and the Karola Glacier and Samding Monastery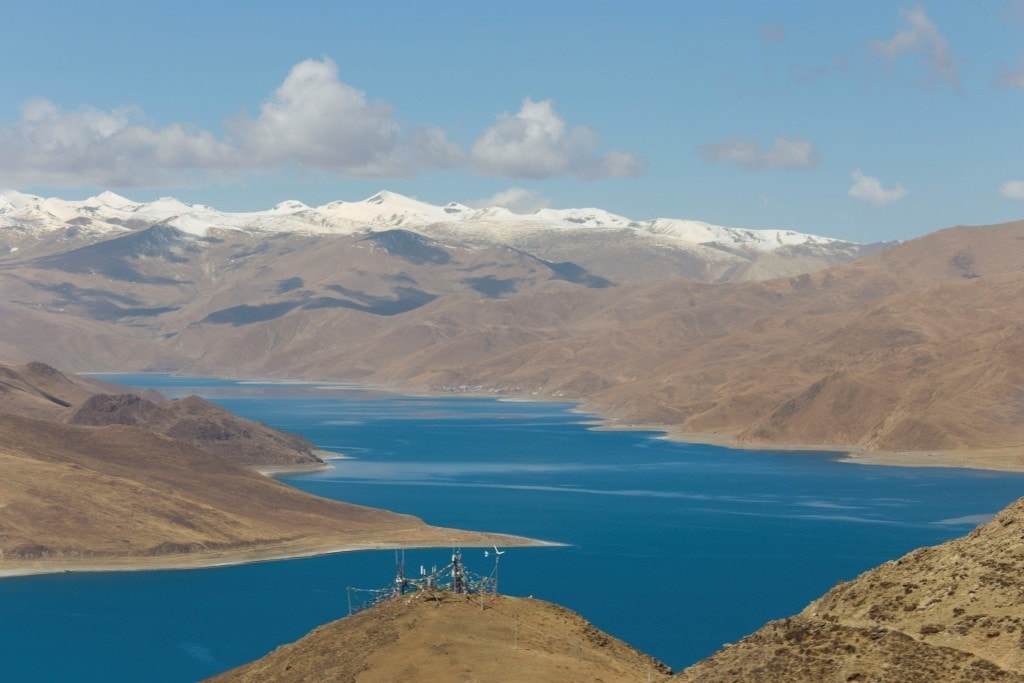 Tibet itinerary day 4: Ganden Monastery and Drak Yerpa
The Ganden Monastery is the head of the Gelugpa movement within Buddhism in Tibet. It's located at a high altitude over 4000 meters. If you are up to it, it's possible to walk around the mountain top but as I had also Drap Yerka and a local village as stops today I couldn't walk it. The monastery contains the tomb of the founder which is covered in gold. It was also interesting to see the printing of Buddhist texts. Drak Yerpa predates the Tibetan Buddhist movement and is said to be the oldest meditation site in Tibet. It consists of a vast amount of meditation caves and not a huge monastery like the other places. After the visit I visited a local small Tibetan town just down the road.
Read my full story here:
TIBET – A day trip from Lhasa to Ganden Monastery and Drak Yerpa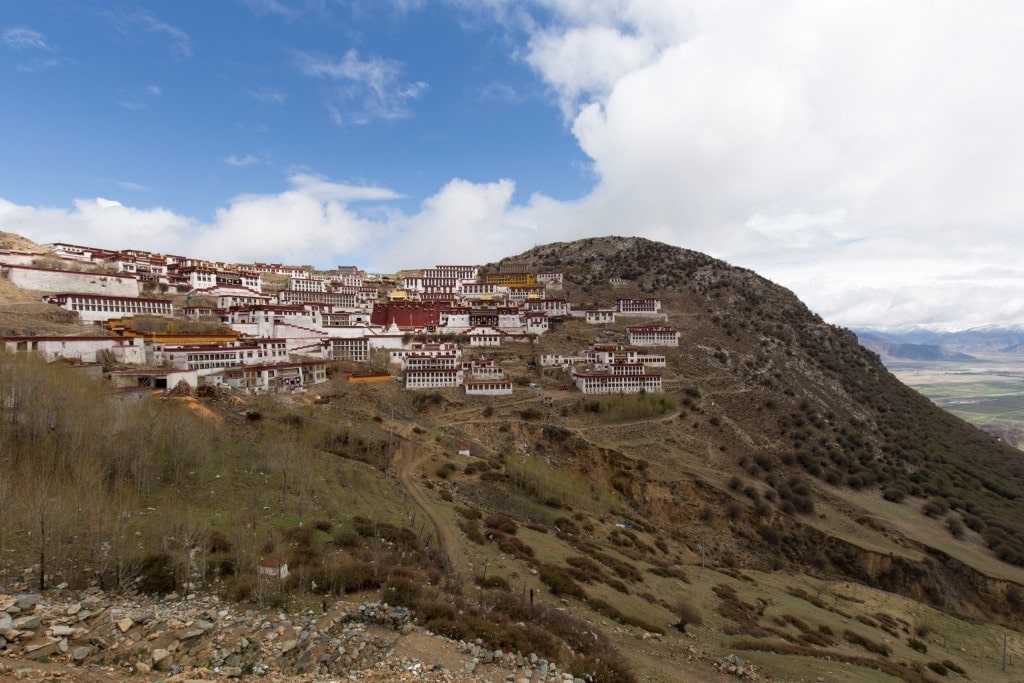 Tibet itinerary day 5: Namtso Lake
Namtso Lake is one of the other three large holy lakes of Tibet. This 20-65-million-year old lake is a 5 hour drive away from Lhasa. Yes; it's worth to go for a day trip as you need just 2-3 hours at the site. You can't walk around it; you can have a look at it. Snow-capped mountains surround the lake which actually don't look tall but you quickly forget you are already standing at 4500 meters high. There are options to stay overnight there but unless you travel further into Tibet I suggest to make the day trip. The pass just before the lake at 5190 meters' high was the highest point I visited during this trip. It's pretty tough at such altitudes. The scenic drive is a beautiful one already making it worth to go.
Read my full story here:
TIBET – A day trip to the holy Namtso lake from Lhasa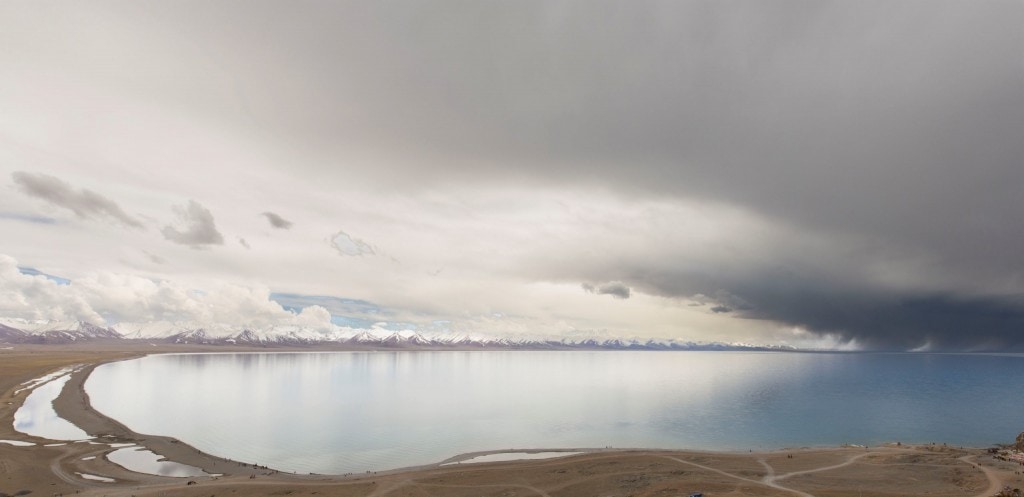 Tibet itinerary day 6: Potala Palace and minor temples
The Potala Palace is the icon of Tibet at the rooftop of the world and probably known to most travelers. Its construction started in the 17th century on the top of a 7th century old foundation. Visitors are limited and you do need to go by a guide to see the Potala Palace. It's a beautiful part of the Buddhist culture in Tibet and together with the Jokhang Temple a UNESCO World Heritage Site. It's best visited in the morning after which you can, alone or with guide, explore some other small temples scattered in Lhasa. Don't forget to drink buttermilk at the nunnery.
Read my full story here:
TIBET – A day in Lhasa: Potala Palace & minor temples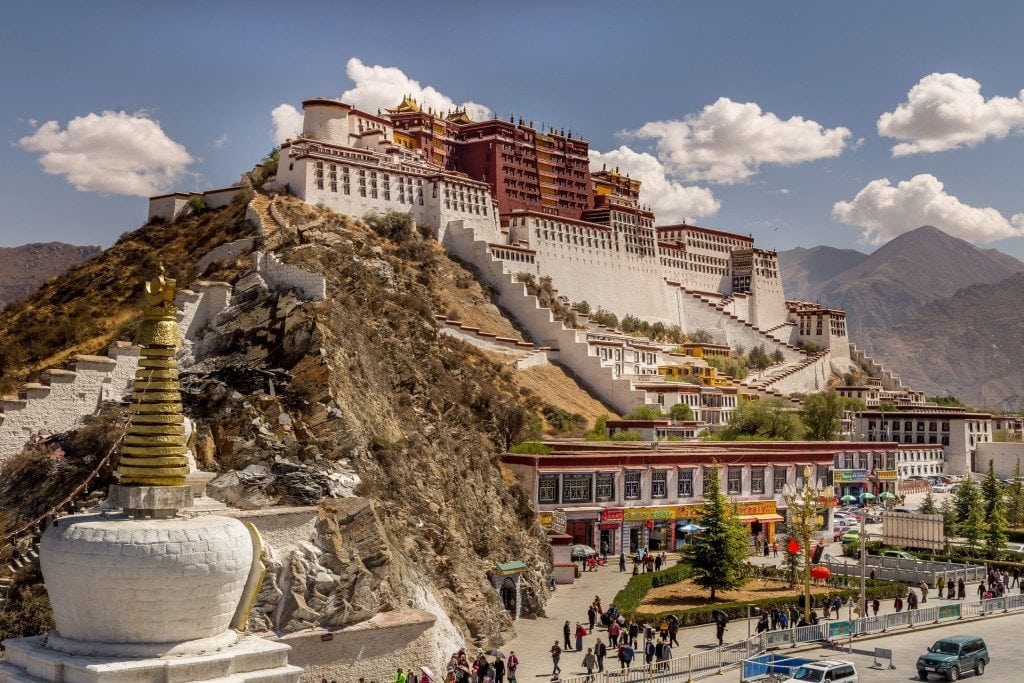 Practical tips for visiting Tibet
To visit Tibet there are a few things to keep in mind because a visit is not like every other country. If you follow the following practical tips I'm sure you will have a great stay.
Tibet and China Visa
A visa is needed for China. If you arrive to Tibet from China and return to China afterwards this is not a second entry to China. Tibet is considered part of China thus a single entry visa for China will do. You then need a travel permit to enter Tibet. For the itinerary above a TTB (Tibet Tourism Bureau) permit is sufficient but if you make a tour through Tibet other permits might be required. Do not worry as you cannot travel alone (see below) and your tour operator will take care of all permits.
Tour guide & independent travel
Independent travel in Tibet is not possible except if you would stay solely in Lhasa. Even for a visit to Lhasa you would require to arrange the trip through a tour agency who will also arrange for you the permit to enter Tibet. You can, however, perfectly arrange the hotel yourself as I did. I booked the Intercontinental Lhasa Paradise with loyalty points while it was on the promotional list of IHG Rewards Club. To give this a value: I paid roughly 15-20USD per night including breakfast for the best 5-star property in Tibet. Within Lhasa you could perfectly wander around alone but to visit for example the Potala Palace you would need the guide to enter with you. For trips outside of Lhasa you require a guide who will accompany you and handle all the check points. At the scenic spots you can then wander around yourself without guide if you prefer. The nature spots I visited without guide but the temples he joined to also give background information.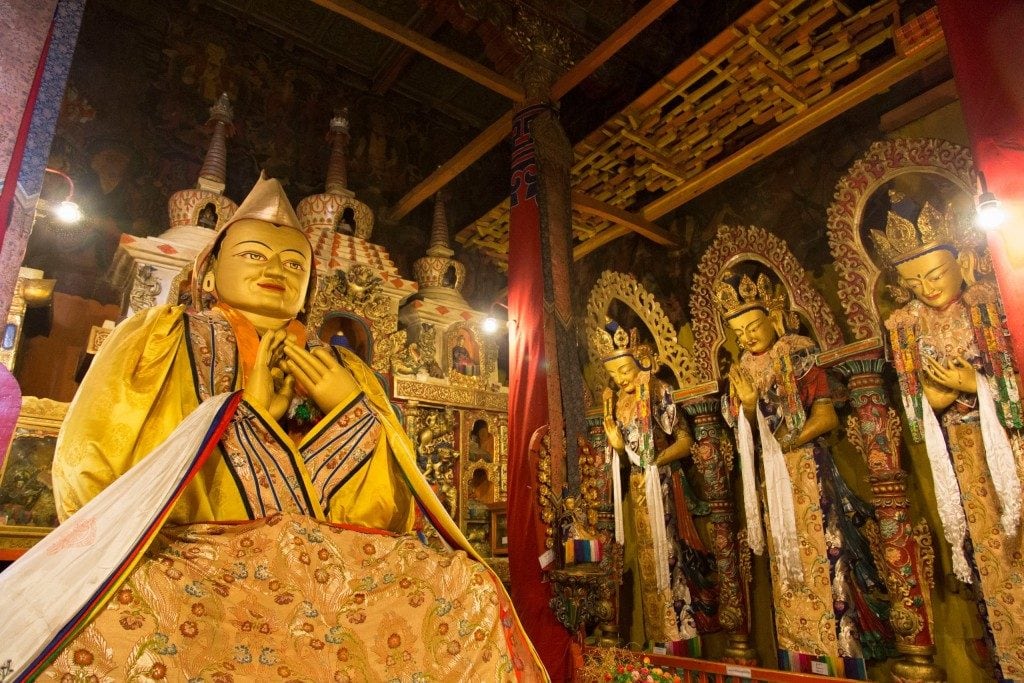 Altitude sickness
Altitude sickness can be a serious problem in Tibet if you are not used to the heights. I suggest to add minimal 2 days before the trip to acclimatize unless you visit other places before. As I visited the Yunnan province for almost two weeks I got used to an altitude of about 2600 meters already. With Lhasa at 3600 meters this final adjustment was very easy without problems. If you however arrive from sea level, please take note of altitude sickness. If you feel sick, headache or dizziness than consult a doctor immediately. Most hotels have oxygen chambers to use as Tibet has just 40% of oxygen compared to sea level.
Clothing and local customs
Depending of the season you travel you should bring warm clothing. I'm always hot so even in the sunshine at 10-15 degrees I can wear shorts. The best thing is to take layers so you can dress and take off clothes when it's too hot. When you visit temples make sure you dress modest. Do not talk about politics with locals. Respect the Tibetans, even if you think your way of living is better. If you respect, then you probably get a lot more smiles in return.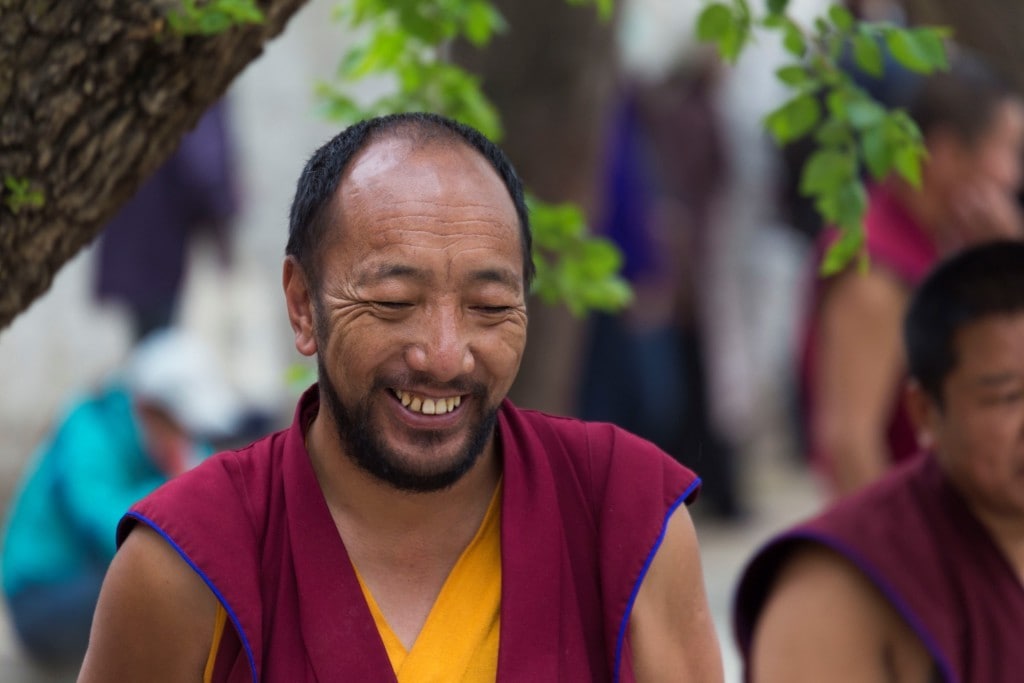 The above itinerary for Tibet is just an example but it does cover everything you can do from Lhasa without staying overnight. I want to return one day to Tibet and do an overland tour to Nepal. Maybe next year as I have already flights booked to Nepal but I might change this to a 2 week Jordan road trip. I hope with these practical tips you can plan your trip to Tibet carefully. I'm sure you will enjoy and if you have questions about visiting Tibet or China do not hesitate to ask them in the comments below.
Stay tuned for more stories and subscribe to the newsletter or follow CTB on social media (Facebook, Twitter, Instagram including Instagram stories; on all social media you can find CTB @christravelblog) to get updated information.
Did you visit Tibet too or do you have questions? Please leave a comment at the bottom of the page. Love to hear from you!