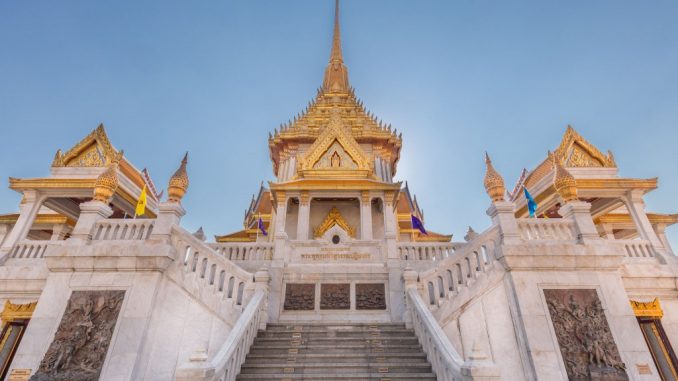 I visited Bangkok several times over the past years but just once I had two full days to explore the city. When I arrived for the first time two years back I directly knew it wasn't my city: too much catered to the tourists and it lacks authenticity. At least I couldn't find it. I had much more fun on the Ayutthaya day trip from Bangkok to be honest. Khaosan Road is an experience but has nothing to do with authenticity anymore; it's a big tourist attraction / trap. However, I do think you should visit Bangkok for two days to see the five most important temples and the Grand Palace. I'll show you the must-see Bangkok temples and I'll take you for a short stroll over Khaosan Road.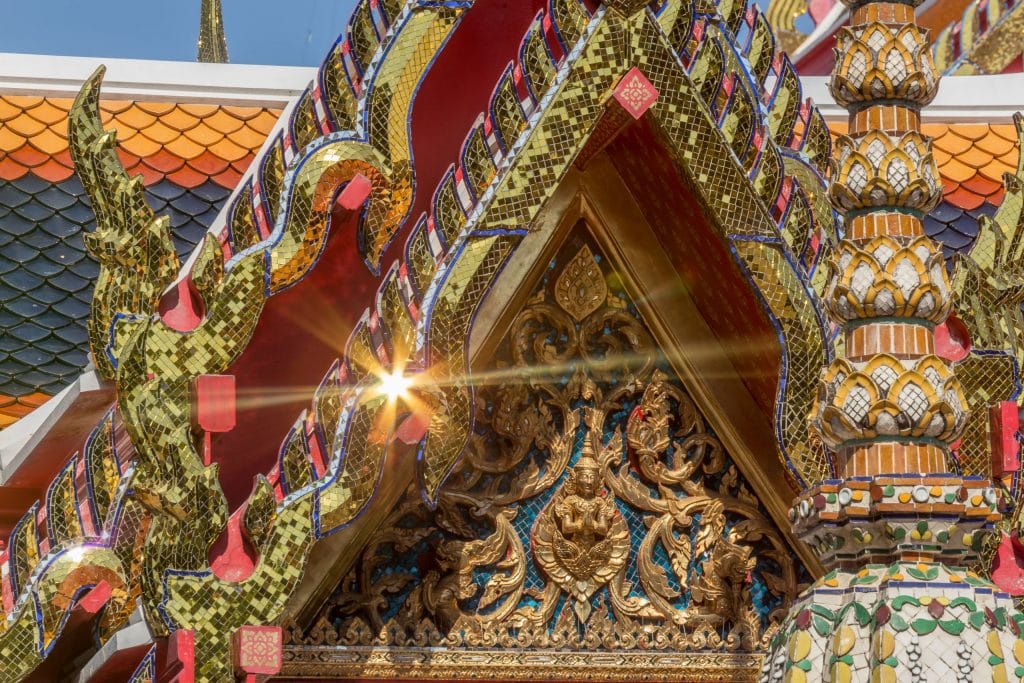 Wat Phra Kaew Temple & Grand Palace
If you visit temples in Bangkok or Thailand in general, it's recommend to wear long trousers and shirts to cover the upper arms including any tattoo's you might have. There are temples where you can enter with shorts but at the Wat Phra Kaew Temple this isn't possible. The Wat Phra Kaew Temple is located on the grounds of the Grand Palace and is the most important temple in Thailand. Wat Phra Kaew's construction was finished in 1784 and houses the Emerald Buddha in its main Ubosoth. You'll see dozens of buildings on the almost 100 acres' grounds. These towers and pagodas are decorated with gold, tiles, and gems. Between the hordes of tourists, you'll notice local pilgrims and monks praying.
The Emerald Buddha is the most holy Buddha statue in Thailand measuring just 66 cm and is made from jade. It sits on top of a wooden structure covered with gold foil and its dress is changed three times a year by the king. The exact place and time of the construction of the Emerald Buddha isn't known but it's said it dates to the 14th century. It moved around from temple to temple until it finally stayed at the Wat Phra Kaew Temple. The hall of the Ubosoth is covered with murals made with gold foil telling the story of Buddha's life. I was impressed by the beauty of the exterior, interior, and the Emerald Buddha itself. Although the temple complex was very crowded it was my favorite in Bangkok.
Just next to the Wat Phra Kaew you can visit the Grand Palace which is the former residence of the king. Today the four buildings are only used for official ceremonies and during certain official holidays. One of the buildings houses a museum with an arms collection which was unfortunately closed during my visit. On top of the buildings you will see golden shrines with a spire; these contains ashes of the ancestors of the royal family. In front of the building huge elephant statues resembling power and independence stand guard together with the royal guards. Don't forget to make a funny selfie with one of the guards 😉 I passed on that as I think it's rude. To explore Wat Phra Kaew including the Grand Palace in detail you need half a day which is best done in the morning when it's not yet too hot.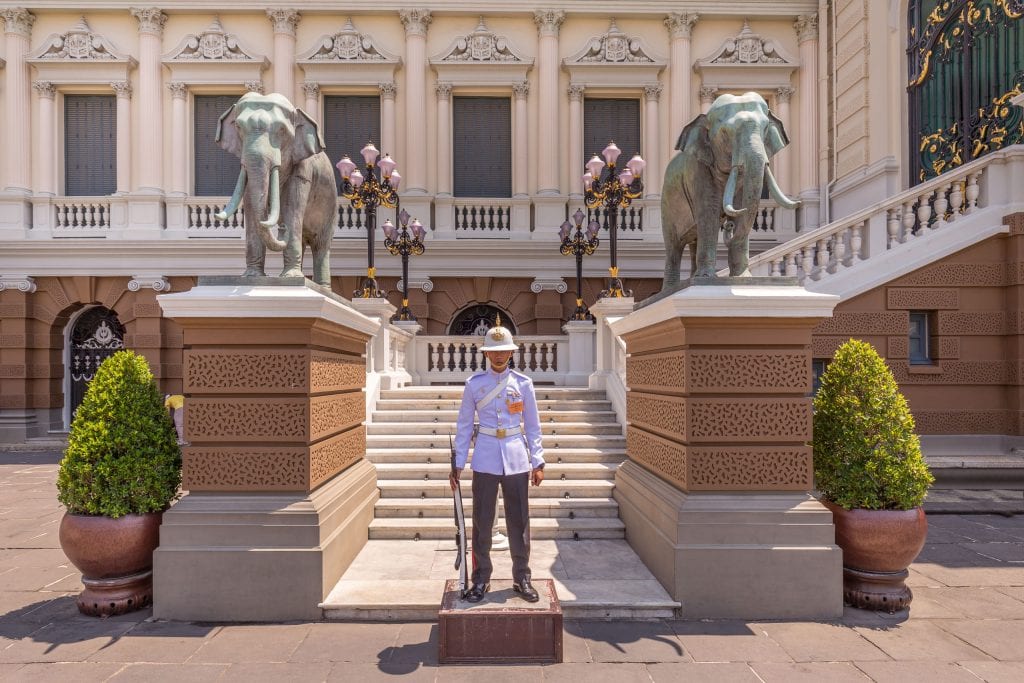 Wat Arun Temple
Wat Arun is a temple on the shores of the Chao Phraya River and referred to as the Temple of the Rising sun. This name is derived from the Hindu god Aruna which resembles radiating sunrays. The temple dates to the early 17th century but the current buildings, which during my visit where under reconstruction, date to the early 19th century. The Emerald Buddha was located at Wat Arun before it moved across the river to the Wat Phra Kaew temple. After decline the temple was restored and the Khmer style stupa was added which is now a major symbol of Bangkok. It's decorated with shiny tiles which light up in the morning sun. I visited the complex for just 30 minutes as it was in the process of getting restored. If you are a morning person I suggest to visit the temple in the morning for sunrise; if you are not but like sunsets, then go to the Sathorn Unique Tower which offers stunning views over Bangkok. Wat Arun is a must-see temple as it's one of the important temples in Bangkok.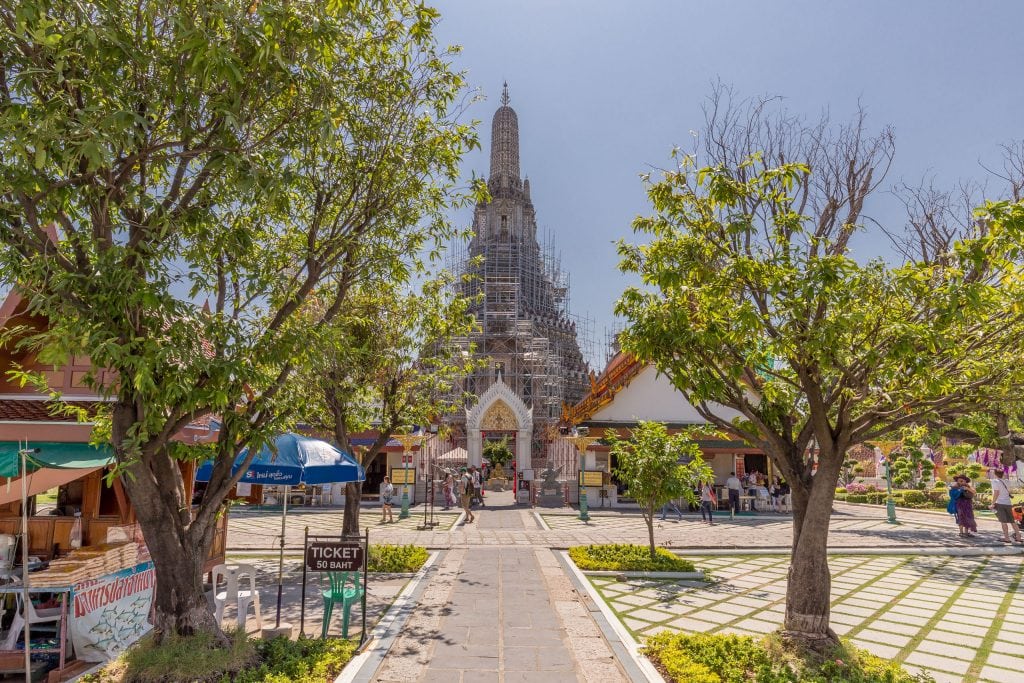 Wat Pho Temple
What Pho temple is also known as the Temple of the Reclining Buddha as that's exactly its mean feature. The complex, which is a must-see in Bangkok, was very peaceful compared to Wat Phra Kaew and has small gardens, stupas with ashes from the royal family, small corridors, and beautiful bonsai trees. Each building is decorated with gold, colorful tiles, and gems which light up sparkling in the sun light. The main attraction is the reclining Buddha and the chapel it's in, called Phra Buddha Saiyas. It was built in 1832 and the reclining Buddha represents Buddha moving forward to Nirvana. The statue is 15 meters high and 46 meters long and completely gold plated with beautiful decorated soles. These inlays are made with mother of pearl and represent various symbols related to Buddha. Interesting to know is that What Pho is the first public university of Thailand and that one can learn traditional Thai massage there including related medicine studies. I was impressed by the size of the Buddha but even more by the inlays of mother of pearl. Very precise artwork and something I hadn't seen before.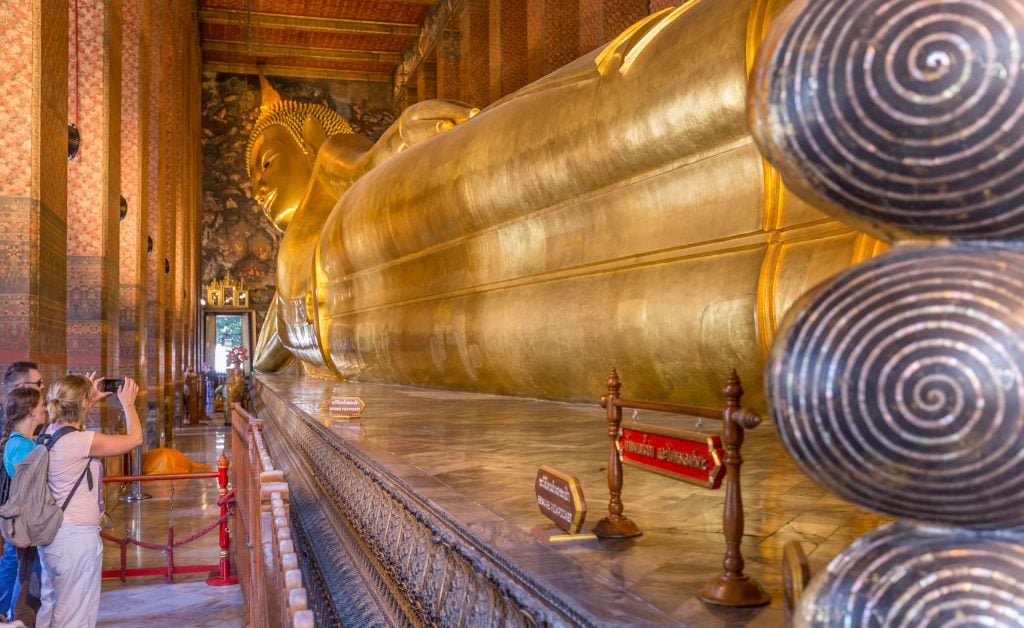 Wat Traimit Temple
Wat Traimit is a modern temple but is famous for its golden Buddha statue dating back to the Sukhothai Dynasty (13th – 14th century). It's said that the statue once stood in the middle of Sukhothai but got lost in time. This happened because it was plastered over and the gold could not be seen. It stood in Ayutthaya for a long period until decades later it was moved to Bangkok while it was still covered by plaster. It was just in the middle of the 20th century that while moving the statue it fell on the ground and the golden inner statue was revealed. It also revealed a key that allows to split the Buddha into several parts for easy transportation. In 2010 the golden Buddha was moved to Wat Traimit where it can be admired including its history in the museum next to it. I don't understand why this wasn't discovered before as gold is very heavy. People moving it around over the centuries must have had questions due to its weight. If you visit in the late afternoon I recommend to go afterwards for dinner in Chinatown as that in the same area.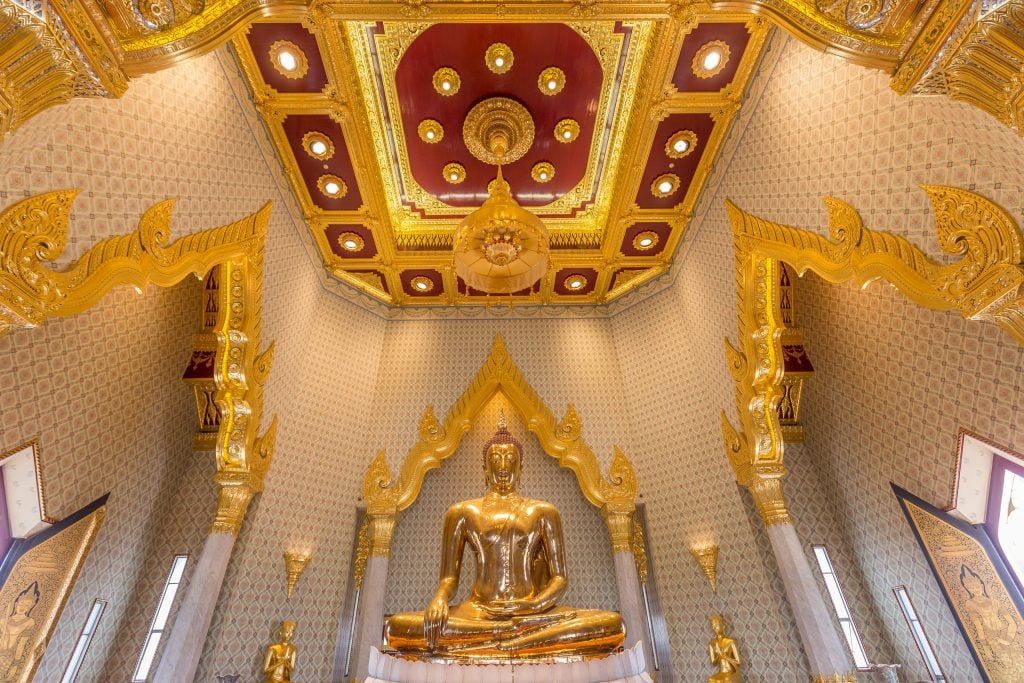 Wat Saket (Golden Mount) Temple
Wat Saket is a modern temple with on its grounds the Phu Kao Thong or Golden Mount. The golden chedi at the top of the hill dates to the end of the 19th century and built on the place were two centuries earlier the first chedi collapsed. Inside the temple there is a Buddha relic but the reason to visit is the view over Bangkok. The walk up the mount passes beautiful water streams, Buddha statues and lovely small gardens. It's a pleasant place to visit but the modern temple around the hill is standard and of less interest. You won't require too much time to wander around Wat Saket and the Golden Mount but it's a quiet place compared to other temples so you can enjoy the view in silence.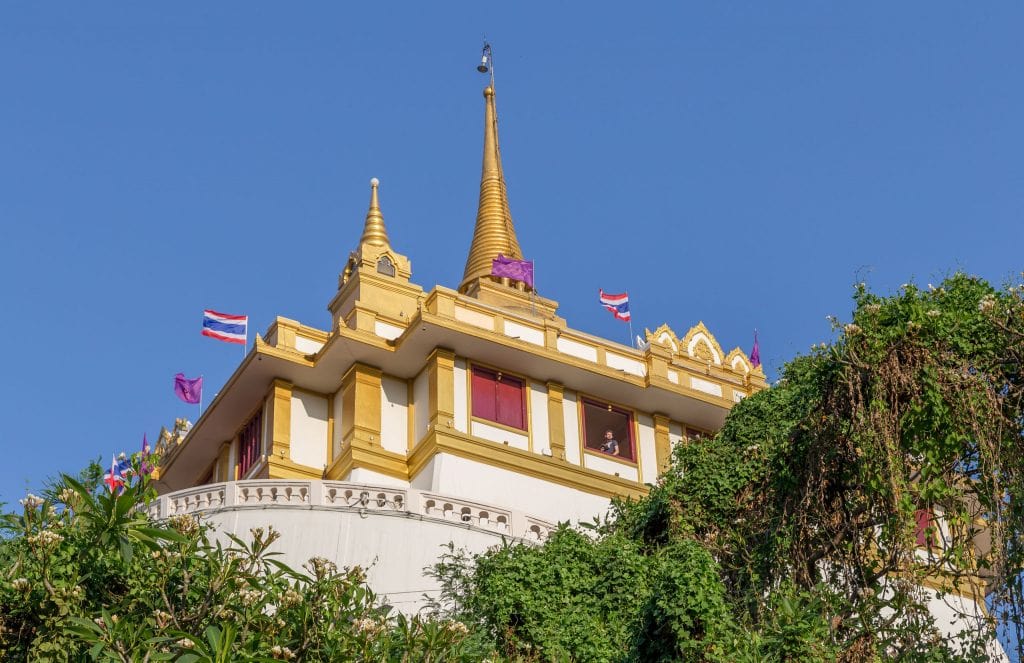 Khaosan Road
What is Khaosan Road? Not a must-see in Bangkok in my opinion! To me it was a too touristic and fake place in Bangkok; nothing more. I visited it only because "everyone" says it's a must go to place in Bangkok but personally I didn't like it. Hordes of tourists, candy girls, restaurants trying to lure you in, overpriced food and fake street food that's fried over and over again made this a one-time visit for me. I have nothing against old men looking for young girls or boys as long as they aren't minors but Khaosan Road would confirm any image you have or not have about this. I saw lots of people having fun, or maybe they were pretending having fun. I'm sure some did to not let others know they didn't like the area just to go with the crowd? I won't be back that's for sure.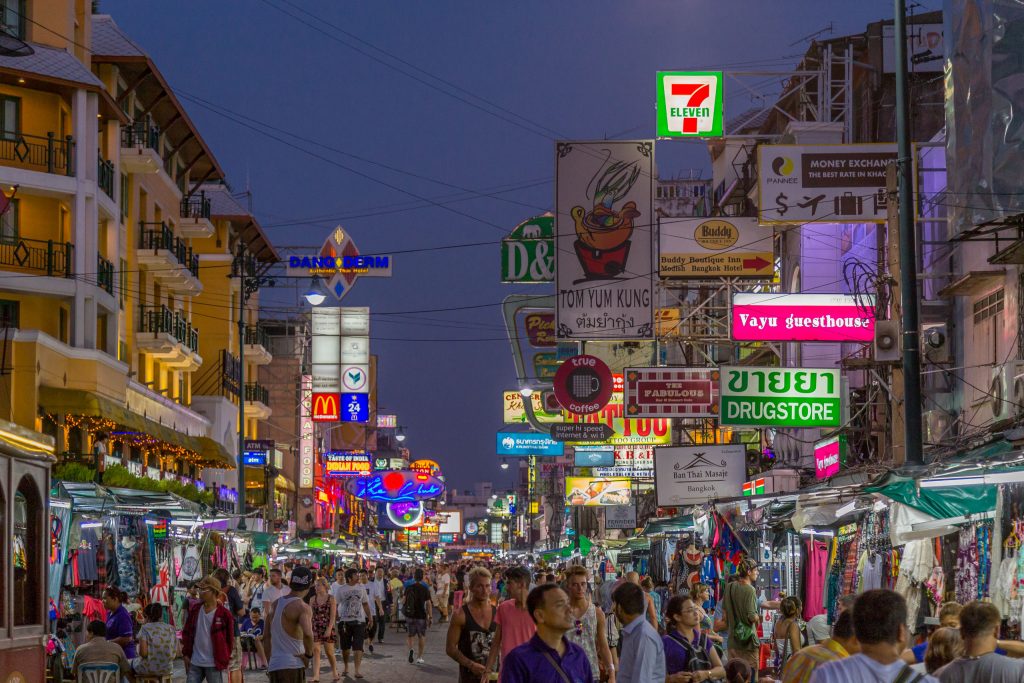 I'm happy I visited Bangkok at least once in my life and saw the most important temples and have my image of Khaosan Road confirmed. I did have a great time at the hotel pools of the Sukhothai Bangkok, the W Hotel Bangkok, and Indigo Bangkok which I certainly will visit again. I also enjoyed climbing the Sathorn Unique ghost tower which was a great experience and offered an awarding sunset at the top. Quite often I have a stopover in Bangkok as many cheap business class flights go through Bangkok but I'll try to not fly through there if it's not needed. I'm curious about your opinion on Bangkok; did I miss something? Make sure to check my 2-week Thailand road trip itinerary to see what you can do more in Thailand.
Stay tuned for more stories and subscribe to the newsletter or follow CTB on social media (Facebook, Twitter, Instagram including Instagram stories; on all social media you can find CTB @christravelblog) to get updated information.
Did you visit Bangkok too or do you have questions? Please leave a comment at the bottom of the page. Love to hear from you!
Gallery Temples in Bangkok
Click an image for a full screen gallery of more photos taken during this trip. If you like to use any photo for commercial, private or editorial use please contact first for permission and/or pricing.