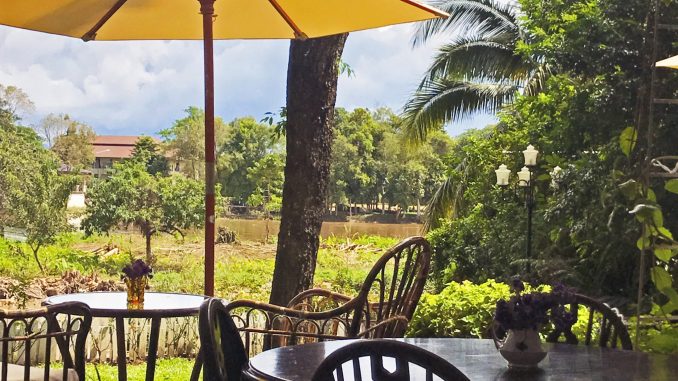 Chiang Mai and Chiang Rai are two cities in northern Thailand which are probably, if you are doing a 3-week Thailand itinerary, cities you'll visit too. Several weeks ago, I did a Thailand road trip and in each city I stayed 3 nights. I tried to look for the best restaurant hotspots which are affordable, authentic, or unique and service delicious food. I hope this guide with restaurants in Chiang Mai and Chiang Rai helps you find a delicious meal too! Bon appetite!
Chiang Mai restaurant guide: The Riverside Bar & Restaurant
The Riverside Bar & Restaurant is located across the Ping river and has beautiful views over the water. I walked to The Riverside Bar & Restaurant from downtown Chiang Mai in about 20 minutes. The kids were very tired and didn't in dank afnemen but once arrived they enjoyed the view too.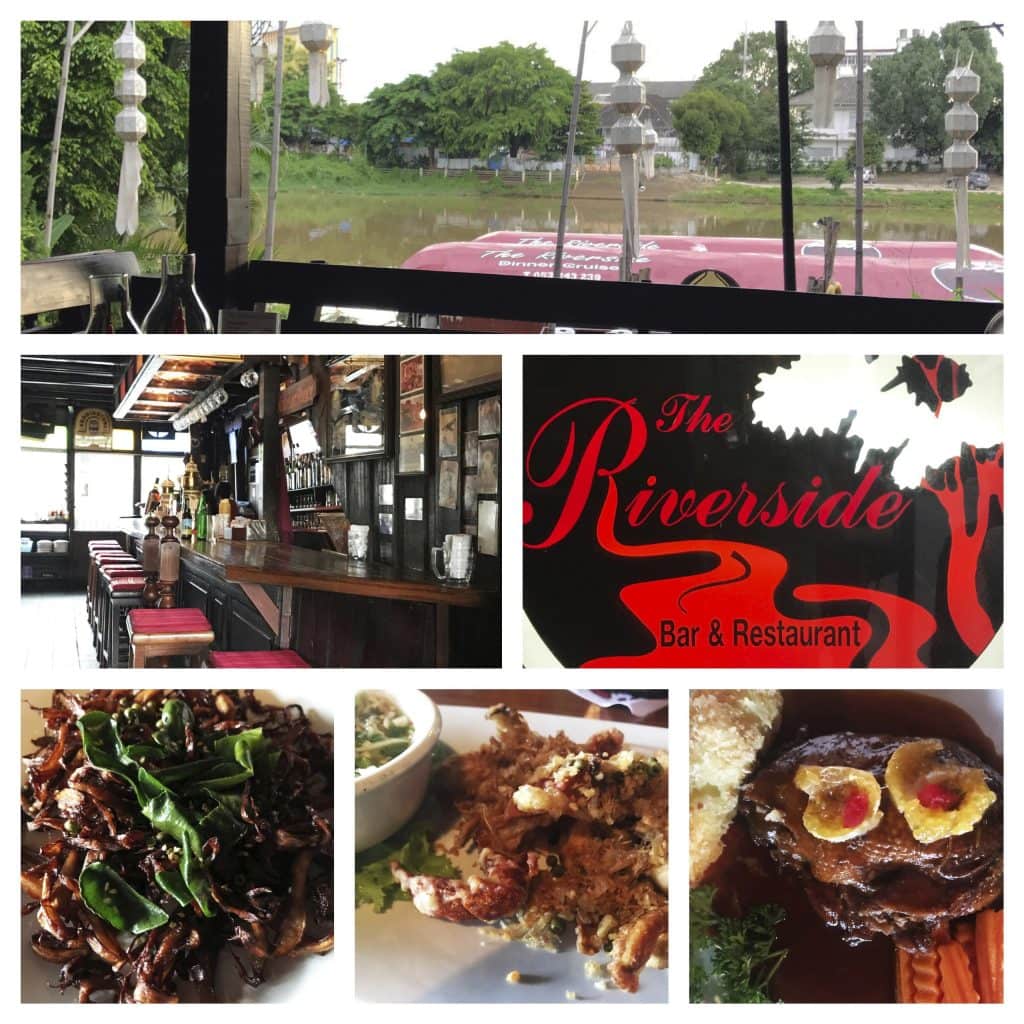 I didn't make a reservation which I do recommend as the place filled up quickly. The table was a bit small for 4 people but it was the only one left within short reach of fans. I ordered several dishes to share which included soft shell crabs, duck in sweet and sour sauce, fried beef and of course a curry. Each dish was delicious and I was lucky as they also served Thai craft beer. Of course, you can have a meal for 5 euro too on the street but The Riverside Bar & Restaurant was very affordable too. A place I recommend.
Chiang Mai restaurant guide: Italics
If I arrive at a hotel after a long flight I always prefer to dine in the hotel. Italics is an Italian fine dining restaurant (serves also Thai dishes) in Su Thep and part of the Akyra Chiang Mai hotel I stayed at. Their food is amazing and a place you must try. They use only local produce sourced from the best farmers around Chiang Mai. They claim to take the Italian cuisine to the next level by innovating traditional dishes.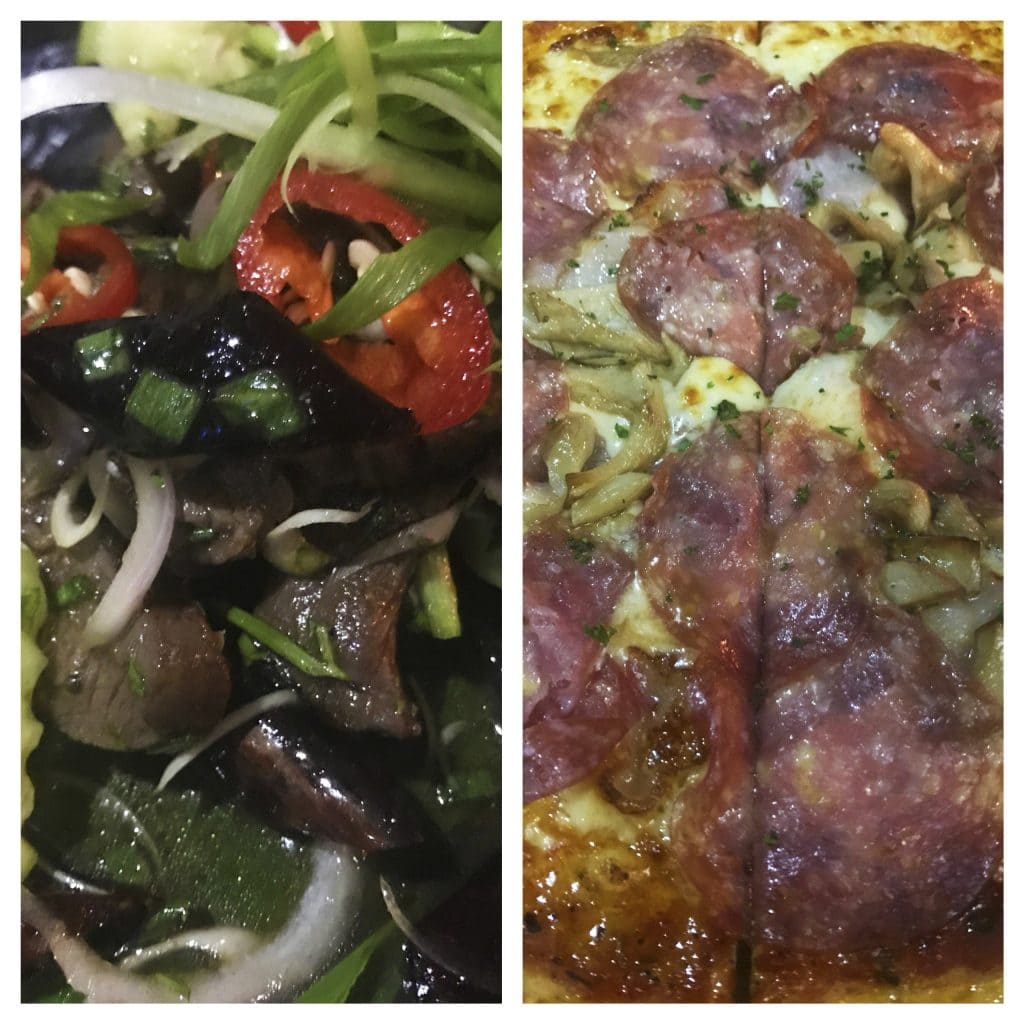 I agree with them; it's simply delicious. I tasted a spicy beef Salad, my son steak, and my daughter a pepperoni pizza. Each dish was mouthwatering and I highly recommend Italics as a must visit restaurant in Chiang Mai.
Chiang Mai restaurant guide: Sushi Umai
One of the days in Chiang Mai the kids could choose what to eat. They wanted Japanese food and so I reserved a table at Sushi Umai. It's a small -simple- restaurant with a few tables. One thing I learned during my travels that looks don't always tell something about the food. The food at Sushi Umai was just delicious and of high quality.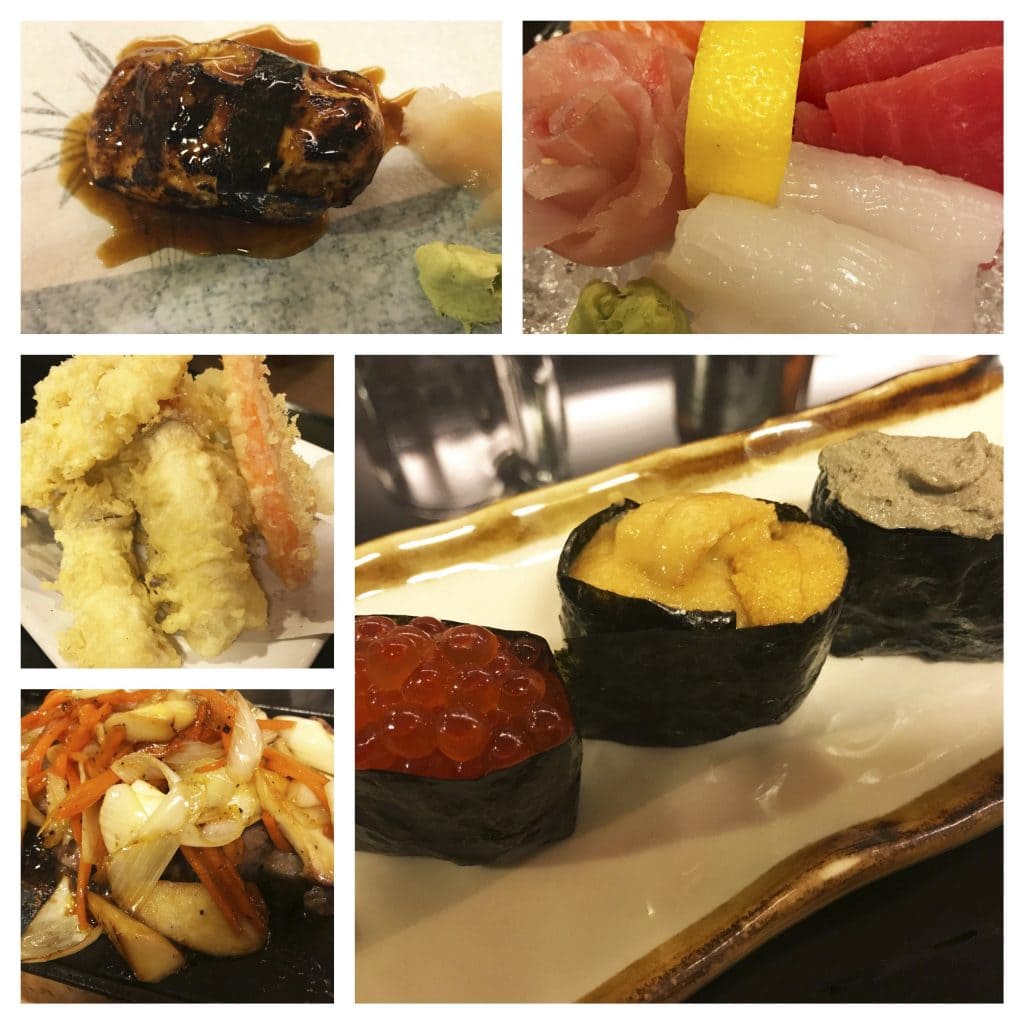 The only problem with Japanese restaurants is that I tend to order all the expensive and exclusive dishes. At Sushi Umai this was not different. I ordered the best sashimi dish, the best sushi including one with fois gras, wagyu beef and some tempura. It was still cheap compared to European standards but expensive for Thailand. I do recommend going to Sushi Umai if you want to eat Japanese.
Chiang Rai restaurant guide: Sanfran Burger & Beer
It was halfway my 3-week Thailand itinerary that I arrived late in Chiang Rai. Although I love Thai food I just wanted a good burger this day. Sanfran Burger & Beer I was told was the place to go so I checked it out. A good choice as their burgers are indeed delicious. Sanfran Burger & Beer is part of an outdoor food court with various stalls each selling something different. If you're not looking for a burger one of the other places will have something for you.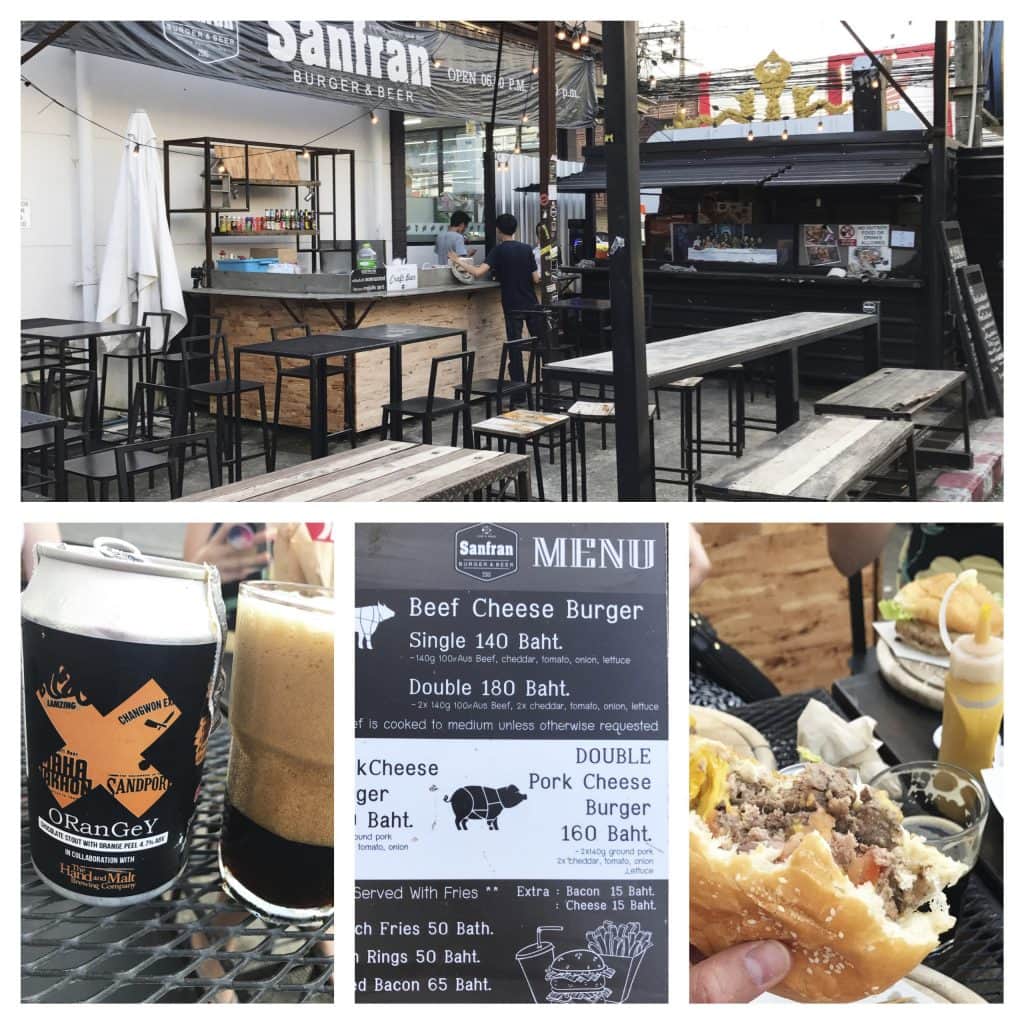 Sanfran Burger & Beer also advertises with craft beer but the day I visited they only had a stout left. They promised they would get new stock later that evening so I trust them that normally they do have a large selection of Thai craft beers. The burgers at Sanfran Burger & Beer are juicy and delicious; they know how to grill one! I recommend the double beef burger.
Chiang Rai restaurant guide: Barrab
Barrab is a traditional Thai restaurant serving various dishes from northern Thailand. The atmosphere is pub style with attentive staff. I wanted to eat traditional food so I asked the staff and they recommended various dishes. Of course, too many recommendations so I ordered two varieties of northern Thai sausages and norther Thai style noodles. It was delicious! The prices are also local which means it was cheap. For 4 people I paid less than 50 euro including drinks. Barrab is a place I highly recommend!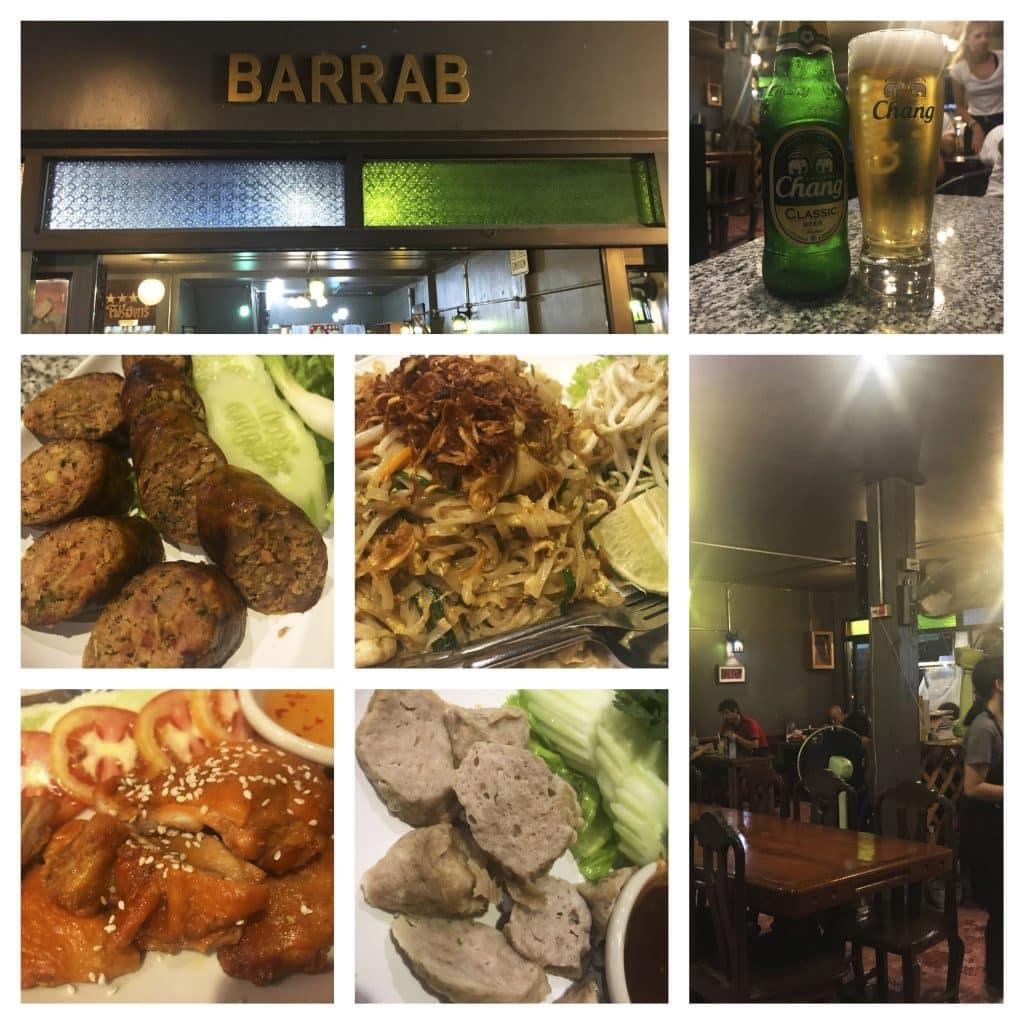 Chiang Rai restaurant guide: Phu Lae Restaurant
Phu Lae Restaurant is located opposite the Hilltribe museum and another great place to try Thai food. If you don't mind the heat you can eat outside but I prefer air-conditioning so I had dinner inside. I ordered for the whole family various dishes. The best was the soft-shell crab, I just love those! The chicken with veggies or the mushrooms are delicious too. My wife had a green curry; not too spicy. Phu Lae Restaurant Has a nice atmosphere, attentive and beautiful 😉 staff and the food is just delicious.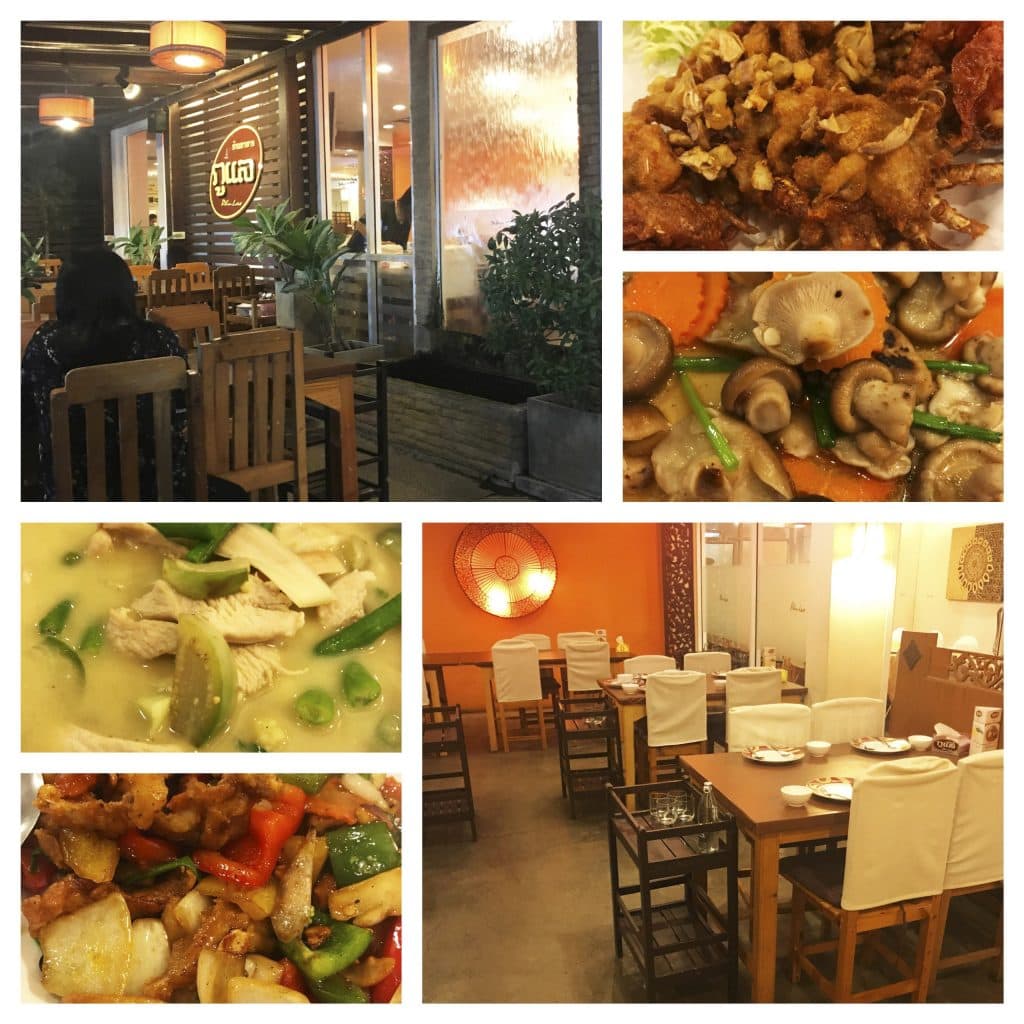 Chiang Rai restaurant guide: Chivit Thamma Da Coffee House, Bistro & Bar
Chivit Thamma Da caught my attention when searching for restaurants as it's in a colonial style building. The staff told me it isn't old but that doesn't change the atmosphere. Chivit Thamma Da has a beautiful setting just next to the Kok river where you can sit in the garden or one of the two rooms inside. They even have a library to enjoy one of the many whiskeys they serve. I went for lunch on the day I drove to the Katiliya Mountain Resort north of Chiang Rai.
I had a delicious juicy burger, my kids a juicy steak and my wife had mussels. They all enjoyed the food a lot. As I said Chivit Thamma Da has a huge selection of whiskeys but as I had to drive I couldn't try them. I did try, of course, two IPA beers they had on tap. Chivit Thamma Da is a place I highly recommend as the food is delicious, the setting amazing and the staff very friendly. If you manage to visit make sure to visit the nearby Blue Temple; a sister temple of the White Temple.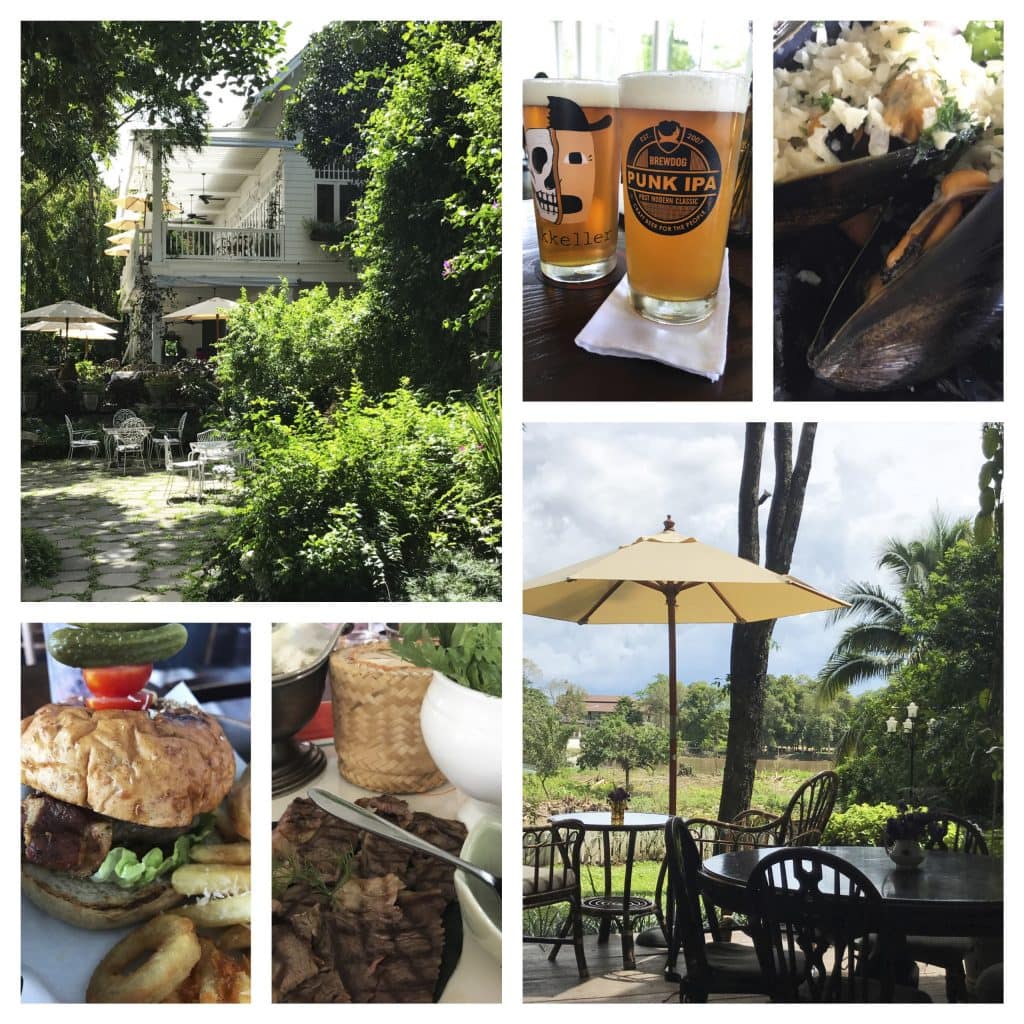 Both Chiang Rai and Chiang Mai have hundreds of restaurants and it's difficult to find one that's better as the rest. I think the restaurants in this guide are the better places to go to for dinner or lunch. They all serve delicious food made of high quality local produce. Make sure to check out my Chiang Rai travel stories and Chiang Mai travel stories to see what you can do during the day. Northern Thailand is a beautiful area and a must visit during a Thailand road trip.
Stay tuned for more stories and subscribe to the newsletter or follow CTB on social media (Facebook, Twitter, Instagram including Instagram stories; on all social media you can find CTB @christravelblog) to get updated information.
Did you visit Chiang Mai or Chiang Rai too or do you have questions? Please leave a comment at the bottom of the page. Love to hear from you!
Further reading
Sometimes it's impossible to cover every single place of interest, activities, food, and others that might be relevant. In the below list you find a list of relevant links with further information about Chiang Mai or Chiang Rai which I have carefully curated. These will help plan your trip even better.
If you want to cook Thai food by yourself once back home, then you might want to take a cooking class. Check out this handy guide which lists 15 cooking schools in Chiang Mai. Taking a cooking class is a great way to understand local cuisine!