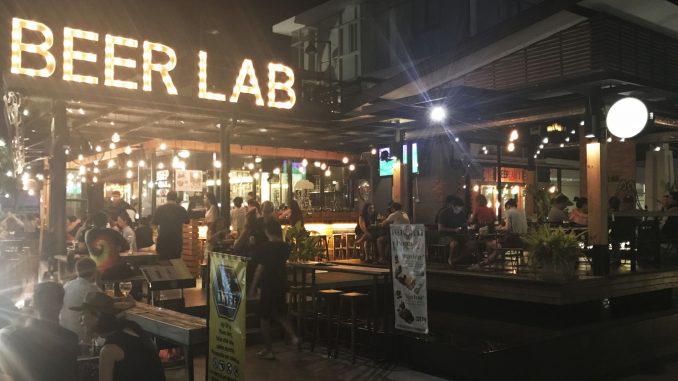 During my Thailand road trip, I tried to visit as many craft beer bars as possible to test the Thai craft beer scene. I came up with this Chiang Mai craft beer and Chiang Rai craft beer bar list. This was quite difficult but to my surprise when you search there are quite some Thai beers available. Most of them are brewed and bottle however in Laos as in Thailand there are strict rules on brewing beer. They are sold under Thai brands. Join me on a craft beer adventure in Chiang Mai and Chiang Rai. It's good beer!
Chiang Mai craft beer: Craffity craft beer & home bar
Craffity craft beer & home bar (15/6 Moon Muang Rd Lane 6) was the first place in Chiang Mai I visited and it was a hit. They are just in business and in my opinion the best choice in Chiang Mai to go for craft beer. The place is small with a few tables inside (aircon!) and a few tables outside (hot!). They have several taps of which a few are local, and others imported. Now I must say that most Thai craft beer is in bottles so don't expect too much on tap.
I tried all they had on tap and one bottle. I then emptied their fridge and took one of each bottle back to my hotel (Akyra Manor Hotel). They did good business that night! The bottles I took in my car to smaller towns too as I wasn't sure when and where I was able to buy bottles of Thai craft beer. Craffity craft beer & home bar is my number one Chiang Mai craft beer bar.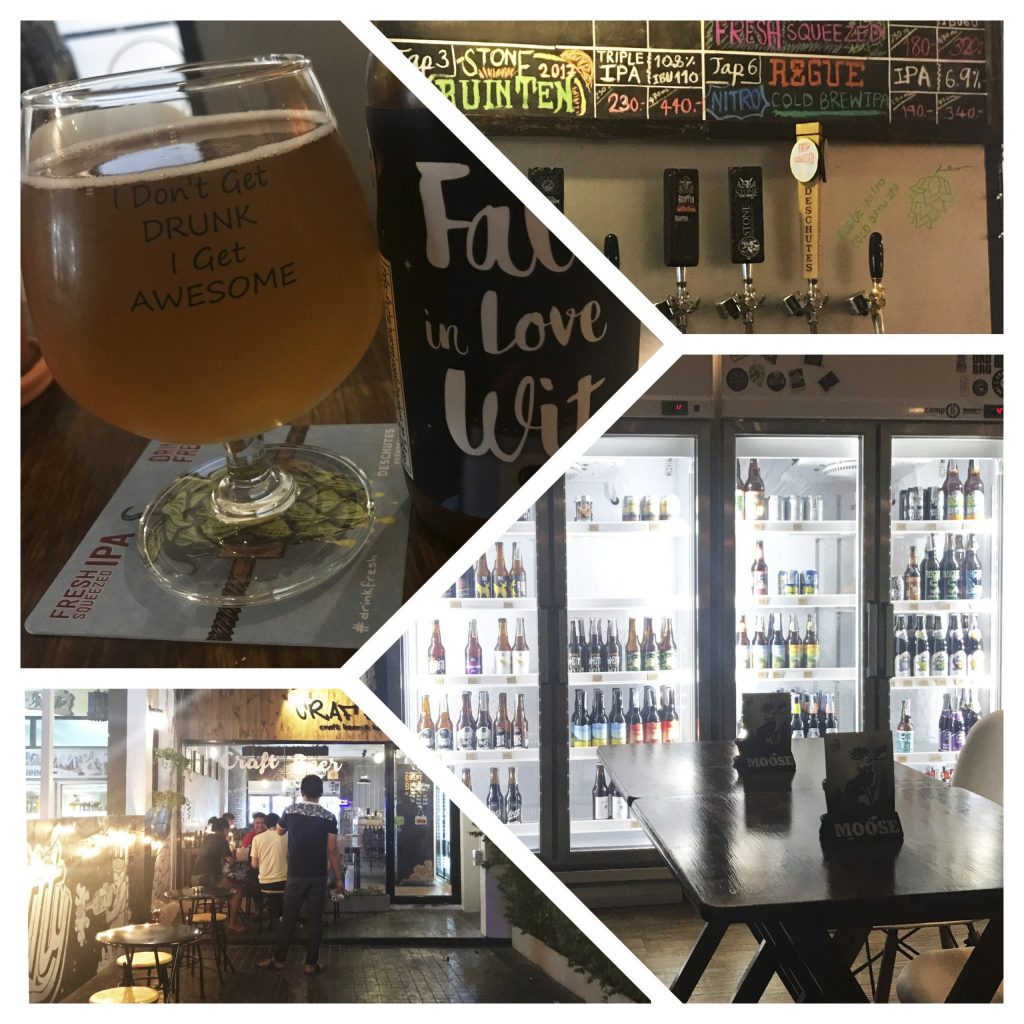 Chiang Mai craft beer: Beer Lab
Beer Lab (Nimmanhaemin Road, Soi 12) is a huge bar with indoor seating and a huge garden terrace. Their craft beer bottle list is huge too, but they only have imported beers. It was within walking distance of the Akyra Manor Hotel, so I decided to go. It's a great craft beer bar in Chiang Mai if you don't mind if the beer is not from Thailand. They serve food so its possible to have dinner too. I already had dinner at Sushi Umai Japanese restaurant (see my Chiang Mai restaurant guide) which is located just a short walk away. I ordered a Korean beer to at least have a drink there. It's a nice bar and I will return next time when I'm in Chiang Mai but this time around I was specifically looking for Thai craft beer.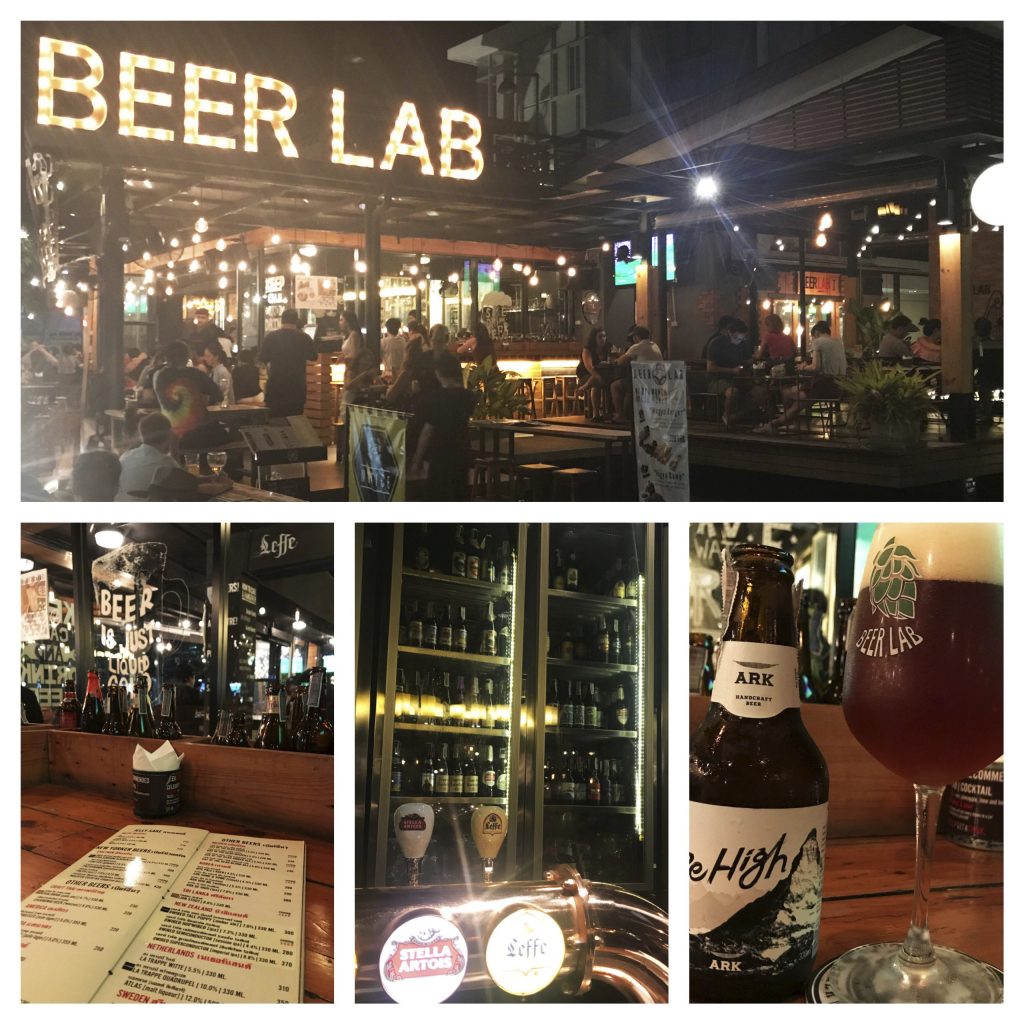 Chiang Mai craft beer: Craft beer factory
The Craft Beer Factory (9-11 Charoenrat Road) is located across the street from the Riverside restaurant which I covered in my Chiang Mai restaurant guide. They have the same owners. When I was researching the internet for craft beer in Chiang Mai the Craft Beer Factory came up as the choice to go. I was disappointed a bit to be honest as they didn't have that much craft beer choice. It's a great place however so do go but go there for dinner and just pair the beers with food. This is what I did as Riverside restaurant is a great place in Chiang Mai to have dinner.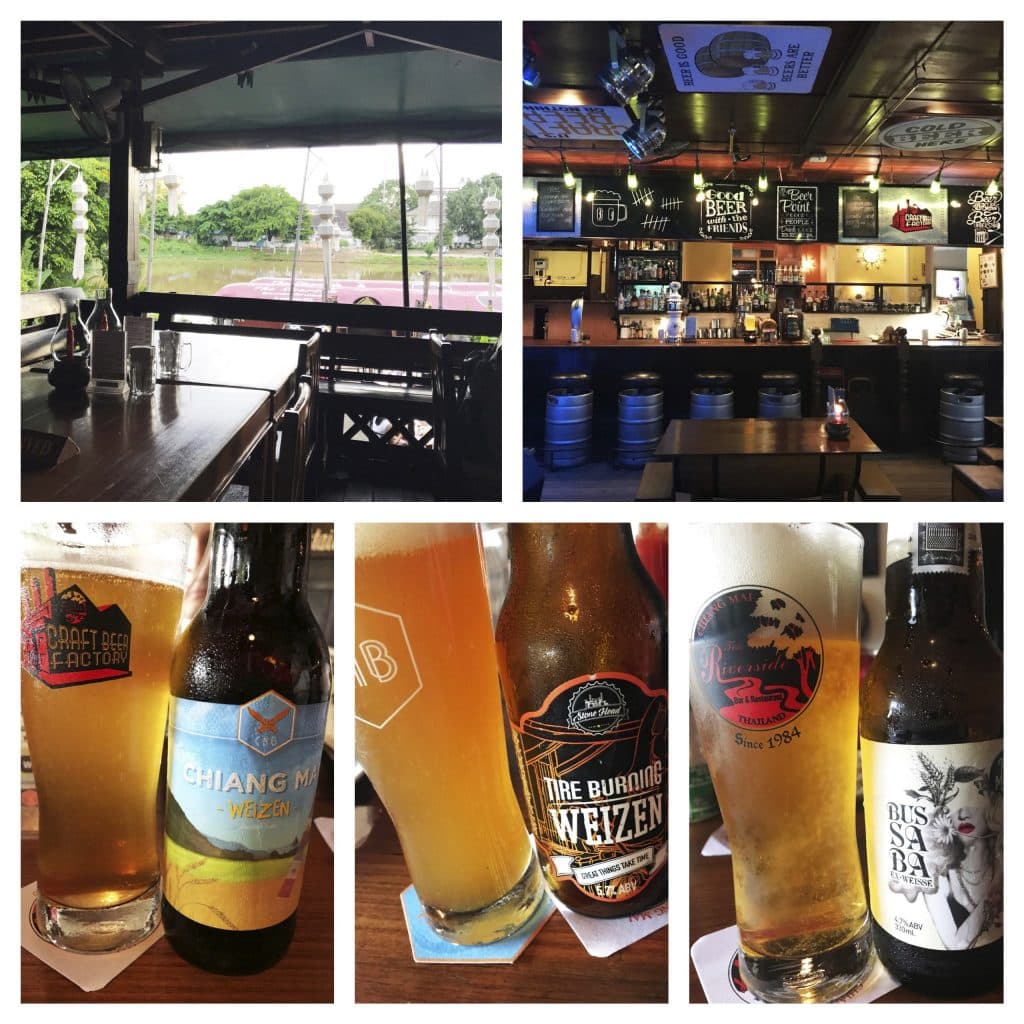 Chiang Mai craft beer: Ugo
Ugo (47 Moon Muang Rd Lane 2) is a Thai restaurant that has a fair choice of Thai craft beer bottles. Together with Craffity probably the best choice for Chiang Mai craft beer. I went late afternoon with my family to have a small snack and pickup bottles I didn't have before! The restaurant was packed already at 5PM so I had to wait a few minutes for a table. It was worth waiting for as their spring rolls are so good! I paired the rolls with a delicious pale ale. My wife had a curry and the kids I think had chicken wings or something similar. I might try Ugo to go out for dinner next time I'm in Chiang Mai and add them to my Chiang Mai restaurant guide. A great place.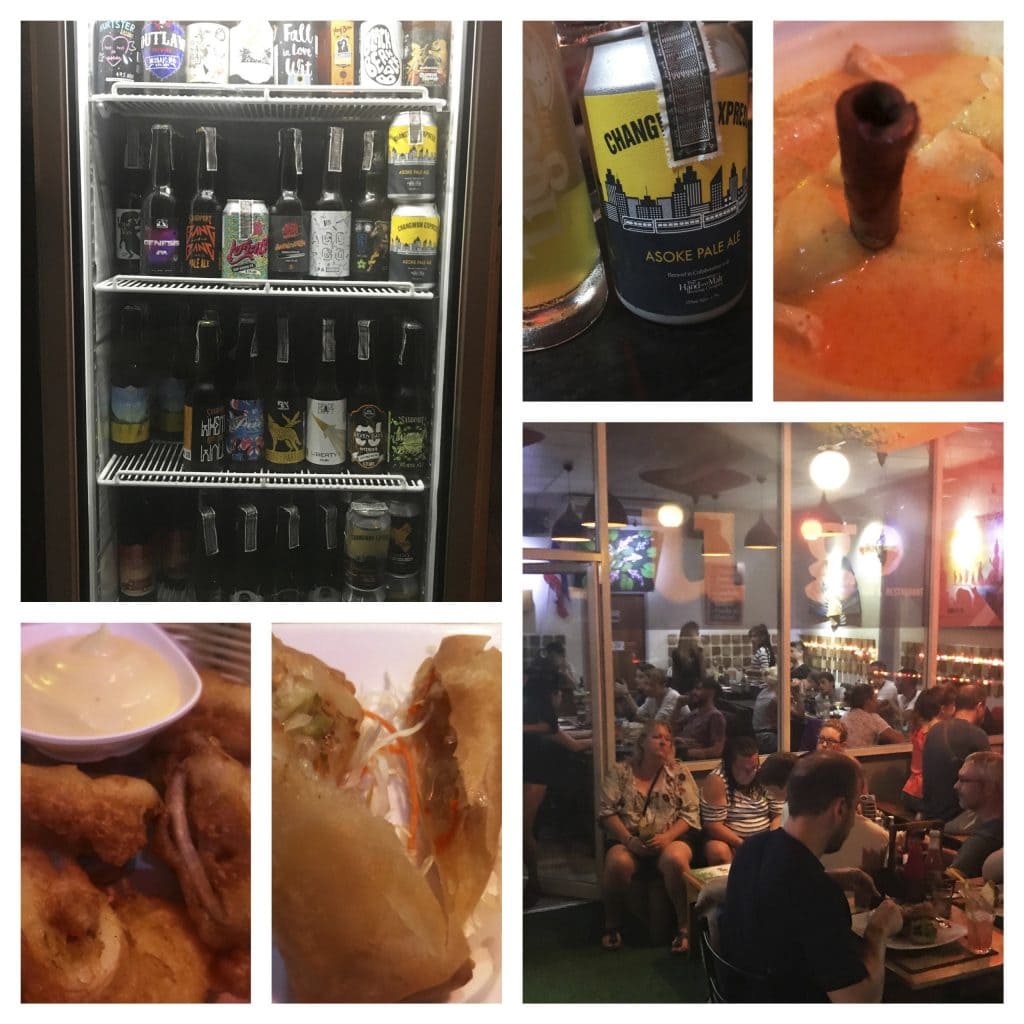 Chiang Rai craft beer: Sanfran burger & beer
Sanfran burger & beer (Phi Sit Sa-Nguan Road) was the only Chiang Rai craft beer bar I could find but at 5PM the beer was sold out. They were waiting for a new delivery later that evening. The menu had a dozen or so Thai craft beers which was pretty good. Their burgers, as I covered in my Chiang Rai restaurant guide, are delicious. I highly recommend going to Sanfran burger & beer in Chiang Rai if you want craft beer and a good burger. It's a nice outdoor popup restaurant!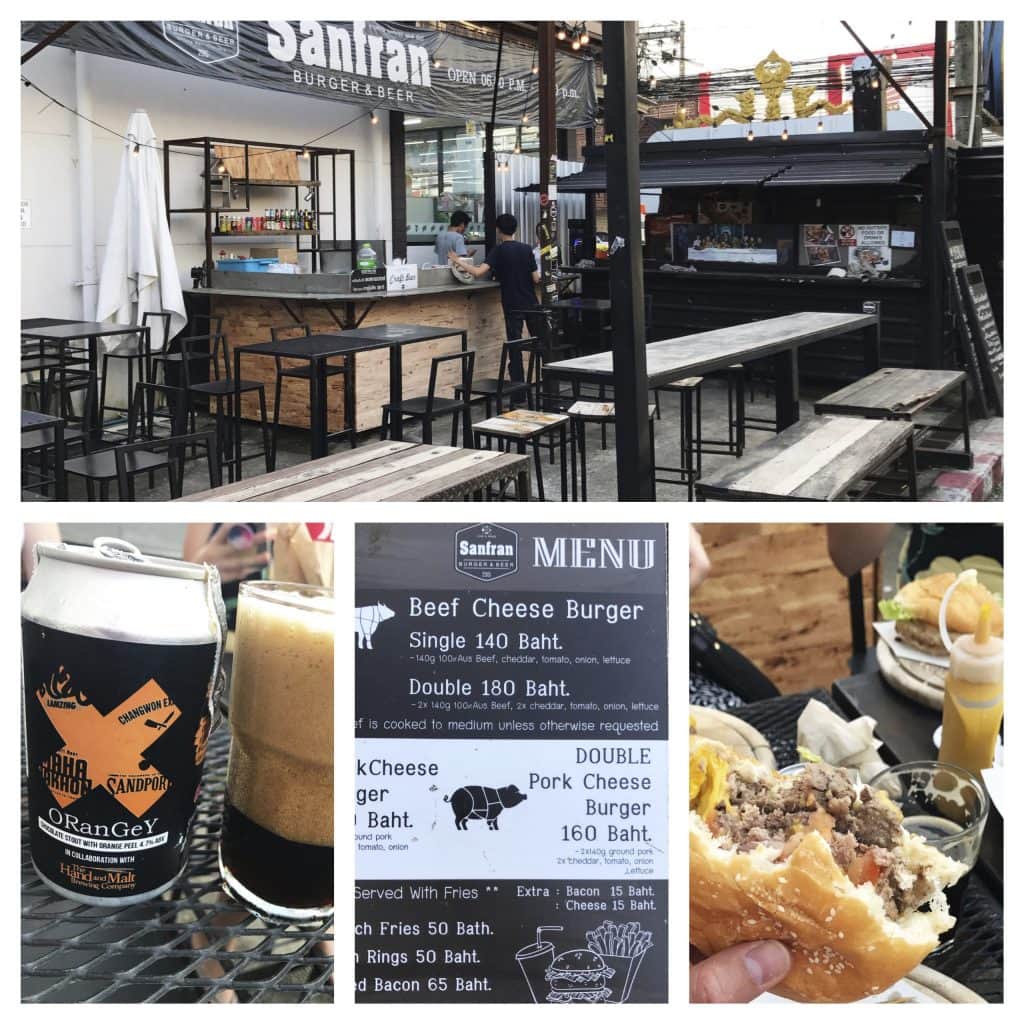 I travelled through Thailand for 3 weeks and visited Chiang Mai and Chiang Rai for several days. Both cities are great destinations in northern Thailand. The craft beer scene in Thailand is still small especially for cities outside of Bangkok. I was however happy to see there are some great beers on the market. If you know of any other Chiang Mai craft beer bars or any in Chiang Rai that serve at least 10+ craft beers, please leave a comment. I might try the bar when I'm back in Thailand as my recent Thailand road trip didn't cover the full country.
Stay tuned for more stories and subscribe to the newsletter or follow CTB on social media (Facebook, Twitter, Instagram including Instagram stories; on all social media you can find CTB @christravelblog) to get updated information.
Did you visit Chiang Mai & Chiang Rai too or do you have questions? Please leave a comment at the bottom of the page. Love to hear from you!