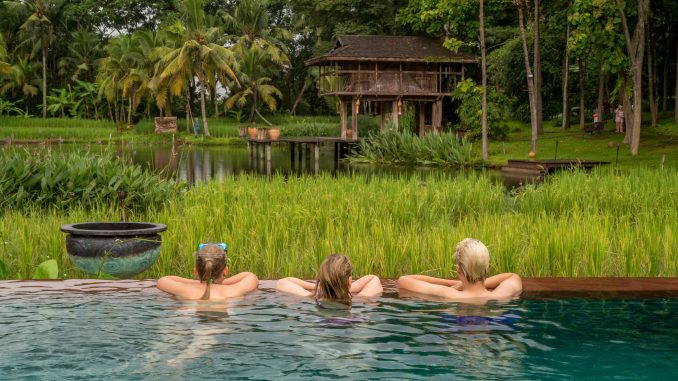 Four Seasons Chiang Mai is a hotel that's something different than your usual hotel stay and a unique place. They offer ultimate luxury in a magnificent setting between rice fields in the Mae Rim Valley. Local activities are offered throughout the day which, for my kids too, were lots of fun to do. I stayed two nights at the Four Seasons Chiang Mai when I did a 3-week road trip through Thailand. My experiences I'll share with you but first let's start with a video impression. I'm sure you want to stay too!
The hotel
The Four Seasons Chiang Mai is located about 25 minutes by car north of Chiang Mai. Their shuttle service is the easiest way to get from the airport or city center in case you don't have your own car. I didn't need transfers to Chiang Mai as I didn't leave the hotel at all as the activities at the Four Seasons Chiang Mai were so much fun to do. When I arrived over the long driveway I was warmly greeted by the staff and offered a refreshing tower and drink. They took care of the luggage and parked my car. As the resort is huge I was transferred to my spacious villa by buggy.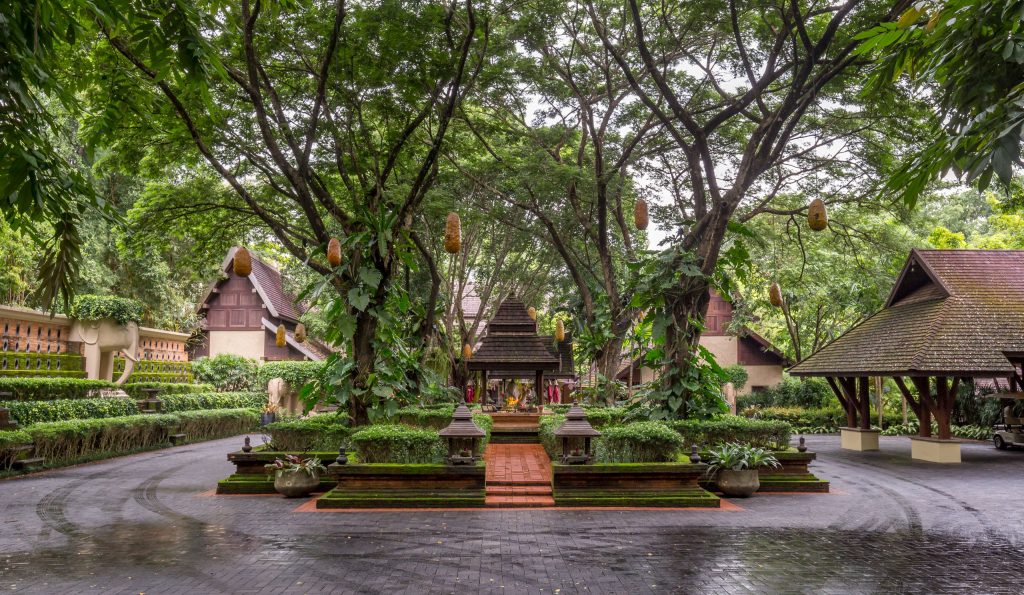 In the center of the Four Seasons Chiang Mai grounds is a pond with lots of rice fields around it. Lush green gardens are spread out over a very large area where the villas are located. Villas are connected by pathways to the pool, restaurant, spa, and lobby. I tried to walk most of the time as the gardens are beautiful. As it was still rainy season the buggies were great when it was pouring. The staff is so friendly, attentive and they always greet you by name with a smile. Thai people are so friendly and always taking care my stay was perfect.
If you are looking for a one of a kind hotel that's worth a trip on its own I highly recommend staying at Four Seasons Chiang Mai.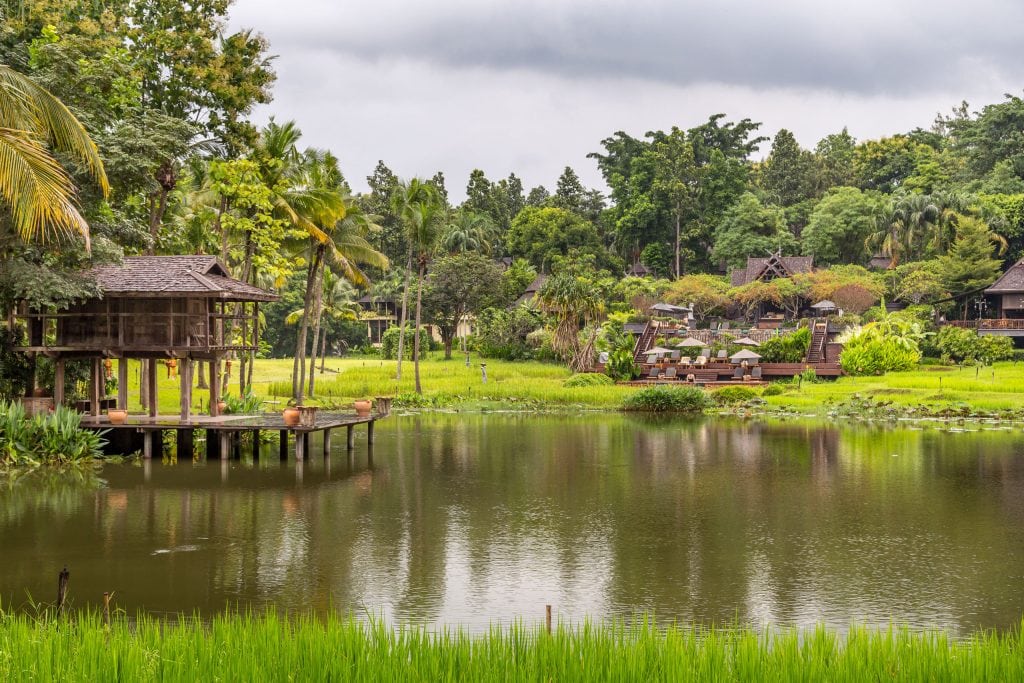 Activities offered by Four Seasons Chiang Mai
At the Four Seasons Chiang Mai it's all about luxury and local activities. There are so many activities organized by the hotel that during my 3-day stay I was not able to do all. I had to choose. Their signature activities I think are best which include rice planting and buffalo washing with local farmers. A country side mountain bike ride after giving alms to the monks is also something I highly recommend. Don't forget to watch the farmers parade or do a cooking class as well.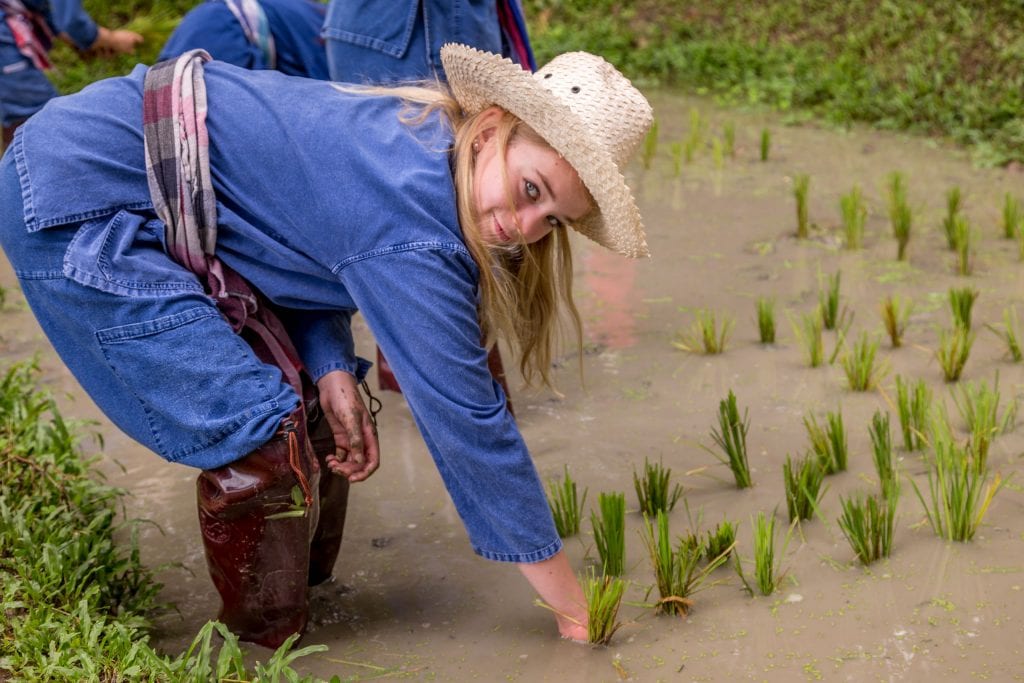 All activities are kids friendly and the staff perfectly knows how to get the kids interested in their stories. I did a nature trail at the resort with my daughter which was very informative. The gardens have lots of flowers and the botanist explained in detail what was what and even showed how to get water from a bamboo shoot. These activities and the beauty of the resort make it a destination on its own!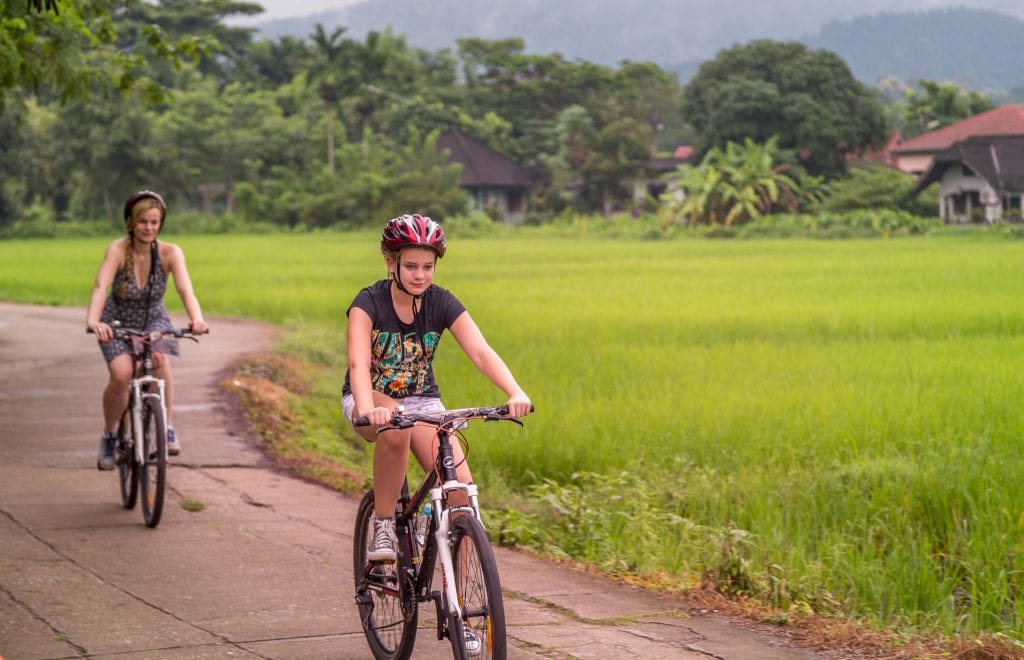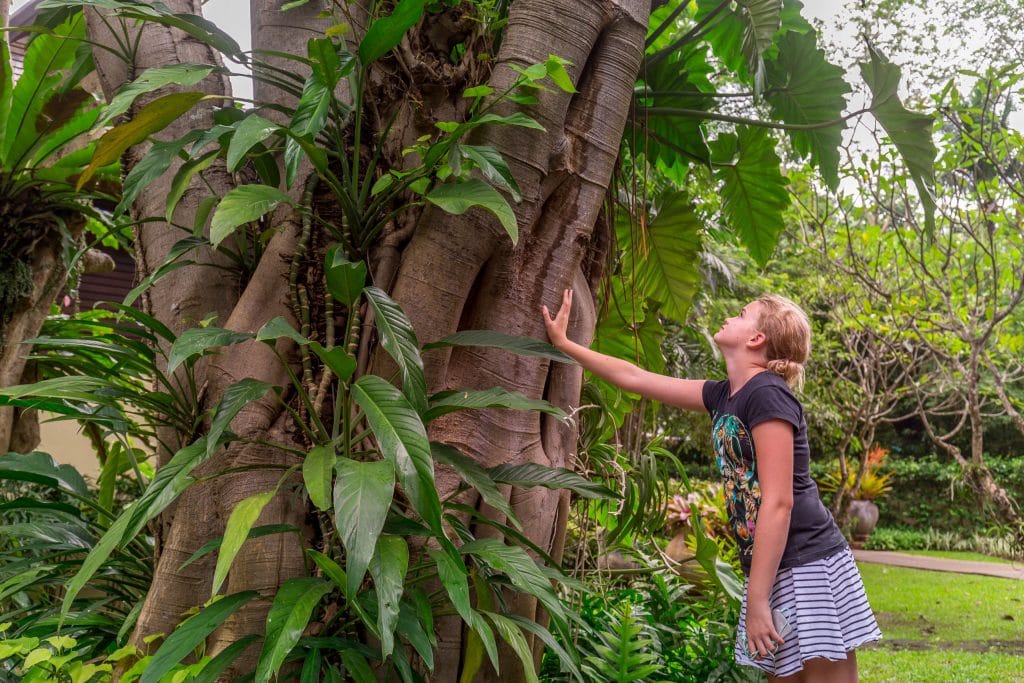 The rooms / villas at Four Seasons Chiang Mai
The Four Seasons Chiang Mai has villas of various sizes in which rooms and apartments are located. The villas are located around the rice field and surrounded by lush green gardens. Villas have a variety of different rooms but if you're with a family of 4 I highly recommend the 2-bedroom villa with private plunge pool. My kids are used to travel in luxury but when they arrived in the 2-bedroom apartment they did make a small scream of joy.
If I arrive in a room and there is no welcome drink, fruit, or water I always think; "why?". At Four Seasons Chiang Main it was the contrary with enough fruit for a week, water in all rooms replenished daily and good Nespresso coffee. The same for the bathrooms; they need amenities. Four Seasons Chiang Mai only uses high quality amenities and there's plenty and over complete. They are replenished daily and if you forget something the staff will provide.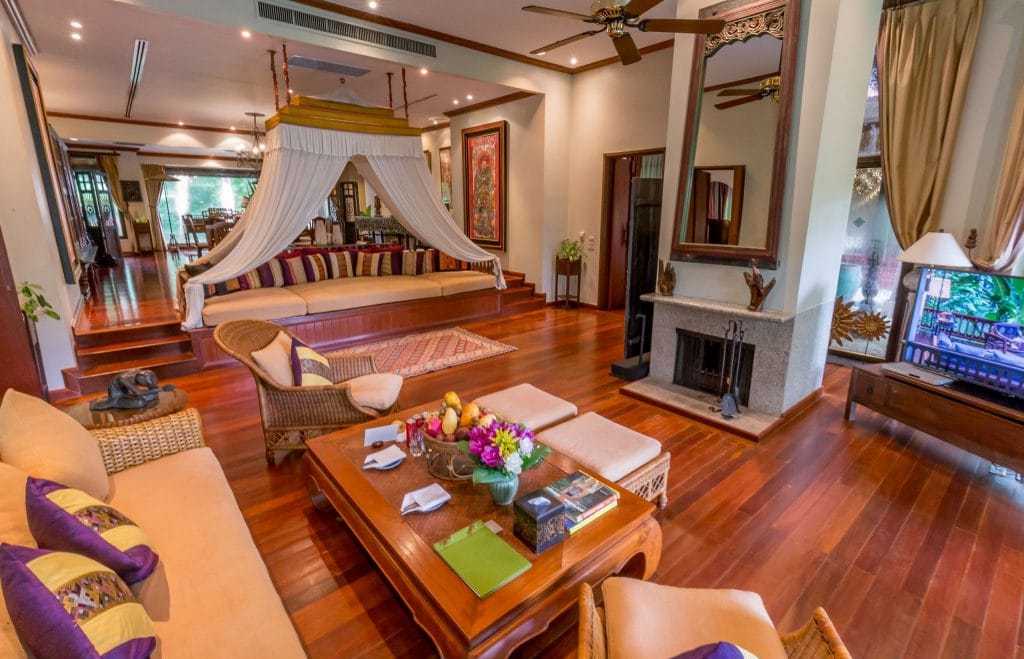 The living room was huge (over 50 sq. meters) with a large dining area and sitting area. Large doors from the sitting area gave access to the private plunge pool. Views vary per villa, but I was lucky to be in one with a view over rice fields towards the pond. Both bedrooms where huge with each a large bathroom with bath and separate rainforest shower. One bedroom had a small room with cushions and the kids immediately made that their game room. It's so good to see them happy!
A spacious apartment is one thing but it needs atmosphere. It has! Teak wooden furniture and wooden floors give all areas a warm feeling. Everything is decorated with local art and patterns. I really loved the Thai inspired interior design. The kids still talk about their stay at the Four Seasons Chiang Mai and always look for one on our next destination. I hope to return!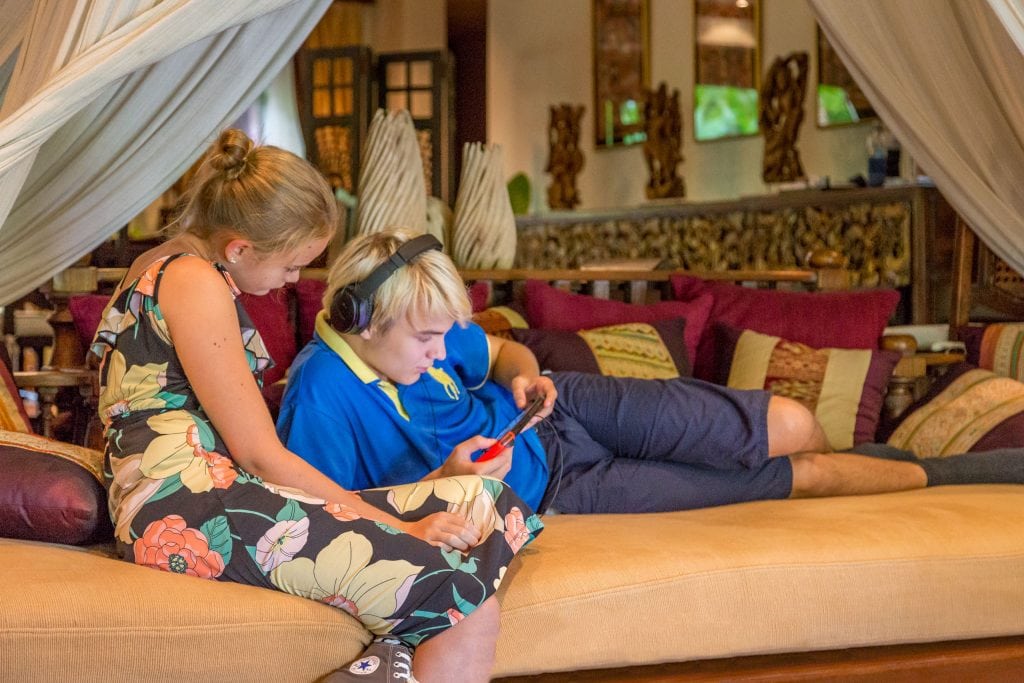 Facilities at Four Seasons Chiang Mai
I already showed you all the activities that are offered by the Four Seasons Chiang Mai. Two other, very important, facilities include the infinity pool and the spa. Of course, the resort offers some business facilities, tour desk and others too but I haven't used those personally. The pool is amazing with a large pool at the lower terrace with lots of sunbeds. It gives a great infinity view over the rice fields below! The lower, smaller, pool is more intimate and kids (< 12 years) aren't allowed there. It's nestled closer to the rice fields and has even better views. The pools at the Four Seasons Chiang Mai are one of the better pools I have seen in my life!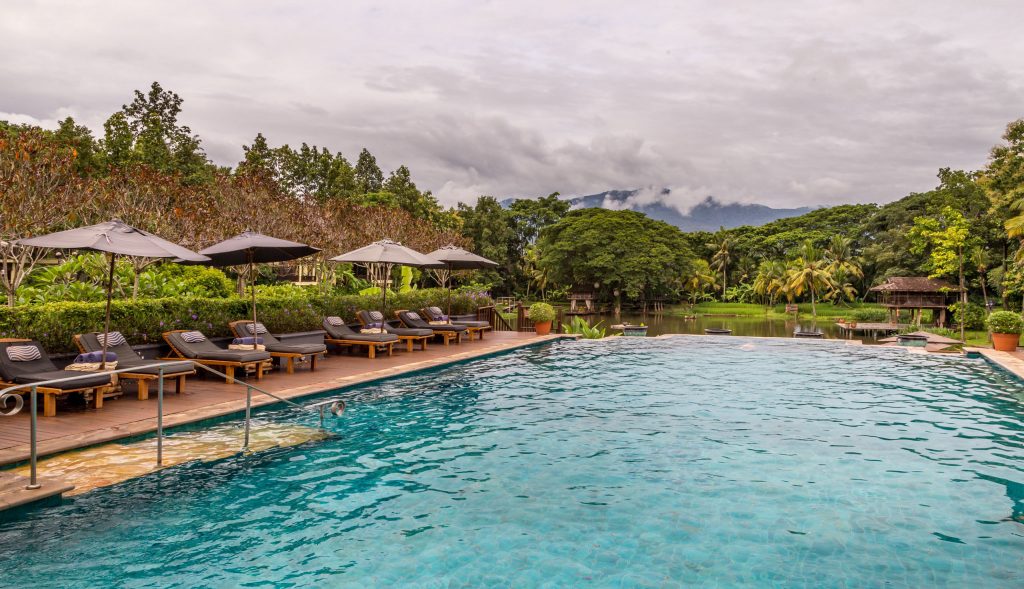 My wife and daughter tried the spa and they told me it's amazing. Professional staff really pampered them. A massage, bubble bath and treated with the best products available. They really had two hours of great mother-daughter time there. Isn't that treatment room inviting? I love the décor!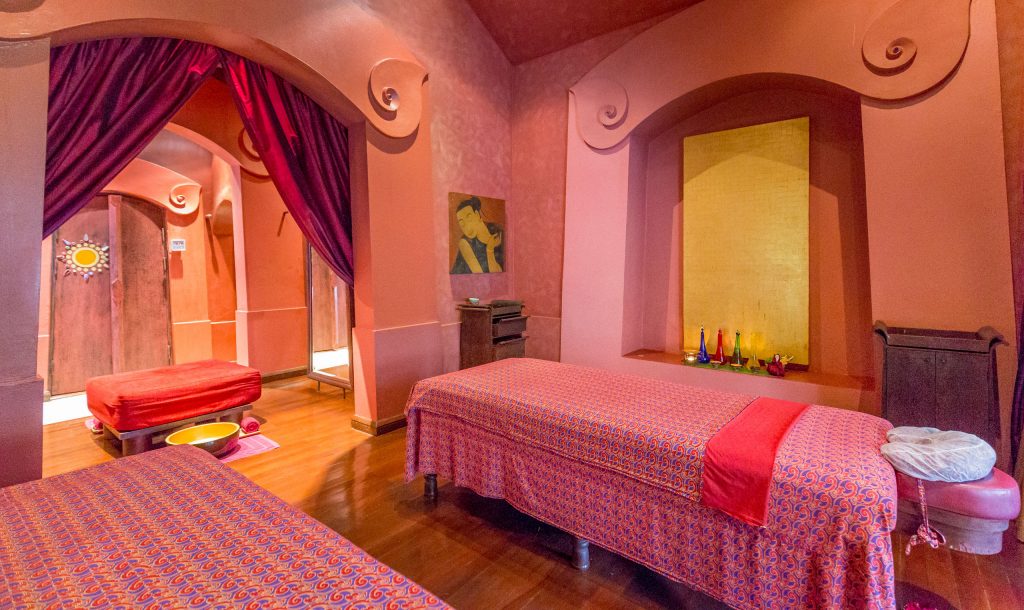 Dining & Drinking at Four Seasons Chiang Mai
Four Seasons Chiang Mai has two restaurants and a bar. Breakfast is served at the Thai restaurant and had choices you can't imagine. Both Asian, Thai, and Western dishes are available. Several stations prepare eggs, noodles and other dishes are prepared on order. The quality of all ingredients and dishes are of top quality. My daughter was even invited one of the mornings by the chef to prepare her own noodles. She loved that personal attention and fun.
In the evening I had dinner at both the Thai restaurant and the Italian restaurant. At the Thai restaurant I can highly recommend the local sausages of northern Thailand. Ask for Thai wine to pair with your dishes which is good wine! At the Italian restaurant I can highly recommend the steak and cheese platter. Both my wife and son have food allergies which was understood very well by the staff of the Four Seasons Chiang Mai and treated seriously. It shows once again the professionalism of the staff. If you look for a place to go out for dinner check my restaurant guide for Chiang Mai & Chiang Rai.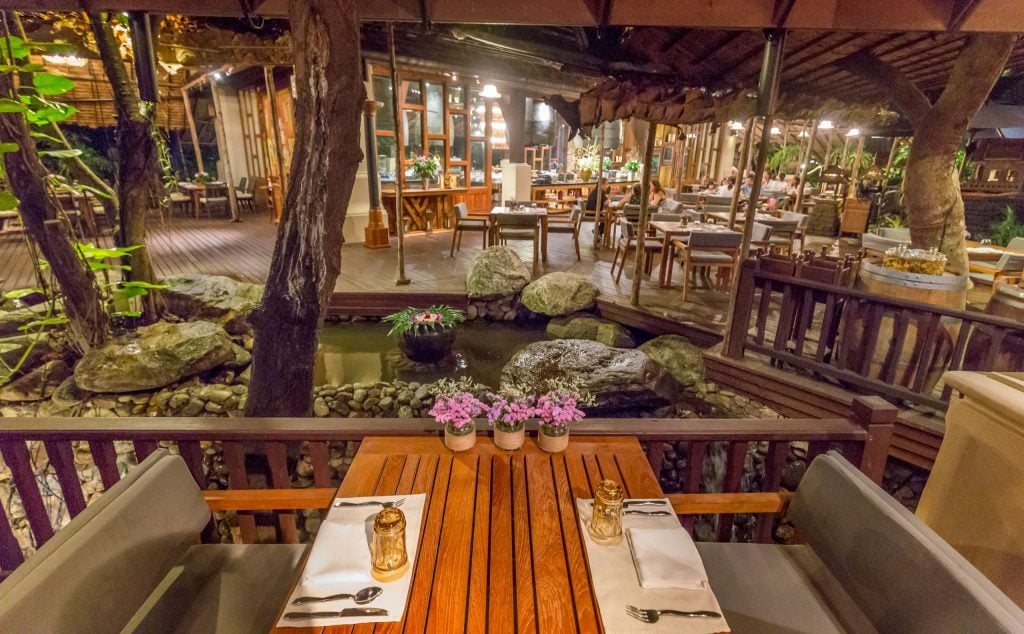 Conclusion
If you travel to northern Thailand or do a Thailand road trip and want to try local activities in a luxury environment I highly recommend staying at the Four Seasons Chiang Mai. It's a resort which is a destination on its own just north of Chiang Mai. The setting is beautiful nestled between rice fields and lush green gardens. The family residences are spacious and have all the amenities you require. My family and I loved the activities we did: buffalo washing, mountain bike ride, rice planting, cooking and more. Two restaurants and a bar serve the best food and drinks in the Mae Rim Valley made with local produce. My kids still talk about the stay at the Four Seasons Chiang Mai; it was a memorable stay and I'm sure yours will be too.
If you would like to know what you can do in and around Chiang Mai then see one of these options: Chiang Mai day trips or read my full 3.5 week Thailand itinerary. I will add more destination information over time.
For more hotel information and booking options please visit the website of Four Seasons Chiang Mai or subscribe to the Facebook page of Four Seasons Chiang Mai to receive the latest hotel news.
Stay tuned for more stories and subscribe to the newsletter or follow CTB on social media (Facebook, Twitter, Instagram including Instagram stories; on all social media you can find CTB @christravelblog) to get updated information.
Gallery of Four Seasons Chiang Mai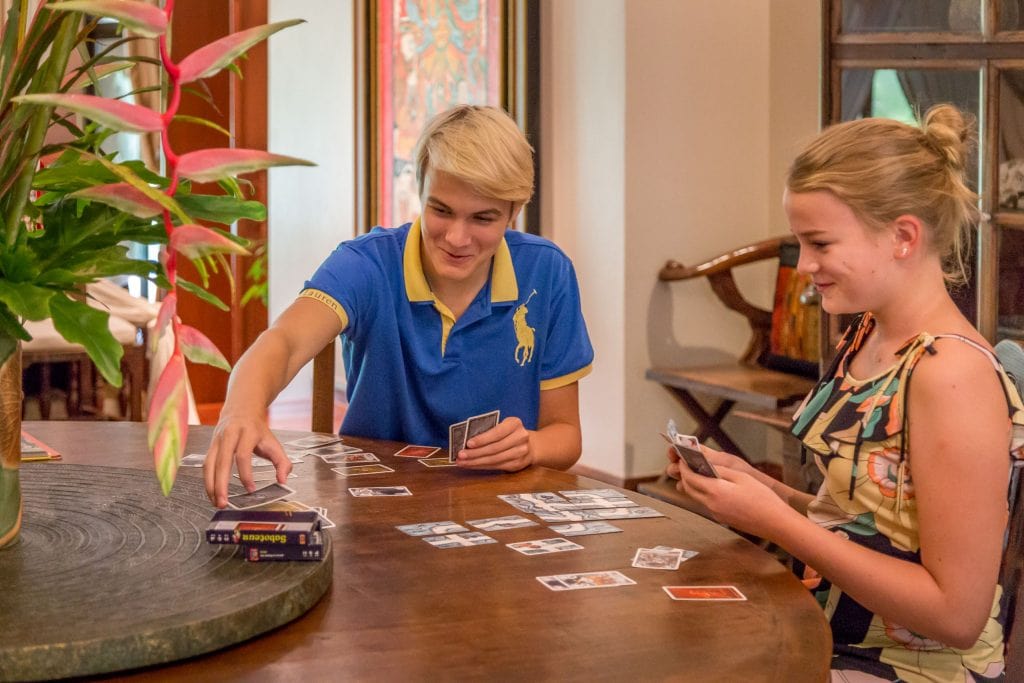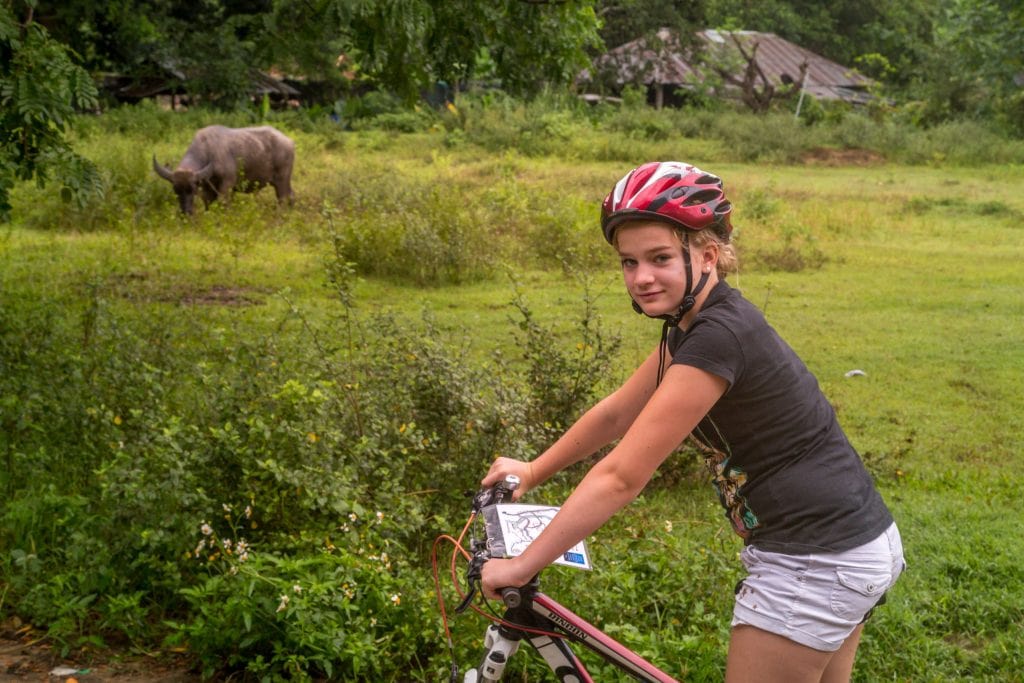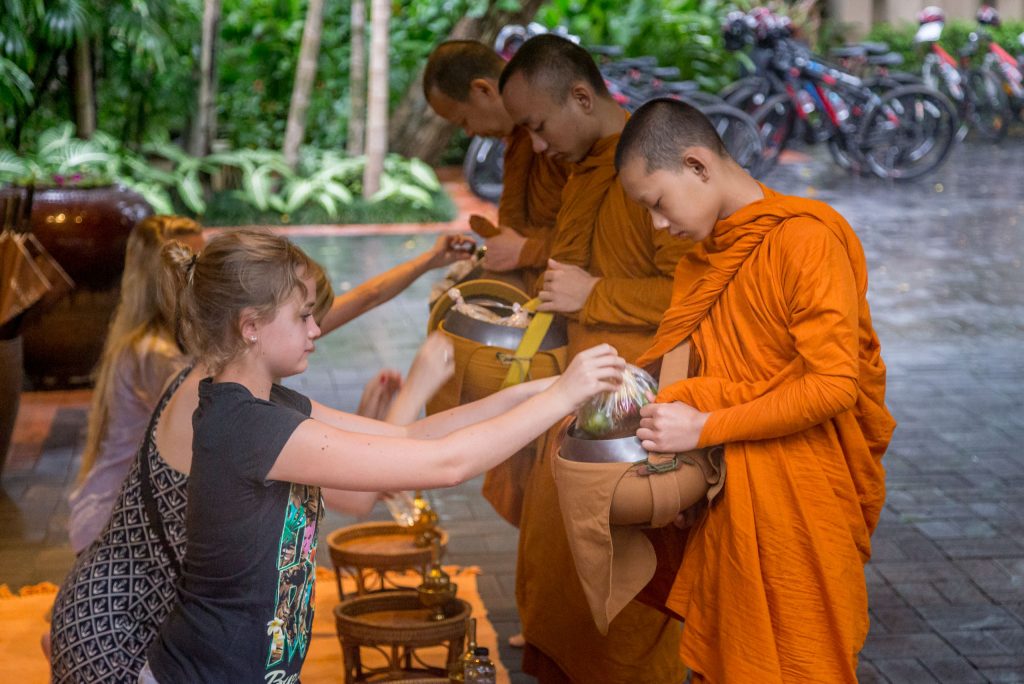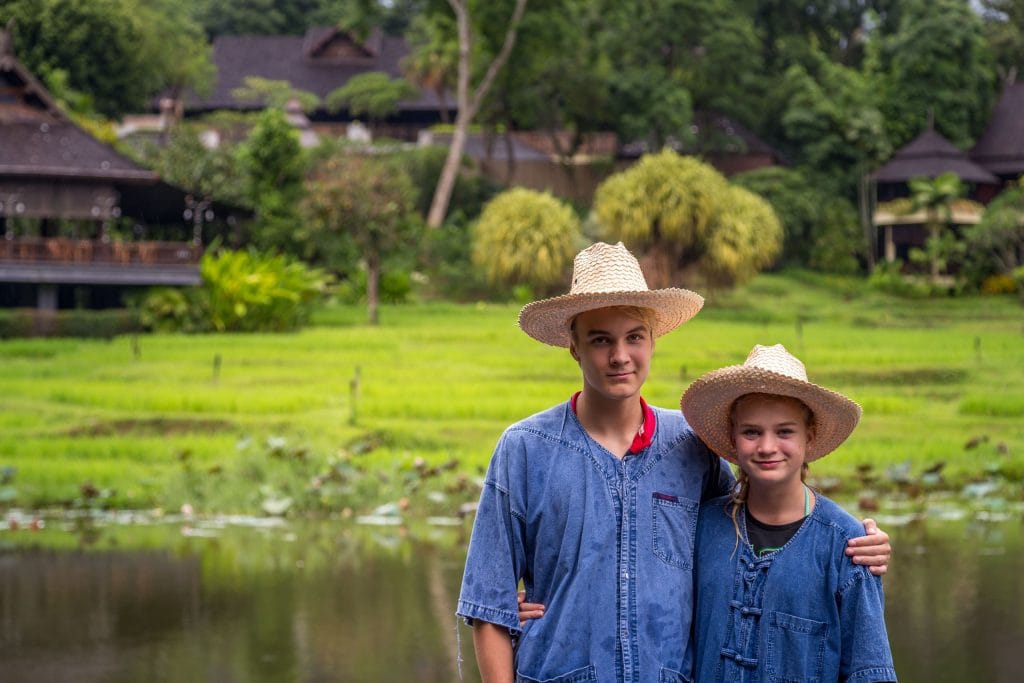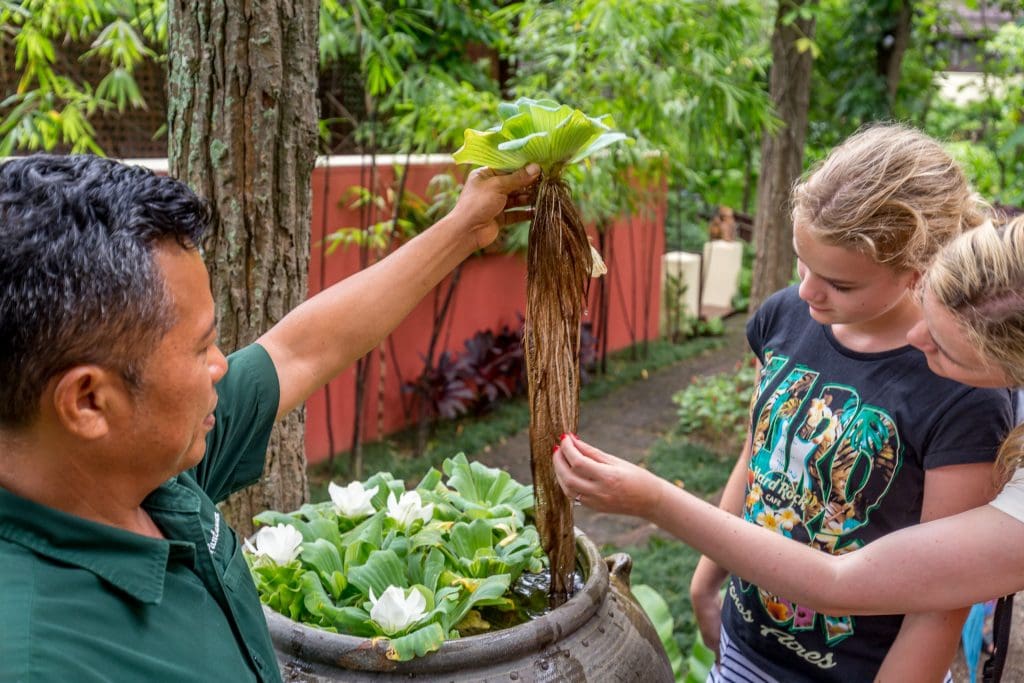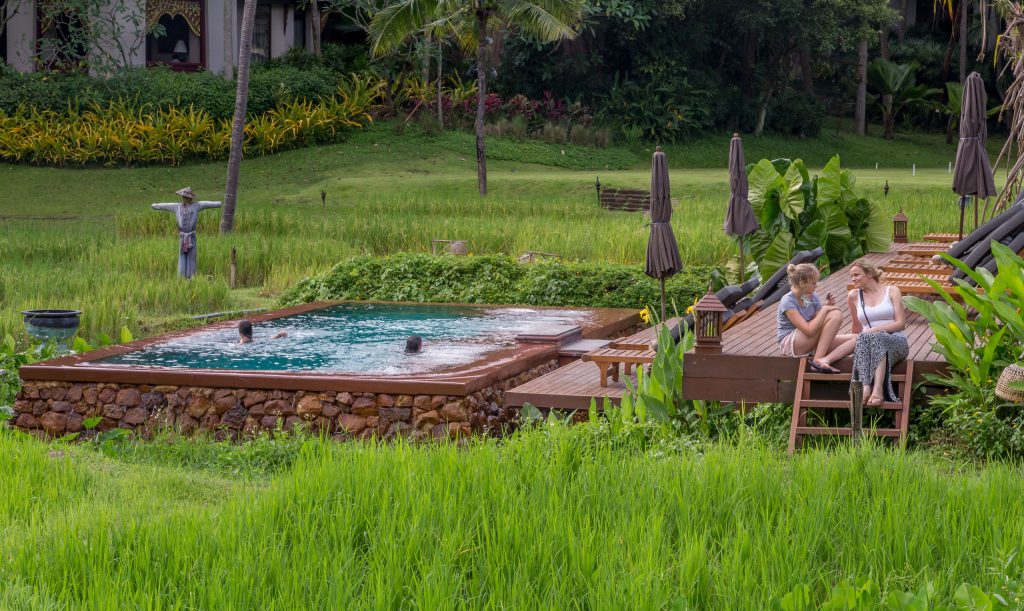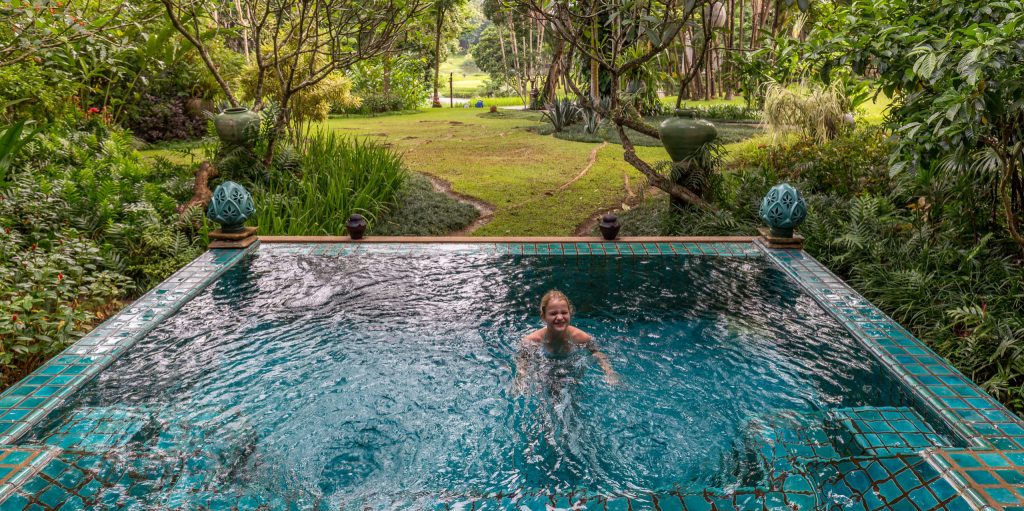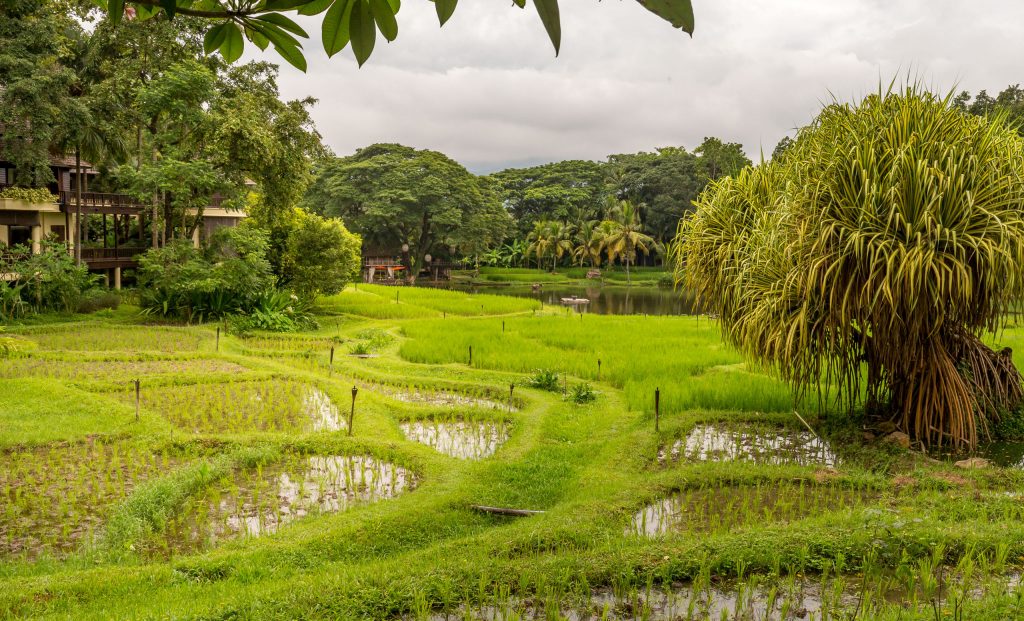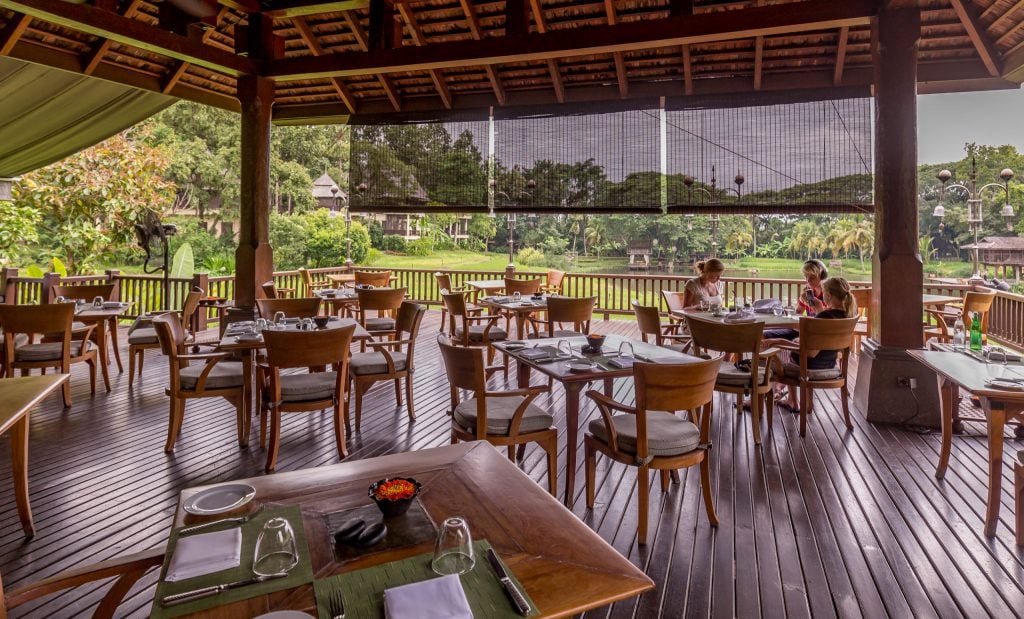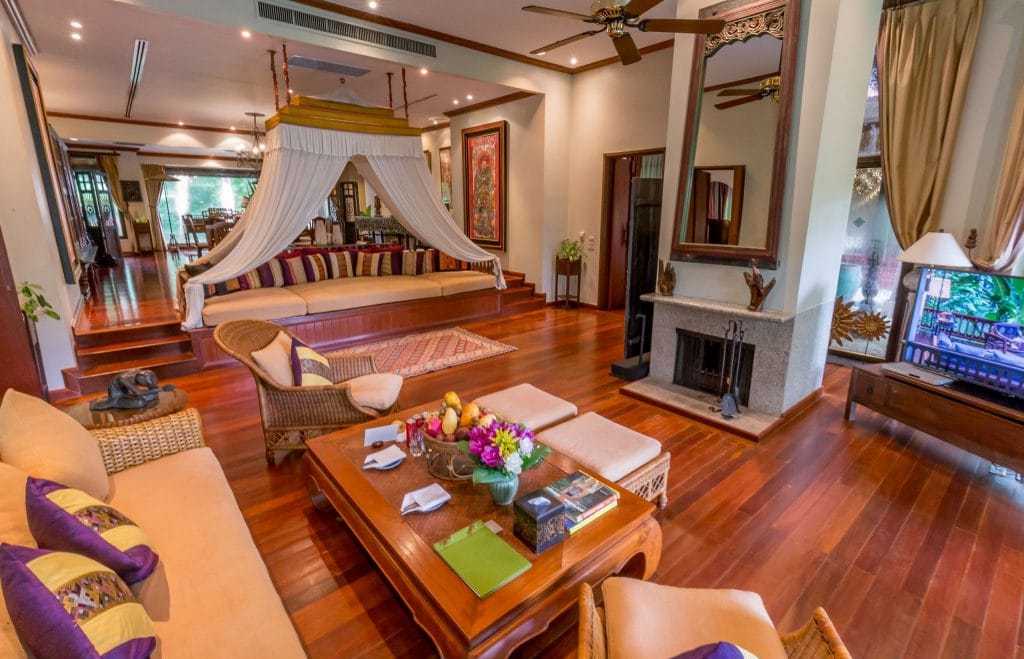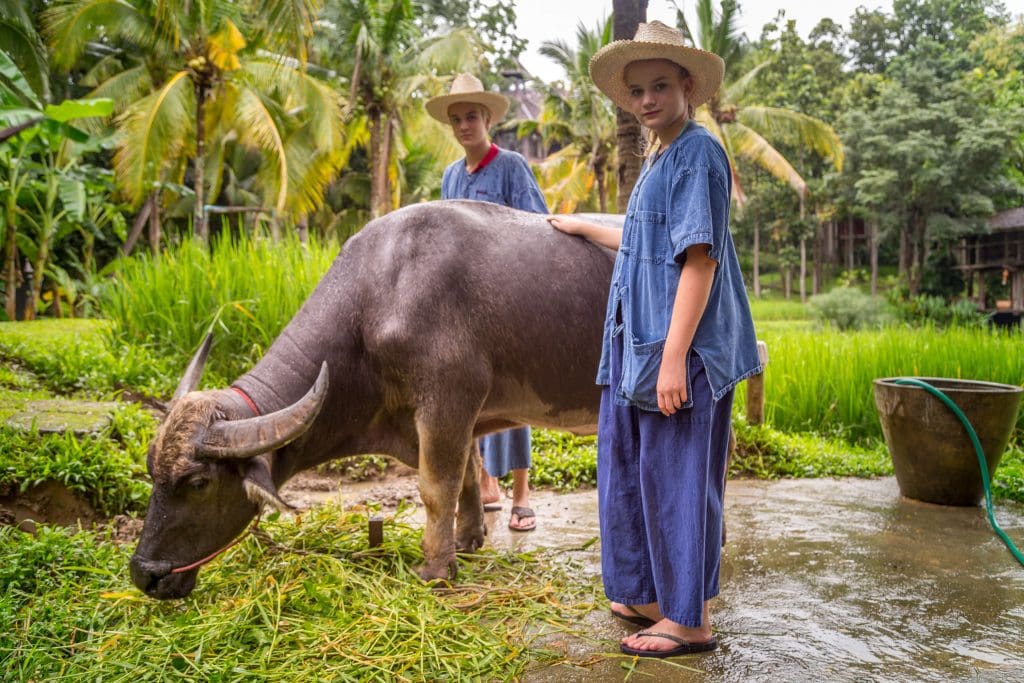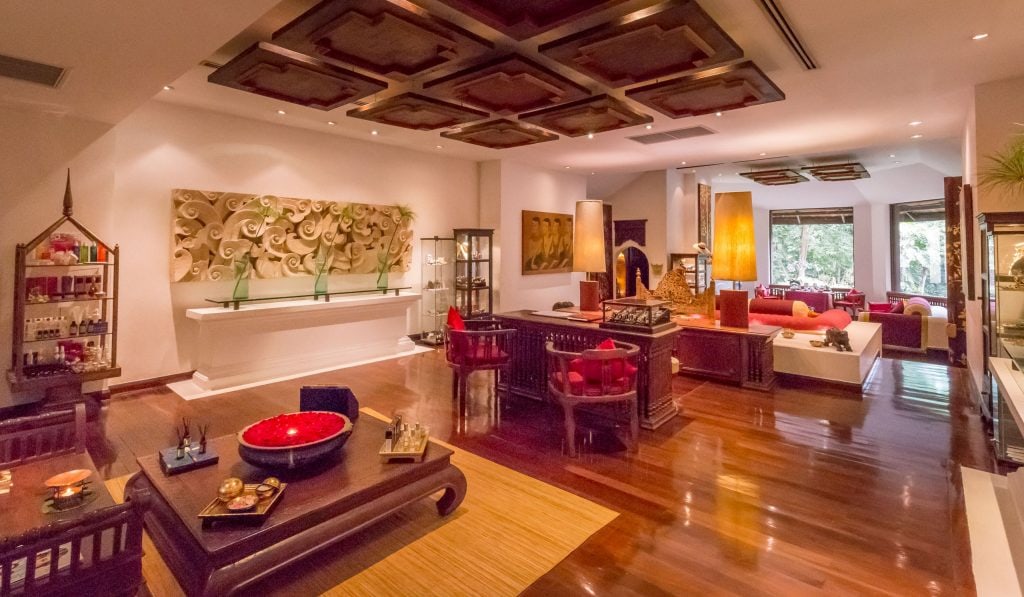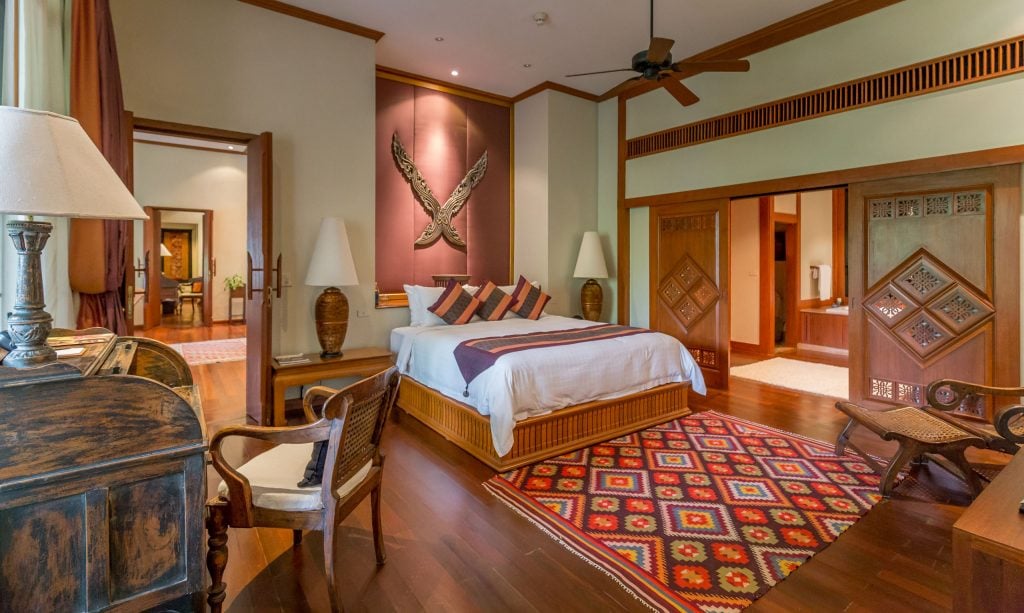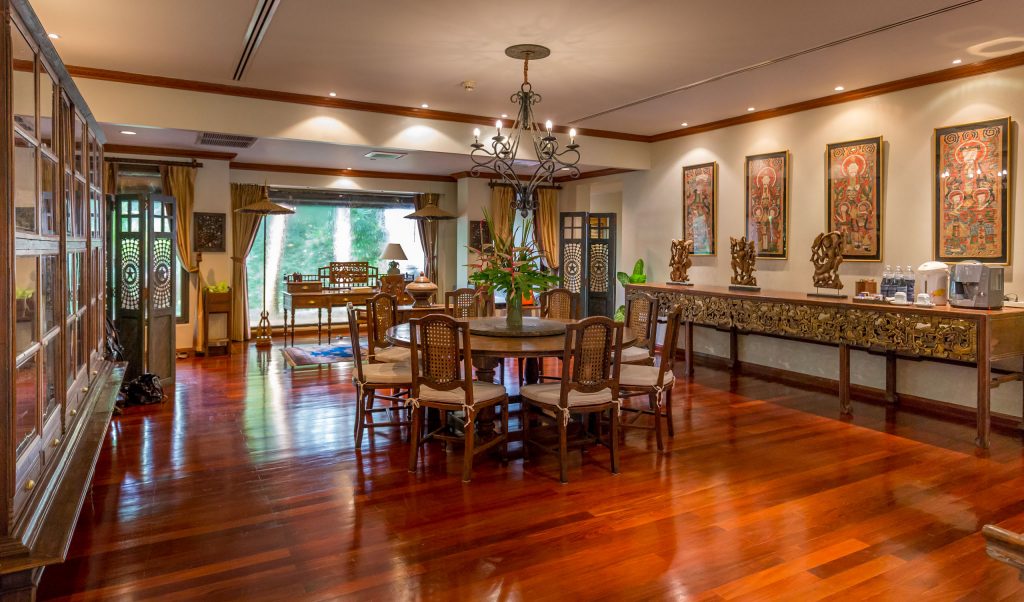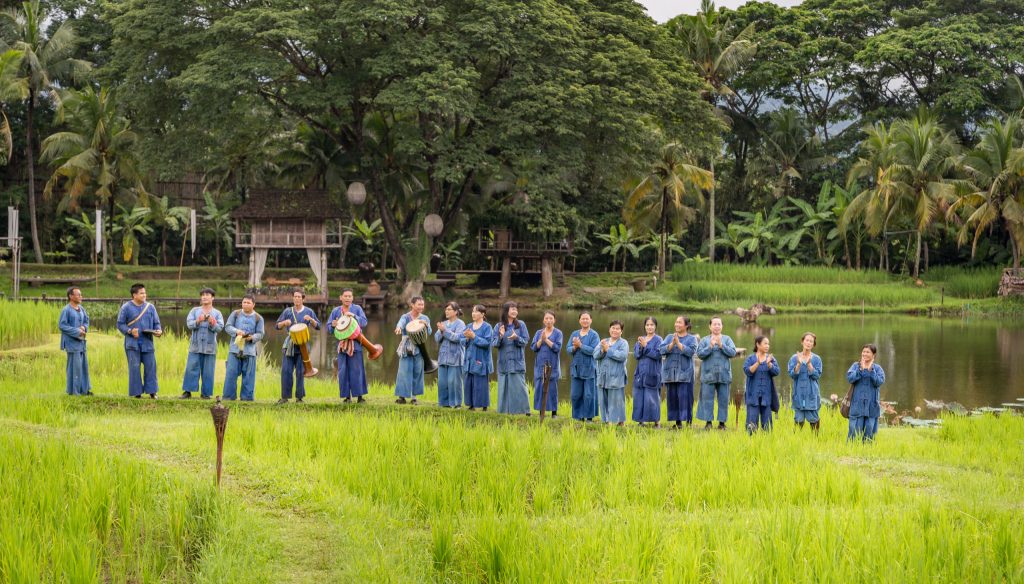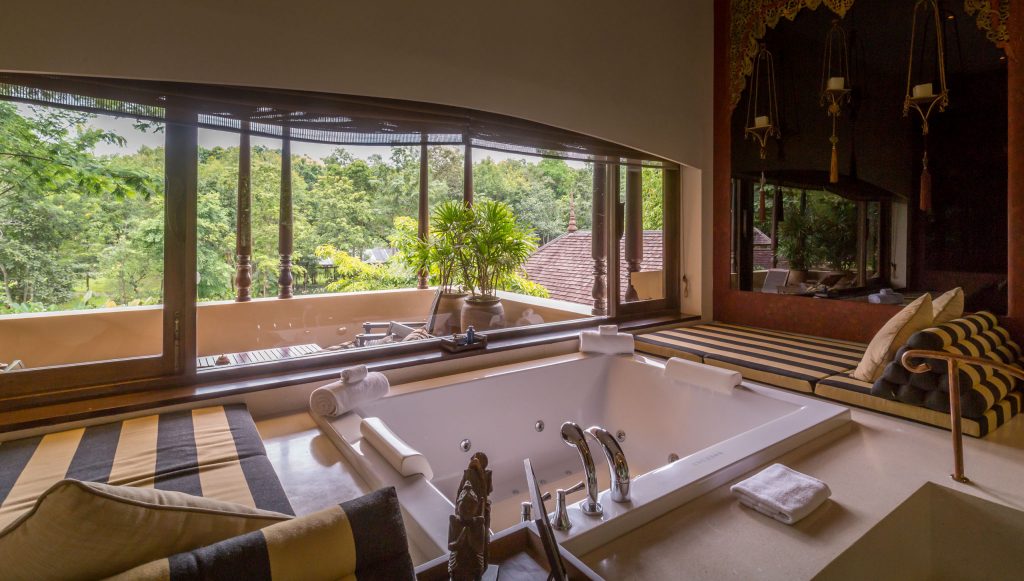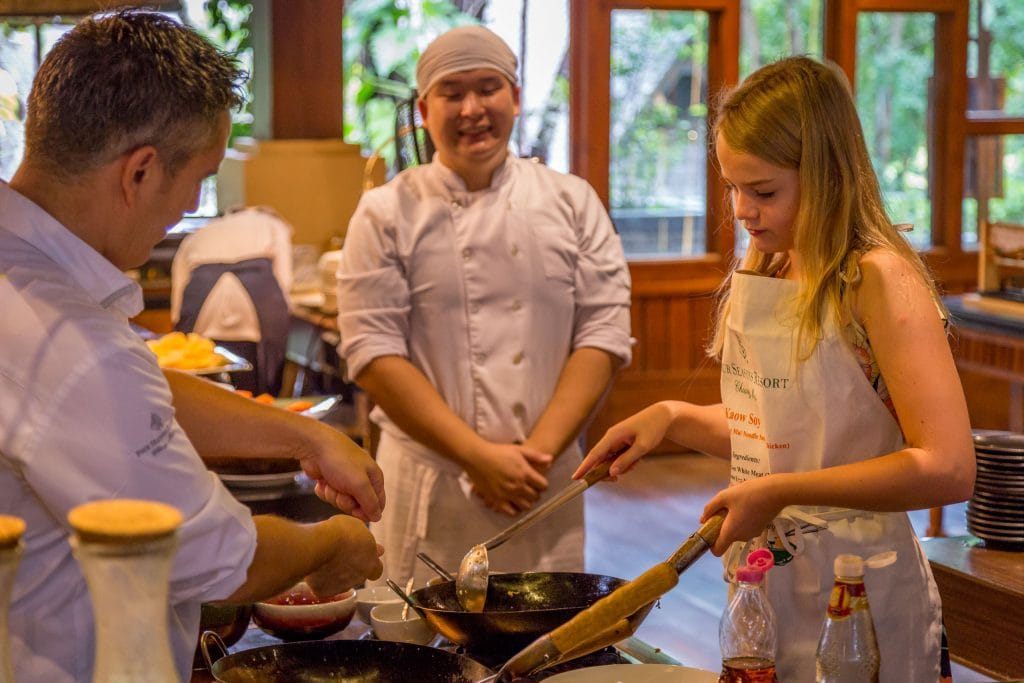 ** All opinions are based on a genuine stay, flight or experience. I'm not affiliated with the hotel, airline or tour operator but I might be (partially) sponsored – or paid. **