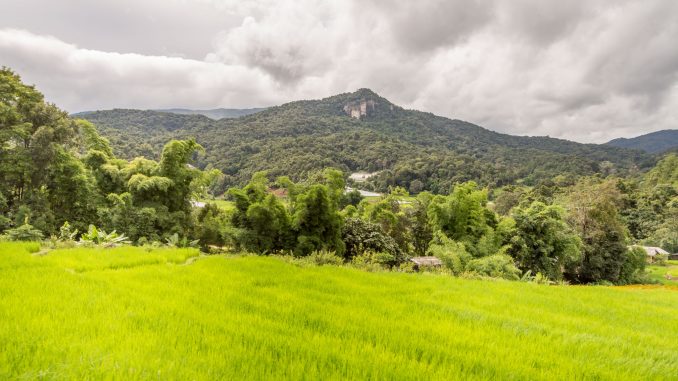 Doi Inthanon National Park is a nature reserve about 70 kilometers southwest of Chiang Mai. It's home to the highest mountain of Thailand and therefore also called 'the Roof of Thailand'. A Doi Inthanon day trip is a great way to get away from bustling Chiang Mai and the heat. Up the mountain temperatures are cool and you even might need a jacket! The mountain is a must visit and that's why I added the day trip to my Thailand itinerary. There are several places of interest on the mountain which I will list in this Doi Inthanon itinerary day trip report.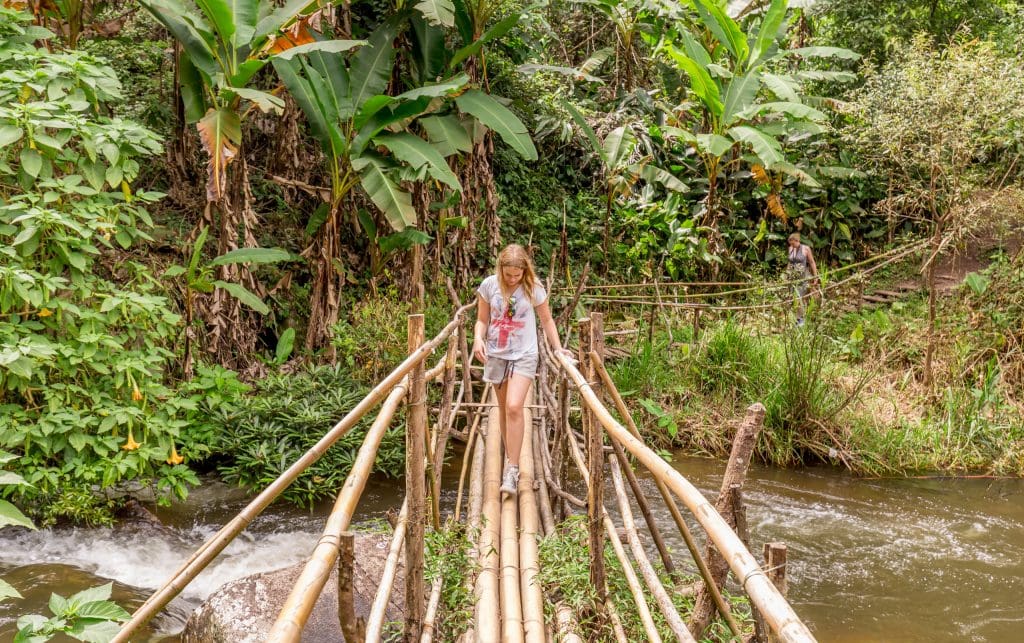 How to get to Doi Inthanon
Doi Inthanon National Park is located 70 kilometers from Chiang Mai and getting there is best done by car. As I was road tripping in Thailand, I had a car and left the Akyra Manor Hotel in Chiang Mai around 08:00 and arrived at the summit around 09:30. If you do not have a car it's best to hire one with driver. You could go by scooter, but it's not recommended. Alternatively, you can join one of the many tours, but it would give you less flexibility which places you can visit. In any case you should bring some snacks and drinks if you go hiking. There are restaurants and some shops but not on the hiking trails itself.
When you plan a visit keep in mind that from April to November it's rainy season and the forest can be cloudy with drizzle. Entrance fees are approx. up to 300-400 baht per person with car.
Including the summit there are a total of five places you can visit on a Doi Inthanon day trip from Chiang Mai. I'll list them in chronological order below so that you do not have to drive up and down the mountain.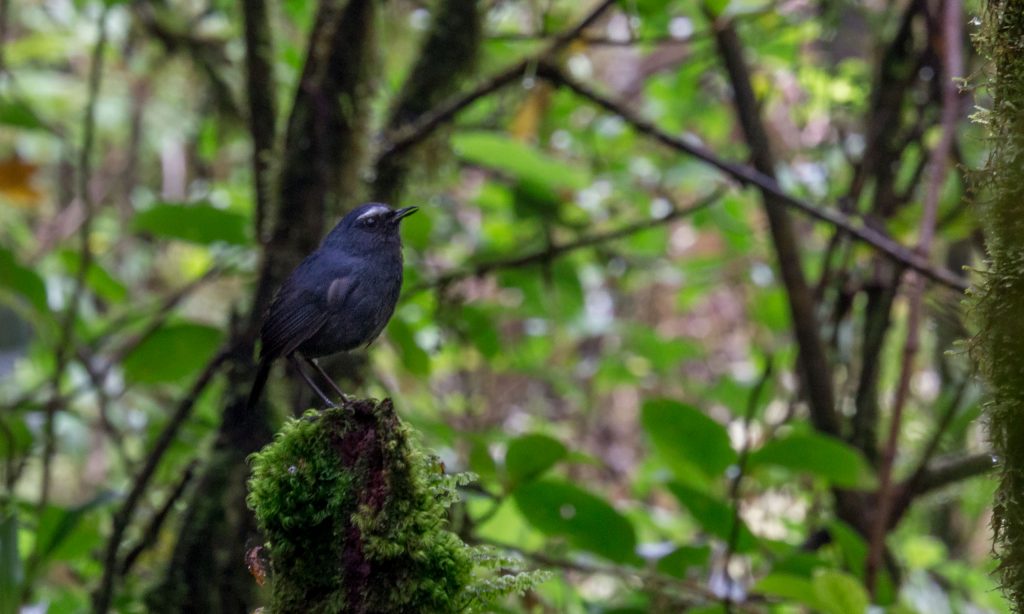 Doi Inthanon summit at 2564 meters
The top of Doi Inthanon cannot be missed as it's at the end of the road although the actual summit is a few hundred meters further on foot. You cannot hike up all the way. At 2564 meters the air has a bit less oxygen, but altitude sickness isn't a problem. I remember when I was at 5600 meters in Tibet which was a different story (read about it in my Tibet itinerary). At the summit there is a short trail (20 minutes) through the evergreen pristine forest passing a small shrine. Once you finish the trail the Ang Ka Luang Nature Trail is just across the road.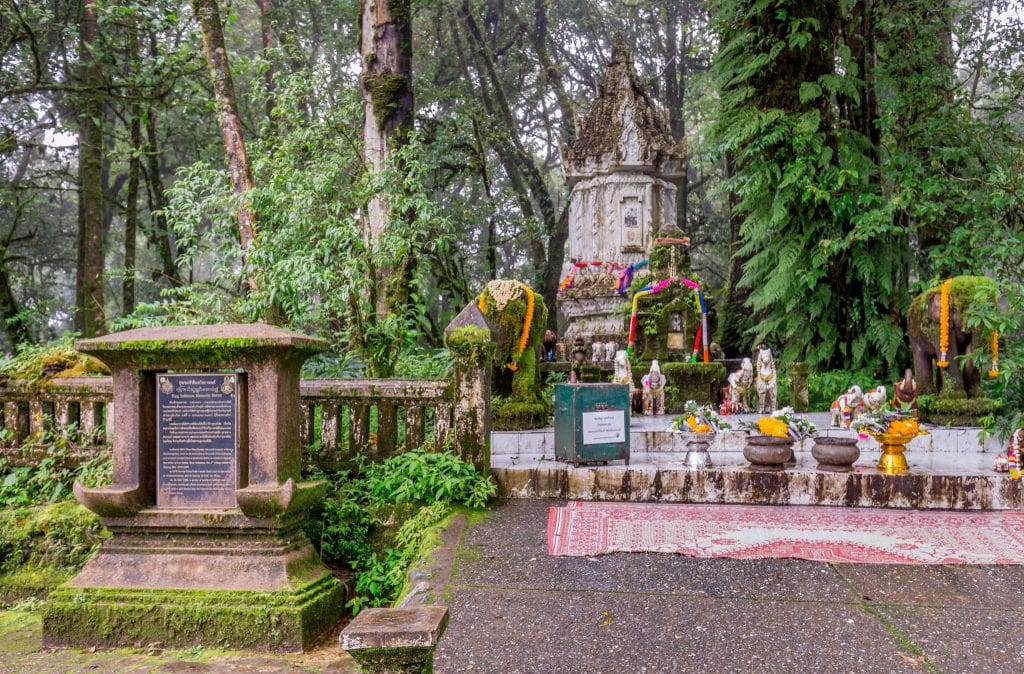 Ang Ka Luang Nature Trail
The Ang Ka Luang Nature Trail is a great trail even if you do not like hiking. It's a circular trail and takes about 30-40 minutes pending how long you watch the wildlife. If you're lucky you can spot various birdlife and for sure insects. The area is dense evergreen cloud forest and is very wet but not humid as the temperature is cool. The ground is covered with Sphagnum Moss which looks like a living carpet. The Ang Ka Luang Nature Trail is well maintained and most of the part you'll walk over a board walk. I loved this trail and it's one of the highlights of a Doi Inthanon day trip.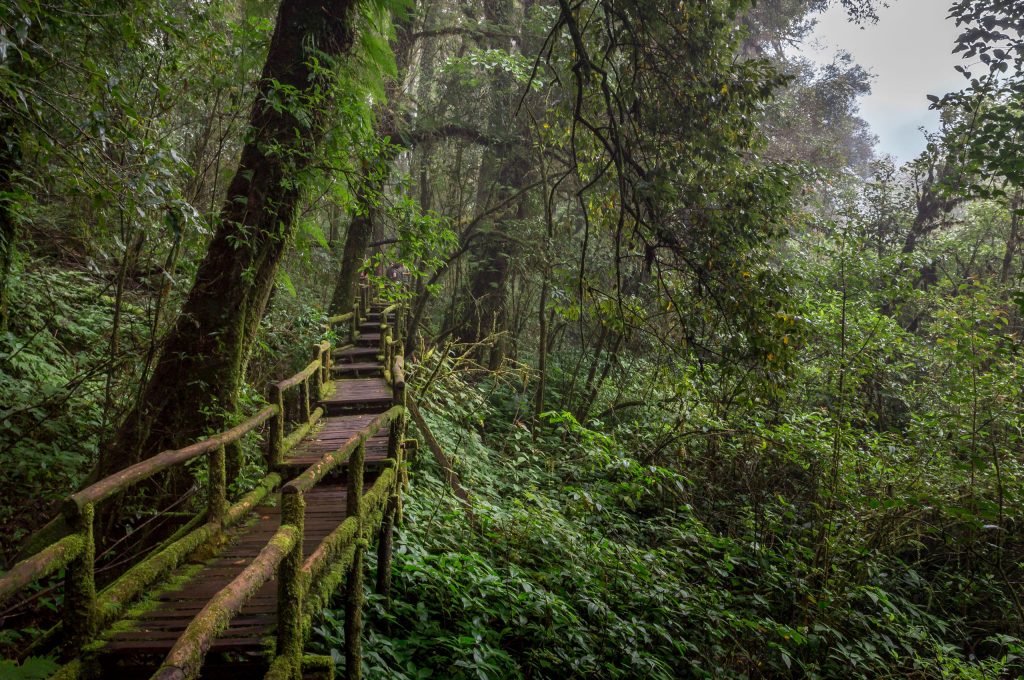 Kaew Mae Pan Nature Trail
The Kaew Mae Pan Nature Trail is a longer hiking trail but well worth it. You find the trailhead just up the road from the Two Chedi's. You can't hike it alone and you must take a local Hmong Tribe guide (about 200 baht) to take you around. He or she will explain you about the forest and what you see. The total trail is 2.5 kilometers but quite easy to walk. You pass waterfalls, dense forest, rice paddies and on clear days the views are amazing. The Kaew Mae Pan Nature Trail is a Doi Inthanon hike I recommend everyone to do!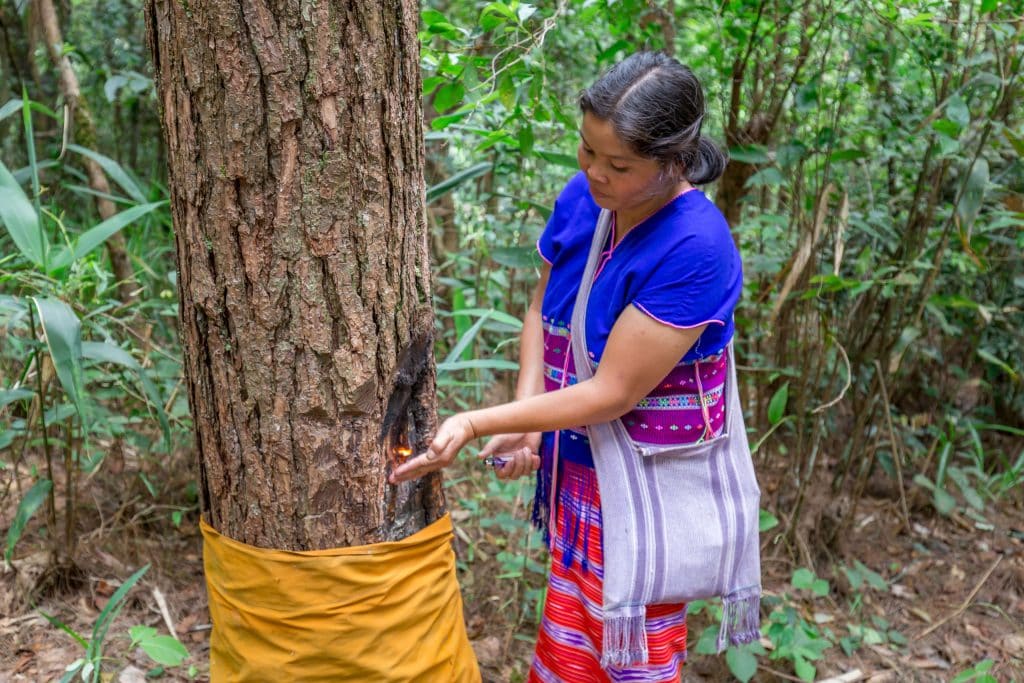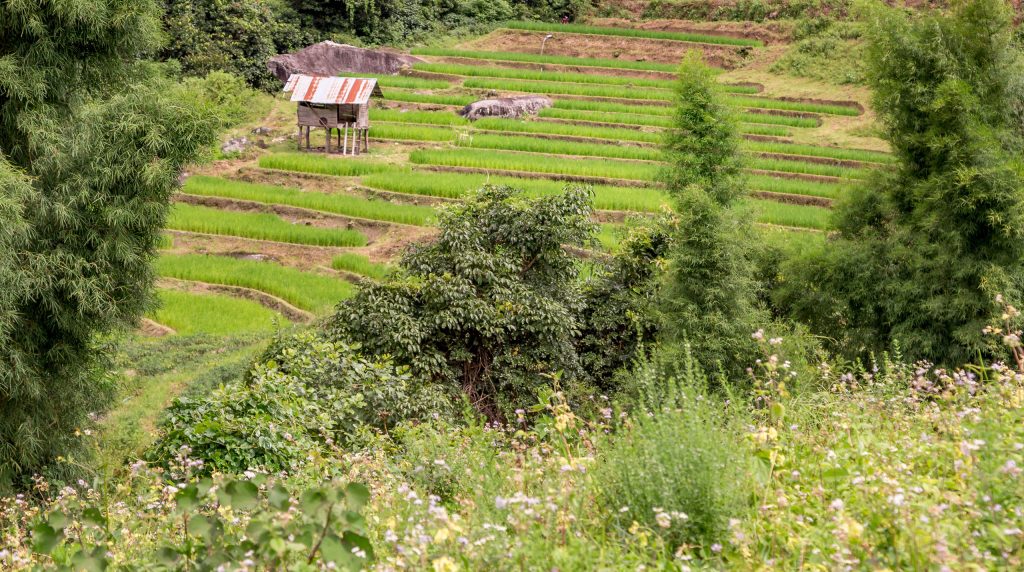 Two Chedis at Doi Inthanon
A Doi Inthanon day trip isn't complete without a visit to the Two Chedi's. The first pagoda called Phra Mahathat Naphamethanidon was built in 1987 for the 60th birthday of King Bhumibol Adulyadej. Phra Mahatha Naphaphonphumisiri in 1992 for the 60th birthday of his wife Queen Sirikit. Inside both pagodas is a shrine which is decorated with beautiful mosaics. Surrounding the Two Chedi's is a beautiful garden with a pond, bridge, and lots of flowers.
If you want to finish your Doi Inthanon tour with sunset, then this is the place to be! In that case you should start the day with a visit to Mae Ya Waterfall first. Do check weather before visiting as when I visited it was very cloudy so a sunset wouldn't be worth waiting for. Entrance to the Chedi's is 40 baht per person and a visit probably takes about an hour.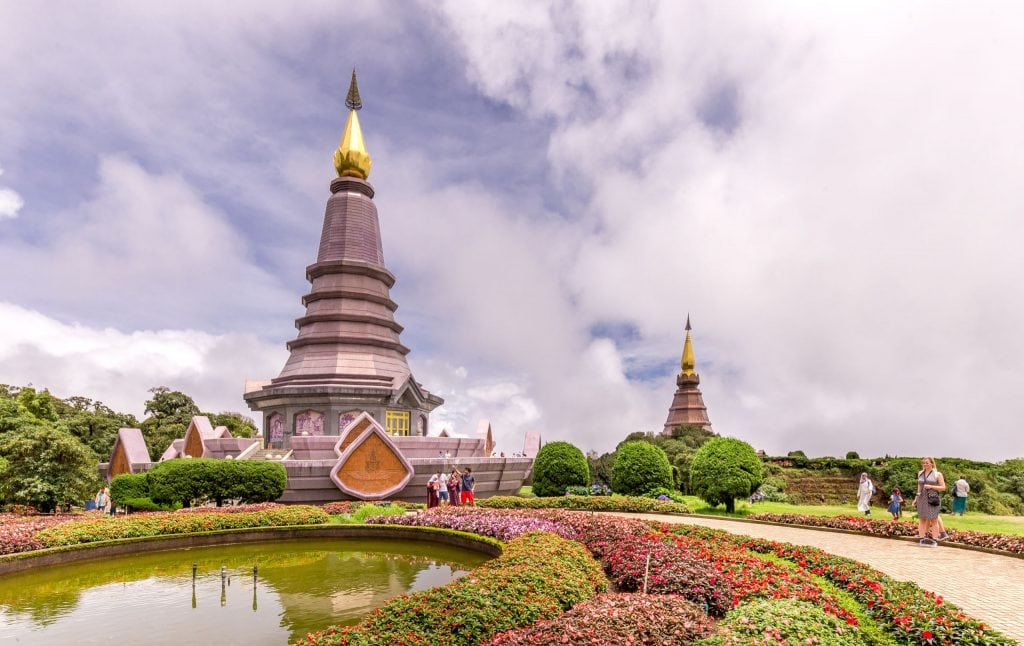 Mae Ya Waterfall at Doi Inthanon
There are many waterfalls in the Doi Inthanon National Park, but the Mae Ya Waterfall is probably the number one. It is a bit out of the way as you must drive another road partly up the mountain so visit this either at the end of the day or at the start of the day. At almost all waterfalls you cannot swim but at the Mae Ya Waterfall you can bathe in the stream in front of the waterfall. The fall itself is a beautiful cascaded waterfall which reminded me a bit of the waterfalls I saw in Jiuzhaigou Nature Park. I spend the rest of the afternoon at the Mae Ya Waterfall before heading back to Chiang Mai for dinner.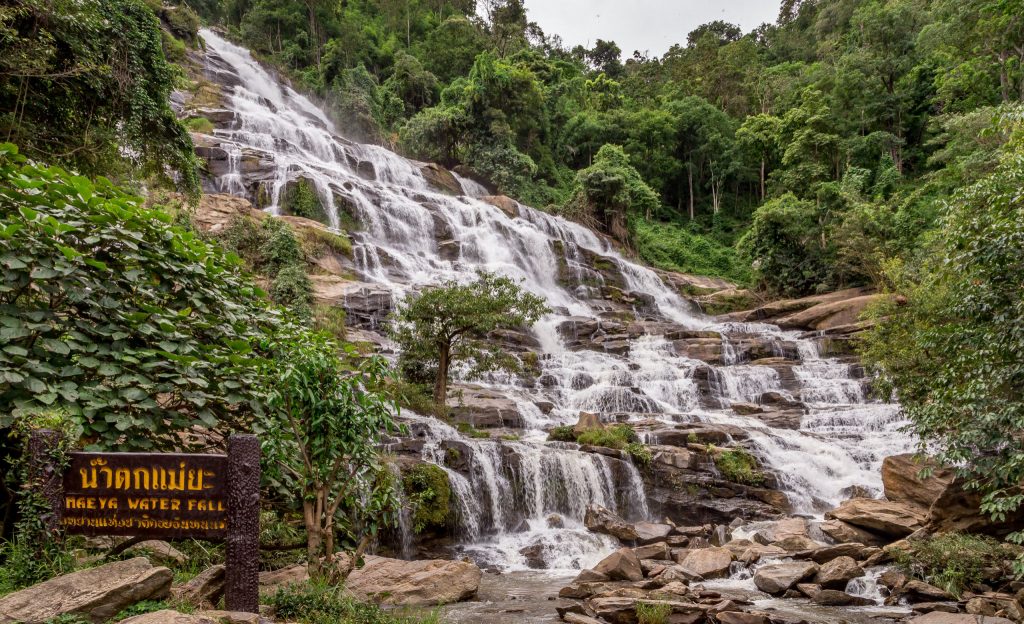 It was early evening when I arrived back in Chiang Mai at the Akyra Manor Hotel. I went for dinner and some Thai craft beer in downtown Chiang Mai before going to bed early. Make sure to check my Chiang Mai restaurant guide! The next day I would continue my Thailand road trip to Sukhothai which is an old capital of Thailand. It's like Ayutthaya which I visited while in Bangkok some years ago. Road tripping Thailand by car is perfectly possible as outside of Bangkok traffic is not that bad! I had fun.
Stay tuned for more stories and subscribe to the newsletter or follow CTB on social media (Facebook, Twitter, Instagram including Instagram stories; on all social media you can find CTB @christravelblog) to get updated information.
Did you visit Doi Inthanon National Park too or do you have questions? Please leave a comment at the bottom of the page. Love to hear from you!
Gallery Doi Inthanon National Park
Click an image for a full screen gallery of more photos taken during this trip. If you like to use any photo for commercial, private or editorial use please contact first for permission and/or pricing.