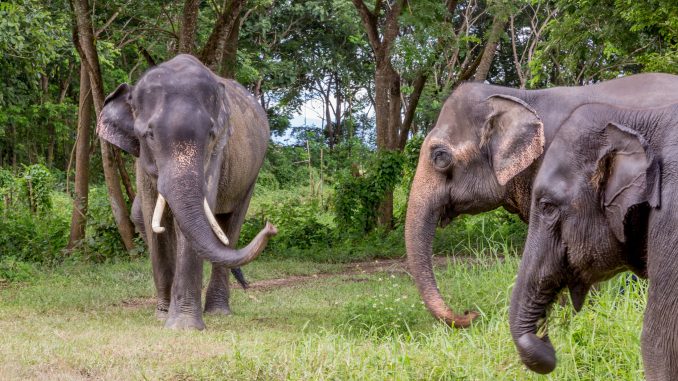 The elephant is an iconic animal in Thai culture but often misused as a tourist attraction. When I planned my 3-week Thailand itinerary I of course had to visit an elephant sanctuary. My kids wanted that too. So, I had to find a Chiang Rai elephant camp. After research, talking to friends and locals I decided to visit the Elephant Valley near Chiang Rai. I was told it's a true sanctuary where no abuse of animals takes place. That's true, and I had a great time learning about elephants and how to treat them at the Chiang Rai Elephant Valley.
Chiang Rai Elephant Valley
The Chiang Rai Elephant Valley is the second elephant sanctuary of the same management in South East Asia. It all started with their Elephant Valley in Cambodia and now Chiang Rai is open too. It's a bit smaller but still covers 40 acres of lush green forest where 6 elephants found their new home. Your contribution makes sure they can expand but that's not all. They provide jobs and one way or another help over 2000 locals too.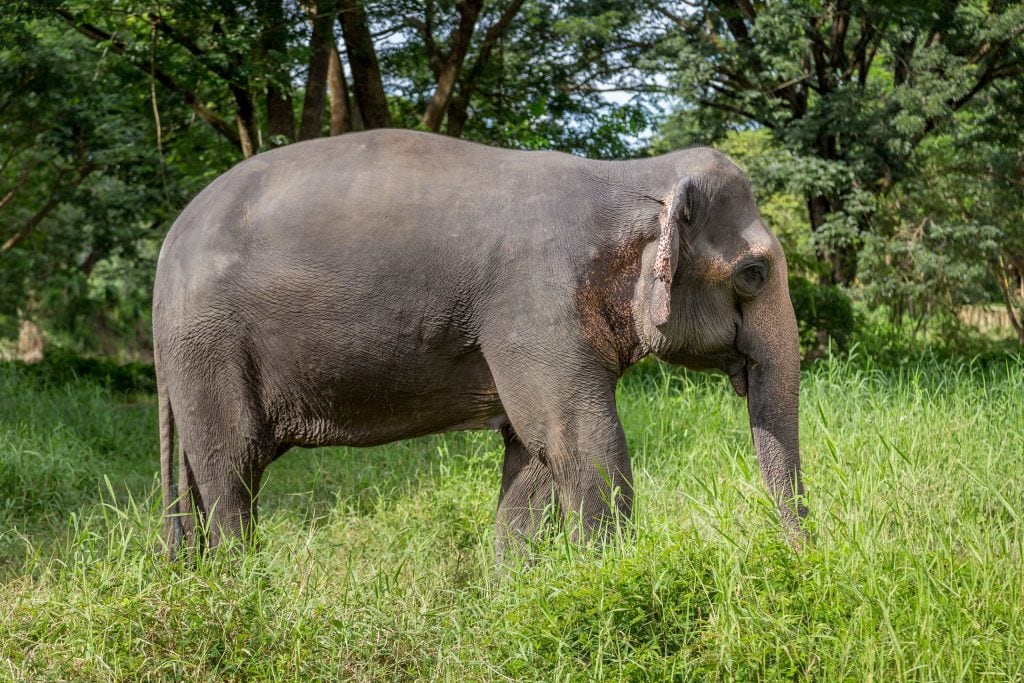 At the Elephant Valley Thailand, the staff allows the elephants to experience a new life without stress which will make their life satisfying. The ethos of the Chiang Rai Elephant Valley is very strict to make sure the elephants have a good second life. The 6 elephants come from the logging and tourist industry where they were abused. Now these 6 elephants' life in peace and can do what they want. The staff takes care of them, washes them, does dental care, and makes sure they are healthy. No more abusing.
Riding an elephant? NO! Swimming with an elephant? NO! Kissing an elephant? NO! Feeding an elephant? YES, at the feeding time at the end of the day for a very short period.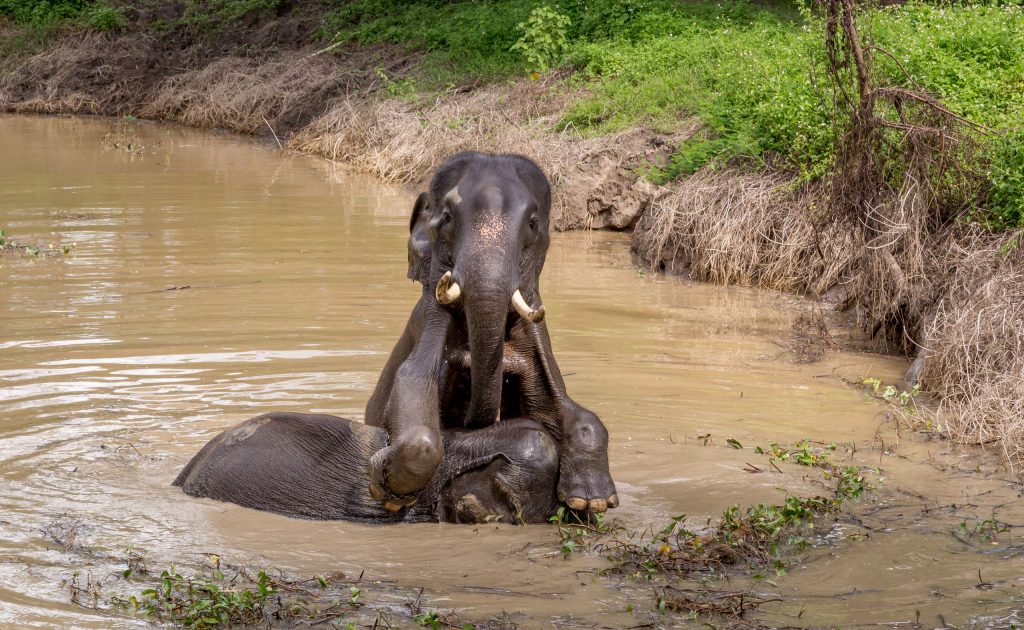 Getting to Chiang Rai Elephant Valley
Unless you're going to volunteer and/or stay at the homestay of Chiang Rai Elephant Valley I recommend visiting the white temple (Wat Rung Kun) in the morning first. The temple just a few kilometers away and together it's a great day trip. I'll covered the white temple already in the 3-week Thailand itinerary and will do an in-depth story later. You can also visit Elephant Valley as a day trip from Chiang Mai if you go early!
I arrived at the Chiang Rai elephant sanctuary at about 12:30. Car parking is available at the entrance as not every vehicle can just enter because of possible bacteria entering the sanctuary. My guide, who was already waiting for me, escorted me to the farmhouse for a short briefing. At 13:30 I was watching elephants bathe and have fun. I love wildlife spotting and here it's just as seeing an Asian elephant in their natural habitat.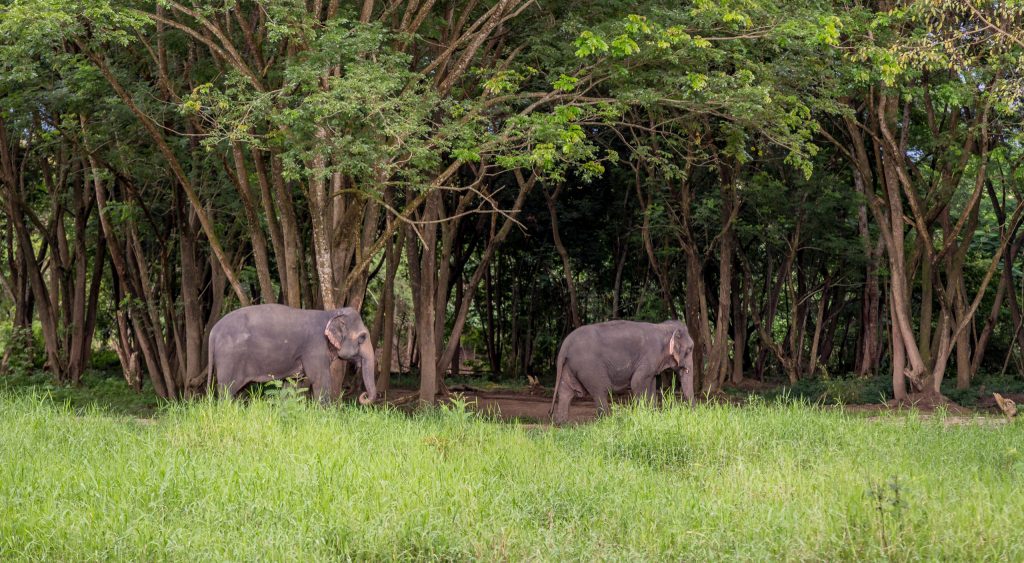 Visiting Chiang Rai Elephant Valley
As mentioned a visit starts with a brief introduction about the Chiang Rai Elephant Valley. You'll learn that an elephant doesn't work. Not logging timber nor entertaining tourists. They relax, eat grass, bamboo, drink water, cover themselves in mud and play with each other. All these activities YOU can see at this elephant sanctuary.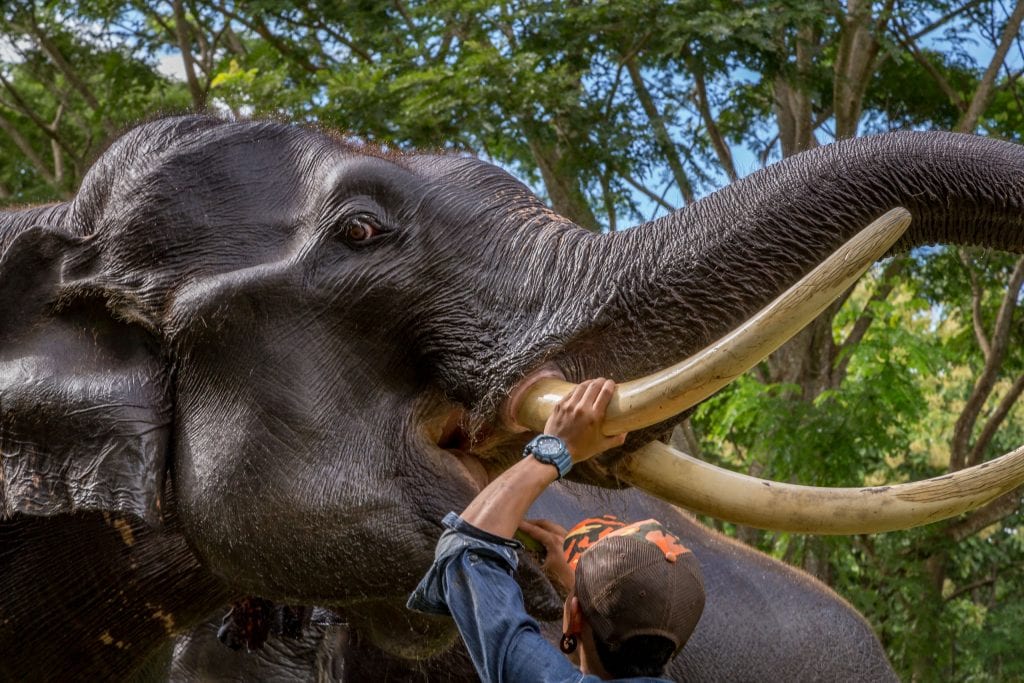 The guide took me to a viewing platform just next to the water where a mother and daughter elephant were playing. Just 100 meters further another elephant was destroying a tree. Eating grass. Playing with mud and getting some fresh bamboo as a snack. I just spend there 2 hours watching those magnificent animals and making photos. THAT you can do!
Elephant feeding
After 2 hours it was time to get back to the farmhouse. One elephant got a shower, his feet cleaned and a bit of dental care. The staff takes care of the elephants so that they don't get sick. Around 16:00 it was feeding time. Just some bamboo shoots which I was allowed to feed too. They are used to people and feeding, just a bit, is all right. My kids loved this! They did want to ride and elephant too but after being at the Chiang Rai Elephant Sanctuary they don't want to do that anymore. They learned.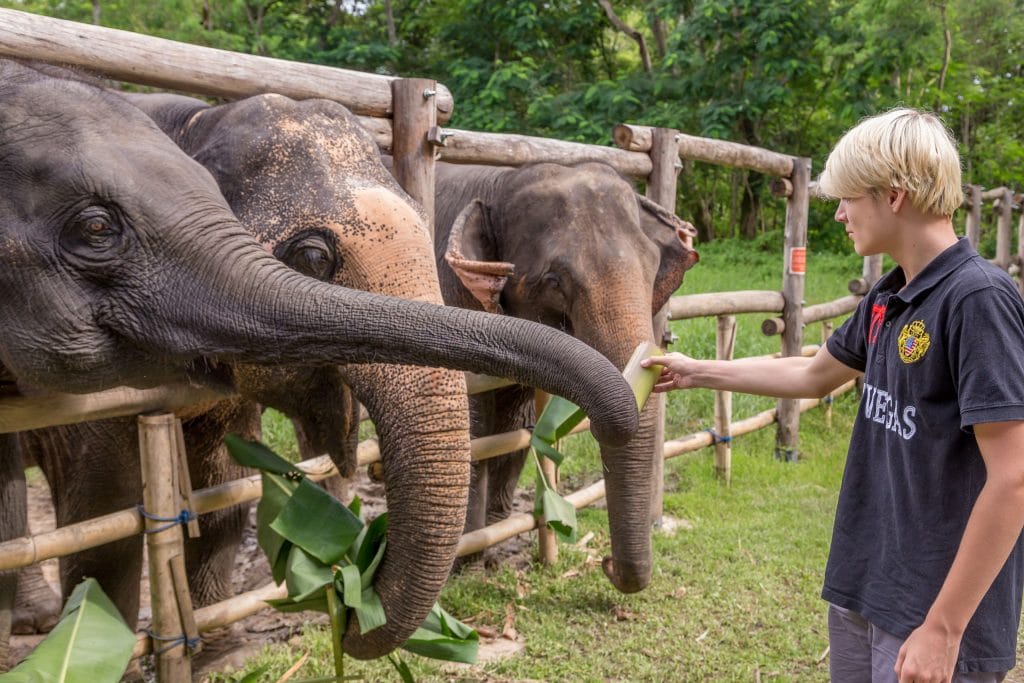 If you are looking for a place to see elephants in Thailand (or Cambodia) then go to Elephant Valley. They truly care about the animals. Do NOT go to any sanctuary or camp where you can ride or swim with elephants. NEVER NOT go to a place where elephants make tricks. I had a great time at the Chiang Rai Elephant Valley and so did my kids. If I had known you can stay overnight before I planned my 3-week Thailand itinerary I probably would have done that. Now, I went further north where I stayed at Katiliya Mountain Resort & Spa.
Stay tuned for more stories and subscribe to the newsletter or follow CTB on social media (Facebook, Twitter, Instagram including Instagram stories; on all social media you can find CTB @christravelblog) to get updated information.
Did you visit Chiang Rai Elephant Valley too or do you have questions? Please leave a comment at the bottom of the page. Love to hear from you!
Gallery Chiang Rai Elephant Valley
Click an image for a full screen gallery of more photos taken during this trip. If you like to use any photo for commercial, private or editorial use please contact first for permission and/or pricing.