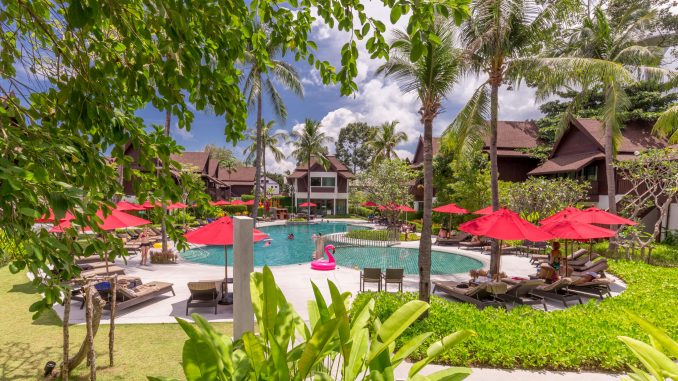 Amari Koh Samui is a luxury hotel located in Chaweng beach area on the island of Koh Samui. Chaweng beach is the area of the island where all the action is taking place. There are plenty of restaurants and bars, a beach, nightlife spots, and lots of activities for kids. I wanted to stay in this area with my family when I travelled 3 weeks in Thailand. I booked 3 nights at the Amari Koh Samui because I had such a great stay at Amari Phuket a year earlier with my daughter. I had a great time with my family and in this review, I will show you Amari Koh Samui in detail but first let's start with a short video introduction.
The hotel
Amari Koh Samui is located at the northern end of Chaweng Beach just 5 minutes from the airport. The road along the beach runs "through" the property which means it has a garden wing and a beach wing and both have their own swimming pool. When I arrived at Koh Samui airport with my family the Amari Koh Samui shuttle driver was already waiting for me to take me to the hotel. At check-in I was offered a cold towel, juice, and a flower necklace which especially my daughter loved.
The reception is in the beach wing and my room was in the garden wing but golf carts are there to take you and your luggage to the room. My kids always love resorts which have golf carts. The beach wing is a kind of U-shaped building with various rooms, restaurants, a gym, and spa. This wing does have the quickest access to most facilities including the beach. I however advise staying in the garden wing which has villas with rooms in a garden setting. This makes you feel like you're away from busy Chaweng area. Now let's look at the rooms of Amari Koh Samui.
The rooms at Amari Koh Samui
As I said I booked rooms in the garden wing of Amari Koh Samui. My kids (11 and 14) normally sleep in one room and I in the other room with my wife. The rooms where located on the second (top) floor of two villas and connected by a small patio. Both rooms where the same and both had a balcony with pool view.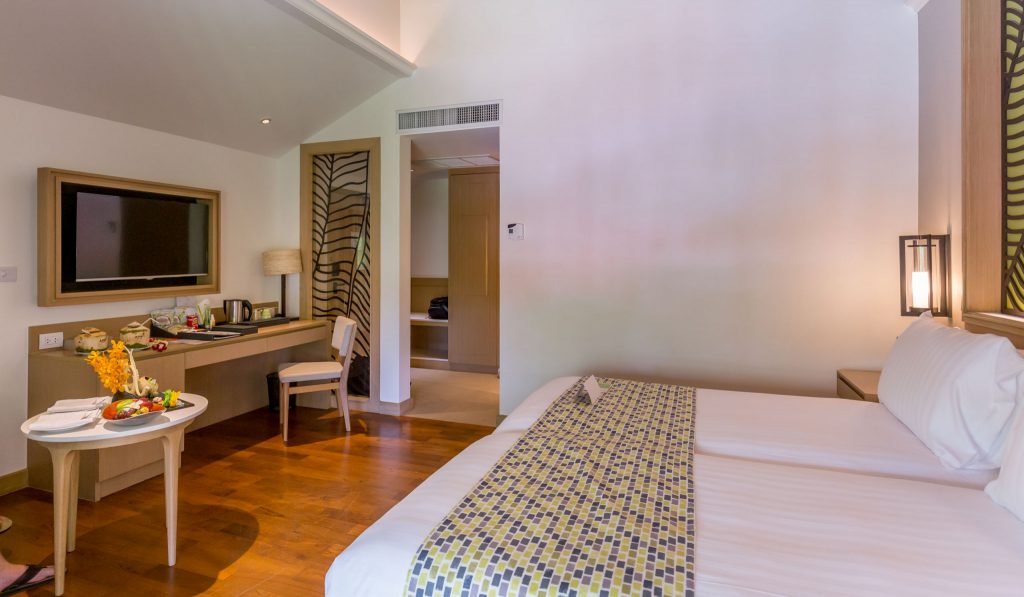 A hotel always gets a plus from me if there is fresh fruit in the room but at Amari Koh Samui it was even better! Fruit, of course water, but also some pastries and a fresh coconut were part of the welcome gift. The staff at Amari Koh Samui really knows how to spoil their guests. It's a comfortable spacious room with a wooden floor (great!) and large king bed. Of course, there are all the other amenities like a safe, affordable mini bar, TV and more. The bathroom is large, some have baths but mine didn't, and if you require something the staff will make sure you get it.
During a family trip you're always together and a large room is necessary to create a bit of privacy too. I enjoyed the room and so did my kids. My son even stayed a day alone to be away from his parents and sister. He skipped the Koh Samui island tour but that's fine with me as I understand that kids also need their own time.
Facilities at Amari Koh Samui
Amari Koh Samui offers all the basic facilities you can expect from a luxury resort which I won't explain in detail. I will show you the spa, amazing pool and beach which are the main facilities you probably visit. My hour alone with my daughter was mainly eating macarons but my wife went with her to the spa. They returned all zen and told me the staff was so kind and the products used of top quality. My daughter even bought some to take home. Do book in advance as with just 3 treatment rooms they fill up quickly.
My family and I are not beach persons unless it's a magical unspoiled beach. We spend most of our time at the pool of the garden wing. Try their fresh spring rolls of the pool menu and make sure to be there between 2-3PM for cocktails at just 110 Baht (about 3 USD). Happy hour is always a good thing. I did walk along the beach and had a foot massage at one of the many (third party) massage huts. Also, a kayak or jet ski tour is something I recommend. With the kayak you can reach the small island just a couple of dozens of meters off the coast. It's always great to have a choice between beach and pool especially with kids. Amari Koh Samui is designed to offer both which I really enjoyed.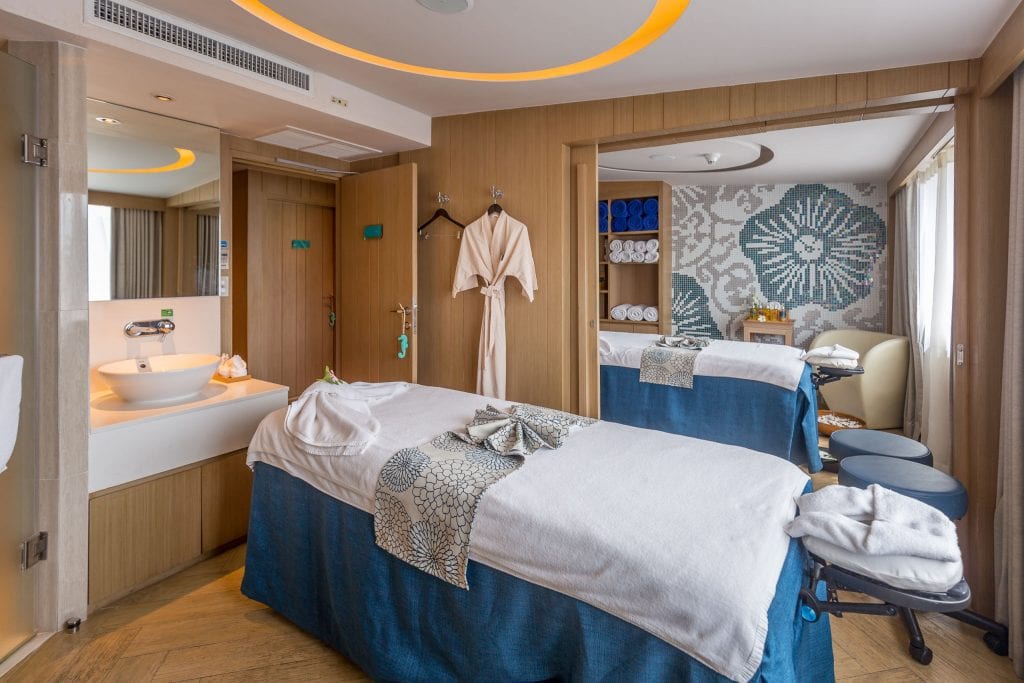 Dining & Drinking at Amari Koh Samui
Dining at Prego restaurant of Amari Koh Samui is simply a must. It's an Italian restaurant where chef Marco creates amazing dishes. I highly recommend the mixed anti pasti plate to share as a starter. It's huge! The mixed sea food platter for two is a must try as a main and easily serves 3 too. My son had a steak and he knows what is good and he told me at Prego the steaks are good! My daughter tried their pizza and the dessert she had a delicious tiramisu like me. As a bonus, at least for me, they had Italian craft beer in bottles AND on draft! I had probably the best dinner on Koh Samui here, or was it the burger at Stacked?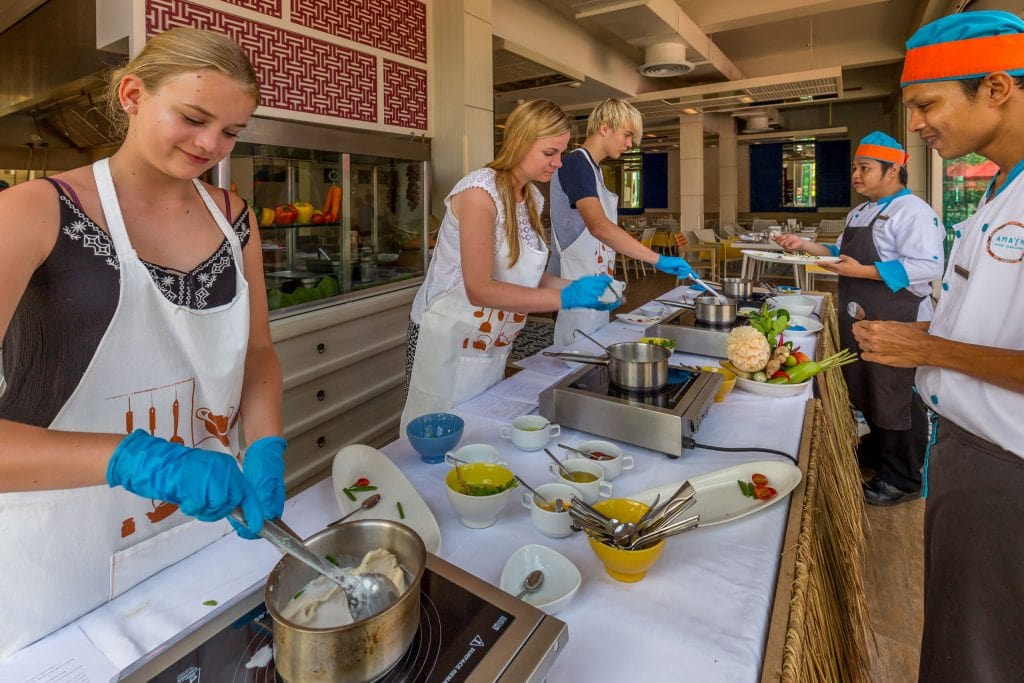 Breakfast is served in the all-day dining restaurant in the beach wing of Amari Koh Samui and has way too many choices. One of the nights I went for a Thai buffet which was delicious. Amari Koh Samui can also prepare for you a table on the beach for a romantic dinner. One thing I recommend doing, also with kids, is a Thai cooking class at lunch time. How cool is it to cook your own lunch? I had fun and so did my family.
One afternoon when my wife and son had some mother son time I went with my daughter to Amaya Cafe. They serve delicious various pastries and macarons which my daughter is addicted to. We had many! Altogether there are plenty of food and beverage outlets at Amari Koh Samui. If you're staying at Amari Koh Samui for just a night or preferably more a dinner at Prego is a must.
Conclusion
I recommend adding Koh Samui to a 3-week Thailand itinerary. It's a beautiful island where you can see culture, go diving or snorkeling or party all night long. Amari Koh Samui should be your hotel as it's THE luxury family resort on the island. They have two large pools, direct beach access and plenty of dining options. The rooms are large and comfortable. At the spa it's great to relax and the fact that everything is within walking distance makes this the first choice on the island. I had a great time and my family did too. Amari Koh Samui is a place I highly recommend staying at.
If you would like to know what you can do in and around Koh Samui then see one of these options: 3 weeks in Thailand including Koh Samui. I will add more destination information over time.
For more hotel information and booking options please visit the website of Amari Koh Samui or subscribe to the Facebook page of Amari Koh Samui to receive the latest hotel news.
Stay tuned for more stories and subscribe to the newsletter or follow CTB on social media (Facebook, Twitter, Instagram including Instagram stories; on all social media you can find CTB @christravelblog) to get updated information.
Gallery of Amari Koh Samui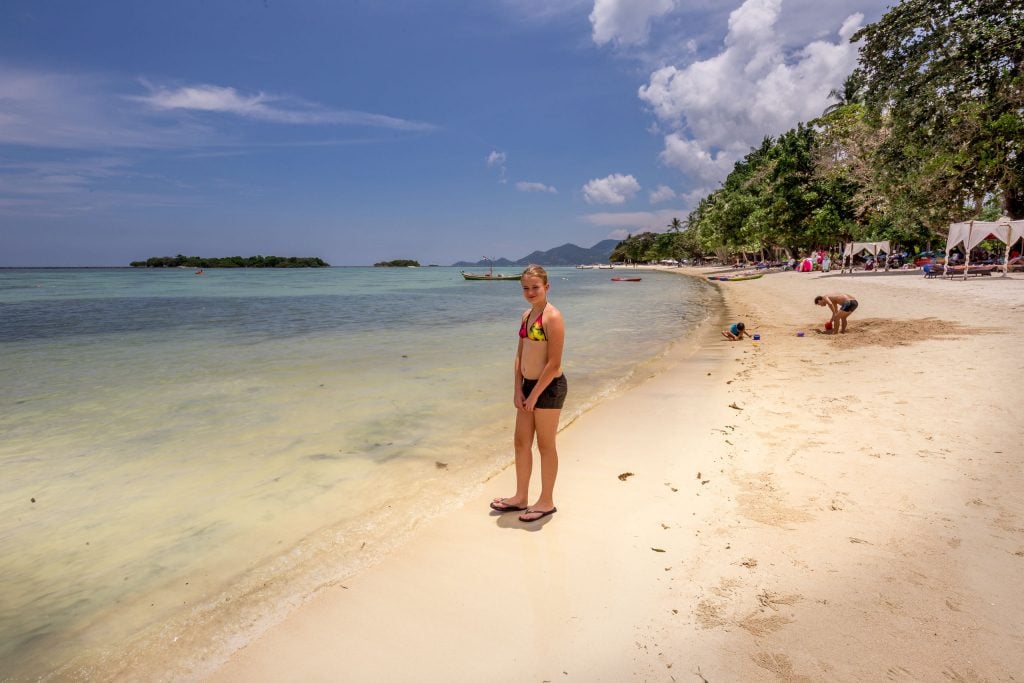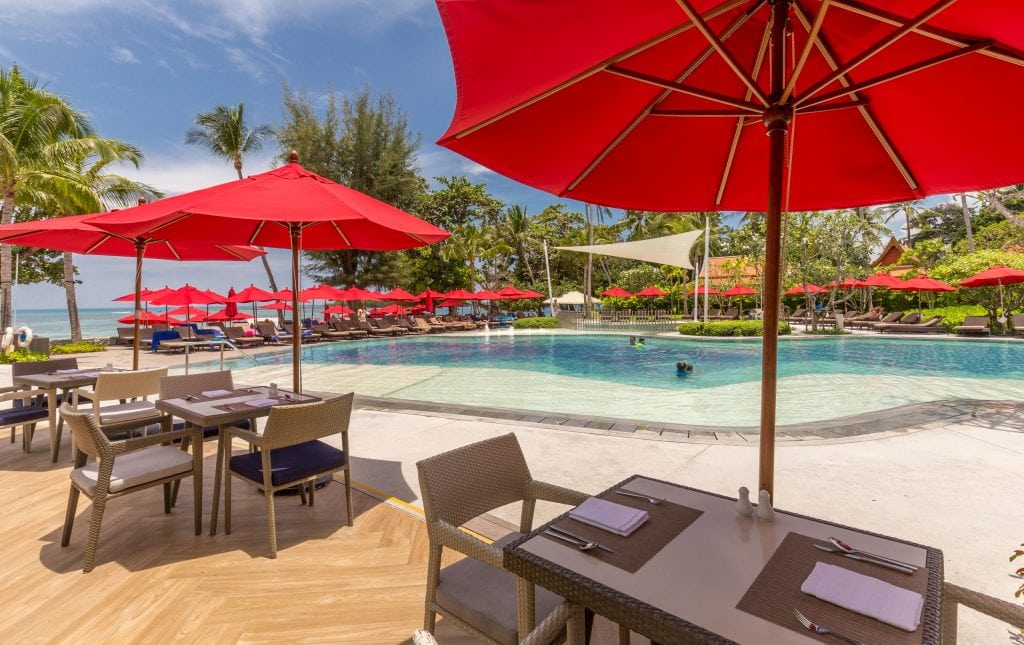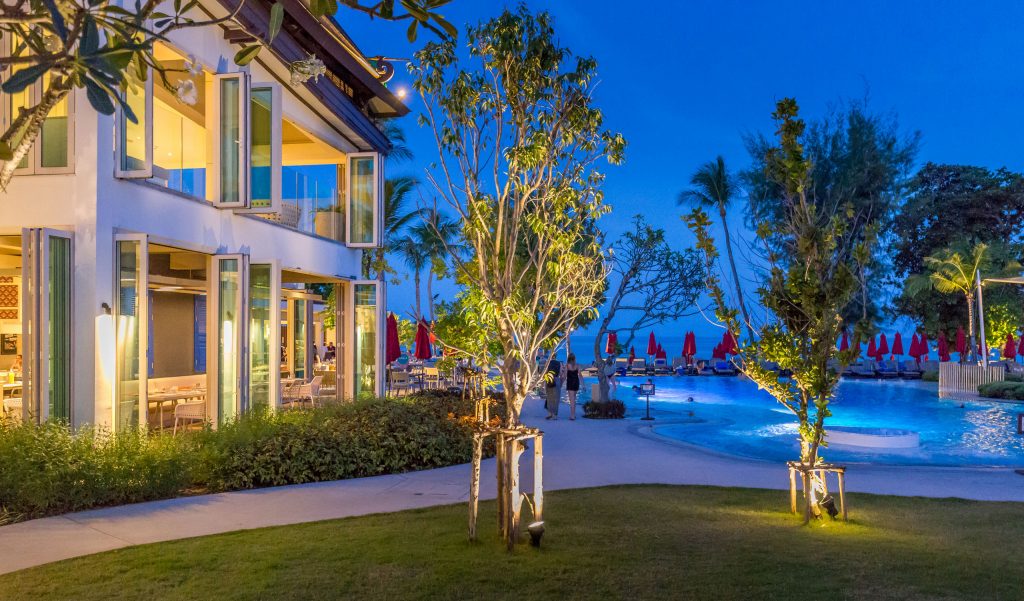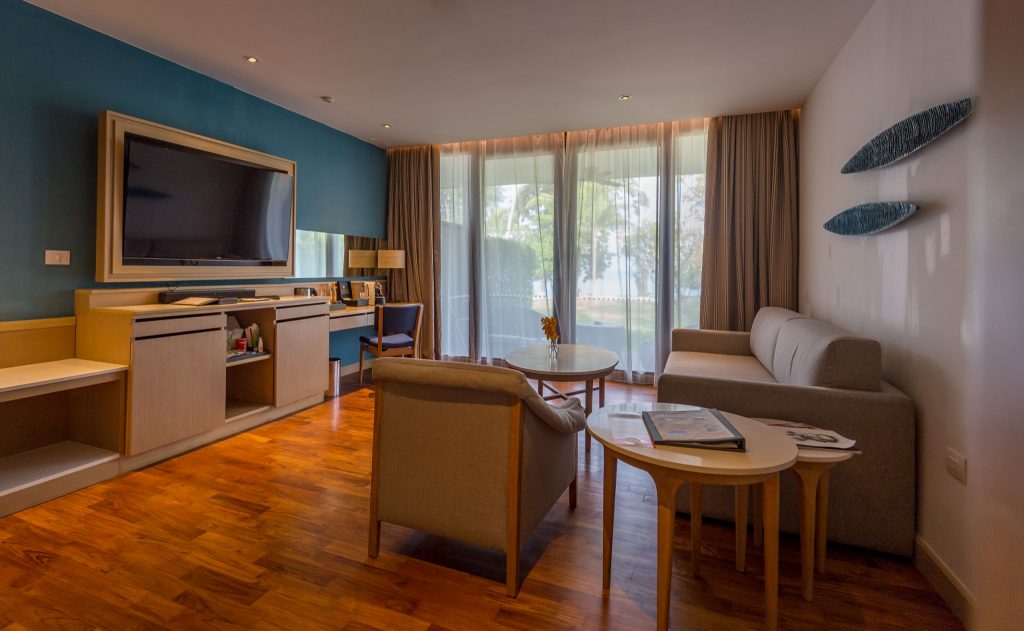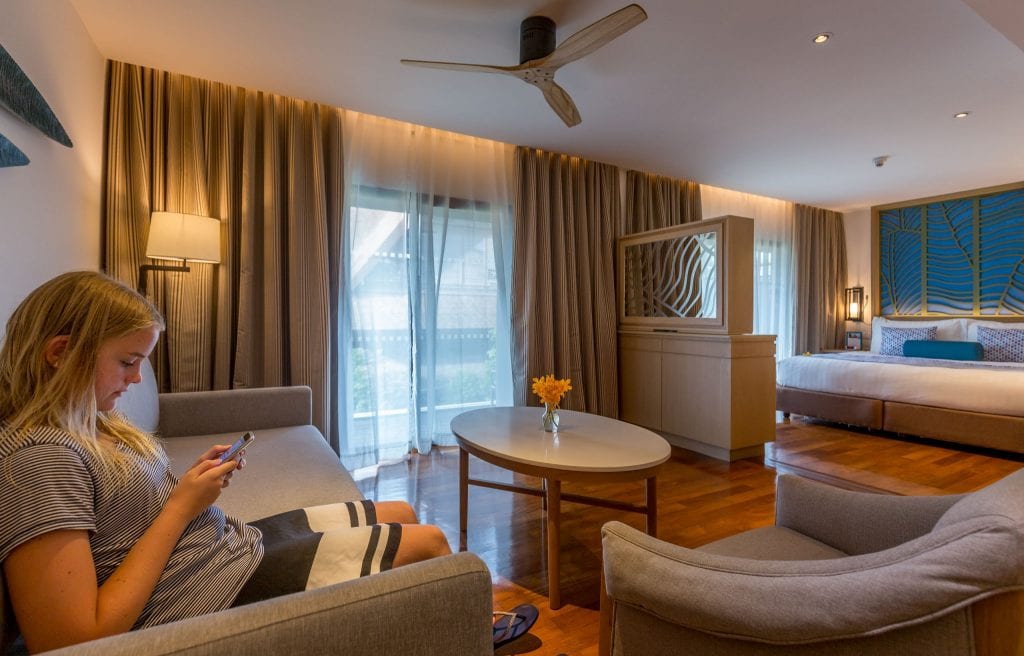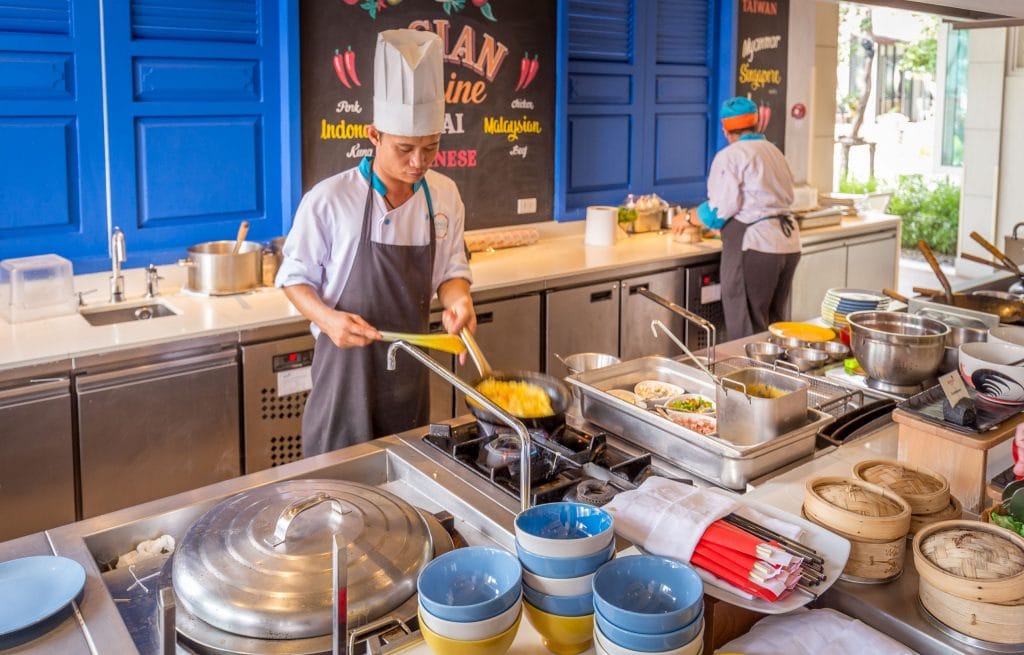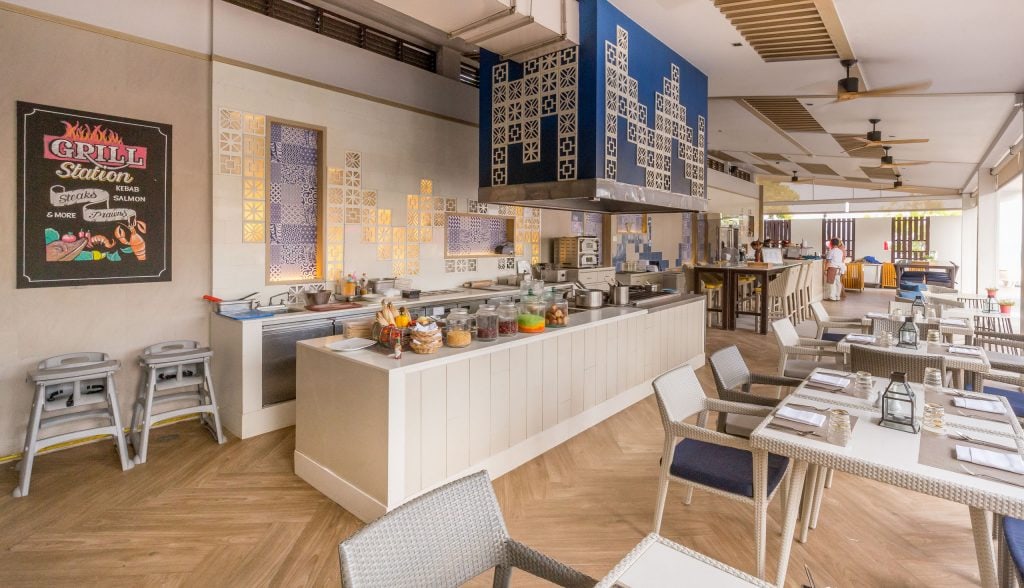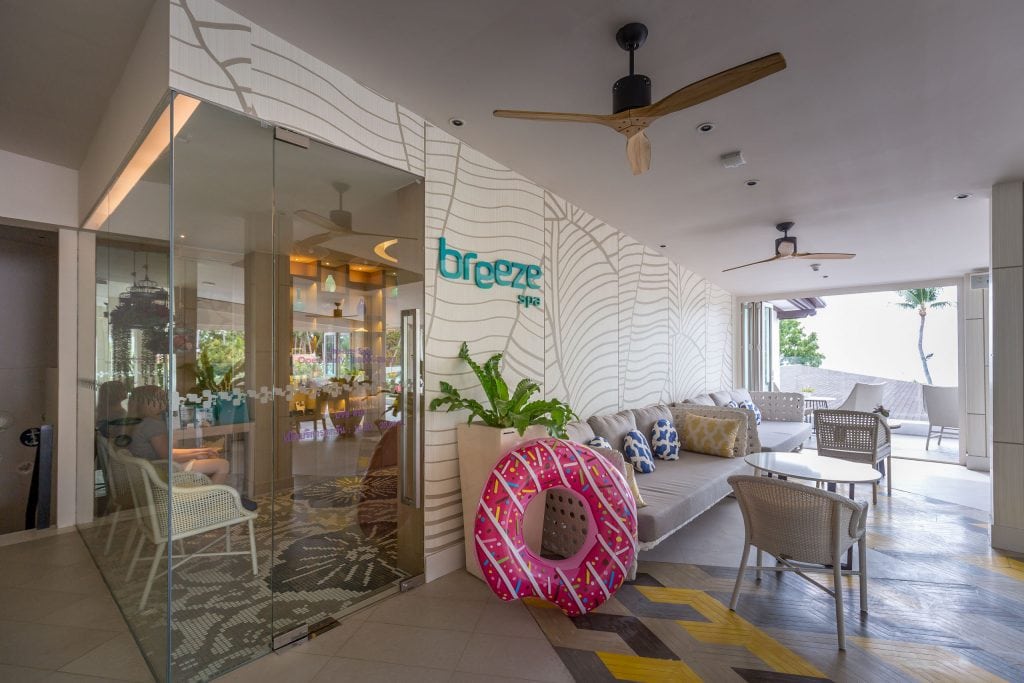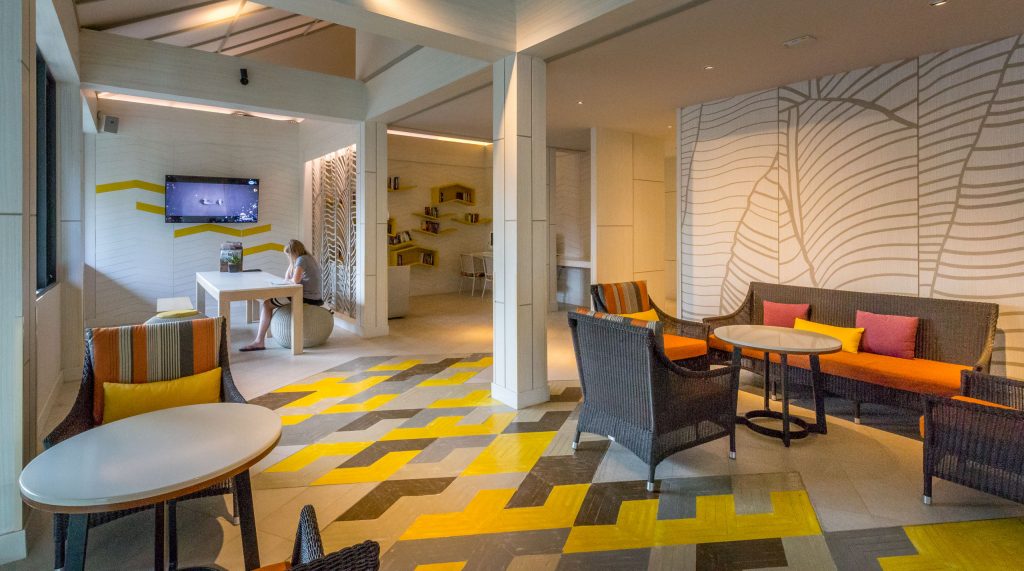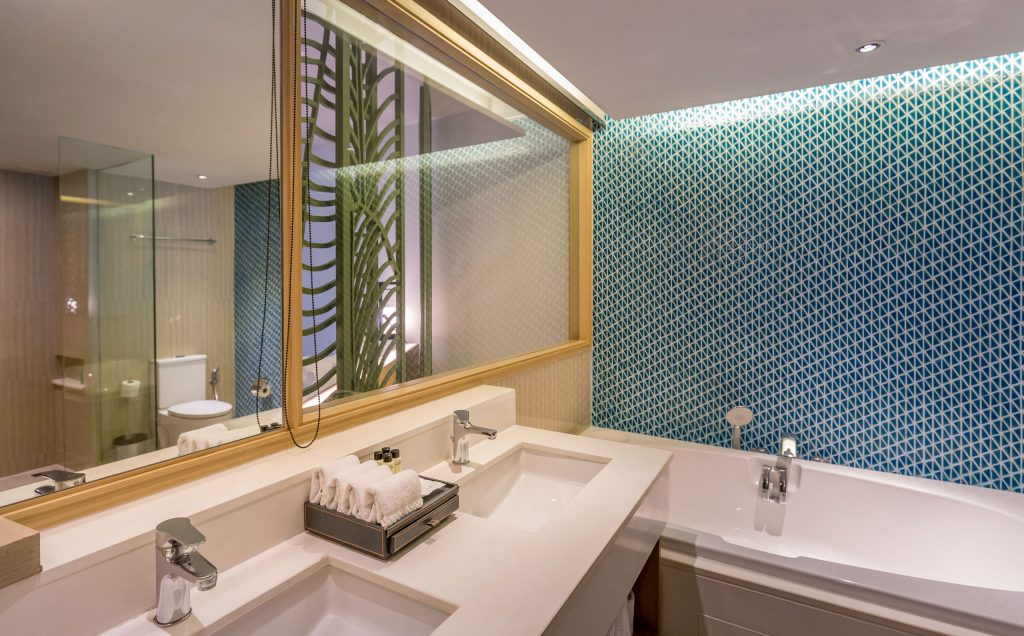 ** All opinions are based on a genuine stay, flight or experience. I'm not affiliated with the hotel, airline or tour operator but I might be (partially) sponsored – or paid. **