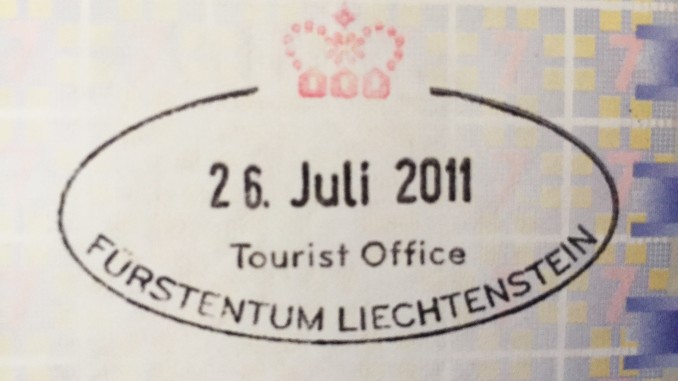 #TBT [ThrowBackThursday] week 8 of 2015, Getting a Liechtenstein passport stamp, a tiny country!
Since Europe introduced the Schengen area there are less and less passport stamps given out to travelers. Most borders are fully open and you will not find more as a small sign that you enter another country. If you enter the Schengen area all the stamps are the same except the way of entry and city written on it. It is really difficult to collect these but even for a European the Schengen stamps can be collected if you have trips going out of Europe and you ask the immigration officer in a friendly way. As a collector of stamps this made it difficult to get a few dozen of stamps from the European countries.
Luckily there are still a few very interesting stamps to get of which a Liechtenstein passport stamp is one. Back in 2011 I got my first stamp of one of the European micro states: Liechtenstein. You can collect the stamp at the main square at the tourist office by paying a few Swiss francs. If you are visiting Liechtenstein you probably need not more than a day to explore it. Read what we did here.
Stay tuned for more stories and subscribe to the newsletter or follow CTB on social media (Facebook, Twitter, Instagram including Instagram stories; on all social media you can find CTB @christravelblog) to get updated information.
Did you visit Liechtenstein too or do you have questions? Please leave a comment at the bottom of the page. Love to hear from you!