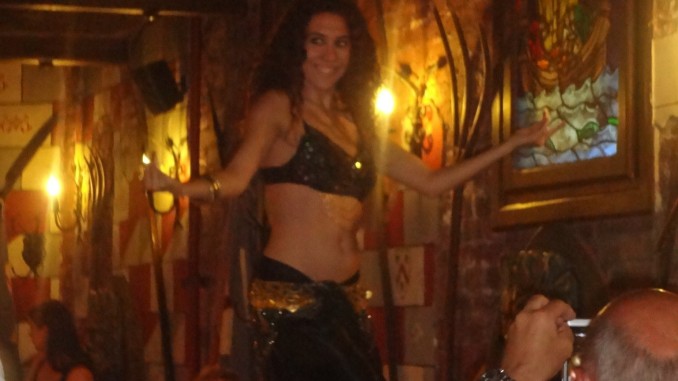 #TBT [ThrowBackThursday] week 20 of 2015. This week, something I remember from my visit to Hungeary, 1 of the 52 countries I visited prior to 2015.
A medieval dinner with belly dancers in Budapest
This time a memory from Budapest which I still remember and comes up quite often when we travel as a family. It was a family trip with the kids. One evening we came across a medieval restaurant. My son wanted to go and my daughter agreed too. Once inside we were put on a long table like in the Middle Ages next to other people. The fun for my daughter already was half away. Then we ordered a mixed roasted meat plate with too much meat. At this point the fun for my daughter had sunken to the lowest point. The reason was that we eat with our hands like the middle ages. My son was enjoying it a lot and eating the one piece of meat to the bone after the other. My daughter did not eat anything, she was the princes. During and after dinner we enjoyed some traditional belly dancing! Still today when we come across a similar restaurant we laugh about this. The trip was fun altogether but this memory is the key one.
Curious what I did more in Hungary? Read it here.
Stay tuned for more stories and subscribe to the newsletter or follow CTB on social media (Facebook, Twitter, Instagram including Instagram stories; on all social media you can find CTB @christravelblog) to get updated information.
Did you visit Hungary too or do you have questions? Please leave a comment at the bottom of the page. Love to hear from you!