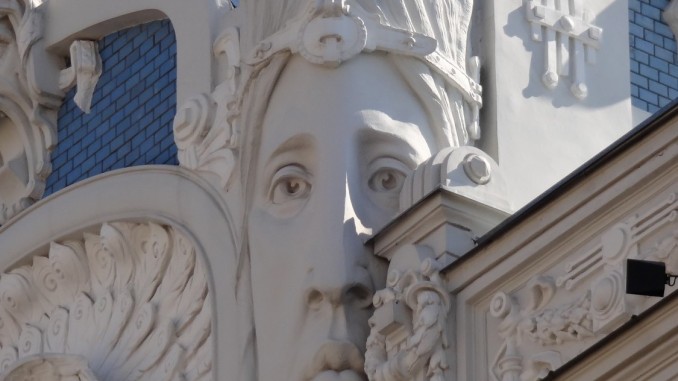 #TBT [ThrowBackThursday] week 17 of 2015. This week, something I remember from my visit to Riga, Latvia, 1 of the 52 countries I visited prior to 2015.
Visiting Riga with kids
Today I was going through the countries I had visited thinking about a good story to share with you. When I thought about Latvia I remembered all the Art Nouveau/Jugendstil style buildings they have. However, the best things I always remember are the personal things. One of the days my daughter (6 years then) went to a beauty salon with her mother to get the nails done and so on. Not for boys! So I went with my son exploring Riga outside the historical old town. That day he was not so good at listening to his dad, so I thought to make a joke and learn him a lesson. I took him to a neighborhood, I not even remember which, but with nice old wooden houses. Not much to see otherwise. There I decided to walk some back alleys and so and tell him scary stories. He (then 9 years) believed this and after 10 minutes he wanted to go back to the old town and promised to listen better to me. The rest of the day was great! We spend most time in a kind of science museum in old town and he learned some good lesson to listen to his parents better or ……
Curious what I did more in Riga, Latvia? Read it here.
Stay tuned for more stories and subscribe to the newsletter or follow CTB on social media (Facebook, Twitter, Instagram including Instagram stories; on all social media you can find CTB @christravelblog) to get updated information.
Did you visit Riga too or do you have questions? Please leave a comment at the bottom of the page. Love to hear from you!