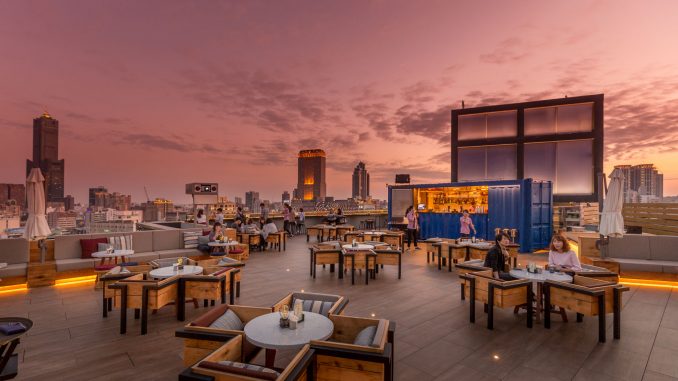 Kaohsiung is a huge and fast developing city in southern Taiwan and a great base to explore the south of the island. It's a harbor city since ancient time and that's why Indigo Kaohsiung Hotel blends seafaring with luxury. Indigo hotels are part of the Indigo hotels and each hotel is inspired by a different local theme. I like this idea and that's why I always try to stay in an Indigo hotel if there is one in the city. I recommend Indigo Kaohsiung Hotel and the why I'll share with you in this hotel review but first I'll show you a short video impression.
The hotel
Indigo Kaohsiung Hotel is centrally located just next to Central Park in downtown Kaohsiung and about 15 minutes from the airport. I however was doing a 14-day Taiwan road trip by car so I arrived at the hotel by car. They offer valet parking which is something I like; not worrying about parking. The staff made my check-in fast and pleasant so that I was in my room in no time. When I entered the Indigo Kaohsiung Hotel, I noticed the huge forward part of a ship and all kinds of other ship related details. They really did a good job decorating the place with seafaring objects; they are in every corner!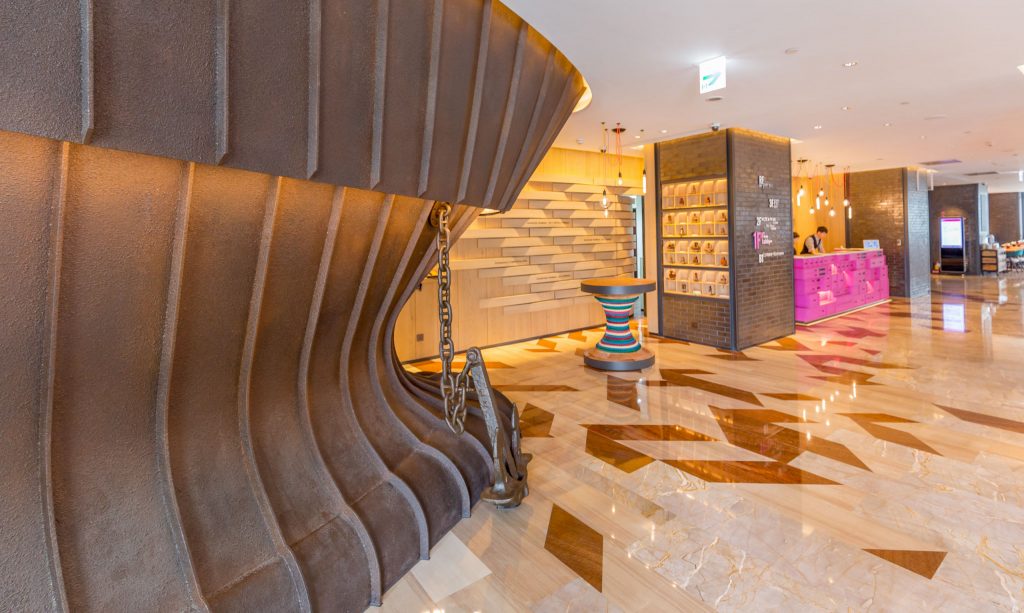 Indigo Kaohsiung Hotel is one of the taller buildings in Kaohsiung and the views are amazing. I highly recommend that check and book a room at the higher floors. The building was recently renovated just before the Indigo Kaohsiung Hotel opened its doors just over a year ago. The lobby, restaurant and rooms are all spacious with light colors. Its atmosphere is boutique. Make sure to check with the concierge about local secrets for dinner or sightseeing. The staff really knows where to go and make the stay efficient and enjoyable. I had a great time in this luxury seafaring inspired hotel.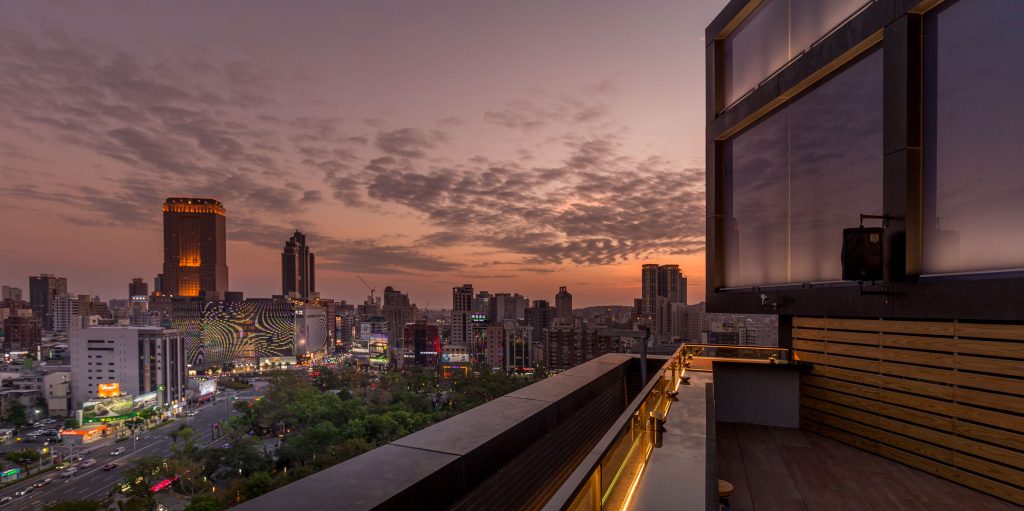 The rooms at Indigo Kaohsiung Hotel
The rooms of the Indigo Kaohsiung Hotel are spacious, comfortable, and beautiful decorated in a boutique style. Everything fits together and if you look closely you'll discover more seafaring decorations all the time. Customs stamps on the wall, blue tiles in the bathroom, lamps, stools and much more remind of Kaohsiung's heritage. I do recommend staying on the higher floors for awesome views on Kaohsiung Central Park.
I had a lovely 3-night stay during my 14 day Taiwan road trip and slept amazingly good in the comfortable beds. As my son was travelling with me I booked a suite. I find it important to have a suite when travelling with my kids so that they can have privacy too. The bathrooms are large and those with a panorama bath overlooking Kaohsiung Central Park are the most amazing. Amenities are all there but if something is missing the staff will supply where possible. I loved the combination of the spacious comfortable room and the boutique style. Indigo Kaohsiung Hotel is a unique hotel with unique rooms.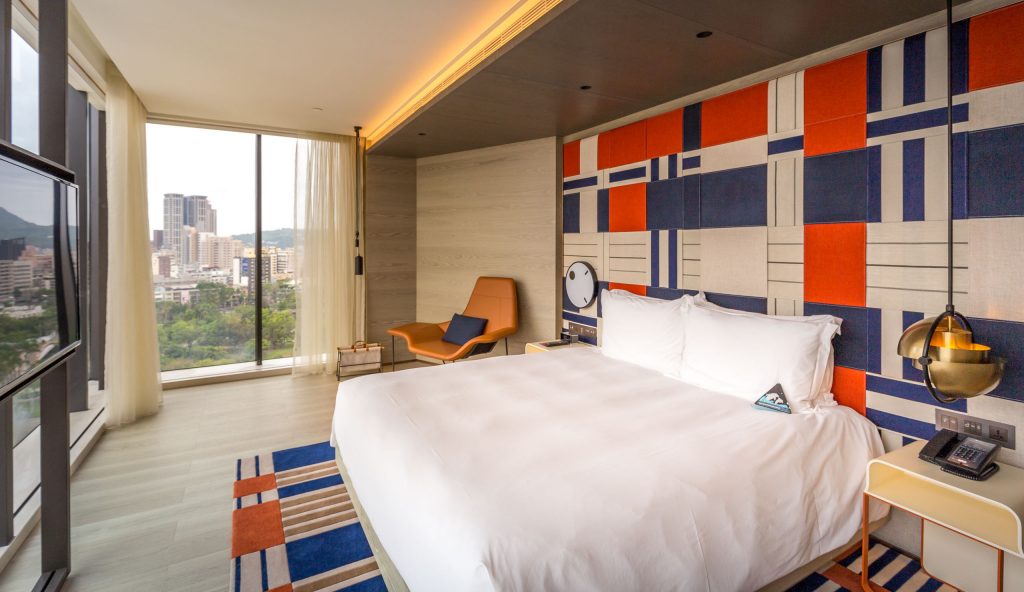 Facilities at Indigo Kaohsiung Hotel
As I already mentioned in the introduction Indigo Kaohsiung Hotel has valet parking which especially comes in handy when parking is a few hundred meters away. I don't lose my precious time parking the car, getting the car, which is all done by the staff. This time I used to finally go to the gym! Make sure to check with the concierge for a Kaohsiung sightseeing itinerary, they know where you must go. You can also read my 14-day Taiwan road trip itinerary to find out of course! They helped me get to the best night market, the one the locals go to! I appreciate such insider tips from a concierge as this makes my trip more efficient and enjoyable. Great staff!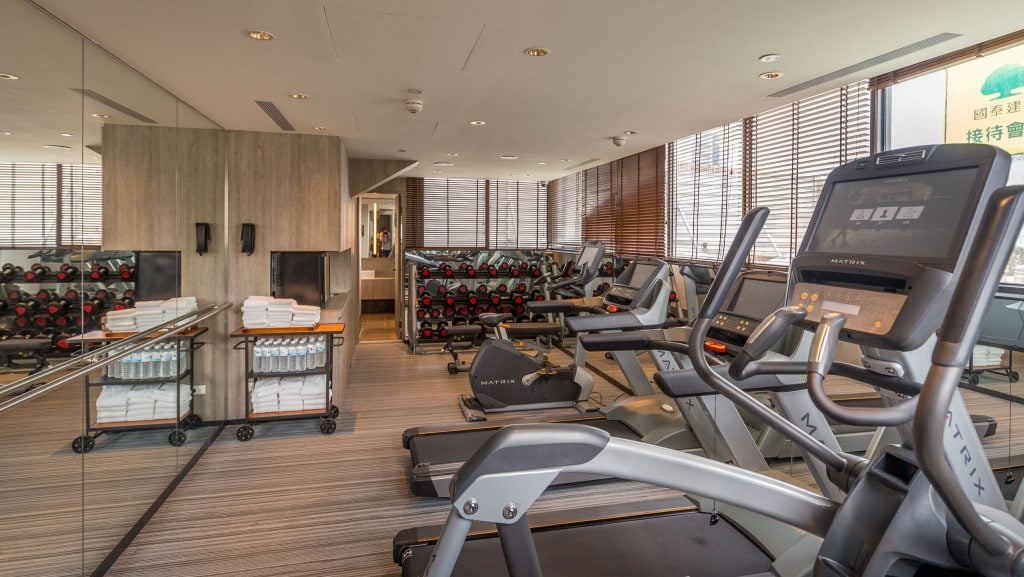 Dining & Drinking at Indigo Kaohsiung Hotel
One reason alone to choose Indigo Kaohsiung Hotel is their rooftop bar Pier 1! It gives almost 360 degrees views over Kaohsiung and it's amazing to watch sunset there. They even serve craft beer which I personally really enjoy but they also serve the best cocktails in town! One night it was raining but both other nights I enjoyed Pier 1 rooftop bar and the beautiful sunset over Kaohsiung Central Park.
Wok On The Park is and all-day dining restaurant on the second floor of Indigo Kaohsiung Hotel. Breakfast choices are extensive and lots of items are prepared in front of you. Fresh noodles, eggs, and juices. The lobby bar is a great place to relax or have a freshly brewed coffee with a sweet. Macarons are my choice! The area around Indigo Kaohsiung Hotel has plenty of restaurants and the concierge can advise where to go. Just don't miss the night market where you must try the delicious street food.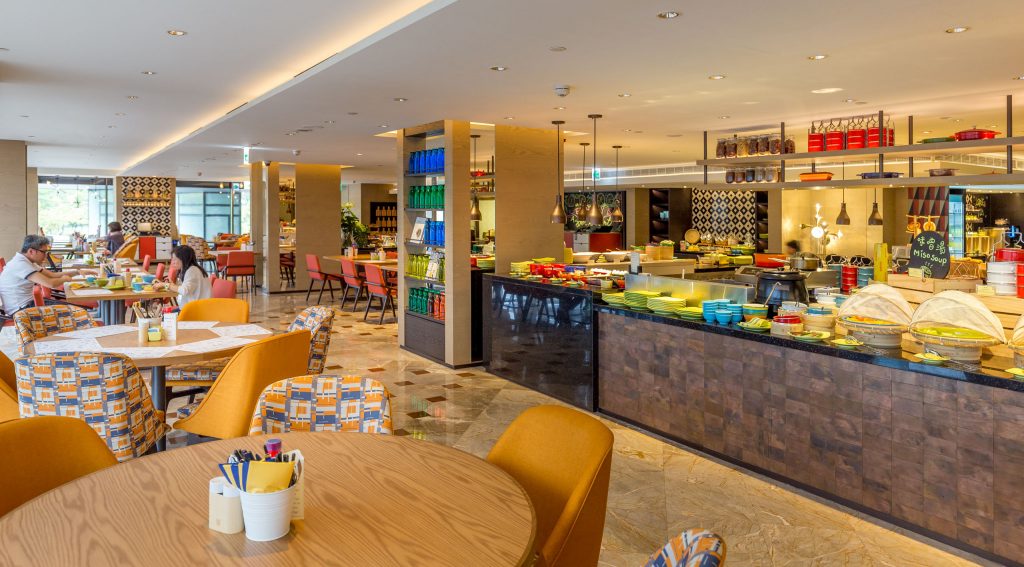 Conclusion
If you visit Kaohsiung in southern Taiwan I recommend staying at Indigo Kaohsiung Hotel. They offer luxury combined with local seafaring heritage which results in something unique. I love boutique style hotels and Indigo hotels are amongst my favorites. Their rooms are spacious and comfortable with amazing views on Kaohsiung Central Park. Pier 1 rooftop bar is just awesome at sunset while sipping a cocktail. What more do you want? Breakfast? Breakfast has so many choices you won't be able to test all! Indigo Kaohsiung Hotel made my stay in Kaohsiung a memorable one and I'm sure you will enjoy it too!
If you would like to know what you can do in and around Kaohsiung then see one of these options: How to spend 14 days in Taiway. I will add more destination information over time.
For more hotel information and booking options please visit the website of Indigo Kaohsiung Hotel or subscribe to the Facebook page of Indigo Kaohsiung Hotel to receive the latest hotel news.
Stay tuned for more stories and subscribe to the newsletter or follow CTB on social media (Facebook, Twitter, Instagram including Instagram stories; on all social media you can find CTB @christravelblog) to get updated information.
Gallery of Indigo Kaohsiung Hotel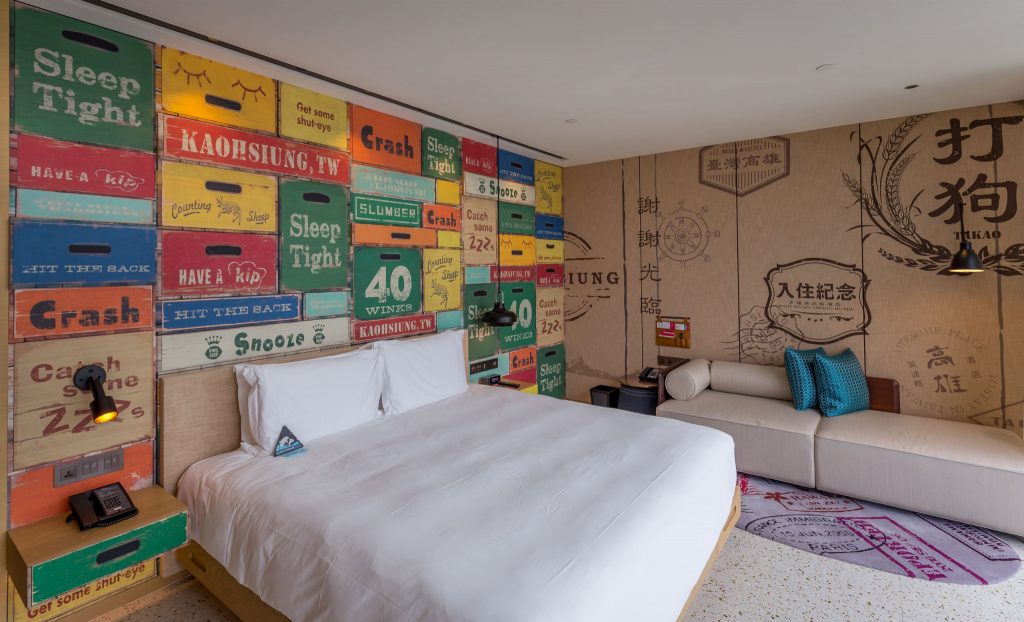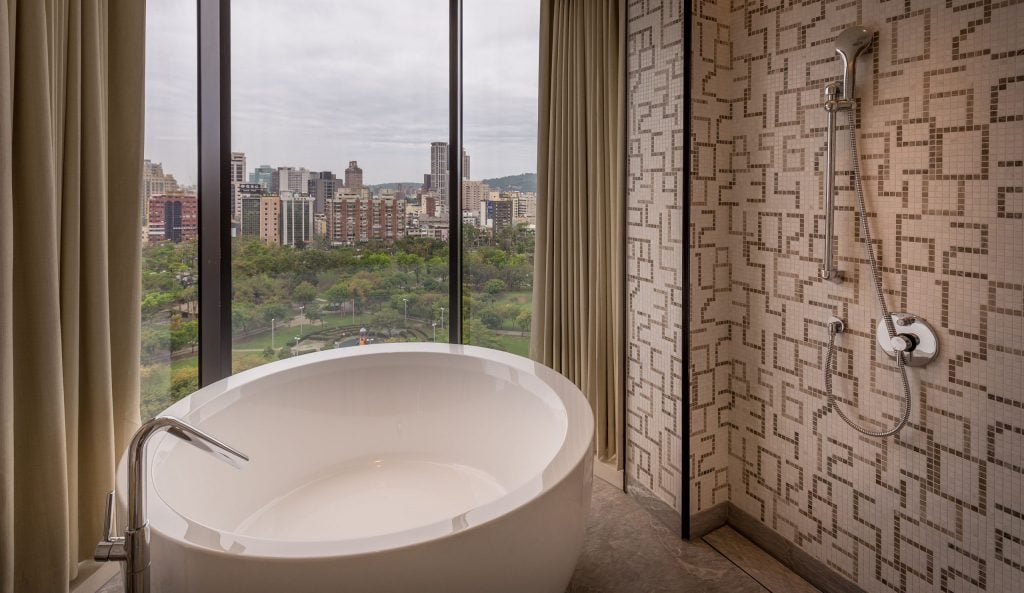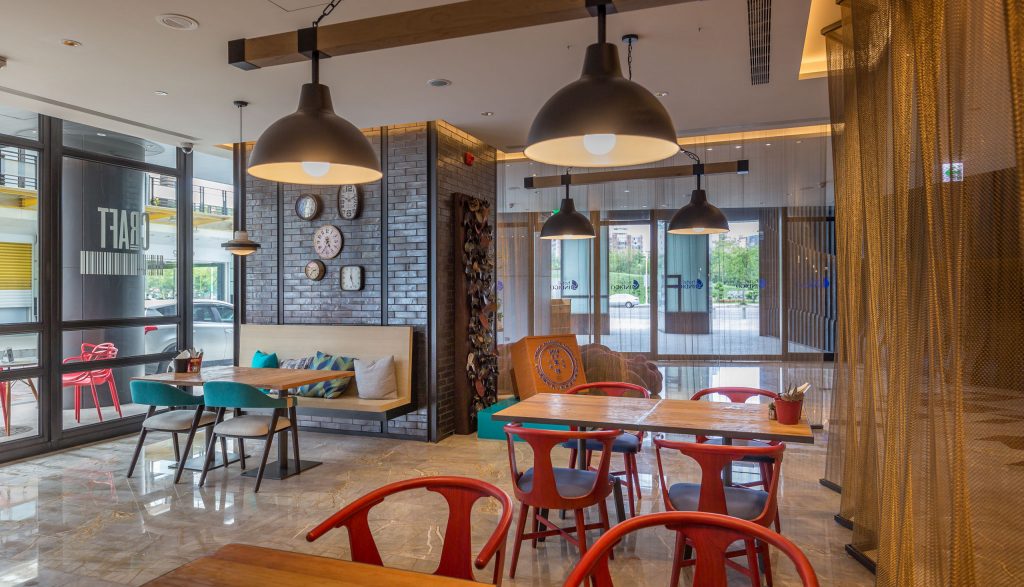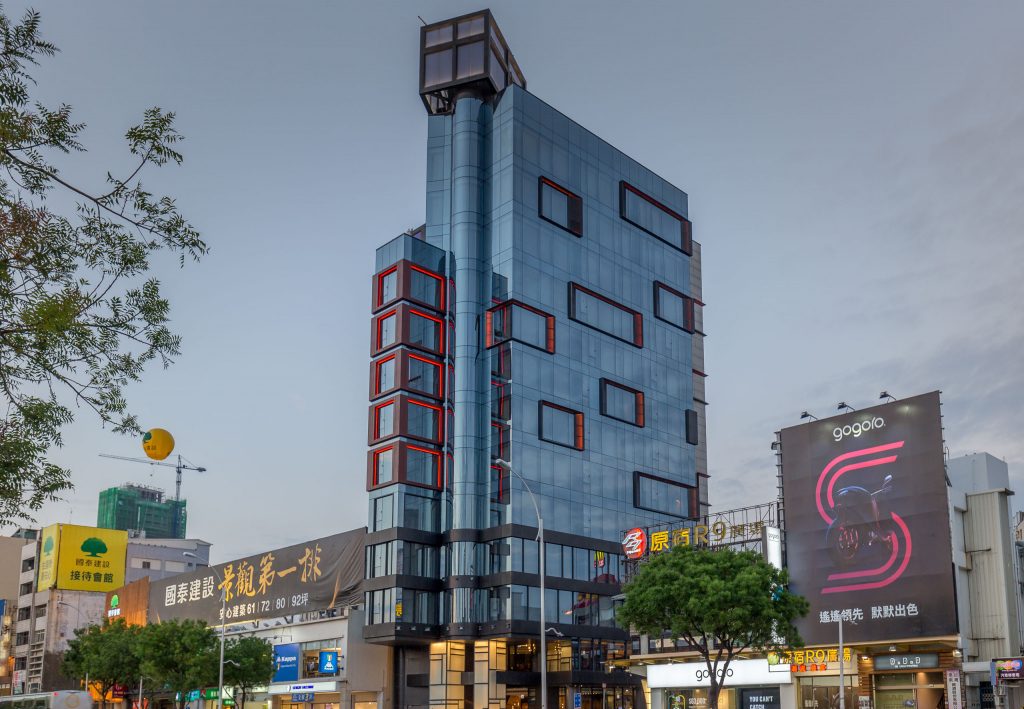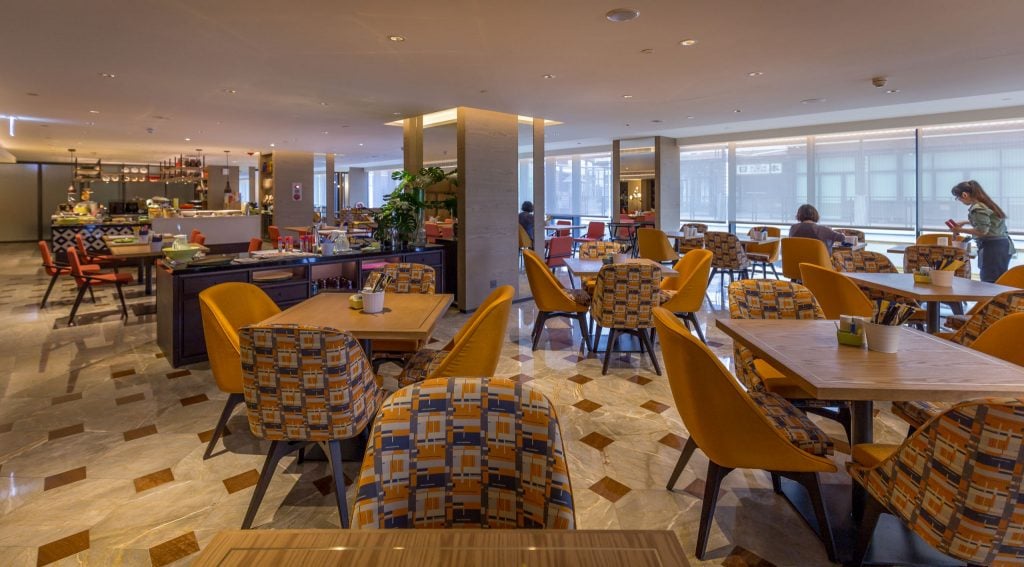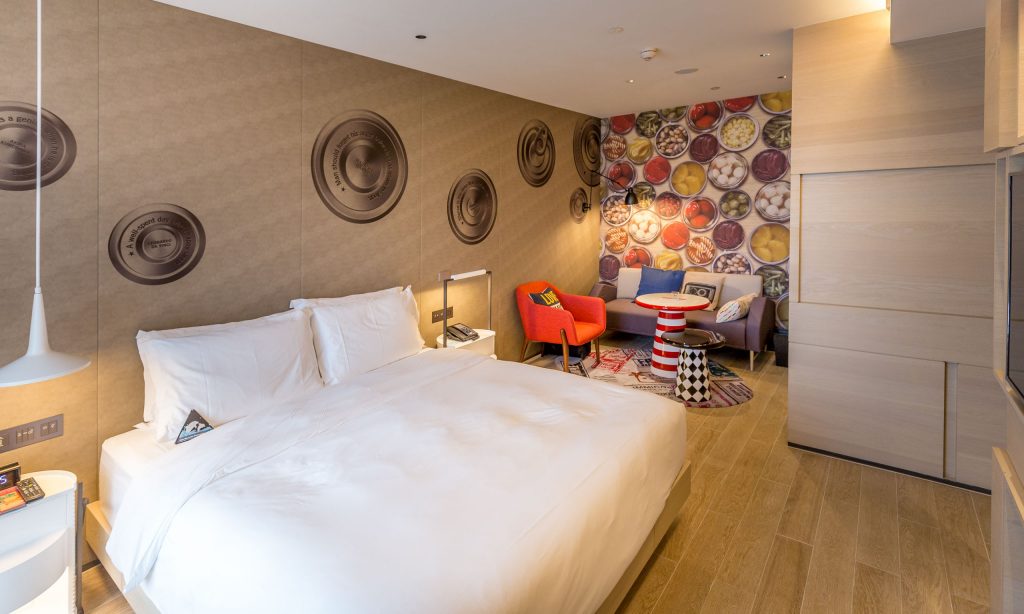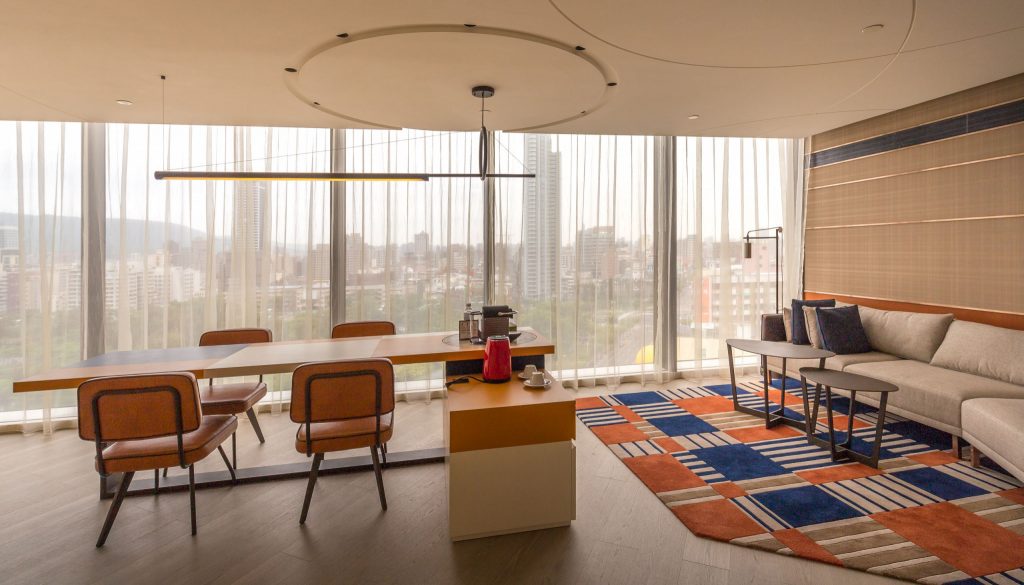 ** All opinions are based on a genuine stay, flight or experience. I'm not affiliated with the hotel, airline or tour operator but I might be (partially) sponsored – or paid. **