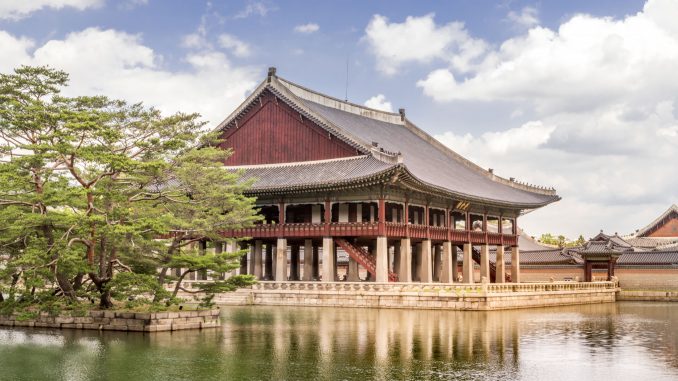 It's been several years since I first travelled to South Korea. It was just a few days in Seoul while on a business trip. Recently I returned with my wife and kids and we did a road trip from Seoul to Busan. They wanted a lovely South Korea vacation; I wanted a packed culture and nature trip. So, I started planning and puzzling how to get the best South Korea road trip itinerary from Seoul to Busan. I came up with the below Korean tour which we travelled in 2 weeks, but I'll give options to extend your trip to 3 weeks. Let's start with a few general thoughts and planning tips and then look at a day by day self-drive itinerary. It's a complete travel guide to help you best plan your trip to South Korea.
Things to do in South Korea
There are so many things to do in South Korea! They range from bustling city life in Seoul and Busan, beautiful nature, mountain forts, ancient Buddhist temples, delicious food and so much more. This South Korea travel guide focusses mainly on the cities, forts and temples but does have an interesting nature hiking trail you probably haven't heard of. So, don't ask yourself what to do in South Korea! Read on and you'll know all about it including off the beaten track places. I hope you enjoy reading this South Korea travel blog.
Planning a South Korea road trip itinerary
Let's start with some planning tips and then we'll look at the day by day schedule. These will help plan and I hope you go! I do not know why but except in Seoul and Busan I didn't see many Western tourist. This is strange to me as South Korea is a great and affordable country for a road trip. The below planning contains some basic information as well for those that will be traveling to South Korea for the first time. Use this South Korea trip planner and you'll have a great time. If you need more information on specific opening times (some places are closed Mondays) I recommend checking the Korean Tourism Office website.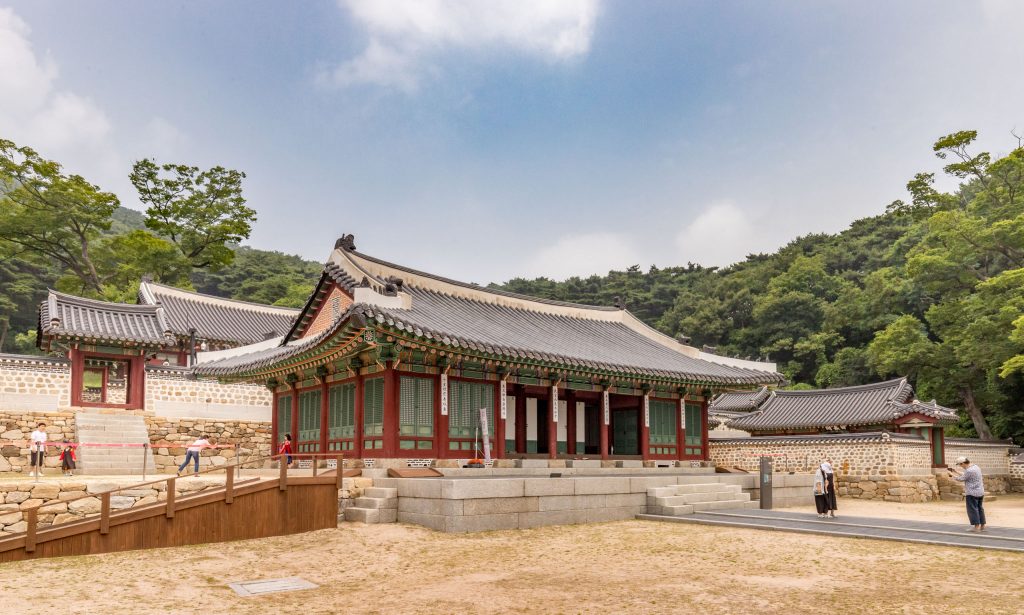 How to get to South Korea?
Getting to South Korea is easy as Incheon airport in Seoul is a major hub and has flights all around the world. I flew in on a direct flight from Amsterdam but having one connection should get you almost anywhere. Make sure to book the return flight from Busan so that you don't have to drive back to Seoul. It saves time and probably the flight is cheaper as well. If you're already in Asia, you can check to fly into Busan as well which might be cheaper. You can do this South Korea self-drive itinerary also in opposite direction.
How to travel around South Korea?
As this is a self-drive itinerary, I don't cover public transport options. Public transport is efficient between larger cities, but you simply won't have the time to visit all places in this timeframe if you use trains & busses. Driving around you need a GPS on your phone and you'll probably notice that Google Maps doesn't work. Download these apps: Kakao Maps for maps, Kakao Talk to use as login for Kakao Taxi. Ask your hotel in case setup doesn't work but the apps are in English so it should be easy. Kakao Taxi (local Uber) is best used if you need to use a taxi from your hotel to a restaurant for example unless you don't drink alcohol then you can take your own car of course.
Driving is easy in South Korea. Just use Kakao Maps and it will guide you in English to your destination. Do note you only need a car for self-drive in Korea from day 5 until day 13. The other days in Seoul and Busan you can use taxi or metro.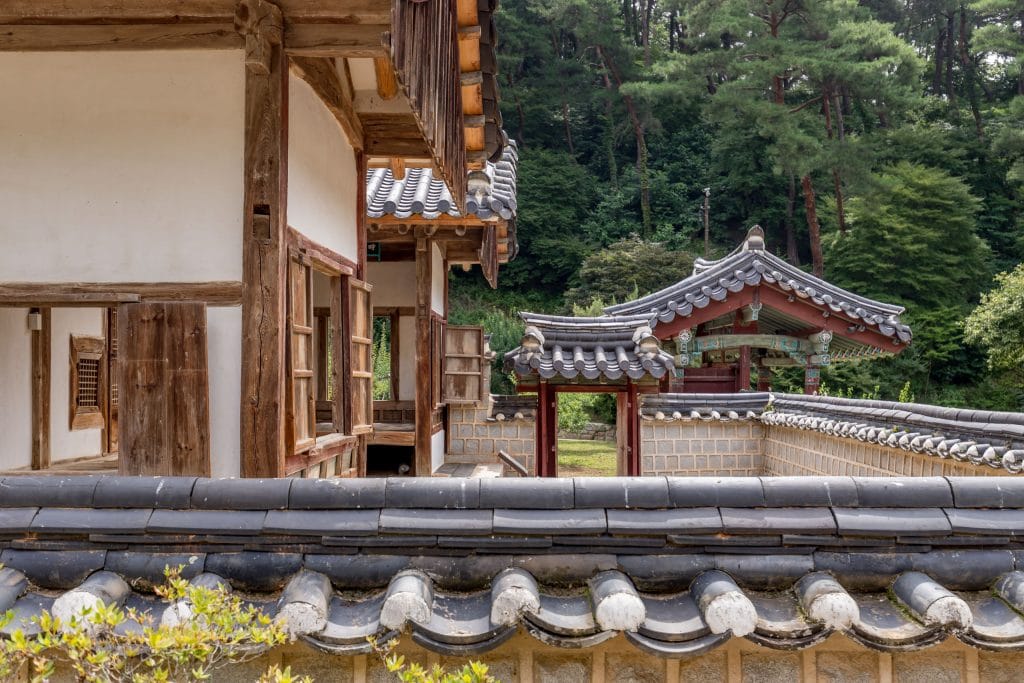 What to pack for a South Korea trip?
There is nothing special you should pack. Take enough clothes for the whole trip as you switch hotels often there isn't much time to do laundry. In summer take shorts and shirts as it will be hot but in winter take long clothes as it will be cold. South Korea is a year round destination but winter is cold and there can be snow. Of course pack your camera, phone, possible medicines and other regular items as well.
South Korea hotels & travel tips
Hotels in South Korea are cheap. In summer I paid 40-50 euro for a good hotel in the smaller cities. Not luxury but good for a night sleep. In Busan & Seoul I paid just over 100 euro for a 4-5-star hotel. Credit cards are accepted almost everywhere but make sure you have a MasterCard/VISA and not just American Express which isn't always accepted. Do take some cash or take from the ATM so if you need it you have it.
Check with your local embassy if you require a South Korea visa. Also check with your travel doctor if you require any vaccinations. This is a general rule for any trip of course. For the rest travelling in South Korea is very straightforward.
South Korea itinerary day 1: Arrival
The flight to Seoul was an overnight flight and arrived late morning. It was around 3PM when I was at the hotel downtown Seoul. I booked the Intercontinental hotel on reward nights as I needed to spend points. The reason was that I was still Royal Ambassador but as I changed from IHG to Marriott that year (read my 2019-year report to learn why) I would lose that status. So why not take advantage of the benefits while still possible. The location was great with subway station just around the corner with direct link to some sights, Gangnam just a 15-minute taxi ride away and some Joseon tombs at walking distance.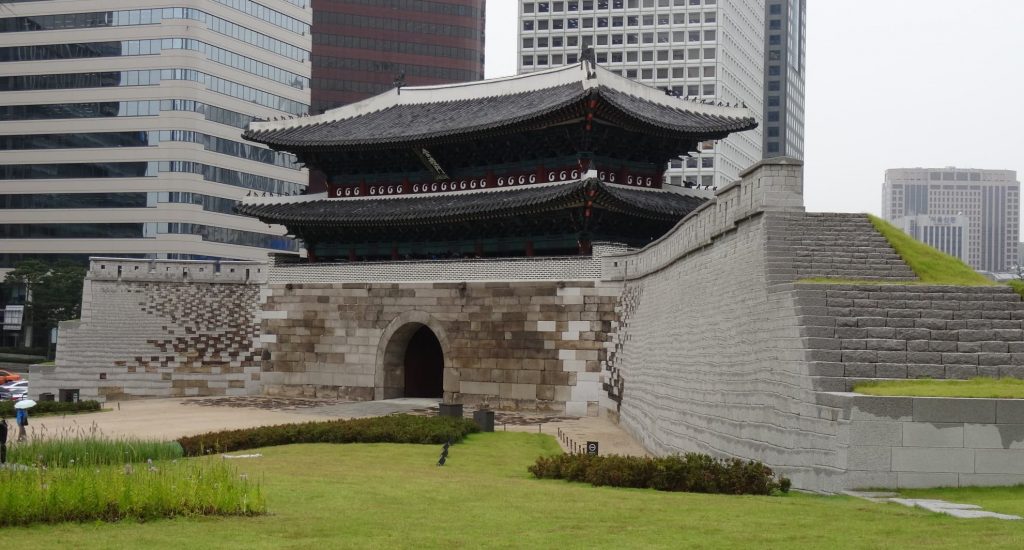 South Korea itinerary day 2: Seoul city trip
The first day of this South Korea itinerary is in Seoul. I for several reasons only included one day in Seoul. The city wasn't new to me and the rest of the family didn't need to see every single palace in Seoul (there are 5). If you decide to do just a day in Seoul, I recommend visiting Gyeongbokgung Palace in the early morning and continue to Bukchon Hanok Village. This is a lovely area with old traditional Korean houses and the perfect spot for lunch.
After lunch you can explore Namdaemun which is one of the eight city gates in the Fortress Wall of Seoul. The rest of the day is easily filled with magnificent views of the N Seoul Tower or Lotte Tower. Alternatively, you can go shopping in Myeongdong or Gangnam. In the evening a dinner in Gangnam is highly recommend! It's THE place to go to at least one evening in Seoul. Gangnam Style!
Read about my earlier Seoul city trip in this 2 day trip report:
Complete Seoul itinerary: All highlights in only 2 days
EXTEND THIS SOUTH KOREA ROAD TRIP ITINERARY: Add one or two days more in Seoul as there is much more to explore and to do. Read my Seoul itinerary for 2 days to check out what you can do more in Seoul.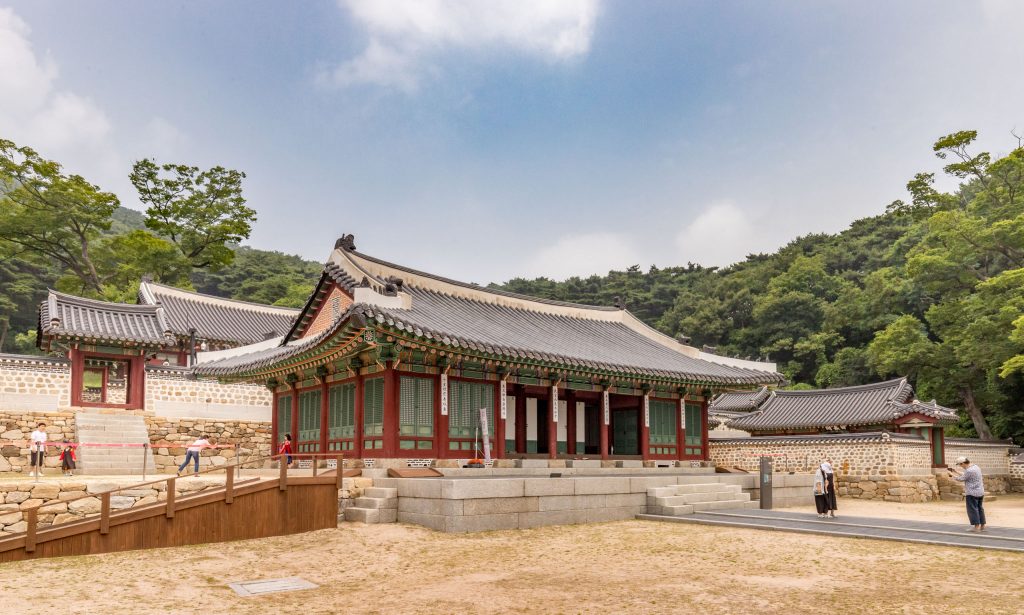 South Korea itinerary day 3: Joseon Tombs in and around Seoul
Today it's time to explore The Royal Tombs of the Joseon Dynasty which are an UNESCO World Heritage Site. There are 18 locations and over 40 tombs inscribed. The oldest tombs date to the early 15th century and the newest to the mid-20th century. They are burial mounts used to bury the kings, queens, and close relatives. Around the tombs are various buildings like shrines and statues.
Seolleung Tomb cluster
I suggest to visit the follow two Joseon Tombs clusters in and around Seoul on this day trip. They are all kind of the same so start first at the Seolleung Cluster which is just a few minutes' walk from the subway station of the same name Seolleung. It takes about 90 minutes to explore the park. If you think one is enough you can just stay in Seoul and see more of the city. Do read on why it's interesting for everyone to at least see these two locations.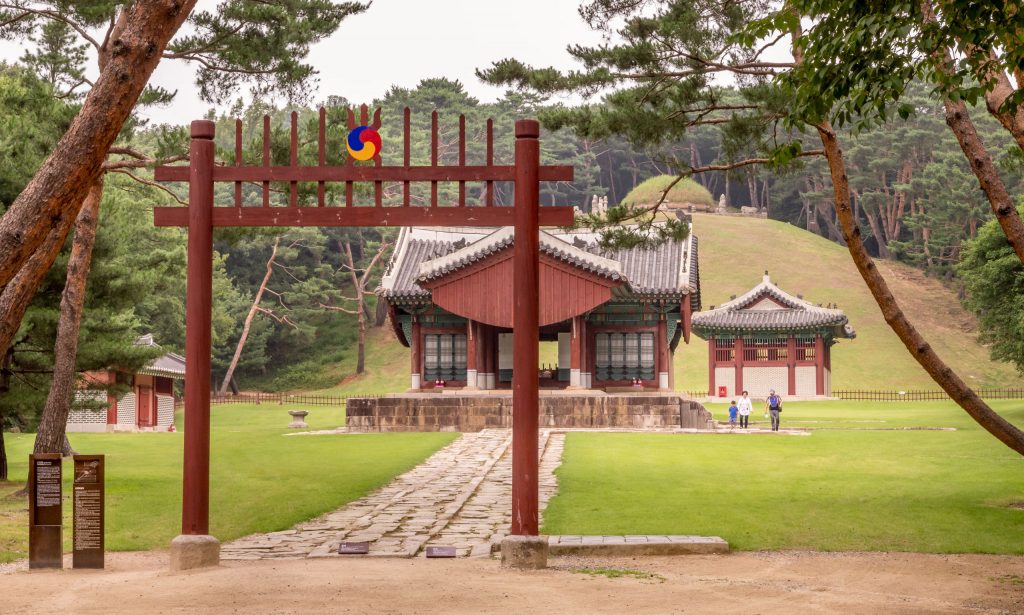 Dungureon Tomb cluster
My family split, and my kids went back to the hotel to relax and I went with my wife to the Dungureon Tomb cluster. There are 9 burial mounts. It was a very good idea to go because it's a huge forest where they are located. We walked for about 3 hours in beautiful weather. Of course, I recommend going for the tombs as well but it's also a great place to just get away from busy Seoul. You do have to take a taxi to get there efficiently which you can best order through the Kakao Taxi app.
South Korea itinerary day 4: Namhansanseong day trip
Namhansanseong Fortress Park is a hidden gem in greater Seoul and a UNESCO World Heritage Site. It's located just 25 kilometers south east of central Seoul and a beautiful destination for a day trip. It once served as an emergency capital during the Joseon dynasty from the early 17th century onwards. Buddhist monk-soldiers would defend it continuously. There are however remains dating to the 7th century but not much is left of that. The location is on a hill with pine forest and the old fortified wall of 7.5 kilometers surrounding it. You can hike the full wall if you're up to it! Inside the wall most buildings are located around town including the emergency palace which is the only place you must buy a ticket for.
How to get to Namhansanseong Fortress Park?
It takes about 90 minutes to get there by public transport which I don't recommend. A taxi (or own car) is much more convenient, and you'll be there in no time. A bit more costly but much more relaxing and you have more time to explore. If you prefer public transport take the subway to Sanseong Station and take the bus from there. In either case you'll end up at the roundabout in town.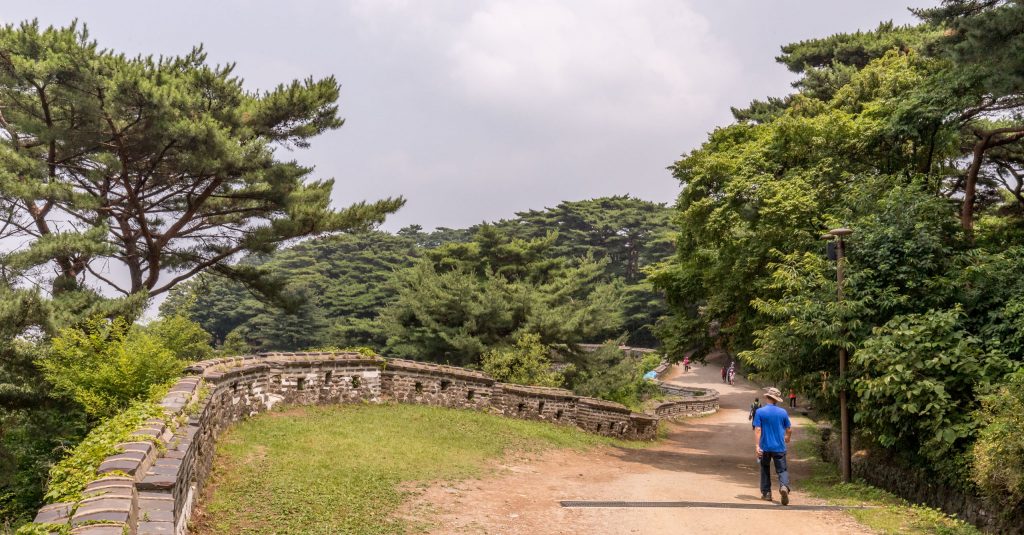 Best route to explore Namhansanseong Fortress Park
There are many routes and hiking trails to explore the park, but I would recommend at least following this route. Explore the palace first (closed Mondays), then walk towards the north gate. Take the road up to the west gate and continue to the south gate and to town. Along the way you'll see various temples, defensive and other buildings to explore. In town several other places of interest are signposted which are all in short walking distance. There are two more temples just north from the east gate but the hike there is boring. Best take a taxi and have the taxi wait a few minutes there for you before going back to Seoul.
South Korea road trip itinerary day 5: Suwon with Hwaseong Fortress
Today it's time to pickup the car and start the actual South Korea self-drive road trip. I recommend picking up a car somewhere in southern Seoul close to a subway station. This way you don't have to drive through Seoul and loose time as today you'll need all the time. Make sure to pick up your car around 8AM and drive to Suwon in about an hour. There are two places of interest in Suwon: Yungneung Joseon Tombs cluster and the Hwaseong Fortress. Stay overnight in Suwon.
Yungneung Joseon Tombs cluster
In Suwon there is another cluster of Joseon Dynasty tombs called the Yungneung Joseon Tombs cluster. Why did I visit another site of this UNESCO World Heritage Site inscription? That's just me and I wanted to show my kids at least one other cluster as well. A visit takes about 60-90 minutes. Skip this site in case you're not interested to see more tombs. You can easily spend more time at Hwaseong Fortress.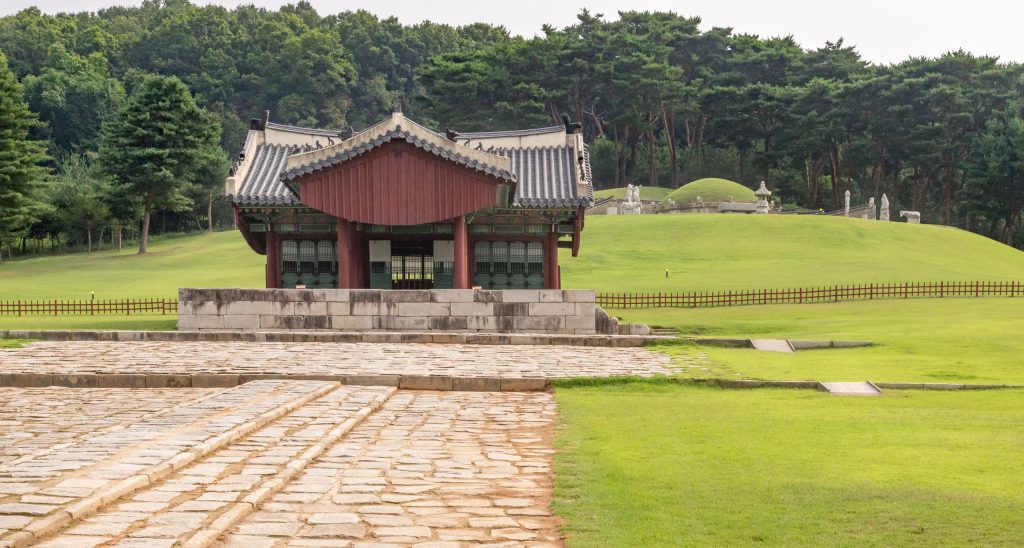 Hwaseong Fortress
The Hwaseong Fortress was built in the late 18th century by King Jeongjo of the Joseon dynasty who moved the seat there. It is in Suwon about 30 kilometers south of Seoul and inscribed as a UNESCO World Heritage Site. It's possible to go there as a day trip from Seoul but I recommend for this South Korea itinerary to stay overnight in Suwon. It saves time.
Park your car at the King Jeongjo's palace Haenggung and explore the palace (about 1 hour). Then walk towards the south gate and go right up the hill (Paldalsal) on the city wall. Follow the city wall for about 2-3 hours (5.5 kilometers) until you arrive back at the south gate. All places of interest are along the fortress wall. If you don't want to climb the hill, then walk the fortress wall in opposite direction and descend back into town before the climb. Finish the day at the museum followed by a dinner at one of the many restaurants in town.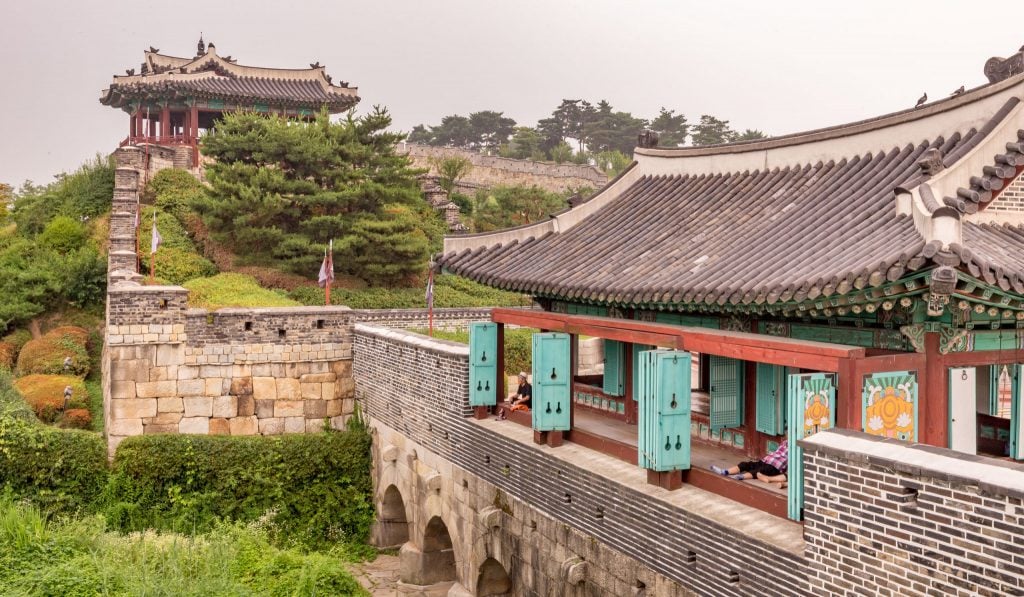 South Korea itinerary day 6: Road trip Suwon – Buyeo
The 6th day, but even more the 7th day, are the longest days of this South Korea itinerary. Don't worry because I'll give some advice to skip something if it's to much for you. Today it's time to continue driving from Seoul to Busan south to Buyeo via Gongju. There are 3 places of interest along the way which are: Oeam Village, Magoksa Buddhist Monastery, Baekje Historic Areas in Gongju. Start driving no later as 8AM so that you have enough time to visit all the places and don't spend more time as mentioned below.
Oeam Village
This is the place to skip if you want more time at the other places. This cultural village is like Hahoe and Yandong village which are more interesting and including in one of the next days of this South Korea road trip itinerary. I added a 90-minute visit in Oeam Village as it's a tentative UNESCO World Heritage Site. It's a typical Korean rural town, a clan village and of interest for the irrigation system. People still live in the village as well so you can see a bit of the local life. I enjoyed the short stroll through this small village.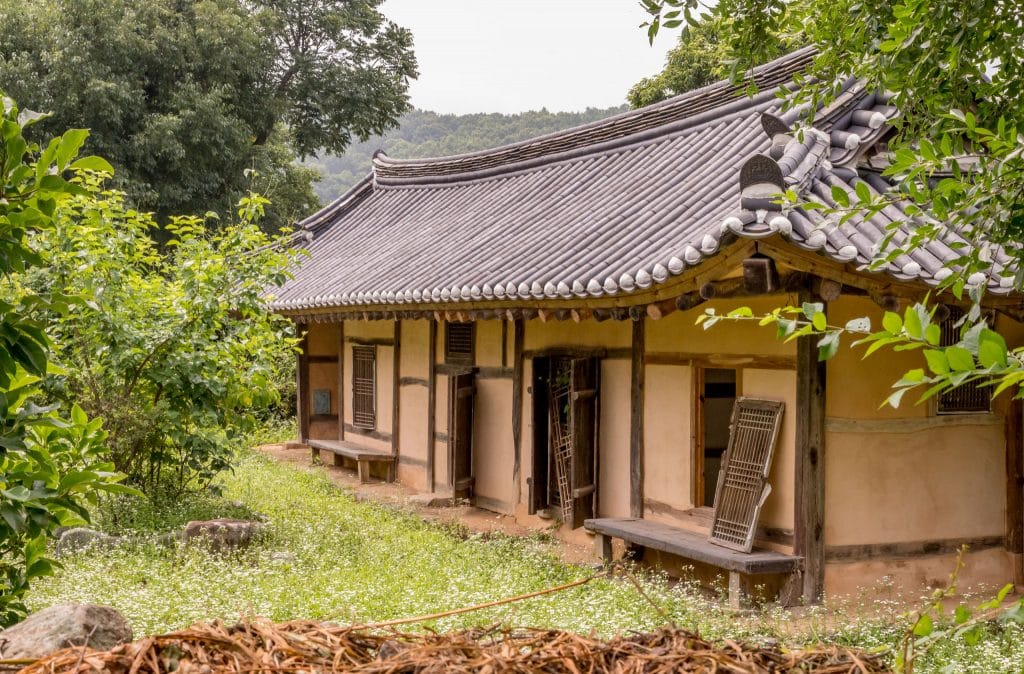 Magoksa Buddhist Monastery
About an hour south of Oeam Village is Magoksa Buddhist Monastery. Just put it in your GPS maps and you'll get there. It's part of the Sansa Buddhist Mountain Monasteries UNESCO World Heritage Site. There are in total 7 temples of which 2 more are included on this road trip. The temple is located on a slope where the river Taegeukcheon bends. It was built in the 7th century during the Goryo Dynasty. There are several buildings of interest and a visit takes about 90 minutes. At the parking lot is a small café where you can have lunch or alternative in the town you pass before entering the road to the temple.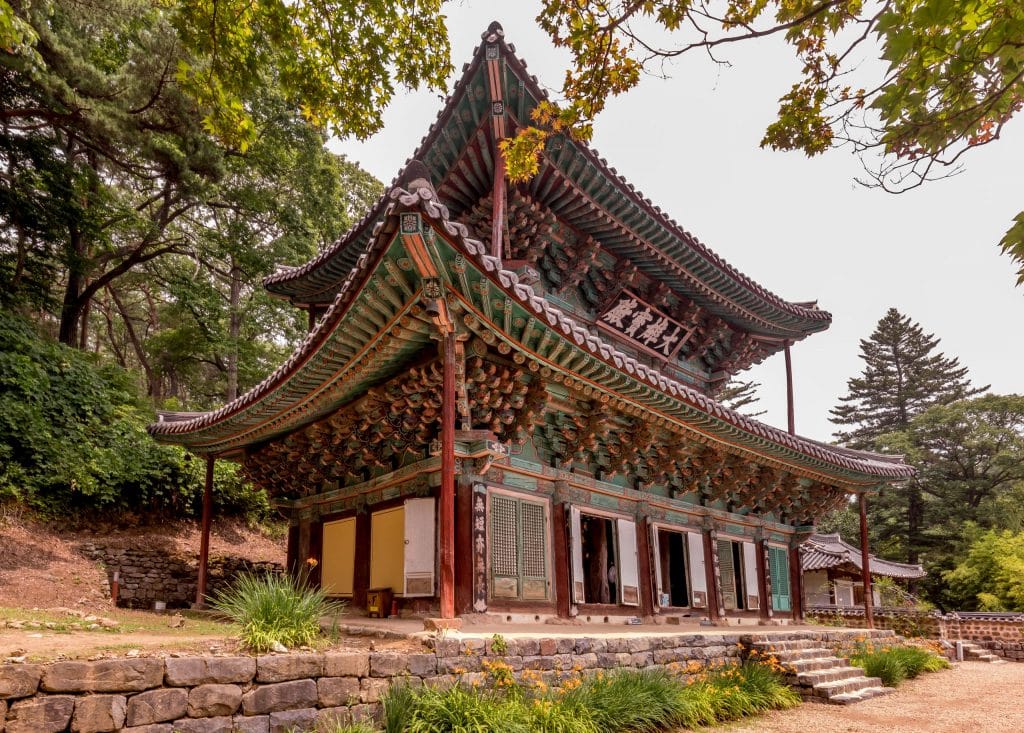 Baekje Historic Areas in Gongju
Baekje Historic Areas in Gongju are an hour drive from Magoksa. They are from the Baekje Dynasty which was on of the Three Korean Kingdoms and existed from 18 BC until 660 AD. The others are Silla Kingdom (we'll see more of that later) and the Goguryeo Dynasty (which you can explore if you follow my North Korea itinerary).
Start at the Royal Tombs in Songsan-ri and the historical museum. This should take no more as an hour in total. You could skip the tombs if you're running late. The museum however has all the artifacts found so that's a must. Continue to the Gongsanseong Fortress which is in the center and park your car near the river parking lot. The fortress has a small temple, several other buildings and shrines and a wall of 2.5 kilometers around it. I walked the wall until halfway and then descended back to the entrance gate. It was already passed 5PM so I had dinner just across the street at a Korean restaurant. It was delicious!
I booked a hotel in Buyeo so after dinner I drove there which was another hour driving. You could also stay overnight in Gongju, but it means the next day you must start around 7AM.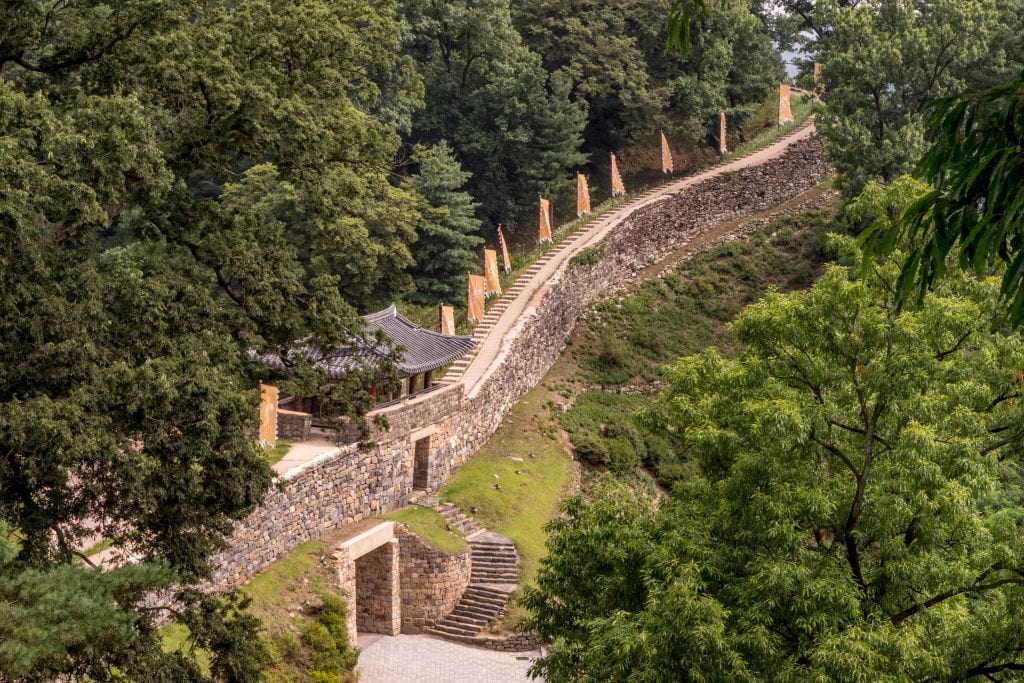 South Korea itinerary day 7: Baekje Historic remains & to Jeonju
The Baekje Historic Areas UNESCO World Heritage Site has a total of 8 sites of which 2 are included on the previous day. Today it's time to explore 4 in Buyeo and 2 more on the way to Jeonju. Skip the last 2 if you want to take it easy in Buyeo or want to have some time in Jeonju which is a lovely small city to stroll around. This is one of the most packed days of this South Korea road trip itinerary.
Buyeo city trip
My kids and wife didn't want to get up early, so I went early morning alone to the royal tombs in Neungsan-ri and Naseong city wall. Yes, again more tombs but these are from the Baekje Dynasty thus different and you can visit a replica inside! The Naweong city wall can be seen from the tombs and I didn't bother walking it. I probably spend an hour here after which I drove to the Jeongnimsa Temple. It's a small temple and after 30-40 minutes I went back to the hotel to pickup the rest of the family.
Together we explored the Busosanseong Fortress and Gwanbuk-ri administrative buildings. The fortress is on a hill and the main hike through it is about 90 minutes. It's a lovely walk but the remains are a lot less, it's older, compared to those in Suwon fortress for example. After exploring all the places, we had a quick lunch in Buyeo before continuing our trip from Seoul to Busan.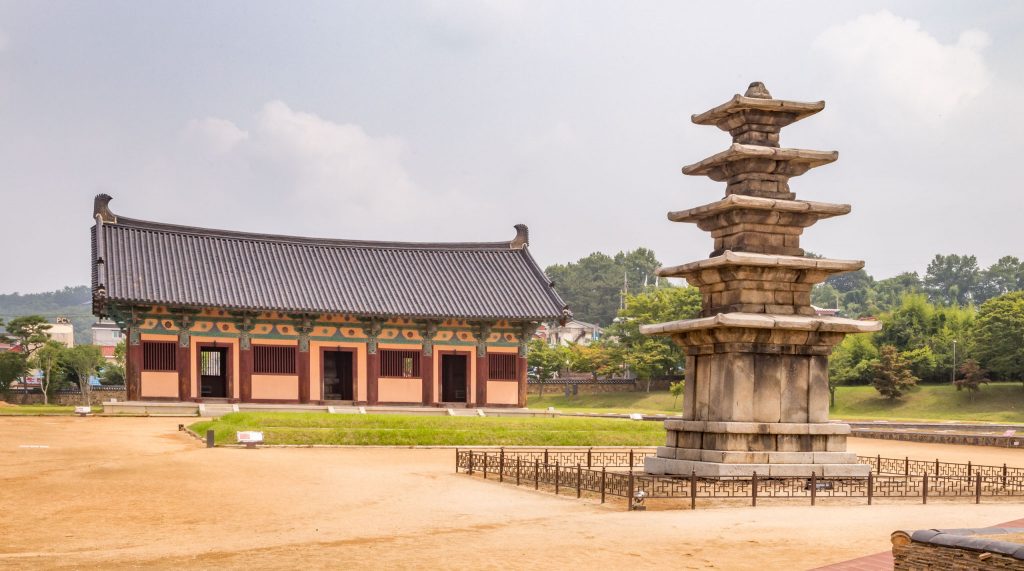 Baekje historic areas near Iksan
If you want to have the rest of the day off, you can skip the following three places as they are small. I drove after lunch first (bonus) to Donam Academy (Seowon) in Nonsan which is one of the Neo-Confusian academies on the UNESCO list. Then I continued to the Mireuksa Temple near Iksan. It has free entrance and is most famous for the 2 pagodas. A visit doesn't take much time, maximum 45 minutes including a visit to the museum. I continued to the royal palace at Wanggung-ri which has a museum with some artifacts but for the rest only a pagoda is left and many foundations.
I still made it to Jeonju around 6:30PM and went direct for dinner. In Jeonju you must have Han Jeong Sik for dinner. Put 전라도음식이야기한정식in your GPS and you get to the best place! I don't have an English name sorry. It isn't cheap but order the expensive menu and you'll get dozens of small dishes. After dinner my family went to the hotel and I went for local craft beer at Nomadic Brewing Company. They have about 12 taps!
EXTEND THIS SOUTH KOREA ROAD TRIP: Jeonju is about halfway between Seoul and Busan on this South Korea road trip itinerary. If you want to extend your Korean holiday, then this is a good day to do so. Take an extra night in Jeonju and either do a city trip or pickup the 2 places of the Baekje Historic Areas in case you skipped them the previous day.
South Korea road trip itinerary day 8: Haeinsa Temple to Andong
Until now the Korean road trip was southwards but today it goes east via the Haeinsa Temple, Gaya Tumuli at Goryeong Jisan-dong and another academy as bonus. You could stay overnight in Daegu but then you'll switch the next day again to a hotel in Andong. So, drive all the way up to Andong today and stay there for 2 nights. It's a small city but has many sights closeby to fill a full long day. In the evening I even found a craft beer bar so that's a good sign that it's a lively city. Start driving in the morning from Jeongju preferable before 8AM and set your GPS to the Haeinsa Temple first.
Haeinsa Temple
The Haeinsa Temple is a temple in the mountains of Gayasan National Park. Haeinsa means "reflection on calm sea" and the temple belongs to the Chogye Order of Buddhism. Once you get closer in the mountains keep driving until the parking lot just in front of the museum. You'll have to walk about 20 minutes to the Haeinsa Temple. It's a large complex with several other temples and shrines located around it as well. As I added quite some temples on this South Korea road trip itinerary I recommend walking straight to the main complex as that's the main sight.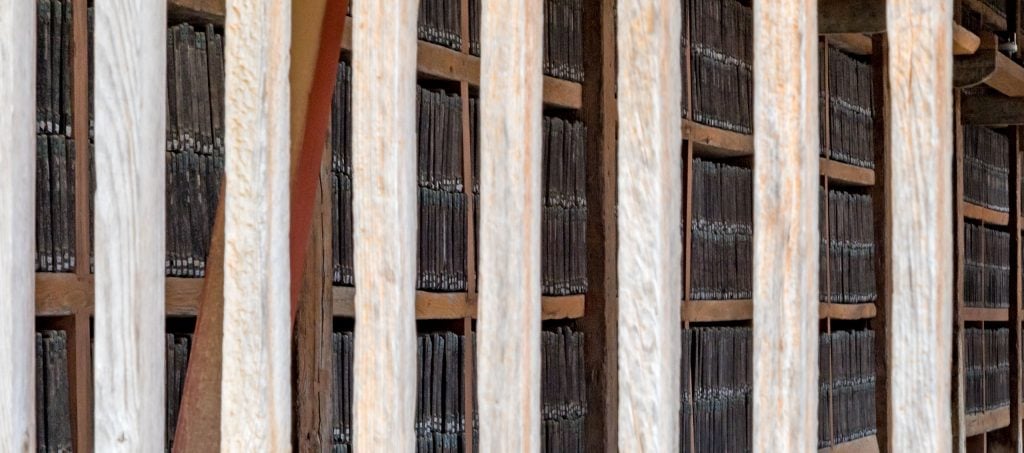 The Haeinsa Temple is a UNESCO World Heritage Site mainly for what you find at the back of the temple. There are several wooden buildings with 81340 wooden blocks. These blocks are called Tripitaka Koreana and contain all Buddhist texts, or symbols of teachings. They date from the 13th century! You cannot go inside but with some manual settings on my camera I was able to get some nice shots of the wooden blocks inside. Take about 2 hours to explore the Haeinsa Temple and then continue to the next stop with a short stop for lunch somewhere.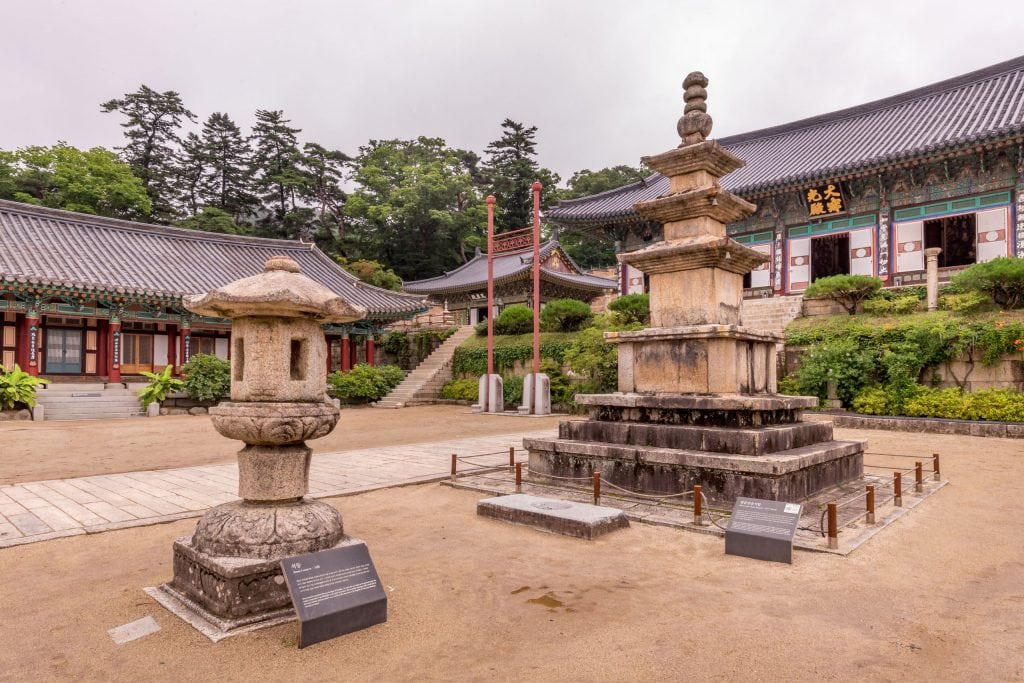 Gaya Tumuli at Goryeong Jisan-dong
At first, I didn't know what to expect of the Gaya Tumuli (there are 7 locations) as they are more burial mounds and there are plenty included in this Korea road trip already. Of course, I gave options to skip some, but the Gaya Tumuli at Goryeong Jisan-dong are a MUST to see. They are a tentative UNESCO World Heritage Site.
They date to the 5th and 6th century during the Gaya Dynasty. Without going into detail of the dynasty the important thing is that the kings were buried together with their queen, and their royal servants. The king was dead of course but everyone else was buried alive! This location is best to visit as there is a replica burial mount so you can see the interior. Count on a visit of about an hour or if you want to walk around the tombs at least 2 hours. Now continue to Andong or visit the Dodong Academy as a bonus.
GET MORE OUT OF YOUR DAY: If you travel a lot as I do you kind of "learn" to visit places in an efficient way saving lots of time. It wasn't even 4PM when I finished at the Gaya Tumuli, so I decided to drive to the Dodong Academy nearby. These Seowon (academy) are small places with just a few buildings so a visit is just 30 minutes. I then drove to Andong to my hotel and had a great dinner there!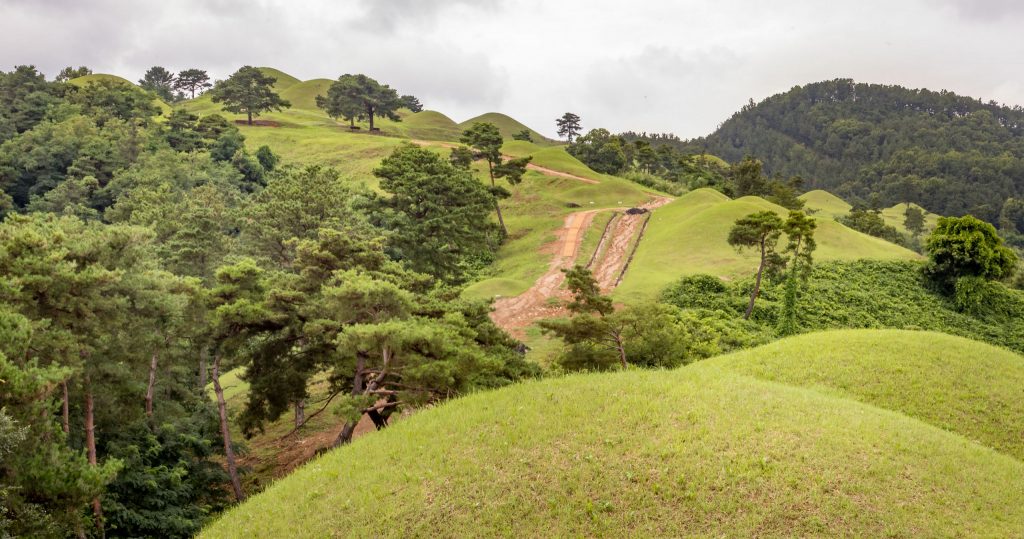 South Korea itinerary day 9: Day trip Hahoe Village & more
The 9th day of this South Korea itinerary is one with some options in the morning. I split the day in two with a morning program and an afternoon program for you. In the morning you can either stay in Andong or visit the Dosan Academy and Bongjeongsa Temple. The afternoon is for Byeongsan Academy and Hahoe Culture Village. I went out all day, but my wife and kids stayed in Andong to sleep a bit more and go shopping.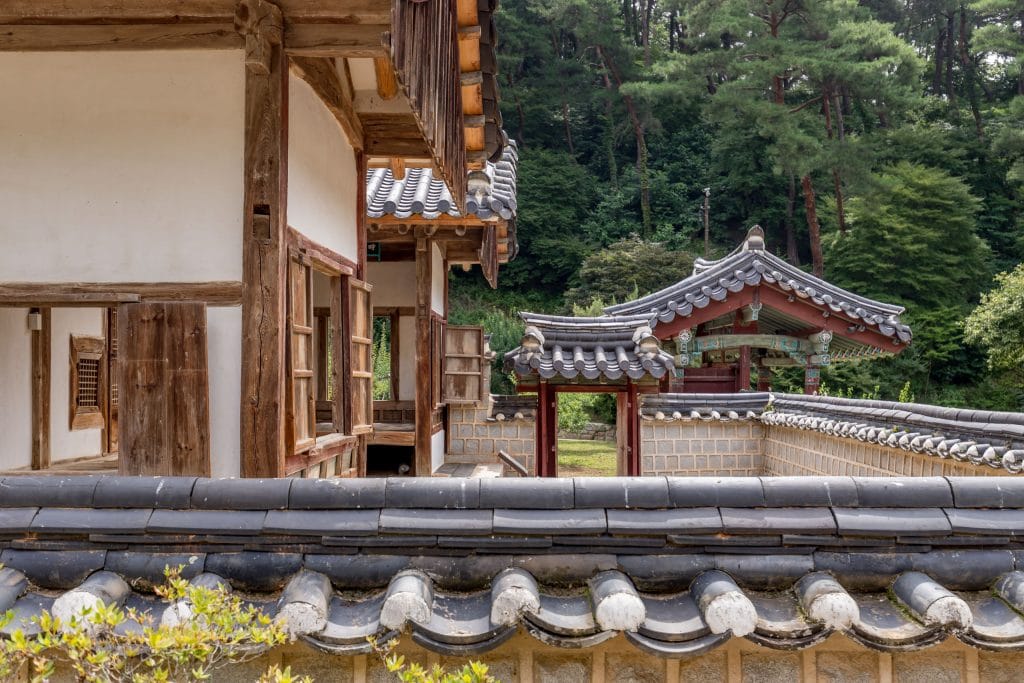 Dosan Academy & Bongjeongsa Temple
The Dosan Academy is another Confucian academy (Seowon) and located an hour drive north of Andong. Leave Andong just before 8AM to be there at opening time which is 9AM. I had seen already several academies and I must say this one is the most beautiful. It's a bit bigger as the others and overlooks a beautiful lake. A visit is about an hour after which it's a 45-minute drive to the Bongjeongsa Temple.
Once I arrived at the Bongjeongsa Temple I thought that I had to walk all the way up as there was a gate. I almost left as I didn't have time to walk but then the guard waved at me and opened the gate. Make sure to ask him to open! Wander around the temple for about an hour and continue to Hahoe Village. I had to go to Andong first where I picked up my family around 12PM.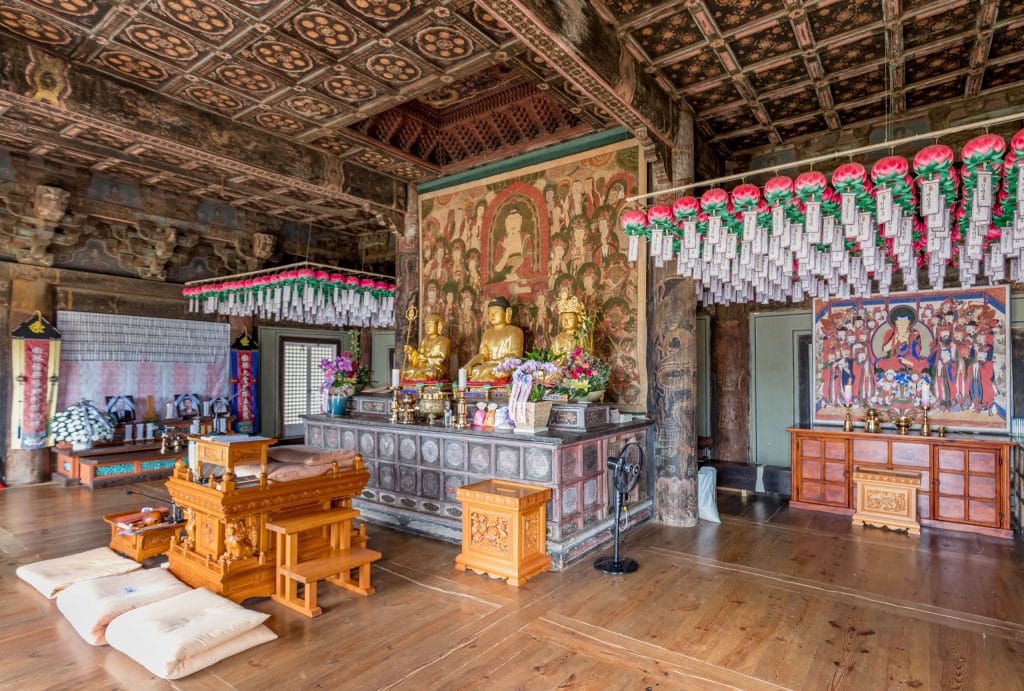 Hahoe Village & Byeongsan Academy
Drive first to the Byeongsan Academy for a quick look. It's one more academy so if you don't want to see more of them continue directly to Hahoe Village. Hahoe Village is like Oeam Village but larger and much more interesting. That's why I said earlier to skip Oeam Village if you didn't want your day too packed earlier on this Seoul to Busan self drive road trip. I stopped first at a restaurant for lunch after which I decided to hire a golf cart and drive around Hahoe Village. Highly recommend if you want to see the complete town. It's a beautiful old traditional Korean town.
After the visit I drove (by car) to the other side of the river to have a bird's eye view. Make sure to pinpoint the GPS location at the end of the small road parallel to the river. From there it's just a 5-10-minute walk uphill and it's a beautiful view as you can see below. Around dinner time I was back in Andong.

South Korea itinerary day 10: Drive to Gyeongju
Today it's time to continue the Seoul to Busan road trip but before Busan two more nights in Gyeongju. It's the old capital of Korea and there is a lot to see. In the morning I recommend visiting Yandong Village and then visit the Seokguram Grotto and Bulguksa Temple. Leave Andong early morning preferable around 7:30AM and set your GPS to Yandong Village where you should arrive around 9AM then.
Yandong Village
Yandong Village is another traditional Korean village. It's a bit different as Hahoe Village and together they are inscribed as a UNESCO World Heritage Site. Yandong Village is a bit hillier and houses are a bit more far apart. As it was starting to rain, I quickly walked to the main highlights (you'll get a map) and then went back to the car. Villages are not nice to explore in the rain. I think I didn't spend more than an hour there but in nice weather it's probably just over an hour or two. Now go to the Seokguram Grotto in Gyeongju.
PACK YOUR DAY MORE: Want to see more Confucian Academies? I did of course. They are both located just a few kilometers from Yandong. I stopped for 20 minutes at the Oksan Academy which is also part of the Yandong Village heritage site. Donggangseowon Academy is another one but at the time of visit it was closed. It's small so 20 minutes there would do as well.

PACK YOUR DAY LESS: Skip Yandong Village alltogether and drive directly to Gyeongju. Visit the grotto and temple and have the rest of the day in one of the nice resorts around Gyeongju. There are also theme parks and other attractions. You won't get bored.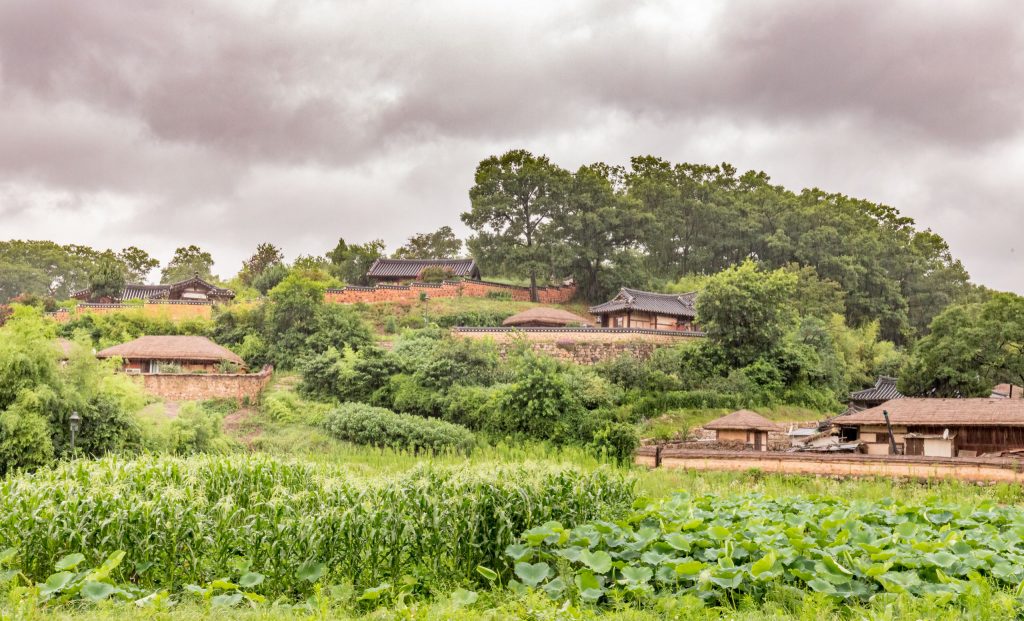 Seokguram Grotto & Bulguksa Temple
The Seokguram Grotto is located on top of a mountain and is a hermitage of the Bulguksa Temple. Both are inscribed together as a UNESCO World Heritage Site. It doesn't take long to explore the grotto and you'll probably finish within an hour. It's famous for its Buddhist artwork which is amongst the best in the world. The main Buddha is amazing as you can see in the photo below. It dates to the 8th century! Now drive the same way back as you came to the Bulguksa Temple.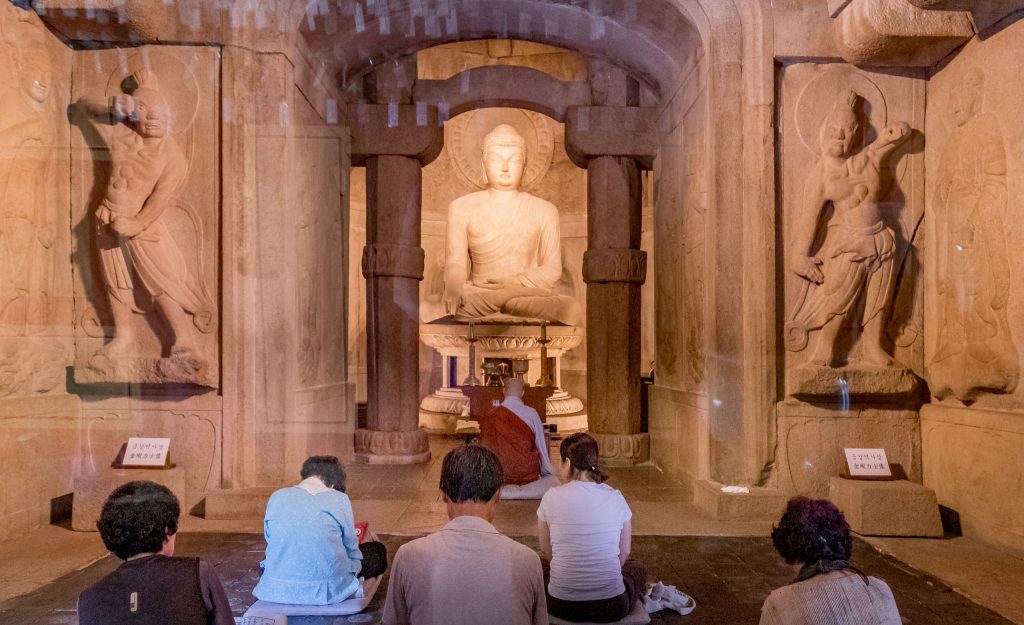 The Bulguksa Temple is the most famous Buddhist temple in Korea. So, you simply must add it to your South Korea road trip itinerary from Seoul to Busan. It also dates to the 8th century during the reign of the Silla dynasty. The wooden buildings, except the 2 pagoda's Tabot'ap and Sokkat'ap which are stone, are rebuilt in more recent times. You have all rest of the day to explore the temple before going to your hotel in Gyeongju. Plan as you wish.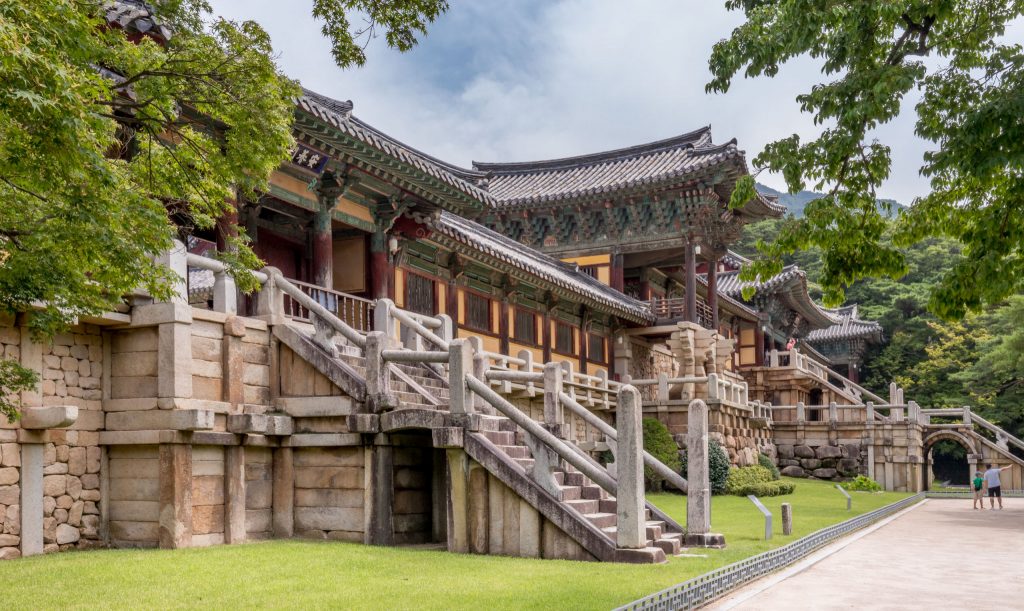 South Korea itinerary day 11: Gyeongju day trip
Gyeongju is the old capital of the former Shilla Kingdom then called Kyongju. There are many remains scattered around modern Gyeongju which can all be covered in a day. I'm not counting the Seokguram Grotto and Bulguksa Temple which are covered on day 10 of this Korea tour already. All sites are combined in a UNESCO World Heritage Site: Tumuli Belt Park, Wolsong Belt Park, Hwangnyongsa Belt, Sansong Fortress Belt and Mt. Namsan Belt.
Both Hwangnyongsa Belt and Sansong Fortress Belt are not more as a few foundations. Unless you have time left or pass by car, I wouldn't include these on a Gyeongju day trip. All places of the other locations can be visited by car which I did but looking back at my trip I suggest hiring a bike. It's probably more efficient. Start at the Tumuli Belt Park where you can visit the interior of a burial mount. Now explore the rest of the park where the astronomical observatory is the most interesting building. Make your way over the hill which is Wolsong Belt towards the Gyeongju museum. The museum is a MUST see but keep in mind it's closed Mondays. It contains beautiful artifacts from the Shilla Kingdom including golden crowns.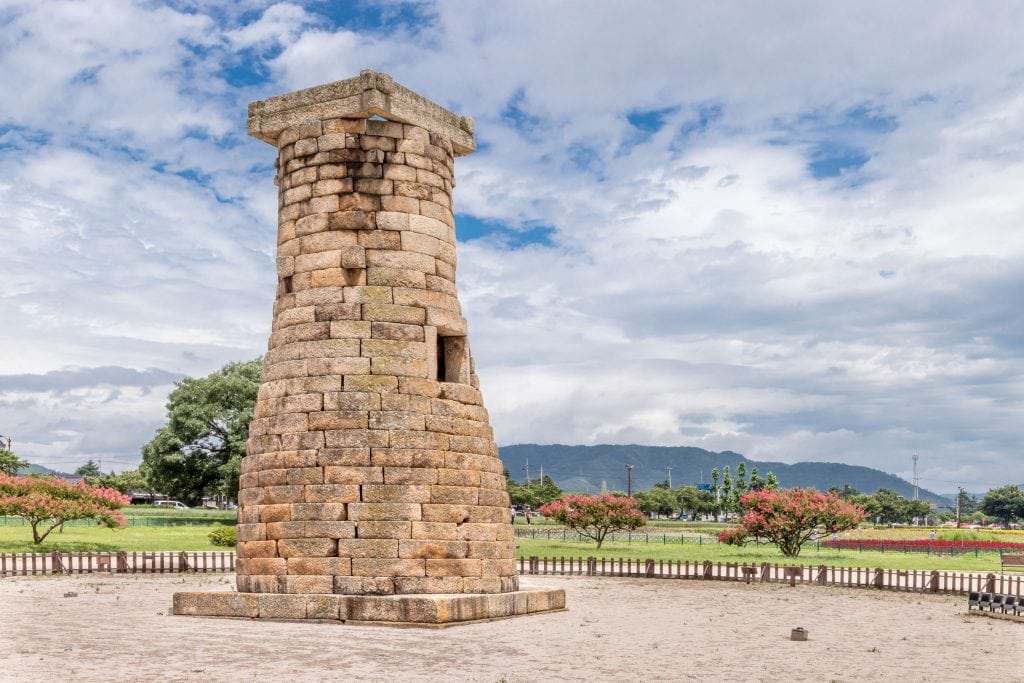 You should take lunch now and then continue along the east side of Gyeongju National Park, or Mount Namsan. There are various pagoda's, burial mounts, rocks with inscriptions and temples located there. You can drive there but biking there is much easier and probably even faster. The advantage of a car is that you can go to the westside as well but there are less places of interest. All places are signposted and just several hundred meters apart and do not require long walks. One part of me enjoyed Gyeongju but another part thought there isn't enough to see compared to Kyoto in Japan for example. I did have a great day and recommend adding Gyeongju to any South Korea tour!
EXTEND YOUR TRIP: If you like hiking you can do several hikes in Mt. Namsan. They take you up to the top where there are beautiful Buddhist rock carvings. There were photos in the museum, and I didn't have time to make the hike but it looked promising. You can add easily a day in Gyeongju and go hiking.
South Korea road trip itinerary day 13: Final Seoul to Busan leg
Day 12 isn't the final day of this Korean trip but it's the last day from Seoul to Busan, the end destination. The drive from Gyeongju to Busan is just over an hour but I recommend stopping at two places. Prehistoric petroglyphs and a beautiful Buddhist mountain temple called Tongdosa.
Daegokcheon Stream Petroglyphs
Along the Daegokcheon Stream there are cliffs and with intervals along 3 kilometers there are prehistoric petroglyphs. Two places can be visited which are Bangudae Petroglyphs and Petroglyphs in Cheonjeon-ri. The petroglyphs in Cheonjeon-ri I couldn't reach as the water of the river was to high due to a typhoon passing Korea. At Bangudae Petroglyphs I visited the museum first (closed mondays) which explains about the rock carvings. There is also a replica (first photo below) of the carvings as at the actual place you're on the opposite of the river so you can't see them well.
I then drove up to the start of the 500-meter trail to the petroglyphs. Due to the typhoon passing Korea it was raining cats and dogs and of course nobody was there. Even a weather alarm was given for the day. I did manage to walk there in heavy rain and wind. I was able to take a photo (2nd below) but it's hard to see the carvings because the rocks are wet. Funny story though as once I got there 6 people came out of the small security hut including the major of Ulsan city and his staff. A surprise. They were probably more surprised to see tourists on that day there though. I visited for just a few minutes and drove further to Tongdosa Temple.


Tongdosa Temple
Tongdosa temple is another Buddhist Mountain Temple and one of the best that I included on this Korea tour itinerary. Luckily the weather cleared to blue skies (for just an hour or so) and I had a pleasant 90-minute walk. There are quite some buildings, much more as at the other locations. Once this was a remote location back in the 7th-9th century but today it's just off the highway when you drive to Busan.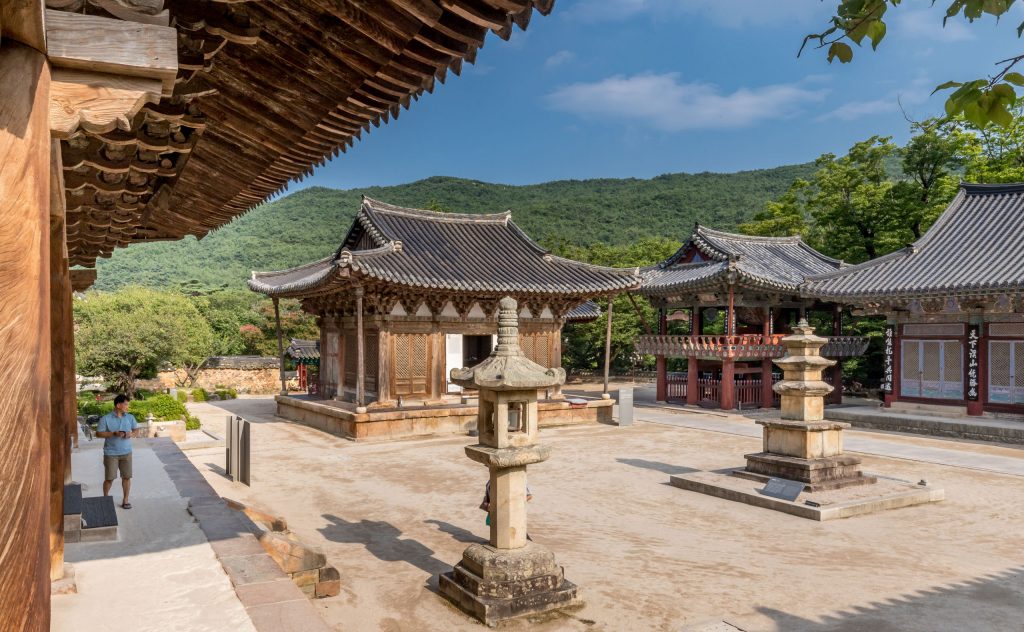 Busan City Trip
I arrived in Busan just after lunch time and quickly checked into my hotel and went out into the city. My hotel was near Haeunae Beach which is a beautiful beach to relax at. There is also a pedestrian street with plenty of shops and restaurants. I spend the rest of the day until late night there. The next day, after the Upo Wetlands day trip, I spend the afternoon and evening around Gwangalli Beach. Busan is mostly a modern city but does have several museums. Check the Busan Tourism Office for more information.
South Korea itinerary day 13: Upo Wetland day trip & Busan
About 2 hours from Busan (and a lot less from Daegu, go early!) you find a beautiful wetland nature reserve called Upo Wetland. It's located far away from any big city in the Gyeongsangnam countryside. This wetland, or marsh, is old and dates to the time the Korean peninsula was formed. You won't find any other wetland in Korean so if you plan to travel to Korea why not see some nature as well? It isn't a huge place and it's recommended to hire a bike at the visitors center and just bike around. Make sure to put your GPS to the visitors center on the southern side of the nature reserve. Upo Wetlands is a migratory place for birds so that's the main wildlife you will spot. I spend about 2-3 hours there and decided to surprise my wife, the kids stayed in Busan, with 2 more visits to Gaya Tumuli. She did NOT like that.
CHANGE YOUR SOUTH KOREA ITINERARY: After visiting the Haeinsa Temple you could opt to stay in Daegu and not yet drive to Andong. Upo Wetland is a little closer to Daegu as Busan so you could do this day trip from there and then drive north to Andong and continue your Korean road trip as per this itinerary. It might be a bit more efficient, but I had no other option as I would be in Gyeongju on a day hotel prices where through the roof.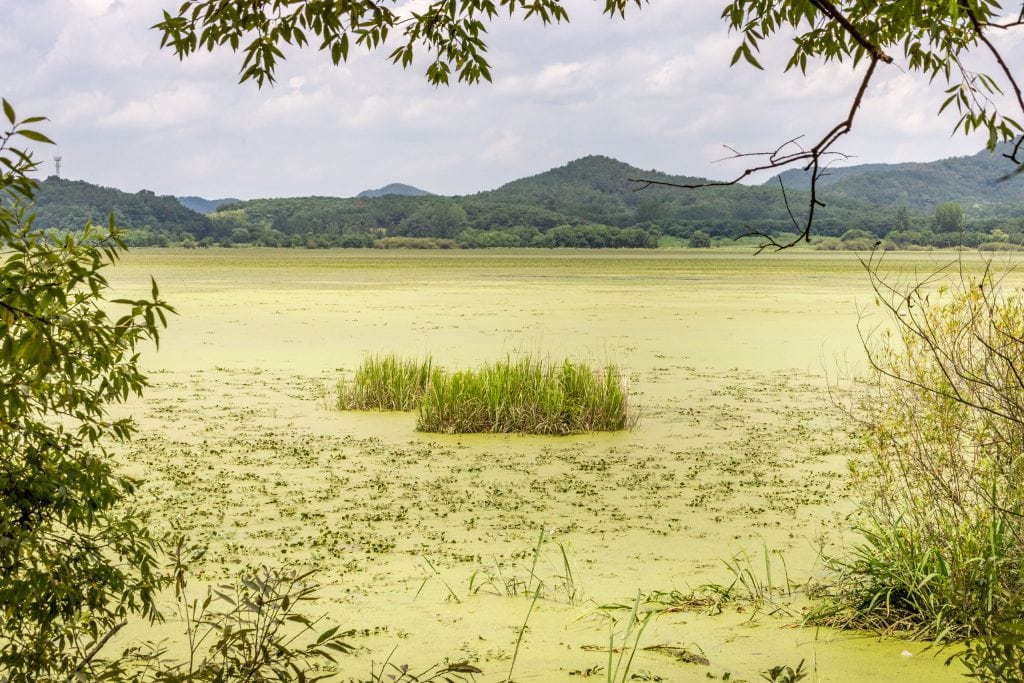 Near the Upo Wetlands are two more Gaya Tumuli sites and I couldn't resist to visit them. I'm a real UNESCO freak but I did keep the visits to just 30 minutes. My wife really wanted to go back to Busan for a city trip. One is located east of Upo Wetlands called Hapcheon Okjeon Tumuli which was a bit out of the way. The other are Changnyeong Gyo-dong and Songhyeon-dong Tumuli which are just 2 kilometers from the highway you'll take back to Busan. The latter does have a good museum with lots of artifacts and one burial mount unearthed so you can see what's in there. You'll be back in Busan in the afternoon if you decide to go!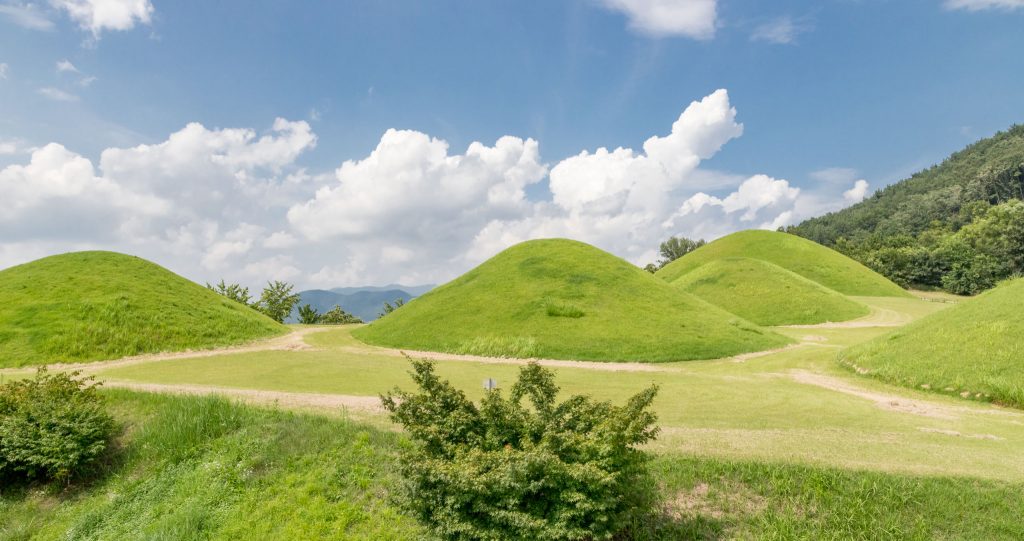 South Korea road trip itinerary day 14: Seoul to Busan – the end & departure
It depends of course on your flight time but if you plan the flight in the later afternoon or evening you still have a full day to explore Busan or relax on the beach for a day. You can also easily stay a day more in Busan and make a proper Busan city trip. I hope to return to South Korea as there are mountain fortresses in the north-east and various other places in the south-west I want to explore. Oh, and Jeju Island of course which is also a perfect extension to this road trip if you want to be on a tropical island.
It's the end of this South Korea road trip itinerary. All the way from Seoul to Busan. I hope this Korean itinerary helps you plan your trip in Korea and that you enjoyed reading this South Korea travel blog. My wife and daughter flew to Seoul from Busan with a connecting flight to Amsterdam. Home. I however went with my son to Beijing, China and continued exploring the Korean peninsula. Yes, I went for a long week to North Korea with my son. Check out my North Korea itinerary for first timers to see what you can do there.
This South Korea self-drive road trip is also easily combined with a Japan road trip in the Kansai area. You could also go to China and explore the Yunnan province from Kunming to Shangri-La. More south a Thailand road trip or Vietnam road trip can easily be combined as well. So much to see!
Stay tuned for more stories and subscribe to the newsletter or follow CTB on social media (Facebook, Twitter, Instagram including Instagram stories; on all social media you can find CTB @christravelblog) to get updated information.
Did you visit South Korea from Seoul to Busan too or do you have questions? Please leave a comment at the bottom of the page. Love to hear from you!