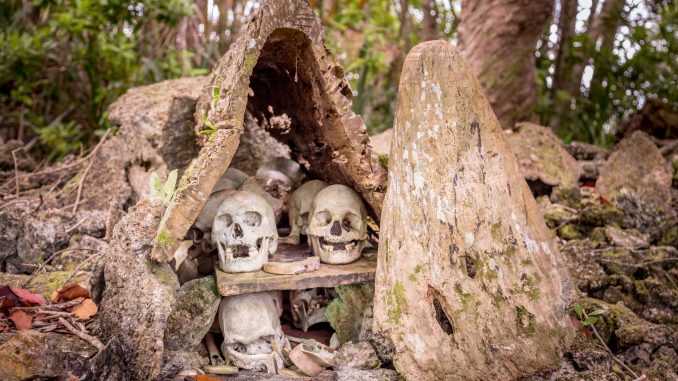 Skull Island near Munda is a place that everyone should add to their Solomon Islands itinerary. It's located just off the coast of New Georgia Island and makes a great half day trip. Another trip you must do is a New Georgia WWII day trip to the Peter Joseph WWII museum and anti-air canons. Both trips don't take a full day and are a great add-on to a Munda dive trip which is what the island is most famous for. Both the Skull Island day trip and New Georgia WWII day trip were very informative. I learned a lot about the Solomon Islands history and that I will share with you now!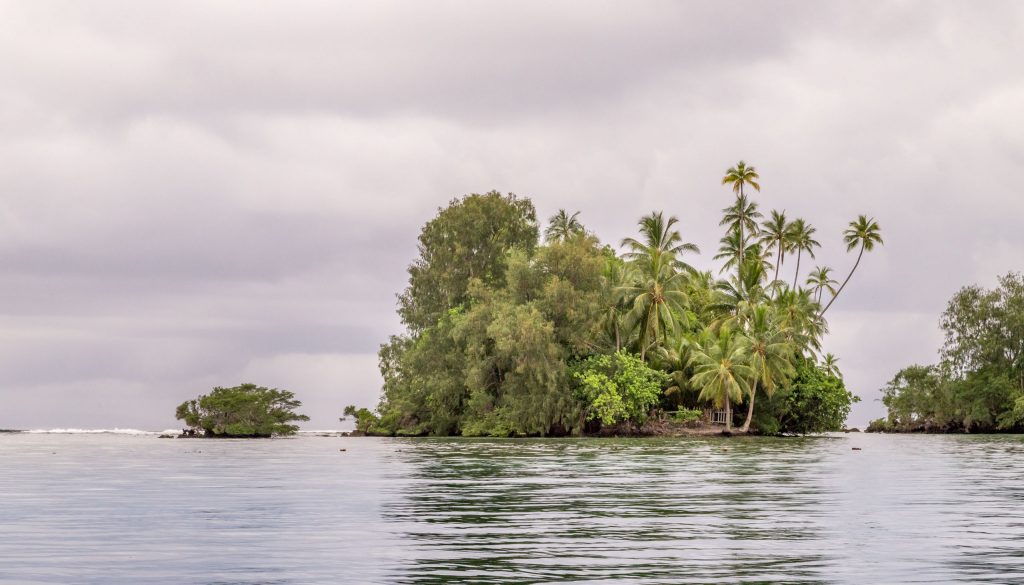 Skull Island
Skull Island is a tiny island full of human skulls, an altar, and graves. It's the most holy place in the area and a tourist attraction. These skulls were not always present on the island but only put there in the early 20th century. As in many countries local customs were not approved by Christian invaders. This was also the case in the Solomon Islands were missionaries had the locals move all skulls to one specific island: Skull Island or locally called Nusa Kunda.
The islanders in this area used to be traders and head hunters and these skulls were often displayed on a pole in front of the houses. Corpses were not buried but left upright until only bones were left and then the skull removed. Chiefs got a prominent place and worshipped. Now, they are all put together on a tiny island.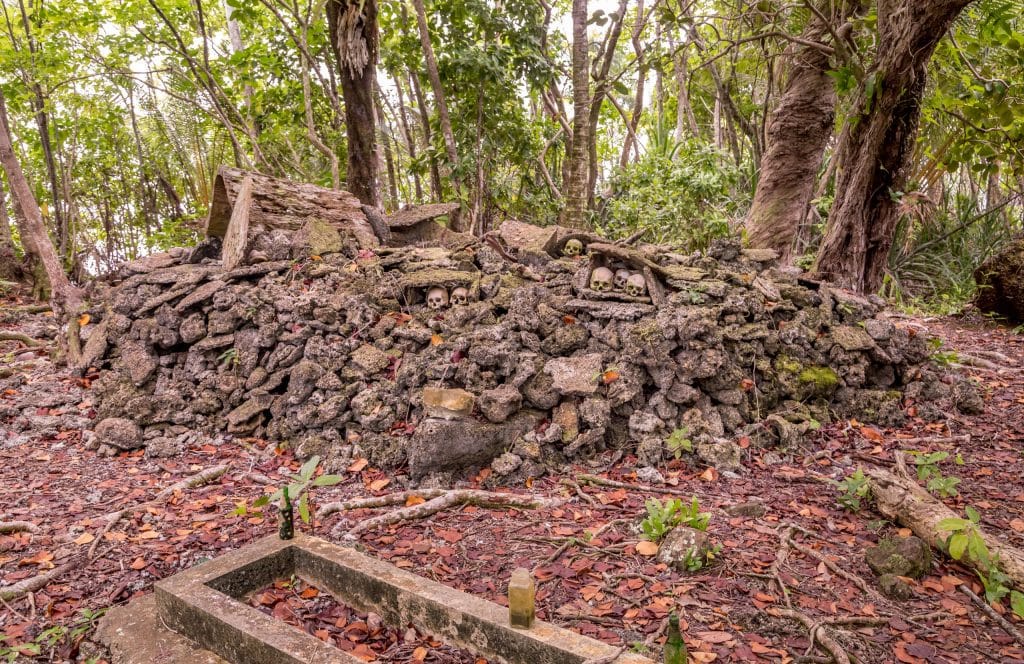 Getting to Skull Island can only be achieved from Munda, New Georgia. I added a two-night stay on my Solomon Islands itinerary at the Agnes Gateway Hotel to go diving and make the Skull Island tour. It's a 30-minute boat ride passing various small uninhabited islands. You must take a chief with you as only they can make the tours. No regular islanders can. Once arrived the chief will perform a small ritual after which you can enter Skull Islands. There are several shrines with skulls and shell money on top of a coral burial mount. The day trip to Skull Island where I learned about old local customs was very interesting. Even though the skies turned pitch black and heavy rain followed I didn't found the island eerie at all as some suggest.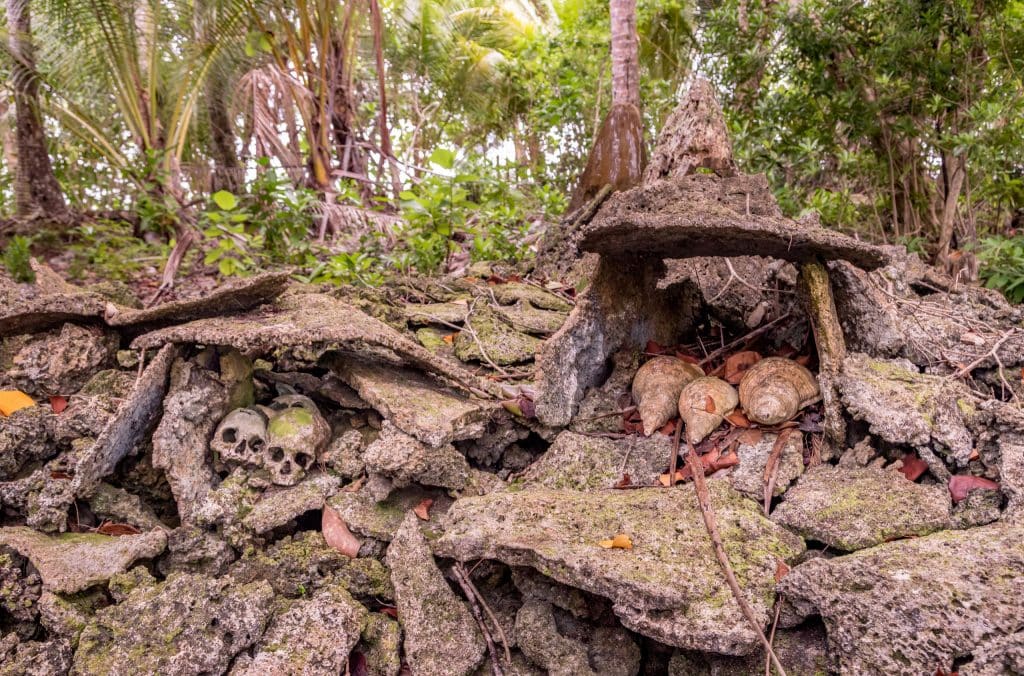 New Georgia WWII history
New Georgia is an island in the Western Province of the Solomon Islands. Munda is the largest village on the island and has an international airport. Plans are that Solomon Air will start scheduled service directly from Australia which will avoid flying up and down from Honiara. When I planned my Solomon itinerary, I had no other option as to fly up and down.
The Empire of Japan occupied New Georgia early in World War II. In 1943 during the Pacific War a campaign was launched by the Americans to free New Georgia. It took almost 6 months to completely free the islands. The remains of these severe battles can be found on land and under water. I didn't dive nor snorkel around any of the planes and shipwrecks but if you have time I highly recommend to do so. I made a New Georgia WWII tour on land only.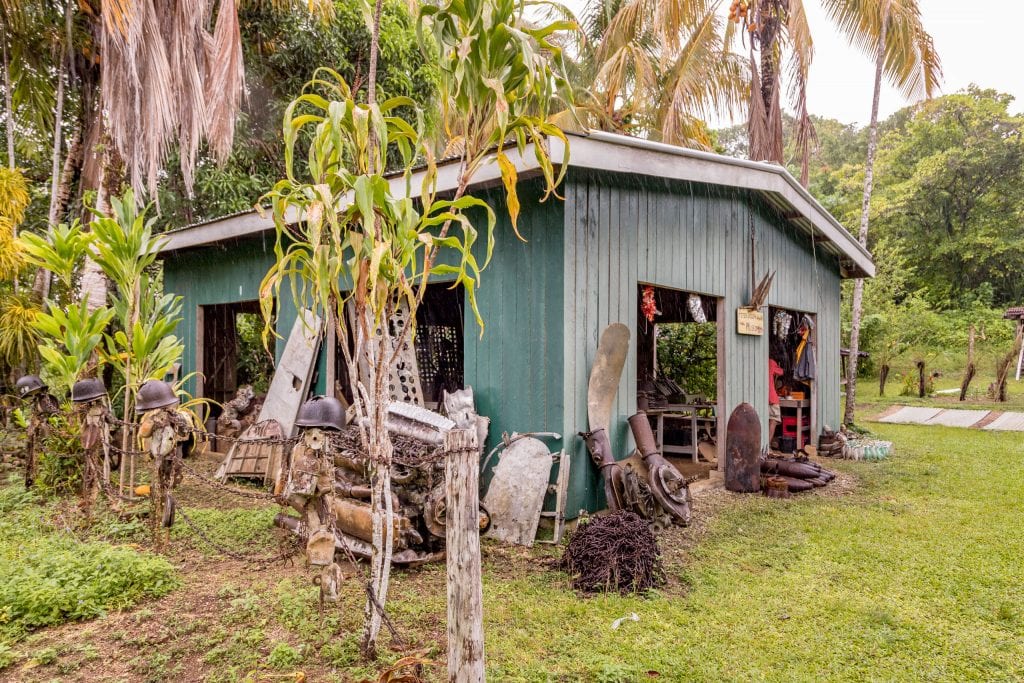 New Georgia WWII tour
The Peter Joseph WWII museum just outside of Munda in New Georgia is a must visit for WWII history buffs. Alphy Barney Paulson is the owner and collects everything himself. The museums name comes from one of the dog tags he found in the early stages of setting up the museum. It's not a huge museum, just two garages large but he has a large collection of American, Japanese, and British artifacts. The items include mortars, machine guns, bottles, bullets, vehicles, plane parts and much more. Paulson will tour you around and has great stories on how he and his friends dug up everything around the island. Many items are a bit rusty but keep in mind many have been laying around the island since the end of WWII. A visit takes about an hour.
After visiting the Peter Joseph WWII museum I continued to two huge anti air guns near the airport. They are accessible over a small dirt road. Ask around if you can't find them. They are in good rusty condition and worth a look at in the middle of the jungle.
If you are visiting the remote Solomon Islands, I highly recommend adding New Georgia Island to your Solomon Itinerary. Not only to go diving in Munda but also to visit Skull Island and make a New Georgia WWII tour. You'll learn a lot about old local customs and the severe battles of World War 2. There is much more WWII history left as what I saw during my Vanuatu trip a week earlier. If you want more WWII history check my pacific island-hopping guide to the Mariana Islands, Yap, and Palau too.
Stay tuned for more stories and subscribe to the newsletter or follow CTB on social media (Facebook, Twitter, Instagram including Instagram stories; on all social media you can find CTB @christravelblog) to get updated information.
Did you visit Skull Island and Munda too or do you have questions? Please leave a comment at the bottom of the page. Love to hear from you!
Gallery Skull Island Munda & New Georgia WWII
Click an image for a full screen gallery of more photos taken during this trip. If you like to use any photo for commercial, private or editorial use please contact first for permission and/or pricing.