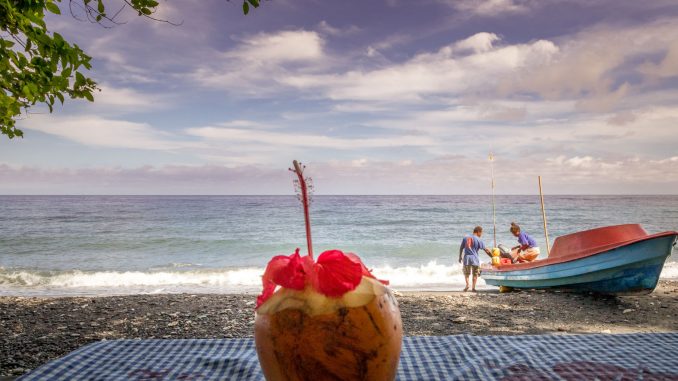 A Savo Island day trip is a must-do if you're visiting the Solomon Islands. The island is just 14 kilometers off the coast of Guadalcanal but is remote and has some unique features. These include megapodes which are a kind of oversized chicken that lay their eggs in holes in the sand which are collected by the locals for food. There are many dolphins just off the coast to watch and swim with and the interior of the island has a dormant volcano and various hot springs including a waterfall. Sunset Lodge is the place to stay and if you want to see the megapodes do stay overnight as they lay their eggs very early morning. I had just a day in my Solomon Islands itinery left but I'm happy I went on a Savo Island day trip. It was very relaxing!

How to get to Savo Island
The only option to get to Savo Island is by banana boat. Although there are rides from Honiara it's better to take the boat from Vila Village. It's just a 40-minute ride to the island from there. A Savo Island day trip tour can best be booked at the Solomon Island Visitors Center in Honiara. Get in touch with them to arrange the tour as it's difficult to reach the islanders directly.
You can go very early and see the megapodes but as Savo Island is on "islander time" you might get delayed and miss them. If you're going to see those birds, then book an overnight stay at Sunset Lodge. You'll be able to go early morning from there and sure see them. For the other sights and activities, a guide is highly recommended as most of the island is private property where you cannot just walk around.
I boarded the boat around 10:00 which was fine for me. I did miss the megapodes but I'm simply not a morning person. Once you get closer to the island, you'll have a beautiful panoramic view of the island as you can see in the photo above. Sunset Lodge is on the eastern side.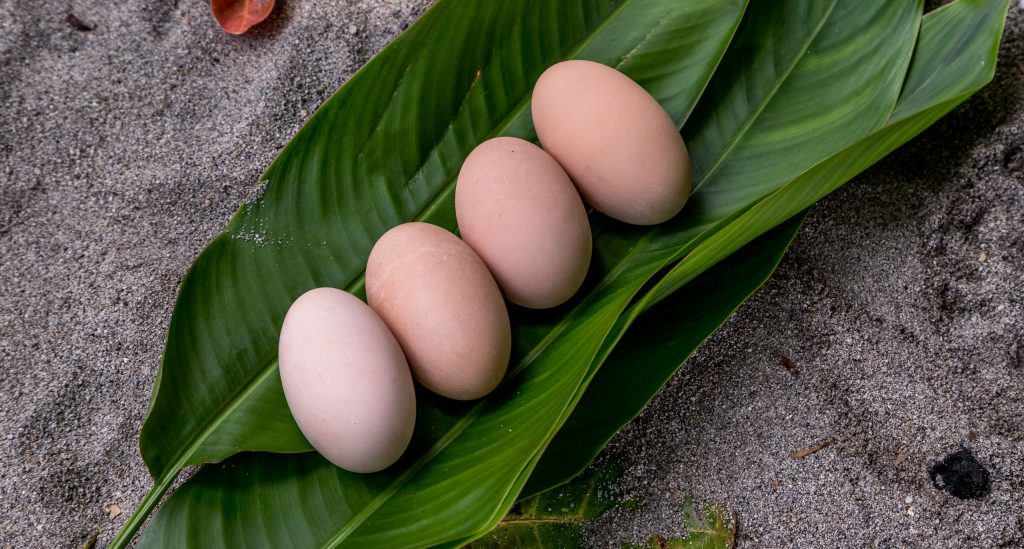 Wildlife: Dophins & Megapodes
Savo Island is famous for its megapodes which is a species spread throughout the Australasian region. Megapodes are chicken-like birds with, as the name says, huge feet. They lay eggs early morning in the sand which are harvested by the local men on Savo Island. The eggs are used for food or traded with other items. If you want to see the birds, you must be there at dawn as after dawn they disappear again in the forest. An overnight at Sunset Lodge would be the best choice in that case. You can buy the eggs from the locals who wrap them in banana leaves for you to take them. They are delicious!
A Savo Island day trip also includes a visit to the dolphin breeding grounds on the southern point of Savo Island. You can find Bottlenose and Spinner dolphins there. They will follow the boat and perform an acrobatic show for you.
Just in front of the beach you can go snorkeling. The reef isn't as beautiful as what I saw when I went diving in Munda but it's worth going in the water for an hour after lunch. If you're into diving check for options as Savo Island has some shipwrecks from WWII naval battles. Alternatively, you can just relax with a fresh coconut on the beach!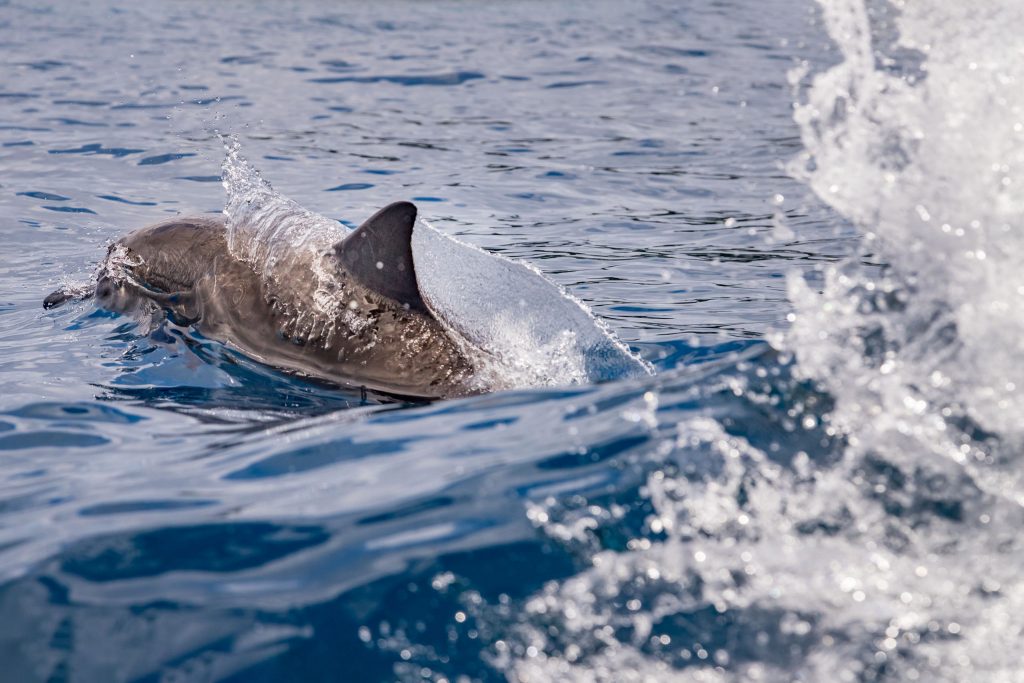 Locals on Savo Islands
Savo Island is home to about 6000 people. They rely mostly on what the island provides. Fish from the waters, vegetables from the lands and of course the eggs off the megapodes. The island has several schools in various villages. When you explore the islands, you'll see what the locals do in their daily life. A Savo Island day trip is a great way to get to know the locals and their way of life. Do note that everything goes on island time. This means that it's slow! I enjoyed visiting the local Savo Islanders a lot.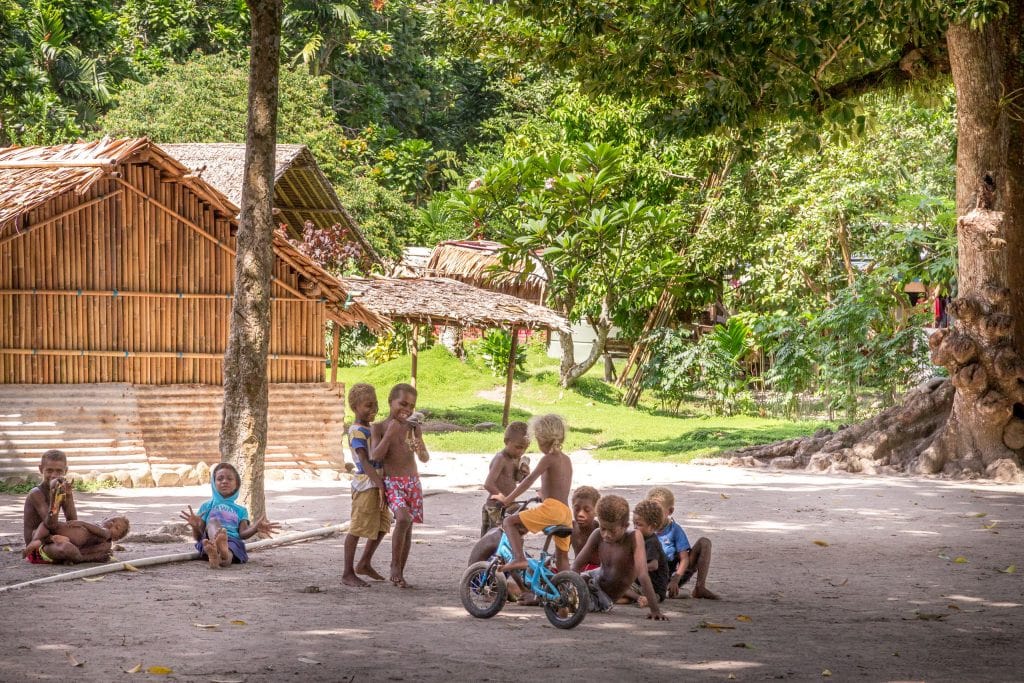 Savo Island volcano hike
If you're into hiking, make sure to make the hike up the dormant volcano. You'll walk along a water stream that gets hotter and hotter once you get close to the volcano. These hot springs are great for bathing too! Once you reach the waterfall it's a steep climb up, but the total hike isn't that long. I have no photos as I didn't bring my camera and my phone went without batteries. After the hike I enjoyed more of the beach before heading back to Honiara where I stayed at the Heritage Park Hotel.
Make sure to check my full Solomon Islands itinerary and if you're looking for ideas to add to a Solomon Islands trip check my Vanuatu itinerary or my Pacific Island-hopping itinerary as well. There are many other Melanesian islands to explore and also the pacific in general. It's a great place to spend time as each island is different.
Stay tuned for more stories and subscribe to the newsletter or follow CTB on social media (Facebook, Twitter, Instagram including Instagram stories; on all social media you can find CTB @christravelblog) to get updated information.
Did you visit Savo Island too or do you have questions? Please leave a comment at the bottom of the page. Love to hear from you!
Gallery Savo Island
Click an image for a full screen gallery of more photos taken during this trip. If you like to use any photo for commercial, private or editorial use please contact first for permission and/or pricing.