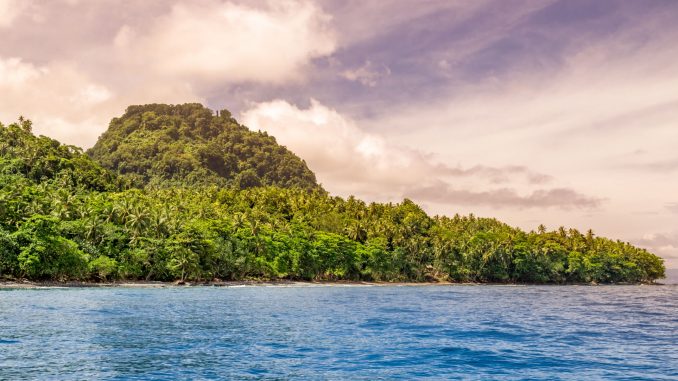 The Solomon Islands are an archipelago off the coast of Papua New Guinea. They are part of the Melanesian islands and have a strategic location in the South Pacific. They are an interesting destination to travel to for the adventurous (eco) traveler. Recently I had the luxury to explore this country (my 72th), in combination with 7 days in Vanuatu, after a business trip in Singapore. The following Solomon Islands itinerary shows you its unique local culture, WWII history and the diving/snorkeling its famous for. It's just a week and doesn't cover each single island but if you have just a week this Solomon Islands itinerary is the one to follow. I will first cover some planning tips before getting into detail. I'm sure this Solomon Islands itinerary will help you plan your trip.
Planning a Solomon Islands trip
The Solomon Islands are remote and off the beaten track but that's also the charm of these islands. There are just 2-3 ways to get to the Solomon Islands unless you're already hopping other islands which gives a few more connections. Keep in mind that the flights do not go every day, so you need to plan carefully. All flight suggestions below might change unnoticed. I recommend flying Solomon Airlines; what's better as flying the national carrier?
Flights to the Solomon Islands
From Australia: Solomon Airlines flies from Brisbane and Sydney direct to Honiara International Airport. There are plans to mix this with Munda International Airport (on New Georgia Island) into a triangle flight somewhere during 2018. Nauru Airlines and Virgin Australia fly also from Brisbane.
From Fiji: Solomon Airlines, Fiji Airways and Air Niugini fly from Nadi to Honiara International Airport. If you're coming from the US, this is probably the best connection point.
From Papua New Guinea: Air Niugini flies from Papua New Guinea to Honiara International Airport (and continues to Nadi). You can, as I did, go from Papua New Guinea to Singapore (on my return flight) for further connections. Europeans best take the route through Singapore and Papua New Guinea as it's the fastest route. If you're in Singapore combine a trip with a Thailand itinerary, Vietnam itinerary or from Papue New Guinea you can also fly to Indonesia for a road trip.
From Nauru or Vanuatu: Nauru Airlines has a connection to Nauru and Air Vanuatu has a connection to Port Vila in Vanuatu. I arrived in Solomon Islands from Vanuatu as I did a 7-day trip in Vanuatu prior to this trip.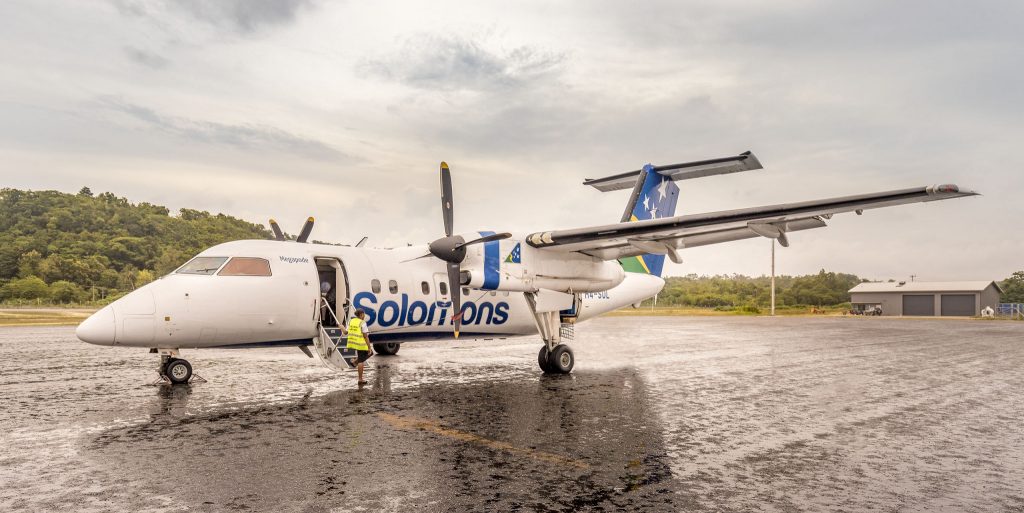 Getting around the Solomon Islands
Within the Solomon Islands itself you'll need to take domestic flights with Solomon Airlines to the various islands. Flights don't go each day and some routes just once or twice a week so plan carefully your trip by writing down a matrix and see what the most efficient way is to travel around. I already did that for you in this Solomon Islands itinerary but, of course, a week is not enough to see each island. It is possible to reach several islands by boat as well if they are not that far apart.
Getting around on the various islands is quite straightforward. The larger islands have car or scooter rentals. If you don't want to drive yourself tour agencies can take you around too. If you need help just ask the locals or the Solomon Islands Visitors Bureau as they are very knowledgeable and will help you out if needed. Now, lets have a look where I went!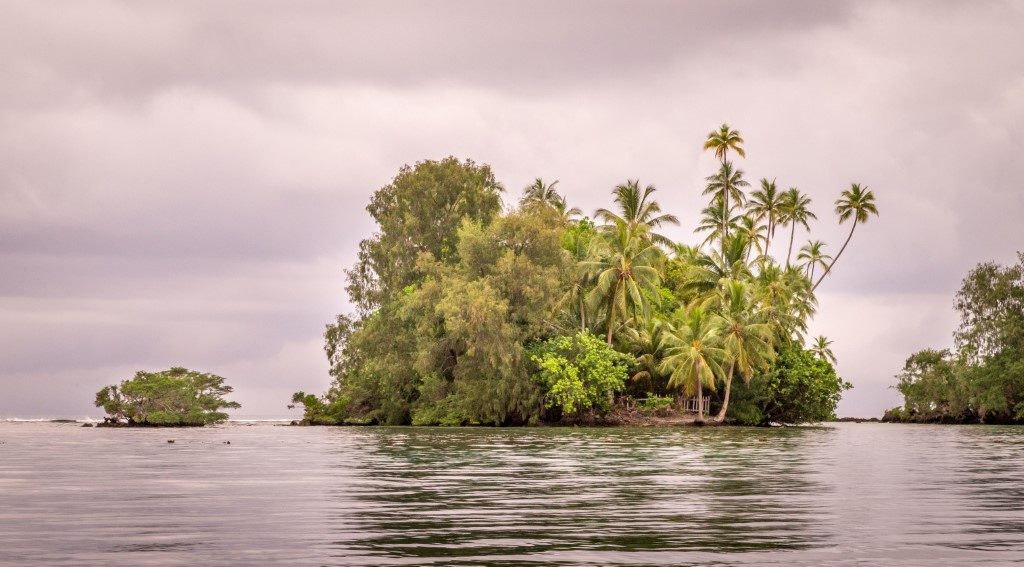 Solomon Islands itinerary day 1: arrival
I departed Vanuatu late morning on a direct Solomon Airlines flight to Honiara. During this 2-hour flight I was served a delicious lunch. In Honiara the immigration was quick and without hassle. I didn't need any visa but do check if you need one for your nationality. Traffic between the airport and downtown Honiara is bad and even though it's just over 10 kilometers it took over an hour by car. After I checked in at the Heritage Park Hotel I walked to the Solomon Islands Visitors Bureau. I double checked opening times and arranged transport for some of the next days to finalize my Solomon Islands itinerary. They can set you up with local tour agencies where needed. The remainder of the day I just relaxed at the pool of the Heritage Park Hotel.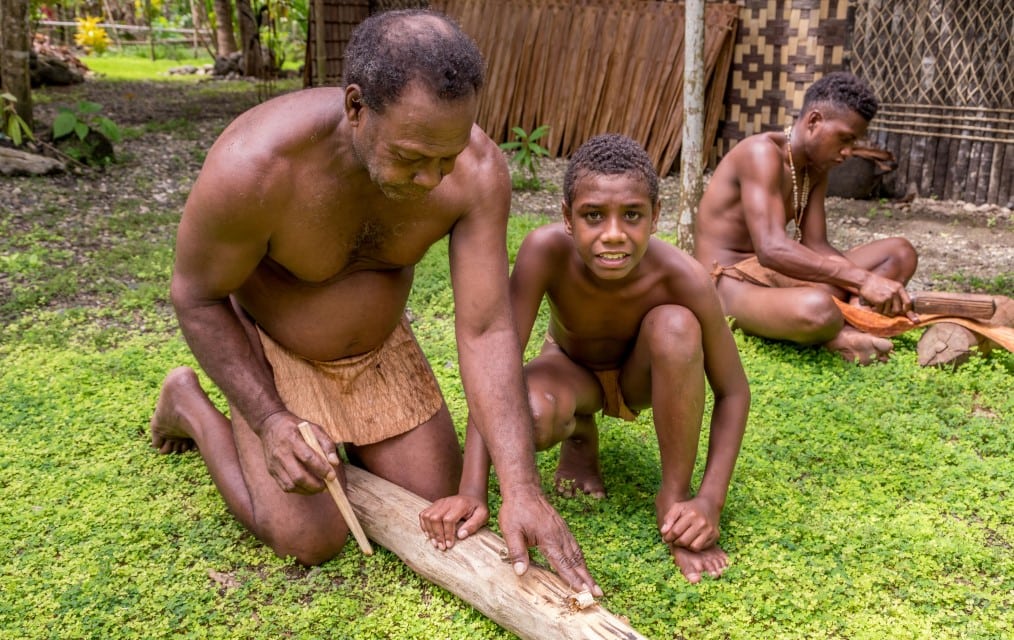 Solomon Islands itinerary day 2: Honiara / Guadalcanal land day tour
A land tour on Guadalcanal is a must-do as it shows the WWII history and local culture. This tour is best done by car or motorbike but can also be arranged through a tour agency if you don't want to drive yourself. I recommend starting at the local cultural village where locals show their local customs. Make sure to check with the visitor's bureau to make an appointment there as they are not open every single day. A visit takes about an hour or maybe two. I continued 24 kilometers west along the coastal road to the Vilu War Museum. This open-air museum has various planes, cannons, and other artifacts from WWII on display. I must say their items are well preserved and there are much more compared to those I saw on Yap a year earlier when I was hopping island in the northern Pacific.
I then backtracked to Honiara for lunch and visited the National Museum. The National Museum explains the history of the Solomon Islands from the time the first settlers arrived centuries ago. If you like to eat like a local I recommend stopping at one of the many food stalls along the road.
After lunch I continued east along the coastal road to Tetere Beach. Here, American soldiers landed on the beach during World War II. The locals have collected a large collection of amphibious vehicles, ammunition, and other WWII artifacts which are displayed at the Tetere Beach WWII Museum. Visiting such a historical site is one thing but you'll also see lots of locals doing their thing. That's something I like; just driving around and watching people doing their thing. I didn't have time this day for the Japanese and American War Memorials as I left a bit late in the morning. I visited those after the snorkeling tour on day 3 of this Solomon Islands itinerary.
Solomon Islands itinerary day 3: Diving/snorkeling on Guadalcanal
One disadvantage of hopping islands by plane is that it's difficult to go diving due to the fact you can't fly the next 24 hours. The Solomon Islands are world famous for their diving spots. I was able to go diving the next day on Munda! On Guadalcanal Tulagi Dive took me to Bonegi beach (spot 1 and 2) for snorkeling. At Bonegi 2 there is beautiful shallow reef, perfect for snorkeling but the wreck isn't visible as it's too deep. The next spot, Bonegi 1, is much better for snorkeling as the wreck is partially above water. I came across a stone fish there (see last photo of the article) which reminded me again that reef shoes are necessary. You don't want to step on one of those and get stung by its poisonous spines. I also shot my best clownfish photo ever! I had a great time with Tulagi Dive at Bonegi beach.
EXTEND YOUR TRIP: If you want to add another day to your Solomon Islands itinerary I suggest going to Tulagi Island. There are several great spots, including wrecks, to go diving and/or snorkeling too. Ask at the harbor for a boat transport.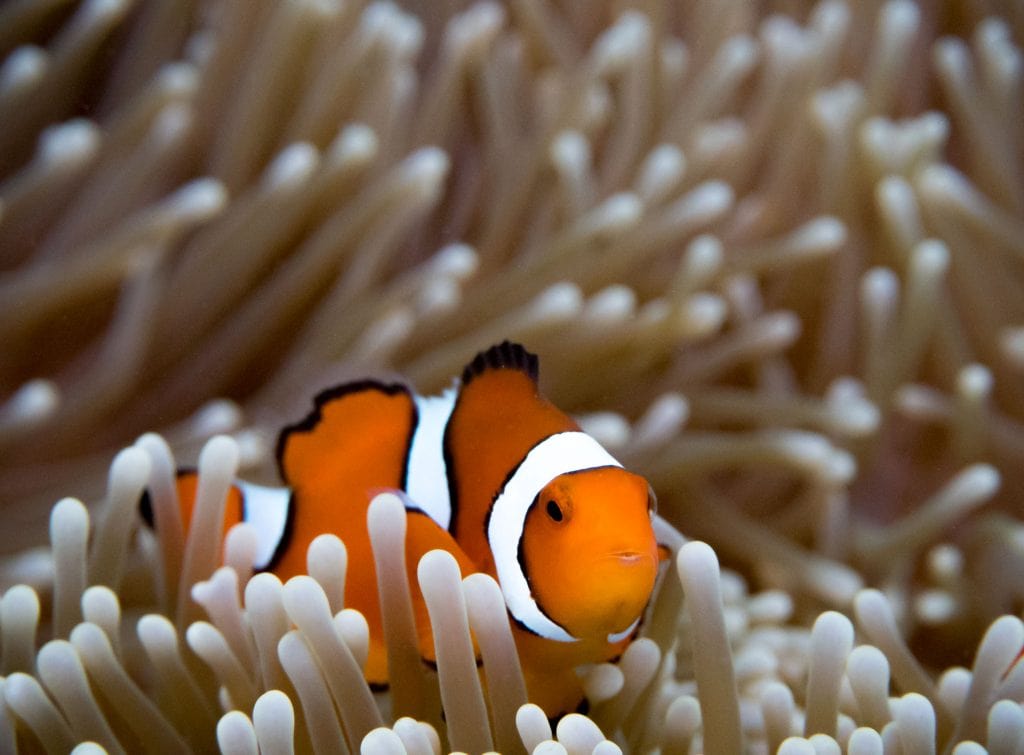 Solomon Islands itinerary day 4: To Munda (New Georgia) and diving
Munda is located on New Georgia Island which is just a 45-minute flight from Honiara. I boarded a Solomon Airlines Dash9 (see photo above) early morning. The flight was a combined flight to Gizo, so it had a short stop there. From Gizo to Munda was just a 12-minute flight which will help break my 97 flight in a year record. In Munda I recommend staying at the Agnes Gateway Hotel which is just a 5-minute walk from the airport.
After lunch I went diving with Dive Munda which is located within the Agnes Gateway Hotel. I was one on one with an instructor as I haven't finished my license yet. He was very professional and after I showed him I know the basics we started the first dive. The first dive was in shallow (12-14 meters deep) reef and lasted about 50 minutes. A small snack was served on a small uninhabited island before heading to the next dive spot. Here I saw some turtles!
The remainder of the day I just relaxed at the terrace of the Agnes Gateway Hotel with a cold beer in my hand looking at the ocean. It was a luxury to be there!
Read all about diving in Munda in this day trip report:
SOLOMON ISLANDS – World class diving with Dive Munda & an Agnes Gateway Hotel stay
Solomon Islands itinerary day 5: Skull island & WWII tour Munda
New Georgia isn't all about diving. A visit to Skull Island is also a must-do trip. After breakfast at the Agnes Gateway Hotel the staff arranged a boat tour to Skull Islands. Skull Island is a sanctuary where you can see the skulls of tribal chiefs and other important persons. It's an interesting and unique place to visit. It started pouring rain on the way back to Munda but luckily the sky cleared a bit for the WWII tour.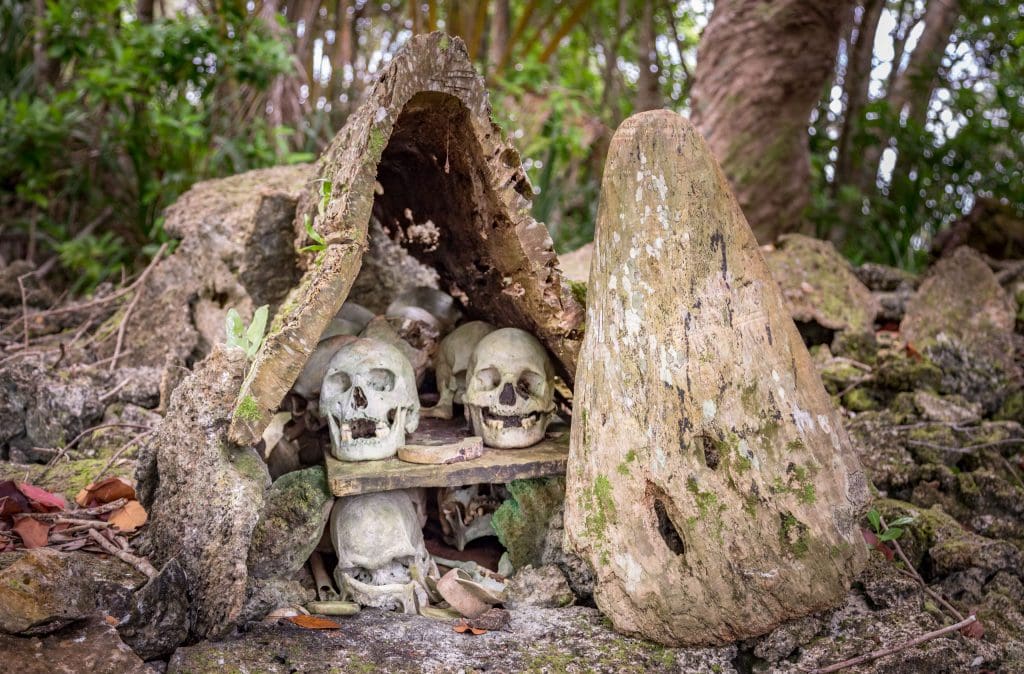 New Georgia saw some fierce battles during WWII and is home to various WWII relics of which two are easily reached from Munda. I started at the Peter Joseph WWII Museum which is named after Peter Joseph, the name on the first dog tag found by the owner of the museum. The museum is small, but it has a lot of items. After the museum I went to a few anti-aircraft canons near the airport. I would have loved to add more days in Munda to my Solomon Islands itinerary, but I didn't have the time. In the afternoon I flew back to Honiara again with a stop in Gizo.
Read all about Skull Islands & New Georgia WWII history in this day trip report:
SOLOMON ISLANDS – Skull Island Munda & New Georgia WWII history day trip
EXTEND YOUR TRIP: Tetepare island is known of its indigenous wildlife and a tentative UNESCO World Heritage Site. You need to add 2 or maybe 3 days to this Solomon Islands itinerary to visit the island. Around the island there are also several more diving spots worth checking out.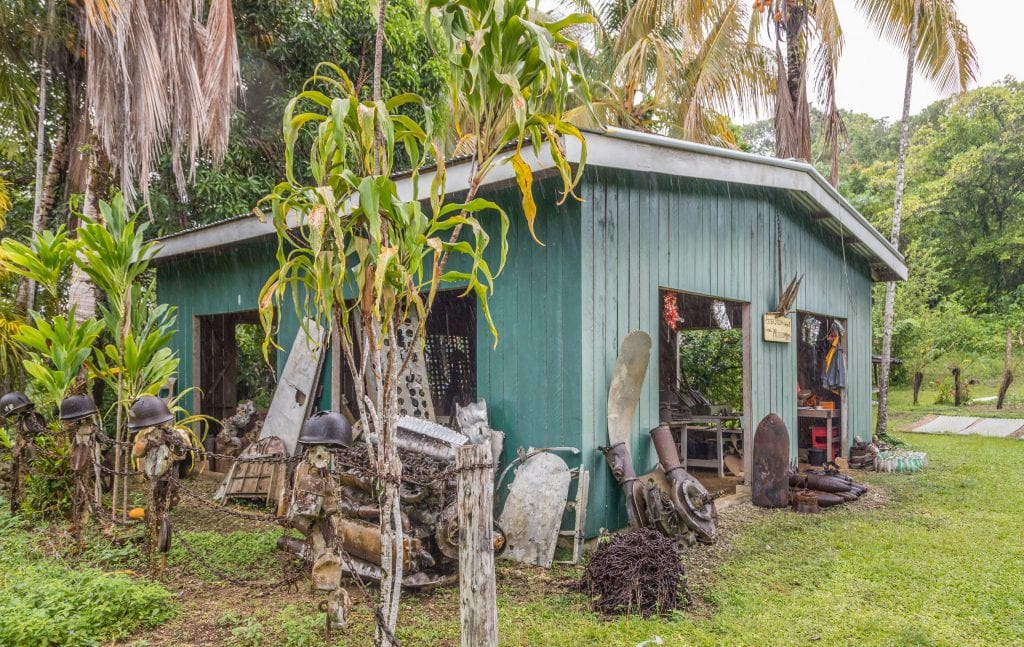 Solomon Islands itinerary day 6: Savo Island day tour
Savo Island is a small beautiful, car free, island an hour away from Guadalcanal by speedboat. Savo Island is known for megapodes. These birds lay eggs early morning on the beach which the islanders then collect. If you want to see the megapodes you must go at sunset which is almost impossible if you go on a day trip. I suggest extending this Solomon Island itinerary by a day and stay overnight at the Sunset Lodge. A trip to Savo Islands is best arranged through the Solomon Islands Visitors Bureau. Other activities include dolphin watching, climbing a volcano, and hiking to a waterfall. I just relaxed all day at Sunset Lodge and went snorkeling just in front of the beach. A Savo Island day trip is a must-do, it's so relaxing!
More detailed information about a Savo Island day tour in this day trip report:
SOLOMON ISLANDS – Savo Island day trip from Honiara (Guadalcanal)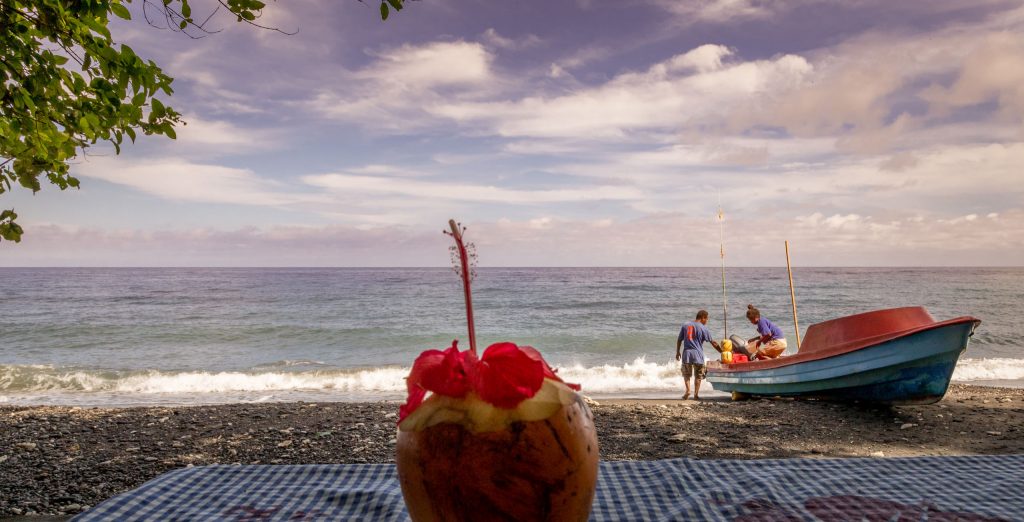 Solomon Islands itinerary day 7: departure
Every trip comes to an and so did my trip to the Solomon Islands. I had a magnificent time in this remote and of the beaten track country. I had to get back to Europe so I booked flights with Air Niugini to Singapore with a stop in Port Moresby (Papua New Guinea). This was a day flight and I love day flights. In Singapore I had a one-night stay as a security in case of delayed flights. It's always a wise idea if you fly on separate tickets, especially on routes that have just one a flight a day, to add a day as a security to not miss connecting flights. Keep in mind that separate tickets means the airline isn't responsible for delays on further flights. A day in Singapore is always a good idea too.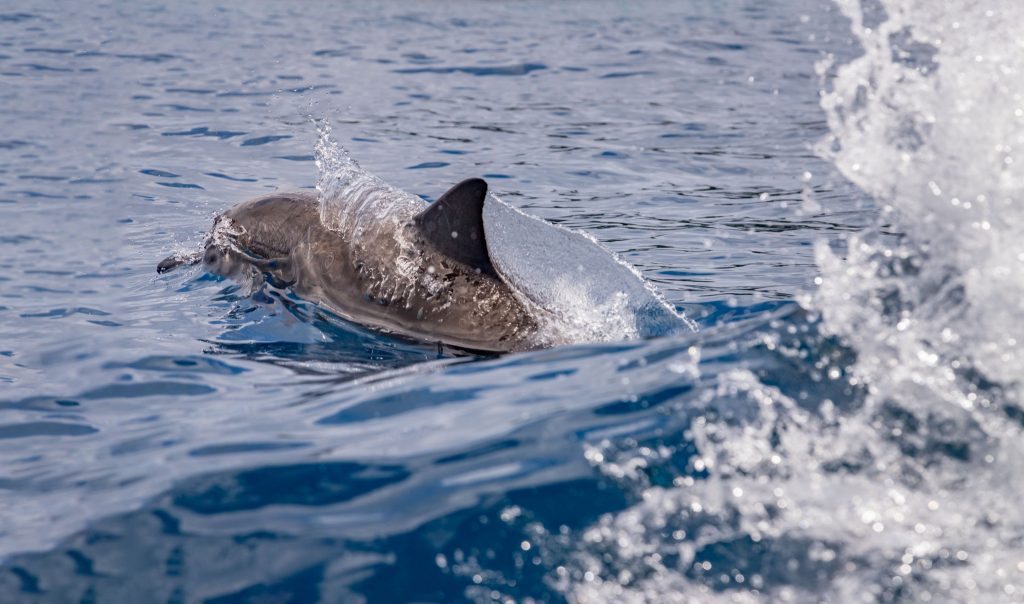 How to extend this Solomon Islands itinerary
This Solomon Islands itinerary doesn't include every single island of the Solomon Islands. There is so much more! I already gave several options on extending your trip. Personally, the following two places are on my wish list if I return to the Solomon Islands.
Rennel Island: Rennel Island is the tallest atoll in the world and a UNESCO World Heritage Site. It has a huge lake with endemic wildlife including many birds. To visit Rennel Island you need at least 3 days possible 4. Check with the visitors' bureau to plan a trip and book local lodges. It's really off the beaten track!
Tetepare Island: I already mentioned this island earlier. It's a tentative UNESCO World Heritage Site. Photographing the unique endemic species there is high on my bucket list. To go there you also need 2-4 days.
Adding just those two sites to this Solomon Islands itinerary will extend it by a week. I hope to return one day and combine my next visit with a side trip to Nauru. Nauru for some reason really intrigues me.
If the above suggestions for a Solomon Island itinerary are not enough then I recommend checking the Solomon Islands Visitors Bureau website for more information. There is so much to do!
I had a great time travelling the Solomon Islands and I hope to return one day soon. I combined my visit with a 7-day Vanuatu itinerary which was a logical choice for a European. It's far away and not the easiest place to get to. If you want to extend your trip I recommend reading my northern Pacific Island-hopping itinerary as well. With a flight or two that itinerary can be added to this Solomon Island itinerary without problem. I'm sure you'll have an awesome time too!
Stay tuned for more stories and subscribe to the newsletter or follow CTB on social media (Facebook, Twitter, Instagram including Instagram stories; on all social media you can find CTB @christravelblog) to get updated information.
Did you visit Solomon Islands too or do you have questions? Please leave a comment at the bottom of the page. Love to hear from you!