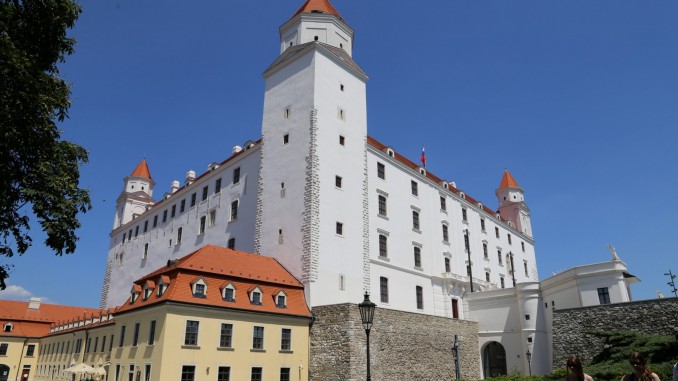 Summary: A family trip to Bratislava. To tick off a new capital (at least for the rest of the family) and a new country (for them). A nice small city with a small old town; good food for very affordable prices. From here we also took a day trip to Czech Republic, to the Lednice-Valtice Cultural Landscape which is an UNESCO World Heritage site. This is a great day trip from Bratislava an hour away.
UNESCO World Heritage Sites visited: Lednice-Valtice Cultural Landscape (1h from Bratislava in Czech Republic), Banska Stiavnica (2h from Bratislava) (see all UNESCO sites here)
Day 1 – Arrival
We flew from Amsterdam to Vienna and arrived in the evening; from there with our rental car a small hour more to Bratislava arriving around midnight to the Holiday Inn hotel.
Day 2 – Castle of Bratislava
The Castle of Bratislava is located on a rock direct next to the old town along the Danube river. From here you can see Austria and on clear days Hungary. The castle is square shaped with towers in each corner. It's build over centuries from the 9th to the 18th and due to a fire completely rebuild mid of 20th century. History on the place of the castle goes back as far as 3500 B.C. when people from the Baden culture lived there. After this it has been inhabited by Celts, Romans, Slavs, Moravians, Nitrians and after part of the Kingdom of Hungary till what it is today.
Day 3 – Lednice-Valtice Cultural Landscape
This landscape is a 1 hour drive from Bratislava and is in Czech Republic. Therefore see please this post: CZECH REPUBLIC – Lednice & Valtice Cultural Landscape (2014.06.08)
Day 4 – Old Town Bratislava
The center of Bratislava is very small and not even a full day is needed to see most important sights. As I have visited before we finished all in like 5 hours. Things to see are St. Martins Cathedral, New Bridge, Slavin Monument, St. Clare's Church, Church of Annunciation, Church of Holy Savior, Fountain Roland, Old Town Hall and some other sights. It's a great city and laid back atmosphere. Great food in many places from very cheap to high end (but still cheap) food. In the gallery and impression of the sights.
Day 5 – Banska Stiavnica
Today it's time to visit another UNESCO World Heritage Site: Banska Stiavnica. This this a site, like the one above on day 3, which you need the full day to visit. It consists of multiple places starting with the old town, the cavalry complex, castles, towers, lakes and the mining sites. We drove from Bratislava about 9 AM arrived there around 11 AM at the Holy Trinity Square and parked the car there. We did breakfast/lunch at a local restaurant. At the end of the day we noticed we should have driven an hour or so earlier as we had to hurry everything and we could not see Castle in Sv. Anton (not part of this UNESCO site but very nice!).
We started to check out downtown (in gallery everything is chronologically). Holy Trinity Square which was erected in the 14th to 16th century and has the Holy Trinity Column in the middle and is surrounded by houses of the rich in those times including the mining court. Down the square we walked to the St. Catherine's Church which is a late gothic church from the end of the 15th Century. For some reason it was locked. From there it's a short walk to the botanical garden, and the oldest church of the city: Church of the Assumption of the Virgin Mary. From here one can walk to the Kammerhof, now holding a museum about mining. From there we walked up the hill to the old castle which originally was a parish church in the 13th century. It was turned into a fortress during the Turkish invasions and now there is some exhibition, visit the jail and the bell tower. In the old town you find also the Evangelical Church which is a protestant church which Stiavnica was for almost two centuries in the middle of a catholic country.
After a short break we visited Bethlehem of Banska Stiavnica (not UNESCO) which is a 21 meter long wooden carved representation of Banska Stiavnica with 800 figures of which half of them can move. We then moved on to see the rest by car, first the new castle. It was a fortress during the time of the Turkish invaders, it now holds a museum about firefighting (we did not visit). From there we drove by the Knocking Tower which now holds a tea house. In the old days miners were called to work by knocking a wooden block and also rebellious miners were imprisoned here. From here we drove to the Calvary which is a cluster of chapels and churches on a steep hill. Built in the 18th century by Jesuits a great unique place which luckily is getting restored.
We then drove along the Castle in Sv. Anton; it must have the most beautiful museum in Slovakia but we had no time to go inside. From here we drove (for the kids) the top attraction of the day: Open-Air Mining Museum. You can find several historical buildings above ground, and you can opt for a tour underground. We did the tour which lasted around 90 minutes and is really worth doing as you can see how the mining worked in the past and the present. Then a short 2 hours drive back through the mountain scenery!
Day 6 – Departure
A short drive to Vienna airport to catch our flight back to Amsterdam!
Stay tuned for more stories and subscribe to the newsletter or follow CTB on social media (Facebook, Twitter, Instagram including Instagram stories; on all social media you can find CTB @christravelblog) to get updated information.
Did you visit Bratislava too or do you have questions? Please leave a comment at the bottom of the page. Love to hear from you!
Tourist Map of Bratislava & Banska Stiavnica