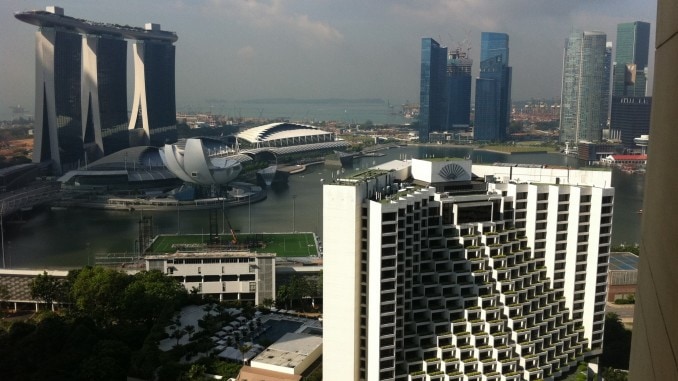 First time conference in Singapore. The conference was held the previous years in Tokyo but due to the nuclear disaster in Japan a Singapore show was made instead. One thing to remember: HOT! Great atmosphere in Singapore; non stop nightlife and more.
Day 1 & 2 – Arriving in Singapore
Arrived early evening from direct flight Amsterdam to Singapore. Got settled in the Pan-Pacific hotel and checked out where to visit next day and see all in a most efficient way.
Day 3 – Sightseeing
Singapore is not big and you don't need weeks to explore the country. Today I decided to explore Little India where the Indian community lives, China Town, Arab Street, the Orthodox Church, Christian Church. The small distances best to walk in the heat; if it's more than 10 minutes just take a taxi to save time and escape the heat. Little India is basically one street where the action is; it has a great Hindi temple (Sri Veeramakaliamman Temple) to check out. In Arab Street you'll find yourself in Arabian atmosphere; don't forget to check out the mosque (they will provide you clothing). China Town like any other China town; great atmosphere and you find here a great Hindu temple and the Buddha Tooth Relic Temple and the Thian Hock Keng temple. Where you spend maybe an hour in Arab Street and Little India take two hours for China Town. In the evening went to Bugis and Kampong Clam the old Malay district for dinner.
Day 4 through 6 – Business
Business and more business.
Day 7 & 8 – Sightseeing & Departure
We went today to Sentosa island. It hosts Universal Studio's and several other tourist attraction. Our main goal was to see the fortifications of the British forces during WWII which are located on Sentosa Islands. After spending a few hours here we went back to the hotel for a freshen up dive in the pool and after to the airport.
On the departure, especially the flight to Amsterdam check the timings! They go just over midnight around 00:30 keep in mind leaving on 10th May actually is 9th May very late evening! Coming back next year to see some more sights.