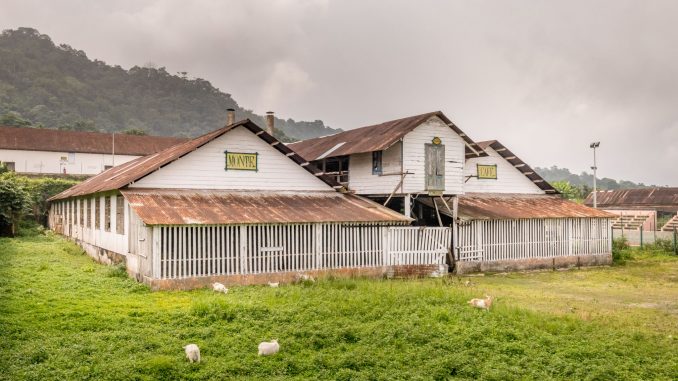 As I described in my São Tomé itinerary there are 3 day trips one can do on the island. To the north, the south and the central part. It's time to cover the central area in detail including the places of interest in the capital São Tomé. The central day trip is the most interesting one as you'll get to see lots of cultural heritage and nature. I recommend hiring a car with Privilege Tours and drive the day yourself. If that's not your thing hire the car with a driver. If you want to see the places of interest in São Tomé too, then start early at 8 AM. In case you have a bit of time the other days I recommend checking out the city on a separate day as I did. Now, lets go to the first stop, Monte Café.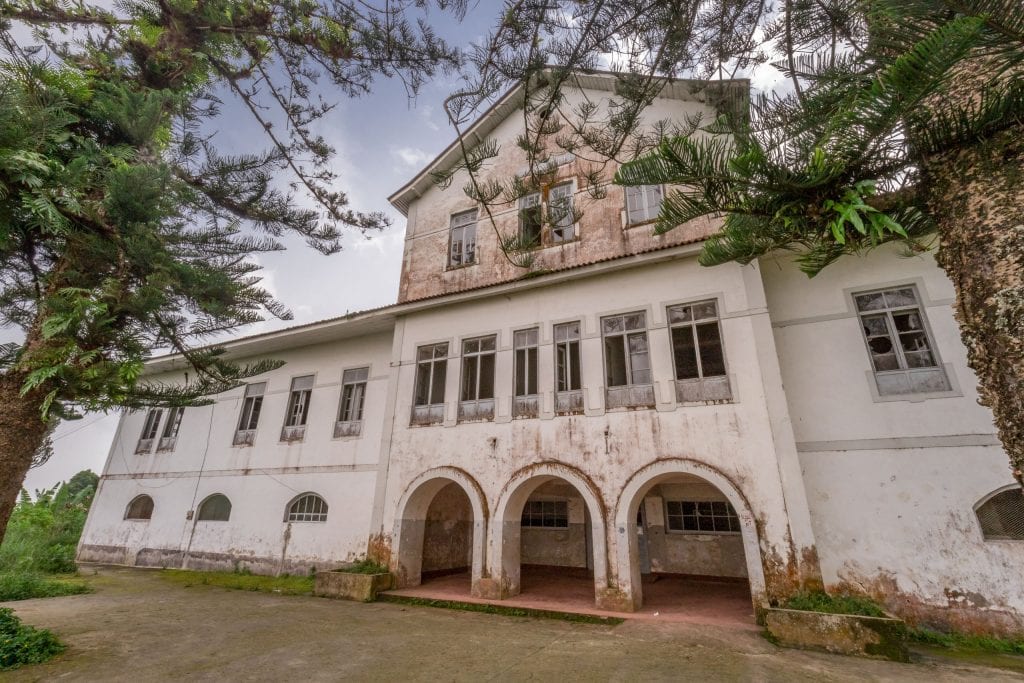 Monte Café
Monte Café is just a short drive from São Tomé into the central highlands and the start of the central São Tomé day trip. It was once the most important coffee (and cocoa) plantation in São Tomé & Príncipe. Today it's a major tourist attraction on the island and I can see it becoming the nations first UNESCO World Heritage Site. It's well preserved but it does need a bit of reconstruction too. I arrived around 9 AM and had a delicious local coffee first. It's what the place is famous for after all.
Monte Café was founded in 1858 by Manuel da Costa Pedreira and quickly expanded to become the largest coffee plantation on the island. The area, at just over 650 meters altitude, has the perfect climate to cultivate Arabica coffee and cocoa. A whole village formed with hundreds of people but today just over 500 are left. A fields of coffee and cocoa are left after the Portuguese left the country. At the entrance you can see the administrative buildings which are transformed into a small museum explaining the history of Monte Café. Two large drying halls are intact as is the hospital up the hill.
Plan about 2 hours for a visit including guided tour, explaining the history, around the premises and museum. I enjoyed the Monte Café tour a lot after which continued my central São Tomé day trip to the Cascata de Sao Nicolau waterfalls, located not far away into the jungle.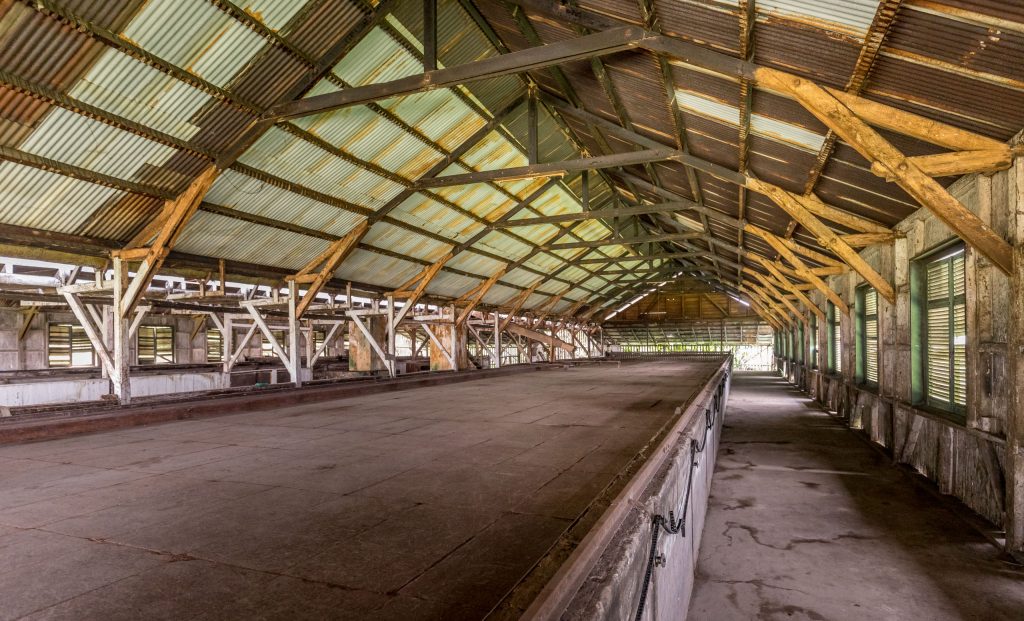 Cascata de Sao Nicolau
The road does get worse if you get closer to the Cascata de Sao Nicolau waterfall, but a normal car will get you there. It's a small waterfall with a bridge in front. You probably spend just 15-20 minutes there. I had hoped to go swimming there as I did under a waterfall when I was in Palau, but this wasn't possible. After making a few long exposure photos I drove back the same way to Casa Almada Negreiros for lunch. If you started the central São Tomé day trip very early you can go first to the botanical gardens and have lunch after.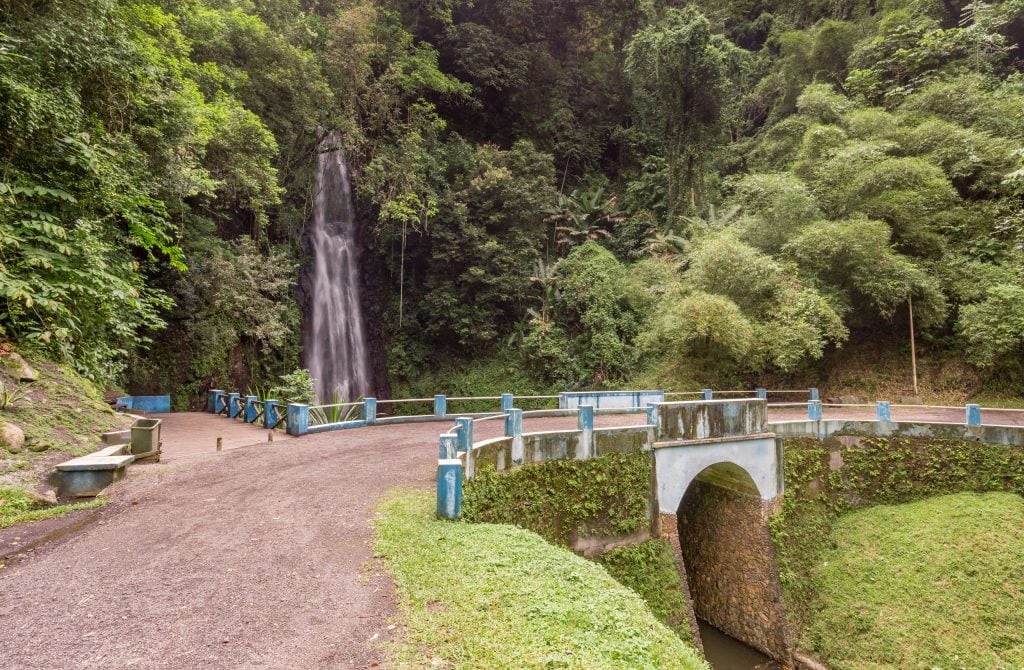 Casa Almada Negreiros
Casa Almada Negreiros is in Saudade just passed the T crossing to the waterfall and botanic gardens. The building is a reconstruction of the house where José Sobral de Almada Negreiros was born. He was a leading Portuguese modernist artist. Works include writings, paintings, stained glass, and mosaics amongst others. There is a small museum and art gallery at Casa Almada Negreiros too, but I included a visit on my central São Tomé day trip mainly for lunch. The restaurant has an amazing view over the tree tops of the jungle below. The food is delicious. After lunch I went to the Jardim Botanico do Dom Sucesso, an amazing botanic garden.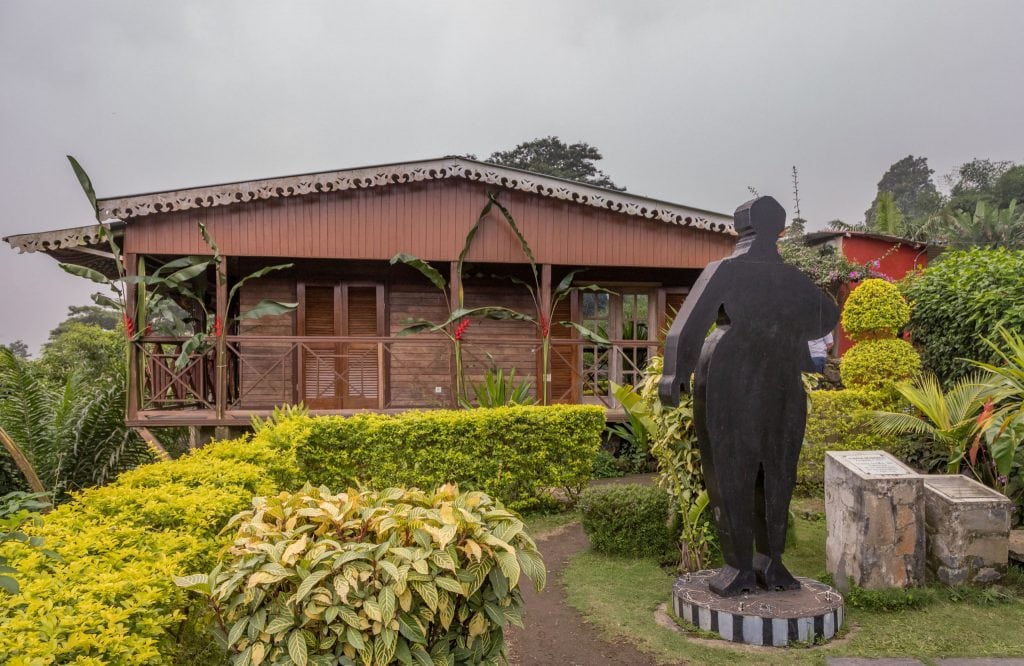 Jardim Botanico do Dom Sucesso
Jardim Botanico do Dom Sucesso is a botanic garden in central São Tomé at an altitude of just over 1000 meters. If you go further up, you'll end up in the Obo National Park where you can do day hikes or even overnight hikes. The botanical garden is located on the old grounds of the Monte Café and driving there is amazing. You can still see plenty of coffee plants and cocoa trees. The Jardim Botanico do Dom Sucesso is most famous for it's 100+ varieties of endemic orchids. Entrance is free, but a small donation can be made after the visit. I really enjoyed the guided tour which explained all the different plants, flowers, and trees. You'll quickly spend at least an hour at the botanical garden Dom Sucesso. After my visit I returned to my hotel and just relaxed but if you don't have time any other day, I recommend visiting downtown São Tomé in the afternoon. You will have time after a central São Tomé day trip. There are several places of interest….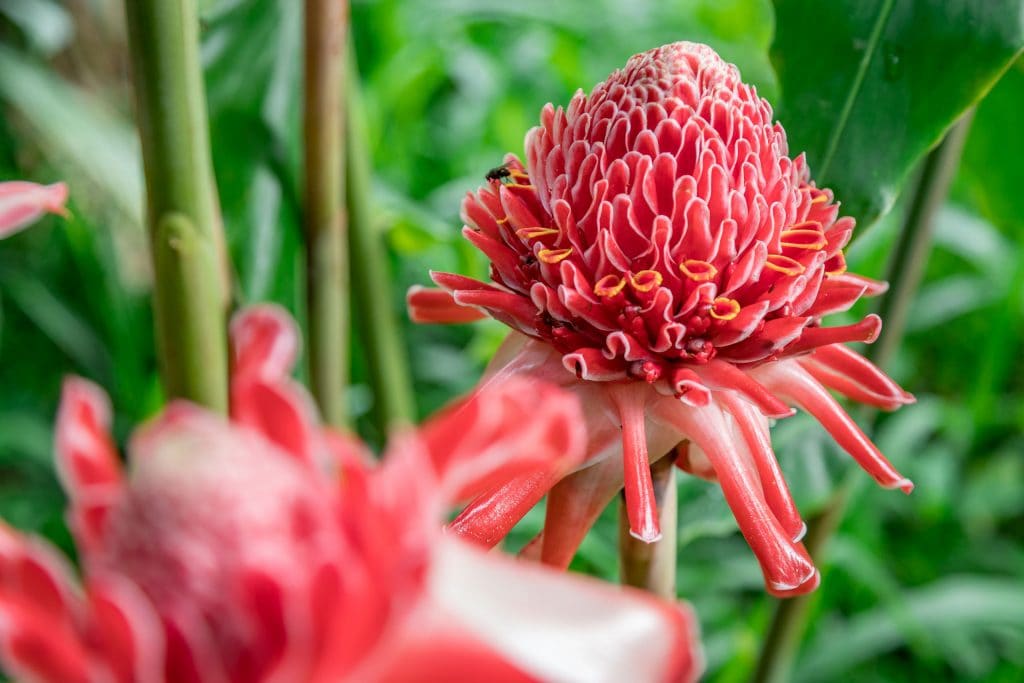 Downtown São Tomé
Downtown São Tomé is home to several beautiful Portuguese colonial buildings. They can be added in the afternoon of a central São Tomé day trip. Most important are San Sebastian Fort, Cathedral, Independence Square and wandering through the Colonial Streets.
San Sebastian Fort
San Sebastian Fort (São Sebastião Fort) is a must see in São Tomé as it's the oldest Portuguese colonial building on the island. The construction of the fort started in 1575 with a lighthouse added in 1866. It got destroyed and was rebuilt in the early 20th centry. Today the fort houses the national museum of São Tomé & Príncipe. It explains the history from the first Portuguese settlers, independence and current affairs. It takes about an hour to explore it.
Cathedral, Independence Square, Colonial Streets
The Cathedral built in the 15th century is a must see too. It's a beautiful example of overseas Portuguese colonial architecture. The nearby Independence Square is a great spot for a rest and library and other buildings are worth a look at too. I recommend just wandering the colonial streets and you'll be surprised what you discover. If the local market is open stop by for some fresh fruit!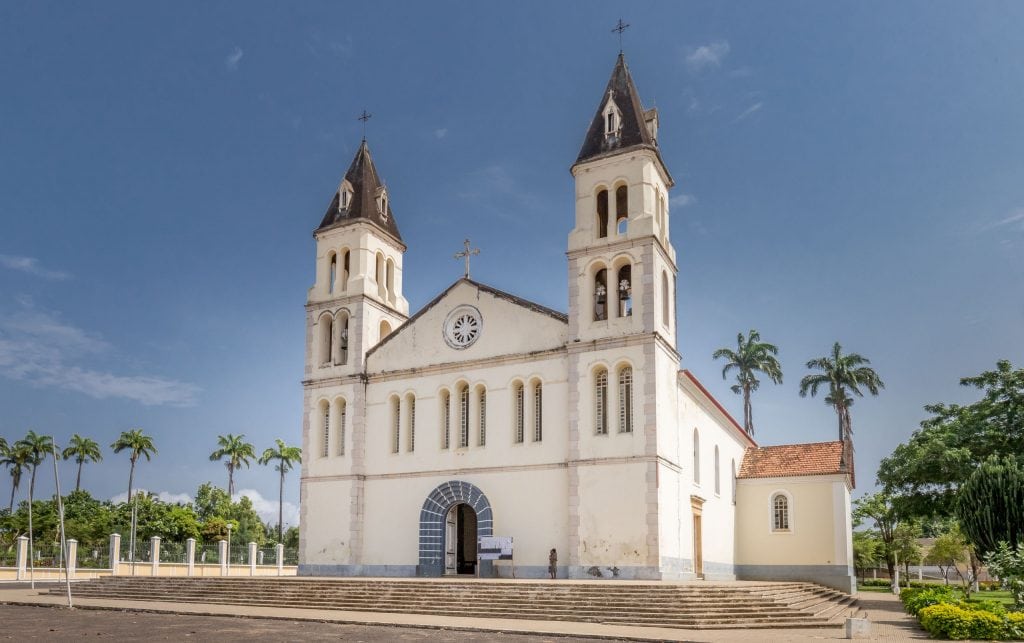 São Tomé & Príncipe is a country not often visited by tourists but that might change in the future. A central São Tomé day trip is a must add on any São Tomé & Príncipe itinerary and I'm sure you'll enjoy it as I did. Monte Café together with the fort museum gives a good understanding of the country's history. Other day trips worth doing are a visit to the south and north. More on that later. For now, make sure to check my 1-week Ghana itinerary which can be combined with a visit to São Tomé & Príncipe.
Stay tuned for more stories and subscribe to the newsletter or follow CTB on social media (Facebook, Twitter, Instagram including Instagram stories; on all social media you can find CTB @christravelblog) to get updated information.
Did you visit central São Tomé too or do you have questions? Please leave a comment at the bottom of the page. Love to hear from you!
Gallery central São Tomé day trip
Click an image for a full screen gallery of more photos taken during this trip. If you like to use any photo for commercial, private or editorial use please contact first for permission and/or pricing.