São Tomé & Príncipe (in short just São Tomé) is a small island nation in the Gulf of Guinea. It was uninhabited until the Portuguese discovered it in the late 15th century. Sugar, cacao, and coffee plantations brought wealth but today the island is poor and starts to rely more on tourism. It has great potential for tourism so go now before the crowds discover this tropical (eco)-paradise. They islands are still a well-kept secret. This São Tomé itinerary takes you around the island in 5 days but doesn't include Príncipe, the smallest of the two islands. I was a week on the islands and combined the trip with a Ghana coast trip. São Tomé & Príncipe has friendly people, is beautiful and unspoiled. I'm sure after reading this São Tomé itinerary you will want to go too.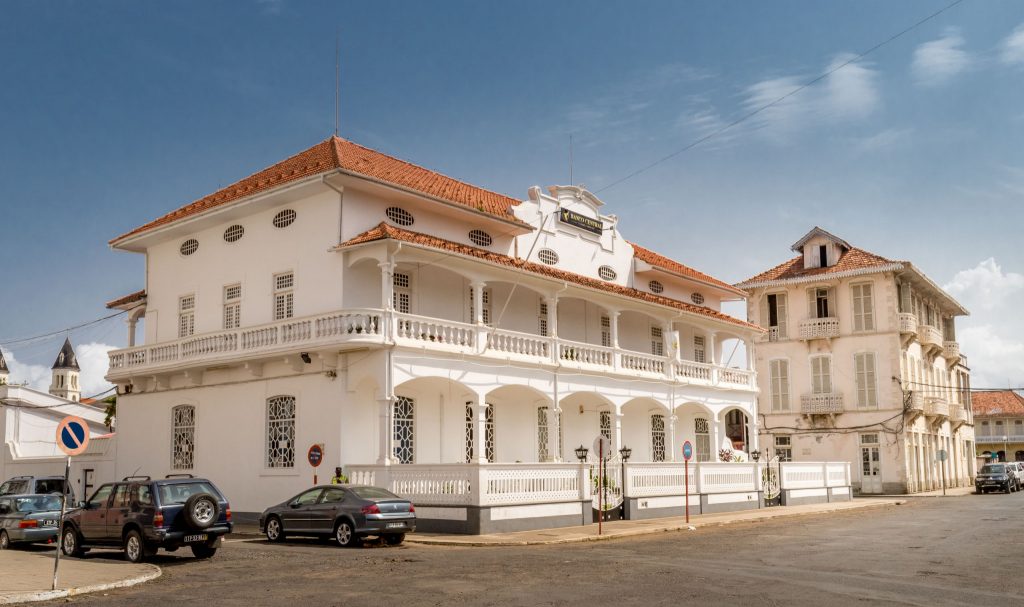 Getting to/around São Tomé & Príncipe
Although São Tomé is close to several western African countries bordering the Gulf of Guinea it has just a few flight connections. STP Airlines, the local airline, flies once a week to Lisbon (Portugal) and has a daily connection to Príncipe. TAP Portugal has three weekly flights from Lisbon with a stop in Accra (Ghana). There are a few more irregular connections from Congo and Angola but those aren't the common way to get to São Tomé & Príncipe. I highly suggest taking the TAP Portugal flight and combine this São Tomé itinerary with a Ghana itinerary along the coast.
Travelling the island of São Tomé is best done by car. I recommend hiring a car from Privilege Tours (Avenida kwame N´kruma – next to the Miramar by Pestana hotel / +239 997 26 95). They have a well-maintained fleet of 4×4 cars, charge a fair fixed price including all insurances and roadside assistance. Google maps will help you navigating to any place you want to see. You can drive not more as 2 hours in any direction as the island is very small. Keep in mind traffic rules are a bit different as you might be used to but it's perfectly safe to drive around yourself. An international driver's license might be needed; check with your local authorities.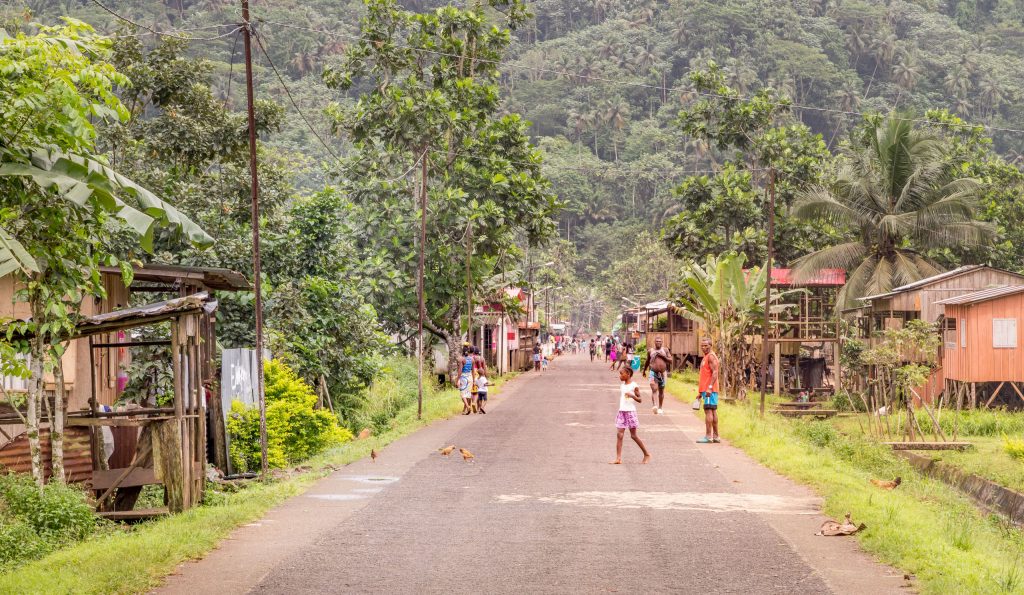 Privilege Tours can also arrange guides and/or drivers to take you around the island. I normally prefer to drive myself and that's what I did. There are basically 3-day tours you can do by car: the southern part of São Tomé, the central part and the northern part. I'll cover each day in detail in the São Tomé itinerary below. Let's start road tripping São Tomé!
São Tomé itinerary day 1 & 2: arrival & São Tomé town
Flights arrive in the late afternoon and are, in case of the TAP Portugal flight, quite long due to the stop in Accra. The first day of the São Tomé itinerary is just getting to these remote islands. I recommend visiting São Tomé on the second day as you'll need just half a day to see all its major sites. Relax and unwind the rest of the day; everything goes slow on São Tomé.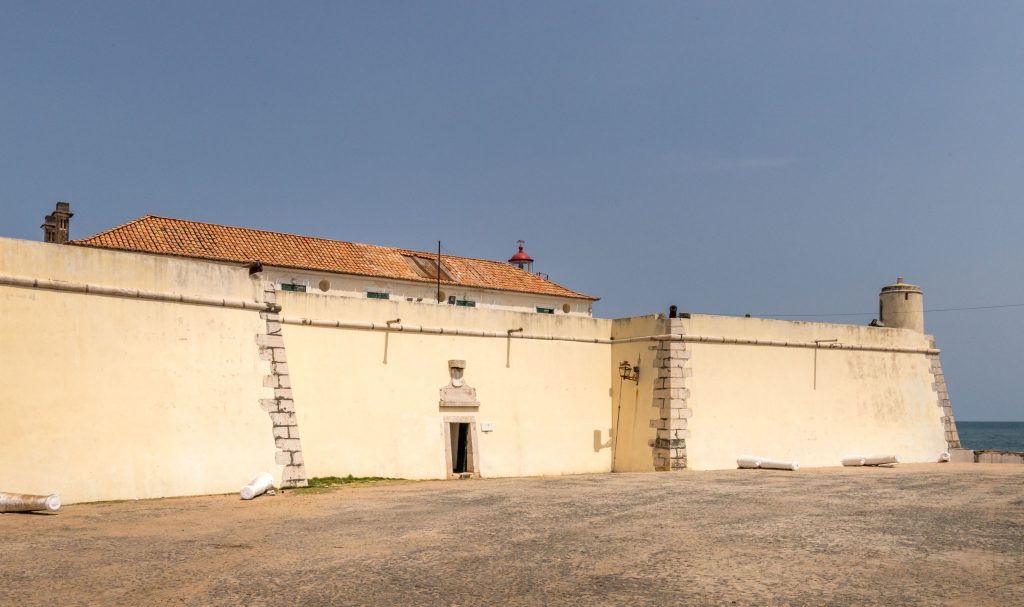 Make sure to start at the Forte de São Sebastião or San Sebastian Fort but do check opening times. The fort is also the national museum. You'll learn about the sugar, cocoa, and coffee plantations where slaves from nearby African mainland worked. The museum also shows what happened before and after independence. After visiting the museum walk towards the cathedral and to Independence Square. Other notable buildings to have a look at include: the presidential palace, the library, and the local market.
The downtown core of São Tomé is small, and everything can easily be reached by walking around. If you're staying outside of the center a taxi is the easiest way to arrive. A half day will do to see everything.
Read all about this São Tomé day trip in the detailed day trip report:
SÃO TOMÉ & PRÍNCIPE – Central São Tomé day trip; culture & nature on paradise island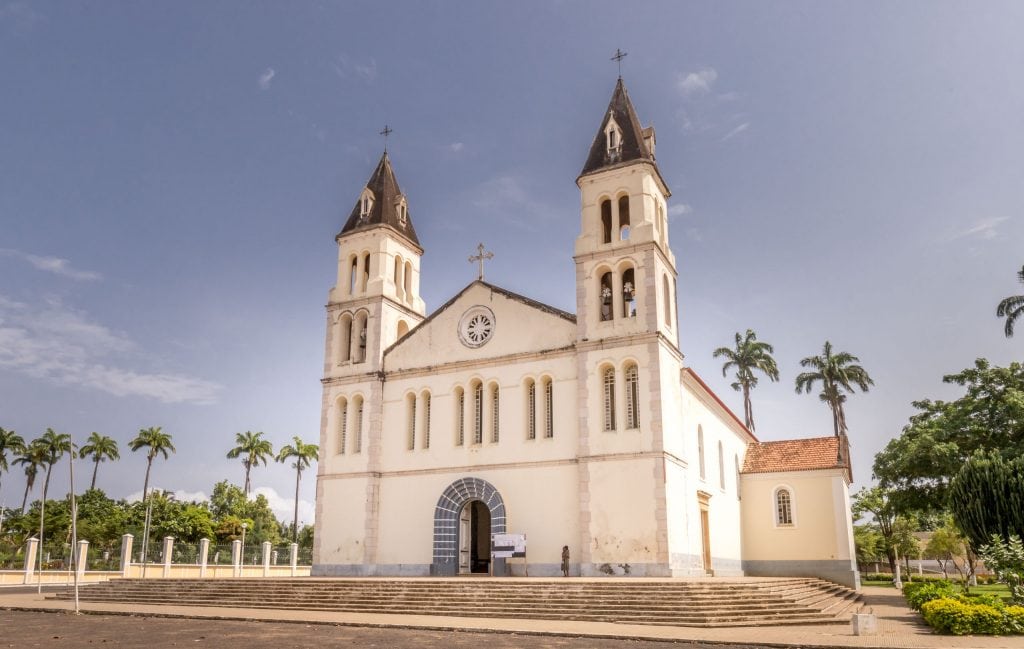 São Tomé itinerary day 3: Central day trip
The central day trip is the most important one but isn't that long as the others, so you'll have some time this day of the São Tomé itinerary to spend at the pool or beach. I do suggest starting early around 8AM and first drive to Monte Cafe. Monte Cafe is an old restored coffee plantation and the best one preserved on the island. There is a museum on the grounds and a cafe to taste the local coffee. I see this place becoming the first UNESCO World Heritage Site of the country once the hospital and a few other buildings are better restored.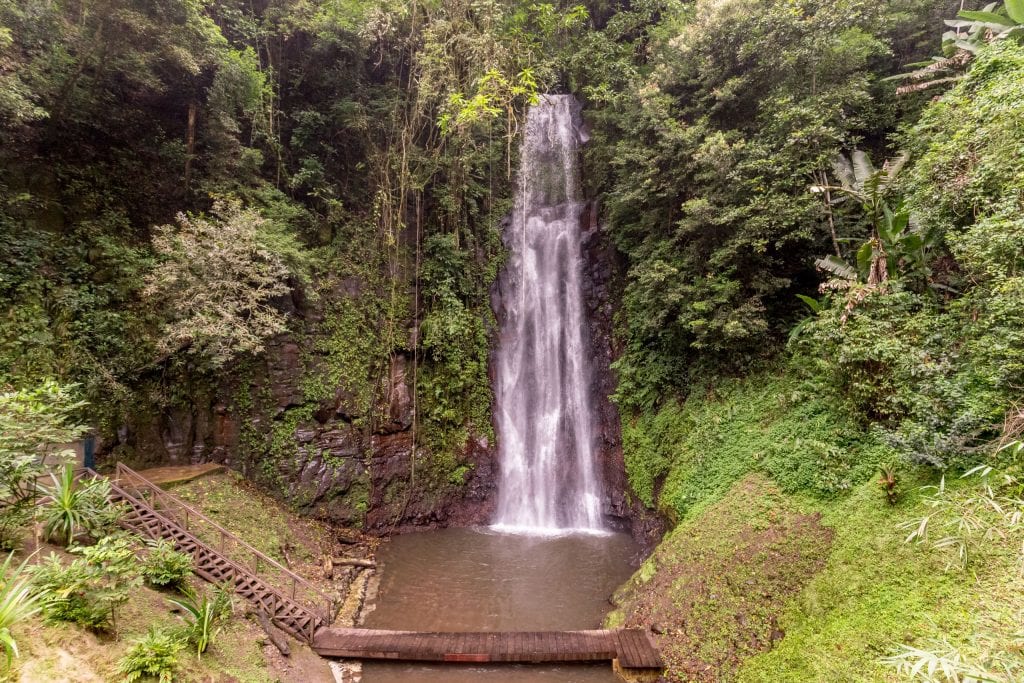 After visiting Monte Cafe drive all the way down the road to the Cascata Sao Nicolao waterfall. A tall narrow waterfall up in the jungle of São Tomé. Unfortunately, it's not possible to take a shower under it as I did earlier when I visited Palau. Now, drive back the same way you came and go to Casa / Museu Almada Negreiros to have lunch there. It's just a few kilometers back on the right-hand side in Saudade. There is also a small exposition of Almada Negreiros, the artist the place is named after. The view from the terrace is amazing and the food delicious!
After lunch drive up to the Jardim Botânico do Dom Sucesso which is a botanic garden from Portuguese colonial time. There are some endemic plants there, several beautiful flowers including orchids and a large collection of medicinal plants. I recommend going to the botanic gardens to see these plants and enjoy the cool air as it's up the mountain.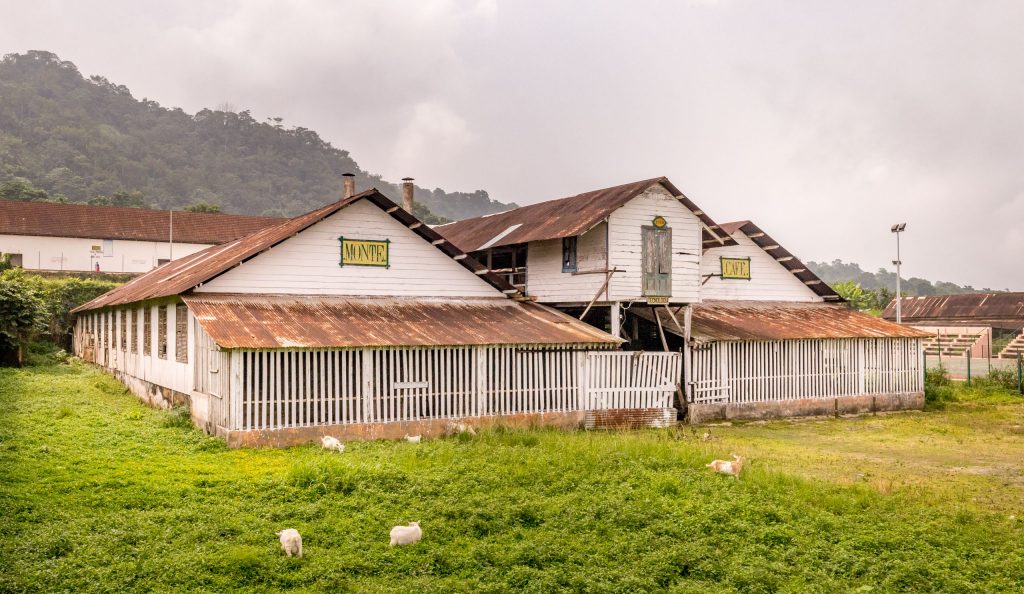 In case you missed the San Sebastian Fort the other day because it was closed you'll have time in the afternoon to go see it on this day. Another option is to stop in Trindade for a stroll, it's a nice small town. I found the central island day trip the most interesting one of this São Tomé itinerary.
Read all about this São Tomé day trip in the detailed day trip report:
SÃO TOMÉ & PRÍNCIPE – Central São Tomé day trip; culture & nature on paradise island
São Tomé itinerary day 4: Southern day trip
The southern day trip and the central day trip are the two must do day trips to include on a São Tomé itinerary. If you need to skip one to shorten this São Tomé itinerary, then skip the northern one. Start the so southern day trip around 08:00 in the morning so that you're at Roca Sao Joao de Angolares around 12:00 for lunch. They serve a degustation menu and only use local produce. It's a must eat at restaurant and quite famous so do make a reservation at Roca Sao Joao de Angolares as the restaurant fills quickly.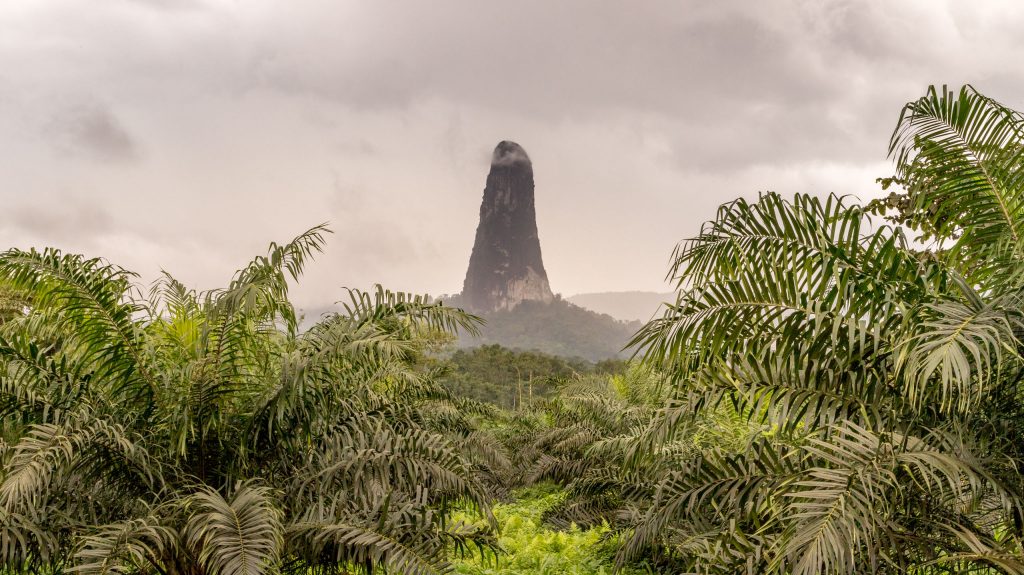 Start the day by driving to Roca Agua Ize which is and old coffee plantation. It's not restored as Monte Cafe in central Sao Tome is, but you can see still a lot of old colonial buildings. Drive up first to the old hospital and check if there are locals around and ask them to have a look inside. Probably a small tip is required. Then drive to the main street for a stroll and walk around the old warehouses. It depends on how long you'll be walking around but an hour will do. Now continue to the Boca de Inferno blowhole to see the power of nature. It depends the tide and winds how high the water blows into the air if it's spectacular or not. When I visited the water was calm so after a short stop I drove to Praia Micondó beach for a quick look as it was a bit early for lunch. Roca Sao Joao de Angolares is a short drive further south.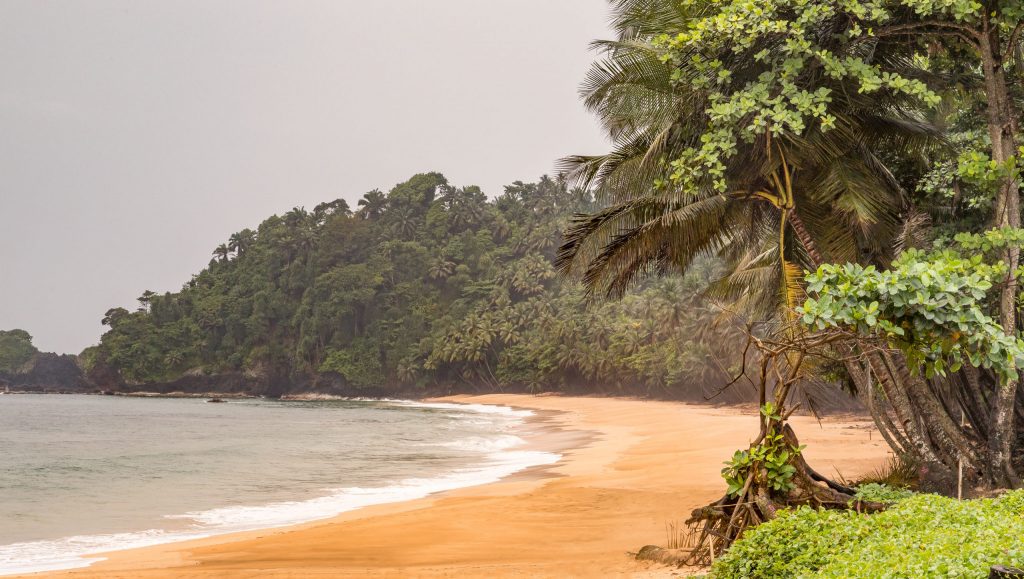 The remainder of the day is mostly nature at its best. When you drive towards Porto Alegre, the most southern town of Sao Tome, you will pass the Pico de Cao. A huge weird looking mountain which is more a huge cone as a mountain. You can't miss it. Have a stroll in Porto Alegre before continuing to Praia Piscina beach and Praia Jalé beach. At Praia Jalé you can see sea turtles IF you're lucky. There is also an eco-resort at the beach which you might consider staying a night if you want to see the sea turtles. I drove back to Getting to/around São town, after a stroll over the beach, where I arrived late evening.
São Tomé itinerary day 5: Northern day trip
The northern day trip is again a long day. It takes you around the island counter clockwise if the starting point is at São Tomé city. I decided to first drive all the way to the end of the road, just passed a river where the road gets unpaved. You can't drive around the island, so you must backtrack. Now make a stroll through Santa Catarina to see the locals do their daily thing.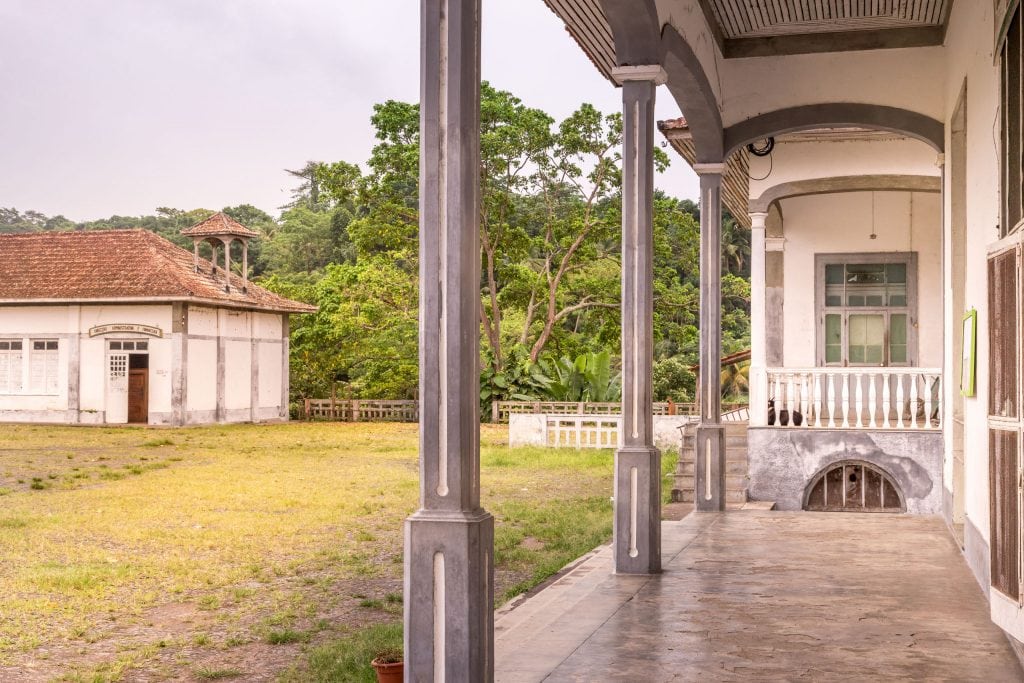 While driving back you'll pass again the tunnel which is worth a photo stop before arriving at Roça Diogo Vaz. At this plantation there are several beautiful colonial buildings left and there should be someone around to give a small tour. Now continue to the small town of Monteforte and visit the Padrão dos Descobrimentos. Further back towards Neves you can visit Roça Monte Forte, where there is a small museum and tour about this cacao plantation. Continue to Neves town for lunch in a local restaurant OR buy lunch and have it at Lagoa Azul.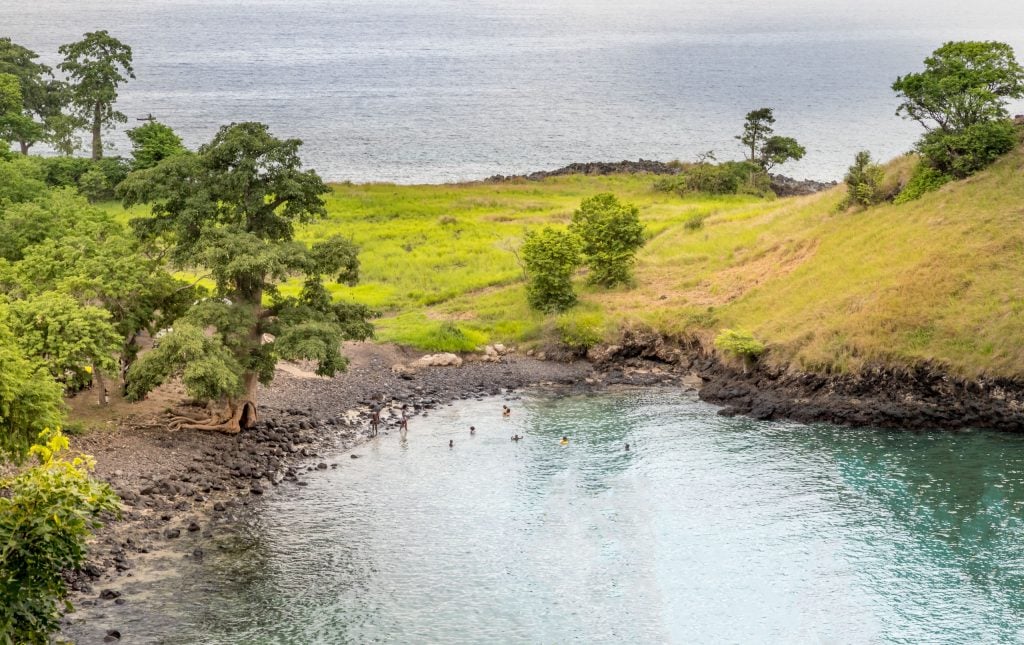 Lagoa Azul is a beautiful hidden beach and a great place to go swimming. If you plan to spend some time at Lagoa Azul I recommend bringing lunch there. Make sure to depart there around 2:30PM so that you have time to see the last places of today's São Tomé itinerary. Go towards Mouro Peixe and Praia dos Tamrindos beach to see the independence memorial. Now go back to Guadeloupe town which has a beautiful small chapel and then to Roça Agostinho Neto. Drive or walk around the area to see some beautiful, but decayed, colonial buildings. There is a botanical garden too, but it was closed during my visit.
This northern day trip in São Tomé is packed with culture, locals, beaches, and nature. A day trip I highly recommend adding to your São Tomé itinerary if it fits your schedule.
São Tomé itinerary: extending your trip
There are a few additional activities to extend this São Tomé itinerary. Of course, it's possible to plan an additional day in São Tomé to just relax at the hotel or visit one of the local beaches. Two other options include: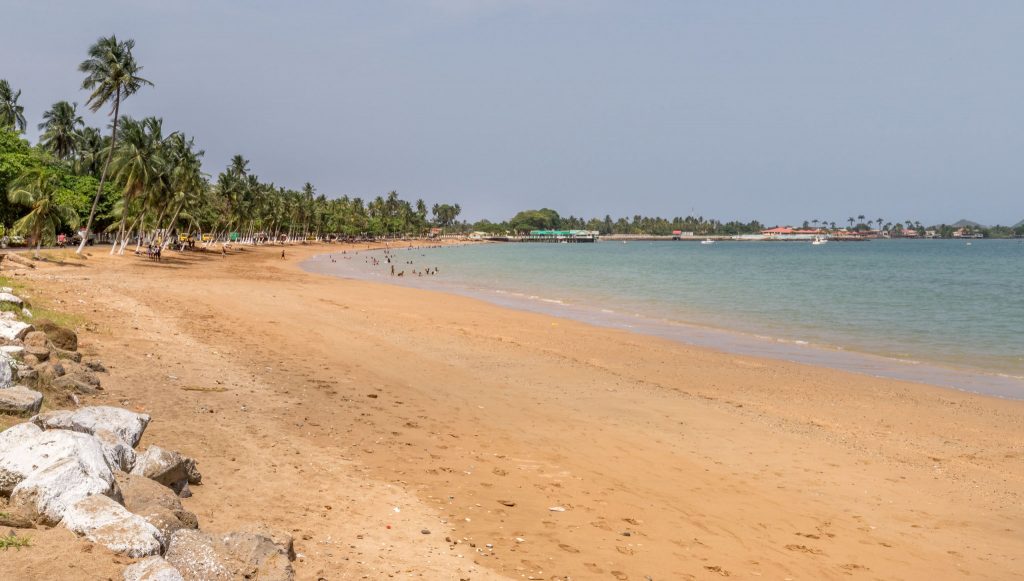 Ilheu das Rolas island
Ilheu das Rolas is an island located just off the coast at Porte Allegro in southern São Tomé. If you plan to go there for a night or two it's recommend doing this combined with the southern day trip. The island isn't big and is mostly known for it's beautiful beaches, snorkeling and diving activities. There is just one hotel there on the private island.
Additional day on São Tomé
On São Tomé it's possible to climb to the top of the highest mountain. This can be done in a day (very long) but also in a two-day trip. You'll camp overnight in the national park in that case. I haven't done this myself but it's something I would like to do if I return to the country some day in the future.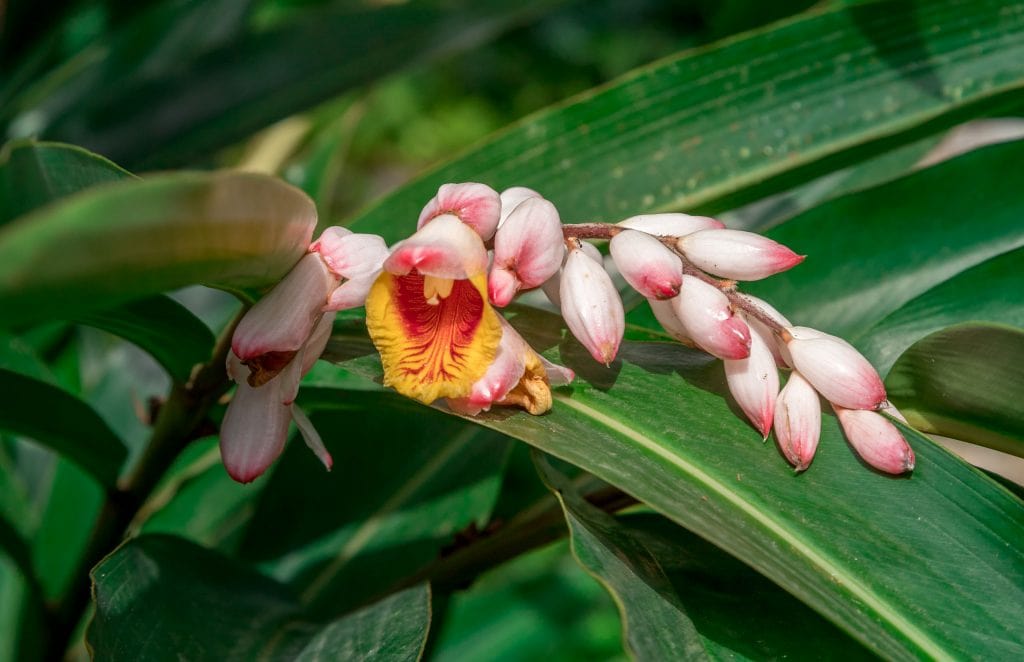 Príncipe island
Another option is to make a 2-3-night trip to Príncipe island. It's the other island that makes up São Tomé & Príncipe. The island is much less developed, and the beaches must be stunning I'm told. Add as much days to your São Tomé itinerary as you like and just relax on Príncipe. Flights depart from São Tomé in the morning and fly back early afternoon. It's not possible to make just a day trip so a 2-3-night stay is recommended.
I had a great time on São Tomé and hope to return one day to visit Príncipe and go diving too. São Tomé & Príncipe has been long on my wish list to visit as I've always been intrigued by it's history. This history combined with the stunning landscapes, beaches and culture makes São Tomé a great destination for everyone. Ghana is just a short flight away, so a combination trip is a great way to see also some of Africa's mainland. My Ghana one-week coastal road trip itinerary is a great addition to this São Tomé itinerary.
Stay tuned for more stories and subscribe to the newsletter or follow CTB on social media (Facebook, Twitter, Instagram including Instagram stories; on all social media you can find CTB @christravelblog) to get updated information.
Did you visit São Tomé & Príncipe too or do you have questions? Please leave a comment at the bottom of the page. Love to hear from you!