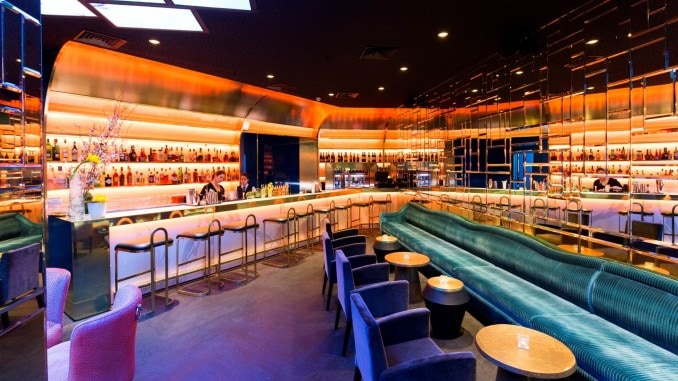 My road trip in Portugal included a two night stay in Lisbon to explore the city center and the historical town of Belém. I booked the Intercontinental Lisbon which is located at the end of the Avenue de Liberdade. Just a 15 minute walk to basically anywhere in the historical districts. I had a great stay and in this review of the Intercontinental Lisbon hotel I will share my experiences with you but first a video introduction.
The hotel
The Intercontinental Lisbon is housed in a modern building with alternating dark window and white stone lines. The rooms at the front, especially the higher floors, have a great view on the Avenida de Liberdade and the old city center behind it. When I arrived I was warmly greeted by the staff. My luggage was unloaded from the car and the car parked for me. Valet parking has its advantages and disadvantages but as long as its quick it's perfect, which was the case. The check-in procedure was very quick and some minutes later I was at my room. As a Royal Ambassador in the IHG Rewards Club loyalty program I received a nice room at a high floor with a great view. It included also access to the club lounge and also a complimentary minibar which was overstocked. The lobby was renovated just a year ago and is a modern spacious place. It gives access to the Akla restaurant, the uptown bar, club lounge and the concierge. The first day I asked the concierge what I should do while in Lisbon for a day. He recommended the best places to go see and to eat. Thank you! More on that later in my Lisbon articles.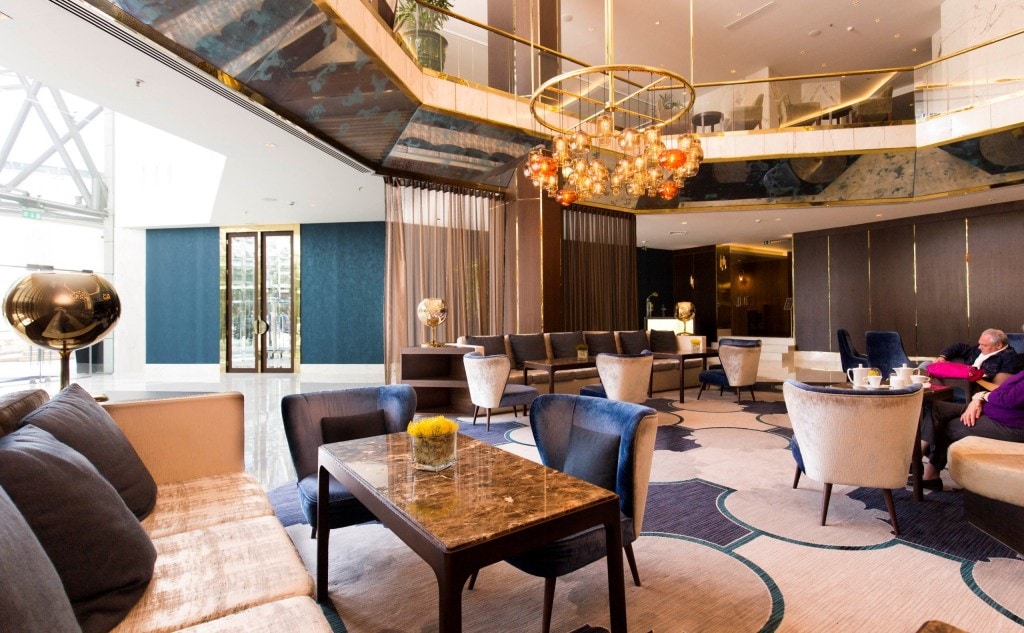 The rooms at Intercontinental Lisbon
The rooms at the Intercontinental Lisbon are large with beds that are very comfortable. As I said above the minibar was overstocked compared to others I have seen. The desk was good to work from while I had a great view of Lisbon. As a member there was a nice welcome gift: a small replica of a Lisbon tram. In the bathroom there are special amenities by Castelsel made in Portugal. There is a bath in which you can take also a rainforest shower. It was a comfortable room for a combined leisure and business stay. Their suites are located on two floors, of which the photo below is. I asked to see the presidential suite, which I was OK and in the same time I got a tour of the regular suites. Pretty awesome rooms!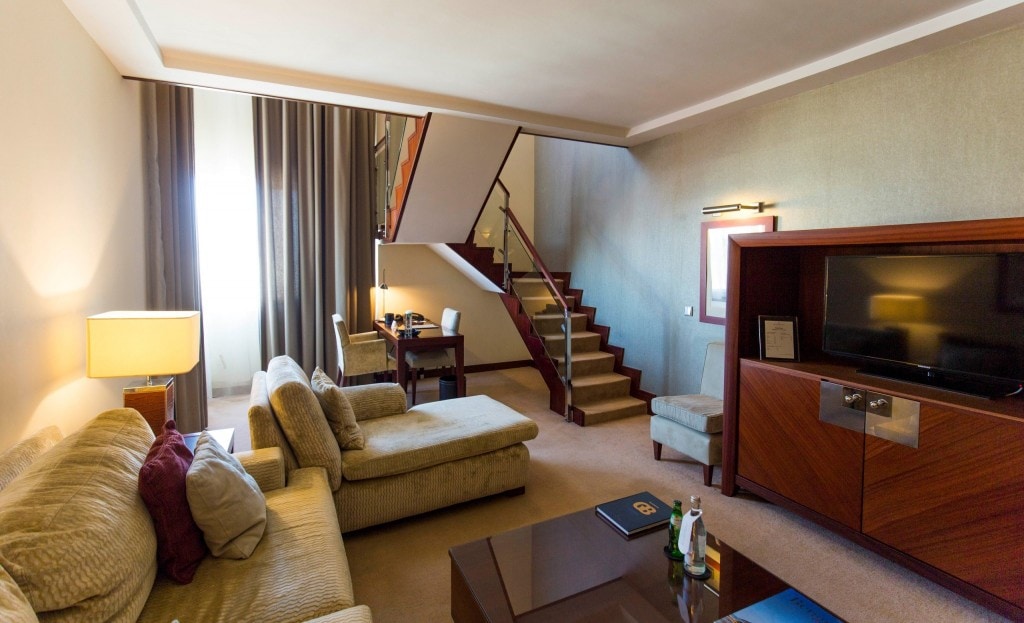 Presidential Suite of the Intercontinental Lisbon
I was offered to see their presidential suite which I gladly accepted. It's a huge room with a large bedroom and en suite bathroom. It comes with a living room with sofas and a separate area with a dining table that fits about 10 people. The desk made of wood completes the room. There is also a kitchen for a butler and a small door to the room next door where the security can stay. I was told various names of presidents, rock stars and other VIP people who stayed in this room. I hope one day to be one of them; maybe on a next trip to Lisbon? Enjoy the photo's I took.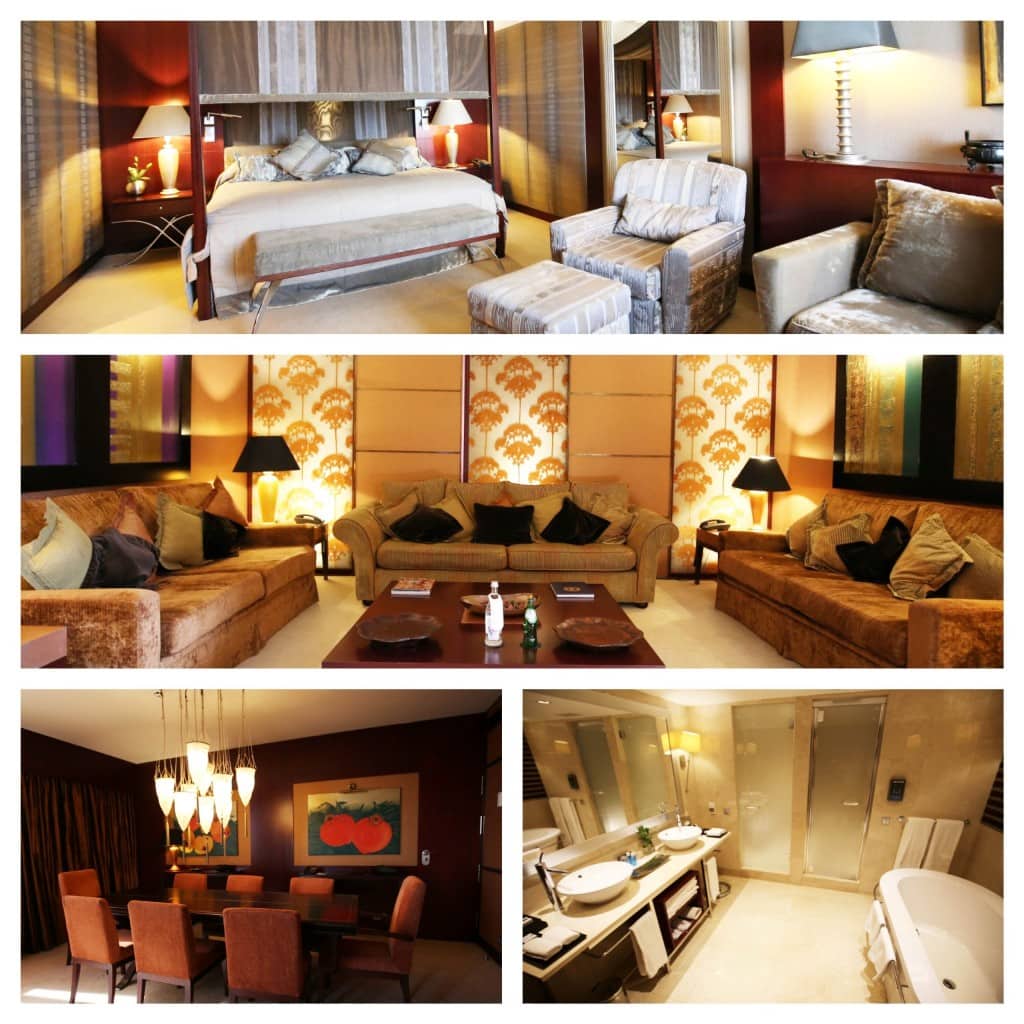 Dining & Drinking at Intercontinental Lisbon
The Intercontinental Lisbon has a beautiful bar with a lot of different colors of lights. It's a nice place to spend some time in the evening with a nice cocktail. Breakfast is served on the second floor but with club lounge access I didn't use it myself. The club lounge is just next to the lobby and serves breakfast more privately and in the afternoon you can take some hors d'oeuvre. During the day you can have a coffee or tea there. The breakfast choice is the same as in the regular area but with a menu for hot items which are freshly made. If you read my other stories you probably already know I love two fried eggs, sunny side up, in the morning. In the evening the pre-dinner cocktails are perfect with great wines, champagnes and cocktails. The small food is also of high quality. I always like to have club lounge access as it's a private area where I can also move some work. The restaurant called Akla serves sophisticated fine dishes. I did a dinner one of the nights at the Akla restaurant. Their meat is delicious; aged with oak wood. I can recommend the meat. If you want to go somewhere else check my hotspots in Lisbon for lunch and dinner. Bon appetite!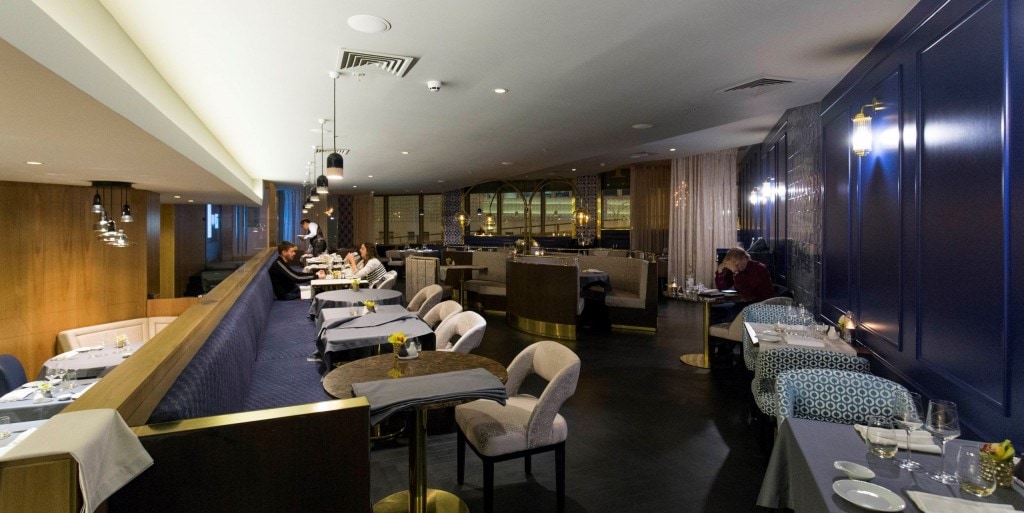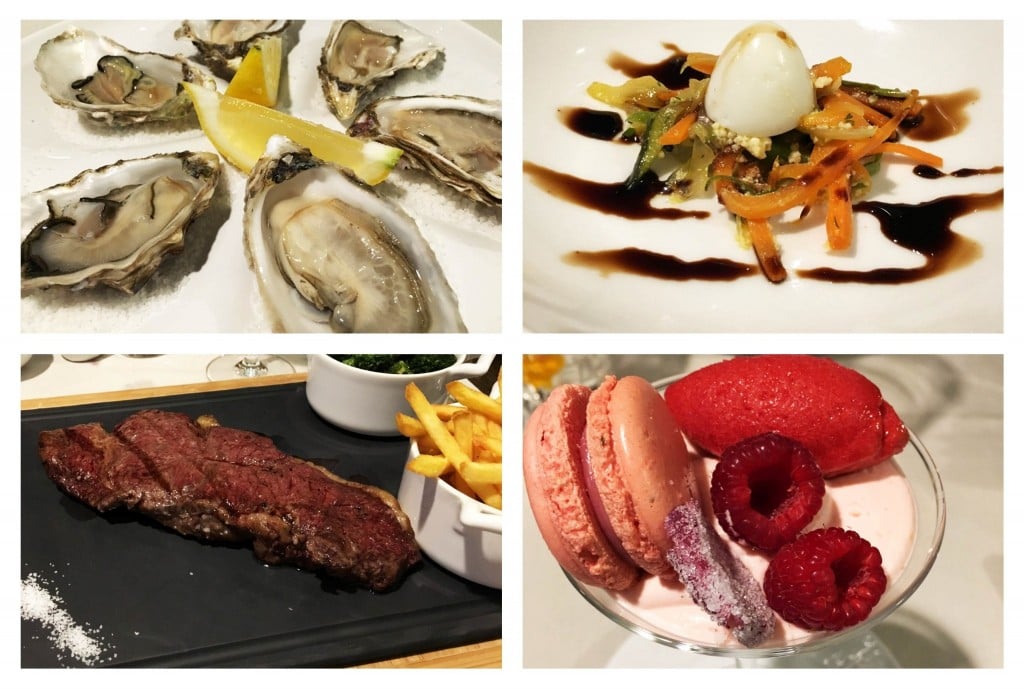 Conclusion
The Intercontinental Lisbon is a luxury hotel for both leisure and business. It's located just a 15 minute walk to the old districts of Lisbon over the main shopping street. Comfortable rooms gave me a good rest. The bar and restaurant are amazing with great drinks and fine food. It's a hotel I can recommend to everyone who is looking for a luxury hotel in Lisbon. I for sure will choose the Intercontinental Lisbon again if I'm in Lisbon. I hope you will enjoy it as I did, I'm sure.
If you would like to know what you can do in and around Lisbon then see one of these options: City Walk Lisbon, visit to Belém and check my 7-10 Portugal itinerary for planning tips. I will add more destination information over time.
Stay tuned for more stories and subscribe to the newsletter or follow CTB on social media (Facebook, Twitter, Instagram including Instagram stories; on all social media you can find CTB @christravelblog) to get updated information.
For more hotel information and booking options please visit the website of Intercontinental Lisbon.
Website: http://www.ihg.com
Facebook: https://www.facebook.com/InterContinentalLisbon
Gallery of Intercontinental Lisbon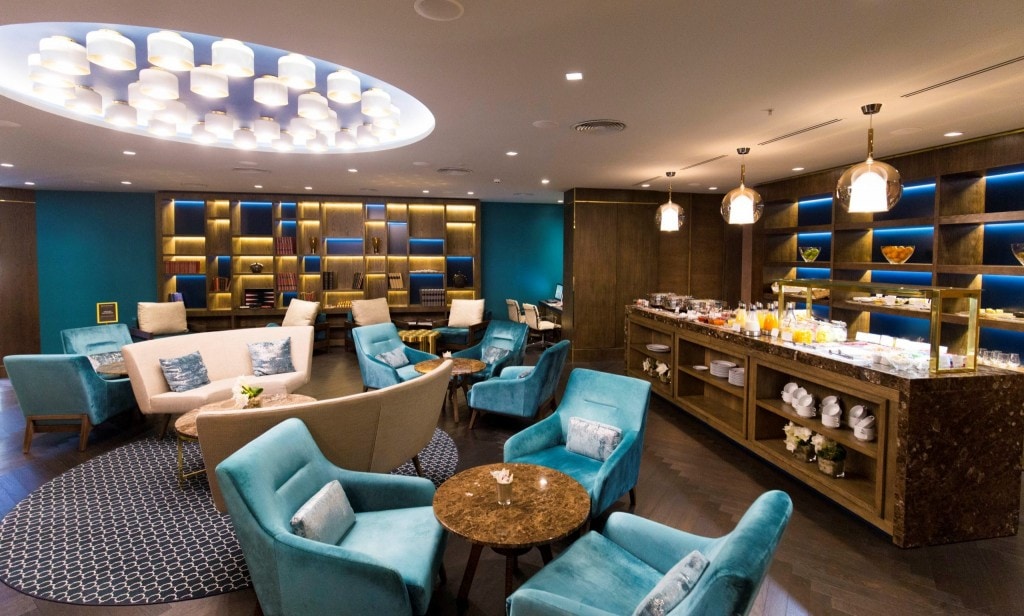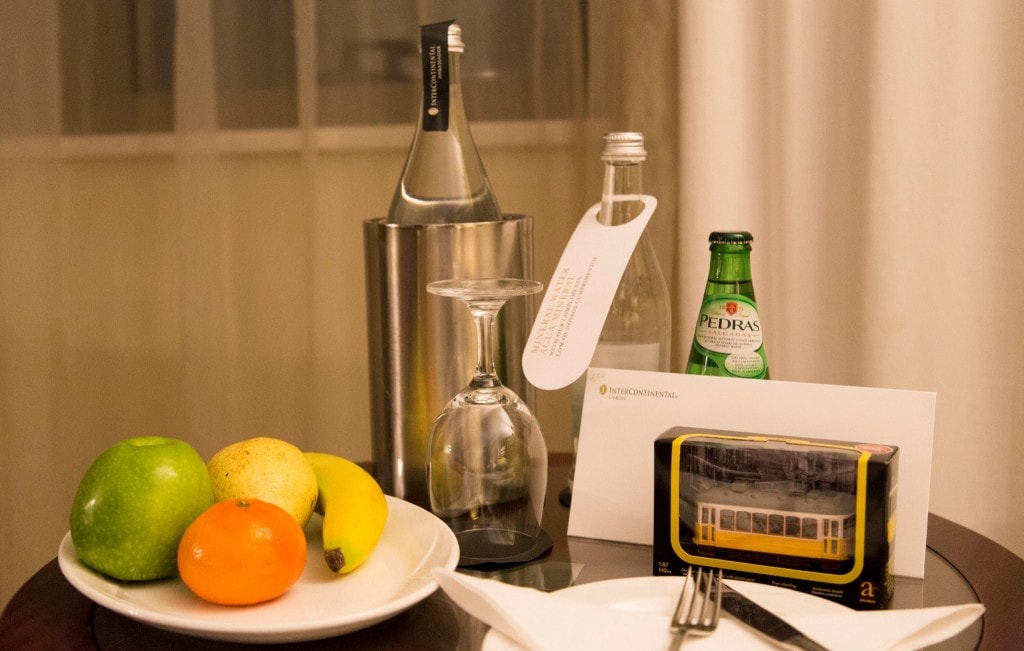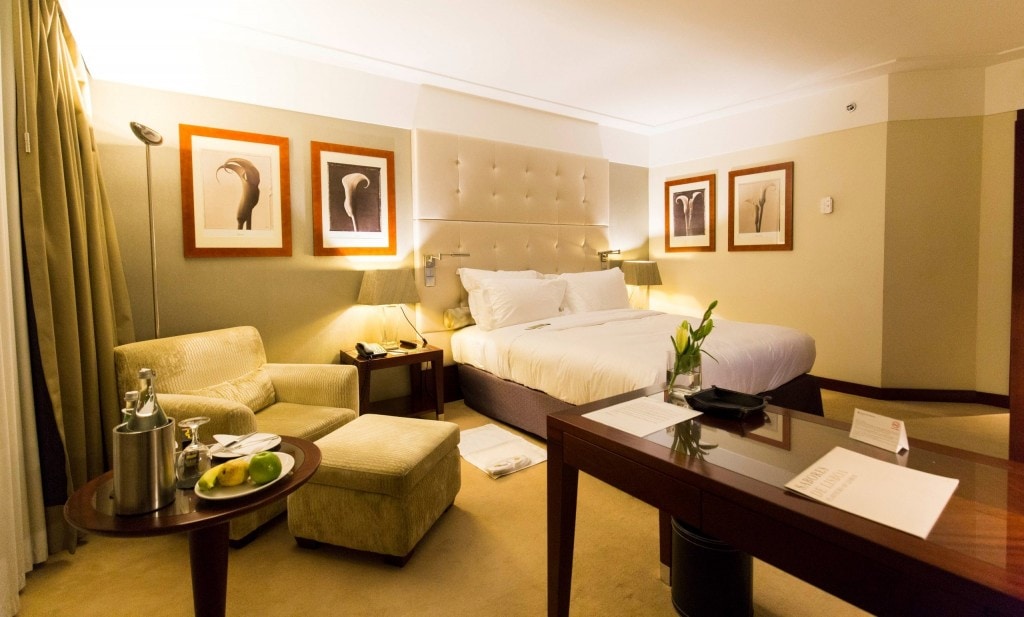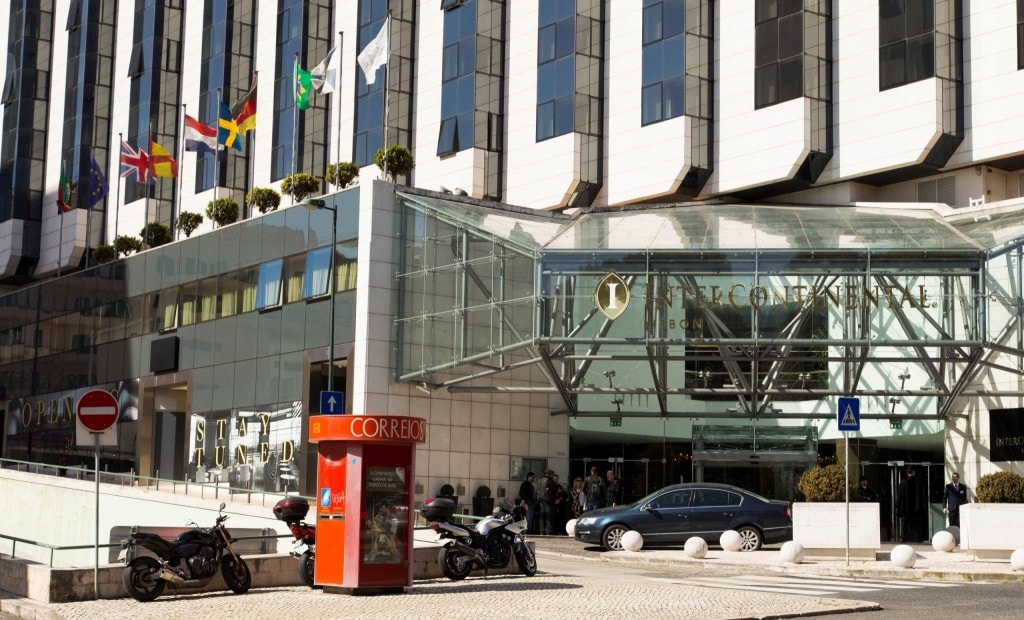 ** All opinions are based on a genuine stay, flight or experience. I'm not affiliated with the hotel, airline or tour operator but I might be (partially) sponsored – or paid. **