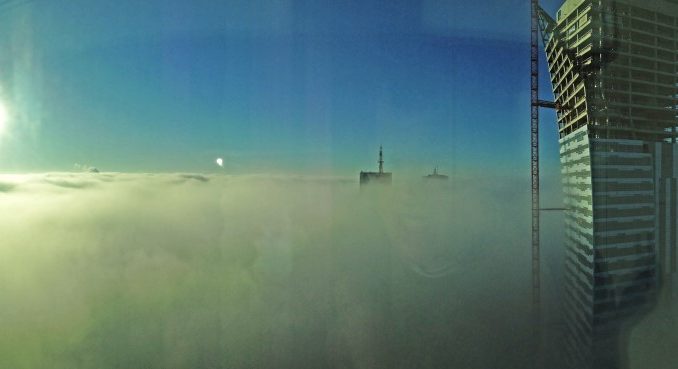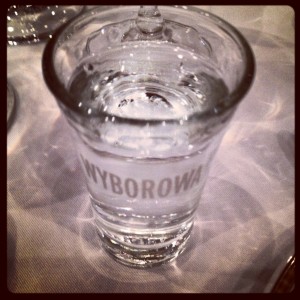 #TBT [ThrowBackThursday] week 37 of 2015. This week, something I remember from my visit to Poland, 1 of the 52 countries I visited prior to 2015.
My embarrassing story has to do with the liquid you see in the following photo on the right.
Business trips are a big impact on your body
This is especially true for trips to Poland, in this case Warsaw. I have been there several times for a convention and did see a bit of the city each time but never actually had the time to really explore it. As usual the first day was relaxed, early in bed on a Thursday evening. The Fridays, those are the problem. We started dinner as usual in the restaurant called The Inn Under the Red Hog. This place is like in old communist times and serves very good quality Polish food and beer from a tap on your table (see photo). I recommend this restaurant to everyone if you are in Poland; do make a reservation as it's normally full.

So far so good, a lovely dinner till midnight which we finished with a glass of vodka. From now on the story till I wake up is a second hand story, as I do not remember it. I was told we went to a bar with some colleagues from Poland and we started to drink some vodka. Now I can handle some alcohol but around 3 AM some left and we started to drink double shots. This killed my brain and why I not remember anything anymore till I woke up in my hotel at 7:30 AM in the morning after maybe and hour or maximum two of sleep. I had no clue how I got back to my hotel but I woke up with the beautiful view over the clouds, which was a bit strange to me at first. I thought it was heaven 🙂 I managed to go to breakfast and at 09:00 AM I was present at the conference!! No matter what you do in the evening, work in the morning goes first!
Curious what I did more in Poland? Read it here.
Stay tuned for more stories and subscribe to the newsletter or follow CTB on social media (Facebook, Twitter, Instagram including Instagram stories; on all social media you can find CTB @christravelblog) to get updated information.
Did you visit Poland too or do you have questions? Please leave a comment at the bottom of the page. Love to hear from you!