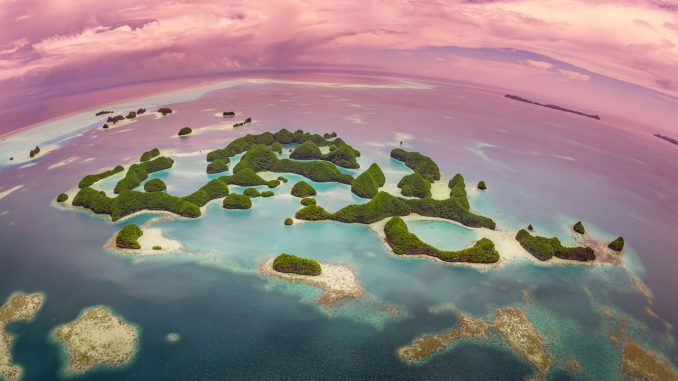 If you are reading about my Palau helicopter tour you either want to go to Palau or you will want to go after reading! Palau is an island nation in the Pacific and a true paradise on earth. It's normally visited during an island-hopping tour together with Yap in Micronesia, Guam, and the Northern Mariana Islands but that's not what I did. After my visit to those other islands I flew back to Europe to celebrate Easter with my family, went to Helsinki for a few days and returned to the Pacific after. The second part of the trip my son joined me and we flew to Palau from Taipei where we finished a 14 days Taiwan road trip. As the flight arrived and departed in the dark I simply had to do a Palau helicopter tour to have a bird's eye view of this paradise. I'm confident you will agree with me this IS paradise!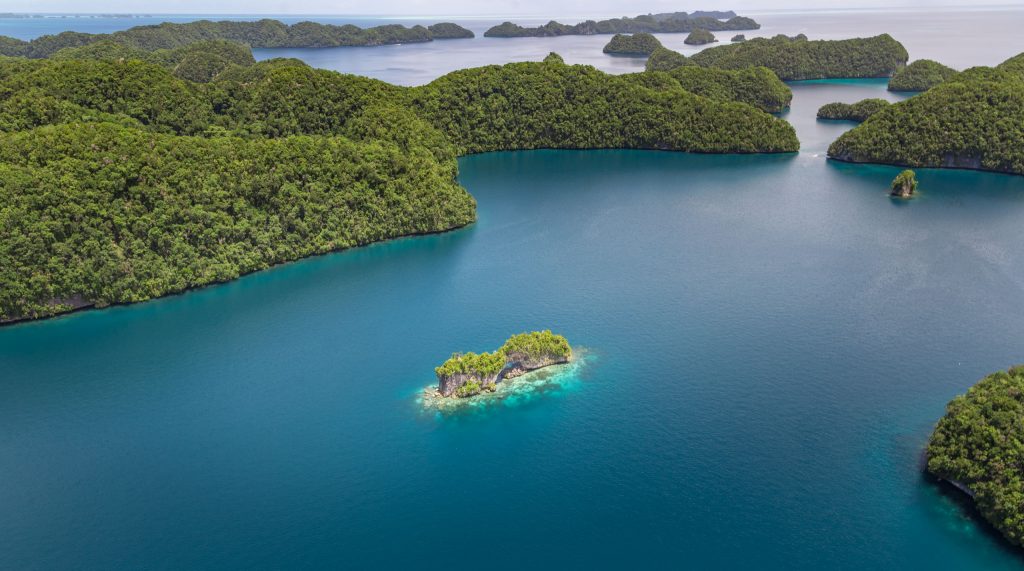 Where to book a Palau helicopter tour?
Palau is a great destination for diving, snorkeling and other water activities. These are activities I could not arrange by myself so I booked everything through Fish 'n Fins which is Palau's leading dive and tour center. They are in business over 45 years so I thought this must be good. I was right about that. I only arranged snorkel tours, a kayak trip, and a land tour before I arrived on Palau. After visiting however, I recommend also arranging the Palau helicopter tour upfront with Fish 'n Fins (partner with Palau Helicopters). The reason is that the price is fixed for the complete helicopter of 4 seats. So, if you are with less it's better to combine with other guests and pay less per person. Last minute this is difficult, trust me, but I did manage thanks to Fish 'n Fins flexibility.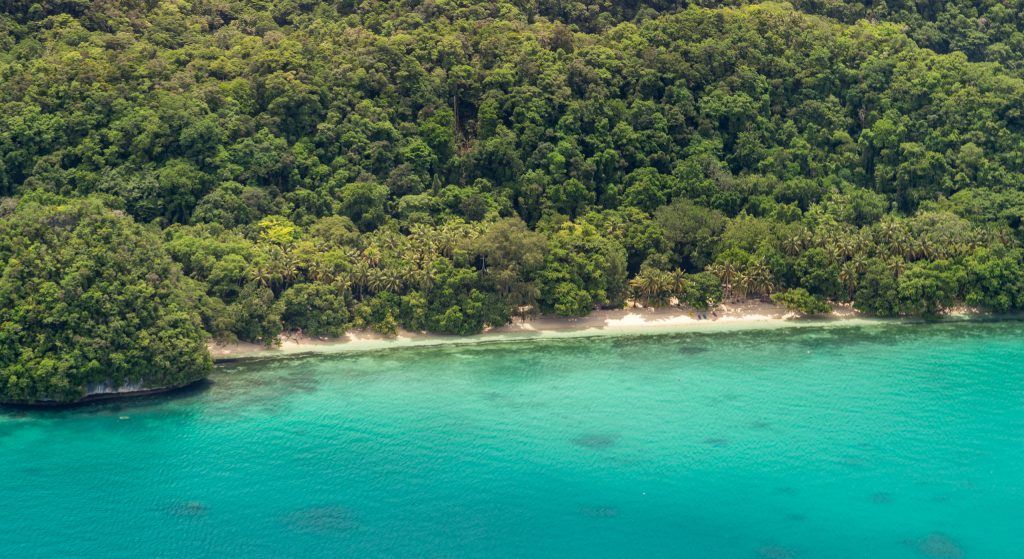 Which Palau helicopter tour to choose?
There are 3 tours which are 30, 45 or 60 minutes in length and a variety of special tours to outlying islands, waterfalls, and WWII relics. All tours are carried out in a Robinson R66 Turbine Helicopter which is perfect for aerial helicopter tours. I opted for an aerial only tour of 60 minutes which covers everything of interest by air. The major places I saw from the air are: Intermedium, Milky Way, Long Lake, 70 Islands, Blue Corner, Peliliu, Jellyfish Lake, the Arch, Pinchers, Koror and the Japan-Palau Friendship Bridge. I don't recommend the 30-minute tour as it doesn't include the 70 Islands view (see top photo) which is THE most famous view of Palau.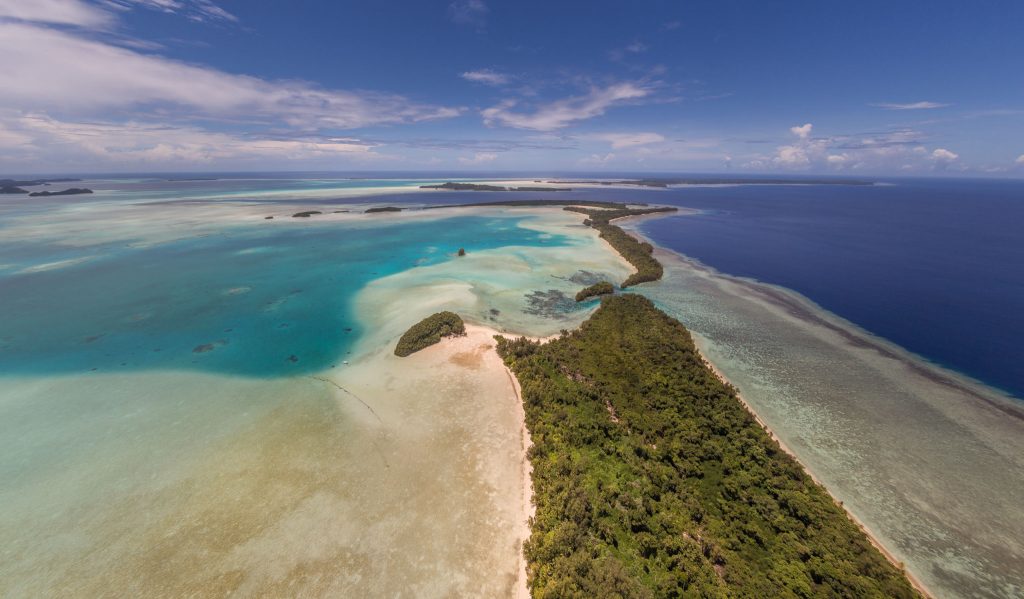 A Palau helicopter tour starts at about 350 USD per person (if with 4 in total). I do recommend paying the additional fee to have the door removed as you'll get much better photos! One day I want to return to Palau and fly to Kayangel Atoll to swim and have a BBQ lunch on one of the magnificent beaches.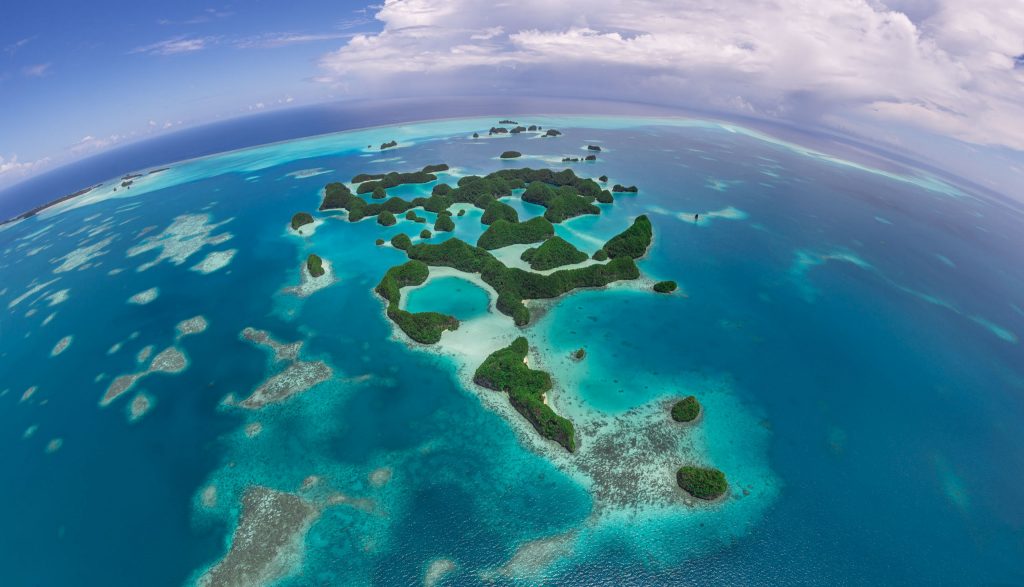 Views from a Palau helicopter tour
The 60 minute Palau helicopter tour I did included views of the Intermedium, Milky Way, Long Lake, 70 Islands, Blue Corner, Peliliu, Jellyfish Lake, the Arch, Pinchers, Koror, and the Japan-Palau Friendship Bridge. The bird's eye view on the 70 Islands amazed me the most. I had seen photos on the internet before but seeing it in real life is even better. The photo below is what I mean! Jellyfish Lake however was empty at the time of my visit due to severe draught which caused all the jellyfish to die. There are polyps left in the lake which grow new jellyfish in the future and recover the lake. Other jellyfish lakes do have jellyfish but not accessible for tourists. They can be viewed from the helicopter though.
The pilot several times flew just above the water right next to the rock islands and through the 70 Islands. This gives views like you see in various action movies. Everywhere I looked I saw jungle, beaches, blue waters, and I even spotted manta's and dolphins. If you're lucky you can even spot a dugong, a species found mainly in the waters of Palau! Just have a look at the gallery below, I'm sure the 38 photos will make you want visit too!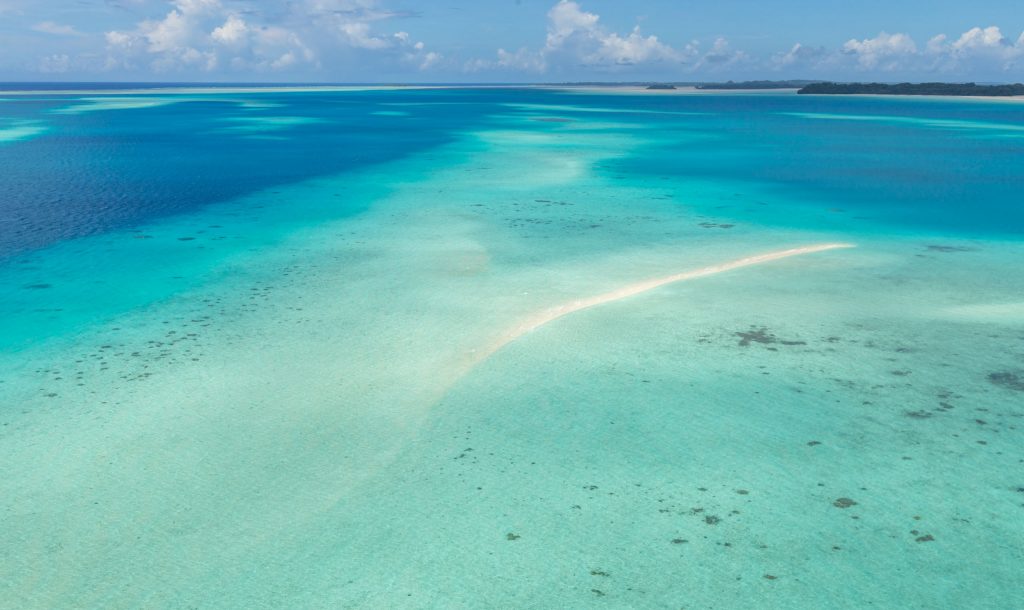 A Palau helicopter tour is a must do on Palau as it gives such beautiful bird's eye views. I recommend booking the tour through Fish 'n Fins as they are without doubt the most reliable tour center on Palau. The 60-minute Palau helicopter tour is one of the most unique things I have done in my life and for sure the best helicopter tour. I only did one other before though and that was an Angkor Wat helicopter tour.
It's not the only thing you must do on Palau. I'll share with you later my experience of the kayak tour, snorkeling tour, and land tour. For now, just enjoy the gallery below which only contains Palau aerial photo's.
Stay tuned for more stories and subscribe to the newsletter or follow CTB on social media (Facebook, Twitter, Instagram including Instagram stories; on all social media you can find CTB @christravelblog) to get updated information.
Did you visit Palau too or do you have questions? Please leave a comment at the bottom of the page. Love to hear from you!
Gallery Palau helicopter tour
Click an image for a full screen gallery of more photos taken during this trip. If you like to use any photo for commercial, private or editorial use please contact first for permission and/or pricing.