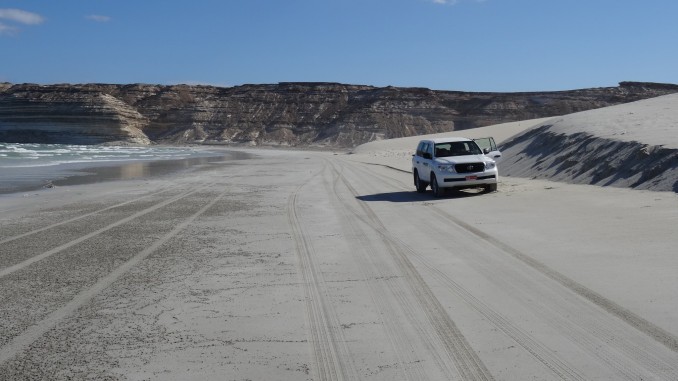 Our Oman itinerary included a full day in Duqm. A city in Oman which most important highlight might be the petrol station. No joke, but there is a lot of development going on. Resorts are build and our hotel, the Crowne Plaza, just opened back in 2013 when we visited. So what did we do in Duqm? One thing is for sure we had a lot of fun visiting the Ras Markaz beach nearby.
Ras Markaz beach near Duqm
The Ras Markaz beach was one of the main reasons we visited Duqm. This beach is located an hour drive south of Duqm just 14 kilometers off-road at coordinates N 19.221277; E 57.630410. For the exact route read the 10 days in Oman itinerary post.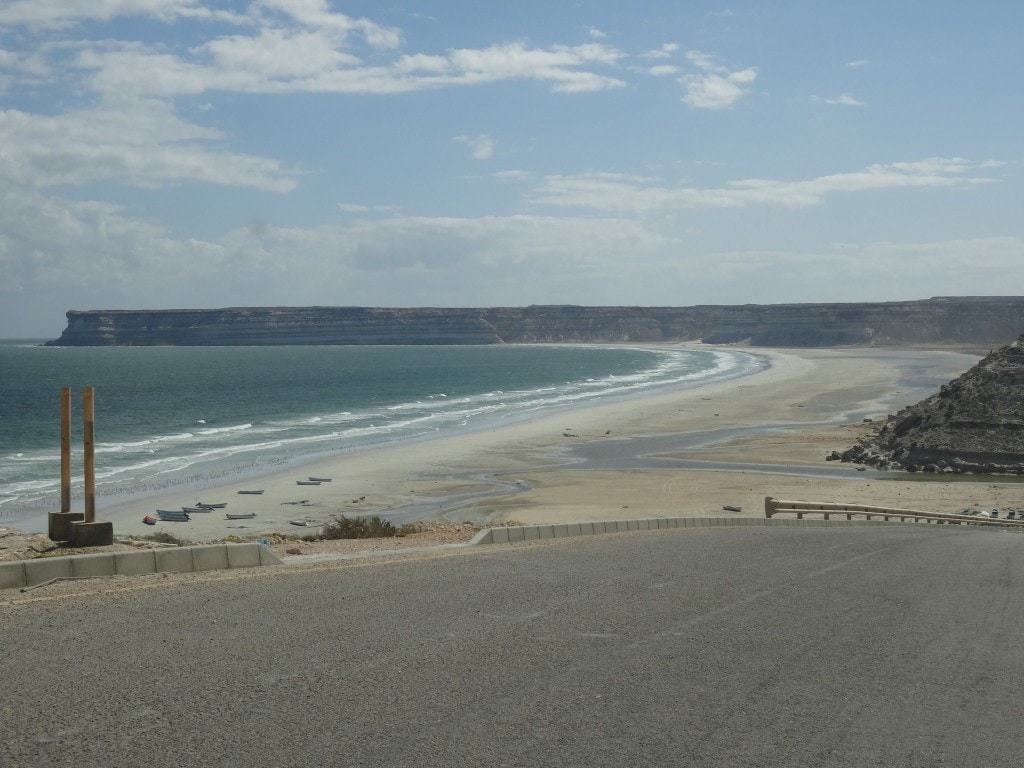 After a 20 minute off-road drive through an area with some huts, housing mainly Indian workers, we arrived suddenly at a nice paved road down to the beach. The view was amazing and we measured the beach later and it was just over 5 kilometers long. Just at the beginning there were some boats, used for fishing, but nobody was around. The beach was for us alone! Or weren't we alone? When we drove up the beach we saw hundreds if not thousands of small crabs running towards the sea. They got scared by the noise we made.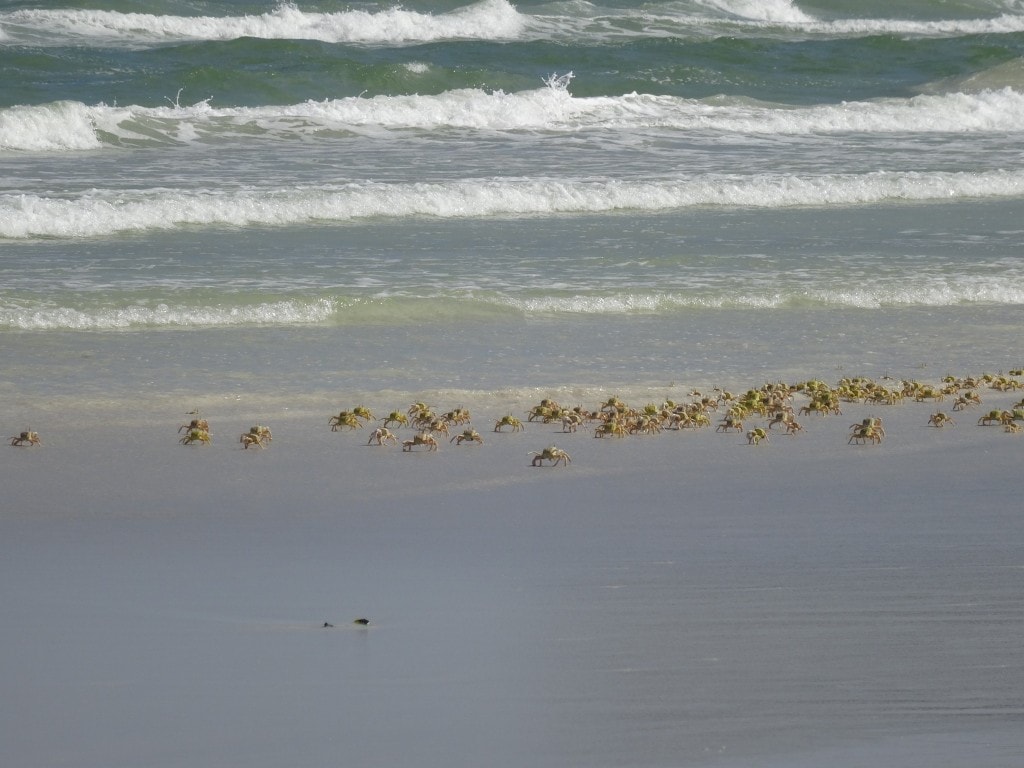 We drove to the end and then back to half way where there were some nice dunes for the kids to play on. The water was pretty rough though and we didn't go that deep to avoid possible dangerous currents. After a bit of swimming we sat down on the beach for a pick nick. It was very quiet and the crabs started to come back to the beach one by one. If we moved, they started to run back to the sea because of the vibrations we made in the sand.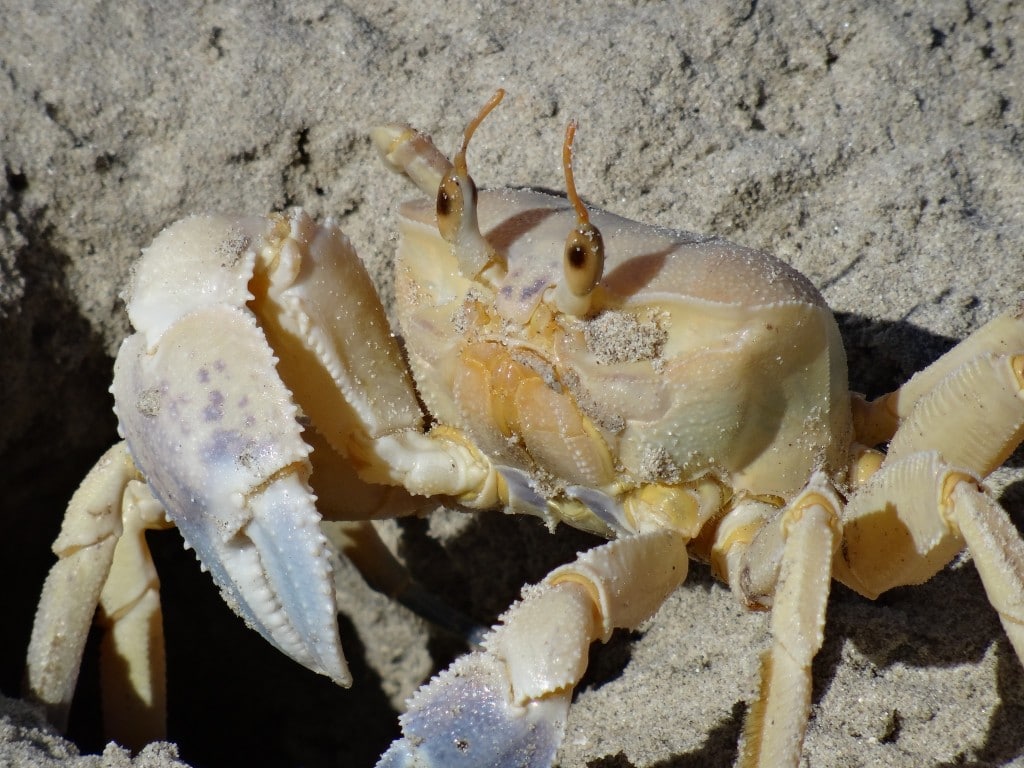 After we got tired from swimming, running and just relaxing on the beach we headed back to Duqm. But before we left we did some beach crossing in our 4×4 🙂 The idea was to visit also the Oryx sanctuary not far from Duqm which has been a UNESCO World Heritage Site for a long time. Due to the management and downsizing of the site it lost the status and it seemed impossible to visit.
If you like to be alone on a beach, quiet, then this is for sure a place you should go. It's a bit out of the away from Salalah or Muscat but if you do a road trip in Oman this is a perfect place to fit into an Oman itinerary.
Stay tuned for more stories and subscribe to the newsletter or follow CTB on social media (Facebook, Twitter, Instagram including Instagram stories; on all social media you can find CTB @christravelblog) to get updated information.
Did you visit Duqm in Oman too or do you have questions? Please leave a comment at the bottom of the page. Love to hear from you!
Gallery Ras Markaz beach
Click an image for a full screen gallery of more photos taken during this trip. If you like to use any photo for commercial, private or editorial use please contact first for permission and/or pricing.