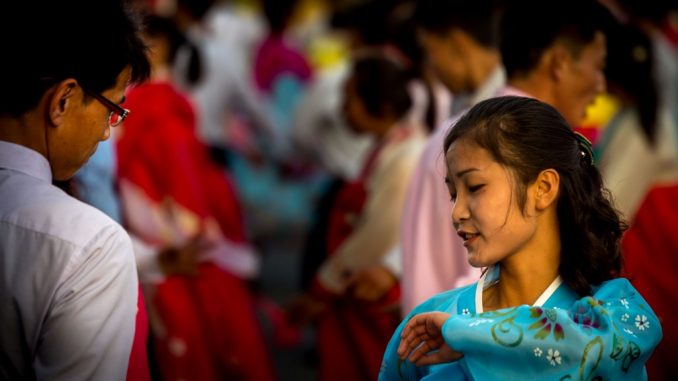 North Korea is probably the most closed country in the world. It's however not the most difficult one to visit. These are two different things. I visited in autumn 2014 which seems already ages ago but I still have more stories to share with you. I flew in from Beijing, China for a 10-day trip (see my North Korea itinerary for an overview). Join me on an entertainment tour to the circus, dance and music performances. I will also take you to an art studio, the largest in the world. Enjoy creative North Korea!
National Circus
The National Circus of North Korea is without doubt one of the better ones in the world. In North Korea a circus is considered a fine art and just the best can participate. Artists are selected while they are just 9 years old. Selection is done based on looks and the ability to perform. After the selection a period of years of training starts. The artists are trained for one specific role in the circus which could be for aerobatics but also "just" a clown.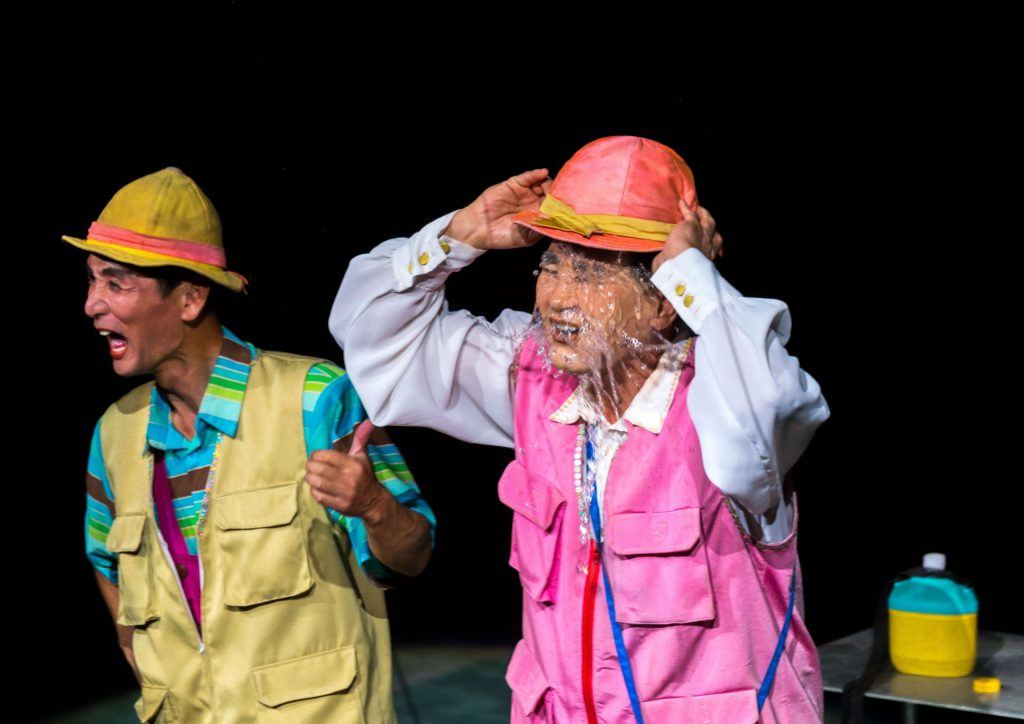 I visited the North Korean National Circus on Party Founding Day. They made a perfect performance in the Pyongyang Circus Theater. I have been to some circuses in the past in other countries but they were just the best I have seen till today. I was most impressed by their trapezoid stunts in the air. It's their signature act and that's not without reason. The circus also tours around the world giving shows for any nationality to visit. They have done shows in China, Monaco but also South Korea! It's a great way to see a glimpse of North Korea without actually going there. You won't hear or see any propaganda in the acts they perform. It's just fine art. I enjoyed the show a lot; I cannot say the same for some of the locals as you can see in the following picture.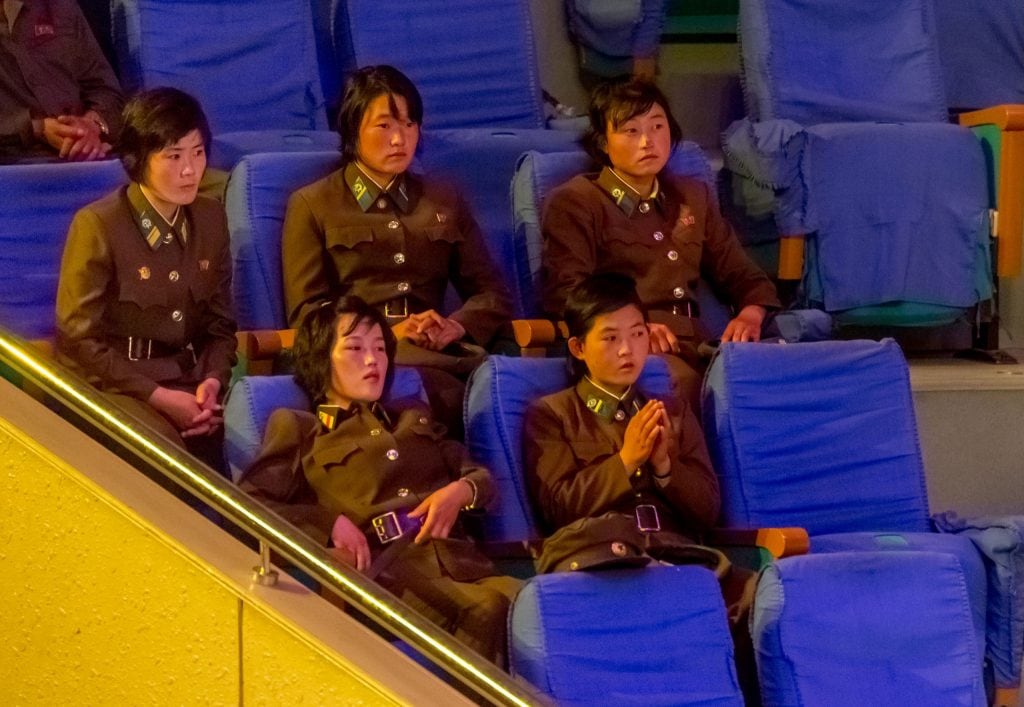 Pyongyang Children's Palace
There are two Children's Palaces in Pyongyang. One is called the Mangyongdae Children's Palace and the other, which I visited, the Pyongyang Children's Palace. The first founded in 1989 and the other as early as 1964. The Children's Palaces are places where children can go after school to practice extra-curricular activities. This ranges from singing and dancing, music instruments but also broidery, taekwondo and gymnastics. I was most impressed by the musical performances.
The building dates back to 1964 and although it looks dated it still looks new too. This is the case with many buildings in North Korea; they still look new especially on the inside. An example is the hotel I stayed; a luxury hotel in North Korea; but very dated. It's interesting to see something old but looking new like it was years ago.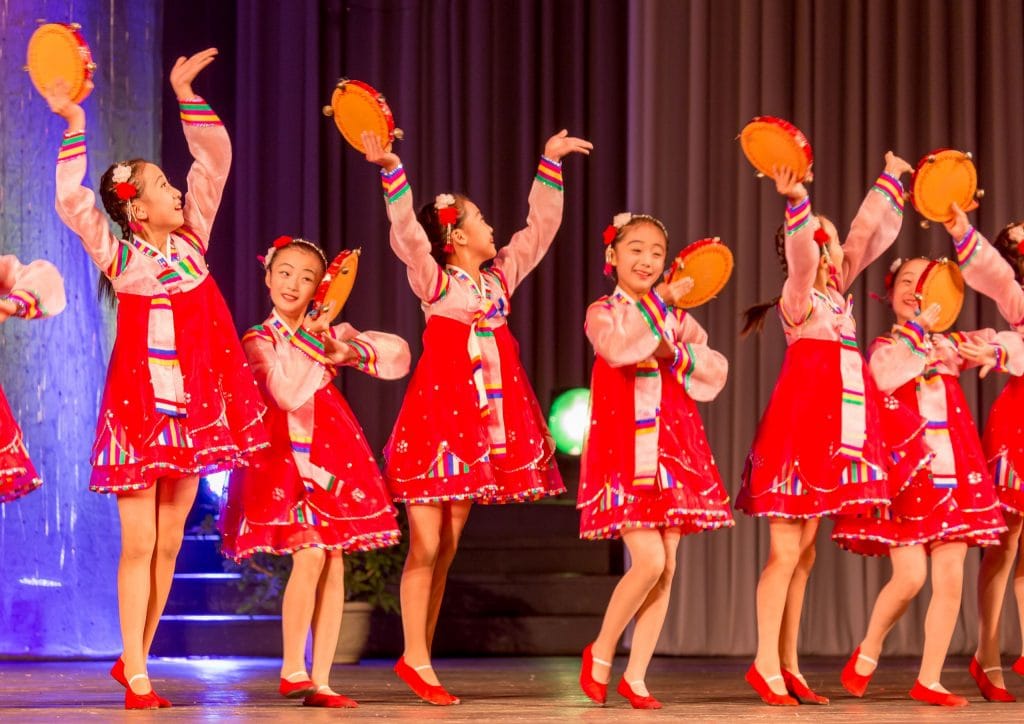 The tour starts by visiting various classes to see the children practice. It was amazing to see on what level of professionalism these children operate. After seeing children practice guitars, piano's, taekwondo, dance and singing it was time to witness an actual performance. Some children are in the age of kindergarten but perform like adults. It's amazing to see the moves they carried out with military precision. Most tours to North Korea will visit one of the palaces. If it's not on your itinerary I highly suggest you to ask for a visit. Performances are done almost every day.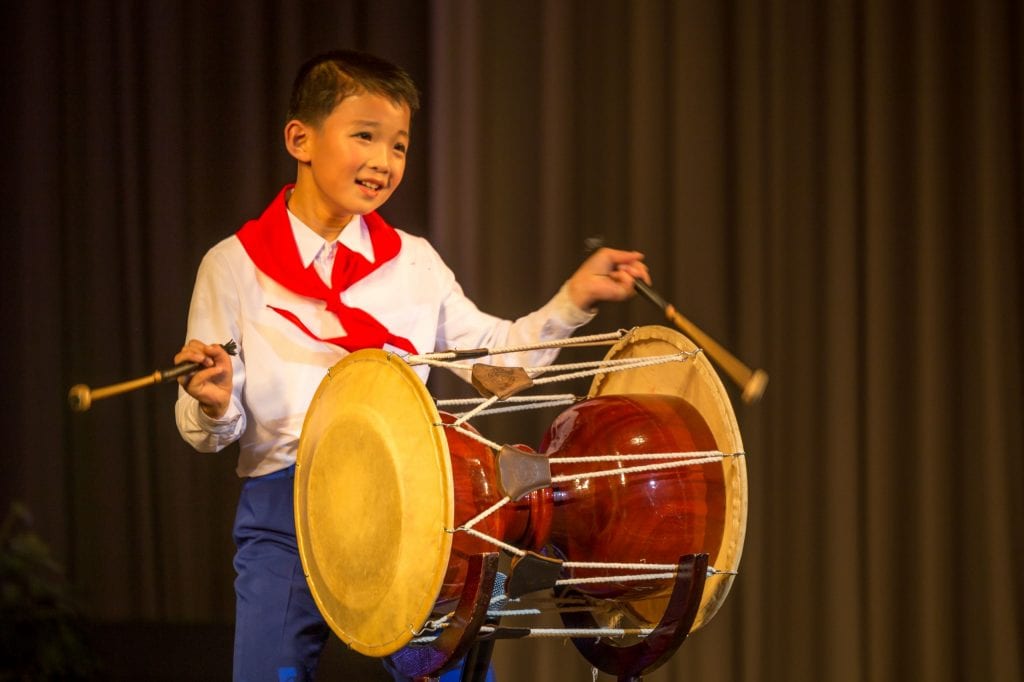 Mansudae Art Studio
The Mansudae Art Studio is responsible for most of the important statues throughout North Korea. It's the only studio that is allowed to make sculptures, paintings and other images of the Great Leaders. Only the best artists are allowed to work there and they come from throughout North Korea. Today around 5000 artists work in the studio. When I walked from one studio to another I saw some artists on a break playing volleyball. It's a small glimpse of what people do if not working.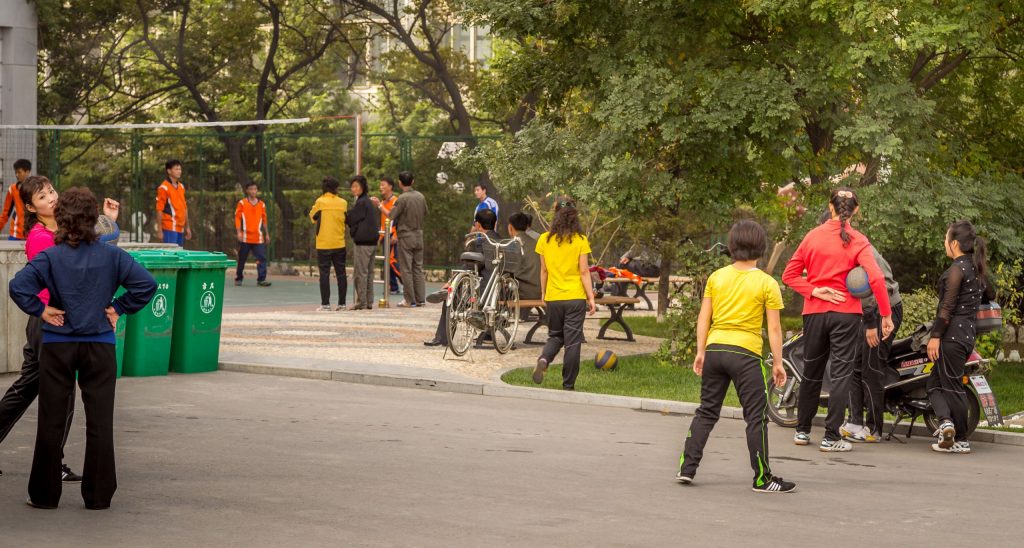 It's the biggest art studio in the world and even sells its art online! If you want you can buy their art without visiting North Korea. They have also made various items for public places around the world. I visited the painting workshop and charcoal painting. Further I visited the museum/shop to see what kind of items they produce more. I can assure you each item is beautiful and of high quality.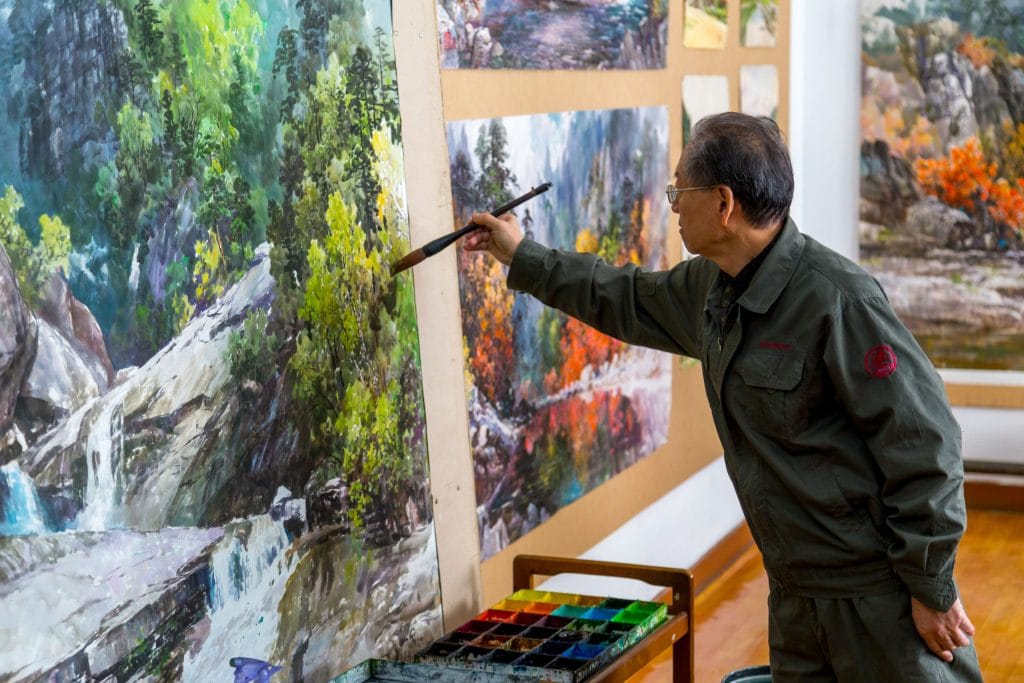 Mass Dance on Party Foundation Day
Party Foundation Day in North Korea (DPRK) is an annual public holiday on the 10th of October. This day celebrates the foundation of the Party in 1945. My North Korea itinerary was planned in such a way that my last day would be on the 10th of October. One never knows the exact celebrations that take place but being there at that day is a unique experience. It's a public holiday so most people have a day off and go do fun things. I wrote about fun things to do in Pyongyang before of which I visited the park also on the 10th of October. These fun things are mainly reserved for government officials while regular citizens receive additional food, electricity and other luxury goods. With luxury I don't mean fois gras, but items they otherwise could not afford.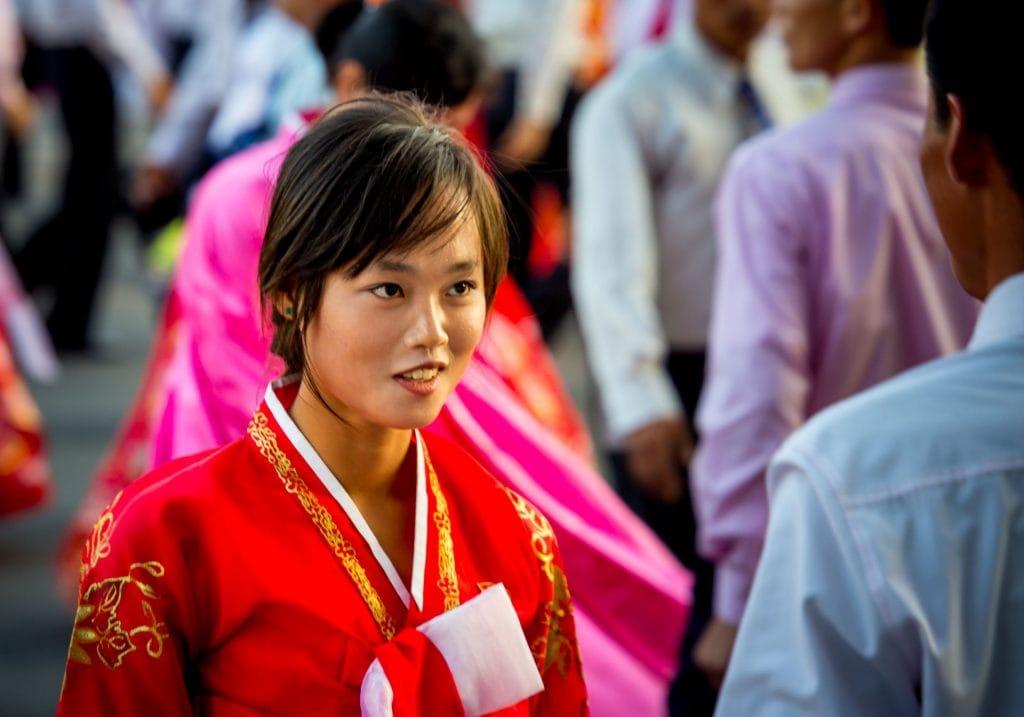 Normally the leader, now Kim Jong-un speaks in public during Party Foundation Day. I would have loved to see such a speech but when I visited in 2014 he was absent for a long period of time. It later appeared that he had to recover from some minor injuries. At least that's the official story. If you are lucky you can see military parades but this was also not the case during my visit. I witnessed a traditional dance event on a large square. A few hundred men and women dressed in traditional outfits danced together on traditional music. It was very interesting to see and to get close to the people. It lasted an hour or two after which it was time for my final dinner before returning home the next day. Not the final final dinner 🙂 I left North Korea fully alive.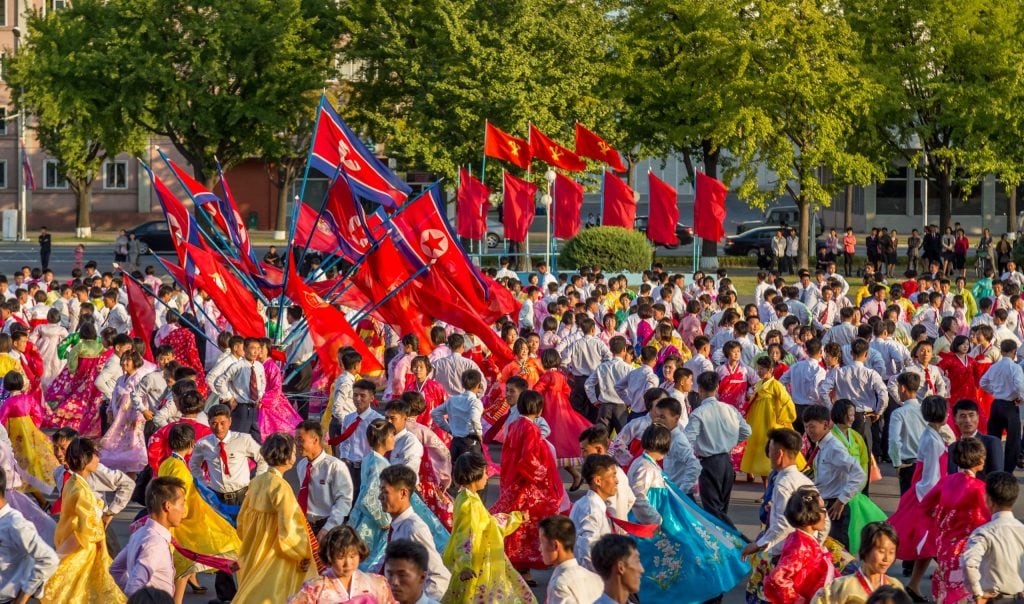 What do you think of the above picture? Are they in love? I'm not sure, but probably they had some fun after the dance event. One thing I learned during my visit in North Korea is that people are very creative. They know how to practice until their performances are flawless. I had a great time in North Korea both in Pyongyang but also to Kaesong at the Nampo area. A closed country, but very interesting to see. I will go back one day to explore more.
Stay tuned for more stories and subscribe to the newsletter or follow CTB on social media (Facebook, Twitter, Instagram including Instagram stories; on all social media you can find CTB @christravelblog) to get updated information.
Did you visit North Korea too or do you have questions? Please leave a comment at the bottom of the page. Love to hear from you!
Gallery Pyongyang entertainment
Click an image for a full screen gallery of more photos taken during this trip. If you like to use any photo for commercial, private or editorial use please contact first for permission and/or pricing.