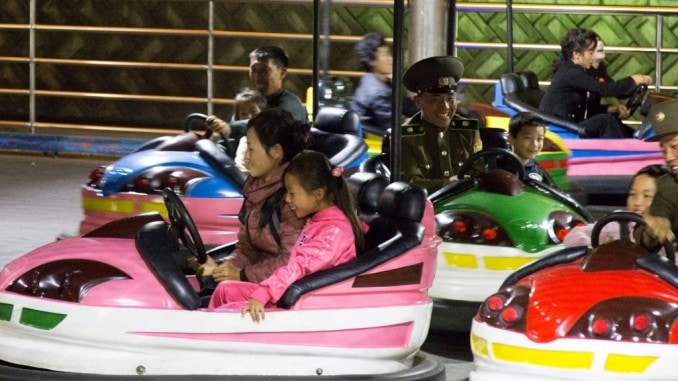 It's almost a year ago I visited North Korea (DPRK) and still so much to write about. This time I take you to 5 fun activities in Pyongyang. Activities the locals go do when they have a day off work. You find most men suited up even in the amusement park; very interesting. More photos as text this time; they speak for themselves. Interested in other things you can do in North Korea see here. Have fun!
Picknick in Moranbong park Pyongyang
North Koreans love to go in their free time to the Moranbong Park Pyongyang and as a western tourist it is very interesting to wander around this park. It is one of the places where you get very close to the locals. You can with some luck have a very small chat, dance with them and just see what they do. I must also say that here the guides where more strict on making photo's then in other places. For me this walk in the park was probably one of the most valuable experiences while in Pyongyang.
Skate park Pyongyang
At the Pyongyang skate park you can see a lot of young people who after school go there for fun. At the time I visited there were also a few professional young skaters training. Interesting to see how motivated all these kids are. Skating is not my thing so I passed on this activity.
Horseback riding in Pyongyang
Just outside of Pyongyang you find the recently built stables on a huge ground. When you arrive you get first a tour through the memorial hall full with paintings where the great leader is riding horse. A few statues and other horse riding related items are on display too. Here you make a bow for the great leader, as in most places. After that you can go horseback riding. Their horses are really the best of the best. I had not done much of riding before so after a half hour I thought I did enough but definitively loved it!
Ice skating in Pyongyang
Opposite the skating park there is the ice-skating ring of Pyongyang. Being from the Netherlands I do know how to ice-skate but it seemed someone forgot to put the freezer on as there was quite a lot of water on the ice. I skipped my ride therefore. Maybe this was the reason we had to wait some minutes before we could enter as maybe it was not good enough to show a western tourist. A small tour was provided where you learn how many times and in which years the great leader had visited the ice-skating ring. This is very important for the people who run the place. Maybe on my next visit when the ice is more frozen I go for a ride.
Amusement park Pyongyang
In Pyongyang there are two amusement parks. One evening I visited one of them and they even have fast-lanes. For westerners only though, no waiting for tourists. There are some rides and I did a few of them and the most interesting where the bumper cars because you have the fun together with the North Koreans. One of my guides was female and I asked why she didn't join any of the nice rides and the answer was: I'm in skirts and maybe men will look under it. Ok, fair enough. If you look at the clothing of the people you see that all men, but women too, are all very nice dressed up in suits. The kids are more in leisure clothing. You would never see something like this in western countries for sure. I had a great time in the amusement park together with all the locals.
Read all my stories on the DPRK, North Korea, by clicking here.
Did you visit this place or do you have questions? Please leave a comment at the bottom of the page. Love to hear from you!