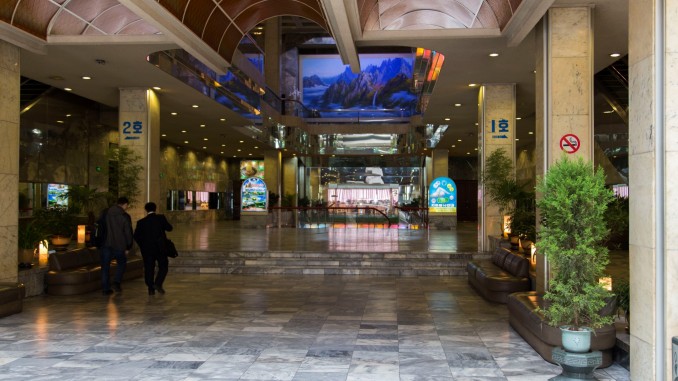 North Korea (DPRK) does have luxury! It might not be the luxury you are used to in many other countries but it does exist. During my visit I had planned one of them, the others I just did because it was possible. In this blog post I tell you how I experienced North Korean luxury!
Business class on Air Koryo to North Korea
What do you do when you have to check-in at an airport for a flight you have no status to go through the fast lane and the lane is long? Yes right, just upgrade to business class! During my business trip in Beijing I did not spend all my RMB's so had some money left. So I upgraded on the Air Koryo flight JS0152 Beijing – Pyongyang to business class. I arrived at the gate after having some champagne at the China Eastern lounge which Air Koryo uses too. When boarding started I could immediate board the Tupolev 204 plane and take my seat on 2A. I quickly shot some photos of the seats as I had no clue if this was even allowed. After me all the other passengers started boarding and finally some North Korean officials boarded and took the seats around me and next to me. I said "hello" and the person next to me ask me some questions and I asked some back. Seemed he was a pilot on Air Koryo. I'm into aviation so we had a great chat about the various planes Air Koryo has. During the flight lunch was served which was a small sandwich – something else than the fois gras on Air France. I asked if it was possible to get a beer but they did not have it so I kept it with water as I never drink coffee when I fly. It was a great luxury experience to fly business on Air Koryo! On the way back, I could not resist to upgrade again to business class 🙂
A SPA hotel at a hot spring in North Korea
On the west coast of North Korea you find a hot spring called Ryonggang Hot Spring Spa House. The spa resort is build there with villas between trees. Each villa has several rooms with a spa hot tub. In the evening there is hot water supply during one hour to fill the tub. In the morning you shower cold! Although the villas are dated and might need some new tiles in the tub it's a great luxury experience! If you want something different be sure to stay a night at this resort in the middle of the country side!
A luxury suite at the best hotel in Pyongyang
My base in Pyongyang was at the Koryo hotel where I had two stays. During the first stay I noticed that they had also premium suites. This made me curious how these would look like. The second time at check-in I requested an upgrade to a luxury suite. Just to experience it. It had a seventies look but was much more comfortable as a regular room. A huge living area and a separate working room with a huge massive desk (photo below). Nice to do some work in the evening, oh no, there is no internet. The bedroom was large and the bed more comfortable as the regular room. The bathroom however was the same standard unit but the amenities were of better quality and more diverse! I will never regret I upgraded as this is an experience you can only do in Pyongyang. North Korean luxury it was for sure!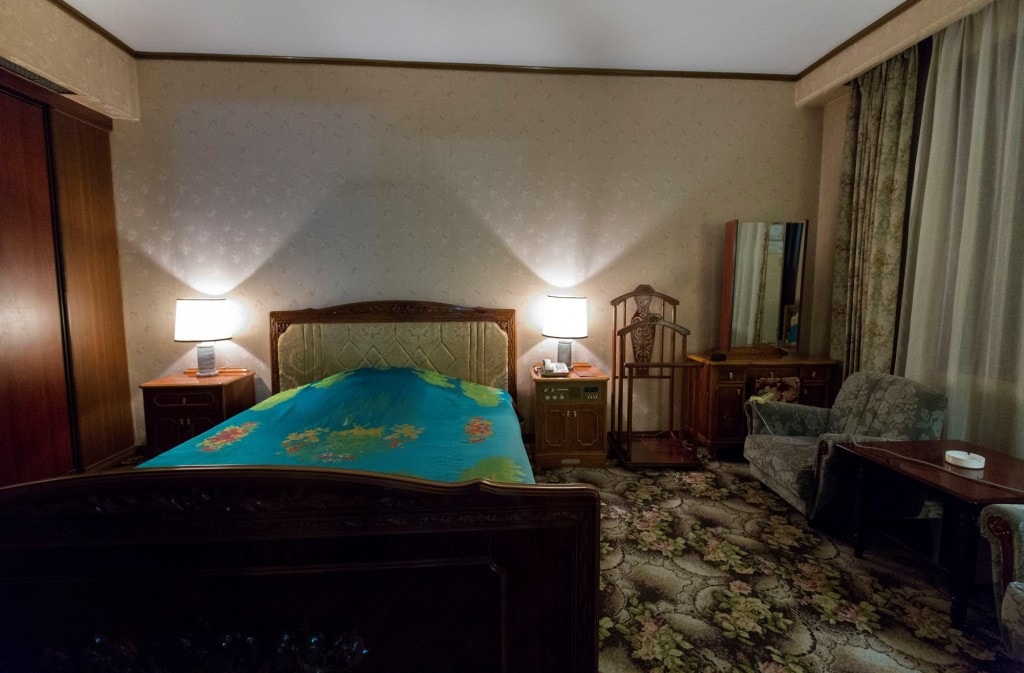 I wrote several articles before on North Korea, check them here. It is a country which will give you for sure a new experience, culture shock, wow moments and more. Just be flexible as sometimes go different as planned, and a cold shower sometimes happens. I will go back soon to check out the east coast.
Did you experience any luxury in North Korea or did you visit the country? Please leave a comment at the bottom of the page. Love to hear from you!
Gallery luxury things in North Korea
Check the gallery for more photos taken during this trip. If you like to use any photo for commercial, private or editorial use please contact first for permission and/or pricing.