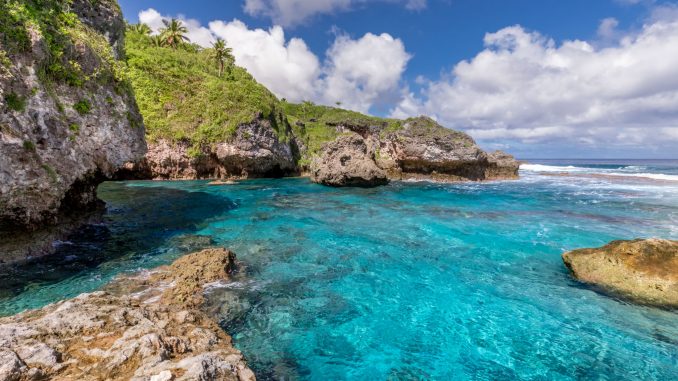 Niue is an island I have long time wanted to visit as I collected their stamps, which they issue as a source of income, as a child. Maybe you have never heard of Niue? Then read on!
Just going to Niue for an island trip from Europe for a few days doesn't work as just getting to Auckland takes about 24 hours. Since some years I visit Pacific islands after a Singapore conference, and I was finally able to visit Niue (and Tonga). SkyTeam partners Vietnam Airlines and Korean Air had reward tickets from Singapore for a reasonable number of miles and almost no taxes.
In this Niue itinerary I suggest 4 day trips to the island highlights. You can see the whole island in 4 days and still have time left to relax. Enjoy Niue with me in this Niue travel blog!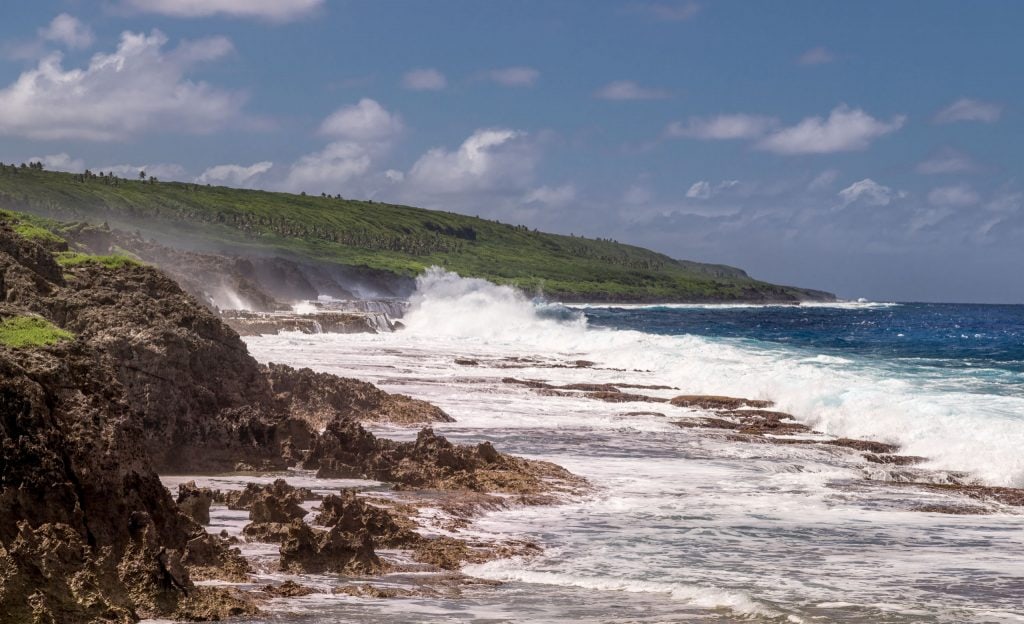 Planning a Niue itinerary
Planning a Niue itinerary basically means getting to Auckland, New Zealand first. Niue can only be reached from there on a bi-weekly flight. At the time of writing they go Tuesdays and Saturdays (New Zealand time). Keep in mind that you cross the dateline flying to Niue, so you'll arrive a day earlier. Flights from Niue to Auckland thus go Mondays and Fridays but then again arrive Tuesdays and Saturdays. Keep this in mind if you're adding Niue to a Pacific island-hopping itinerary.
Once on the Rock you don't require a lot of planning. You will either have 4D/3N giving you 2 full days or 5D/4N giving you 4 full days due to the bi-weekly flight (or multiples of that). Although you theoretically can see the best highlights in just two full days, I recommend taking at least 4 full days so that you have time to relax as well. Niue for most isn't a place you return to on a regular basis so take your time.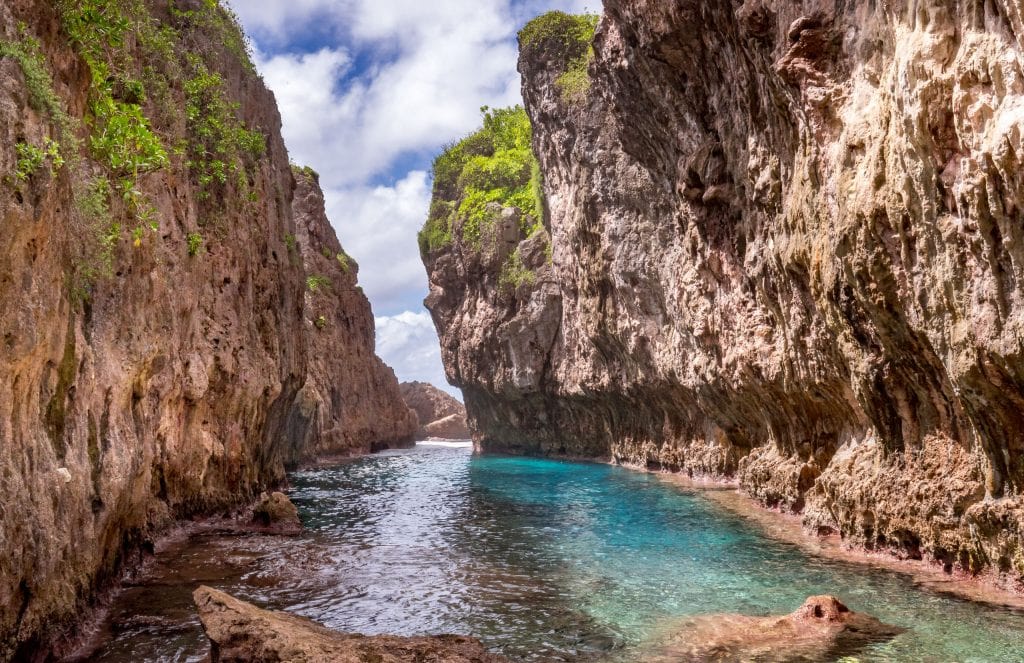 Getting around the island is easy and car rental is cheap. Your hotel or guesthouse can arrange this for you. Do make sure to stop by the police station first for a local driver's license. Doesn't cost much but is mandatory and is a nice souvenir as well. The fun of Niue is to just explore and enjoy all the highlights and maybe find a new must-see place!
Niue itinerary: Must-sees and must-do's
Niue has plenty points of interest but there are a few that are true highlights. Most highlights are geolocial marvels including caves, arches and chasms. The below listing splits everything into 4 day trips including three (longer) hikes, natural places of interest and cultural highlights. As Niue is small you can easily drive around and choose where to go on the spot. To save time I'll list all in suggested day trips so that you don't have to drive around the island multiple times. You'll notice that I mention the word "chasm" quite often. These are eroded gorges in the coral leading from the plateau to the water level. Each day will be 4 to 6 hours maximum so you'll have time to relax as well on this tropical island.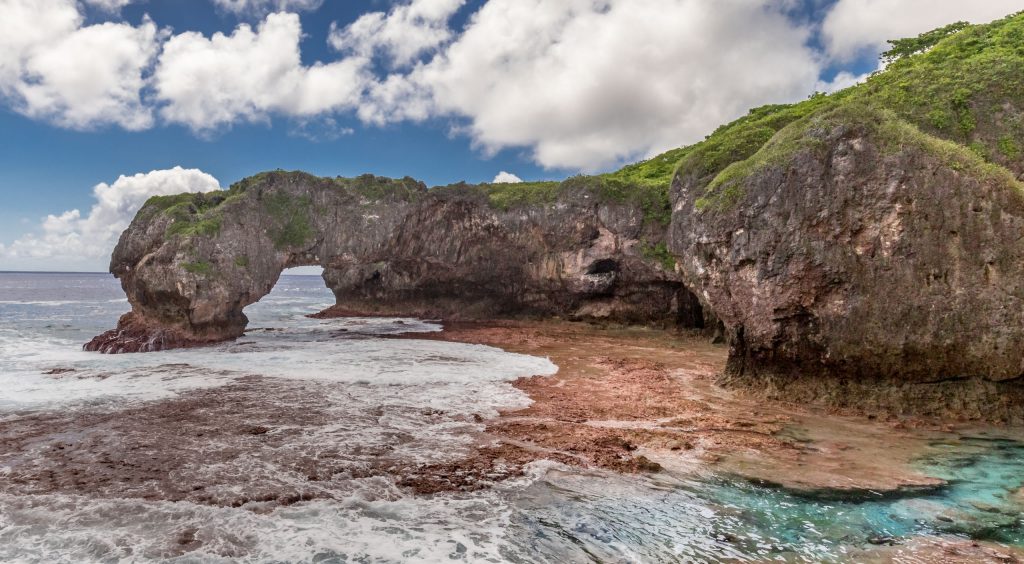 Niue itinerary day 1 suggestion
On the northern coast of Niue, you find two places that are a must see: The iconic Talava Arches and the Matapa Chasm. Both trails start at the same point. You have to time well as you want to be at the Talava Arches at low tide so that you can walk on the normally submerged reef to the arch. Keep in mind that even on windy days at low tide it's difficult to walk to the arch as big waves splash onto the reef. You don't want to fall and get sucked into the ocean as currents can be strong. The hike to the Talava Arches is about 40 minutes one way if you take it slow and make photos. You'll be awarded by the iconic Niue view as you can see in the photo above and below.
Once you return to the trailhead take the left trail (10 minutes) to the Matapa Chasm. This is one of the best places to swim and snorkel without going out into the ocean. You'll see plenty of fish and the water is crystal clear. Make sure to bring your swimsuit and snorkel gear but also drinks and food as there isn't anything available there. Both places make up a great 4-6-hour trip depending how long you'll swim. If it's whale season you can take the 3rd small track (10 minutes) to a viewing point where you can see whales in a distance.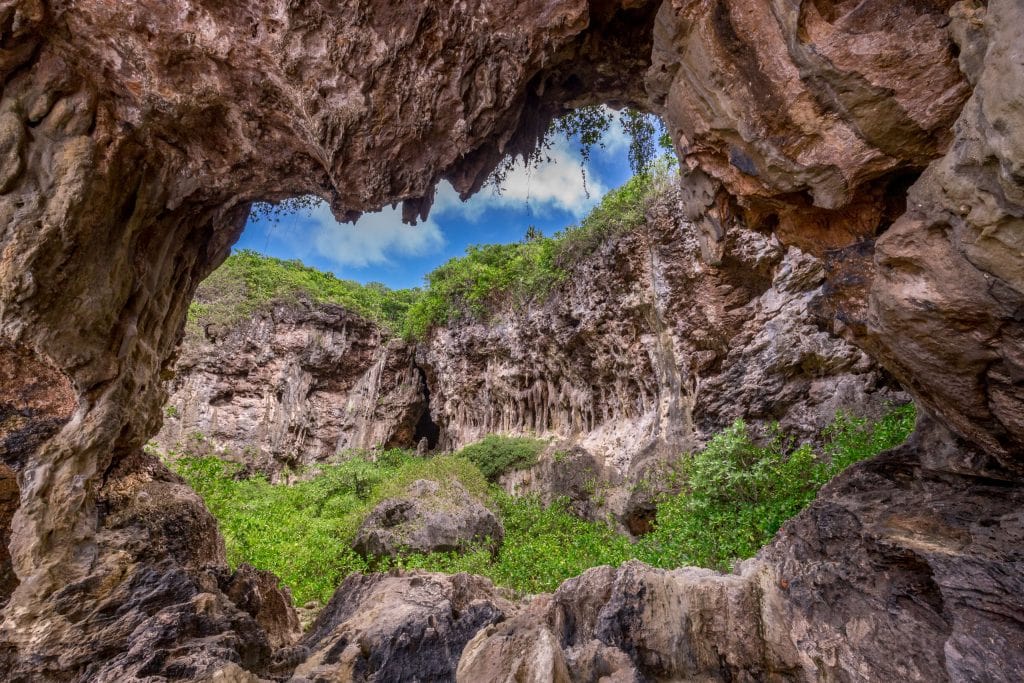 Niue itinerary day 2 suggestion
The eastern coast is best covered on the same day as the road there isn't in the best condition so travelling takes a bit more time. If you're into mountain biking, then hire a bike and do this day on a bike! The first stop of the day is at the Anapala Chasm which leads in 155 steps down to a freshwater pool. It was once the source of water for the island.
Next up is the Togo Chasm which is a 45-60-minute hike one way as the 2nd half of the trail is a bit more difficult. It starts through the Huvalu Forest Conservation Area and ends at the coast. The coast there is of particular interest as it looks alien (see photo below). This geological formation reminded me a bit of the Shilin Stone Forest near Kunming in China. At the end you descend a ladder which leads to an inland beach. You can't swim there but bring drinks and snacks. It's a nice place to spend an hour.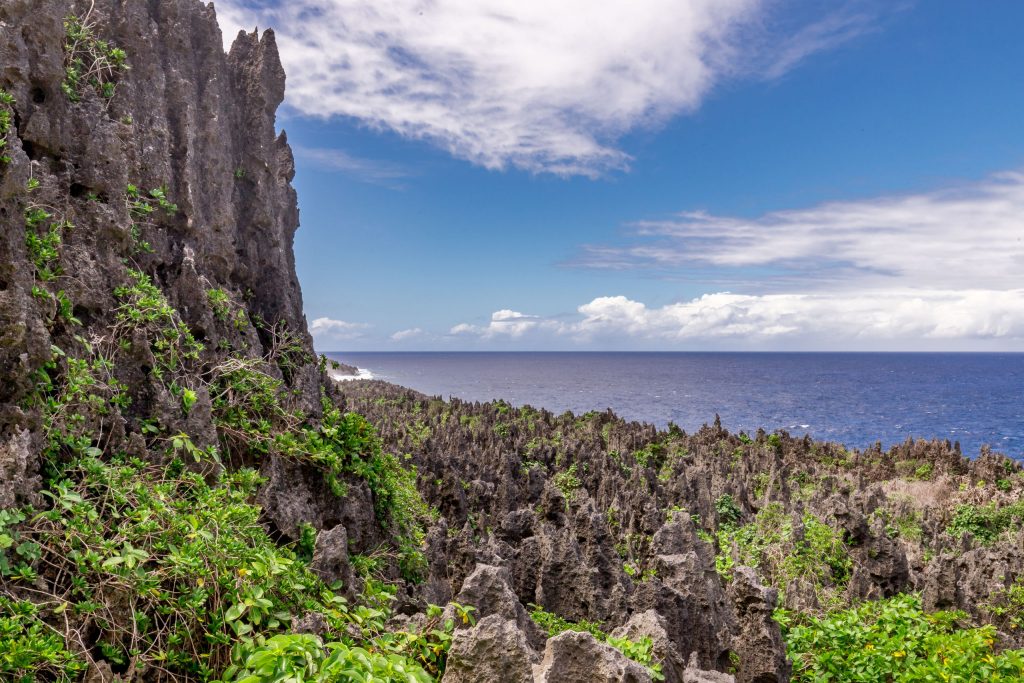 Now continue north and after a kilometer or so you'll find the Laufoli Umi Pit on your right-hand side. There is not much to see but worth 5 minutes of your time. It's an old oven used hundreds of years ago. Just further down the road is the ever evolving Hikulagi Sculpture Park. You can even contribute a piece yourself!
If you're biking, you can make an 1 hour trip through the forest over the Vinivini Bush Rd. and then continue north through various villages until the most northern point where you can visit Tauei Fupiu Fort. It's not a huge fort but more a natural shelter used in the past. If you're not so into historical sights of this kind, then don't make the drive all up north but take the inland road back to Alofi and visit the National Museum.
This day trip suggestion is probably the longest of this Niue itinerary. I do recommend following it in this order so that you can make the most out of your time.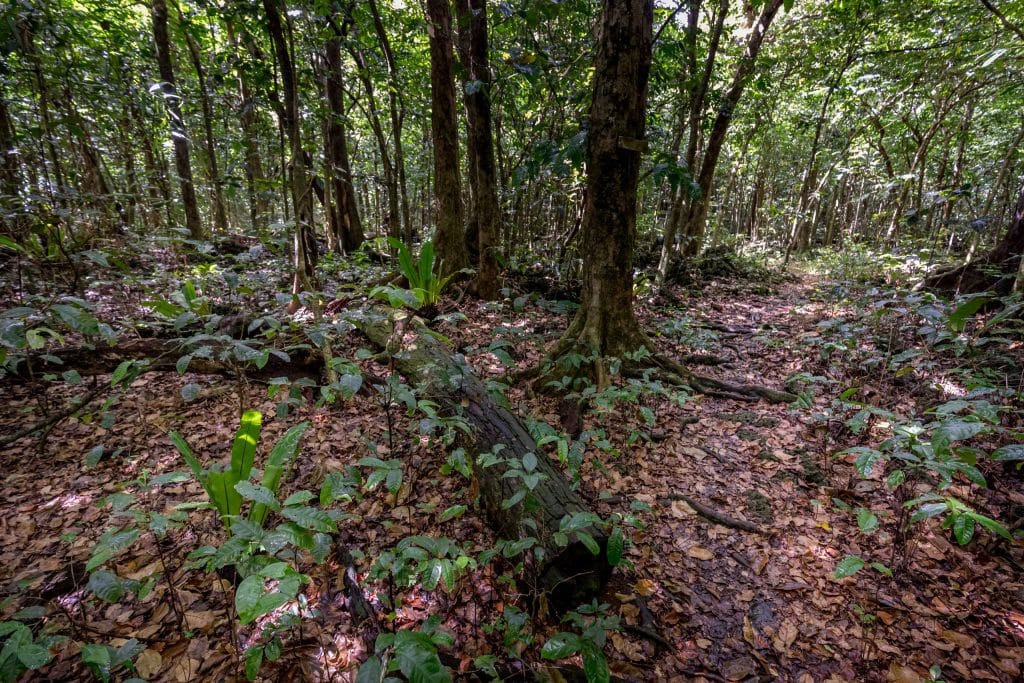 Niue itinerary day 3 suggestion
Another highlight of this Niue itinerary is this day trip. You'll explore the Limu Pools, Palaha Caves, and beautiful yet small Hio Beach. I recommend starting at the Limu Pools first and spend the morning there. The pools are great for snorkeling as well so bring gear. Swimming is possible during both high and low tide, but I would recommend not going when waves tide is exactly as high as the reefs and waves crash on it. When you're done swimming and snorkeling head to Hio Beach and have lunch at the small restaurant next to the road.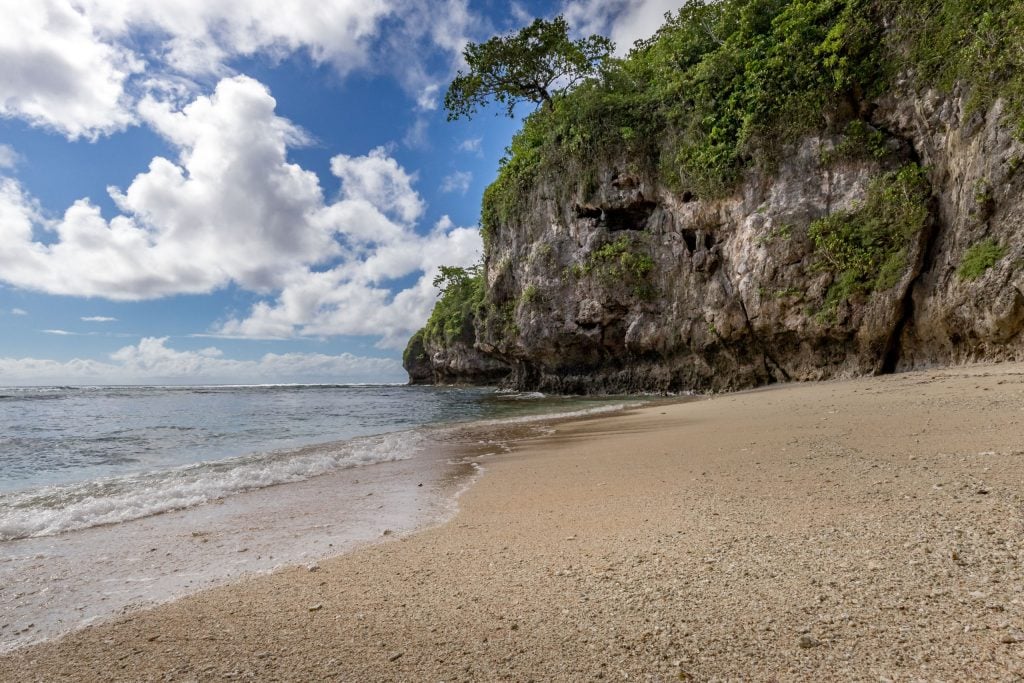 Hio Beach is reached by several stairs. It's a beautiful small beach and one of the few on Niue. Spend a bit of time there and before heading back to Alofi stop at the Palaha Cave which is the most beautiful cave system I saw on the island. Niue's geology is famous for its caves and other formations. You'll probably spend an hour there. You could add a few places of my suggestions for day 4 if you'll be out on the water that day. Even if you don't, you have seen the best highlights of Niue already during the first 3 days of this Niue itinerary.
Niue itinerary day 4 suggestion
There are a few places more of interest just north and south of Alofi. I'll list them from north to south and first those north of Alofi: Avaiki Cave (a small cave, 30 minutes), Ana Atua Cave (small cave, 30 minutes), Peniamina's Grave Memorial (10 minutes). Then in and around Alofi: Tomb Point (20 minutes), Cooks Landing (20 minutes), National Museum (30 minutes). South of Alofi it's just the Burial Cave (small cave with human skeletons, 10 minutes) and Avatele Beach and reefs (great to walk on the reef there, 30-90 minutes). These are all secondary places of interest I would say but are worth going to.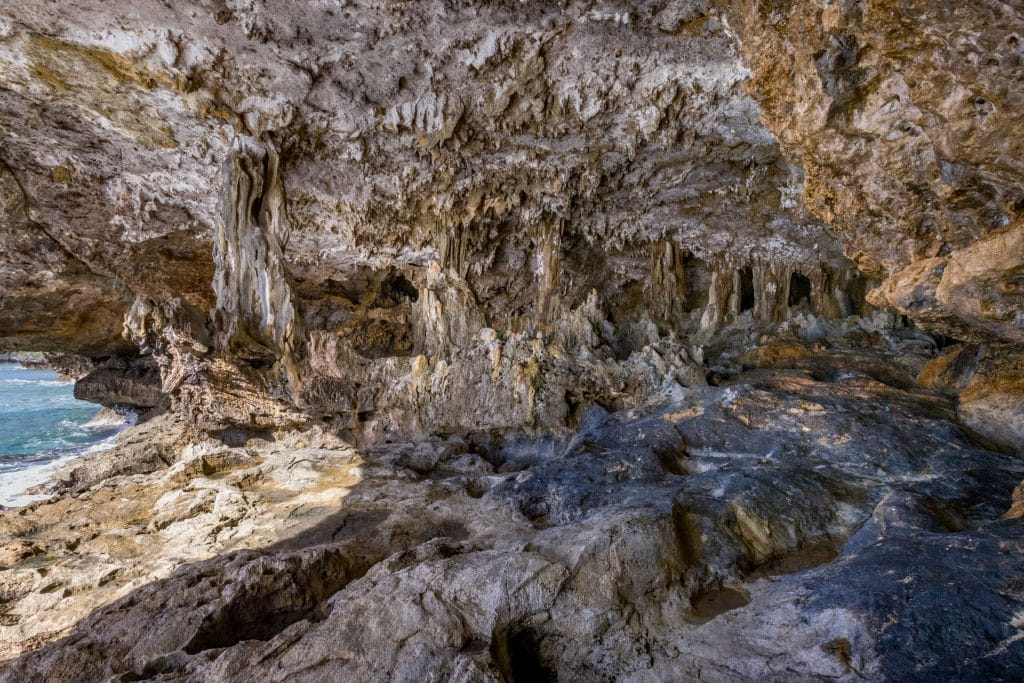 If you go out on the water for a tour to snorkel or dive, then skip the above places and fix to the other 3-day trips I suggested for a Niue itinerary. In case you have more as 4 days then mix up the above places and just explore the island more. Everywhere there are beautiful views and there are a few more hikes possible. For more information see the Niue Tourism Office Website.
I'm sure if you knew about Niue you now want to go and if you didn't know about Niue it's on your bucket list! It's an island in the Pacific as no other because of its geology. It deserves its name The Rock for sure. I had a great time visiting Niue exploring its secrets and just taking some time to unwind. If you're coming from far then make sure to check out my Solomon Islands itinerary, Vanuatu itinerary, Tonga itinerary and Pacific island-hopping itinerary as well. They are easily connected to this Niue itinerary.
Stay tuned for more stories and subscribe to the newsletter or follow CTB on social media (Facebook, Twitter, Instagram including Instagram stories; on all social media you can find CTB @christravelblog) to get updated information.
Did you visit Niue island too or do you have questions? Please leave a comment at the bottom of the page. Love to hear from you!
Gallery Niue itinerary
Click an image for a full screen gallery of more photos taken during this trip. If you like to use any photo for commercial, private or editorial use please contact first for permission and/or pricing.