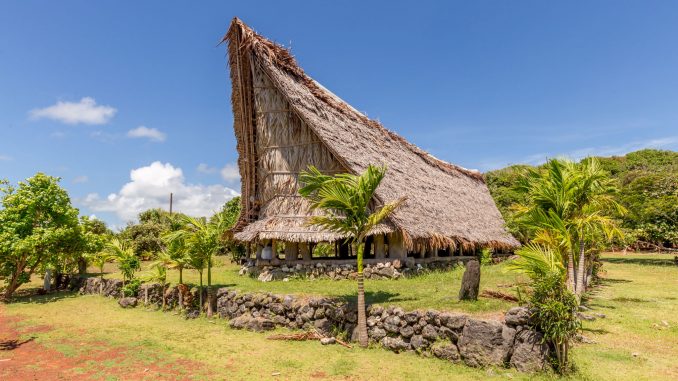 Visiting Micronesia is a delight and that also counts for a Yap visit. Yap is definitely one of the best places to visit in Micronesia. It's very remote in the Pacific and difficult to reach from most places in the world. If you visit Yap, you probably do that to learn about its WWII history or to go diving. Or, like I did, to visit the Yap stone money which is a tentative UNESCO World Heritage Site. A Yap island tour is a must-do and there are plenty of places on land to keep you busy for a day. The best things to do on Yap I'll cover in this article but first let's see how to get there!
How to get to Yap
The Federated States of Micronesia consists of four different states of which Yap state is one. Can you show Yap island on the world map? You either can as you're planning a trip, or you will check Google Maps now and I'm sure you want to do a Yap island tour as well. But how do you get to Yap?
Yap state is probably the easiest to reach and has one of the four Micronesia airports. Keep in mind these airports are just a runway and a small building. Everything, including luggage inspection, is done by hand. At the time of writing there are just two flights to Yap island a week from Guam. There used to be a flight from Palau, but not to Palau, but this has been suspended. To Guam there are plenty of options to worldwide destinations.
Plan your trip carefully and I would recommend to at least plan a full day in Guam in case of delays. As a missed flight would make you wait 3-4 days for the next flight. Check my Pacific island-hopping itinerary to see what you can do in Guam. Once you make it to Yap I recommend staying at the Manta Bay Resort, one of Yaps best hotels.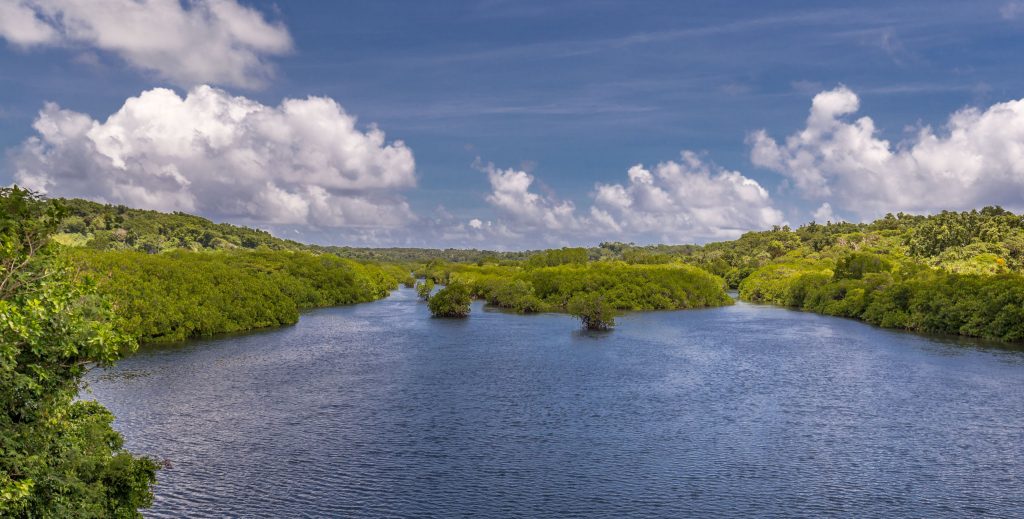 Yap island tour
A Yap island tour can be done on a bike but if you want to see every single place of interest a car is better. I hired a car with driver/guide from the Manta Bay Hotel as it was almost the same price as hiring a car myself. I recommend going south first to the old airport to see WWII wrecks, then continue to the Stone Money street in Malaay. From there go around the southern tip and visit a beautiful Faluw (Men's meeting house). You can then continue north to the beach for lunch or if you have time already visit one of the places up next.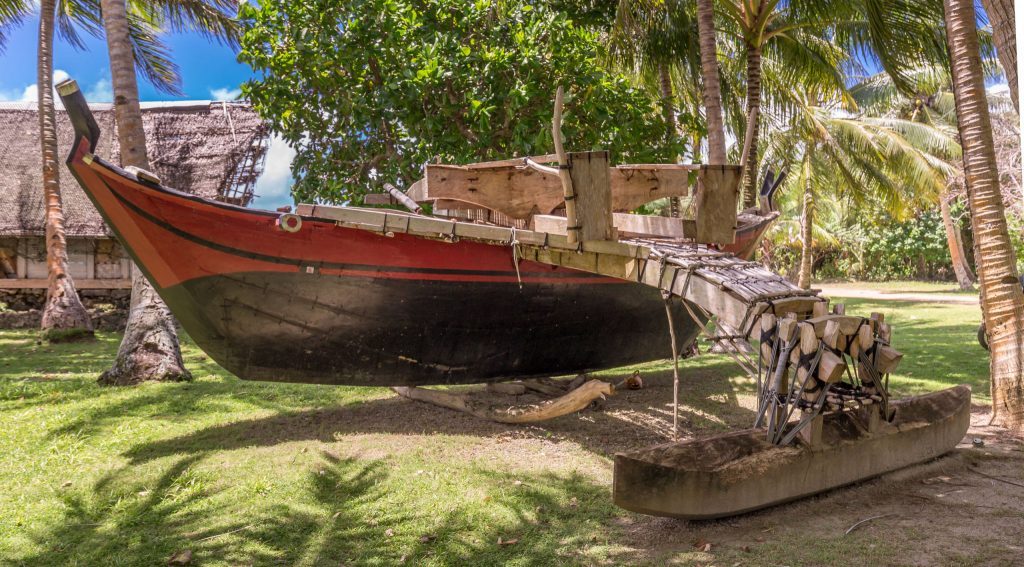 After lunch backtrack south to a beautiful men's house just north of Koh Kira. When you continue the road on the right side is a plane wreck in the jungle but not much is left. Continue to Maaq to learn about the coral lime production (you need a guide here!). Then backtrack and go north to Runn'uw and just before town on the right you can visit another men's house with stone money and a plane wreck in the water. Colonia, the capital, I recommend walking around on another day as the houses there are replica's and mainly used for Yap day festival.
If you go early morning you might want to opt to visit every place and end at the beach for a late lunch and just relax there the rest of the day.
WWII history
History of Yap dates to Spanish colonial rule in the 17th-19th century. It was sold to Germany after which in the First World War it became Japanese. In the Second World War Yap played a significant role in the Pacific as almost 5000 Japanese troops were stationed there. It was heavily bombed by the US military and finally the US occupied it at the end of WWII. In 1986 it became independent together with Kosrae, Chuuk and Pohnpei as the Federated States of Micronesia.
Today there are plenty of WWII remains to explore. These include underwater planes, anti-air canons and wrecks around the island. Most can be seen at the old runway. Just ask your driver to bring you to each place which are also marked on the Yap tourism map.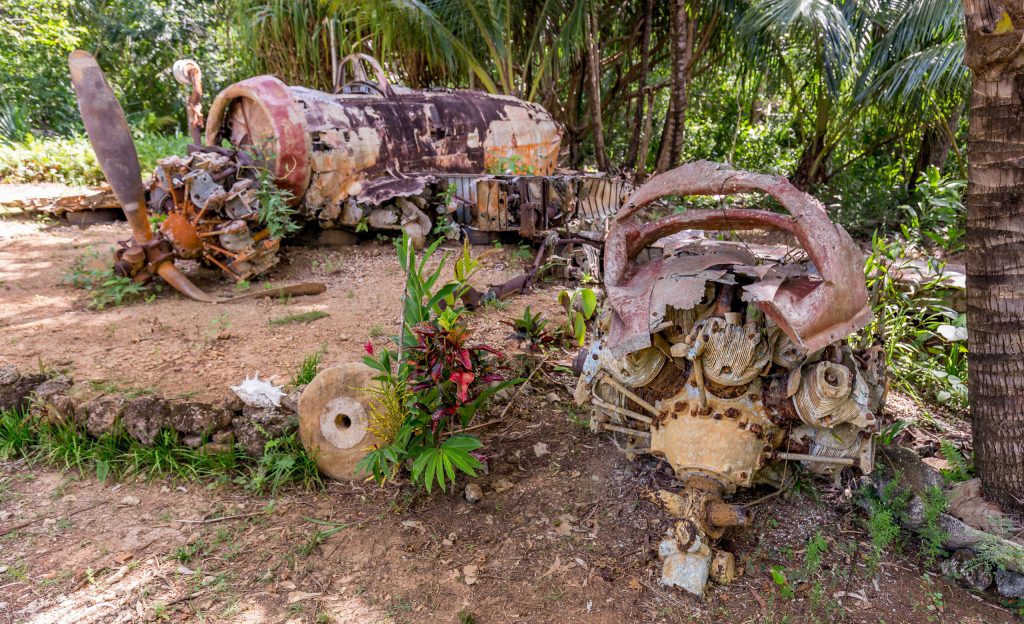 Stone Money – Yap island tour highlight
The Yap stone money was for me personally the main reason to go to Yap plus I visited a new country. This stone money was once used as legal tender because the disks originally were shiny and looked expensive. They are a bit like a flat donut and vary in size from a few centimeters up to 4 to even 8 meters. Centuries ago, but even today, houses are decorated with the money to show wealth.
These stones do not originate on Yap island but many where taken from Palau. Micronesians would go with an outrigger canoe between Palau and Yap which is about 450 kilometers. When I visited Palau, I regrettably didn't make it to the stone money quarry. Stone money on Yap today is a cultural sacred item and cannot be removed from the island. Every stone you see is owned by someone. I found the stone money for sure the highlight of my Yap island tour.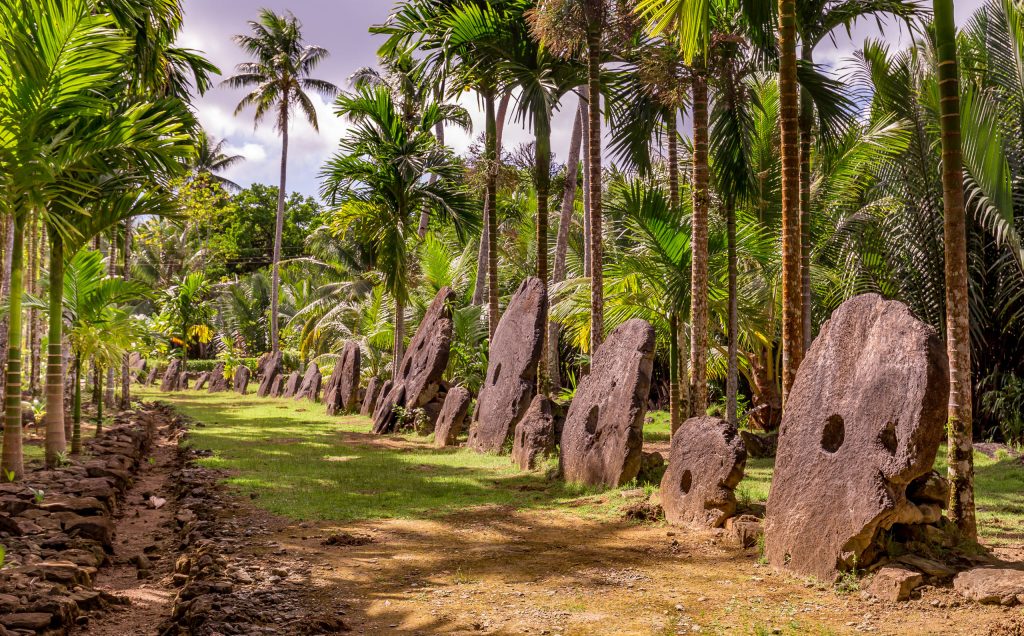 Men's houses – Faluw – Pe'ebai
Men's houses on Yap traditional were houses where the men would have meetings. They're also called meeting houses or in local language Faluw. A Pe'ebai is similar but for the whole community. These houses have a wooden structure and thatched roofs. They are built on top of a stone foundation. Most are built close to the water for easy access. In ancient time women would be kidnapped and brought there and become the women of the house. This however was seen as prostitution in later time and discontinued. When you do a Yap island tour, you'll likely make a stop at 2-4 different Men's houses. Some are decorated with stone money to show wealth.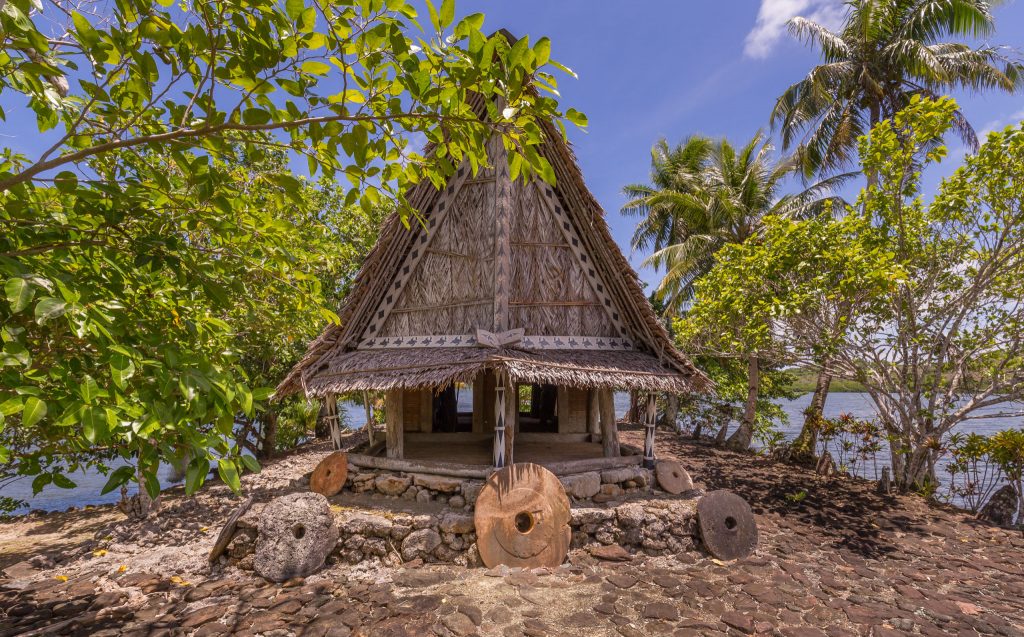 Lunch at the beach
As all land is privately owned in Yap you need permission to go on any beach. I arranged my tour with Manta Bay Resort which owns a beach on the northern tip of Yap. There are just a few beaches in Yap as most is surrounded by dense Mangroves. Make sure to do a Mangrove kayak tour as well! As it was high tide when I visited, thus less beach, I decided to just look around and continue my way.
You can do the same or have lunch at the beach. It's also possible to see the other sights first and have a late lunch at the beach and relax for the rest of the day there. Up to you!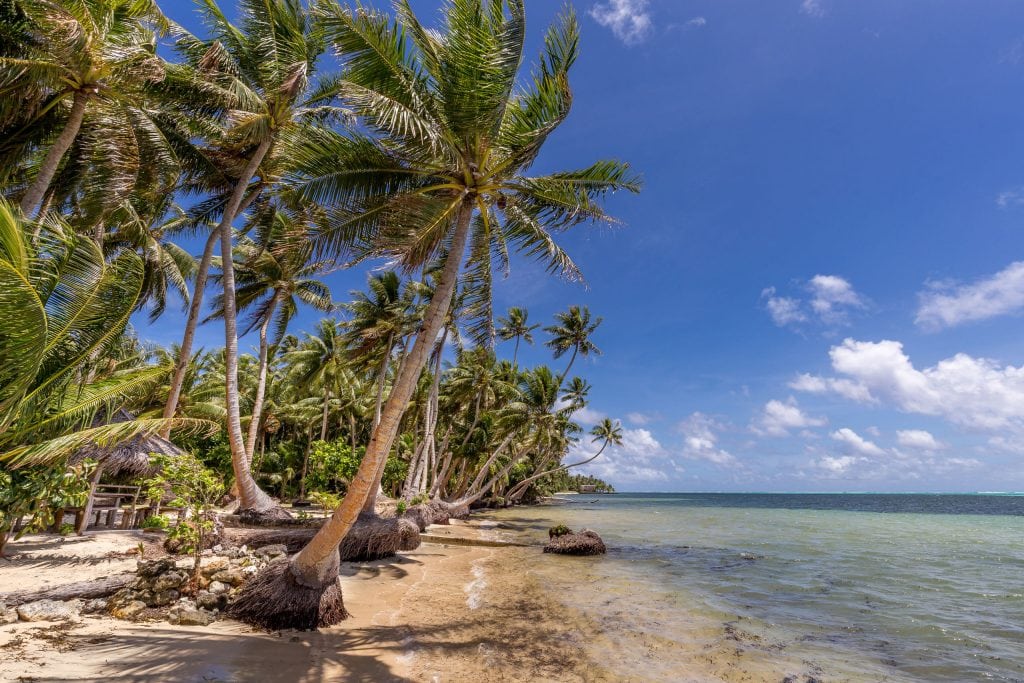 More WWII history & Men's houses
In the northern part of Yap island there are a few more WWII plane wrecks and two more Men's houses which are of interest. A visit doesn't take long so even though it looks like a lot it's just a small part of a Yap island tour. One Faluw is located north of Koh Kira overlooking Munguuy Bay. Another in the north east towards Runn'Uw where there is also a plane wreck in the water. If you want a jungle adventure, then go left on an unpaved road just before the road splits to the beach and Munguuy Bay. There is another plane wreck but it's difficult to find! It's marked on the Yap tourism map though.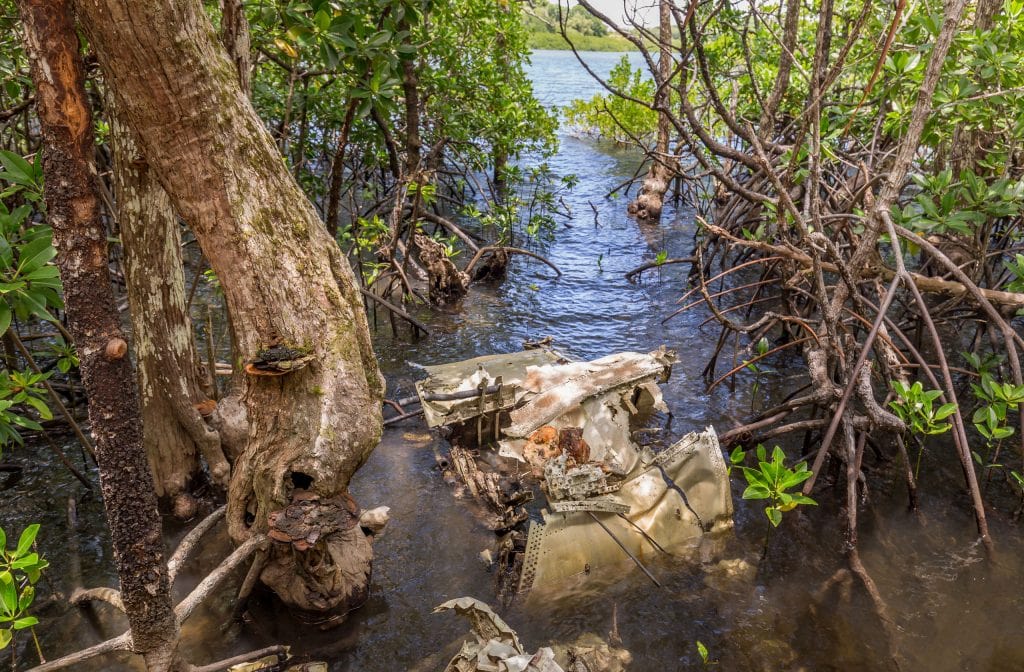 Coral Lime production
You have probably seen while on Yap that almost everyone chews on Beetle nuts. It's Yap island culture to do that. Some add tobacco but all of them add coral lime. When I was told about coral lime I though it was a citrus but that's not the case. Coral lime is made from coral! To visit a production facility, you need a guide so that's another reason to go on an organized Yap island tour. Coral is dried and sorted. Then it's heated for 24 hours after which it's grinded. Then filtered until very fine dust is left which is used to add to the Beetle nut and chewed on. Try it! Not too much though unless you want red teeth.


There are a few more places of interest in Colonia, the capital of Yap. Mostly it's just to see how people are living today but the Yap Living History Museum is worth checking out. A few times a year there are performances especially during Yap Day early March. I visited a week after that so I couldn't enjoy Yap Day but the houses are still worth seeing.
I really enjoyed the Yap island tour. Weather you're going to dive on Yap or just do Yap snorkeling like I did a land tour is a must. Don't forget to do a mangrove Kayak tour. If you're into WWII history, then I recommend visiting Tinian island as well. Just 3 short flights away. I visit the Pacific each here and I hope to return to the other 3 states of the Federated States of Micronesia soon!
Stay tuned for more stories and subscribe to the newsletter or follow CTB on social media (Facebook, Twitter, Instagram including Instagram stories; on all social media you can find CTB @christravelblog) to get updated information.
Did you visit Yap in Micronesia too or do you have questions? Please leave a comment at the bottom of the page. Love to hear from you!
Gallery Yap island tour
Click an image for a full screen gallery of more photos taken during this trip. If you like to use any photo for commercial, private or editorial use please contact first for permission and/or pricing.