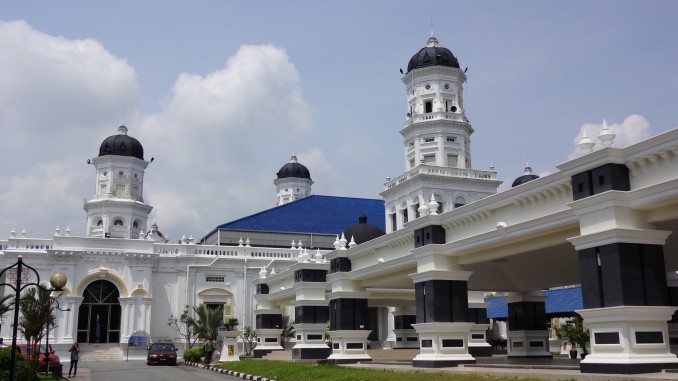 Johor Bahru is a city in the south of Malaysia just across the border from Singapore. It's a nice one day escape from Singapore and this is exactly what I did during a business trip as I had seen most of Singapore in previous trips (read here 2012,2011). I hired a car with driver, as taxis are not allowed to go there, for the day and he drove me to the most important sights which I will share with you in this article.
A day in Johor Bahru
My most important sight would be the Arulmigu Sri Rajakaliamman Hindu Temple, the first glass temple in the world. BUT, we got there after 2PM and it was closed. I tried to have the doormen open it for me by paying 50 USD, but this was not accepted. Anyhow the rest of the trip was great. First stop was at the heart of the Johor Bahru Hindu community: Sri Raja Mariamman Hindu Temple. From here we drove passed the Sultan Ibrahim Building with the State Secretariat to the Roman Catholic Church of the Immaculate Conception which is one of the oldest standing structures in Johor Bahru. It's build in 1883 by the British in a very nice colonial style!
From here we continued to the Roufo Old Chinese Temple. Build in 1870 for various Chinese groups. The five deities are Gan Tian Da Di, Hong Xian Da Di, Hua Guang Da Di, Zhao Da Yuan Shuai and Yuan Tian Shang Di. Next on the agenda was the Sultan Abu Bakar State Mosque. It opened at the beginning of the 20th century. It has four minarets which each resemble british clock towers. It's made from marble in Moorish and Victorian style. We drove further to the earlier mentioned glass temple, it was closed unfortunately. I was able to make photos of the outside only.
In the afternoon I visited some shopping complexes as everything is a lot cheaper compared to Singapore. After a nice early dinner I got back to the car to drive back to Singapore. I do have plans in the future to make a road trip from Singapore to Kuala Lumpur. I will not make the same mistake again and arrive early morning to visit the glass temple; it's still on my list to see!
For more information see my other posts on Singapore and Malaysia.
Stay tuned for more stories and subscribe to the newsletter or follow CTB on social media (Facebook, Twitter, Instagram including Instagram stories; on all social media you can find CTB @christravelblog) to get updated information.
Did you visit Johor Bahru too or do you have questions? Please leave a comment at the bottom of the page. Love to hear from you!