In this ultimate guide to visit Yemen mainland (Hadramout Governate) I put together a Yemen itinerary and show you all the places of interest and more. I decided to go after I visited Djibouti earlier the same year and I had the best Yemini food there. You might think Yemen is completely unsafe. You might think that it's impossible to visit mainland Yemen but only Socotra Island. This is all not true. At the time of writing the south (which is actually the east) of Yemen, Hadramout Governate around Seiyun, is safe to visit. It's also the location of Shibam which is dubbed the Manhattan of the Middle East and a UNESCO World Heritage Site. This Yemen itinerary has a focus on the Hadramout governate.
Join me on this visit to Yemen and I am sure you want to travel to Yemen as well. Unless you do not want adventure or go out of your comfort zone. You need an open mind. I will not cover political ideas here but just what Yemen has to offer for a traveller and what to expect. One thing is sure: I was surprised by its beauty and the hospitality of the Yemeni people.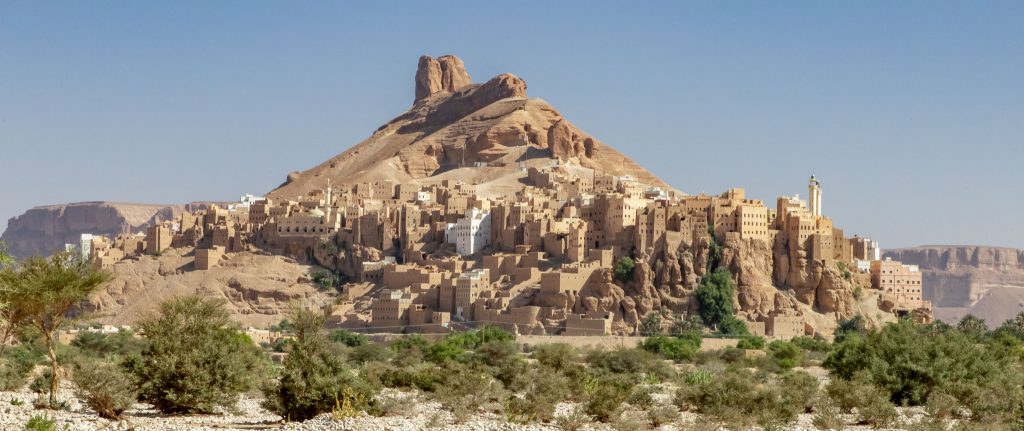 How to plan a trip to Yemen
Travelling to Yemen solo is possible. This means without a group, but you need a local agency to arrange a car with driver and guide. You also need an agency to arrange all the formalities. I used Kais from Yemen Touring Agency who is highly recommended, answered all my questions and efficiently arranged my travel to Yemen. Contact me for his WhatsApp number. I will cover all the specifics on how to plan a trip to Yemen in a separate article.
Yemen itinerary pre-arrival day: Arriving to Cairo
A trip to Yemen isn't like a regular trip around Europe and it needs lots of planning. To avoid my positioning flight messing up my schedule I opted to arrive a day early in Cairo so that I would have a day buffer. I flew in from Amsterdam with EgyptAir. I booked a cheap award ticked with my Aegean Miles & Bonus miles. The best Star Alliance program. I stayed at the Meridien Hotel Cairo Airport which I used before. I just stayed at the hotel all day working but if you want to go out a day check out my Top Day Trips from Cairo article.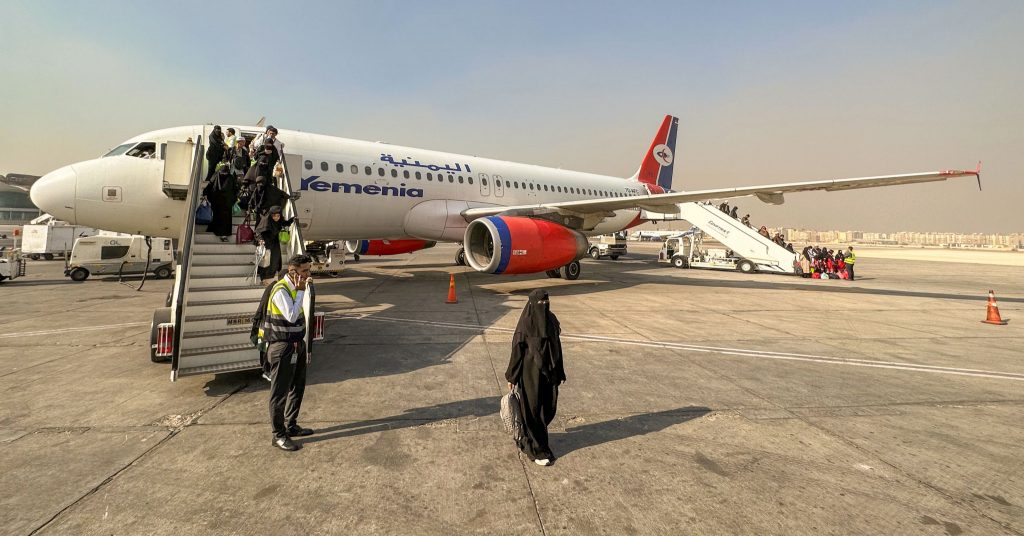 Day 1 Yemen itinerary: Flight from Caïro to Seiyun & Yemen immigration
Yemenia (Yemen Airways) uses terminal 1 at Cairo Airport which is the old terminal and a bit chaotic. I thought it made sense to be there 2 hours before the flight, but this resulted in me waiting for 1.5 hours with nothing to do. There are 3 x-ray scans before you board and the last one is at the gate. It went chaotic in a smooth way. Finally, the plane departed about 25 minutes late. The flight to Seiyun takes 3-3.5 hours. About an hour in the flight a hot meal was served by the friendly staff. Quite standard: Rice with meat, some veggies, bread, and a small cake. Most of the flight is over the empty quarter, although just endless desert, I enjoyed looking down and see it pass by. Just before landing I was lucky to have a bird's eye view of Shibam, a UNESCO World Heritage Site. It was a smooth flight overall.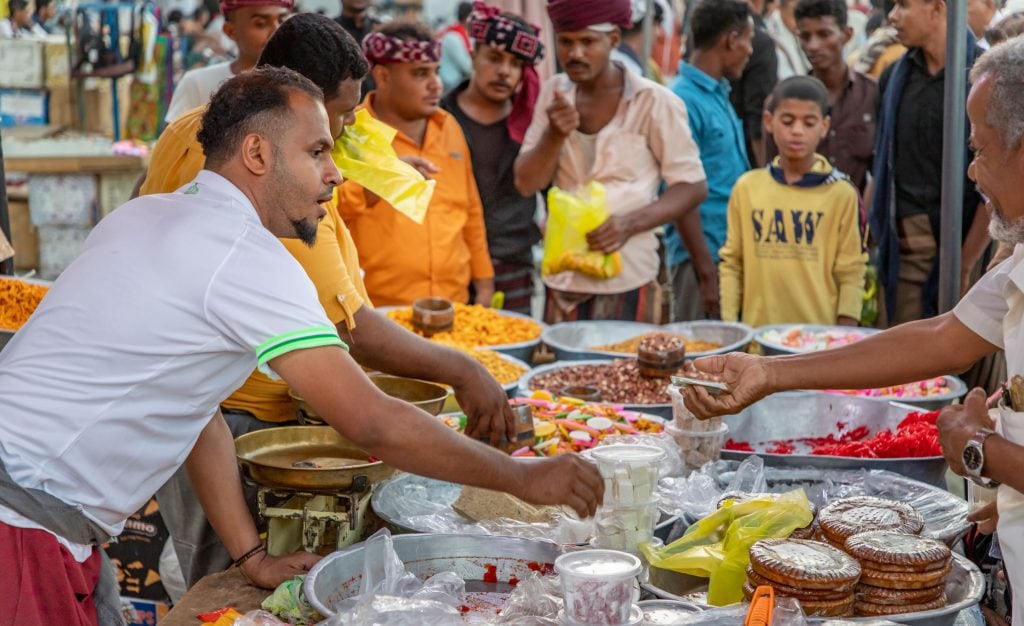 On arrival in Seiyun immigration was smooth but took a bit of time. Try to deplane fast and be in front of the queues. Yes, two queues as man and women go separately. First stop checks if you have the visa paper and security clearance. They then do something on a computer and scan the printed copies. At that point I got a bit confused as there were 2 more counters but at the same time the, I think, guy in charge of everything came to me "are you Mr. from Hollandi". Then, he put me in front of all others. At stop two a photo and fingerprints were taken and stop three was the final visa stamp into the passport. Everything together took probably 20 minutes. Luggage was fast and the driver picked me up and we were on our way to Seiyun.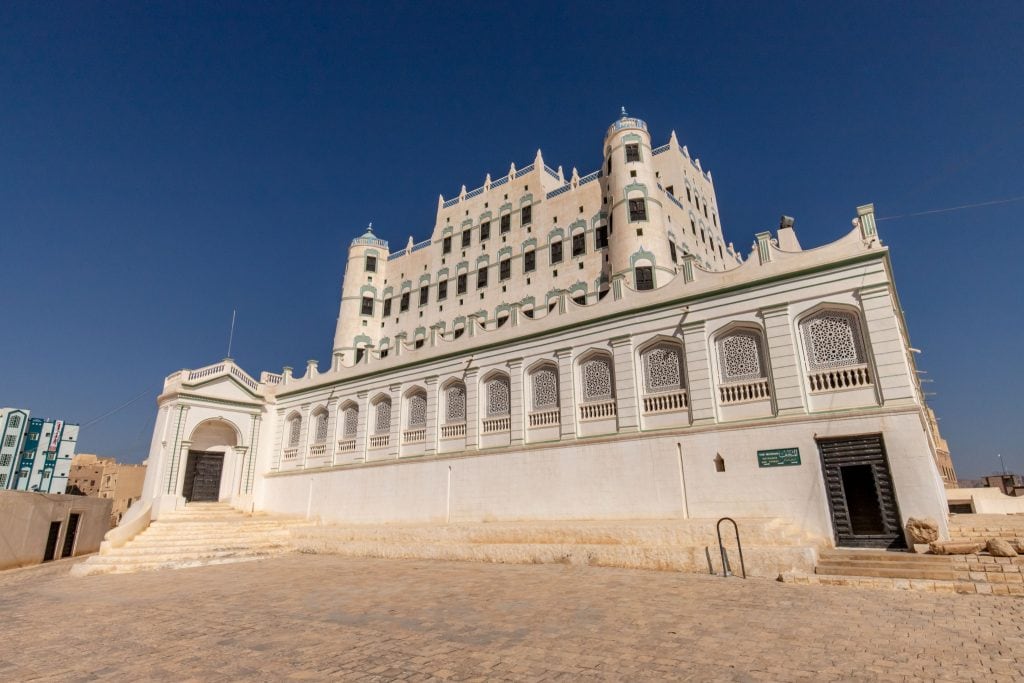 It was late afternoon, and I had a bit of time left to buy local clothes before checking in at the Hawta Palace Hotel. It's an amazing hotel in an old heritage traditional Yemen complex. Check the Hawta Palace Hotel website for more information. After some kebab and Yemeni coffee, I went to bed early because the next day would be a long drive east.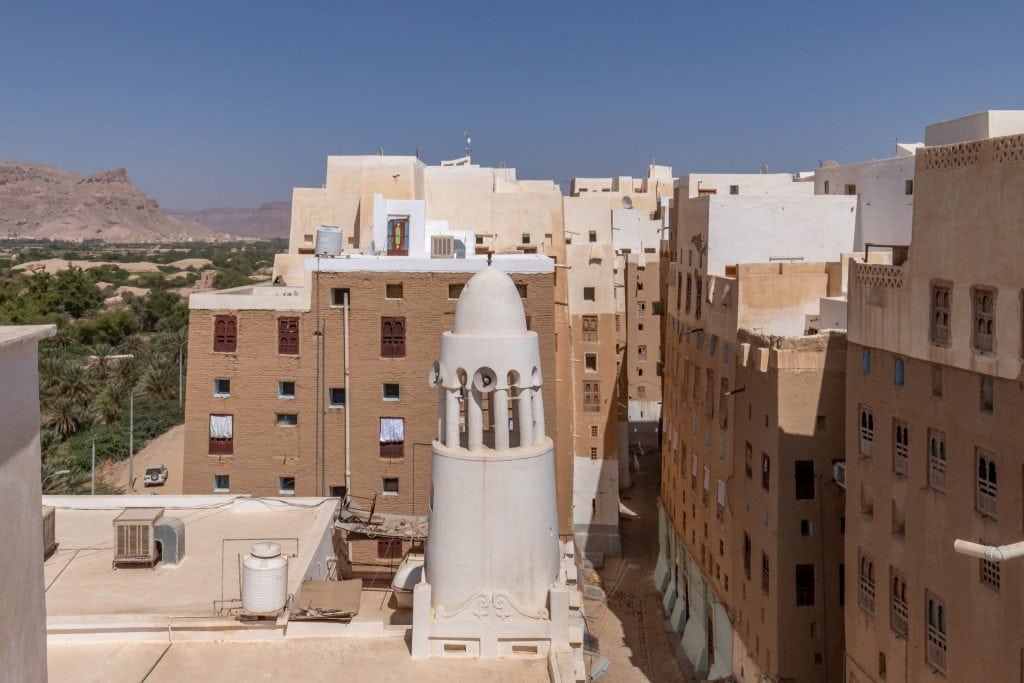 Day 2 Yemen itinerary: Eastwards hunting Tombs & Shrines
Wadi Hadramout is full of important tombs and shrines of prophets and scholars of the Islam. Today we'll explore these, and the starting point is the tomb of Hud (pronounce hood) about 2 hours drive east from Seiyun. Hud was a prophet in ancient Arabia and mentioned in the Quran. He was a peasant of the Ad people but when these people started to worship other gods Hud kept praying to the one true God. God then turned him into a Prophet. The tomb is in the Hadramout valley. It's a small white building with inside the tomb of Hud. There is a small town at the base of the mountain which once a year comes to life when pilgrims come for celebrations. Pilgrims from all around the world visit, even when I was there a large group from South East Asia was there as well. After an hour it was time to drive to Tarim. But first a stop for a delicious Yemeni lunch with stewed camel meat and much more.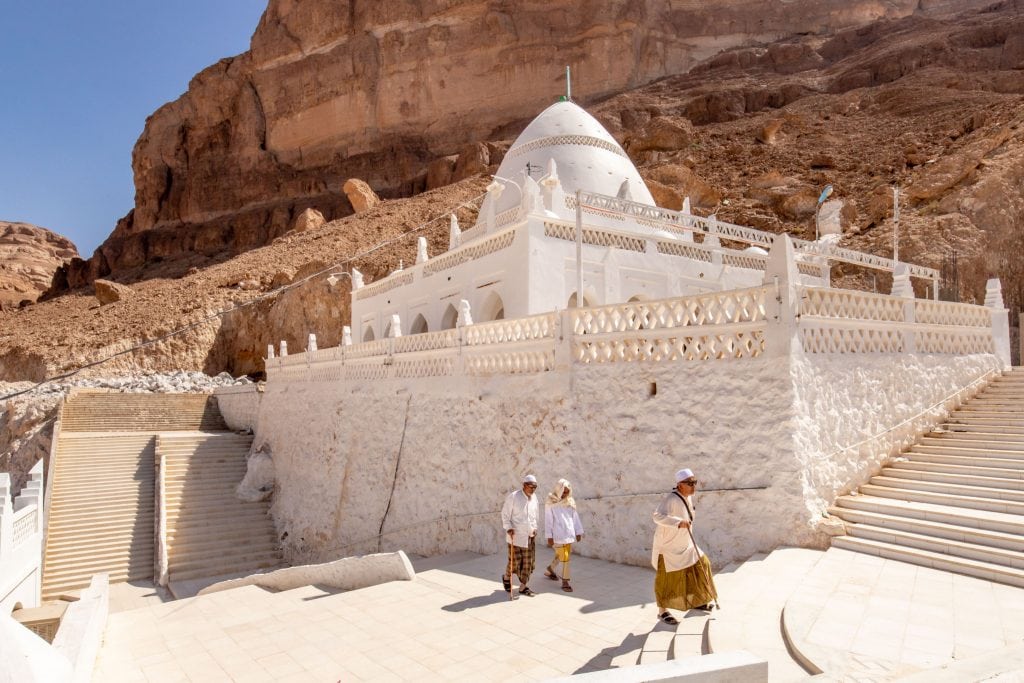 After lunch it was a short drive to Tarim with a short stop just outside of Tarim in Aynat to see the Sufi scholar shrines. Tarim town is the Sufi Islamic historical center. It's home to the beautiful Al-Midar mosque and it's striking white mud-brick Minaret which is the tallest of Yemen. The town is built from mud bricks which is common throughout Yemen. I wandered around town for about 40 minutes but unfortunately the market wasn't opened yet again after midday's break. After Tarim I visited Al-Hosaisa which is home to the shrines of two Sufi scholars both called Ahmed. A large mosque of the same name is located at the base of the mountain.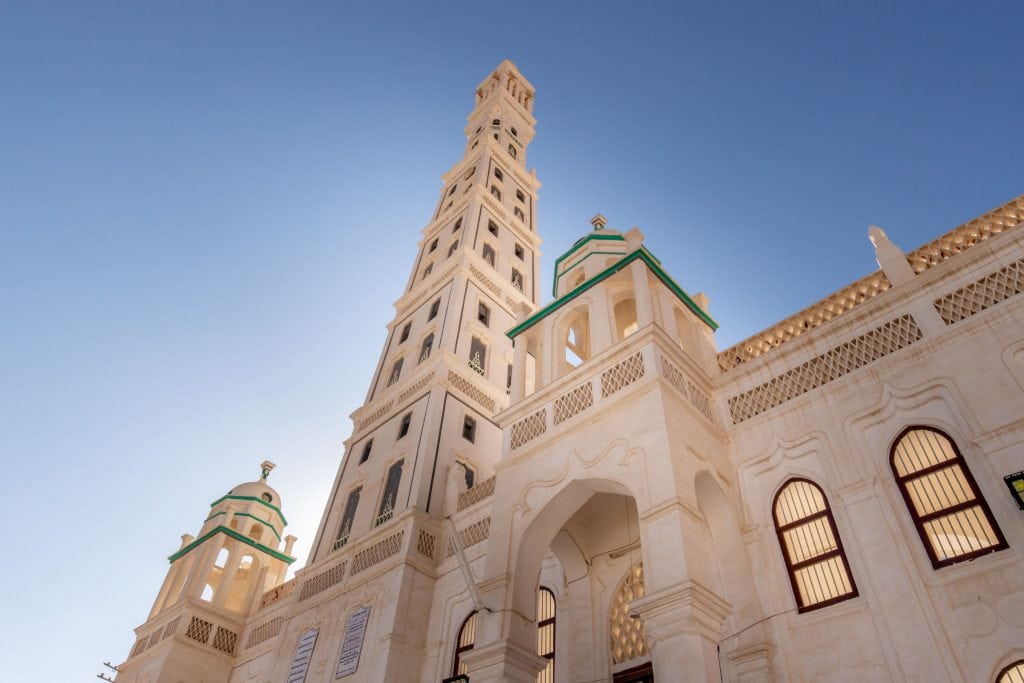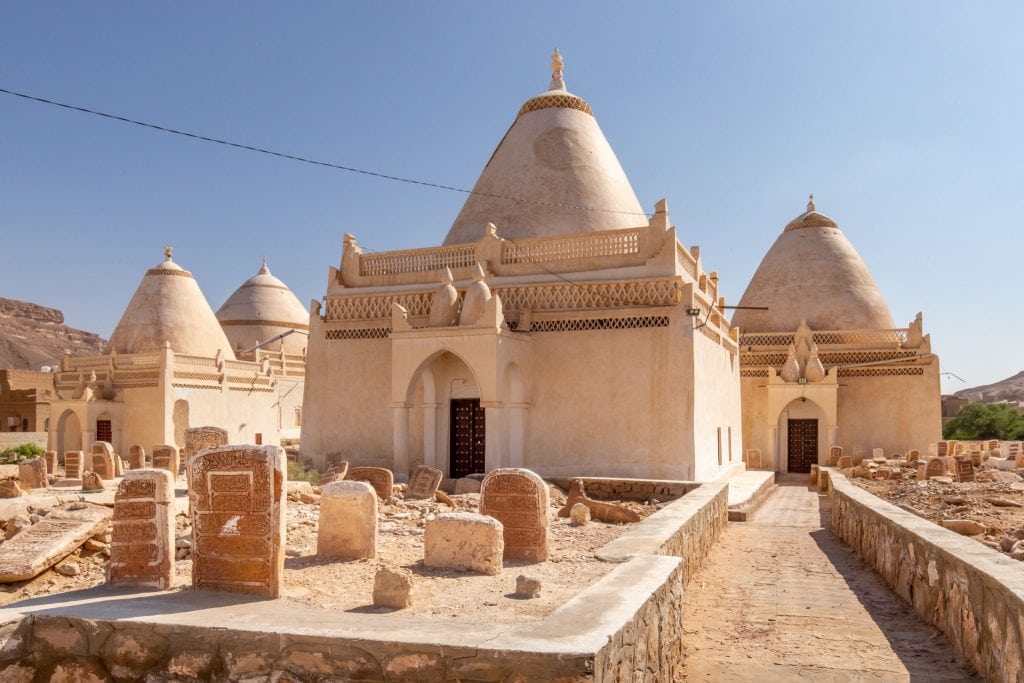 It was a bit of a hurry in Tarim and Aynat so that I would be on time in Seiyun for the annual event Al-Houl. It's dedicated to the Sufi scholar Habib Ali Alhabshi. People from various towns gather in a procession and I was lucky to see it. I love such surprises that you are suddenly in the middle of local celebrations. After all the groups passed by I visited the Seiyun souk and bought some Yemen gold. Yemen gold is pure honey. Make sure that someone who knows about it helps you buy it, so you get the best. It isn't cheap though but so good. As I was tired, I decided to just have some Kebab for dinner at the hotel. So many impressions already this first day to process so I went to bed early.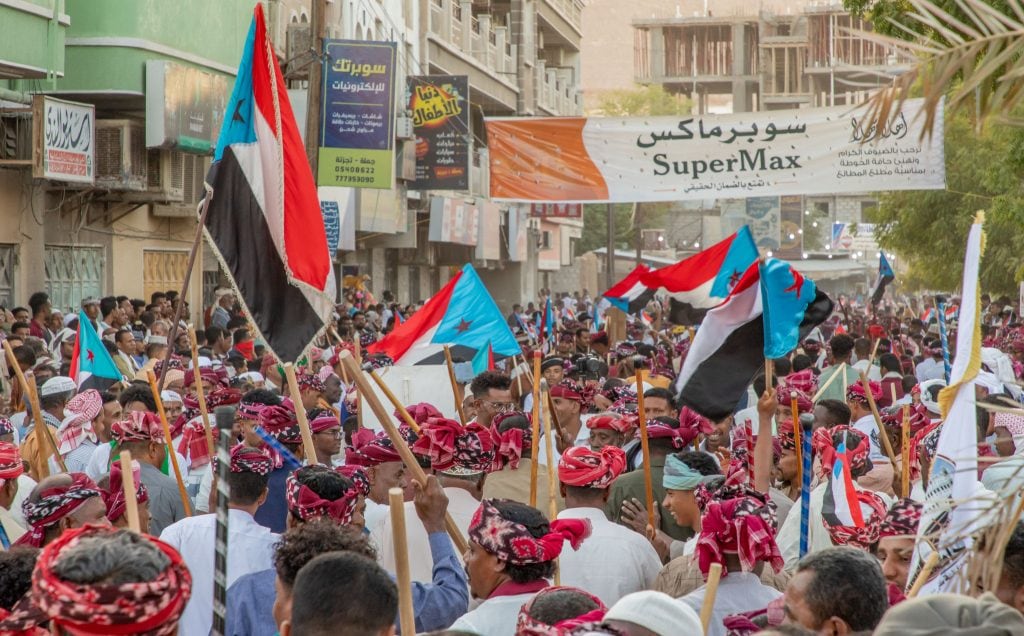 Day 3 Yemen itinerary: Seiyun to Wadi Do'an with Shibam as highlight
The actual idea was to visit the Sultan Al-Kathiri Palace the previous day, but the museum was closed. This wasn't a problem because there was time today, I just had to wake up an hour earlier. Not so my thing but I wanted to see the museum. The Sultan Al-Kathiri Palace houses a small archaeological museum, a customs museum, and a photo gallery with old photos of Yemen. A small yet informative museum which you should not miss. It was around 10AM when we finally headed to, in my opinion, the highlight of the trip: Shibam Hadramout, the Manhattan of Arabia. Shibam is a UNESCO World Heritage Site since 1982 and I now know why: It's an amazing unique place.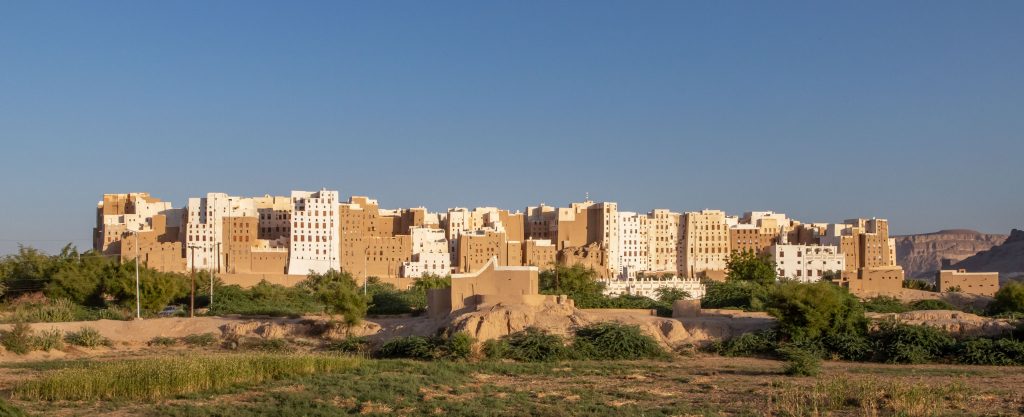 Shibam is a unique city in Wadi Hadramout as it's completely built from mud bricks up to eleven stories high. These skyscrapers house around 7000 people and are built very close to each other. The whole city is surrounded by a wall. It's amazing to see that just mud and wooden beams are used to build these houses. Cars can get in through the main gate, but you'll only be able to drive up to the mosque and the main square. The alleys must be explored on foot which you can cover all of them in 2 hours.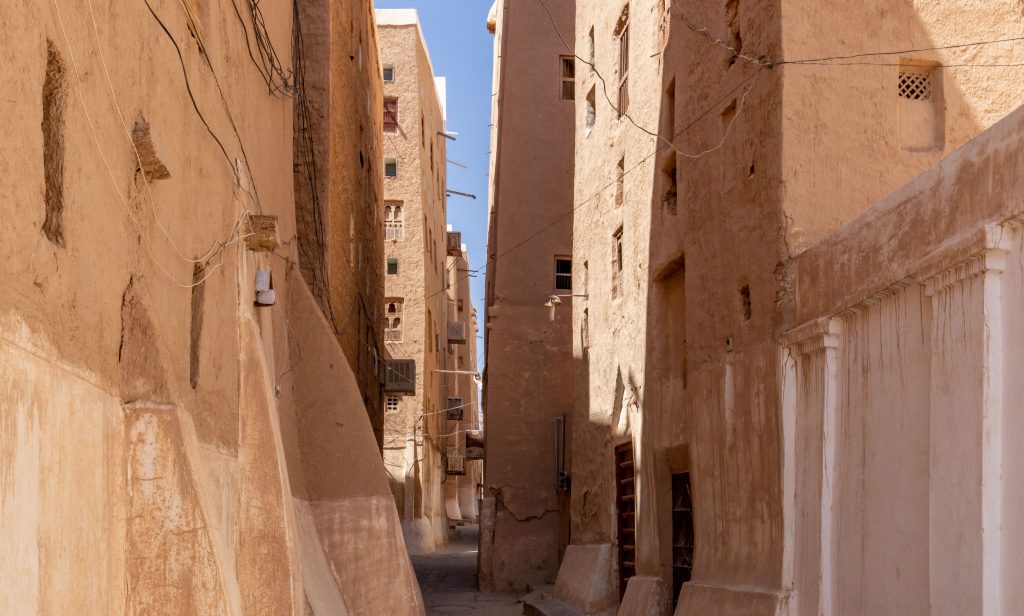 If you walk the alleys, you'll notice plenty of goats. They live on the ground floor of many of the buildings. When I arrived, the goats were the only living beings I saw in Shibam, but this changed. I got invited to see the interior of one of the houses. They are colourful and not sandy as the outside! Each floor has a few rooms for the various families living together. The top floor often is for the newlyweds which move down once another couple marries. Once back outside in the alleys the whole city came to life because it was lunch time. Suddenly there were kids playing, shops opened and women coming back with the goats from outside the city. These Hadhrami women wear pointy hats which is an interesting sight. All this really gave a good impression of the life in Shibam.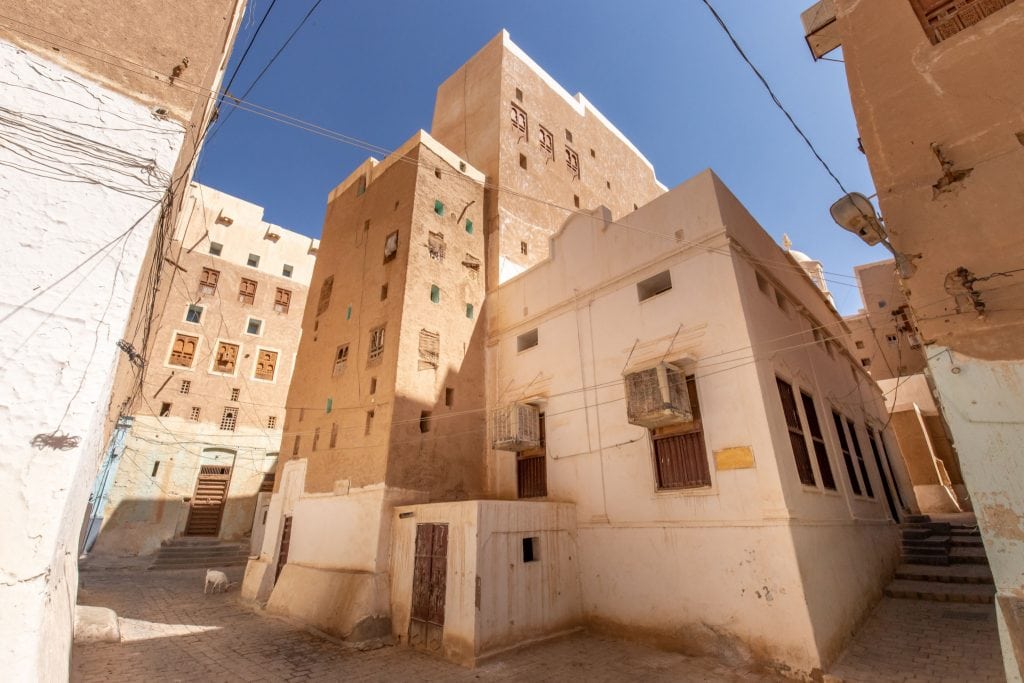 Yes, there is a viewpoint for Shibam at the other side of the valley. Scroll to day 5 for the Shibam sunset, it's magical! After a small lunch it was time to drive to Wadi Do'an which is a 3-hour drive away but if checkpoints stop you this can last many hours more. I didn't experience any delays with a maximum of 10 minutes at one military checkpoint.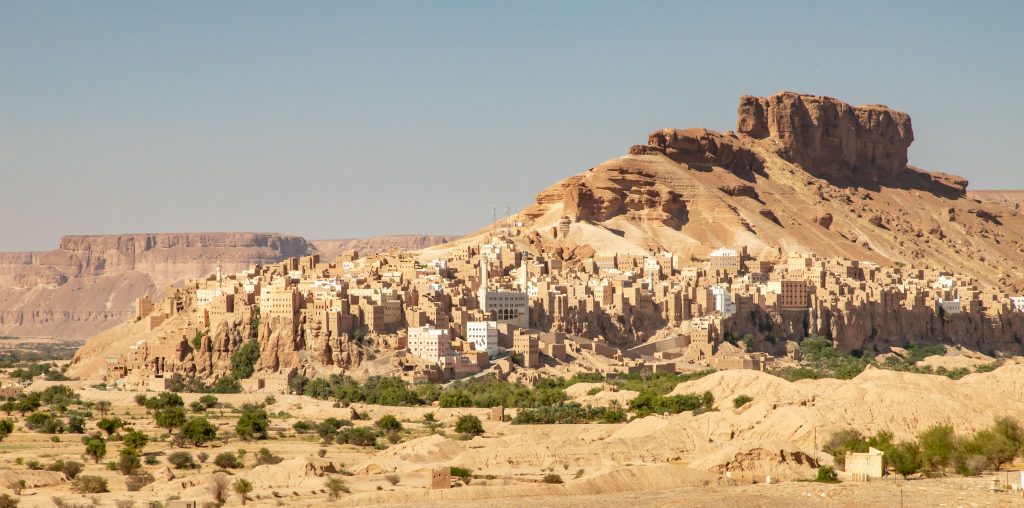 Driving through Wadi Do'an there were a few photo stops of Sif towns of which the most interesting was Al-Haijrain. A city built around the tip of a mountain. On day 4 there would be much more time to explore these towns and villages. It was around 5PM when I arrived just before sunset at the Haid Al-Jizil Resort Hotel. After a delicious oven chicken, I went through some of the photos of the past days, connected to home for an update and went to bed early as the next day would be a long one.
Day 4 Yemen itinerary: A day in Wadi Do'an
The sunset from the Haid Al-Jizil Hotel must be magical when the sun lights up Wadi Do'an and Haid Al-Jizil town which is built on top of a rock. I say "must be" as I'm not a morning person so I skipped this. After my usual breakfast (eggs, Yemini bread, green chili, and coffee) it was time for a hike from the mountain town into Wadi Do'an. The 1-hour long beautiful trek starts a few minutes' drive from the hotel and takes you down to Hawfah village. At the top you can see just a bit of the valley below and the more you walk down the more the valley opens with amazing views. With the many photo stops it took about 80 minutes to reach Hawfah village.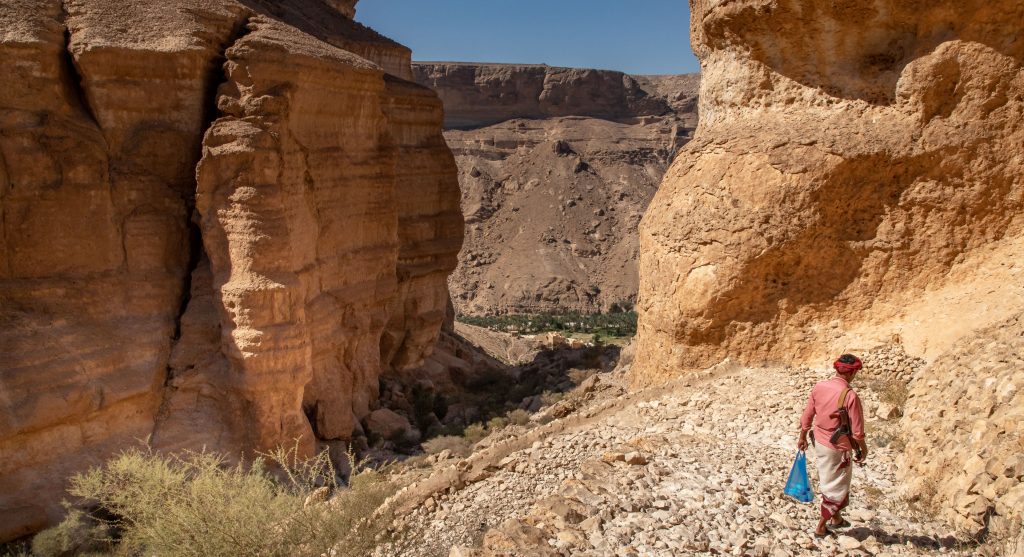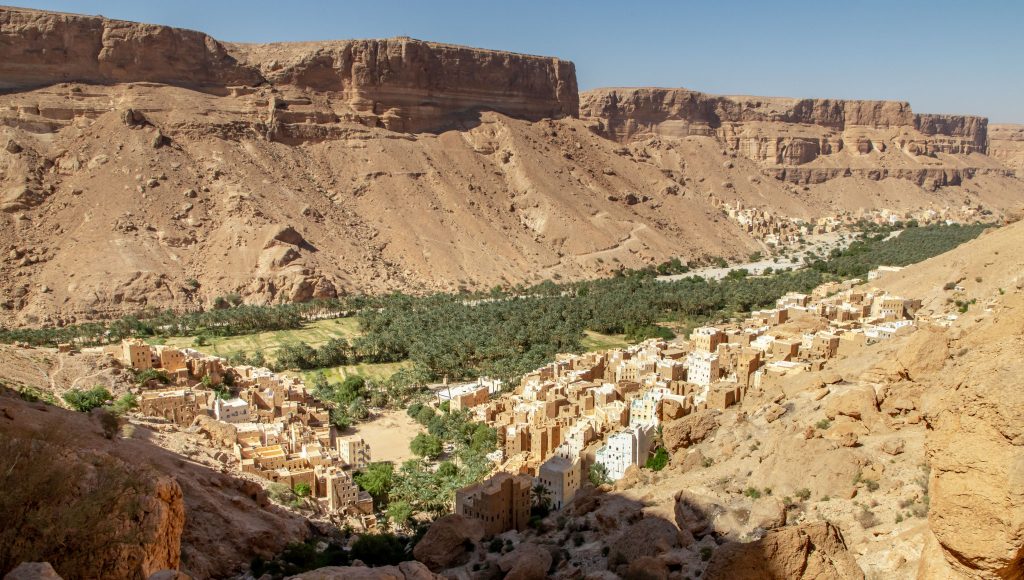 Hawfah village is a beautiful small mud brick village built at the base of the cliffs of Wadi Do'an. Walking through the village you'll get a good impression of how the people spend their time during the day. From Hawfah village we drove a few minutes to Buqshan village to admire the Buqshan Palace. This palace, and another next to it, is a beautiful colored palace owned by a rich family. The family now lives in Saudi Arabia but returns once a year and they take care of the village and those around.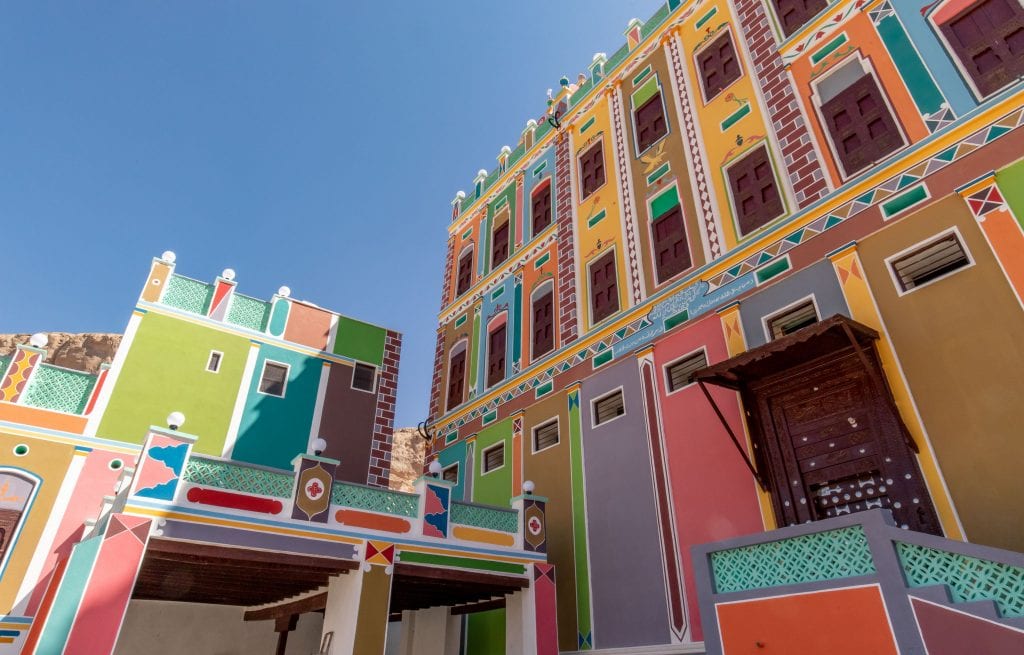 Wadi Do'an is very prosperous and rich due to the many successful business families going back many years. Many now live elsewhere, for example in Saudi Arabia. One family, the Bin Laden family, you probably have heard of. Their family home is in Al-Rubat, and I was able to visit it travelling solo. Large groups might attract the attention of people with bad intentions. Although it's abandoned it was interesting to see. Will I be in one of the spy-satellite photographs now? Locals even invited me to come to their house for lunch, but I had to politely decline that as more was on the program today. Before heading back to the hotel for lunch there were a few more photo stops including Rehab town. This mud brick city, which is also built at the base of the sandstone cliffs is surrounded by fields of green palm trees. A beautiful view.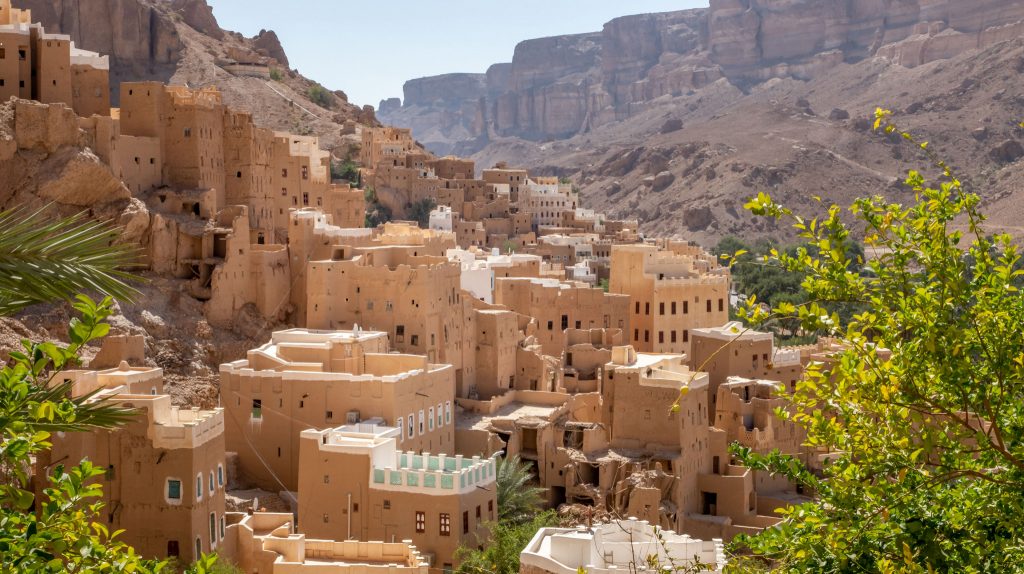 After lunch and an hour enjoying the infinity swimming pool it was time for a last drive through Wadi Do'an. Other towns I visited include in no particular order Al-Khuraiba, Haid Al-Jizil, Qarn Majed and a few others. In the evening it was time, yet again, for a delicious oven chicken for dinner at the hotel. They only serve this because of the lack of tourism these days. Once this changes they will have a full-service restaurant again. They used to be fully booked throughout the year, and I hope this soon changes again because the area is amazing.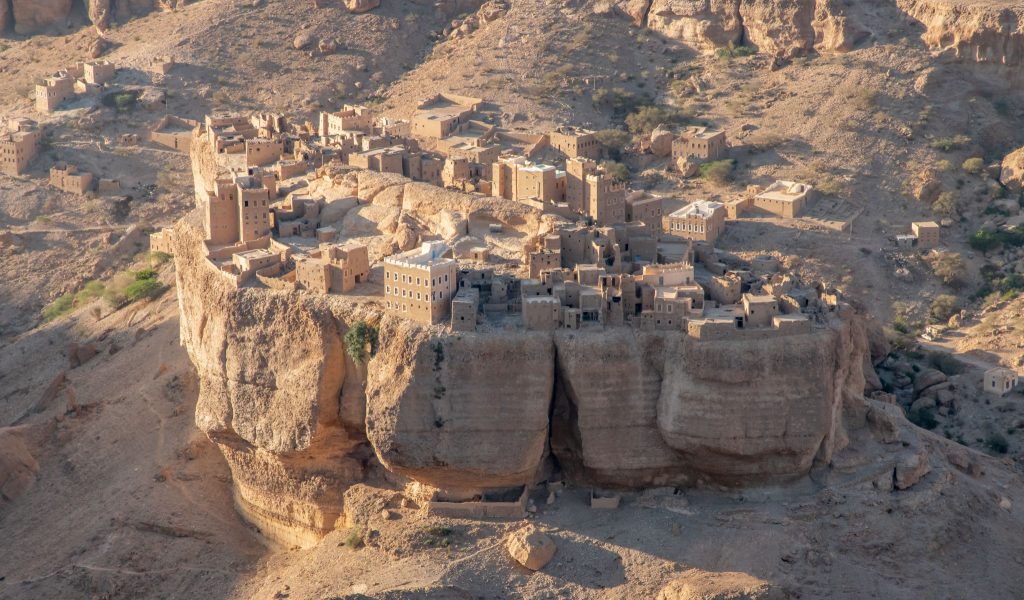 Day 5 Yemen itinerary: Road trip back from Wadi Do'an to Seiyun
After breakfast it was time to depart Haid Al-Jizil hotel at around 08:30AM. It would be a 3–4-hour drive back to Seiyun if there were no delays at checkpoints. I think I said "stop" to the driver about 20 times to photograph more villages, local life, and just beautiful panoramas. Again, everything went smoothly, so I had a few hours at the Hawta Palace Hotel pool after lunch. I had lunch in one of the best restaurants in Seiyun and finally was able to taste Saltah. It's a dish from North Yemen but I had to try it at least once.
After pool time it was time to head back to Shibam for the magical sunset at the best viewpoint. It's located halfway up the cliff opposite Shibam. The whole sandy riverbed was full of kids playing soccer, Hadrami women coming back with goats again, just many people coming back from work. It was mostly empty the other day, but in the late afternoon the whole valley got crowded. I watched the sunset, made a large gigapixel panorama photo, and just admired Shibam. This was probably the most memorable experience in Yemen. It's the real magical Arabia.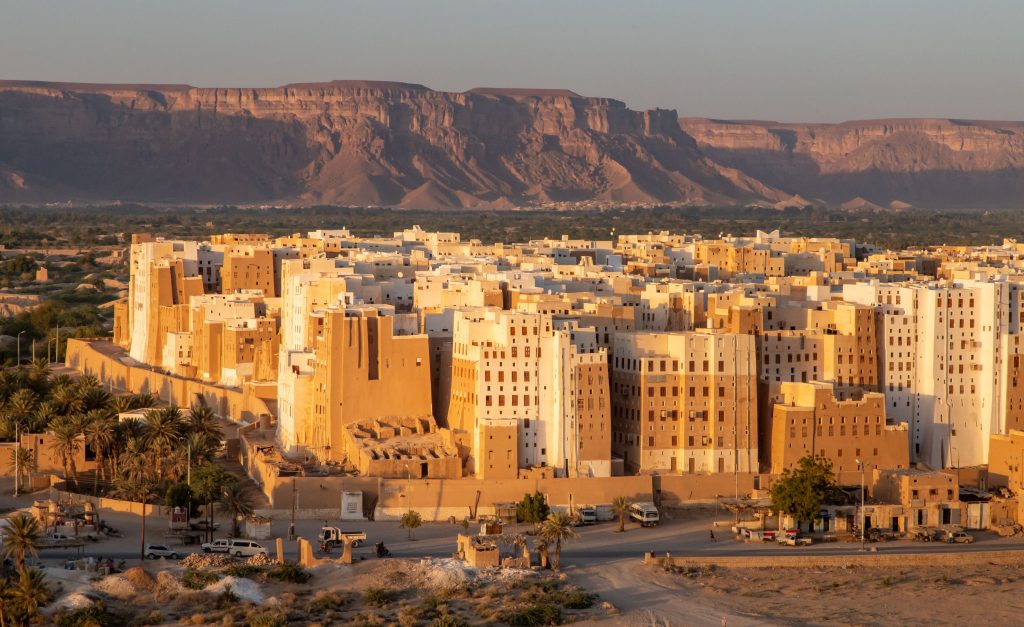 After sunset, it was a 15-minute drive back to the Hawta Palace Hotel for dinner. I went to bed early because I had to get up at 3AM to depart at 4AM to the airport. It's something I try to avoid at all costs but with just one option for a flight from Seiyun to Cairo I had no choice. I survived.
Day 6: The end of this Yemen road trip itinerary
Every trip has and end and so did my trip to Yemen. The flight to Cairo is at 07:00AM which meant I had to wake-up already at 03:00AM which is something I really hate. But I survived that of course. It was just a short ride from the Hawta Palace Hotel to the airport. I thought it would be chaotic at the airport, but everything went very smooth. There are several passport and security checks, but they are fast and efficient. It was still before 5AM when I was in waiting area for the plane to arrive. The flight back was smooth as well.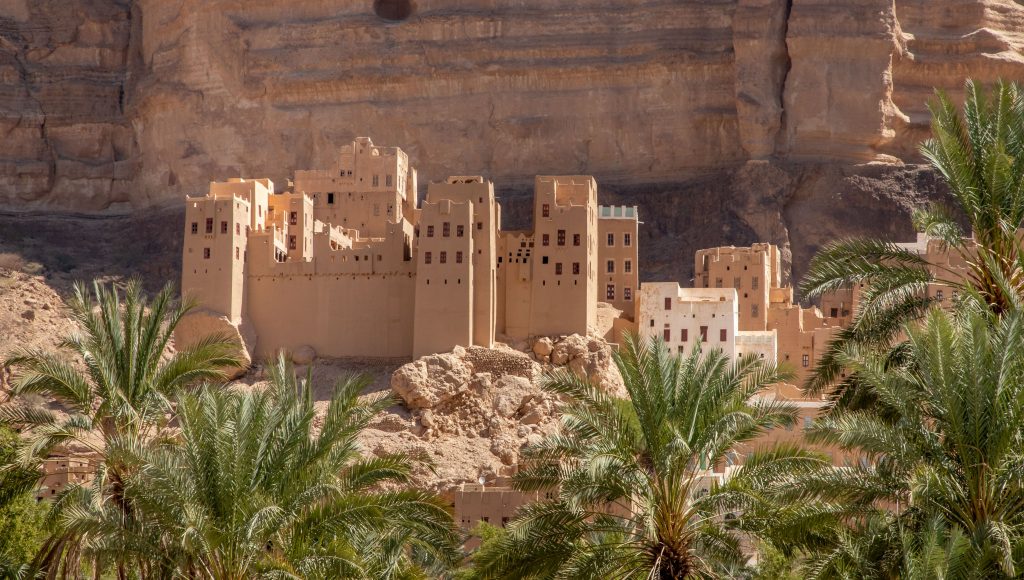 Yemen really surprised me. I went in with an open mind, but it was just amazing. Having seen so many places it often happens that places are "normal", but Yemen really is different. The friendly people, its historical sites, nature, and everything in general is a great experience. I would have loved to stay longer and explore the north of Yemen. This area from Aden to Sana'a however isn't safe now. I must return soon for a second visit once possible.
I hope this Yemen itinerary trip report inspires you to go as well. Plan well and you will have an amazing time.
Stay tuned for more stories and subscribe to the newsletter or follow CTB on social media (Facebook, Twitter, Instagram including Instagram stories; on all social media you can find CTB @christravelblog) to get updated information.
Did you visit Yemen too or do you have questions? Please leave a comment at the bottom of the page. Love to hear from you!