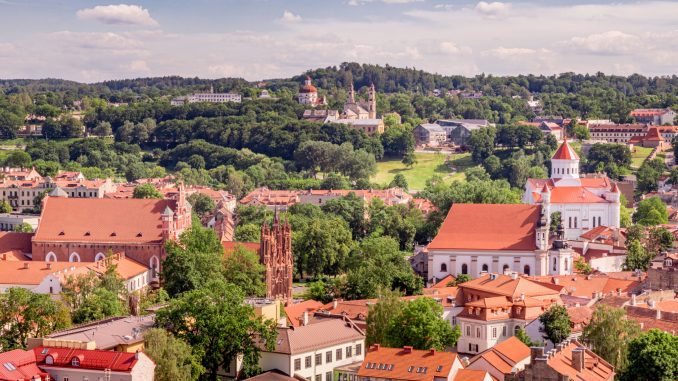 After a weird first half of 2020 it's finally possible to travel again. I had several cancelled trips (to 9 new countries!) but finally it was possible to hit the road again. Vilnius, Lithuania, was my the first destination of 2020. I went there mid-June with my daughter. The Baltic countries are new for me as I only visited Riga a few years ago. I was eager to finally follow my Lithuania itinerary including a Vilnius city trip I compiled over two years ago.
In this Lithuania itinerary I will first share my top 12 Vilnius places of interest for a Vilnius city trip. They are all a must see! I also did 3 day trips from Vilnius with my daughter which I highly recommend doing as well. These places are close to Vilnius which was my base for this Lithuania itinerary. Join me on this trip and let me amaze you with all the beauty Lithuania has to offer.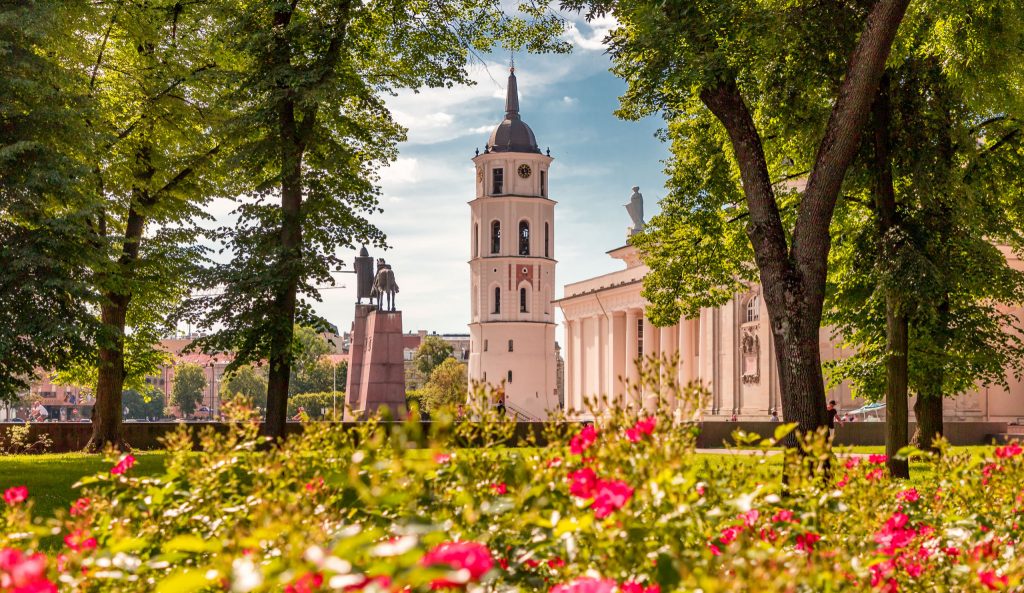 Planning a Lithuania itinerary
Lithuania is in north eastern Europe and is one of three Baltic states. Latvia and Estonia being the other two. Unless you live in one of the surrounding countries the best way is to fly into Vilnius.
Flights to Vilnius
Vilnius airport isn't a major hub but has good connections to all major airports in Europe. Within Europe it's easy to get a direct flight but from outside you probably need a connection. To save costs try to look for major hubs in Europe and fly there first and continue on a second ticket to Lithuania. I wrote about cheaper (business class) tickets earlier.
Vilnius hotels
Vilnius has plenty of hotels from budget to luxury. Major hotel chains are also represented. As I am Titanium Marriott member at the time of writing I, logically, stayed at the Courtyard by Marriott. A great hotel and good value for money.
Visa requirements
For Europeans, no visa is required as Lithuania is part of the Schengen agreement. If you are from outside the Schengen area you might need a Schengen visa. Check with the embassy in your country. Do note that a Schengen visa from any country will do as you can travel freely between Schengen countries.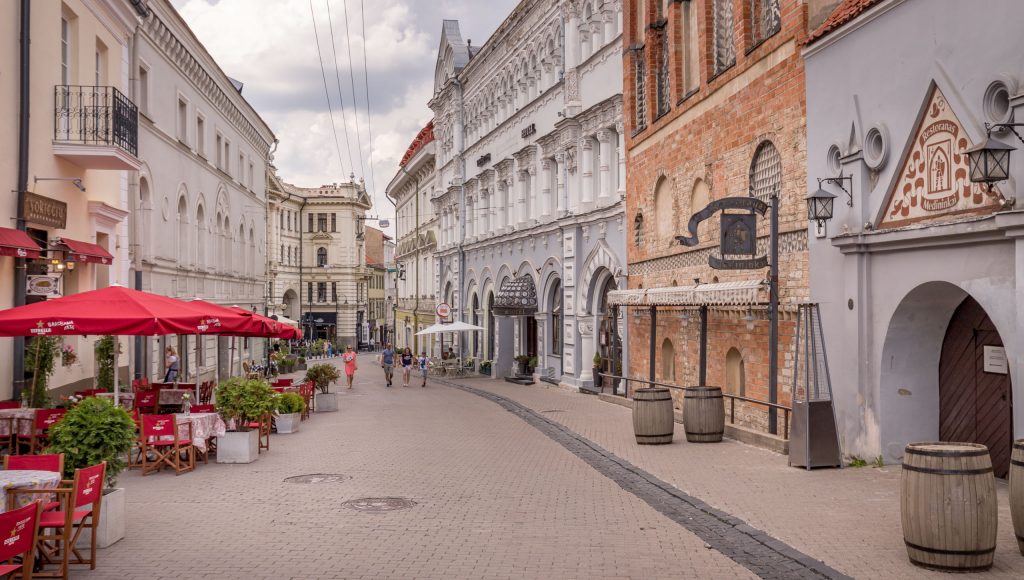 Keep in mind
Lithuania uses the Euro as currency. If you have other currency, then make sure to exchange it in the city and not at the airport. The rates are much better in town. Cards are accepted in most places except American Express which is not widely accepted.
If you make the three day trips as I did, I highly recommend hiring a car directly at the airport. Rental cars are cheap and cheaper as a taxi to the city. The days you do not need the car you can just park it at your hotel.
Check out my Vilnius restaurants and craft beer bars guide as well. It has some great recommendations on where to eat and have a cold one.
Lithuania itinerary day 1-3: Vilnius city trip
Vilnius has a beautiful old town which is a UNESCO World Heritage Site. It isn't huge but from north to south and also east to west it's a 30-minute walk. Unless you want to run from place to place, I recommend splitting a Vilnius city trip itinerary into two days. Start the first day at the Gediminas tower and explore the north eastern parts to Uzupis and the bastion (items 1-6 from the list). If you have time left walk towards the Gate of Dawn to finish the day and start there again the next day to explore the rest of town.
Top 12 things to do and see in Vilnius
In the following list I list the top 12 places in Vilnius in chronological order of visit. This list doesn't contain all places of interest just the highlights. I'll cover more in an in-depth guide abouy Vilnius later. Make sure to pick up a map at the Vilnius Tourist Office to see what other places of interest you pass (mainly churches and architecture) between the top 12 places of interest in Vilnius. Keep in mind museums are closed Mondays, so it's best to not visit Vilnius on a Monday. Go out into nature on Mondays.
Gediminas tower & museum
The Gediminas tower is located at the northern tip of Vilnius old town. You can either walk up to the old castle or take the funicular up. The views are breathtaking!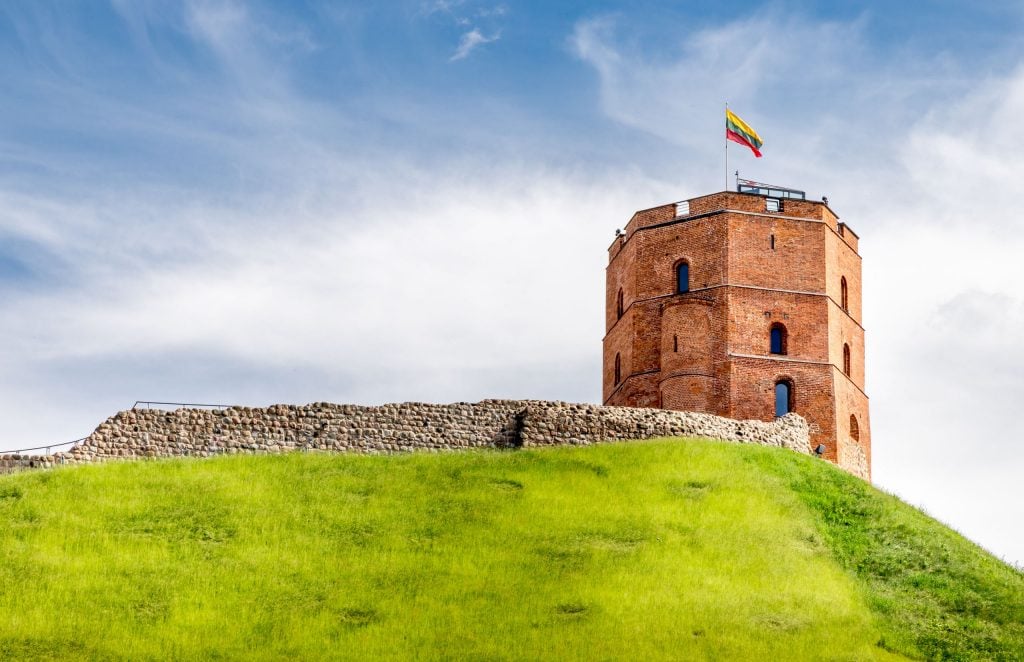 National Museum of Lithuania & Palace of the Grand Dukes
The National Museum of Lithuania is a rather small museum but a must see. It contains various important relics. The Palace of the Grand Dukes is a reconstruction from 2018 but worth visiting. You can see the old foundations, archeological finds, and reconstructed rooms of the original palace.
Vilnius Cathedral & Bell tower
The Vilnius cathedral is an imposing building and not your typical cathedral. From the outside it kind of looks like a Roman temple to me. In front of it is the bell tower which can be climbed but views aren't great at the top.
St. Anne's and Bernadine churches
The St. Anne's church and Bernadine church are two interconnected churches built from red bricks. They really stand out with their separate bell tower. The interior of both are completely different. I personally loved the wooden interior of the Bernadine church the most.
Republic of Uzupis
The Republic of Uzupis is also called the "Montmartre" of Vilnius. It's a part Vilnius old town but across the river. You'll find there writers, artists, and the like. In 1998 on April 1st they "declared" independence and even have their own constitution. A great area to stroll for an hour and have lunch.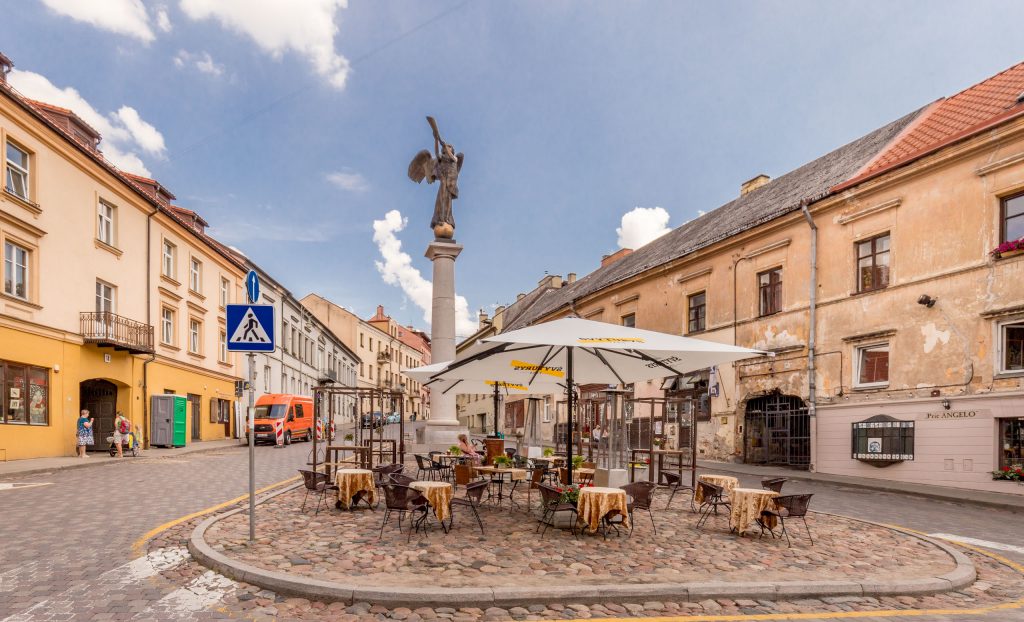 Bastion of the Defensive Wall Museum
The Bastion of the Defensive Wall Museum was once part of the fortifications of Vilnius. From the Bastion you have nice views over Vilnius old town. A long corridor descends from street level into the fortifications where the museum is located.
Gate of Dawn & St. Theresa's church
The Gate of Dawn is the last remaining city gate of Vilnius. It was once part of the defensive wall. Most gates often had religious artifcats to help protect the city. In the Gate of Dawn is an icon of the Blessed Virgin Mary Mother of Mercy. It's an important relic in Christianity and many people go here for pilgrimage. A visit is best combined with the St. Thersa's church next door.
Town Hall
Vilnius Town Hall is a must see. It's a beautiful neoclassical building but it wasn't always in that style. You can visit the older Baroque cellars that remind of the past still today. Around the town hall you find plenty of restaurants and shops. A great place for lunch.
Literary Street
Literary Street is a lovely street in Vilnius. For those interested it's also a great spot for an Instagramable photo! The street is full of plaques of Lithuanian writers.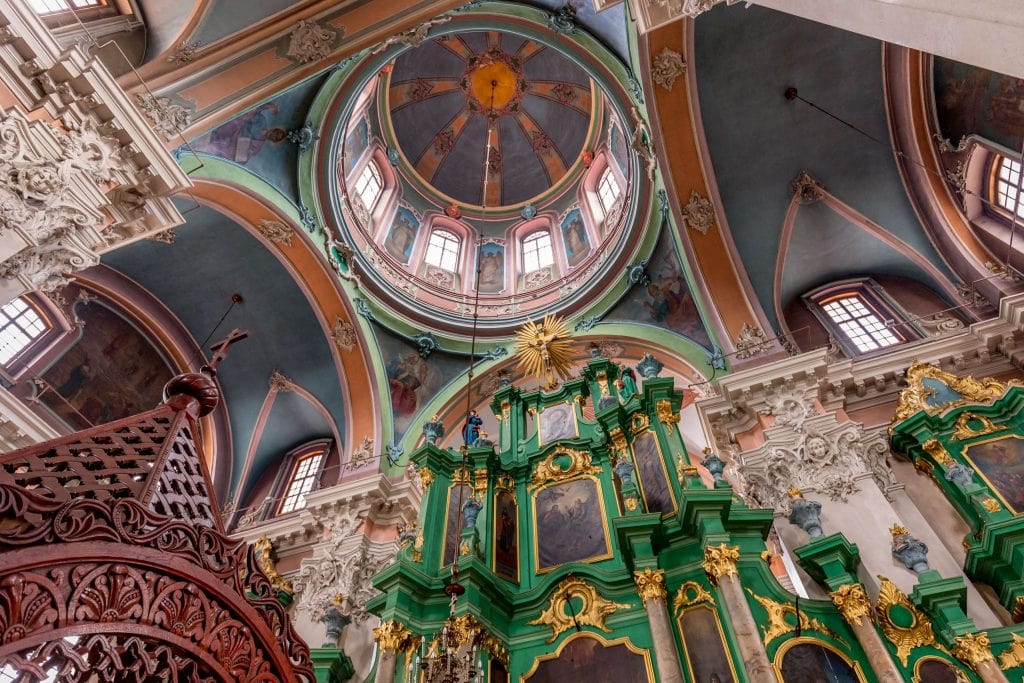 Vilnius University
In the historical old town of Vilnius, you find various university buildings. It's one of the oldest universities in the area over half a century old!
Presidential Palace
The presidential palace is just around the corner of the university. Its interiors are normally open for a tour but at the time of my visit I could not find any option to visit. Try to ask at the tourism office for more information as it might be related to the worldwide pandemic it was closed.
KGB Museum
The KGB Museum, although not the best KGB Museum in the world, is a must visit in Vilnius. It has a small exposition about the former prisoners, but the highlight are the prison cells. You can see how small these cells were and even visit the chamber of death. Do not miss this museum. Nearby is a lovely square full of activities in summer to relax the rest of the day.
Lithuania itinerary day 4: Trakai day trip
A Trakai day trip from Vilnius is probably the most famous day trip you can do. Trakai is located just 30 minutes from Vilnius by bus or car. I combined a visit with a visit to the ethnographic Zervynos village. A small town with original wooden buildings and three crosses in its center. Zervynos is in Dzukija National Park which is famous for its pine forest and land dunes. I didn't have time to hike or go kayaking but a stroll through Zervynos gave a good understanding how people have lived there for centuries.
EXTEND YOUR TRIP: Split this day into two: A day trip to Trakai including water activities and one to Dzukija National Park where you can hike or go kayaking in the afternoon and visit Zervynos in the morning.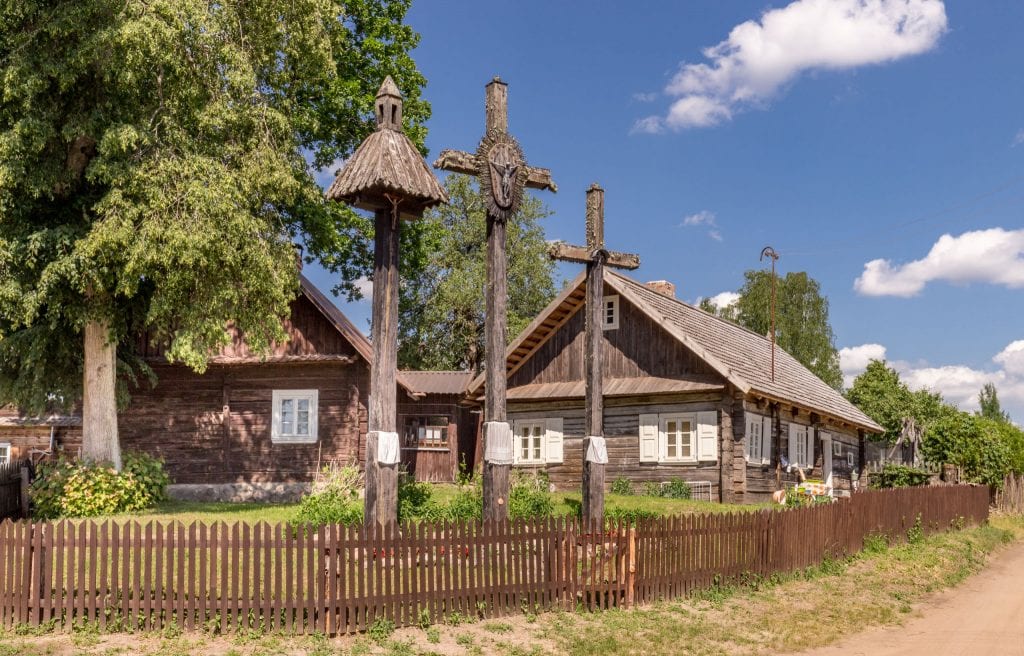 Trakai is located between lakes and most famous for its castle on an island in the lake. If you see the castle you probably recognize it as it's Lithuania's most famous landmark. It was built in the 15th century by the Dukes of Lithuania. Today it's part of the Trakai Historical National Park which includes a few other features as well. The small old town is easy to walk as it's just a few buildings but pick up a map at the Trakai Tourist Office to plan your walk efficiently.
A visit doesn't take more as 2-3 hours unless you go swimming or enjoy one of the many water activities in summer. In winter, the lake is frozen but there are also plenty of winter activities to do. If you want to get out of Vilnius for one day this is the day trip you want to do. I had a great time with my daughter and even time left for an hour for swimming!
SHORTEN YOUR TRIP: If you need to shorten your trip by a day you could do a morning Trakai visit and make the Vilnius city trip just 1.5 days and not two full days. Of course you have to skip Zervynos as well.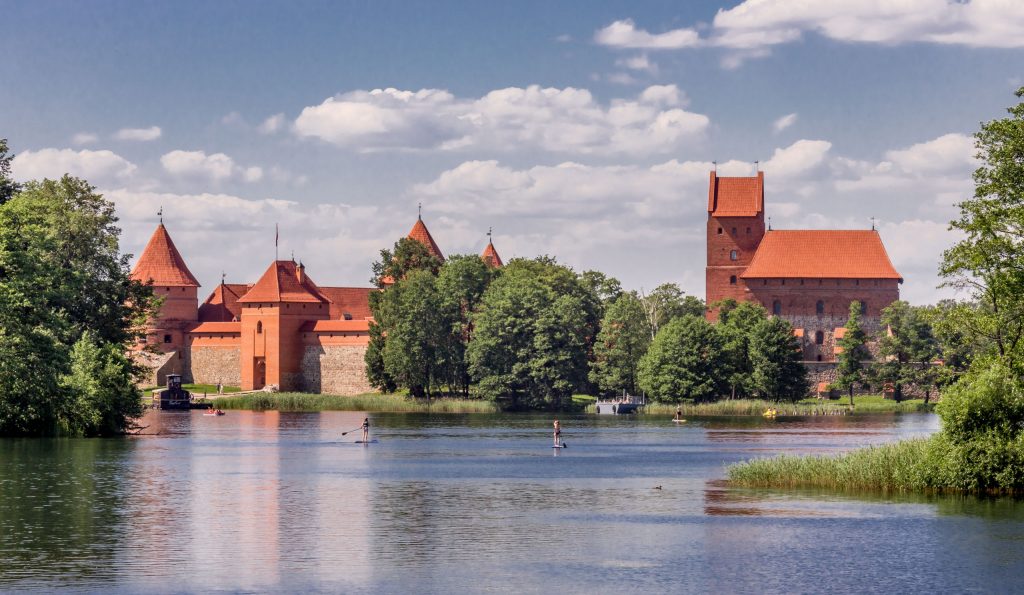 Lithuania itinerary day 5: Kaunas day trip
Kaunas is the second largest city in Lithuania and once served as the capital for a brief period. It can be reached from Vilnius by train or car in just over an hour. I highly recommend a Kaunas day trip from Vilnius if you have the time! It is however the first day trip I suggest skipping from this Lithuania itinerary if you don't have a day for it. You could shorten the Vilnius city trip from 2 days into 1 as well if you hurry through the city. It's not identical as Vilnius of course but has similarities. If you're coming by car, I recommend parking at the castle and walk to the town hall first to pickup a map at the Kaunas Tourism Office.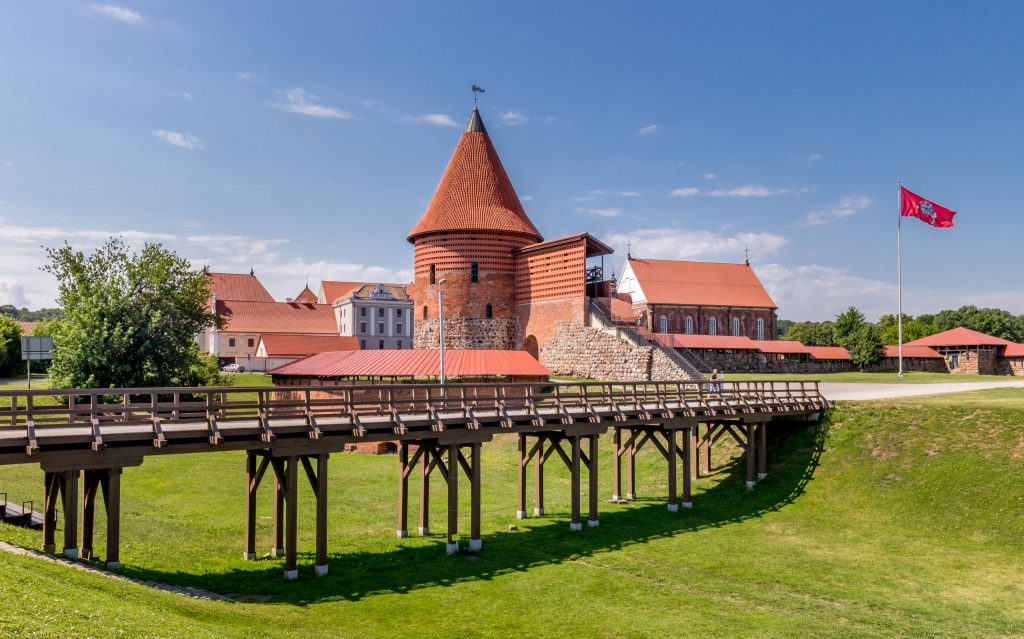 If you look at the map of Kaunas, you'll notice that all places of interested are between the castle and the Orthodox cathedral (a 30 minute walk). I recommend walking first to the old Presidential Palace Museum passing various places of interest. From there make your way to the Orthodox cathedral. You'll pass plenty of cafes for a morning coffee.
Continue up the Žaliakalnis funicular to the church and back down. Make your way to the Vytautas the Great War Museum. Back on the main street find a restaurant for lunch. After lunch finish the remainder of the sights (which are all on the map which I'll explain in more detail in a Kaunas city trip article later). Finish at the castle and the town hall for an afternoon drink or dinner!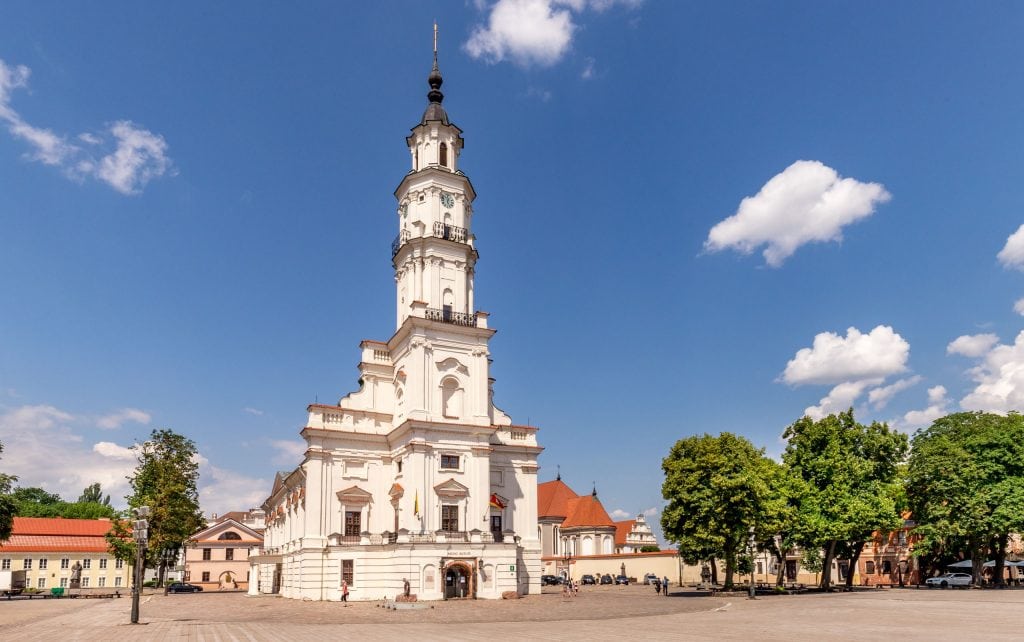 Another must do day trip from Vilnius is one to Kernave archeological site combined with a hike in Neris National Park. I didn't know what to expect from Kernave archeological park as most reviews just say it's a few "hills". This is partly true and the most important feature. These were hill forts. The museum on site explains the site from prehistoric times until the late Iron age. There is even a reconstructed wooden village on top of one of the hills. A visit takes about 2 hours so go early morning and then drive back (10 kilometers) to Neris National Park which you already passed coming from Vilnius.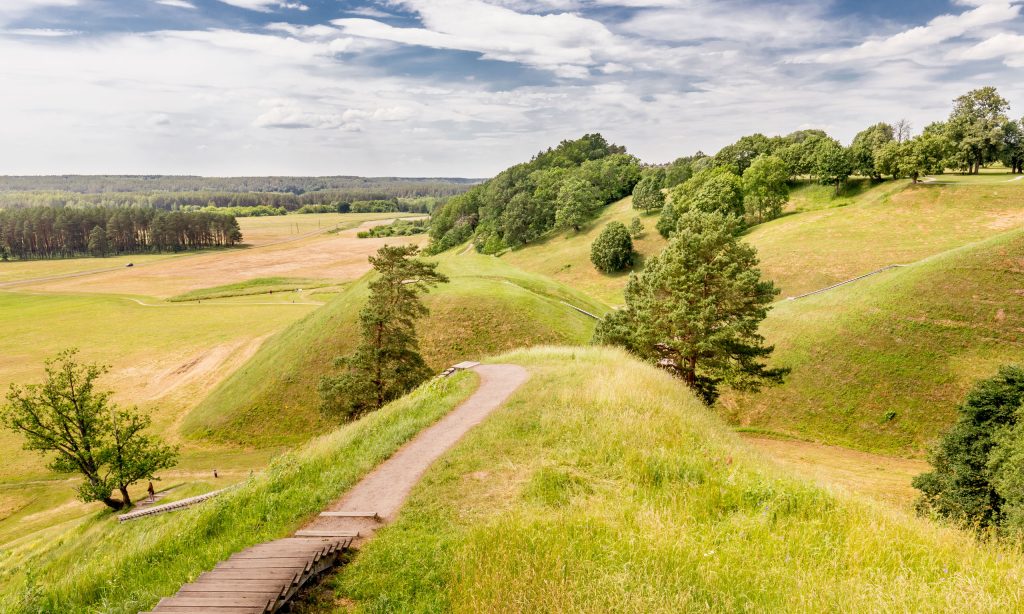 Neris National Park is a beautiful nautre park just north east of Vilnius. I highly recommend going as the pine forest air is so fresh and the views amazing. The Neris river meanders through it. There is one hike near the Neris Park visitors center which is most recommended as it has signage about the nature and cultural history of the forests. Take lunch with you as there are places along the trail to picknick. The trail is 5 kilometers and should take around 2 hours excluding lunch. After lunch pass the Neris river by car to the left bank and drive the 25-kilometer route along the river for magnificent views!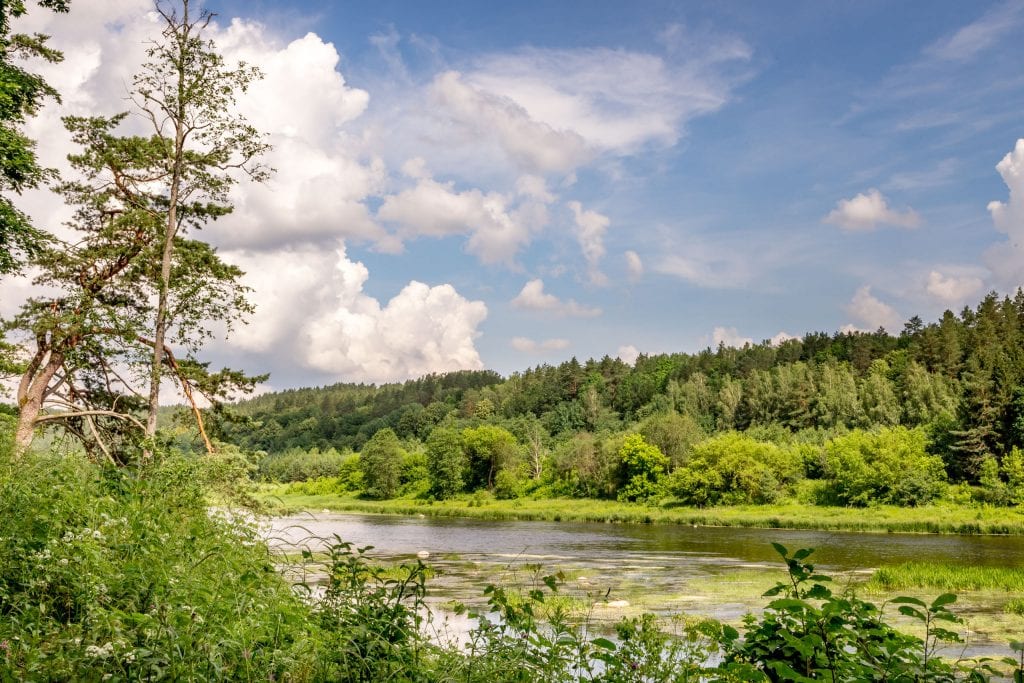 If you do not want to make a 2-3-hour hike, then drive the 25-kilometer route only. If you have time left at the end of the day consider visiting some geographical points of interest (see below) on your way back to Vilnius.
Bonus: Geographical points of interest
Just north of Vilnius is the geographical center of Europe. I am not sure if the small museum is closed permanently as it looked deserted but standing at the exact center of Europe is worth going. A kilometer north of it you can also visit a marker of the Struve Geodetic Arc which is a UNESCO World Heritiage Site. In the arc had hundreds of points from Hammerfest to the Black Sea but just 36 are left today. These points were used to calculate the meridian of earth and its size. Both sites are open 24 hours and best visited after the day trip to Kernave and Neris National Park described above. It's just a 45-minute detour including visits.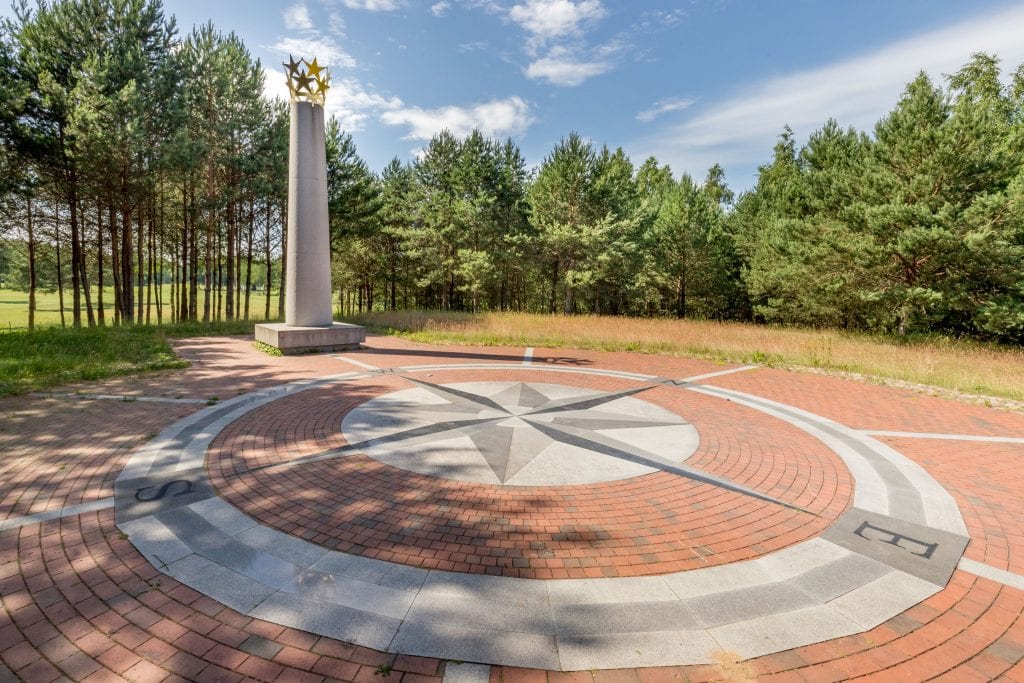 Departure on day 7
I travelled to Lithuania in June 2020 and flights where just restarting after the Pandemic. The only flight back to Amsterdam was at 07:30. Too early for me on a normal day! I would change a direct flight for one with a stopover and fly later in a heartbeat but during a Pandemic a direct flight was my first choice.
I was always told Vilnius didn't have much to offer compared to Riga and Tallin. I do not know about Tallin, which I visit in August 2020 but compared to Riga it for sure has a lot to offer. They are different but for sure worth going. Vilnius, for sure now, but in general sees less visitors and is still more authentic. I really enjoyed my Vilnius city trip! It's also a great destination for a long weekend. Most places of interested in Lithuania are within a day trip from Vilnius so it's also a great place to use as a base for a Lithuania itinerary. There are some beautiful places on the coast but for a week it's to much driving. I will return to the Lithuania coast either from Latvia or Kaliningrad (Russia) later.
Stay tuned for more stories and subscribe to the newsletter or follow CTB on social media (Facebook, Twitter, Instagram including Instagram stories; on all social media you can find CTB @christravelblog) to get updated information.
Did you visit Lithuania too or do you have questions? Please leave a comment at the bottom of the page. Love to hear from you!
Gallery Lithuania itinerary
Click an image for a full screen gallery of more photos taken during this trip. If you like to use any photo for commercial, private or editorial use please contact first for permission and/or pricing.