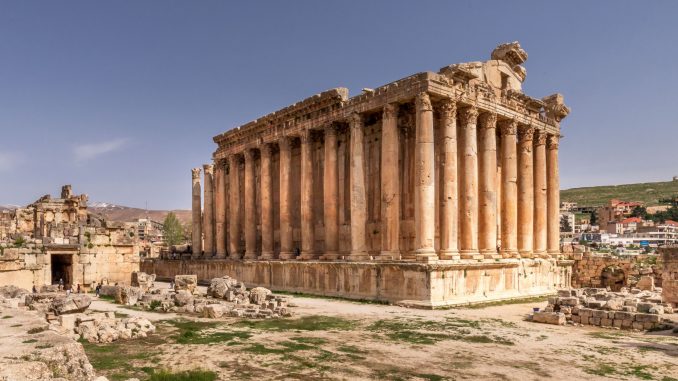 Lebanon is a small hidden gem in the Middle East and a beautiful destination for a 10-day trip. It's just a 3-4-hour flight from Europe and thus a perfect destination for the May (or October) school holidays! I visited with my family (kids 13/16 years) and drove around the country for 10 days. Having seen a lot of the world, it takes real beauty to amaze me and that is something Lebanon has plenty of. It's time to share my experiences in this Lebanon itinerary.
This Lebanon travel guide covers all its beauty in the best day trips so that you can efficiently see all the must-see places. Although Lebanon is a small country it has such a huge variety of highlights that each day will be different. Sea, mountains, Islam, Christianity, and ancient history but also modern lifestyle is what you find in Lebanon. Let's have a look at what I think is the most complete Lebanon itinerary to experience all its beauty.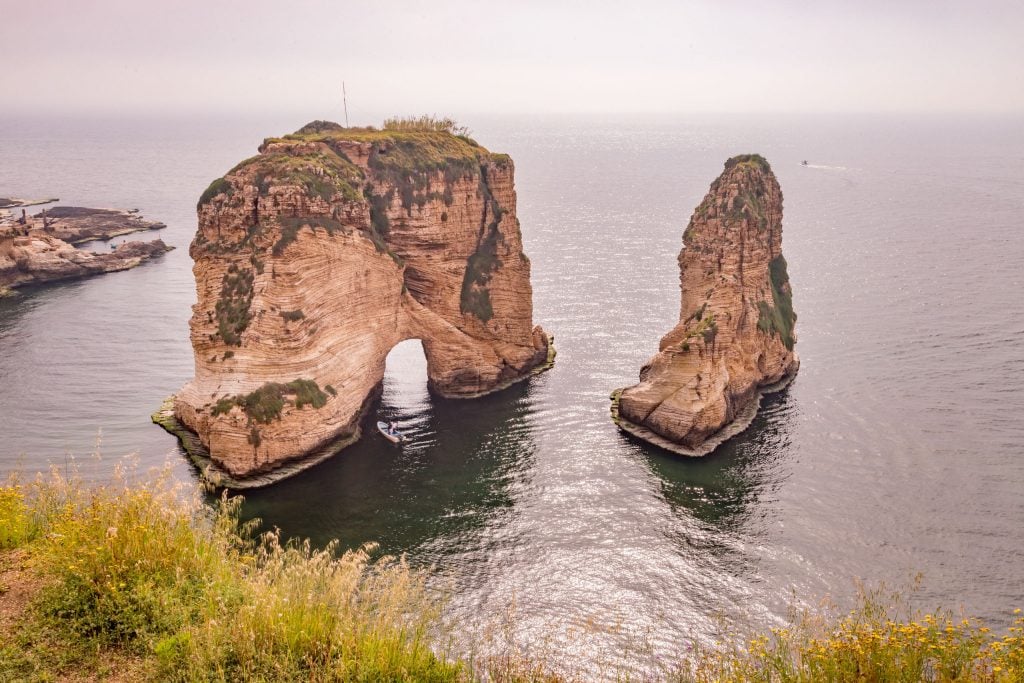 Planning a Lebanon road trip itinerary
Before going into details of each day a few tips to plan your Lebanon trip efficiently.
The best time to visit Lebanon is in spring or autumn. In summer it's very hot and in winter there is a lot of snow up in the mountains. Of course, if you want to go skiing then winter is the time to go! I visited in late April when the weather was perfect with snow up in the mountains but warm enough to swim too at the beaches.
Lebanon has just one international airport in Beirut which is easily reached by a wide variety of airlines. It's just a 3-4-hour flight from Europe and you can connect anywhere in the world from there. From Europe you have connections all over the world. I arrived in the afternoon and I passed immigration in just 30 minutes but keep in mind that at busy times this might take longer. Check before travelling if you require a visa.
Getting around Lebanon is best done by car. I love flexibility so when possible, I hire my own car. I got a good deal in Lebanon for a 4×4 SUV at just 48 USD a day. Traffic is chaotic, yes; but if you're a confident driver you'll manage. I drove 2 weeks in Thailand, a week in Mexico and 2 weeks in Tunisia. Lebanon was easy compared to these countries. You can also opt to hire a car with driver which should cost about 100-130 USD a day pending the distance. Public transport is not an option for this Lebanon itinerary as it takes you off the beaten tracks. All sights mentioned can be put in Google Maps, which will take you there the most efficient way. Make sure to download them in case you won't have reception.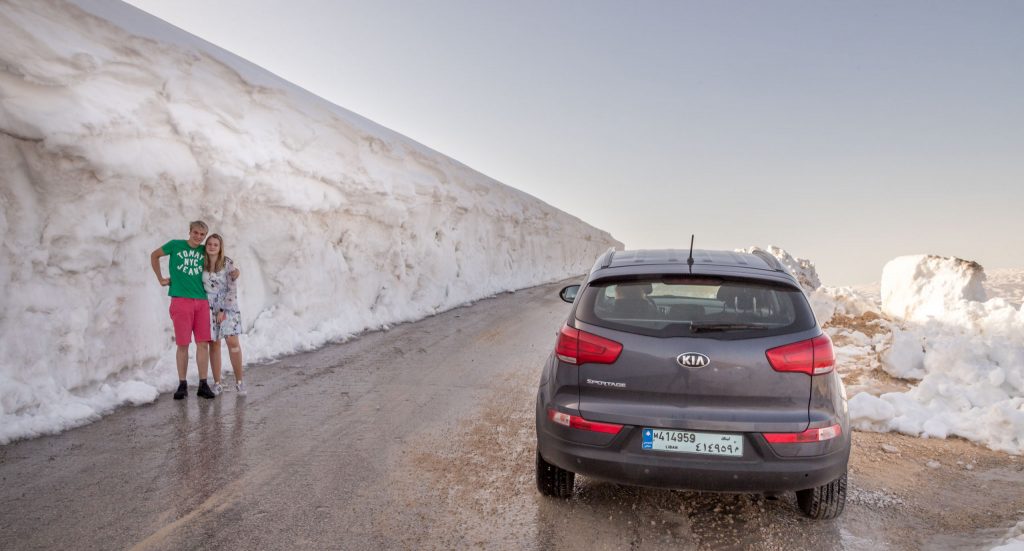 There are no major safety concerns (May 2019) in Lebanon if you follow this itinerary. Do always carry your passport as there are some military check points. I didn't have to stop at any and the soldiers are very frienly and helpfull. The only region to avoid is north of Baalbek around the town Hermel and the area's north and east of Hermel.
You can do all trips from Beirut, but I advise to stay 3 nights north of Beirut to save time driving up and down. All day trips can be mixed of course but I recommend staying 3-4 nights in Beirut, then 3 north of Beirut and then back 3-4 nights in Beirut. I love luxury hotels and in Beirut I stayed at Le Gray Hotel (member of the Leading Hotels of the World) and Le Bristol Hotel which are centrally located. The Intercontinental Mzaar in the mountains was my home north of Beirut but a hotel in Jbeil (Byblos) would be even more efficient.
Now lets explore Lebanon, a true hidden gem in the Middle East.
Lebanon itinerary day 1 – South Lebanon day trip: Tyre and Sidon
The first day trip from Beirut of this Lebanon itinerary is a long one but recommended to do the first day because if you run out of time you can add Sidon to day 2. Tyre and Sidon are two cities in southern Lebanon with a rich history and beautiful archeological sites. Unless you go wander around the modern parts of these cities, you can visit both the same day. Go early so you have time to make a short stop at the Temple of Eshmun, just outside of Sidon too. I left Le Gray Hotel at 08:00 and arrived in Tyre at 09:15 which is VERY quick. I did speed 10-20 km/h as everyone else did.
Tyre tour
In Tyre, which is a UNESCO World Heritage Site, I recommend going to Al-Mina on the peninsula first as most tourists stop first at the Al-Bass Hippodrome. It's possible to park near the entrance and if you are lucky you should have this site for yourself. There are beautiful Roman ruins, a cathedral, and parts of a Crusader castle. A visit takes just over an hour.
Now go to Al-Bass which is just a 5-minute drive. You could walk but it's not a nice walk and you would loose to much time. Al-Bass consists of a Necropolis, triumph arch and a hippodrome from the Roman period. Here you'll probably spend 90 minutes. Make sure to continue to Sidon for lunch at about 12:30.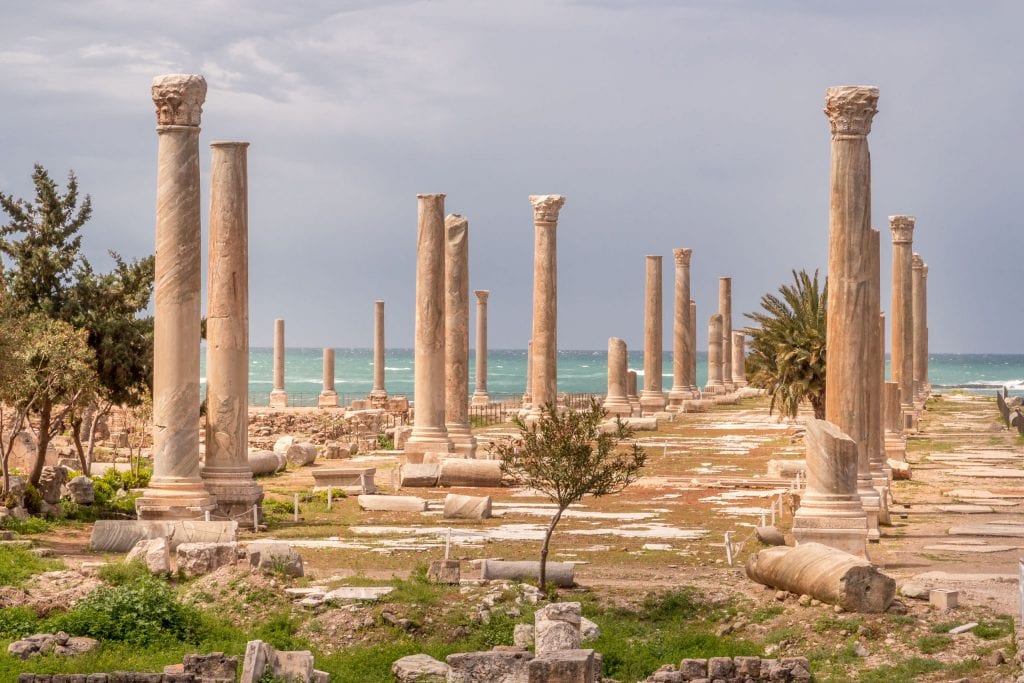 Sidon tour
Sidon, a tentative UNESCO site, is a beautiful coastal town with a crusader castle in the sea. You can park your car at the parking lot of the castle as they don't mind you'll explore the city after. Across the street there are various restaurants but Zawat for sure is good. After lunch you can explore the Sidon Sea Castle and walk through the old souks. Make sure to not miss the Dabane Palace, Nicholas Church, Khan al-Franj and, if you are interested, the Soap Museum. The beauty of Sidon is the fact the souks are still in use as they were in ancient times. It's great to just get lost but make sure you're in your car at 16:30.
Before heading back to Beirut make a stop at the Temple of Eshmun. This site is free to visit and it's very small and not much is left of it. The reason of the visit is that in the National Museum of Beirut they have beautiful finds from this site. In Phoenician time it was an important temple hence a visit should be on your Lebanon itinerary. From the temple it's about an hour drive back to Beirut.
EXTEND YOUR TRIP: Split Sidon and Tyre into two day trips. You'll have more time to relax or go swimming. Tyre has beautiful beaches to fill the 2nd half of the day there before heading back to Beirut. You can visit Sidon & the Temple of Eshmun on the second day.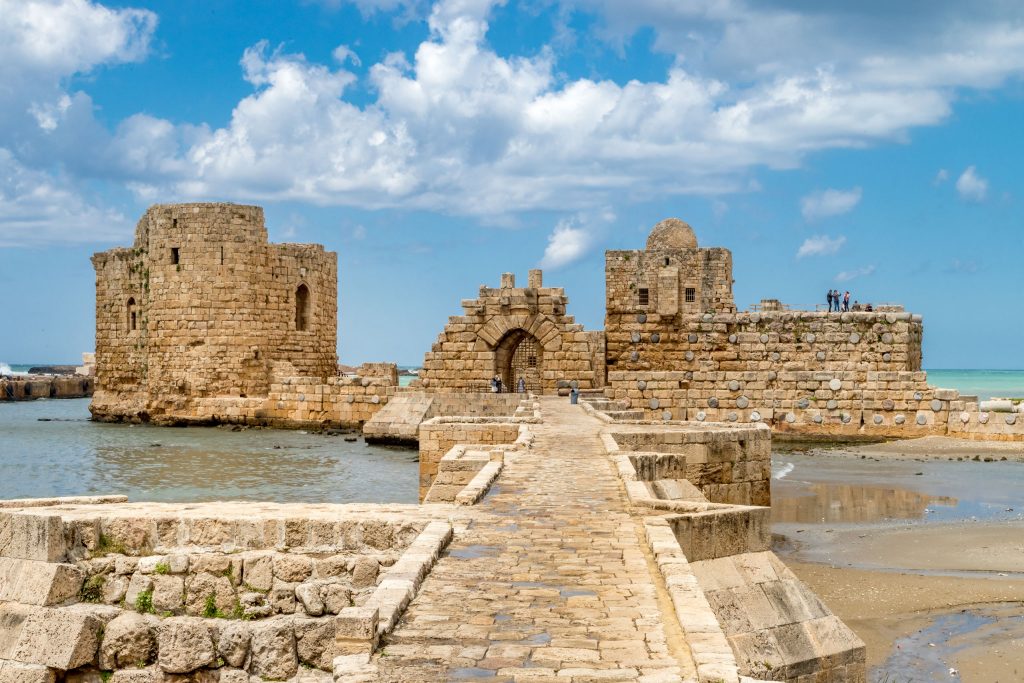 Lebanon itinerary day 2 – Shouf valley day trip
The Shouf Mountains (and valley, also called Chouf valley) are located just 40 kilometers from Beirut and are a must-see destination. You can either go for a half day trip or a full day trip. I decided to make it a long half day trip to not make this Lebanon itinerary stressed. I drove first to Moukhtara Palace which is a place few tours go. This Italian style palace is still in use by the political Jumblatt family. You can't freely walk around the house but a small tour of about 20 minutes is a must-do to learn about this family and assassination that took place.
MAKE IT A FULL DAY TRIP: If you want to do a full Shouf valley day tour you should now drive to the Shouf Barouk Cedar Forest. The reason I decided to not do this is that I would see cedar trees at the Cedars of God. If you like wine, you could also visit Château Florentine in the village of Majdel Maouche to make it a full day trip.
Beiteddine Palace tour
I continued to Beiteddine (Beit'eddine) which was once the center of power in Lebanon. The Beiteddine Palace (House of Faith) located there is the best example of Lebanese 19th century Italian inspired architecture. A visit will take you 2 hours in spring and autumn as in some parts of the year the palace is in use as the president's summer residence. Check with your hotel in advance if it's open.
Deir el-Qamar tour
The last stop of the Shouf valley day trip is in Deir el-Qamar which is a beautiful small old town. It's also possible to also make a stop at Moussa Castle museum first which has wax statues and a weapon collection. The town is small but very cozy. I wandered the small streets, visited the mosque and museum for about 30 minutes. After a delicious Lebanese lunch, I drove back to Beirut where I explored downtown Beirut by walking the Heritage Trail which started in front of Le Gray Hotel where I stayed. More on central Beirut on day 9 though, when there is time to walk this trail too.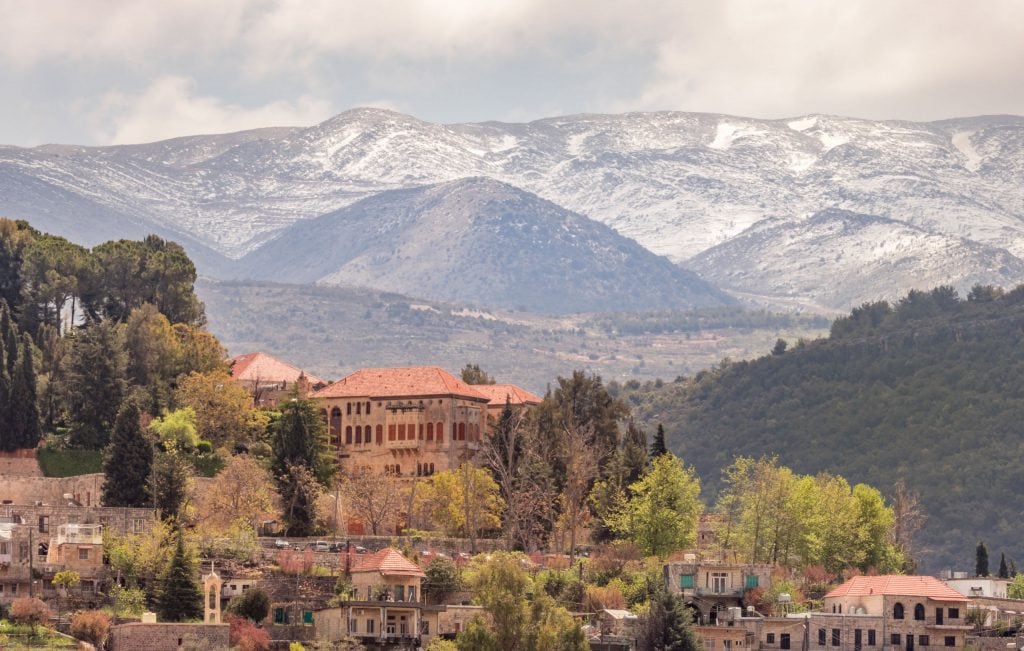 Lebanon itinerary day 3 – Anjar, Ksara Vineyard and Baalbek in the Beqaa valley
It's time to checkout of your hotel in Beirut today. As mentioned, you can do each trip from Beirut but if you follow this Lebanon itinerary, I highly recommend changing hotels. You can stay in Faraya in the Mzaar mountain range as I did or in Jbeil (Byblos). I choose the Mzaar Intercontinental as I had plenty of loyalty points to book a room there (read about my Bleisure trips to learn how accumulate those). Visiting two UNESCO World Heritage Sites meant a long day. I left Le Gray Hotel at 08:00 and I arrived in Anjar around 10:00.
Anjar Umayyad ruins tour
Anjar is a ruined Umayyad trading city which was build in the 8th century between Baalbek and Damascus (Syria). It's located just 3 kilometers from the Syrian border. You'll see remains of roads, a mosque, a hammam, a palace and housing of shops all surrounded by a thick wall. The city was in use just 30 years before it got destroyed, which makes it even more impressive. It's not a huge site but also not small so plan 1-2 hours to see Anjar.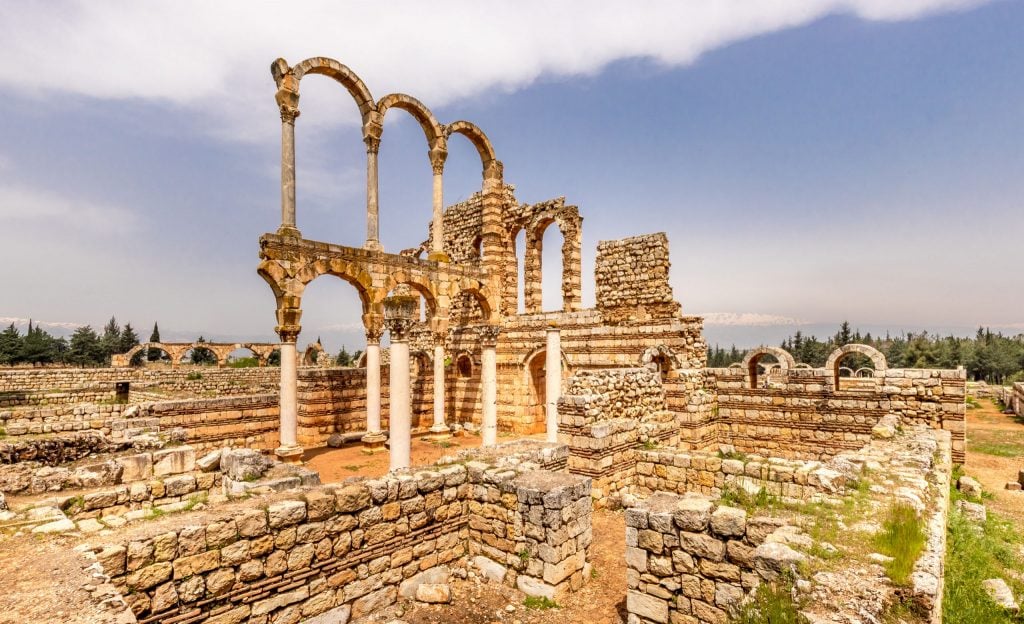 Next up is the only vineyard I added to this Lebanon itinerary: Ksara vineyard. You'll pass it when driving from Anjar to Baalbek but if you want to make a tour, you'll have to depart Beirut at 07:00. I only picked up some wine (a good tasting requires a full bottle) and had a quick lunch before heading to Baalbek.
Baalbek Roman ruins tour
I have seen many Roman ruins and the last one that amazed me was the Dougga Roman city when I made a two-week Tunisia road trip. Baalbek is a completely different ball game. Those ruins are the best-preserved Roman ruins I have seen and that says a lot. When the Romans arrived in Phoenicia half a century before Christ the city Baalbek was called Heliopolis. Various beliefs where mixed and worshipped. The temple and city complex was extended for over 300 years before it got abandoned. Most impressive is the Temple of Bacchus which is huge and decorated with fine carvings. To fully see the complex, you need 2 hours or more.
I was back at the parking lot around 17:00 and expected to drive to Faraya in about an hour over the mountain road (via Beirut would be 2-3 hours). That didn't go as planned as just before the T-junction to Faraya (left) and Afqa (right towards the Ibrahim Valley) there was a military checkpoint and the guard didn't want to let me go through. When I wanted to steer left, he put spikes up that would flatten my tires. I asked why I couldn't go, and he said it wasn't a security issue but the road to Faraya was covered in 8 meters of snow. Even a 4×4 wouldn't get through so if you follow this Lebanon itinerary make sure to check for road closures! I had no other option as to drive the road to Afqa OR turning back and drive the highway to Beirut and then up to Faraya. The road to Afqa was a good choice. It was an amazing drive over the snowy mountains (see photos above with the snow wall). I arrived around 20:00 at the Mzaar Intercontinental as I made many stops in the snow to take photos.
EXTEND YOUR TRIP: From December to April the ski resorts are open so if you like skiing you can add an additional day to do some exercise. The best place to do this is Mzaar ski area at Faraya. Another option to extend this Lebanon itinerary by a day is to stay around the Ksara vineyard. You can visit other vineyards in the vicinety and fill a day with wine tasting. Best to hire a taxi for that day though!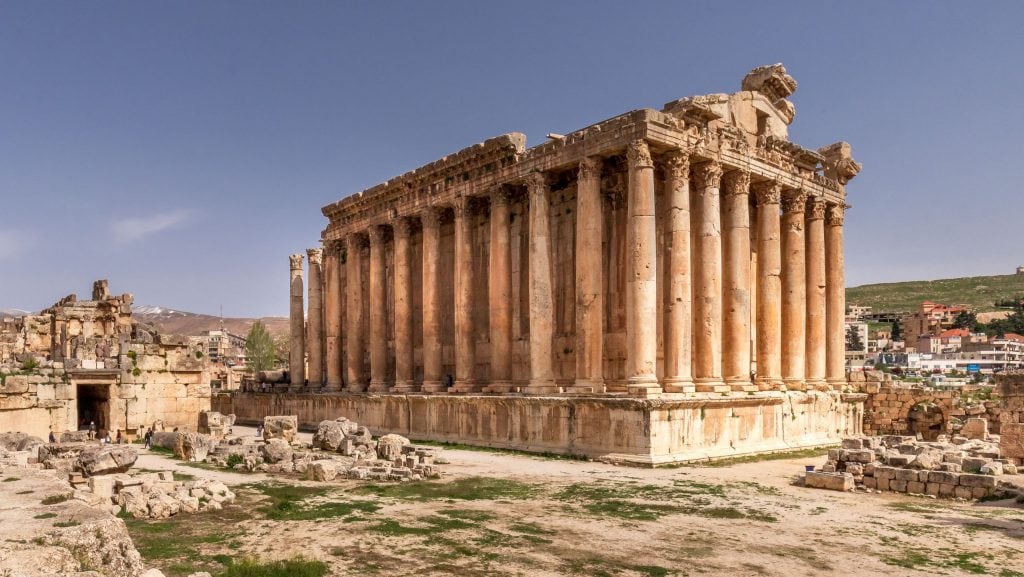 Lebanon itinerary day 4 – Off the beaten track Lebanon: Ibrahim Valley
The Ibrahim Valley is a tentative UNESCO site but honestly, I don't think it will ever make it on the list. It's however a beautiful off the beaten track destination in Lebanon. I only saw a handful of local tourists in Afqa and for the rest nobody! There are several places of interest in the Nahr Ibrahim Valley worth checking out. Plan about 5 or 6 hours unless you're coming from Beirut. Not every Lebanon day trip has to be a super highlight and that's why this Lebanon itinerary is 10 days with the option to extend it to 14 days. I'll list the must-see places of the Ibrahim Valley in order from Faraya. If you're coming from Jbeil (Byblos), Batroun or maybe Beirut then follow it in the opposite direction. The fun of this day is also to admire the beautiful nature and pass through local villages to see how rural Lebanon is.
Adonis Temple Afqa highlight
Set your GPS or Google Maps to the Adonis Temple in Afqa and drive there. Stop along the way where you want because the views are amazing. The valley has its name from the river that flows through it: The Adonis River, also called Abraham River or Nahr Ibrahim in Arabic. Adonis is the god of love, rebirth and beauty as the Phoenicians believed and was worshipped at the source of the river in Afqa and in Byblos where the river meets the Mediterranean Sea. Water flows from a cave which you can climb into. When snow melts in spring the stream is huge and has a lot of power but in dry times you can walk also into the cave. A beautiful site.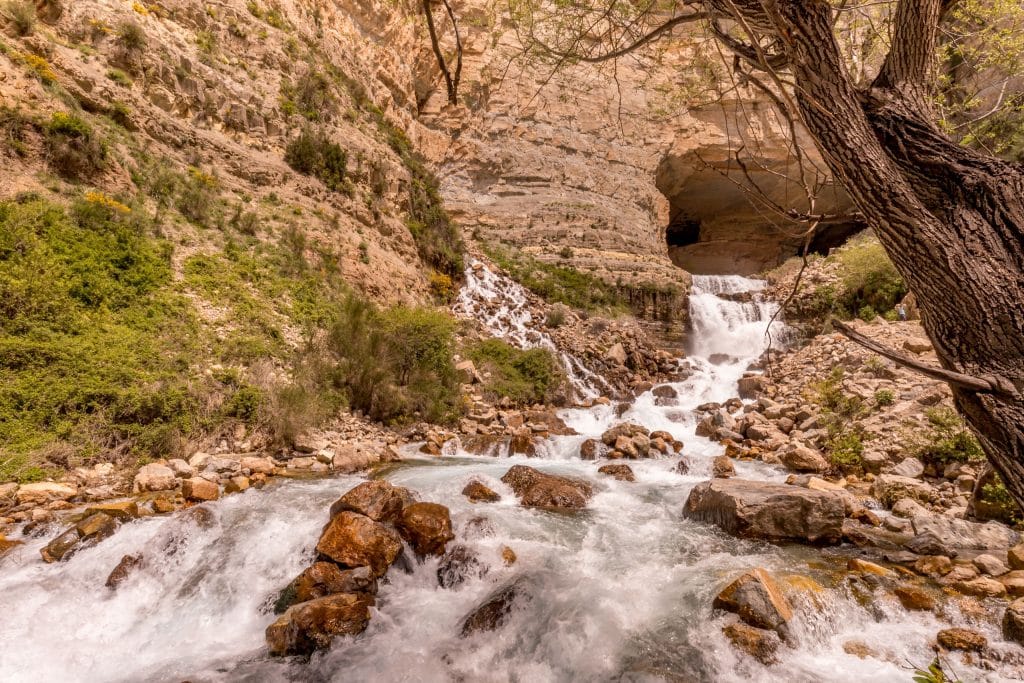 Nahr Ibrahim valley Roman ruins
Now put your GPS to Yanouh where on the right side of the road you can visit the Mar Girgis al Azraq temple. There are Roman ruins and a newer Saint George church which is of special interest as it's made of blue/grey stones. Now continue to Qartaba by pointing your GPS to Saint Sarkis Monastery located a few hundred meters downhill. It dates to the 16th century. When I visited, I couldn't find any option to visit the inside but the outside was worth a look too. Qartaba is also the place to get lunch as it should be halfway the day.
Next is the Mashnaka Roman temple which is spelled in a dozen or so varieties. Mashnaka (Souaneh, Lebanon) works is Google Maps though. The valley views here are amazing! Now it's time to cross the Nahr Ibrahim River (put 34.077561, 35.724308 in Google Maps) and drive along the other side to the Roman aqueduct. This aqueduct is just small and isn't even on Google Maps so put (34.063076, 35.653333) as coordinates. It's worth a stop if you're passing anyway and the views are still amazing there. After this I drove back up to Faraya and made a quick stop at the ruins in Faqra so I would save time another day.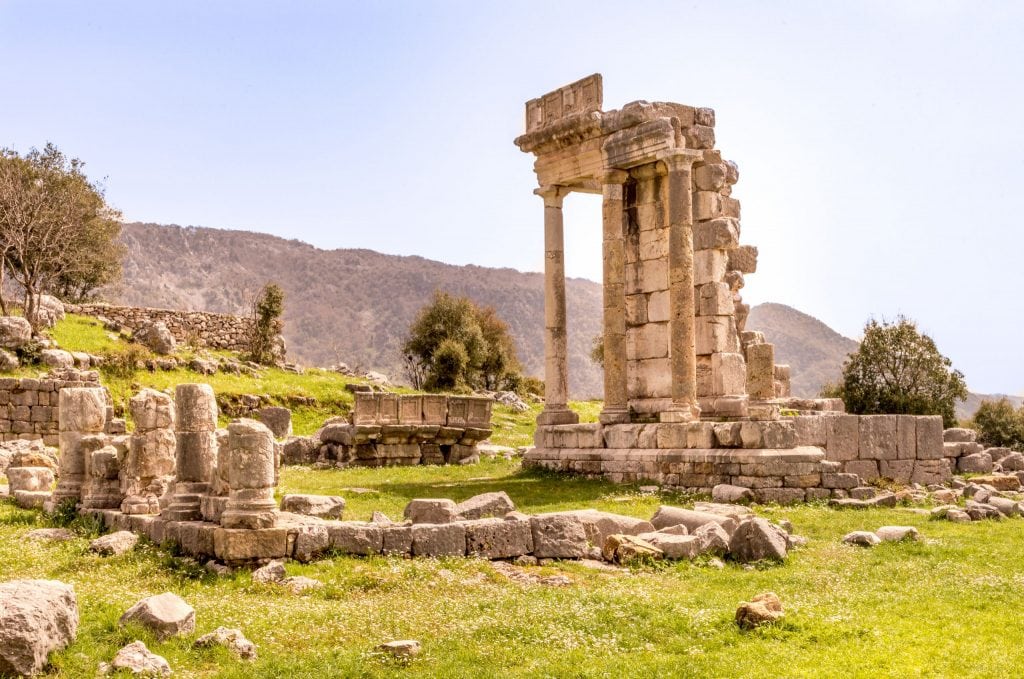 Lebanon itinerary day 5: Byblos (Jbeil) and Batroun day trip
Byblos (now called Jbeil) is a coastal city in Lebanon north of Beirut. Founded over 7 centuries ago and thus one of the longest continually inhabited cities of the world. A visit of the heritage park takes half a day and best combined with Batroun which is just 20 minutes north. Byblos is an UNESCO World Heritage Site and Batroun a tentative one. Make sure to visit Byblos first especially if you like craft beer!
Byblos day tour
It was approximate an hour drive from Intercontinental Mzaar to Byblos where I parked near the entrance of the archeological site. You can put the entrance in your GPS and when close park in the first available spot as you'll otherwise keep circling. Try to arrive around 10:00 which gives you time to do a Byblos tour to all the highlights, have lunch and continue to Batroun.
Byblos (Jbeil) was already inhabited in 5000 BC but from the Neolithic and chalcolithic time is not much left. The Phoenicians transformed Byblos to a walled city in around 2800 BC. It was their capital. The Phoenician alphabet used later by Romans and today by western civilizations was invented there.
The Byblos archeological site isn't huge but for the long route through it you must count for about 2 hours. There points of interest include three major Phoenician temples, a Crusader fort, and a Roman theater (smallest I ever saw) with columns. Do read the explanations signs as many have drawings of how a certain place looked like centuries ago. It helps to understand the ruins. In the Crusader fort is a small exhibition but the most beautiful finds are in the National Museum in Beirut.
After exploring the archeological site go for a small stroll through the souks and maybe have a look at the harbor. For lunch I can recommend Fenicia just in front of the entrance of the site. After lunch head north to Batroun.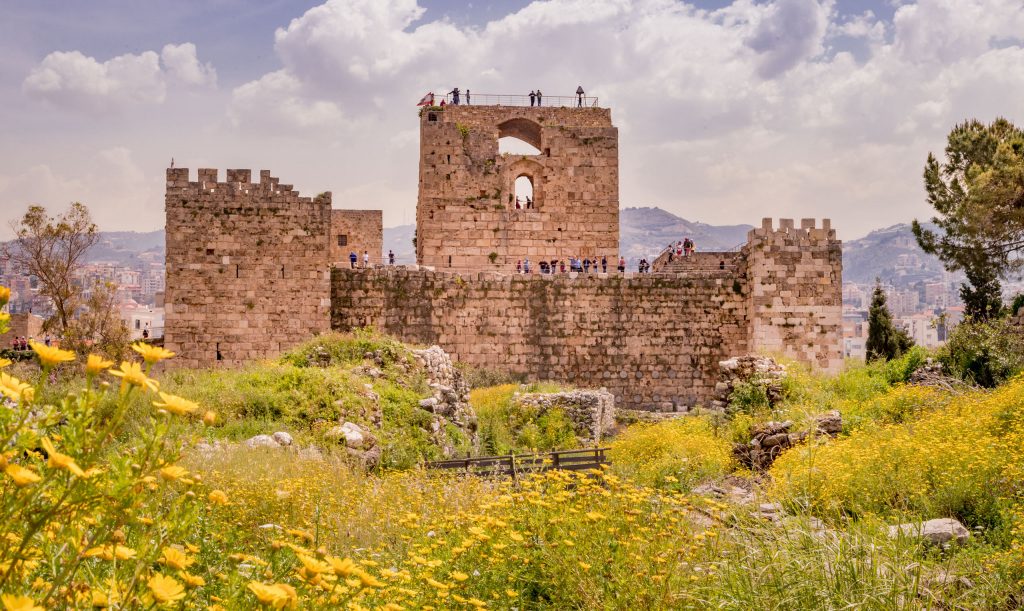 Batroun day tour
First set your GPS to Mseilha Fort which is a Crusader style fort on top of a rock (see photo below). Entrance is free and a visit doesn't take long. I hadn't seen a fort like this ever before, so it was a nice detour before heading to old Batroun. I parked my car near the Batroun souks from where I wandered through the old town which has also Phoenician origins. Strolling the narrow streets exploring the churches and other old building takes about 2 hours. The highlight is in the sea: a Phoenician wall. It was built to keep the tidal waves out and unique in its kind.
None of my trips isn't complete without craft beer and I found some in Lebanon. Of course, I added Batroun to my Lebanon itinerary for its historical sites but the Colonel Craft Brewery was another reason. It's located 5 minutes by car from the old central part and a minute walk from a nice beach. You can go swimming in the afternoon, enjoy craft beer and great Lebanese food before heading further. Or, drink more and stay overnight in Batroun.
SHORTEN OR EXTEND YOUR TRIP: If you have to shorten your trip by a day you could visit Byblos & Tripoli (only the old town) on one day. It will be a long day but it's possible. You can also extend your trip by a day if you want to relax at the beach for a day. Visit Byblos one morning and relax at the beach, and Batroun the next day in the morning and relax at the beach.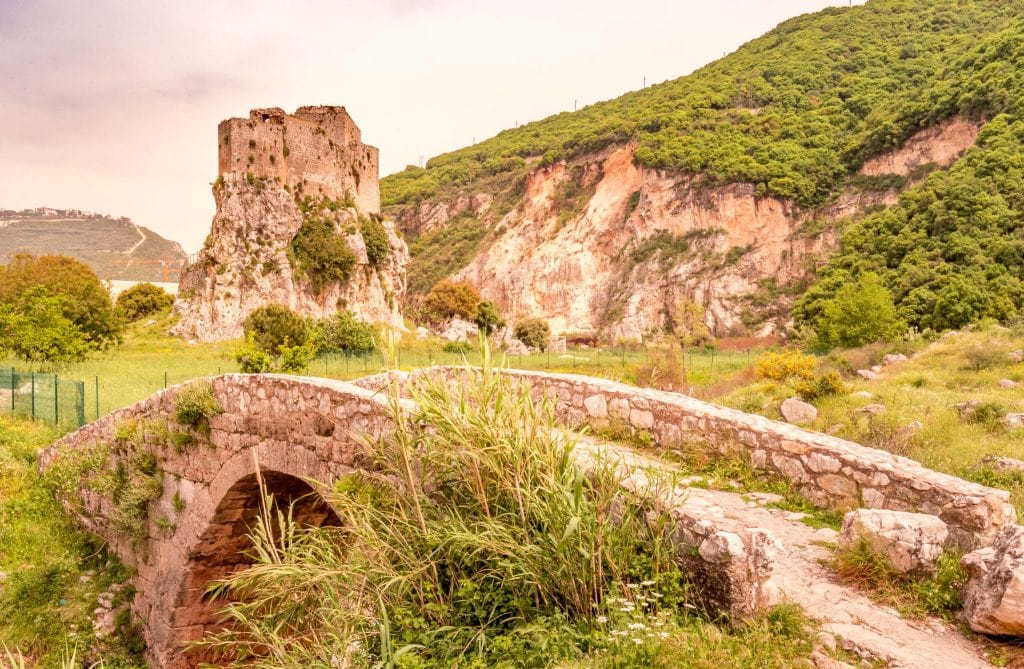 Lebanon itinerary day 6: Nahr el Kelb (Jeita Grotto) day trip
On the 6th day of my Lebanon itinerary I planned again a hotel change. I moved from Intercontinental Mzaar to Le Bristol Beirut in downtown Beirut. To not waste time, I drove through the Nahr el Kelb valley which is a tentative UNESCO World Heritage Site. The Lebanon highlights of this day don't take to much time to visit unless the Jeita Grotto is very busy. Start at the Jeita Grotte in case you're coming from Beirut or any other city on the Mediterranean coast.
Faqra ruins tour
Near Faqra is a beautiful natural bridge which was the first stop of the day. You can make a short hike there too but as it was early morning, snowy and cold I only had a quick look from the top. The second stop should have been the Roman and Byzantine ruins at Faqra. As mentioned, I already made a quick stop there after visiting the Ibrahim Valley. I did stop again though to make photos from a distance as the sun is shining towards the temple in the morning. Across the street I visited some minor ruins too. Plan an hour to explore the site; it's not huge.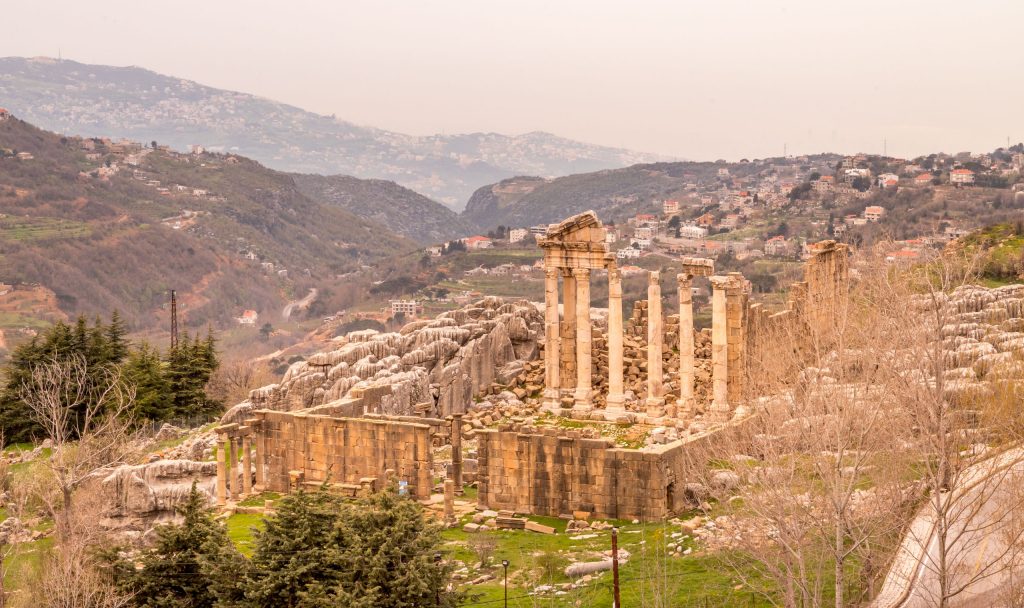 Now it's time to drive to the best and most beautiful cave system of Lebanon: Jeita Grottos. Located in the Nahr el Kelb valley. It's Lebanon's national natural pride and the most beautiful cave I have ever seen after the Furong Cave at the Wulong Karst in China. Keep in mind that it's also visited A LOT by locals so it's one of the sights in Lebanon that does have waiting lines (unless you walk up but the cable car is easier). There is an upper cave which is accessible by tunnel from where you walk over boardwalks. The lower cave is only accessible by a 400-meter underground river cruise. There will be a waiting line of 1h+ in busy times at the lower cave. I skipped it as on Easter Sunday the line was 2h+. Photography inside is not allowed, the below two pictures were displays at the entrance. I spend 2 hours at the Jeita Grotto in total after which I continued.

Next up are 3 monasteries which are part of the tentative Nahr el Kelb UNESCO site. I first drove to the Our Lady of Louaize Monastery which is located behind the Notre Dame college. It's an old monastery but I couldn't find any open door to see the inside. Well worth a look at though. Next up was the Mar Abda de Mouchamar which Google Maps doesn't know so put (33.944141, 35.628315) as coordinates. The last monastery is Our lady of Tamiche Monastery which has a beautiful patio and church. Visits take 15-20 minutes only in each place.
When driving back to Beirut make sure to stop on the road around (33.953877, 35.603424) where you can see a Roman aqueduct and a medieval bridge. Just further down the road (but park at the coordinates) are the Independence Stone Carvings which various armies that marched through left behind. One is from Napoleon. These places are also part of the tentative UNESCO site. You're basically back in Beirut now so it should be 15-20 minutes to the hotel. I recommend staying at Le Bristol Hotel.
Lebanon itinerary day 7: Tripoli day trip
Tripoli is Lebanon's second largest city and a Tripoli day trip must be added to any Lebanon itinerary. It's a completely different world compared to Beirut. I left Le Bristol Hotel around 08:30 and was in Tripoli at 10:00. If there is much traffic it could be a bit longer. I made however one mistake by visiting first the old town and then the International Fair and El Mina. I missed lunch so first go to the Rachid Karami International Fair, then the Old Town and if you have time left El Mina.
Oscar Niemeyer designed the Rachid Karami International Fair in the late sixties for the World Fair in 1976. He also designed Brasilia and Pumpulha which I saw when I travelled 5 days in Belo Horizonte (Brazil). The fair ground was never finished as the civil war broke out in 1975. Today all the concrete structures are still there and not damaged by the war. The site is a tentative UNESCO World Heritage Site and worth a 45-minute stroll. If you don't like this kind of architecture, you can go direct to downtown Tripoli. Park at the Citadel (fort) of Tripoli.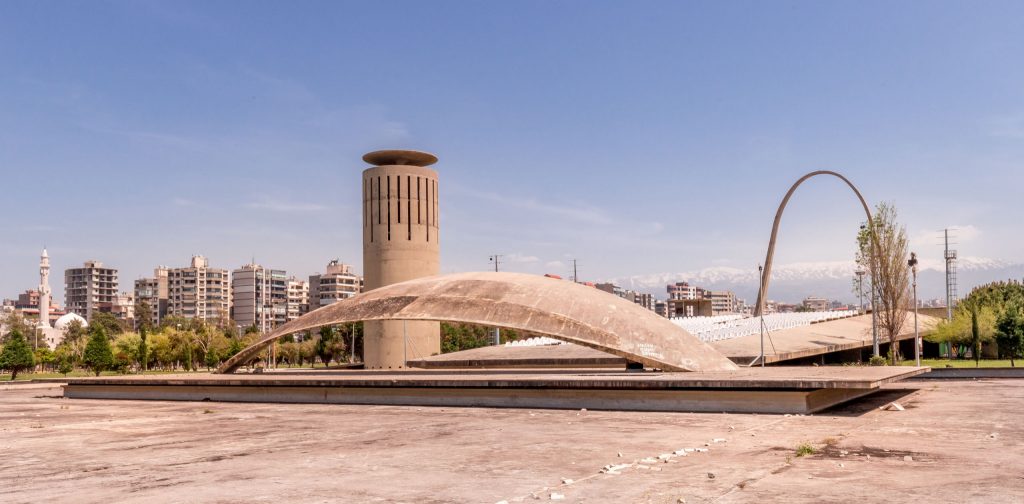 When I arrived at the Citadel of Tripoli, I thought I was at the wrong place as it looked like a military base. That's partly true as they use part of the building too. After exploring the fort, you can walk in a few minutes to the Izzeddeen Hammam located at the entrance of the souks. After that stroll through the souks and once you get hungry have lunch. If you follow the following order of sights (just put them in Google Maps) it will be most efficiently: AlKhayyateen Caravanserai, AlBourtasi Mosque, Khan El Askar (might be closed) and the St. George Church next door, Saray AlAteeqah, Old Ministry Building, Clocktower, Al Mansouri Mosque, Hammam Alnouri and Khan Al Saboun. There are more places to stop along the way just look for the plaques on the monuments. With lunch you easily spend 3-4 hours in old Tripoli.
Now you can choose to either drive back to Beirut or make a short visit to El Mina peninsula. You can stroll the corniche, visit the old railway station, and watch sunset. There are also plenty restaurants for dinner. I drove back to Le Bristol Beirut at 17:00 as I skipped lunch.
OPTIMIZE YOUR LEBANON ITINERARY: I choose to drive up and down to Beirut from Tripoli and the next day to the Qadisha Valley. This isn't efficient as you will safe 2-3 hours of driving by staying overnight in Tripoli. I didn't do that as only my daughter would join to Tripoli and to the Qadisha Valley my full family.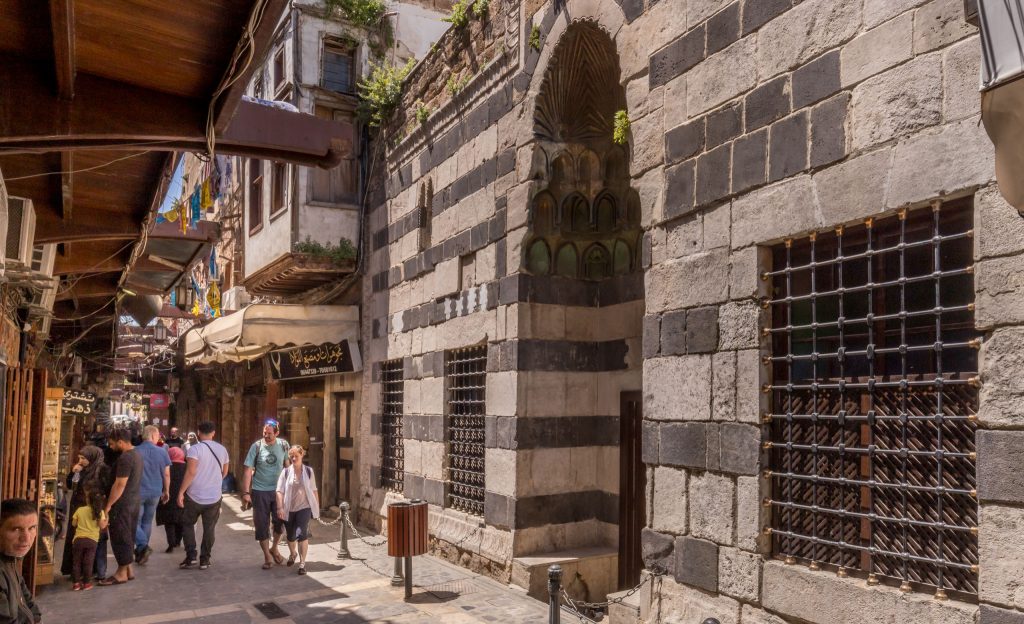 Lebanon itinerary day 8: Qadisha Valley tour (and Cedars of God)
Just when I though Lebanon couldn't get better it did! The Qadisha Valley is so different as all the other places and has unique history which made it an UNESCO World Heritage Site. It consists of 2 parts: The Forest of the Cedars (Cedars of God) and the valley with all it's monasteries. These monasteries all originate from caves where hermits lived centuries ago. Even today hermits still use some. The main monasteries are: Qannubin Monastery, Monastery of St Anthony of Quzhayya, Monastery of Our Lady of Hauqqa, Monastery of Mar Licha. I didn't have time left to visit Hauqqa but all other 3 are "easily" reached by car in a day if you spend up to 45 minutes in each maximum.
I recommend starting your Qadisha Valley day trip at 07:00 from Beirut. I drove in 2 hours to the Forest of the Cedars which is a holy place. It's not a huge forest and 30 minutes there is enough especially if there is 2 meters of snow. Those trees, some said to be 3000 years old, are a pretty sight high in the mountains so don't miss them. Now put in your GPS: Old Mar Licha Monastery which can be reached over a small road that goes down into the Qadisha Valley. It's one of the better monasteries to visit.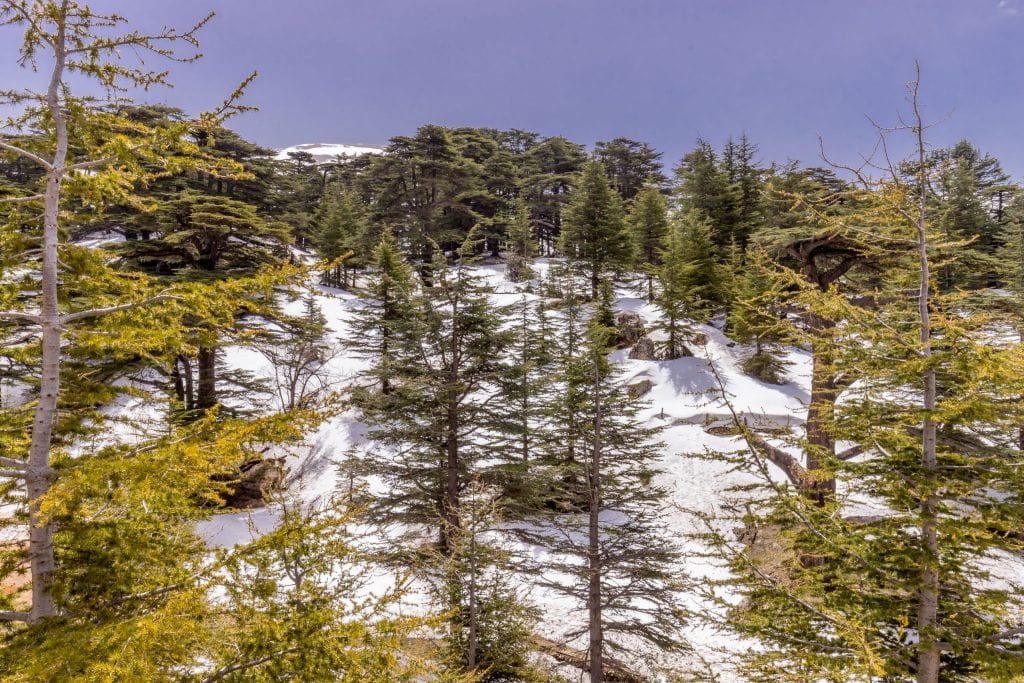 Next up is the Qannoubine Monastery and you won't regret having your own wheels as busses cannot go to there. You must follow the unpaved road along the river for 5 kilometers. A sedan will get you there and don't worry if you only pass hikers and don't see other cars. At the end of the road is Abou Joseph Bsharri restaurant serving delicious Lebanese food. Take an early lunch as on crowded days it fills up and you don't want to lose time waiting for your food.
The Qannoubine Monastery is 500 meters down the road and 100 meters uphill. Don't forget to have a peak at the St. Marina the Monk Chapel 200 meters further. The Monastery of Our Lady of Hauqqa is another 2 kilometer hike further down the path but that doesn't work if you want to visit the Monastery of St Anthony of Quzhayya too. I recommend visiting Monastery of St Anthony of Quzhayya before heading back to Beirut. It has also a small museum on site. Each of the monasteries is different and all are recommended. I drove back to Beirut in 2 hours for dinner at Brew Inc. which is the best craft beer bar in Beirut.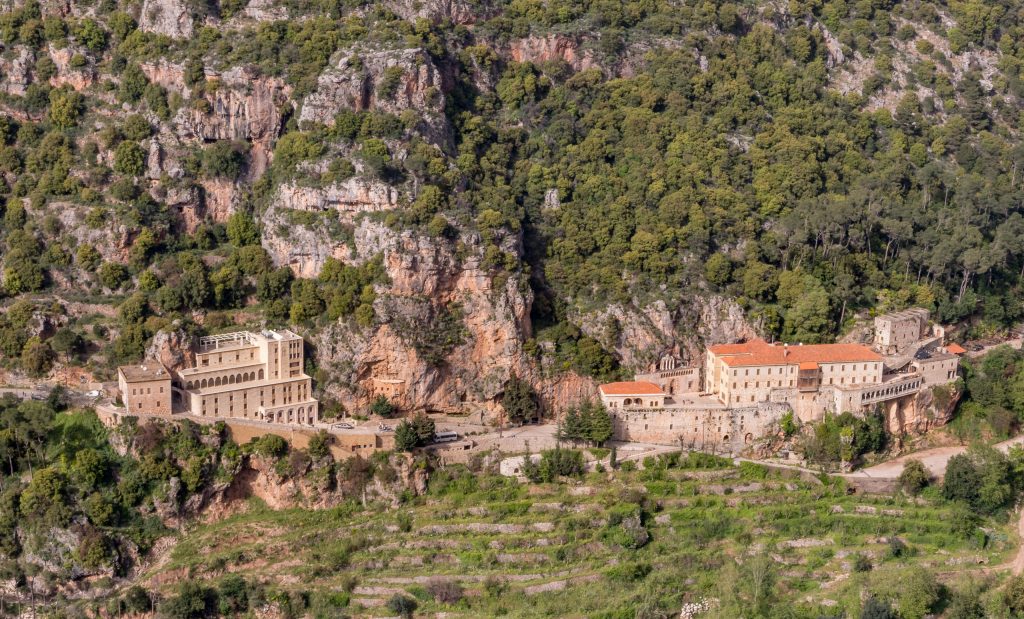 Lebanon itinerary day 9: Beirut city tour
I recommend starting in Beirut's old district which has a 2.5-kilometer trail called the Beirut Heritage Trail. It's marked with bronze medallions in the pavement so you can easily follow it. The trail official starts at the Beirut souks, but you can start at any place of course. You might want to park your car around the Al-Omari Grand Mosque where there is space along the streets. The Beirut Heritage Trail takes you to all the important places in old Beirut including mosques, churches, Roman, Byzantine and Phoenician remains. It's a pleasant walk and you can have lunch at one of the restaurants around the clock tower or go to Badaro street before visiting the National Museum.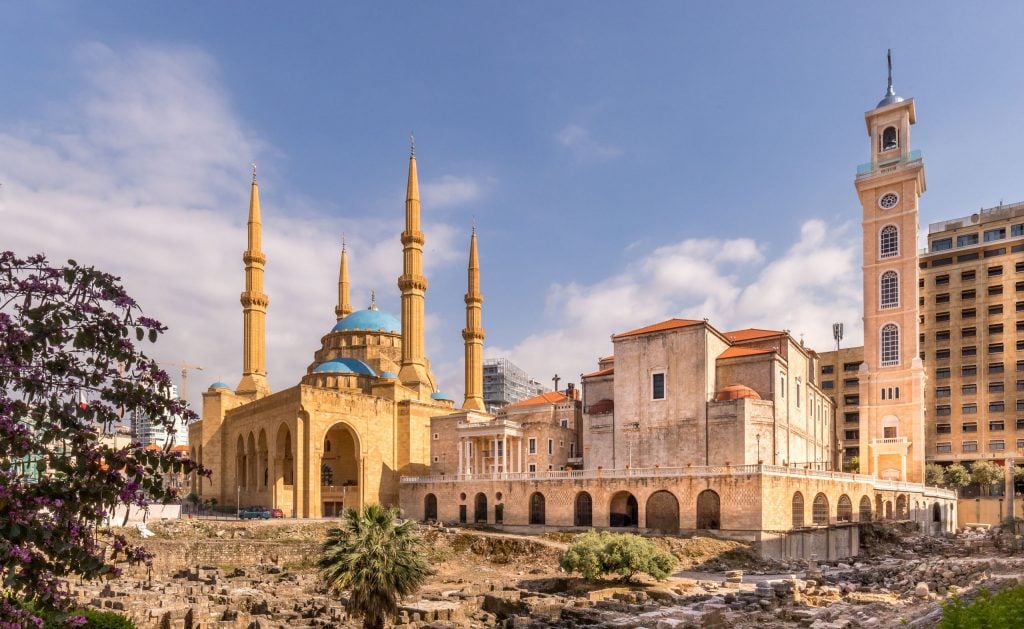 Now drive, or better use Uber in Beirut, to the National Museum. It has the best finds of all the archeological sites on display. Do note it's closed Mondays. The museum is medium sized which is pleasant as you don't need to spend hours and hours looking at pottery. The items are all very nice and diverse. Two hours will do. In the afternoon you can go to the corniche to see the Raouche Rocks and watch sunset. I walked back to Le Bristol Hotel from there.
In the evening you can go to Hamra district or to Badaro street. Badaro street is for the young generation with plenty of cafes, bars, and restaurants.
EXTEND YOUR TRIP: There are many more museums in Beirut which can be of interest to you pending your interest. You can easily spend another day in Beirut. Wandering the streets, visiting more museums or just relax.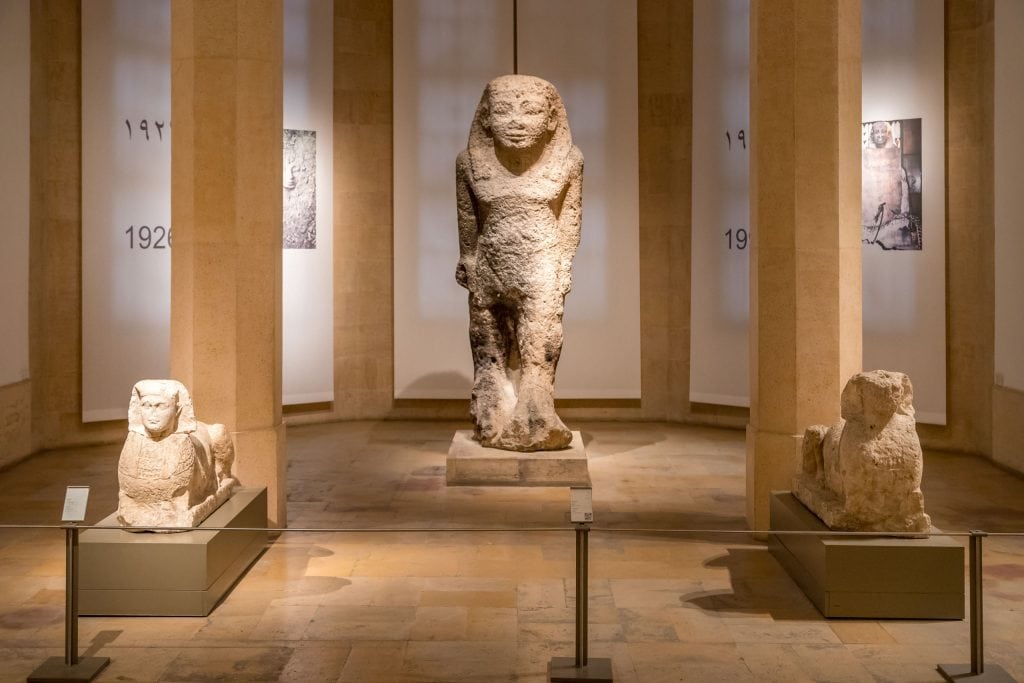 I think you agree after reading this Lebanon itinerary that it's a true gem in the Middle East. Visit now! Lebanon was on my radar for a long time but for some reason I never visited. It's just a 3-4-hour flight from the Netherlands so flight time isn't an issue. I'm glad I finally visited as Lebanon was full of amazing surprises. Roman, Phoenician, and Byzantine ruins mixed with old monasteries and beautiful nature are amongst the highlights. It's a small country but each place of interest is different in Lebanon.
If you're looking to extend your trip, I recommend reading my 7 days in Cairo (Egypt) itinerary, 2 weeks Jordan itinerary, or 2 weeks Oman itinerary. Even a Tunisia itinerary can easily be added. I'm sure you'll have fun in the Arabic world!
Stay tuned for more stories and subscribe to the newsletter or follow CTB on social media (Facebook, Twitter, Instagram including Instagram stories; on all social media you can find CTB @christravelblog) to get updated information.
Did you visit Lebanon too or do you have questions? Please leave a comment at the bottom of the page. Love to hear from you!