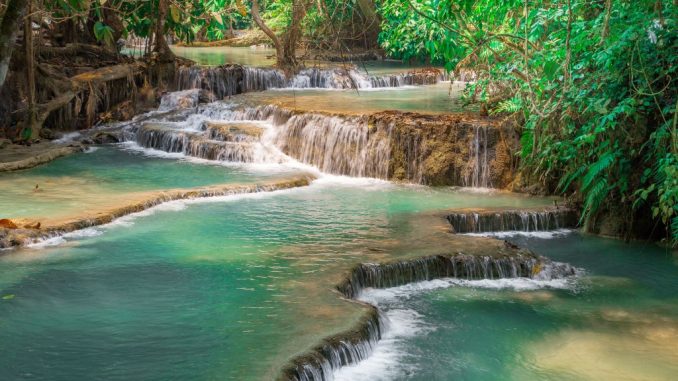 I visited Laos after a business trip to Singapore earlier this year. This landlocked country has been on my radar for a long time. I stayed in Luang Prabang for six nights and did five-day trips from there. One of these days I hired a car and drove to the Kuang Si Falls in the morning. After lunch I drove through the rural areas on the other side of the Mekong River. Join me on this must do tour around Luang Prabang.
Kuang Si Falls day trip
The Kuang Si Falls are flowing most of the year unlike the Tad Sae Waterfall which was dry. I only visited the Kuang Si Falls for that reason.
How to get to the Kuang Si Falls
They are located just under 30 kilometers from Luang Prabang and easily reached by taxi or motorbike. I however hired a car and drove there myself as later that day I would cross the river for some rural life sightseeing. The trip takes about an hour but before my arrival I made first a stop at the green rice fields. Most fields are dry due to lack of rain but this area has natural water sources which make two harvests a year possible. The views are amazing and can't be missed; it's at the last turn you take to the falls.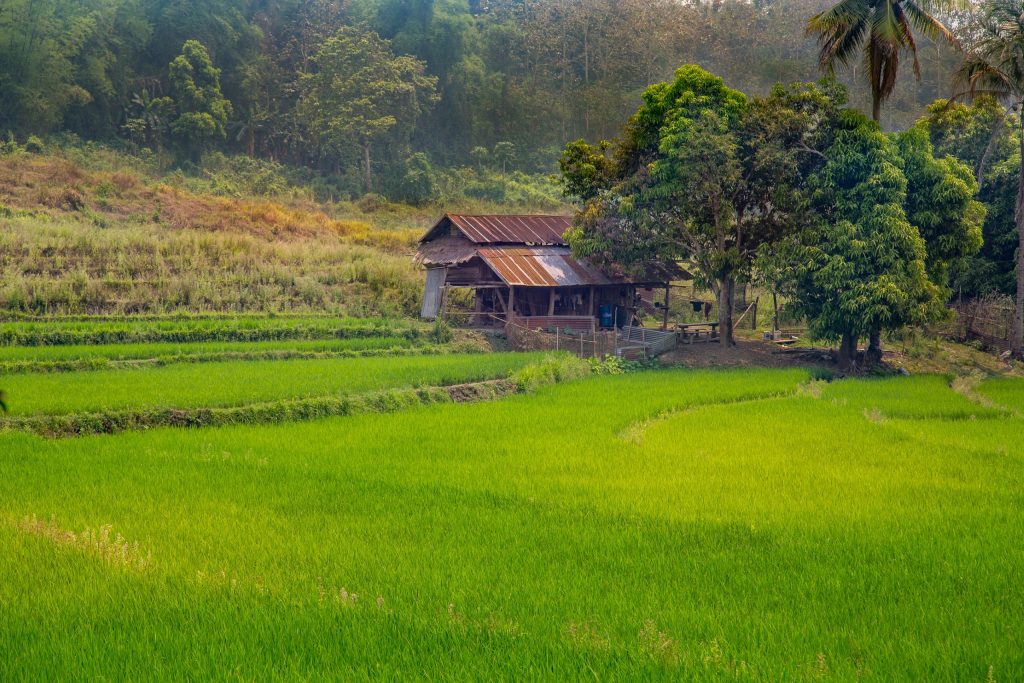 When I arrived at the waterfalls I had to pay a -very- small amount to some guy that seemed to control the parking lot. I don't remember the entrance price to be honest as it was so little. Cheap, as the local prices, which isn't always the case like in Indonesia where tourist pay ten times more.
Animals at Kuang Si Falls
It's a short walk to the falls either over a paved road or through a jungle path. There are several cages with bears and other wildlife; interesting but not a major thing. The falls are pretty idyllic and when I arrived at the lowest terrace I had a small wow moment. They ARE beautiful.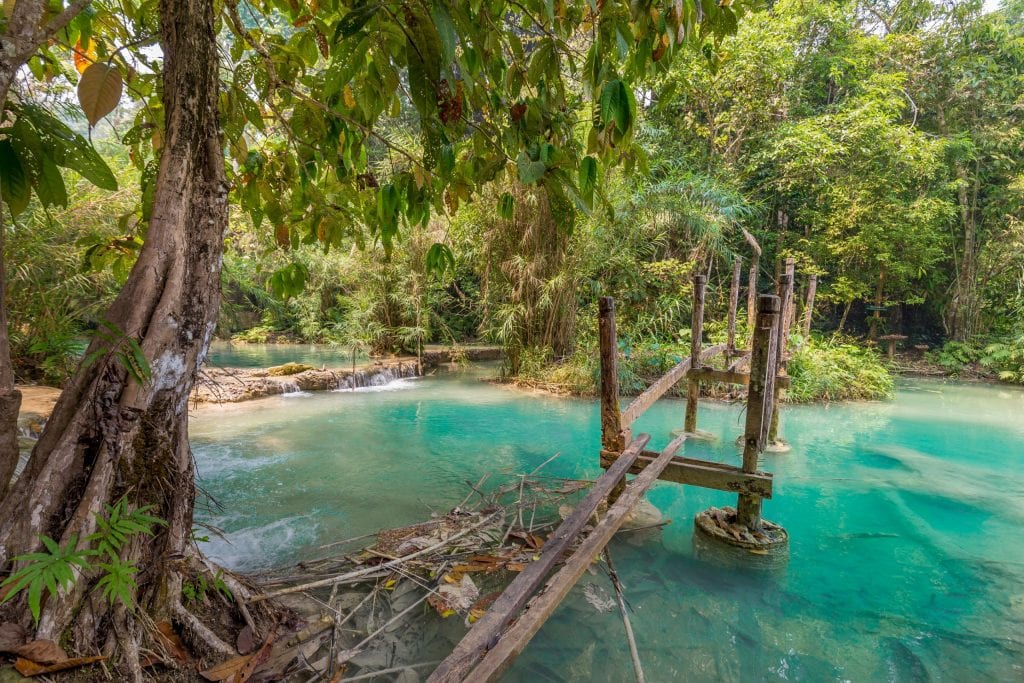 Lower terraces
Swimming in the lower terrace is not ideal but the second and third terraces have great options to swim. The turquoise blue water contrasts beautiful with the lush green trees. The water gets the beautiful blue color due to the significant number of minerals.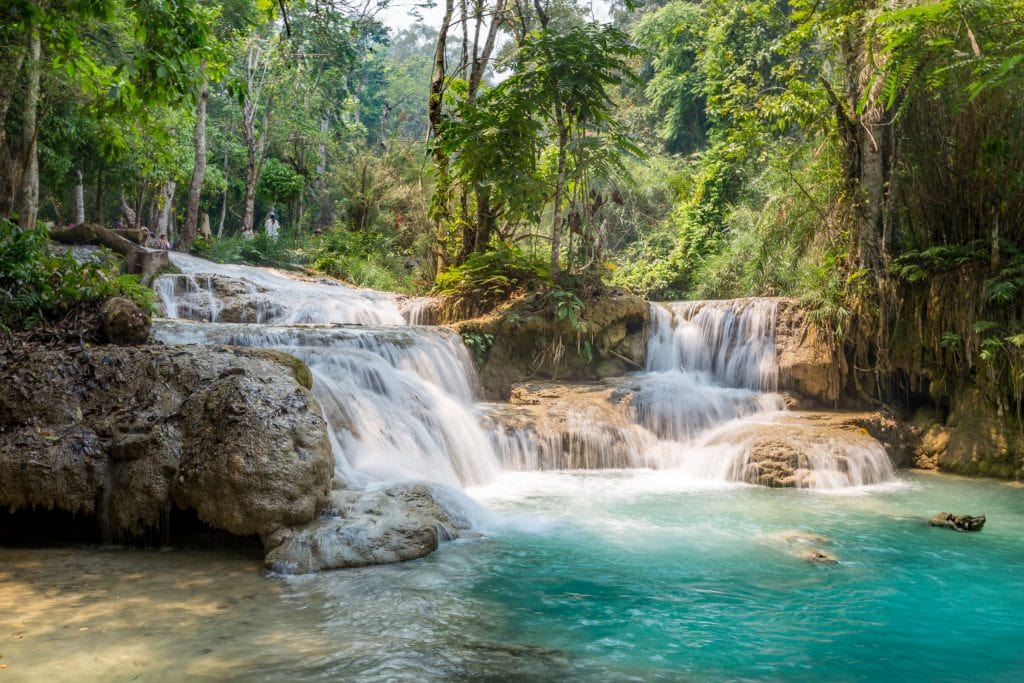 Main terrace of falls
I walked up to the main terrace of the Kuang Si Falls. It's possible to swim here but I'm not so fond of swimming so I just watched the people while enjoying some cold drink I cooled in the car. It's a great spot for selfies or exotic tropical photos as you can see in the photo below. I continued up to the main waterfall of the Kuang Si Falls.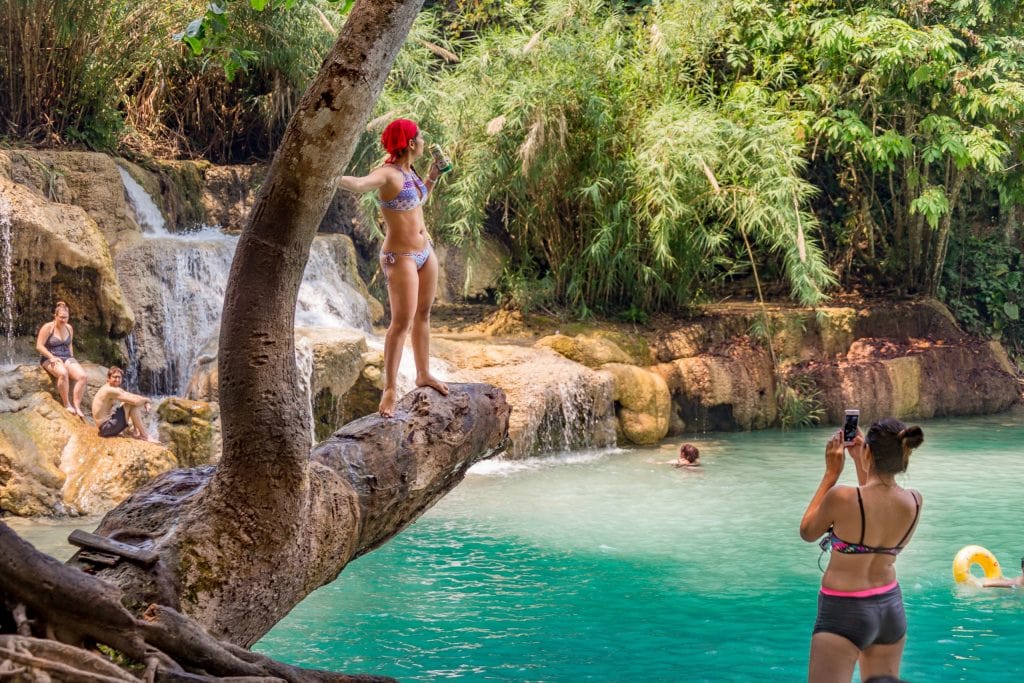 Kuang Si main waterfall
The main fall is 60 meters high and it is possible to go to the top to see three other smaller falls. I remained at the bottom as it was way to hot to go all the way up. It also didn't fit in my schedule as I wanted to walk around a bit more and experiment with photography of flowing water. After two to three hours I finished and decided to go back to Luang Prabang to get lunch and cross the Mekong River.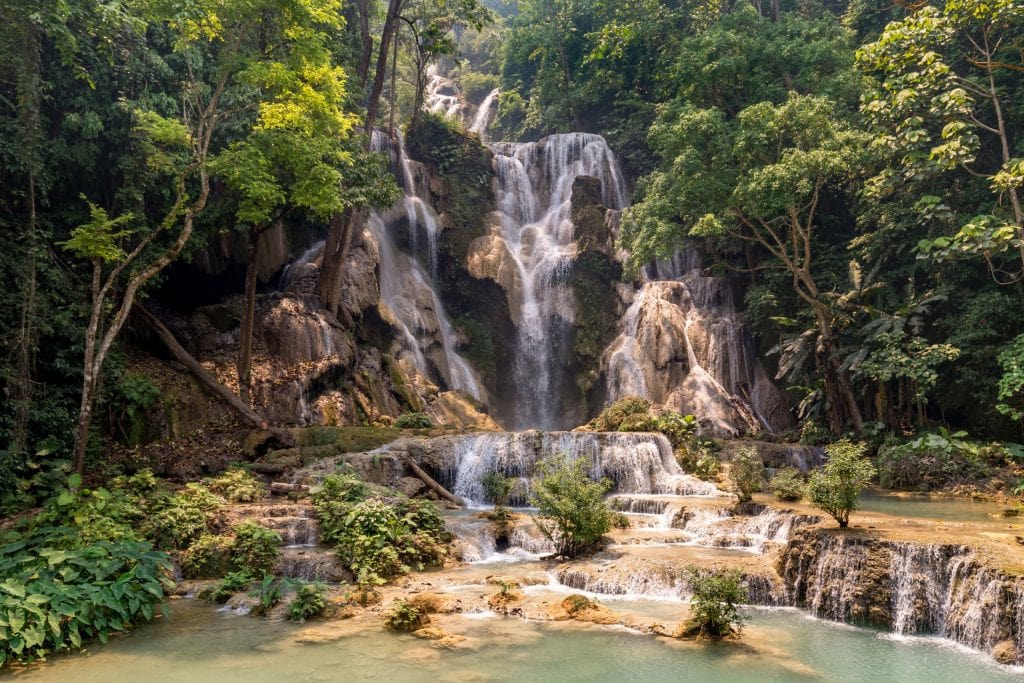 Luang Prabang Rural Country Side Life
Rural life in Laos is interesting compared to neighboring countries as its much less developed and doesn't see that many tourists. The best way to experience the local life is to cross the Mekong River from Luang Prabang.
Driving a car in Laos
I recommend hiring a 4×4 as some roads are tough but this also depends on where you go. A day rent for a 4×4 was about 50 euro which wasn't much more as taking a car with driver. I wasn't even asked for my driver's license I only had to hand over my passport which I got back when I returned the car.
Meking River ferry crossing
To cross the Mekong River from Luang Prabang you have to pay a small fee but that's basically nothing. It's a small adventure on a ferry that to me looked like it could sink anytime.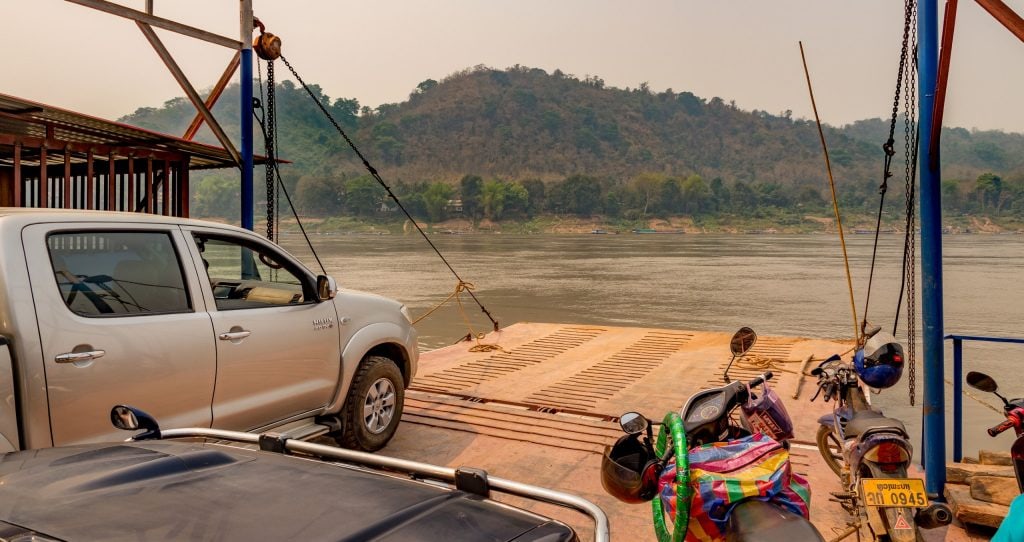 The local people are curious as they don't seem to see many foreigners. Local kids returning from school looked at me with faces "what the hell is he doing here". Keep in mind that the locals don't speak English. I had a "tour guide" with me to translate the conversations I had with the locals. It's a bit strange to drive yourself and have a guide next to you 🙂 But we had fun.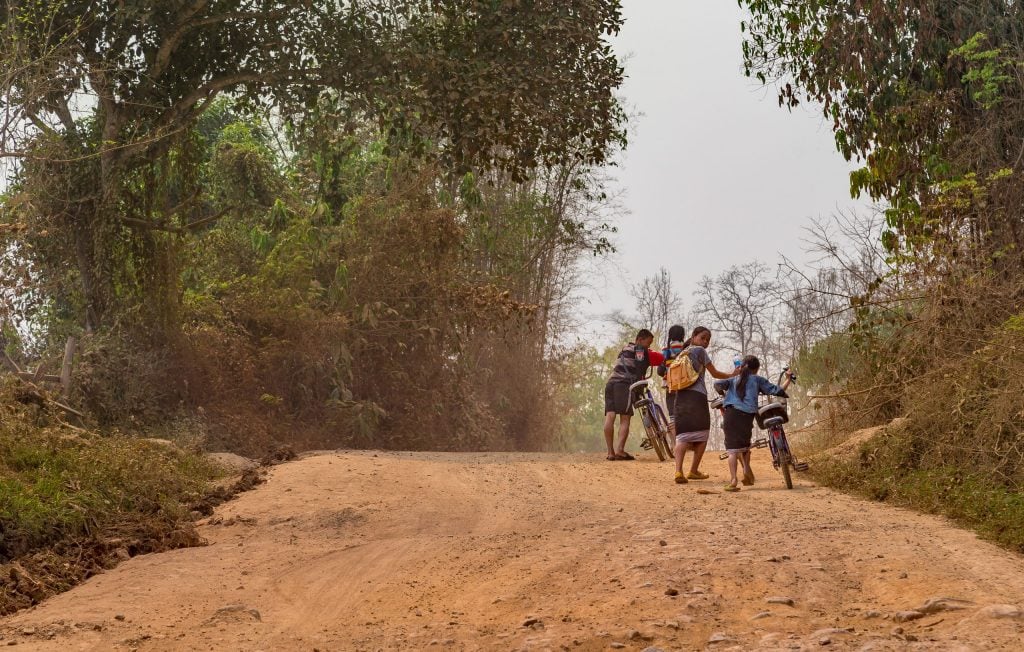 Driving Laos country side
My advice is to just drive around but make sure you take the road that circles around (see also the GPS map below). You will see kids on motorbikes, women washing clothes in the river and farmers working the land. In a small village I stopped as there were pigs walking around. I asked for the price, but they gave a to high price – as per my guide – so I didn't buy one. I prefer beef anyway. It was burning season which means farmers burn the rice fields. Smog is hanging in the air everywhere as you can see on most of the pictures; brown yellow skies. If you drive the roads I did you will pass an area with a natural source of water where the fields are green. Here the farmers do two or three harvests a year. I guess the farmland is worth more here too. All-in I drove for about 3-4 hours around before I headed back to Luang Prabang.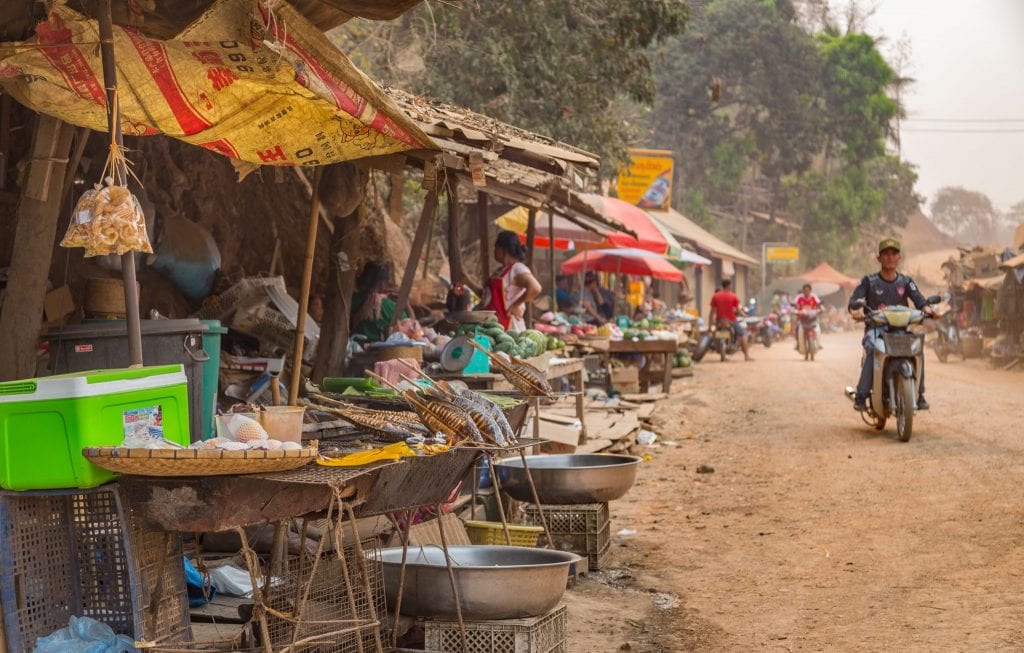 If you visit Luang Prabang, the cultural capital of Laos, you must make a tour to the Kuang Si Falls. I recommend also hiring a 4×4 and drive through the rural area on the other side of the Mekong River. It's a great experience to learn about the locals. I had a great day trip and at the end of the day I went back to my luxury hotel: The Belmond Luang Prabang Residence Phou Vao. I did many more day trip in and around Luang Prabang which I will share with you in separate posts. Laos is a beautiful country, and I must return to go to other areas one day soon.
Stay tuned for more stories and subscribe to the newsletter or follow CTB on social media (Facebook, Twitter, Instagram including Instagram stories; on all social media you can find CTB @christravelblog) to get updated information.
Did you visit Kuang Si Falls too or do you have questions? Please leave a comment at the bottom of the page. Love to hear from you!
Gallery Kuang Si Falls
Click an image for a full screen gallery of more photos taken during this trip. If you like to use any photo for commercial, private or editorial use please contact first for permission and/or pricing.