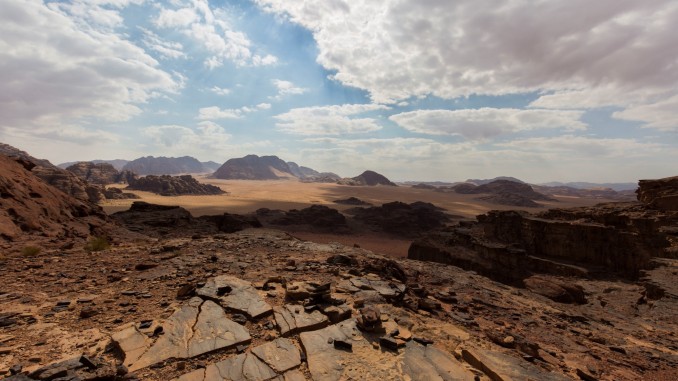 I visited Jordan for two weeks. During our two-week family road trip through Jordan we stayed four nights during Christmas 2014 in Aqaba, south Jordan. We did a day tour to the Wadi Rum protected reserve but did not stay overnight camping as it was wintertime: dark early and very cold in the night. The other two full days during Christmas we just relaxed in the resort we stayed, the Intercontinental Aqaba.
Wadi Rum protected area
Wadi Rum is a desert area in the south of Jordan meaning "elevated" or "high" area. The area looks like it's coming directly from Mars with its red sands and rock formations. The landscape found in Wadi Rum is simply breathtaking and will stay forever impressed in your memory. The moment you enter Wadi Rum it feels like you are on another planet. Wadi Rum has been inhabited for centuries by Nabataens and Bedouins who still live there today. Due to its uniqueness and historical importance Wadi Rum is declared a UNESCO World Heritage Site.
The landscape found in Wadi Rum is simply breathtaking and will stay forever impressed in your memory
From Aqaba it's about a 45 minute drive to Wadi Rum. About a kilometer before Wadi Rum you will find the visitor center. As you cannot drive into Wadi Rum yourself (or maybe you can?) you need to get a guide there. Make sure you go inside the visitor's center and buy the ticket and arrange the guide. The guides outside probably will tour you around too but they will overcharge you as they are not official guides. After arranging your jeep and guide you are ready to explore the area.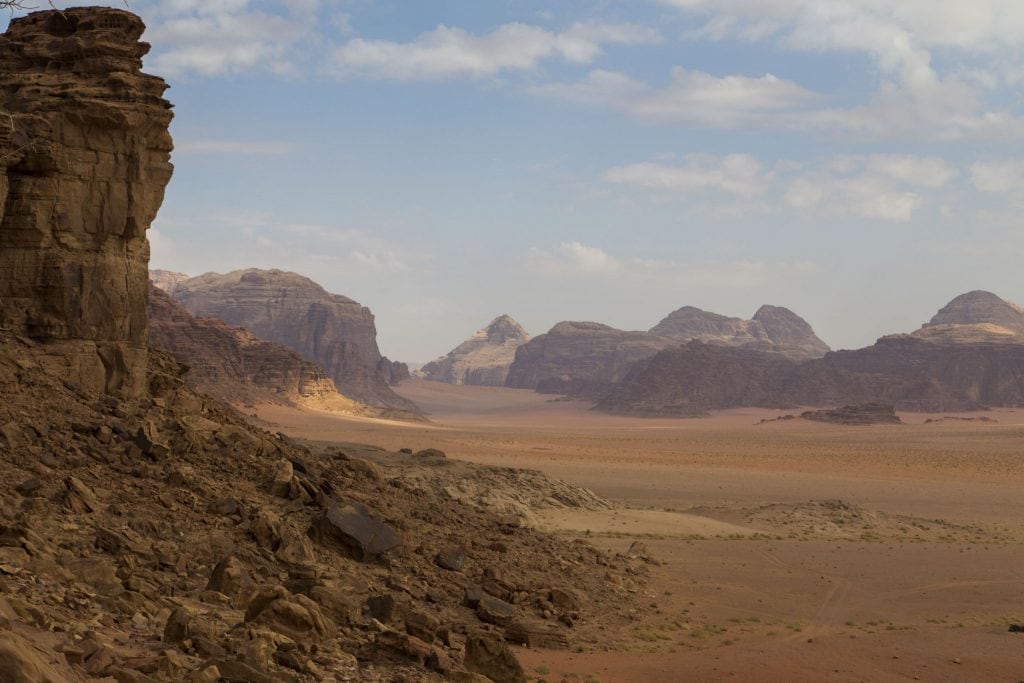 The first stop we did was at a spring called the spring of Lawrence of Arabia. We climbed a hill until a cliff went up to the skies and had our first look over Wadi Rum. We just kept looking at the astonishing landscape before us for a dozen or so minutes to take in the beauty before we drove further. The tour will take you along rock formations reaching to the stars, natural rock bridges, red sand dunes, canyons, rock paintings and lots of great view points. For the adventure climber it is possible to climb the Umm Fruth natural bridge in no time. Even the Burdah bridge which is considered one of the highest natural bridges in the world can be climbed in just under 3 hours.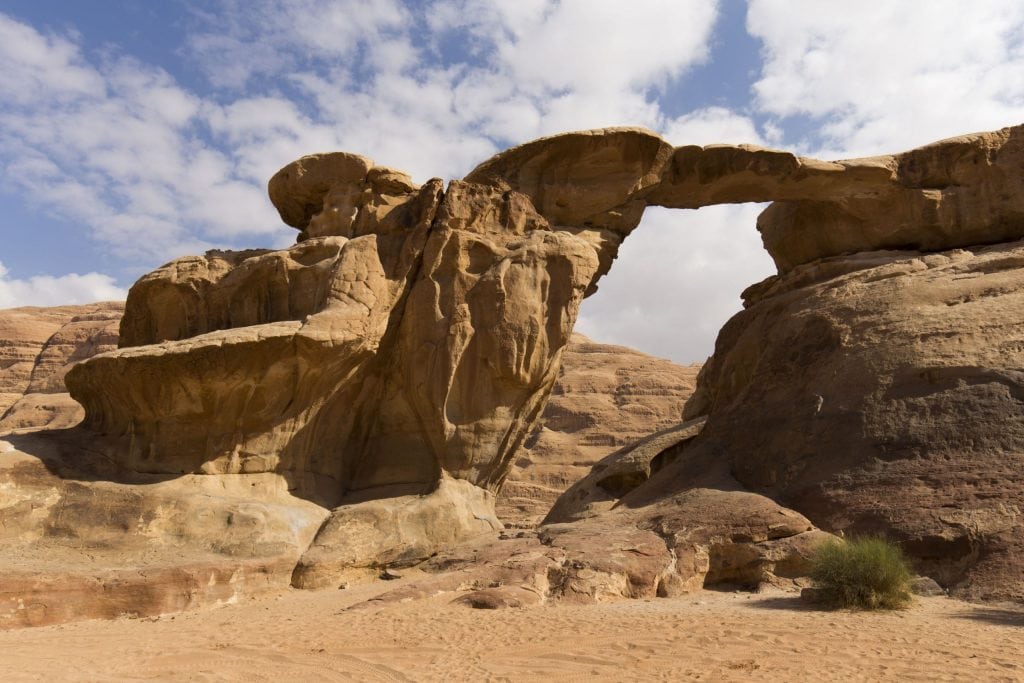 We went to the Wadi Rum mainly for the landscape as the other activities we did before in other places and we had only a day to spare. If you have the time an overnight stay is recommended in warmer days and to do more activities. Other activities you can do are: camel riding, horse riding, doing a ballooning when the sun sets, staring at the stars or climbing a sand dune and do some sand boarding on it.
We just kept looking at the astonishing landscape before us for a dozen or so minutes to take in the beauty before we drove further
Wadi Rum got also famous because of the movie T.E. Lawrence of Arabia which was filmed there amongst others. The original Lawrence of Arabia sites like his house or the spring are to be honest a bit disappointing but the beauty of the landscape makes up for this. After a four our drive through the Wadi Rum we were dropped off again at the visitors center. A short drive back to Aqaba completed this unforgettable day full of "wow this is a great view" moments.
Christmas time in Aqaba
Christmas eve and Christmas day we spend at the Intercontinental Aqaba resort. Even in winter time Aqaba has day temperatures reaching 25+ degrees Celsius which is great for swimming, at least for us. The daytime hours are short so it's advised to go swimming late morning when it gets a bit warmer until around afternoon time when it will start to get dark. From the resort you can arrange various sea activities like jet ski, water ski, banana boat and other things. It is also possible to arrange snorkeling or diving tours which we personally did not do. The Red Sea is famous for this but we will do this on a trip to Egypt Red Sea coast soon.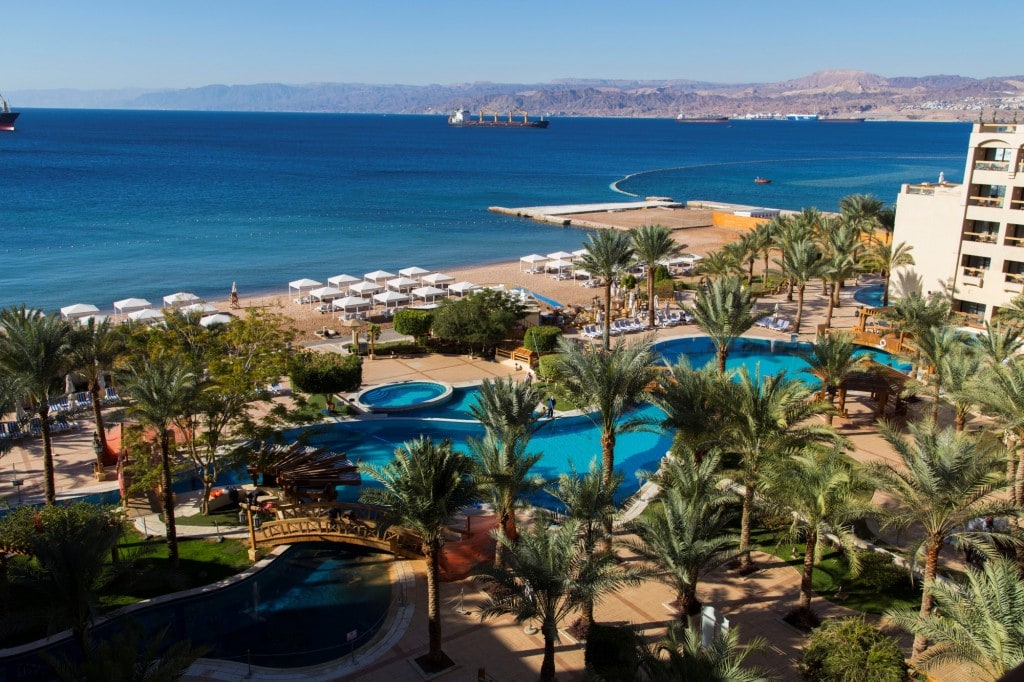 Aqaba can be reached in about 4 hours from Amman or about 2 hours from Petra over the desert highway. Beside the beach and activities on the Red Sea there is not much to see in Aqaba. We checked out the fort and archaeological remains but they are compared to other similar sites in Jordan not so interesting. It's possible to go shopping and to have some great dinner in the various restaurants.
We had a great Christmas time in Aqaba!
Stay tuned for more stories and subscribe to the newsletter or follow CTB on social media (Facebook, Twitter, Instagram including Instagram stories; on all social media you can find CTB @christravelblog) to get updated information.
Did you visit Wadi Rum too or do you have questions? Please leave a comment at the bottom of the page. Love to hear from you!
Gallery of Wadi Rum & AqabA
Click an image for a full screen gallery of more photos taken during this trip. If you like to use any photo for commercial, private or editorial use please contact first for permission and/or pricing.